July, 21, 2010
7/21/10
9:00
AM ET
[+] Enlarge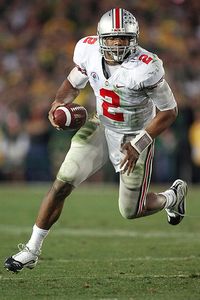 Stephen Dunn/Getty ImagesTerrelle Pryor accounted for 338 yards of offense in the Rose Bowl.
During a
recent interview with ESPN Radio 1620
in Omaha (they can't get enough of me in Nebraska), I was asked about
Terrelle Pryor
's progress at Ohio State and whether he can follow Vince Young's path in his junior season with the Buckeyes.
Pryor always has drawn comparisons to Young, even before he arrived at Ohio State as the nation's top recruit in 2008. The two quarterbacks have shown some similarities in the early stages of their college careers, although Young really surged during the second half of his sophomore year. Pryor has been a bit less consistent, while still showing flashes of his immense potential.
One major connection between Pryor and Young is their performances in the final games of their sophomore seasons, the midpoint of most players' college careers. Both quarterbacks shined in Rose Bowl victories, Young against Michigan on Jan. 1, 2005 and Pryor against Oregon nearly seven months ago.
Both players earned Rose Bowl Offensive MVP honors for their efforts in Pasadena.
As we all know, Young built on his Rose Bowl performance with a fantastic junior season, passing for 3,036 yards and 26 touchdowns to go along with 1,050 rush yards and 12 rushing touchdowns. Young won the Manning Award and the Davey O'Brien Trophy and finished second in Heisman Trophy voting as he led Texas to a national title. We're all waiting to see whether Pryor can make a similar jump in 2010.
How high did Young set the bar in 2005?
Here's a look at how he fared in the first half of his junior year:
Some impressive numbers, indeed.
Pryor gets a mulligan like Young had against Rice, but he'll need to establish himself as a consistent passer and a quarterback who gets Ohio State into the end zone with his arm or his legs. It won't be easy, but if Pryor can follow Young's path this fall, the Buckeyes could be lifting the crystal football in January.
September, 10, 2009
9/10/09
9:30
AM ET
| | |
| --- | --- |
| | |
| | AP Photo |
| | Quarterbacks Terrelle Pryor and Matt Barkley will be the focal point for Saturday's Ohio State-USC throwdown. |

Posted by ESPN.com's Adam Rittenberg and Ted Miller
All eyes will be on Columbus this weekend as No. 3 USC visits No. 8 Ohio State (ESPN, 8 p.m. ET). Before the two teams lock horns on the banks of the Olentangy River, we debated several key questions heading into the mega matchup.
Adam Rittenberg:
Ted, I look at this USC defense and don't see a glaring weakness. Still, several mobile quarterbacks [Vince Young, Dennis Dixon] have hurt the Trojans in the past. How do you expect USC to defend
Terrelle Pryor
and does Pryor give the Buckeyes a fighting chance in this game?
Ted Miller:
I think Pryor gives the Buckeyes a fighting chance because he can make something out of nothing when a play breaks down -- and the USC defense is good at breaking down plays. While USC fans would debate you on the health of their defense vs. Vince Young, the fact is the Trojans learned from that game that you need to account for an athletic quarterback -- you can't just run your base defense and expect gap control and rush lanes to take care of things. There surely will be some sort of spying, whether with one guy or a shift of guys. On the plus side for USC, this is a really fast defense. It's much faster at linebacker than last year. Malcolm Smith is fast -- his brother is an NFL receiver -- and Michael Morgan is a 4.4 guy. Toss in end Everson Griffen and you've got some guys who can really run on the perimeter of the front-seven. Moreover, middle linebacker Chris Galippo implied to me that this will be more disciplined defense. As extraordinary as Brian Cushing, Clay Matthews and Rey Maualuga were last year, they, at times, freelanced, looking for big plays. That means the Trojans won't be as likely abandon their assigned gaps or let contain break down.
As long as we're talking quarterbacks, what do you think about the poise issue for both guys? USC's
Matt Barkley
claims he doesn't get nervous. You buy that at the Horseshoe? And how will Pryor react on this big stage?
AR:
The Shoe remains the toughest place to play in the Big Ten, getting the slightest of edges against Penn State's Beaver Stadium. Barkley's nerves will be put to the test. It will be extremely loud, especially at the start of the game, and the south end zone addition really makes the decibels rise. I'd imagine USC will go to its strength right away, pound away with those tremendous running backs and athletic offensive line and give Barkley some time to get settled. Everything I've heard about this kid -- from yourself and other observers -- is that he's the real deal. I saw true freshman quarterback
Tate Forcier
show no nerves last week for Michigan in the Big House, but then again, he was playing at home. Ohio State's defensive line is the strength of the team, and it has to rattle Barkley early for the Buckeyes to have a shot. As for Pryor, he has shown some toughness late in games, particularly against Wisconsin last year. He's certainly more comfortable as a passer, but he can't get away from what makes him special and needs to make plays with his feet. I still haven't seen a team contain Pryor on the move, but he needs the freedom from head coach Jim Tressel and the willingness from within to really cut loose against USC.
Ohio State's defensive line is the team's strongest unit. Same could be said for USC's offensive line. How do you see that matchup shaking out, and will Ohio State need to use speed (Thaddeus Gibson, Cameron Heyward) rather than power to beat the Trojans' front?
December, 2, 2008
12/02/08
9:06
AM ET
Posted by ESPN.com's Adam Rittenberg
It's a bit of a slow week around the blog and you guys have a ton of questions (well done, folks), so this will be the first of two Tuesday mailbags. Let's get it going.
John from Austin, Texas, writes: Adam, First off, congrats on a great year with the blog! Its been a pleasure having someone cover the Big 10 as well as you do. My question is: What the heck is keeping Mike Locksley at Illinois? His name was mentioned for a few of the higher profile head coach jobs this season, but never seemed to get past the first interview. I can understand why he might be shy about an SEC job, but what else is keeping him from going to the next level?
Adam Rittenberg: Thanks for the kind words, John. Locksley is definitely holding out for a BCS-conference head-coaching position, ideally on the East Coast near his recruiting hub of Washington, D.C. He did talk with Clemson but didn't have a great chance to get that job. Other than Clemson, it has been reported that he interviewed at Syracuse as well. Locks gets paid well at Illinois and has no need to leave for a non-BCS job if he doesn't want one. He'll be a frontrunner for the Maryland job whenever Ralph Friedgen moves on, and he should get a close look for Syracuse. Locksley definitely has the personality and recruiting clout to succeed as a head coach on the highest level.
---
Rob from Philadelphia writes: I've been reading the national media since Oregon State lost and (most likely) gave USC a Pac10 championship and a Rose Bowl birth. Most people of the opinion that it's very unfortunate that USC is resigned to destroying Penn State. Some USC players are acting like they've already won the game. Defense aside, what is the basis for the Trojan's status as a national media darling this year?
Adam Rittenberg: The national media loves teams that dominate November and win bowl games, and USC does both. After watching the USC-Notre Dame game on Saturday night, I'll admit I bought into the hype quite a bit as well. The Trojans' defense is merciless, and it will be tough for Penn State to score points. That said, USC's offense is nothing special, and this team falls short of previous editions with Matt Leinart and Reggie Bush. Penn State has a strong bowl record and doesn't seem like the type of team to play itself out of a game. I'll have a hard time picking against USC, but it won't be a rout.
---
Ian from Hartford, Conn., writes: It's not necessarily big ten related, but who would play in the national championship game should OU get knocked off by Missouri this weekend. Texas is still ahead of USC in the BCS, but would they take a team that didnt win their conference? If USC does get bumped out of the Rose Bowl in favor of the title game, does Oregon State take their spot or another BCS team maybe OU or Texas?
Adam Rittenberg: If Missouri wins, I'd expect Texas to get the nod and play the winner of the SEC championship game in Miami on Jan. 8. USC might get bumped to No. 2, but the Trojans really lack quality wins, while Texas has beaten Oklahoma, Oklahoma State and Missouri. Texas absolutely deserves to go over the Trojans, who needed a marquee win down the stretch and couldn't get one because of the competition. Should USC jump into the title game, the Rose Bowl likely would take a team not from the Pac-10 (Texas would be my guess). USC, of course, also has to take care of business against UCLA.
---
October, 23, 2008
10/23/08
12:20
PM ET
Posted by ESPN.com's Adam Rittenberg
You don't coach a team for 43 years without being dealt some good cards, particularly at the wide receiver position.
Joe Paterno has seen several standouts pass through Penn State, including Biletnikoff Award winner Bobby Engram and All-Americans Kenny Jackson and O.J. McDuffie. He has even had some standout receiver pairs (Engram and Freddie Scott, Jackson and Gregg Garrity).
But before 2005, the 81-year-old had never received a hand that included three of a kind.
That was the year Derrick Williams, Deon Butler and Jordan Norwood began starting for the Nittany Lions. Four seasons later, the three wideouts remain the pillars of the Penn State passing game.
"We've had two at different times, but I don't think we've ever had three that are quite like these three are, who have played so much and so long and who have made so many plays," Paterno said. "They're like a band of brothers."
The record-setting wideouts are capping their careers in historic fashion as No. 3 Penn State continues its quest for a national title Saturday night at No. 9 Ohio State (ABC, 8 p.m. ET).
Butler needs six receptions to pass Engram and become Penn State's all-time receptions leader. Williams has more touchdowns on kick returns than any Penn State player during Paterno's tenure. On Sept. 27, he became the first player under JoePa to record a rushing touchdown, a receiving touchdown and a kick return touchdown in the same game.
Norwood is tied with Williams for third place on the school's career receptions list with 142.
For the third consecutive season, Penn State is on pace to have three different receivers catch 40 or more passes, a milestone that hadn't been reached until Butler, Williams and Norwood did it in 2006.
"It's been a long road already," Norwood said. "We've kind of grown up together."