August, 20, 2010
8/20/10
5:00
PM ET
My apologies for posting this late, but I finally got a chance to review the
Big Ten Network's football preview tour
stop at Michigan. The crew of Dave Revsine, Gerry DiNardo and Howard Griffith attended a Wolverines practice last week.
Here are some nuggets and observations:
We get to see Tate Forcier's wing-less helmet very early in the show, although we know now that he has regained his wings. Forcier seemed to be No. 3 in the quarterback rotation during drills, behind both Denard Robinson and Devin Gardner. "Denard and Devin got most of the reps today," DiNardo said. But head coach Rich Rodriguez maintains the race is open. Forcier, to his credit, made some crisp throws in the practice.
The BTN crew picked Robinson to be the starter when the season opens Sept. 4. Although he misfired on a few outside throws in individual drills, he looked more comfortable overall as a passer.
Gardner's size and mobility make him a pretty exciting young prospect. He likely won't be the starter for the opener, but you figure he'll be in the mix at some stage. "He has the most ability of the three quarterbacks," DiNardo said.
We learned quite a bit during the M drill, where a running back dashes through a line of four blockers and four defenders. Michael Cox had several nice runs, following a block from tight end Brandon Moore on one play. Kelvin Grady followed a block by Erik Gunderson and shot through the line, while burly back Stephen Hopkins broke through tackles with a powerful run on one play. Defensive standouts in the drill included end Jibreel Black, safety Brandin Hawthorne and tackle Will Campbell, who made a very nice tackle on Hopkins. There also were some good team efforts, including blocks from Michael Schofield and Quinton Washington, and a team tackle by Richard Ash and Jonas Mouton.
The secondary remains a concern, but a few players stood out in individual drills. Safety Vlad Emilien had a huge hit against Fitzgerald Toussaint, and safety Josh Furman forced a fumble by freshman receiver Ricardo Miller in a 1-on-1 matchup.
There's no reason defensive tackle Mike Martin shouldn't have an excellent year for Michigan. He's got excellent strength and good size at 6-2, 299. "There's very little he doesn't do well," DiNardo said. Campbell also looked good in this practice, both physically and with his play. DiNardo thinks Campbell will be most effective when lined up directly over the center. "He's really picked up his game," Griffith said. Griffith also likes the freshman Black.
It was really fun to watch Martin and center David Molk go at it in a 1-on-1 drill. A ton of strength in that matchup, which it appeared Molk won. Offensive tackle Perry Dorrestein and defensive tackle Renaldo Sagesse also had a good battle. It was a pretty good day overall for the offensive line. DiNardo particularly likes tackle Patrick Omameh.
We didn't see a ton from the linebackers, although the first group in one drill was Craig Roh, Mouton and, yes, Mark Moundros, the team's starting fullback, at middle linebacker. It'll be interesting to see how much Moundros pushes Obi Ezeh and others for playing time.
Cox looked the best among the running backs, although several of them have impressive speed, including Toussaint. Hopkins certainly stands out from the group because of his size (6-foot, 227 pounds).
The BTN crew really likes Michigan's wide receivers, especially Roy Roundtree. They also noted the play of freshman Jeremy Jackson, one of the team's bigger receivers at 6-foot-3. "They've got the right number at wide receiver," DiNardo said. "You can't say that about every position in the program."
In interviews, Martin talked about the defense being closer this year, and Rodriguez expressed concern about the kicking game.
April, 30, 2010
4/30/10
2:00
PM ET
During his two-plus seasons at Michigan, Rich Rodriguez often has mentioned the numbers game on defense, a game that the Wolverines have been losing.
Rodriguez isn't talking about numbers of points allowed or yards allowed, although it's all connected to the larger problem the Wolverines' defense has endured. Michigan simply hasn't had enough capable players to succeed on that side of the ball. And without the numbers, or adequate depth at certain positions, the defense has plummeted. In the last two seasons, the Wolverines have finished 67th and 82nd in yards allowed, and 84th and 77th in points allowed, respectively.
[+] Enlarge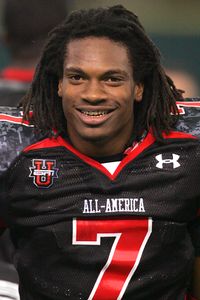 Cliff Welch/Icon SMIThe Wolverines will likely be counting on highly touted cornerback Demar Dorsey to contribute right away as a freshman.
High attrition has certainly played a major role, and of those who left, many were top defensive prospects. Recruiting also has played a significant role, much of it before Rodriguez's arrival, as Michigan signed small classes with not enough defensive recruits. Mgoblog has a great breakdown of the problems
here
and
here
.
Heading into a pivotal season, can Michigan survive the numbers situation on defense?
"It's still limited, to an extent, this spring," defensive coordinator Greg Robinson told me earlier this month. "Now there's going to be 14, 15 guys walking in the door [in the summer]. How many can you count on as freshmen? Time will tell that. Craig Roh played as a freshman [in 2009].
"So it can be done."
Michigan's incoming freshman class will be a huge factor in the defense's results, one way or another. Unlike past classes, the 2010 crop is both sizable and filled with defensive players.
Cornerback Demar Dorsey, the Big Ten's highest-rated recruit according to ESPN recruiting, will contribute right away as long as he qualifies for admission. Other defensive recruits like Cullen Christian and Marvin Robinson also are good bets to see the field this fall.
"We may have some young guys come in this fall and provide some competition, which is a little scary when you're talking about true freshmen," Rodriguez said. "But we want to play more people defensively and offensively."
Several defenders who stepped up this spring also should help in the numbers game.
Safety Cameron Gordon, a converted wide receiver, was arguably Michigan's top spring performer. The coaches also singled out linebacker Kenny Demens, cornerback J.T. Floyd, Teric Jones, defensive linemen Adam Patterson and Renaldo Sagesse and others for their play. Redshirt freshmen like Cameron Gordon and safety Thomas Gordon drew more attention during the spring session.
"You notice them," Robinson said, "and that is good. It's just the numbers aren't there yet. There will be a real infusion in August. We're going to get it done, but I know where the work is. It's about developing young players as quickly as we can. You've really got to count on 18, 19 guys, so the depth is what we have to establish."
Robinson admits Michigan never truly had adequate depth in 2009, and the results showed.
"We lacked depth, we lacked maturity at times," he said. "But that's last year. It doesn't really matter. There's no reason to be putting rose-colored glasses on it. At the same time, can it be an improved defense? Yep. It's the year 2010 and it's the 131st defense to perform here at Michigan.
"And doggone it, we're going to find a way to be better."
April, 8, 2010
4/08/10
5:00
PM ET
ANN ARBOR, Mich. -- A public-service announcement to Big Ten fans: the area code around here hasn't changed to 335.
Those three numbers have dominated the discussion about Michigan ever since the Wolverines began using the alignment more during spring practice. In recent weeks just about everyone has weighed in on the 3-3-5: who will go where, who fits the scheme and whether it will help the Wolverines' defense rebound from two subpar seasons.
[+] Enlarge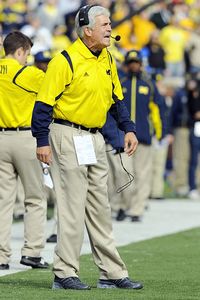 Eric Bronson/Icon SMIMichigan defensive coordinator Greg Robinson says it's not the scheme, but fundamentals that will determine the success of the Wolverines this fall.
Defensive coordinator Greg Robinson has some advice about the 3-3-5: don't get too bogged down with it.
"It's not about the schematics," Robinson told me Thursday. "It's about fundamentals. The fundamentals have got to improve. To the average fan, they want to know the schematics because that's Madden football. But wait a minute. Anybody can say they play two-deep coverage or anybody can say they're running the zone dog. But the fundamental techniques and all those things -- how you tackle, how you defeat a blocker -- that's what it's about."
The truth is Michigan will run the 3-3-5 at times in the 2010 season. The Wolverines will also use four-man fronts and bring extra linebackers to the line of scrimmage. Hybrid players like Craig Roh will play integral roles this fall, just like they did last year.
An alignment won't fix Michigan's defense unless the players can execute a lot better.
"It's work," Robinson said. "There's work ahead of us. The best thing is if we can get these young people to understand that. Can we get there? Yeah, if we work really hard at it, we will get there. But don't think that it's just like a magic wand.
"It's hard work to get good."
A few quick takeaways from Robinson:
The competition at middle linebacker is really heating up between Obi Ezeh and Kenny Demens, who has come on strong this spring. "This is a dogfight," Robinson said. "And I like it. It's amazing when you have competition, how much the improvement comes."

Like everyone else, Robinson praised the play of safety Cameron Gordon (more on Gordon next week) and also singled out safeties Thomas Gordon and Teric Jones for their play this spring. He also likes the improvement cornerback J.T. Floyd has made from last fall. Robinson expected Vladimir Emilien to return to practice Thursday after suffering a knee injury early in spring ball.

The defensive line has been dealing with injuries this spring, and Robinson said defensive tackle Renaldo Sagesse is the latest player to get banged up a bit. "We're hoping we can get him back [before the end of the spring]," Robinson said. "Because if we can really count on him as a guy that's in the constant flow, that's good."

Robinson started talking about William Campbell, pointing out that the sophomore defensive tackle needed to keep growing and developing. Then he caught himself. "He doesn't have to keep growing," Robinson said. "He's got to keep developing." Campbell checks in at 6-5 and 324 pounds this spring. "That's a never-ending battle," Robinson said of Campbell's weight and conditioning, "and he's realizing that. He's maturing. God, he was a 12th grader here last year at this time. God forbid what I was like back then."
April, 7, 2010
4/07/10
5:30
PM ET
ANN ARBOR, Mich. -- It has been a fun and productive day at Schembechler Hall, as I visited with Michigan head coach Rich Rodriguez and several players. I also toured the facilities and briefly greeted quarterbacks
Tate Forcier
and
Denard Robinson
, who are off limits to the media right now.
I also had an entertaining brainstorming session on college football expansion with two Michigan staffers. We've got it all figured out, people. Teams that could be on the move, according to the brain trust: Connecticut, Pitt, Boston College, Rutgers, Arkansas, Clemson, West Virginia, Syracuse, Utah, TCU, Colorado, Missouri, Nebraska and Boise State.
Yeah, you better believe it.
I'll have more on Michigan during the coming days, particularly Monday, but a few quick thoughts before I head out:
There's a lot of doom and gloom outside the Michigan program, but inside Schembechler Hall, there's definitely a different feeling among players and coaches. They know Year 3 is critical and another losing season will not be tolerated, but no one is walking on eggshells in here. Several players told me they're having fun playing football again, particularly in practice. "We can dance in practice now," wide receiver Roy Roundtree said, smiling. "Freshman and sophomore year, no one could really dance. But the only time we can dance is if we make a big play or score a touchdown." Who's the best dancer? "Kevin Koger," Roundtree said. "Denard, too. I said I might do a Chad Ochocinco if I score a touchdown."
There's a lot of buzz up here about several defenders. Safety Cameron Gordon, a converted wide receiver, drew praise from Rodriguez and several players I spoke with. Cornerback Troy Woolfolk really likes what he's seeing from J.T. Floyd, and Rodriguez also singled out linebacker Kenny Demens, defensive end Adam Patterson and defensive tackle Renaldo Sagesse for their play this spring.
Rodriguez said Michigan's numbers are better on defense, but he still expects several incoming freshmen to contribute, particularly in the secondary. But the freshman with the best chance to play right away is punter Will Hagerup, as Michigan must replace Ray Guy Award finalist Zoltan Mesko. Rodriguez said the competition at kicker and punter will definitely spill into fall camp.
There was a lot made of Rodriguez's comments Tuesday about the quarterback situation. I'll get into it more later, but let me just say this: Robinson has done enough this spring to stay in the mix at quarterback, although a move to another spot isn't being ruled out. Rodriguez really wants two capable quarterbacks who can do everything, not just a freelancer (Forcier) and a running specialist (Robinson) like Michigan had last year. Expect a similar timetable as far as when Michigan names a starter, but Rodriguez wants better and more complete options at the position, which he didn't really have last year.
August, 31, 2009
8/31/09
2:44
PM ET

Posted by ESPN.com's Adam Rittenberg
Believe it or not, there was a bit of actual football news today at Michigan. Head coach Rich Rodriguez released his
depth chart
(page 14) for Saturday's season opener against Western Michigan, and as expected, three quarterbacks were listed as possible starters. For what it's worth, freshman
Tate Forcier
comes first, and then junior
Nick Sheridan
and freshman
Denard Robinson
.
"I anticipate playing all three of them," Rodriguez said Monday.
Other notable items on the Wolverines' two-deep:
True freshman Vincent Smith is listed as a co-backup at running back with Carlos Brown, behind starter Brandon Minor. Sophomore Michael Shaw, who logged a lot of playing time last year, is the fourth-stringer.
Sophomore wide receiver Kelvin Grady, a former Michigan basketball player, is listed as a backup behind Martavious Odoms in the slot. Junior Hemingway and Greg Mathews are the other projected starters at receiver.
Brandon Herron is listed as the starter at "quick" end (linebacker-defensive end hybrid), with true freshman Craig Roh as his backup.
True freshman William Campbell is listed as the third string nose tackle behind Mike Martin and Renaldo Sagesse. I thought he'd be higher.
Youth will be served in the secondary this fall. Though the starting four consists of junior Donovan Warren and sophomore Boubacar Cissoko at cornerback and junior Troy Woolfolk and sophomore Mike Williams at safety, several freshmen are in position to play, including corners J.T. Turner, J.T. Floyd and Teric Jones, and safety Vladimir Emilien.
Rodriguez said senior Jason Olesnavage is the frontrunner at kicker, though Olesnavage is listed as a co-starter with both Brendan Gibbons and Bryan Wright.
August, 4, 2008
8/04/08
2:00
PM ET

Posted by ESPN.com's Adam Rittenberg
ANN ARBOR, Mich. -- Rich Rodriguez and his dynamic spread offense is all the rage at Michigan this summer, but the team's fate, particularly early in the season, likely hinges on what takes place on the other side of the ball.
From a personnel standpoint, Michigan's defense is much more stable. All four starting defensive linemen return, as do cornerbacks Morgan Trent and Donovan Warren. A mix of seniors and young players will compete for the starting linebacker spots in camp. Though the scheme change isn't as dramatic as the one on the offensive side, the Wolverines will mainly use a four-man front under new coordinator Scott Shafer after playing the 3-4 last season.
After an extended stay at Northern Illinois, Shafer has quickly climbed the coaching ranks -- and kept realtors in business. He comes to his fourth team in the last five seasons, previously serving as defensive coordinator at Stanford. He coached a Western Michigan defense that led the nation in both interceptions (24) and sacks (46) in 2006 before joining Stanford's staff. As Wolverines practice gets underway, Shafer weighed in about the work he needs to do before the opener Aug. 30 against Utah.
Do you even buy houses anymore, or are you taking advantage of this renter's market?
Scott Shafer: [laughs] I was lucky because when I was at Stanford, I didn't have to buy one. They actually bought us one, so that was nice. It was a good deal they had, so that made it a little bit easier on my wife.
You must have the most understanding wife in the world.
SS: She is the best.
With the guys you have coming back, do you look to the line as the starting point on defense?
SS: We have some kids that have played a lot of football up front coming back. That's where it starts anyway, so it's good to have those kids. They've kind of leaned themselves out this summer. They look great, lost a little bit of weight. I'm anxious to get them on the field. Hopefully, those hard workouts, we'll see results with our ability to run to the football better.
Has any guy stood out among that group during the summer?
SS: From a weight-room standpoint, Will Johnson and Brandon Graham have really done a great job. They put up some good numbers, from what they tell me. And they just look good. Their numbers have gone up, but their body weights have gone down a little bit here and there, which is a good thing in my opinion because they all have to be able to run. Those two really look good. [Tim] Jamison looks good, [Terrance] Taylor's slimmed down a bunch, so I'm excited to see what they can do. And then we have some young guys that I'm excited about, [Ryan] Van Bergen and [Renaldo] Sagesse are two kids that were here last week and they looked good. Only time will tell, but they're feeling good about their bodies and feeling good about their conditioning and strength improvement. That's a good place to start.
I know you're still evaluating what you have, but how much do you expect to play four down?
SS: We'll be multiple. It depends on who we're playing and what warrants what front, but as a starting point, I like the four-down look. It's been good to us over the years. We sprinkle in three down when needed, and the differences between the two make us a little bit multiple.
How have those linemen adjusted to that after playing more 3-4 last season?
SS: It's been pretty smooth. We have a lot of learning to do. We have about a month to get it in. We just started to scratch the surface in the spring, which gives us a chance as coaches to just let 'em play and watch them. Now we want to take it to a new level of learning to where they understand the concepts inside and out, so we can truly pull from those concepts and have a lot more defense in than we had in the spring. That's where we have to do a great job. We have to become good students of the game across the board. That will be one of our main focal points throughout the course of this next month.
There's obviously a lot of attention on the offensive side and the adjustment Rich [Rodriguez] and [offensive coordinator] Calvin [Magee] have to make, but you mentioned the learning on defense. Is it a dramatic change for these guys, given what they were doing before?
SS: Some of the X's and O's are similar, and of course some of them are drastically different. And then fundamentals within the framework of the schemes are drastically different from the specs. By position, there's different things more or less that they're going to have to pick up, but they've done a good job. They've been in the offices, running around, watching film on their own. There's some good signs there. We're just looking forward to being able to actually put 'em in a room and meet with 'em. It seems like it's been forever since we were able to do that.