Big Ten:

Rich Rodriguez fired 2011
January, 6, 2011
1/06/11
4:18
PM ET
Rich Rodriguez issued a statement moments ago regarding
his firing Wednesday as Michigan's head coach
after three seasons at the school.
It reads:
"I am proud of the dedication and commitment exhibited by the coaching staff and student-athletes who have represented the University of Michigan football program over the last three seasons. While I am disappointed to depart Ann Arbor before we were able to reach the level of success we had in our sights, I am confident that the players who remain have the potential to do great things and to return the Wolverines to greatness. I would like to thank our fans and our student body for their tremendous support. There is great passion for Michigan football and I have made lifelong friends through this experience."
Pretty solid statement from RichRod. He reiterates his belief that Michigan isn't far away from the success he envisioned, and as a coach, he should feel confident about the program's potential.
Many will point out that Rodriguez doesn't acknowledge athletic director Dave Brandon or the Michigan administrators. I see no issue with this. Brandon let him twist in the wind for more than a month before making a decision that could have been finalized in early December. It wasn't the nicest thing to do, especially when other jobs, namely Miami, were available. Rodriguez doesn't owe Brandon any courtesy shout-out.
Best of luck to Rodriguez, a good coach and a likable guy. He'll find a new spot and have success again.
January, 5, 2011
1/05/11
1:33
PM ET
Michigan athletic director Dave Brandon wrapped up a news conference where he announced the
firing of head football coach Rich Rodriguez
after three seasons.
A lot of interesting comments from Brandon today in Ann Arbor.
Some notes and observations:
Brandon spent a lot of time talking about Stanford coach Jim Harbaugh, an interesting strategy after the past few days. Brandon several times mentioned his close relationship with Harbaugh and all of their mutual friends and associates. Although Michigan has had conversations in the past about Harbaugh returning to Michigan, Brandon says no contract offer has been extended.
The AD made it pretty clear what he thinks ultimately will happen with the former Wolverines quarterback. "My personal belief is Jim Harbaugh is going to end up with a really, really challenging opportunity in the NFL," Brandon said. "That's what I think, we'll see." By saying this, Brandon is telling Michigan fans to remain realistic about their expectations. It certainly doesn't mean U-M won't try to lure Harbaugh, but Brandon is setting the odds as a long shot. "I have talked to Jim Harbaugh, I will continue to talk to Jim Harbaugh," Brandon said. "He's a Michigan man."
Brandon on why Rodriguez didn't succeed: "I don't think Rich Rodriguez has had a peaceful night's sleep since he arrived in Ann Arbor. His three years here can somewhat be defined as three years of turmoil. It seems like it was one thing after another. It clearly impacted recruited, it clearly impacted the positive energy that a team needs to be successful. It created a lot of hardships and a lot of distractions. Clearly, we need to put ourselves in a position where that is all history." Hard to argue with Brandon here.
Rodriguez's lack of success on the field ultimately sealed his fate as coach. "Our win-loss record overall over the last three years is the worst in our 131-season history. ... Michigan is not used to this. Michigan fans expect more than this, so do Michigan athletic directors. We need to put ourselves in a position where we get competitive again, both within the Big Ten, which is critically important, as well as nationally." Brandon also identified Rodriguez's struggles in "red-letter games," contests against Ohio State, Michigan State, Notre Dame, Iowa, Penn State, Wisconsin and any both opponents. "If you want to be successful at Michigan, you better win more than your share of those 'red-letter games,'" Brandon said. "Those red-letter games, over the last three seasons, we've been 3-15."
Brandon stopped short of saying Michigan needs a "Michigan Man" as its next head coach, but he wants someone who understands the school's culture and the unique challenges at Michigan. He wants someone with previous head-coaching experience, but not necessarily in an automatic qualifying conference. "Is [Jim] Tressel a bad coach?" Brandon said, referring to the Ohio State boss who came to Columbus from FCS Youngstown State. "He seems to be doing pretty well down there, especially against us." It's time for Michigan to call TCU's Gary Patterson.
Michigan is willing to pay big bucks for its next coach. Brandon said the school has previously been "in the middle of the pack" in paying its coaches. "I don't necessarily believe that's appropriate," he added. Cha-ching!
Brandon met with Rodriguez for 3.5 hours Tuesday afternoon and evaluated the following factors: performance and competition, recruiting and retention, academic performance, leadership, university image as it relates to players, university image as it relates to coaches. Brandon said the meeting wasn't designed to end with a decision on Rodriguez's future. The AD decided Tuesday to fire Rodriguez and informed the coach Wednesday morning.
Brandon seemed to downplay the effect the wait to fire Rodriguez will have on recruiting. He didn't want to make the decision in December because he felt the players deserved the best chance to compete in their bowl game, and Rodriguez and his staff provided that opportunity. Official recruiting visits scheduled for this weekend will be delayed. I certainly don't have high expectations for Michigan's 2011 class, but we'll see what happens. Brandon wants to move as quickly as he possibly can for a new coach, but he wants to find the right guy.
Brandon expects some attrition on the roster, which is standard with coaching changes, but he provided this nugget about the current players and the future coach. "One of the things that I look for is a coach who can modify their approach and their attack based on the personnel that they have."
Michigan won't use a search committee to find its next coach, although Brandon will be seeking advice from those he trusts.
On the need for a defensive-minded coach: "There's a thought of getting a defensive-minded everything. I want the ball boys to be defensive-minded."
There you have it from Brandon. Start digesting.
January, 5, 2011
1/05/11
12:00
PM ET
The
Rich Rodriguez era is over
at Michigan.
So where does the program go from here?
First-year athletic director Dave Brandon put himself in a bit of a bind by waiting so long to dismiss Rodriguez. Most head-coaching changes happen in early December, not after Jan. 1. Michigan now could be competing with several NFL teams for top candidates.
[+] Enlarge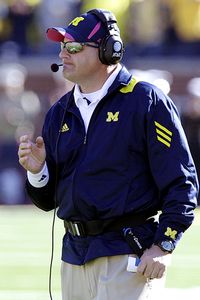 AP Photo/Carlos OsorioRich Rodriguez was fired Wednesday after a 15-22 record in three years at Michigan.
All along, I've felt that Michigan should only dump RichRod if it can land Stanford coach Jim Harbaugh as his replacement. Harbaugh's stock might never be higher, and he's the kind of coach who can inspire the fan base and recruit well despite what could be a very rough time on the field. But the reports Tuesday that
Harbaugh is unlikely to return to his alma mater
certainly change the scope of Michigan's coaching search.
The two candidates you'll hear a lot about are LSU coach Les Miles and San Diego State coach Brady Hoke. Miles played for Bo Schembechler at Michigan, and both he and Hoke served as Michigan assistants. Miles had strong interest in the Michigan job before Rodriguez was hired, and
Hoke has made it pretty clear that Michigan is his dream job
.
Both Miles and Hoke have the Michigan ties that Rodriguez lacked, but I'm not crazy about either one as the next Wolverines coach. Miles has too many red flags with clock management and other areas, and while Hoke has done masterful work in turning around both Ball State and San Diego State, he's unproven at the highest level. Miles certainly can recruit and his defenses have been strong, which would be a plus for the Wolverines.
If Brandon looks outside the family, he'll have to do a good job of selling the Michigan brand, which he has worked to build and enhance during his brief tenure as AD. Hot coaching prospects like TCU's Gary Patterson and Boise State's Chris Petersen would need to be lured away from comfortable situations with the prospect that Michigan isn't far away from competing at the national level.
Brandon's personal involvement with the football program also is a factor. He watched tape with Rodriguez and his staff Sunday mornings after games. Not sure many coaches want their boss to be such a part of the inner workings.
Michigan needs to get this hire right, but it would be a good idea to act quickly. National signing day is less than a month away, and Michigan can't let its 2011 recruiting class totally fall apart.
There's also the matter of the current players. Some undoubtedly will leave the program. Happens with every coaching change.
The big question: Will Big Ten Offensive Player of the Year
Denard Robinson
be one of those heading elsewhere? Unless the next Michigan coach runs some version of a spread offense, I wouldn't blame Robinson for transferring. No Michigan player is impacted more by Rodriguez's firing than Robinson, whose success was so closely tied to Rodriguez's system.
It's hard not to see the team backsliding in 2011, and the 2012 schedule is absolutely brutal. Michigan could be waiting a while longer to rejoin the nation's elite.
Brandon has been impressive in his first year as AD, especially in his handling of the NCAA investigation into the football program. But his delayed decision on Rodriguez hasn't gone over well, especially with the Harbaugh news.
Most ADs don't get to hire two football coaches, so Brandon's legacy will be largely shaped in the coming days.
Stay tuned.
January, 5, 2011
1/05/11
11:37
AM ET
College football coaching is a fitness test. The coach has to fit the program, or things won't work.
The last three years at the University of Michigan have underscored this fact.
Rich Rodriguez never truly fit with Michigan. His background didn't fit. His personality didn't fit. His style of play didn't fit. His style of players didn't fit. Even his accent didn't fit.
[+] Enlarge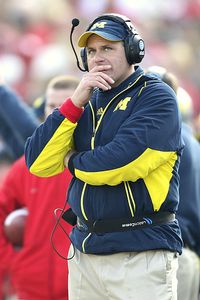 Leon Halip/Getty ImagesRich Rodriguez leaves Michigan after three seasons with a disappointing 15-22 record.
The hope heading into this odd marriage was that Rodriguez's track record of winning would make the fit factor go away. Michigan fans could learn to love an outsider -- not talking about an Ohio State guy, a real outsider -- if he won Big Ten championships and BCS bowl games.
But Rodriguez didn't win. At least not fast enough. He lost a lot of games his first two seasons and lost games by wide margins this fall. Saturday's 52-14 disaster against Mississippi State in the Progressive Gator Bowl -- the worst bowl defeat in Michigan history -- brought more shame to a shaken program.
It was the final straw for Rodriguez and
Michigan fired the coach on Wednesday
, ending his turbulent three-year tenure at the school.
Athletic director Dave Brandon let the process drag on way too long and put Rodriguez and his players in a bad spot, even in the end. But it seemed pretty clear Michigan would reach this point after Brandon didn't announce Rodriguez was staying immediately after the regular season.
Rodriguez often talked about the drama that seemed to envelop the Michigan program since he became coach in December 2007. His ugly departure from West Virginia didn't help matters. Neither did the lawsuit WVU filed against him. Or the NCAA investigation into Michigan's program that ended with the program being hit with major violations for the first time in its history. Or the Demar Dorsey controversy. Or the Josh Groban "You raise me up" fiasco at the team banquet in December.
The list goes on ...
Anyone else feel like Rodriguez's tenure at Michigan lasted a lot longer than three seasons?
There's the counterargument, of course, that Michigan didn't give Rodriguez enough time to get things on track.
He installed a dramatically different system and recruited different types of players. He also didn't inherit a wealth of talent, especially on defense, after Michigan's so-so recruiting classes in 2006 and 2007. And Rodriguez endured an incredible series of player departures and injuries, particularly this season on defense. He often cited youth and depth as problems, and while he was right on many levels, the excuses got old and drove Michigan fans crazy.
Although the team improved its record in each of the past two seasons, Rodriguez set the bar historically low in 2008 and his squads didn't make critical strides as seasons progressed. Michigan swept its nonconference slate in each of the past two seasons, but Rodriguez went just 6-18 in Big Ten play and 15-22 overall.
It seemed likely that seven wins would keep Rodriguez in Ann Arbor for another season. But when the competition improved in Michigan's final three games -- Wisconsin, Ohio State and Mississippi State -- the Wolverines fell apart, losing all three contests by a combined score of 137-49. Michigan simply didn't get better, especially on defense, leaving the program at a crossroads.
I was really interested to see if a guy who didn't fit the Michigan mold still could win there. Rodriguez enjoyed tremendous success at West Virginia and coached some of the nation's most dynamic and exciting offenses. While his offense caught on this season behind star quarterback
Denard Robinson
, the defense never got on track under coordinators Scott Shafer and Greg Robinson.
You never got the sense Rodriguez's overall style clicked at Michigan.
One question I often asked myself is whether Rodriguez would ever get enough of his prototypical players into Michigan. He talked a few times about wanting to add junior college players, which was unlikely at U-M. Michigan's academic standards certainly provided a challenge for the coach. Think of Rodriguez's best players from the past and then ask yourself: Could they have been admitted to Michigan? That's not a knock against Rodriguez, but it underscores the fit factor.
Two things for Michigan fans to note going forward:
1.
Be prepared for Rich Rodriguez to win again. Rodriguez didn't become a bad coach overnight, and if he's in the right spot -- like Clemson, South Carolina, perhaps even Pitt -- he'll do some major damage.
2.
A coaching change isn't a panacea, and Michigan likely will take several steps back before moving forward. Rodriguez recruited to his system for the last few years, and Michigan's wait to make this move could prove disastrous for the 2011 recruiting class. The new coach likely will run a different system, and it's tough to see how the Wolverines won't backslide.
I felt all along that Michigan should only fire Rodriguez if it could land Jim Harbaugh as his replacement. Harbaugh reportedly is
unlikely to return to his alma mater
, which leaves Michigan in a bit of a bind. We'll get to the search later.
But whomever Michigan hires needs to fit the program and its culture.
Rodriguez never passed the fitness test.
January, 5, 2011
1/05/11
11:30
AM ET
Michigan has scheduled a 12:30 p.m. ET news conference to discuss the state of the football program under head coach Rich Rodriguez. Colleague Joe Schad, The Detroit News and others are reporting that
Michigan has fired Rodriguez and his staff of assistants
.
Video of the news conference will be
available here
. Rodriguez and athletic director Dave Brandon met for four hours Tuesday and again Wednesday morning. There's a team meeting scheduled for 4 p.m. ET.
I'll have much more on this throughout the day so stay tuned.
January, 4, 2011
1/04/11
3:01
PM ET
The
axe has fallen on Rich Rodriguez
after three seasons at Michigan, according to Fox TV in Detroit.
The station reports that Michigan fired Rodriguez earlier Tuesday. Rodriguez and athletic director Dave Brandon were scheduled to meet at 2 p.m. ET. The team has a meeting scheduled for 7 p.m. ET.
Rodriguez has a 15-22 record as Wolverines coach.
There is still no official confirmation from Michigan.
I'll have much more as the story develops, so don't go anywhere.