November, 15, 2014
Nov 15
10:20
PM ET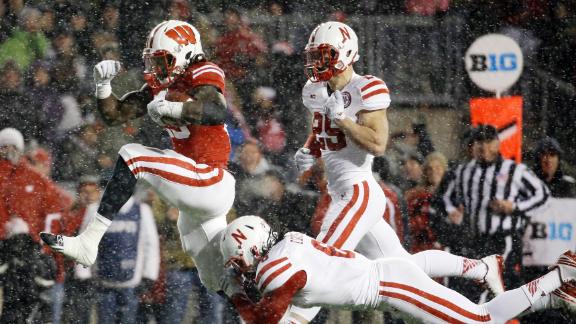 MADISON, Wis. --
Melvin Gordon
didn't see Ron Dayne as he entered Wisconsin's interview room early Saturday evening.
Gordon sidestepped Dayne, just as he did numerous Nebraska defenders during an afternoon that won't soon be forgotten in a place used to seeing extraordinary running backs do extraordinary things.
"I should be kicking you in the legs or something," Dayne joked, which caused Gordon to turn back and grin.
Dayne had just watched those legs break his Wisconsin single-game rushing record (339). Dayne's milestone was just the first Gordon took down in Wisconsin's
59-24
mashing of Nebraska at Camp Randall Stadium. Anthony Thompson's Big Ten single-game record of 377 yards -- set on the same field in 1989 -- fell during the third quarter. Moments later, on a 26-yard touchdown run, Gordon shattered LaDainian Tomlinson's FBS single-game record of 406 yards.
Afterward, Gordon took a small, appropriate bow.
[+] Enlarge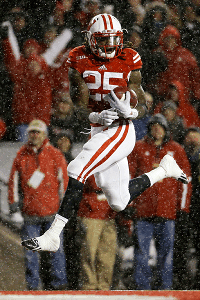 AP Photo/Morry GashWisconsin's Melvin Gordon was in rarefied air with his record-breaking effort on Saturday.
He finished with 408 yards and four touchdowns on 25 carries for an average of 16.3 yards per carry that is ridiculous for any college running back not named Melvin Gordon. He also didn't play in the fourth quarter.
"You never know when a special day comes," Gordon said. "When it does, it's a special feeling."
Wisconsin running backs now hold the FBS single-season rushing record (Dayne), single-season touchdowns record (Montee Ball) and single-game rushing record (Gordon). But only Dayne has the most coveted individual award in college football, the Heisman Trophy, which he captured in 1999.
When Dayne won, it was common for running backs to hoist the Heisman. Texas' Ricky Williams had won in 1998, and running backs went back-to-back in 1994 (Colorado's Rashaan Salaam) and 1995 (Ohio State's Eddie George). But since Dayne, only two non-quarterbacks have won the Heisman -- USC running back Reggie Bush in 2005 and Alabama running back Mark Ingram in 2009. As Nebraska running back
Ameer Abdullah
, a good friend of Gordon's, told ESPN.com in September, "the Heisman's really become a quarterback's award."
Oregon quarterback
Marcus Mariota
entered Saturday as the clear Heisman front-runner. Another quarterback, one-time favorite Mississippi State's
Dak Prescott
, had an opportunity to gain on Mariota -- or perhaps eclipse him -- with a signature performance at Alabama. Gordon was in the mix, but after putting up big numbers against inferior teams and with an incomplete performance against LSU, he needed to make a convincing case on this day, against the nation's 20th-best rush defense.
Mission accomplished.
"I think he's the best of the best," Wisconsin coach Gary Andersen said. "And he proved it on the national stage when he was given the opportunity. There's some great players out there ... and the decision is going to be made by other people. But if I made that decision, it's going to this guy right here.
"A lot of people have God-given ability, and a lot of people don't do anything with that ability. He's taken it to the highest level."
Gordon still has to catch Mariota, a tough task because the Oregon quarterback does so much good and so little bad and leads a team gunning for a College Football Playoff spot. But the gap is narrowing.
On Saturday, Gordon earned more than a courtesy trip to New York for the Heisman ceremony on Dec. 13. He earned the right to be seriously evaluated as a Heisman contender.
"Just show the man respect," Wisconsin second-string running back
Corey Clement
said. "That's all I ask."
Gordon will forever be respected here. Students chanted his name and "Heisman!" as the snow turned Camp Randall Stadium into a Wisconsin wonderland (at just 26 degrees at kickoff, it was the coldest game at Camp Randall in 50 years).
The tributes flooded in during and after the game, from
Tomlinson
,
Ball
and others.
"The best of the best," Andersen said. "Unbelievable."
A fourth-year junior, Gordon could have skipped this season and likely been the first running back selected in the NFL draft. He returned to guide Wisconsin to a national championship, a dream that died in early October with a stunning loss to Northwestern. But a Big Ten title remains possible, individual awards are coming, and Gordon, a Kenosha, Wisconsin, native, will leave as one of Wisconsin's favorite sons.
"There's risks that come with coming back when you have the chance to leave," Clement said. "God willing, he doesn't get injured, so he can do what he needs to do."
What he does is record big runs. Gordon had four runs of 40 yards or more Saturday, which brought his season total to 14, including a 62-yard scoring burst in the second quarter, when he hurdled Nebraska's
Corey Cooper
.
"It's something special," Badgers guard
Dallas Lewallen
said. "Once he gets to the open field, you never know if he's going to take it [to the end zone]."
Added quarterback
Joel Stave
: "He wowed us all again today."
Gordon's first half included 238 rush yards, a touchdown and two lost fumbles, the first time he has lost multiple fumbles in a game. It will be a forgotten footnote to everyone but Gordon, who thanked the coaches "for just sticking with me."
Smart choice.
The snow continued to fall Saturday night and blanketed the field where Gordon made his Heisman move.
"His legacy is going to be left here for a long time," Andersen said. "His footprints are going to be left all over these hallways."
Whether those same footprints are behind a podium in New York in four weeks remains to be seen.
Gordon gained the nation's attention Saturday. Now he needs to keep it.
November, 10, 2012
11/10/12
5:50
PM ET
BLOOMINGTON, Ind. -- When Wisconsin coach Bret Bielema addressed his team Friday night, he read a list of approximately 20 teams that recently had been among the nation's elite but had fallen on hard times.
Teams like Wisconsin. Teams with worse records than the Badgers.
"The one thing I've constantly got to be aware of as a head coach is the temperature of my team, what are they feeling," Bielema said. "They were unranked and lost a heartbreaker to Michigan State. But what I was trying to stress was the character of this room would show [Saturday]. ... I rattled off a bunch of BCS teams that are in the thick of it but are 6-3 or [worse]. I wanted to remind them that teams either quit, or they battle forward.
"Obviously, they answered the bell today."
Wisconsin's road back to Indianapolis has been filled with obstacles this season, but the final leg proved to be surprisingly easy as the Badgers ensured they'll be back at Lucas Oil Stadium on Dec. 1. Behind a dominant offensive line and a stable of dominant running backs, led by
Montee Ball
,
Wisconsin crushed Indiana 62-14
at Memorial Stadium.
A program known for its ground game piled up more rushing yards (564) than it ever has before, tying for the sixth-highest total in Big Ten history and the highest in a league game since 1975 (Michigan, 573 yards). Little about Wisconsin's offense resembled the record-setting units of 2010 and 2011, but it felt like old times Saturday as the Badgers, despite playing with their third starting quarterback (
Curt Phillips
), took control immediately and never looked back.
Wisconsin (7-3, 4-2) looked like Wisconsin. And Indiana (4-6, 2-4) looked like Indiana.
"It did a little bit," said tight end
Sam Arneson
, who recorded his first career touchdown on his second career catch on Wisconsin's second possession. "When you're rolling and they can't really slow you down, it feels pretty good."
As much turmoil as Wisconsin has been through this season -- nearly being shut out at Oregon State, firing offensive line coach Mike Markuson after two games, enduring a miscommunication at the end of the Nebraska game, losing top quarterback
Joel Stave
in the Michigan State loss -- the Badgers found a way to fulfill the consensus preseason expectation of reaching Indianapolis. They've lost three games by a total of nine points, dominated the teams they were supposed to beat and, at times, looked like the team we'd grown accustomed to seeing the past two years.
Wisconsin beat Indiana 83-20 in 2010 and 59-7 last year. The Hoosiers, while exposed Saturday, are undoubtedly a better team, and Wisconsin still rolled.
"This is the group I've coached for seven years," Bielema said. "I know this record may not be as high as it has in years past, or our ranking, but we're a really good football team."
[+] Enlarge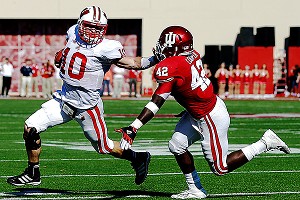 AP Photo/Darron CummingsQuarterback Curt Phillips did his share to help Wisconsin in his first career start on Saturday.
The Badgers looked like it Saturday, mounting eight-play touchdown drives on their first two possessions. Even when Indiana showed some life in the second quarter, Wisconsin removed any doubt as
James White
raced in from 69 yards out on third-and-16.
And while Wisconsin didn't put too much on Phillips' shoulders, the senior made some nice contributions in his first career start, namely a fourth-down conversion early in the second quarter and a 52-yard run to set up a field goal. Phillips has overcome three ACL surgeries since the spring of 2010.
"The plan was to not put a lot on Curt," Bielema said. "And obviously it worked very, very well."
After finishing with 19 net rush yards in the Michigan State loss, Wisconsin averaged 8.8 yards per attempt Saturday, nearly setting another team mark (8.91 yards per carry against Hawaii in 1996).
"It's the same formula we've had any time we've run the ball successfully," guard
Ryan Groy
said. "It's getting on blocks, being assignment-sound, and it's finishing. It's simple concepts, but it's everybody doing their part."
Ball certainly did his share Saturday, rushing for 198 yards and three touchdowns on 27 attempts in three quarters of work. The senior passed Ricky Williams and moved into sole possession of second place on the NCAA's all-time touchdowns list with 77, one shy of Miami University's Travis Prentice.
The 2011 Heisman Trophy finalist has been at his best during the stretch run, averaging 179.1 yards and three touchdowns in his past nine November games. He has been pretty good in the Hoosier State -- 445 rush yards, six touchdowns against Purdue and Indiana -- and gets one final opportunity Dec. 1 in Indy.
"I didn't even think about that," Ball said, smiling. "Yeah, glad to get back to Indianapolis."
Wisconsin will return to Lucas Oil, but it'll have an asterisk if it doesn't beat Ohio State and Penn State to share the Leaders Division title. If you think the Badgers will pack it in these last two weeks, you're sadly mistaken. Despite Saturday's result, Ball said Wisconsin is "still searching" for a statement win.
Next week against undefeated Ohio State would be the perfect time.
"Certain teams are handicapped, but we want to make sure that we go to Indy because we won every game," Ball said. "That's what we're going to try to fight for."
Indiana is left to fight for bowl eligibility and needs two road wins (Penn State, Purdue) to get there. Despite a very real chance to reach Indianapolis, Indiana showed how far it still must go on both sides of the ball.
Quarterback
Cameron Coffman
struggled with overthrows and Indiana had just two first downs in the first quarter, the kiss of death for an up-tempo spread offense. The defense showed a bit of life in the second quarter but had no answer for Ball, White (161 rush yards, 2 TDs) and
Melvin Gordon
(96 rush yards, 1 TD).
"They are a great team," Hoosiers defensive lineman
Adam Replogle
said. "We knew what they were. It's Wisconsin."
The Wisconsin of old showed up Saturday.
If the same product shows up in the coming weeks, the Badgers' difficult road could lead back to Pasadena.