October, 17, 2014
Oct 17
12:00
PM ET
College football has become fast food. More teams are ingesting as much as possible, as quickly as possible, and putting bloated numbers on the scoreboard.
Games like last Saturday's captivating track meet between Baylor and TCU -- it featured 1,267 yards, 119 points, 62 first downs, 198 plays and a staggering 39 possessions -- are becoming common, like fast food joints on a main drag.
Does the game still have room for the five-course meal? As they say in Minnesota, you betcha!
Shortly after TCU-Baylor kicked off, Northwestern coach Pat Fitzgerald lamented a 24-17 loss to Minnesota. The Wildcats had recorded twice as many first downs (28-14) and 119 more yards than Minnesota, and ran 30 more plays, but they couldn't fatten up on points or possessions (11 total, just four in the first half).
[+] Enlarge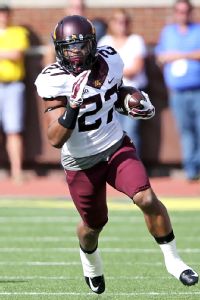 Leon Halip/Getty ImagesWith David Cobb helping the offense control the clock, Minnesota is off to a 5-1 start.
"To Minnesota's credit," Fitzgerald said, "[Jerry Kill's] offense takes half the game away by standing in the huddle and talking about what they're ordering for dinner."
Matt Limegrover loved that line. Minnesota's offensive coordinator also liked hearing Fitzgerald say his team pressed a bit too much against a team trying to shorten the game.
"I don't think it'll ever be sexy," Limegrover said of Minnesota's approach, "but at least somebody's saying they're a little affected by it. I got a kick out of that."
In an age when more teams are ramping up tempo and possessions, Minnesota is going the other direction. The Gophers are slow-playing their opponents, averaging just 62.7 plays per game, the third lowest rate in the FBS. The only teams logging fewer snaps than Minnesota -- Florida Atlantic and South Florida -- are both 2-4.
Minnesota is 5-1 and in tied for first place in the Big Ten West Division. Maybe Limegrover is wrong -- slow
is
sexy.
"I don't know if you want to call it a dinosaur or an outlier," Limegrover said. "The best way to put it is the world around us has changed and we've remained the same."
Added Kill: "Sometimes it's not bad to be different."
One reason why Minnesota plays this way is that Kill's staff has remained the same. Limegrover has worked for Kill since 1999. Defensive coordinator Tracy Claeys has done so since 1995. Two other offensive assistants, Brian Anderson and Pat Poore, have been with the group since 2001. H-backs/tight ends coach Rob Reeves began his coaching career with Kill in 1996 and has never left Kill's staff.
Limegrover wonders whether things would be different if the group assembled two years ago rather than 12.
"The current trend is, let's speed up, let's go as fast as we can," he said. "Everybody clamors, 'They're a relic, they're a dinosaur.' But because we've been together for so long and it's developed, we know it's a good blueprint.
"Why mess with it?"
Minnesota's philosophy seems simple but is exceedingly rare: Play great defense and special teams, limit turnovers, score a few touchdowns to gain a lead, bleed the clock, sing the fight song. The Gophers are tied for 16th nationally in points allowed and limit explosion plays, especially through the air, ranking ninth in yards per pass attempt (5.49). They beat Northwestern primarily because of a 100-yard kickoff return touchdown in the fourth quarter. Other than a five-turnover disaster in its lone loss at TCU, Minnesota has committed two or fewer turnovers in its other five games and none in a Sept. 27 win at Michigan.
The offense is tied for 112th nationally in yards (331.8 ypg) and 121st in passing (119.8 ypg). But the scoring is adequate (27 ppg), and with a deliberate style (38th nationally in possession time) and a punishing running back in
David Cobb
, Minnesota can inflict slow death with a lead.
"Every possession's important," Limegrover said. "Every time you get your hands on that football, you've got to make something positive happen, but you can't be negligent."
While HUNH (hurry-up, ho-huddle) offenses gain an edge by snapping the ball before defenses are set, Minnesota uses presnap motion and shifts to flummox its foes. The Gophers might show three different formations before the snap, forcing defenses to adjust their calls and possibly creating numbers advantages.
"They're very patient offensively," said Purdue coach Darrell Hazell, whose team visits Minnesota on Saturday. "They do a great job of running the ball. ... They throw the play-action passes at you, they throw the naked passes at you, and then they're very content with punting the ball and playing great defense.
"That's been their formula for winning."
There are drawbacks. Three-and-outs are killers and, until the Northwestern game, Minnesota struggled on third down. Though a 10-point lead can feel like 21, especially with Cobb pounding away in the fourth quarter, Minnesota isn't built to rally.
The most telling stat: Under Kill, Minnesota is 19-0 when leading at halftime and 0-22 when trailing.
"If our defense wasn't playing great, there'd be a lot bigger issues," Limegrover said.
But Minnesota will remain methodical, huddling up and discussing what's for dinner.
Lately, it's been a lot of chicken.
November, 18, 2012
11/18/12
8:10
PM ET
A bizarre and troubling story emerged Sunday afternoon out of Minneapolis, and it's not good for the
Minnesota Golden Gophers
.
[+] Enlarge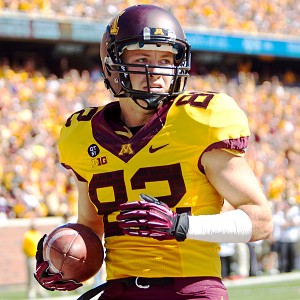 Brad Rempel/Icon SMIA.J. Barker, who had 577 yards and seven touchdowns, has left the Gophers team.
Junior wide receiver
A.J. Barker
, one of the team's best stories this season, announced on Twitter that
he's quitting the team
and made strong allegations of mistreatment by head coach Jerry Kill. Barker, the Gophers' top wideout with 30 catches for 577 yards and seven touchdowns,
tweeted Sunday afternoon
: "Well, its official. I am done playing football for the University of Minnesota and I will be looking to transfer next season for my final yr." He then directed his followers to a newly created tumblr page, where he posted
an extensive letter to Kill
detailing why he's quitting (warning: the letter contains profanity).
As a walk-on, Barker can transfer to another school without having to sit out before his final season of eligibility.
Barker alleges that Kill confronted him at a recent practice and questioned his attitude and work ethic in his recovery from an ankle injury. Barker sustained the injury Oct. 27 against Purdue and aggravated it in pregame warmups Nov. 5 before the Gophers hosted Michigan. He writes that the training staff didn't inform him immediately that he had suffered a high ankle sprain. Barker also accuses tight ends coach Rob Reeves of calling him a slur because of his religious views.
But Barker's criticism is directed mainly at Kill. He writes, "You took the one thing you had a say in (my football playing career and my future) and you held it against me in an attempt to break me, going as far as to tell me I'll never get a scholarship or see the field again."
He adds:
You revealed the extent to which you are a manipulator. You assured me that you could save me, that you've had problematic players in the past (calling out by name: Bart Scott, Brandon Jacobs, and even my teammate Michael Carter), and that you knew how to deal with people like me. You did everything you could to connect with me and at times you did so well that I essentially blacked out in hypnosis as you praised me like you never had before. You had hitched yourself to my wagon. You had driven a wedge into my character and filled it with your praise and support. You had beaten me down and brought me back up by your "grace". It was textbook manipulation and I saw through it the whole time.
Barker signs the letter, "your former player," but adds that he's willing to meet with Kill if his parents and athletic director Norwood Teague are present.
UPDATE
: Teague issued a statement about Barker on Sunday night.
It reads:
"Coach Kill received an email from A.J. Barker today notifying the Coach that he has quit the team. Coach Kill tried reaching out to A.J. after receiving the email, but was unable to connect with him. We understand A.J.'s frustration with his injury, and we regret that he has chosen to leave the team on these terms. Our concern first and foremost is student athletes and we wish A.J. well."
Barker is scheduled to
appear on ESPN Radio 1500
on Monday morning.
We'll have more on this as it becomes available, so stay tuned ...
December, 20, 2010
12/20/10
3:46
PM ET
As expected, new Minnesota coach Jerry Kill is acting quickly to fill out his staff. Kill announced five additions of assistant coaches Monday.
Kill's former team, Northern Illinois, wrapped up its season Saturday with an impressive bowl win against Fresno State, and Kill has plucked four assistants from the Huskies' staff. Kill already brought over coordinators Matt Limegrover (offense) and Tracy Claeys (defense) from Northern Illinois to Minnesota.
Here are the Gophers' new additions:
Jim Zebrowski, quarterbacks coach
Rob Reeves, H-backs and tight ends coach
Pat Poore, receivers coach
Jeff Phelps, defensive line coach
Bill Miller, assistant head coach/linebackers coach
Zebrowski, Reeves, Poore and Phelps all served on Kill's staff at Northern Illinois. Zebrowski, Poore and Phelps all served in the same capacity with the Huskies as they will with the Gophers, while Reeves coached running backs at NIU. Kill retained Thomas Hammock from the previous Minnesota staff to coach the running backs, but Reeves adds good expertise after helping mold NIU star
Chad Spann
into the MAC's Most Valuable Player this season.
Miller most recently served as Kansas' co-defensive coordinator and linebackers coach in 2009 under Mark Mangino. The 32-year coaching veteran made a previous stop in Minnesota as the Gophers' defensive backs coach from 1986-88.
None of these additions comes as a surprise. Kill stated from the beginning that he would likely bring in a group of assistants who have been with him for some time. He has a veteran staff of assistants, including several who did a very good job with Northern Illinois this past season.
Minnesota still has one assistant coach vacancy to fill. Northern Illinois defensive backs/special teams coach Jay Sawvel seems like a good possibility.
Kill's staff will have good chemistry. The next challenge is to get the same out of the team in 2011.