May, 6, 2014
May 6
9:50
AM ET
The Rutgers' public relations nightmare isn't over, and the school without a clue has managed to offend its most popular recent alum.
You probably heard about Condoleeza Rice's decision to
back out of giving Rutgers' commencement speech
after students protested her involvement in the Iraq War as former U.S. Secretary of State. The Rice situation, while not casting the best light on Rutgers, isn't unusual on politically charged college campuses.
Rutgers needed a replacement speaker. Eric LeGrand, the former Scarlet Knights football player whose response from a devastating spinal cord injury has inspired millions, hoped his alma mater would ask him to fill in. It did on Saturday. Greg Jackson, the chief of staff for Rutgers president Robert Barchi, told LeGrand to talk with his family and get back to him on Monday. LeGrand planned to formally accept the offer then.
What could
possibly go wrong?
Rutgers offered me the commencement speech this weekend and I was going to accept but they decided to go other ways for political reasons

— Eric LeGrand (@EricLeGrand52) May 6, 2014
While LeGrand flew home to New Jersey, thinking about what he would say at commencement, Rutgers announced that
former New Jersey Gov. Tom Kean would be giving the address instead
. According to LeGrand, athletic director
Julie Hermann later called him to inform him of the change
.
Unreal. If it feels like you've read this post about a Rutgers PR problem before, it's
because you have
. I feel like
I've written it
10 or 12
times in the past year or so
.
Rutgers doesn't officially join the Big Ten until July 1, but it already leads the league in public relations disasters, several of which, like this one, easily could have been prevented. Many are once again asking why the Big Ten admitted Rutgers. That answer
hasn't changed and won't change
. But the grumbling isn't going away.
Condoleeza Rice is a somewhat controversial figure because of her political past. Eric LeGrand is not only a safer choice to speak at commencement but an extremely smart one. He has given motivational speeches around the country since his injury. He's beloved by all, particularly those in the Rutgers community.
As
Steve Politi writes
, LeGrand is, "the best representative of that entire university." No arguments here. No arguments anywhere.
More from Politi:
Just when you thought Rutgers couldn't screw something up any worse, just when you thought the leadership incompetence could not climb any higher, it insults the inspirational kid in the wheelchair.

It pulls the old bait and switch on the one human being who, more than anyone I've ever met, lives, eats and breathes Rutgers in the most unvarnished, positive way.
The latest blunder doesn't fall on Hermann, but Barchi, whose chief of staff asked LeGrand to speak, gave no indication of a possible change when LeGrand contacted him on Monday to review logistics, and didn't answer LeGrand's phone calls Monday night.
LeGrand graduated from Rutgers in January
and had planned to attend the ceremony for the school of labor and management relations on May 17, the day before the university commencement. Hermann told him Barchi still wants him to come to the ceremony to personally hand him his degree.
"I just didn't know how to feel," LeGrand told The Star-Ledger. "I was hurt. They offered me this on Saturday and then they take it back on Monday. I was like, 'Why?'"
When it comes to all things Rutgers, so many are asking that question.
May, 28, 2013
5/28/13
10:00
AM ET
The Big Ten's addition of Rutgers in November generated little enthusiasm outside the Garden State.
But most critiques, eye-rolls or shoulder shrugs about the Scarlet Knights stemmed from the fact their football program didn't move the needle much regionally or nationally. Rutgers' profile as a university -- major research institution, AAU member, located in a state contiguous to the Big Ten footprint -- fit seamlessly with the Big Ten and was an easy sell to the league's presidents and chancellors.
There wasn't a question of institutional competency in November. There is now.
Still reeling from the
Mike Rice scandal
, the
ouster of popular athletic director Tim Pernetti
and the
Eddie Jordan degree debacle
, Rutgers once again finds itself in the news for the wrong reasons. New AD Julie Hermann is in the crosshairs after a report from The (Newark) Star-Ledger in which Hermann's
former volleyball players at the University of Tennessee accused her of verbal abuse
. The newspaper reports that Hermann quit her post at Tennessee after all 15 players on the 1996 team had submitted a letter accusing Hermann of "mental cruelty" and alleging that she called players "whores, alcoholics and learning disabled."
Hermann told The Star-Ledger that she didn't recall the letter and
told ESPN that she never used those terms with the players
. Hermann also told ESPN that Rutgers president Robert Barchi assured her that she won't lose her job, a claim backed up by a
statement Rutgers issued Monday
. Hermann also
released a statement
calling the allegations "heartbreaking."
"This was not an abusive environment," Hermann told ESPN. "Was it challenging? Yes. It was incredibly challenging. Was I aware players were unhappy? I was unaware by the end of the season. We had so many challenges with this group of women."
[+] Enlarge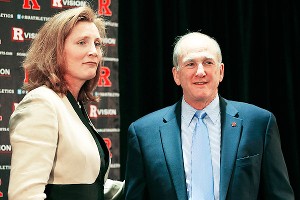 Rich Schultz/Getty ImagesRutgers president Robert Barchi is standing by his new AD, Julie Hermann, despite the recent scandal.
Hermann's
former colleagues have come to her defense
, but her former Tennessee players aren't backing down from their allegations, despite all the time that has passed.
Kelly Hanlon Dow, a sophomore on the 1996 team, told The Star-Ledger, "How ironic that Rutgers had an abusive coach [Rice] and they're bringing in someone who was an abusive coach."
Hermann also told The Star-Ledger that she didn't recall attending the wedding of her former Tennessee assistant Ginger Hineline, who later sued the school alleging that Hermann had discouraged her from getting pregnant. The Star-Ledger acquired a video from Hineline's wedding in which Hermann, who was a bridesmaid, joked about the difficulty of Hineline bringing a baby into the volleyball office.
New Jersey Gov.
Chris Christie wants answers
, and
other state leaders expressed their disappointment in the school
, which said it considered 63 candidates for the athletic director spot and that Hermann quickly emerged as a top contender.
Hermann said neither Rutgers' search committee nor the outside firm the school hired to assist in the search asked about the allegations from the Tennessee players.
Sure, the allegations against Hermann took place a long time ago, and it's a she said/she said situation. Hermann had no known issues in an exemplary career as an administrator at Louisville. But the timing and the nature of the allegations create a real mess.
Rutgers is getting ripped
by the New Jersey and New York media, bringing more negative attention to a school and to an athletic program that can't seem to get anything right. Steve Politi, a columnist for The Star-Ledger,
writes
:
How did Rutgers let this happen? Who, exactly, does the vetting for this university? This was not some monthlong investigation that found these players. They were contacted during the basic reporting that goes into any profile of a public figure in an important job.
Where does the Big Ten fit into all of this? Technically, Rutgers isn't the Big Ten's problem until it joins the league on July 1, 2014. Still, so much bad press for a future member that received so little good press at the time it joined the Big Ten looks, well, bad for the conference.
Big Ten commissioner
Jim Delany stood by Rutgers after the Rice scandal
, and there's no indication that Rutgers' status as a future league member is impacted at all by the Hermann situation. But there has to be some level of concern about the institution and how it handles personnel matters. These last two months have been a disaster.
Are demographics really worth all of this? The answer is yes.
Although the recent scandals have rocked Rutgers, the campus itself hasn't moved. And that's all that matters to the Big Ten -- having a new member located close to major markets. The Big Ten didn't add Rutgers because of its on-field performance or its (in)ability to hire and fire coaches and administrators. The addition of Rutgers always was about
the Big Ten finding a way to showcase its existing product in newer, bigger areas
. Rutgers still provides an in to the New York market.
It will be interesting how the situation evolves in Piscataway and whether Hermann and Barchi keep their jobs. The Big Ten would love to have the whole thing go away as soon as possible.