December, 29, 2010
12/29/10
9:32
PM ET
The Big Ten improves to 2-0 in the bowl season and 2-0 against the pesky Big 12 as Illinois held off Baylor in Houston.
Here's a look back at Illinois'
38-14 victory
in the Texas Bowl.


How the game was won:
Nathan Scheelhaase
's precision passing complemented a typically dominant rushing attack as Illinois steamrolled Baylor's overmatched defense for much of the game. The Illini came out firing and overcame a few defensive hiccups midway through the second half to hold off
Robert Griffin III
and the Bears. Running back
Mikel Leshoure
(29 carries, 184 rush yards, 3 TDs) was brilliant in what could be his final college game, and the Illini defensive line made enough big plays to contain Griffin. Illinois' specialists also stepped up nicely.
Player of the game:
Scheelhaase. The redshirt freshman showed impressive growth between the end of the regular season and the bowl game, completing his first 13 pass attempts and finished the game 18-for-23 for 241 yards with no touchdowns or interceptions. He wasn't a huge factor in the rushing game but he didn't need to be on this night, as he set a season high for completions. Honorable mentions go to Leshoure and Liuget, who commanded double and triple teams.
Turning point I:
Baylor seemed to be rolling on the game's opening drive before Illinois' Travon Bellamy scooped up a backward pass by Griffin and raced 44 yards, setting up a field goal. The Illini defense played brilliantly the rest of the half and Illinois surged out to a 24-0 lead.
Turning point II:
After the Bears had closed to within 24-14 early in the fourth quarter, Illinois' defense forced a three-and-out, stuffing Griffin on third-and-1. The Illini run game then took over, as Leshoure and teammate
Jason Ford
bowled over Baylor on a 7-play, 66-yard touchdown drive.
Stat of the game:
Scheelhaase completed fewer than 50 percent of his passes in each of his final three regular-season games (21-for-50 combined) but connected on his first 13 attempts Wednesday night. The redshirt freshman had completed more than 13 passes in only five regular-season games.
Record performance:
Leshoure set Illinois' single-season rushing record with 1,696 yards. He broke Rashard Mendenhall's mark of 1,681 yards set in 2007 with a fourth-quarter scamper.
What it means:
Illinois can brand the 2010 season as both a success and a potential turning point for coach Ron Zook and his program. The Illini needed a winning season and a good finish after dropping three of their final four regular-season contests. Talent has never been the problem for Zook's crew, but the team made strides in all three phases after the 3-9 disaster in 2009. It'll be interesting to see what happens with NFL prospects Leshoure, Liuget and linebacker Martez Wilson. While it's unrealistic to think all three juniors will return, Illinois could be a factor in the Leaders division next fall if it can reload.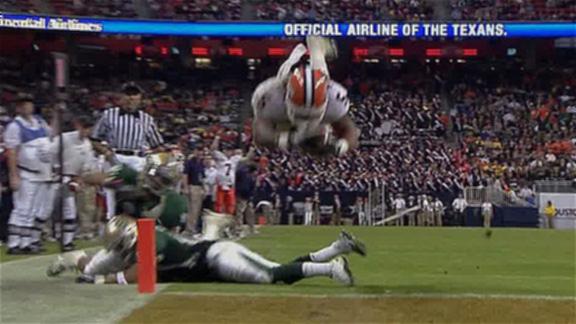 December, 29, 2010
12/29/10
7:44
PM ET
Illinois has been the much better team so far tonight in the Texas Bowl.
The bigger surprise:
Nathan Scheelhaase
has been the much better quarterback than Baylor's
Robert Griffin III
.
Scheelhaase completed all 13 of his first-half pass attempts for 169 yards as Illinois has stormed out to a 16-0 lead. The redshirt freshman completed less than 50 percent of his passes in each of his final three regular-season games, including a 5-for-16 performance in a loss to Fresno State, but he has clearly made strides during bowl prep.
Illinois' efficient pass game has opened things up for running back
Mikel Leshoure
(85 rush yards, TD).
Griffin, meanwhile, has been a disaster, overthrowing his receivers and twice fumbling. Illinois star defensive tackle Corey Liuget is having a big night as the Illini limited Baylor to only 148 first-half yards. Liuget's roughing-the-passer penalty appeared to give Baylor life near the end of the half, but Griffin's fumble turned the momentum back to the Orange and Blue.
So far, so good for Illinois, which is putting things together in all three phases and playing to its talent level.
December, 28, 2010
12/28/10
11:15
AM ET
Here are three keys for Illinois for Wednesday afternoon's Texas Bowl matchup against Baylor.

1. Keep Robert Griffin off the field:
A no-brainer here. Illinois has the type of rushing attack that, when clicking, can control an entire game. Illinois' offensive line needs to impose its will and create room for All-Big Ten selection
Mikel Leshoure
, bruising backup
Jason Ford
and quarterback
Nathan Scheelhaase
. Leshoure certainly brings big-play ability to the table, but Illinois would really benefit from long, sustained scoring drives against Griffin and the Bears.
2. Get Corey Liuget into the backfield:
Illinois looked like one of the Big Ten's top defenses for stretches this season, and the Illini were at their best when defensive tackle Corey Liuget bullied his way into the backfield. Liuget is a legit NFL prospect who can change games by blowing up the interior line. The junior has 10 tackles for loss, 10 quarterback hurries and 3.5 sacks. His ability to get after Griffin will be huge in this game.
3. Start the game with passion:
The Illini came out flat against both Fresno State and Minnesota, and they paid the price with damaging November losses. We've seen this month that bowl games bring out different emotions in teams, and Illinois needs to be locked in from the get-go in what likely will resemble a road-game environment at Reliant Stadium. The Illini were a good first-half team for much of the season, and a quick start against Baylor will provide some confidence.
December, 28, 2010
12/28/10
10:00
AM ET
Illinois is back in the postseason for the first time since the 2008 Rose Bowl. Baylor? The Bears play in the first bowl game since the 1994 Alamo Bowl.
Here's a quick preview of the Illini-Baylor matchup in the Texas Bowl.


WHO TO WATCH:
Illinois defenders Corey Liuget and Martez Wilson. The game plan is pretty simple for the Illini, who must contain Baylor quarterback
Robert Griffin III
. Both Liuget and Wilson are All-Big Ten defenders who could be heading to the NFL draft after the bowl game. They need to penetrate the backfield, harass Griffin as often as possible and tackle the Bears star in the open field.
WHAT TO WATCH:
Illinois' rushing attack. When the Illini have their ground game going, it's a thing of beauty. Junior running back
Mikel Leshoure
, another candidate to enter the NFL draft, needs 169 rush yards in the bowl game to break Rashard Mendenhall's single-season team record set in 2007. Baylor finished ninth in the Big 12 against the run, allowing 160.2 yards per game, so Illinois will have opportunities to spring Leshoure, backup
Jason Ford
and quarterback
Nathan Scheelhaase
.
WHY TO WATCH:
You never know which Illinois team will show up. If it's the one that crushed Penn State and Northwestern and gave Ohio State and Michigan State good tests, Baylor could be in trouble. If it's the one that looked lifeless for stretches against Fresno State and Minnesota, the Bears could run away with this one. Illinois boasts plenty of talent on both sides of the ball, but can coach Ron Zook's crew put it all together to cement a winning season?
PREDICTION:
Baylor 31, Illinois 24. It's never easy to forecast what happens with Illinois, and this one certainly could go either way. But Griffin is the most dynamic player on the field, and Illinois' defense declined late in the regular season. Illinois doesn't have enough in the pass game to balance out Leshoure and the ground attack. Baylor will feel right at home in Houston, and the Bears will prevail.
December, 17, 2010
12/17/10
12:00
PM ET
Thanks to colleague
Heather Dinich
for filling in on the links Thursday. I caught a 24-hour flu bug, and it wasn't pretty.
December, 5, 2010
12/05/10
10:40
PM ET
Illinois Fighting Illini (6-6) vs. Baylor Bears (7-5)
Dec. 29, 6 p.m. ET (ESPN)

Illinois take by Big Ten blogger Adam Rittenberg
: After doubling its wins total from 2009, Illinois enters somewhat unfamiliar territory Dec. 29 at Houston's Reliant Stadium.
The Illini have been the nation's ultimate all-or-nothing program the last decade, reaching two BCS bowls -- the 2002 Sugar and the 2008 Rose -- and enduring eight losing seasons. They haven't played in a non-BCS bowl since the 1999 MicronPC.com Bowl, which also marked the program's last postseason victory. Illinois can take a step toward consistency in the Texas Bowl against Baylor.
Illinois has made strides in all three phases this season, although the Illini remain prone to erratic play.
Junior
Mikel Leshoure
emerged as the Big Ten's best running back this season, ranking eighth nationally in rushing (126.1 ypg). Paul Petrino's offense is built around the run, and Illinois boasts plenty of ball-carrying options with Leshoure, classmate
Jason Ford
and redshirt freshman quarterback
Nathan Scheelhaase
.
The Illini defense surged at the start of Big Ten play but backslid down the stretch. Illinois needs standouts like defensive tackle Corey Liuget and linebackers Martez Wilson and Nate Bussey to perform at their peak against Baylor's multitalented quarterback Robert Griffin.
The big question: Which Illinois team will show up in Houston? If it's the one that pounded Penn State and Northwestern and beat a good Northern Illinois team, the Illini have a good shot to win. But if it's the one we saw Friday night against Fresno State or Nov. 13 against Minnesota, it'll be a long night.
---

Baylor take by Big 12 blogger David Ubben
: You won't hear any complaints from Baylor on its bowl destination during the holidays. Bears fans stormed the field at Floyd Casey Stadium after a win over Kansas State in October gave the team its sixth win, officially qualifying for bowl eligibility for the first time since 1995. A three-game losing streak to end the season slowed some of the Bears' momentum after a 7-2 start, but the official announcement should serve as a jolt of energy and a reminder of the accomplishment's significance within the program.
The Bears boast an exciting set of skill position talent in quarterback
Robert Griffin III
, running back
Jay Finley
and five receivers with at least 40 catches this season. Baylor had to use that offense to outscore a handful of opponents this season, but they did it enough times to reach the team's ultimate goal when the season began: ending that infamous bowl drought.
The Bears bowl destination isn't exactly exotic -- just a short trip west to Houston -- but like I said, you won't hear them complaining.
August, 6, 2009
8/06/09
12:00
PM ET
Posted by ESPN.com's Adam Rittenberg
Camp opens later today in Champaign, and players report in Bloomington. Fun times.
June, 1, 2009
6/01/09
9:00
AM ET
Posted by ESPN.com's Adam Rittenberg
Ranking the Big Ten's top 30 players ...
No. 8
Terrelle Pryor, QB, Ohio State, So., 6-6, 235
Why he's here -- Pryor's placement in the rundown sparked more debate than that of any other player. Some of you thought I'd leave him out entirely. Others thought I'd follow the "company line" and put him at No. 1 or No. 2. At this point in his career, eighth seemed like the appropriate spot for the extremely talented Ohio State sophomore.
Listen, I see that Pryor still has a long way to go as a passer. Ohio State finished 10th in the league and 105th in pass offense (150.2 yards per game) with him at the helm. His inconsistency on short and intermediate throws proved costly at times. But the rankings are also about potential, and any level-headed observer can see Pryor has plenty of it.
Keep in mind he was just a true freshman last fall, and he came up big in games against Michigan State, Wisconsin and Illinois. Aside from Florida's Tim Tebow and Baylor's Robert Griffin, there might not be a more dangerous running quarterback in the country than Pryor. He appeared to make the necessary strides in the offseason and should contend for All-Big Ten honors this fall after winning the league's Freshman of the Year award in 2008.
The Rundown
No. 8 -- Terrelle Pryor, QB, Ohio State
No. 9 -- Corey Wootton, DE, Northwestern

No. 10 -- Brandon Graham, DE, Michigan

No. 11 -- Greg Jones, LB, Michigan State

No. 12 -- Jared Odrick, DT, Penn State

No. 13 -- Kurt Coleman, S, Ohio State

No. 14 -- Juice Williams, QB, Illinois

No. 15 -- Amari Spievey, CB, Iowa

No. 17 -- Garrett Graham, TE, Wisconsin
No. 18 -- Adam Weber, QB, Minnesota

No. 19 -- Jammie Kirlew, DE, Indiana

No. 20 -- Pat Angerer, LB, Iowa
No. 21 -- Brad Phillips, S, Northwestern
No. 22 -- Brandon Minor, RB, Michigan

No. 23 -- Ricky Stanzi, QB, Iowa

No. 24 -- Ryan Kerrigan, DE, Purdue

No. 25 -- Traye Simmons, CB, Minnesota

No. 26 -- Thaddeus Gibson, DE, Ohio State

No. 27 -- Stefen Wisniewski, C, Penn State

No. 28 -- Matt Mayberry, LB, Indiana
No. 29 -- Martez Wilson, LB, Illinois

No. 30 -- Trevor Anderson, DE, Michigan State
May, 8, 2009
5/08/09
3:09
PM ET
Posted by ESPN.com's Adam Rittenberg
As promised, your non-expansion-related questions.
Chad from Ames, Iowa, writes: Any news on the status of former-Hawkeye QB Jake Christensen? His father claimed that Jake had fifteen-plus suitors for his services, but I have yet to hear where he landed.
Adam Rittenberg: Things are pretty quiet on the Christensen front, Chad. Illinois State looked like a possibility for a while, but nothing has materialized yet. I'll post something as soon as I hear.
---
Mike from Detroit writes: How much of the hype surrounding Terrelle Pryor do you think comes from his recruiting ranking vs performance as a QB? It seems extreme to me when Ohio State ranked 105th in passing offense and couldn't even score an offensive TD against Purdue, USC and Penn State. Wouldn't it make more sense for the pundits to save some of their slobbering until Pryor shows he can do more than just hand off to Beanie or run himself?
Adam Rittenberg: The recruiting buzz around Pryor certainly fuels his hype, and he definitely has a lot more to prove as a college quarterback, starting this season. I don't have Pryor among my top 5 Big Ten players at this point because his potential hasn't translated on the field -- yet. Keep in mind he has played only one season, and there's a ton of room to grow. What can't be denied is Pryor's physical gifts and running ability. Aside from Robert Griffin at Baylor, there might not be a more dangerous college quarterback on the move than Pryor. But he's got to show more as a passer, no doubt.
---
Dan from Iowa City writes: Hey Adam, looking foward to your blog for the upcoming season! Expectations seem to be high here for the Hawkeyes. What do you think they have to do to compete for the Big Ten Title? I have been watching Big Ten Network and College Football Live and Iowa seems to be a pretty popular pick as the dark horse to win the league. What do they have to do to make that a reality?
Adam Rittenberg: Iowa got a lot of love from Shaun King on College Footbal Live the other day, and King really likes what he has seen from Ricky Stanzi. It all comes down to how the Hawkeyes perform on the road. I don't see them losing at Kinnick this fall, but with a Big Ten road slate of Penn State, Ohio State, Michigan State and Wisconsin, a 2-2 split doesn't look bad. That Penn State game is huge. Win it, and you're right in the mix for the league title. I really like the leadership Iowa has this year. A little concerned about the depth in some spots (D-line), but overall the Hawkeyes look like a very solid team.
BIG TEN SCOREBOARD
Saturday, 12/20
Monday, 12/22
Tuesday, 12/23
Wednesday, 12/24
Friday, 12/26
Saturday, 12/27
Monday, 12/29
Tuesday, 12/30
Wednesday, 12/31
Thursday, 1/1
Friday, 1/2
Saturday, 1/3
Sunday, 1/4
Monday, 1/12
Tweets from https://twitter.com/ESPNCFB/lists/b1g