Big Ten:

Robert Griffin III
August, 31, 2012
8/31/12
4:30
PM ET
Enjoy the games tonight and tomorrow. I know I will.
Joe from Saline, Mich., writes:
Before we can label the Wolverines as "back" don't they have to start beating the upper end B1G teams? Over the past 4 years they have gone 2-13 against MSU, OSU, PSU, Wisconsin and Iowa.
Adam Rittenberg:
Joe, you're right that Michigan needs to record some key wins against the Big Ten's best. That said, a win against the defending national champion at a neutral site would show Michigan once again belongs among the nation's elite. No Big Ten program has done what Alabama has under Nick Saban in recent years, so you could argue a win Saturday night would be bigger than any win Michigan could record against a Big Ten power this season. It wouldn't mean much if the Wolverines fell apart in conference play, but that seems unlikely. Bottom line: Michigan needs to end the losing streaks against Michigan State and Iowa, and record a win against a quality Ohio State team (last year's squad wasn't). But beating Alabama would be huge for Brady Hoke and his program.
Zach from Ames, Iowa, writes:
Adam, Nebraska is optimistic about the defense returning to prominence this fall. I have agreed to a certain degree because the depth is better, except when I read that
Ciante Evans
is a budding star out of Lincoln, I begin to get a little skeptical. Evans was a huge weakness in the secondary last year, especially in games against Fresno St, Washington, Ohio St and Northwestern. So much so that they converted
Corey Cooper
and
Stanley Jean-Baptiste
from safety and wide receiver at one point. Is Nebraska that desperate for star power that were banking on Evans to blossom into the next Prince Amukamara or Alfonso Dennard? Say it ain't so.
Adam Rittenberg:
Zach, while I understand your concern about Evans, who entered last season with some hype and didn't back it up, I wouldn't write him off, either. He seems to have taken accountability during the offseason and improved his play during spring practice and into fall camp. Players can make strides after a tough season, and Evans, by most accounts, has a better understanding of the defense and the nickel position. I don't think Nebraska needs Evans to be Amukamara or Dennard. While it'd be nice if a superstar cornerback or two emerged, the secondary's overall depth should be strong enough this season. I don't see the excitement about Evans as a cause for panic.
FFXLion from Washington D.C., writes:
Glad that the season is finally upon us. You and Brian did pre-season predictions for the B1G. For fun, my 13 year old son did predictions, which I shared in the comments on the blog. He was high on the Legends Division and couldn't really separate UM, MSU and Nebraska (in his mind, at least), so he predicted a 3-way tie among these teams at 7-1 in conference. While you could debate whether this is plausible, it did generate a lot of discussions about 3-way tiebreakers, and it would seem that this particular hypothetical tie would be broken by BCS standings. My question to you: If these teams end up tied this way, who do you think is MOST likely to get to the CCG, and why? And, who do you think would be least likely?
Adam Rittenberg:
FFX, the final BCS standings no longer play nearly as big a factor in
the Big Ten's tiebreaker system
. We went over this on the blog last year, but it's always good to rehash.
If three teams finished tied atop a division, you first look at their records against each other
If one team defeated the two others, it would go to Indy as the division winner
The next tiebreaker is records within the division. So if two teams had a division loss and the other had a loss outside the division, the one with the loss outside the division would go
The next tiebreaker is records against the next best team in the division (fourth place)
You have to go way down the tiebreaker list before the final BCS standings come into play. Bottom line: it's a lot easier to break ties now within divisions because all the teams play each another.
Paul from Grand Rapids, Mich., writes:
Hey Adam, ESPN's recent focus on the Heisman helped me remember a major question I had last year. As a Buckeye fan, how did Montee(ay) Ball NOT win the Heisman last year? I understand that Wisconsin did not win the NC, and maybe they didn't have as tough a schedule as others, but come on! It's not like he was playing in the MAC? This is the Big Ten! Who did RG3 play? Did they win the NC? Seriously think about this, what did Ball have to do in order to win it? He had the 2nd greatest RB season EVER! There can't be more of an obvious prejudice against the Big Ten or a more overlooked player EVER. What's "their" argument? Please, tell me.
Adam Rittenberg:
Paul, some good points. As Brian Bennett has pointed out several times, Ball's 2011 season likely will gain more appreciation in time than it did when it actually happened. His numbers are insane, and he recorded them in a power conference. Several factors worked against him, some of which illustrate problems with the Heisman race. Wisconsin promoting quarterback
Russell Wilson
for the Heisman -- and justifiably so -- before Ball didn't help Ball's cause. You also had another running back in Trent Richardson who played for a team (Alabama) and in a league (SEC) more highly regarded Wisconsin and the Big Ten. Griffin was a more familiar name nationally than Ball, and while you can argue the Big 12 was meh, most folks would say the same about the Big Ten in 2011. I think Griffin deserved the Heisman and voted for him, but Ball should have gained more serious consideration for the award and finished higher in the final voting. It also would have helped if Wisconsin had stayed in the national title picture longer. And yes, scheduling plays a role. Ball would have benefited from a big performance against another elite team from a top conference in September.
Mark from Wilmette, Ill., writes:
How many mailbags do I have to read before there's a question about my beloved
Northwestern Wildcats
? Here's one for you: what are the chances NU exceeds expectations this season? With a defense that can't be any worse than last year, and an offense led by the dynamic
Kain Colter
, I think we could win 8 games this season. Thoughts?
Adam Rittenberg:
Ask and you shall receive, Mark. The two big question marks for Northwestern are the secondary and the offensive line. One has been historically bad; the other looks a little shaky entering the season. If both units are above average, Northwestern has a chance to win eight or more games, especially if it capitalizes on what should be a favorable opening schedule. The Wildcats can't get shredded by every quarterback they face. Part of that is having a better pass rush than in 2011, when Northwestern rarely generated any pressure. But another part is having more athletes and playmakers in the secondary. Colter is a stud and could turn out be the best fit Northwestern has had at the helm of its spread offense. But the Wildcats also need to run the ball and get more contributions from the running back position, which has been a weakness under Pat Fitzgerald. The line needs to perform like it did in last year's Nebraska game more often. If it does, Northwestern can surprise some folks in the Legends Division.
Michael from Ann Arbor, Mich., writes:
In your latest article you said that Michigan has had a historical bad defense... I couldn't disagree more. I think the backbone of Michigans national prominence in the last 20 years (barring the last 5 or so) has been their defense. Can you please explain your position with some concrete stats. Without a further explanation, I have no choice but to disagree with you which is frustrating because I have enjoyed and trusted your writing for a long time.Sincerely-A proud Michigan fan
Adam Rittenberg:
Michael, I think you misread that statement. I wrote that Michigan had a historically bad defense from 2008-10 under Rich Rodriguez. Do you really need me to rehash those painful stats? Here's one: Michigan finished 110th in total defense in 2010, allowing more than 450 yards per game. That's historically bad for U-M. Of course, the program's history is steeped in great defenses. But that particular period saw a major decline. Fortunately, Hoke and his staff have things on the right track again.
Nathan from East Lansing, Mich., writes:
Adam, for weeks I've been reading comments and questions from other readers about their disappointment in MSU being ranked so highly among you and Brian and other outlets picking them to win the division and possible Rose Bowl Berth because of the fact that they lost so much on offense. While I agree that starting three brand new receivers with little to no game experience is a little unorthodox and rarely happens, EVERY team in the country starts a new QB every 2-3 years with them also having little to no game experience. Why is the fact that
Andrew Maxwell
is a new starter causing such a huge fuss among people? Even if it's clear that he is further along than Cousins was at this point and could possibly be better by being in the program for four years now?
Adam Rittenberg:
Nathan, you make a good point about the nature of college football and the quarterback transitions we see every 2-3 years at virtually every program. I think folks who don't know Maxwell's background assume he's going to fall apart on Friday night, which, in fairness, he might. But he's not a true freshman who has never stepped on a field with Big Ten defenders. He practices against a very good defense in East Lansing, and he has prepared for this moment for more than two years. I don't think you can say he's further along than Cousins was at this point until you see him play an entire game, but the Boise State matchup will provide a great gauge of his progress.
Dan from Omaha writes:
Not sure I agree with your choice on who has the most to lose. Really, I'm not sure Penn State has much to lose...given their situation, I feel most would be sympathetic for at least this season, given the player turnover, the events that have taken place over the last several months, a new head coach, and Ohio being a generally solid team. I almost feel like Michigan could have the most to lose, and not just for themselves but for the conference as a whole. Getting blown out by Alabama could not only be demoralizing for the Wolverines, it could further a generally negative perception of the conference in terms of strength. Playing close or winning the game would provide a huge jolt to their own players' confidence, as well as give the conference a much needed shot in the arm in terms of perceived strength. Thoughts?
Adam Rittenberg:
Dan, some good points. You might have missed it in the lead-in, but Brian and I both feel Michigan State has the most to lose in Week 1. The Spartans get a new-look Boise State team in their house, and send an elite defense against a first-time starting quarterback. They have to get that win. We framed the question as, "besides Michigan State, who has the most to lose?" Michigan is an interesting option, and I agree that a blowout loss would do some damage for the Wolverines and certainly for the Big Ten. But the Wolverines are still building their program in Year 2 of the Brady Hoke era. No one expects them to beat Alabama, and a loss, even of the blowout variety, wouldn't be the end of the world. They still have opportunities to make strides against Notre Dame, MSU, Nebraska, Ohio State, etc. I don't think there would be the doom-and-gloom in Ann Arbor after a blowout loss like there would be in State College after a game Penn State is supposed to win and needs to win after such a tough offseason.
John from Johnson City, Tenn., writes:
Your Purdue best/worst case scenarios were spot on except for two things: 1) Your missing 3 ACL tears and 2) Purdue athletes only seem to get arrested at poorly named Where Else?
Adam Rittenberg:
I still have a soft spot for Harry's, but the track record at Where Else? suggests that's where bad things happen for the Boilers. You're right about including the ACLs (although I hope that trend ends at Purdue). Maybe there's an APPACLHG (Angry Purdue Player ACL Hating God) lurking around West Lafayette. He must be stopped.
April, 30, 2012
4/30/12
9:00
AM ET
After a
historically slow start
to the 2012 NFL draft, the Big Ten ended up having 41 players selected during the three-day event. It's a strong overall total, one behind the SEC, the league with the most picks (42). Michigan State, Iowa and Wisconsin led the way with six picks each, followed by four teams -- Illinois, Nebraska, Ohio State and Penn State -- with four selections. Michigan had three players selected, and both Purdue and Northwestern had two. Neither Minnesota nor Indiana had a player drafted this year.
Here's the full rundown:
ROUND 1 (four selections)

No. 23 overall: Iowa T
Riley Reiff
, Detroit
No. 26: Illinois DE
Whitney Mercilus
, Houston
No. 27: Wisconsin G
Kevin Zeitler
,
Cincinnati Bengals
No. 30: Illinois WR
A.J. Jenkins
, San Francisco
ROUND 2 (seven selections)

No. 44: Illinois G
Jeff Allen
, Kansas City
No. 48: Illinois S
Tavon Wilson
, New England
No. 51: Michigan State DT
Jerel Worthy
, Green Bay
No. 53: Penn State DT
Devon Still
, Cincinnati
No. 55: Wisconsin C
Peter Konz
, Atlanta
No. 56: Ohio State OT
Mike Adams
, Pittsburgh
No. 58: Nebraska LB
Lavonte David
, Tampa Bay
ROUND 3 (three selections)

No. 68: Ohio State WR
DeVier Posey
, Houston
No. 75: Wisconsin QB
Russell Wilson
, Seattle
No. 82: Michigan DT
Mike Martin
, Tennessee
ROUND 4 (five selections)

No. 102: Michigan State QB
Kirk Cousins
, Washington
No. 121: Michigan State WR
Keshawn Martin
, Houston
No. 122: Wisconsin WR
Nick Toon
, New Orleans
No. 126: Nebraska DT
Jared Crick
, Houston
No. 132: Iowa DE
Mike Daniels
, Green Bay
ROUND 5 (six selections)

No. 141: Iowa G
Adam Gettis
, Washington
No. 149: Penn State G
Johnnie Troutman
, San Diego
No. 153: Purdue T
Dennis Kelly
, Philadelphia
No. 156: Iowa CB
Shaun Prater
, Cincinnati
No. 157: Wisconsin FB
Bradie Ewing
, Atlanta
No. 158: Penn State DE
Jack Crawford
, Oakland
ROUND 6 (seven selections)

No. 180: Michigan State S
Trenton Robinson
,
San Francisco 49ers
No. 183: Michigan State WR
B.J. Cunningham
,
Miami Dolphins
No. 191: Ohio State RB
Dan Herron
, Cincinnati Bengals
No. 194: Iowa WR
Marvin McNutt
,
Philadelphia Eagles
No. 195: Purdue T
Nick Mondek
,
Houston Texans
No. 197: Ohio State S
Nate Ebner
,
New England Patriots
No. 207: Wisconsin P
Brad Nortman
,
Carolina Panthers
ROUND 7 (nine selections)

No. 217: Iowa CB
Jordan Bernstine
, Washington
No. 224: Nebraska CB
Alfonzo Dennard
, New England
No. 227: Michigan C
David Molk
, San Diego
No. 230: Penn State LB Nate Stupar, Oakland
No. 233: Northwestern TE
Drake Dunsmore
, Tampa Bay
No. 234: Nebraska T
Marcel Jones
, New Orleans
No. 235: Northwestern WR
Jeremy Ebert
, New England
No. 238: Michigan WR
Junior Hemingway
, Kansas City
No. 250: Michigan State RB
Edwin Baker
, San Diego
POSITION BREAKDOWN
Wide receiver:
8
Offensive tackle:
5
Defensive tackle:
4
Guard:
4
Cornerback:
3
Defensive end:
3
Safety:
3
Center:
2
Quarterback:
2
Running back:
2
Linebacker:
2
Fullback:
1
Tight end:
1
Punter:
1
We'll post some of the free-agent signings later today, but first some thoughts and themes on the draft.
[+] Enlarge

AP Photo/Chris O'MearaWith Robert Griffin III on the roster, one has to wonder about Kirk Cousins' future in Washington.

Many had projected Cousins to be the first Big Ten quarterback off of the board, but Russell Wilson went ahead of him to Seattle. Cousins was one of the more intriguing third-day picks as he went to Washington, which selected Baylor quarterback Robert Griffin III with the No. 2 overall selection. Griffin is the future of the Redskins franchise, and it leaves Cousins in a potentially tough spot on the depth chart. The selection surprised Cousins, who didn't know the Redskins were interested and told the Detroit Free Press, "I think Robert is in their immediate plans and the long-term hope for their fan base, but they wouldn't have selected me unless they believed in me."

The verdict on Ron Zook always seemed to be great recruiter, average coach, and this draft validated it. Illinois was the only Big Ten team with two first-round picks and had four of the first 48 overall selections, yet the team went 7-6 last season after a 6-0 start. Talent clearly wasn't the problem during Zook's tenure in Champaign. Defensive line coach Keith Gilmore is on a roll with back-to-back first-round picks (Corey Liuget and Mercilus). He has two more potentially big-time prospects (Akeem Spence and Michael Buchanan) this year.

The Houston Texans clearly like what they see from Big Ten country. After drafting Wisconsin defensive end J.J. Watt with the No. 11 overall pick last year, the Texans added Mercilus, Posey, Keshawn Martin, Crick and Mondek. Watt welcomed the group on Twitter, tweeting, "Big Ten takeover. Welcome to the Texans." The Cincinnati Bengals also had a nice Big Ten haul with Zeitler, Still, Prater and Herron.

Posey, who last week told me he had no idea where he'd be drafted, had to be pleased with a third-round selection after appearing in only three games last fall because of suspension. Teams didn't shy away from the Ohio State star too much because of his off-field issues. Posey's Buckeyes teammate, Mike Adams, meanwhile, appeared to pay a bit of a price for his off-field issues, falling to the late second round.

On the flip side, Nebraska cornerback Alfonzo Dennard, the Big Ten's defensive back of the year in 2011, slipped all the way to the seventh round. Keep in mind some draft gurus, including ESPN's Mel Kiper Jr., once projected Dennard in the first round. But after being ejected from the Capital One Bowl, failing to impress in predraft events and getting arrested the weekend before the draft for allegedly punching a cop, Dennard plummeted to No. 224. At least he'll have no trouble getting motivated to prove himself.

Dennard wasn't the only Big Ten player selected later than expected. Michigan's David Molk, who called himself the best center in the draft, also fell to the seventh round. And Ohio State center Mike Brewster, a first-team All-Big Ten selection in 2010, didn't hear his name called at all. While Brewster's play slipped during his senior season, he seemed like a mid-round candidate.

Other players I expected to be picked earlier: Mercilus, David, Adams, Mike Martin, Cousins, Daniels, McNutt, Hemingway and Baker.

Some players I expected to be picked later: Jenkins, Allen, Russell Wilson, Tavon Wilson and Posey.

Although the Big Ten had more wide receivers drafted than any other position, only one (Jenkins) went in the first two rounds and only two, Jenkins and Posey, went in the first three rounds. With only two quarterbacks and two running backs drafted, none in the first two rounds, it's fair to question whether the Big Ten is producing enough elite-level offensive skill players. It will be interesting to see which Big Ten running backs can rise up the draft boards in 2013. Running back might be the league's strongest position group this coming season.

I'll be very interested to watch how Worthy and Still fare at the next level. Both men have first-round talent, but both seemed to slip to the second round because of questions about their motor. If they don't take plays off in the NFL, they both could be extremely disruptive for the Packers and Bengals, respectively.

Wisconsin had players selected in each of the first six rounds and had the Big Ten's lone fullback (Ewing) and punter (Nortman) selected in the draft.

Ohio State's Ebner was one of the more interesting third-day picks. He didn't play football at all in high school -- he starred in rugby -- and spent most of his Buckeyes career on special teams. His selection shows the premium some teams place on the third phase.
December, 9, 2011
12/09/11
10:00
AM ET
I'm going to give you a list of teams, and you tell me what they have in common:
Florida International, Pittsburgh, Florida, Ball State, Ohio State, Utah State, San Jose State, Auburn, UConn, Syracuse, Iowa State, Rice, Virginia, Maryland, Western Kentucky, Illinois, Central Michigan, Duke, Troy, Kansas, Middle Tennessee State, Buffalo, Marshall, Oregon State, Louisville, Colorado State, Indiana, Miami of Ohio, Eastern Michigan, Tulane, Tennessee, Idaho, UAB, Colorado, Penn State, Minnesota, Boston College, UNLV, Kent State, Memphis, Ole Miss, Kentucky, Akron, Florida Atlantic and New Mexico.
[+] Enlarge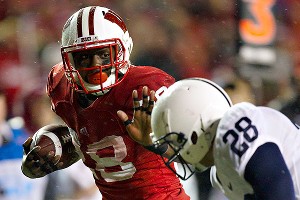 Jeff Hanisch/US PresswireWisconsin RB Montee Ball is averaging 6.4 yards per carry and three TDs per game this season.
Give up? Those 45 teams -- or about 37 percent of the entire FBS -- all have fewer touchdowns this season than one man: Wisconsin running back
Montee Ball
.
The Badgers junior is one of five Heisman Trophy finalists primarily because of his preposterous penchant for finding the end zone. He has 38 touchdowns in 13 games this season, just one shy of Barry Sanders' record of 39 set in 1998. Throw in Ball's passing touchdown to
Russell Wilson
against Indiana, and he has averaged three touchdowns per game this season.
OK, you say, but Sanders didn't get to count his bowl stats and played in only 11 regular-season games, while Ball has had 13 games and the Rose Bowl still to come. Agreed. Still, Sanders -- who added four touchdowns in his bowl game -- averaged a score every 8.67 touches. Ball is scoring a touchdown in every 7.24 touches this year. The goal for every offensive skill player is to reach the end zone, and nobody does that better than Ball, who has scored at least three times in eight games this season.
It's not like he is just some battering ram who plunges in after others have done the hard work, either. Ball has rushed for 1,759 yards -- more than any other FBS player this season -- and is averaging 6.4 yards per carry. In fact, his numbers compare very favorably with Wisconsin's 1999 Heisman winner, Ron Dayne:
Dayne, 1999: 303 carries, 1,834 yards, 19 touchdowns, 6.1 yards per carry; one catch for 19 yards.
Ball, 2011: 275 carries, 1,759 yards, 32 touchdowns, 6.4 yards per carry; 20 catches for 255 yards and six touchdowns.
Like Dayne, Ball plays for a two-loss Badgers team that is going to the Rose Bowl. If the argument against Ball is that his team is not in the title hunt, then why does
Robert Griffin III
have so much support for leading a 9-3 Baylor team? Ball's numbers across the board are better than Alabama's
Trent Richardson
, and he has played just as many tough defenses as Richardson has faced. The only thing that gives an edge to Richardson is SEC bias.
Andrew Luck
is great, but his stats are down from last year, while LSU's Tyrann Mathieu could have hurt his team by incurring a one-game suspension earlier this season.
Sanders' record has stood for nearly a quarter-century, and Ball will fly past 40 touchdowns if he has an average game against Oregon in Pasadena. That record could last a long, long time. And if Ball doesn't win Saturday night, future college football fans may look back and wonder how a guy with the most touchdowns ever, one who outscored more than a third of the teams in his sport that year, could have possibly been snubbed for the Heisman Trophy.
December, 6, 2011
12/06/11
3:30
PM ET
Let's do this.
Mike from Cincinnati writes:
Adam, Big fan of the blog. I know that today is a busy day with everything that went on this weekend. However, I have to say that I was a little surprised that you didn't mention anything about the passing of Joe Daniels. I know it's been a busy few days, but I think everyone can agree that Coach Daniels was not only a great coach, but a great man as well. His battle with cancer was well noted, but it is a sad day for Buckeye Nation.
Adam Rittenberg:
Mike, thanks for the note, and my apologies for not posting something sooner on
Coach Daniels' passing
. Very sad to hear about it. He meant a great deal to Ohio State's program and had an impressive coaching career. I would encourage all Big Ten fans to
consider making a donation to Uplifting Athletes
, an organization that helps raise funds and awareness to fight rare diseases such as kidney cancer, which Daniels fought courageously until his death.
---
Brian from Storm Lake, Iowa, writes:
What do you think of Bo Pelini's chances are that he will land Mike Stoop's in as DC?
Adam Rittenberg:
Stoops is in high demand as a defensive coordinator, and he'll have his pick of top programs to join in that role. He'd clearly rather have another head-coaching position, and some jobs are still out there. If Stoops goes the coordinator route, Nebraska should have a good shot because of Pelini's friendship with the Stoops family. That connection likely would need to be the deciding factor if Stoops is to join the Huskers' staff.
---
Andrew from Cleveland writes:
Hey Adam, I wasn't sure who I should make this comment to, but I guess I'll go with the old vet. Did you notice that Michigan is the only team in the nation to have played 10 bowl teams? Not only that, but 11 of the teams we played were bowl eligible. I know that being a bowl team doesn't mean the same thing as before, but I think it shows consistency to be able to go through that many solid teams and end the season with only two losses.
Adam Rittenberg:
I'm the Big Ten blog vet, but Bennett is MUCH older, trust me. Good point about Michigan's schedule. The Wolverines beat only one team (Nebraska) that appears in the final BCS standings but also recorded some decent wins (Notre Dame, San Diego State). Still, as you note, being bowl eligible isn't really that impressive any more. Six of Michigan's wins came against teams that had six or seven wins. It would have been nice to see Michigan face two of the better Leaders Division teams in Wisconsin and Penn State.
---
Neal from Atlanta writes:
Northwestern is Playing Texas A&M in Texas. Purdue is Playing W. Michigan in Michigan. Illinois is playing UCLA in California. Penn State is playing Houston in Texas. Ohio State is playing Florida in Florida. And Nebraska and Michigan State are playing SEC teams in the Southeast. Iowa is the only non-BCS Big 10 team playing on a neutral fieldDon't you think it is more than a little disadvantageous to the Big 10, a conference trying to regain some respect, to be playing almost all of their opponents in their home states?
Adam Rittenberg:
Sure, Neal, but what can you do? No one wants to play bowl games in Big Ten territory outside of the indoor facilities like Detroit's Ford Field. Most bowl games are affiliated with at least one conference that has teams near to its location. Would it make a difference to play the ACC in Florida? Or an SEC West team in the Cotton Bowl? This is just the way it is. The Big Ten could add some more bowl games against teams from non-AQ conferences, but that's not commissioner Jim Delany's style. He wants to play the best teams in the best leagues in the biggest games. The result is an incredibly difficult bowl lineup. It's why a .500 record for the Big Ten in bowls is like the ACC going 7-3.
---
Scott from Williamsport, Pa., writes:
Adam, We PSU fans are a little less than thrilled with our bowl selection. Why did the conference not fight harder for one of its better teams? PSU has to bring in as much revenue to the conference as any of the other teams. Makes us wonder if the ACC would treat us better, they have more teams we would like to play anyway.
Adam Rittenberg:
Scott, you make some good points, and Penn State's players deserved a better bowl after having nothing to do with the sex-abuse scandal. It's a tough situation but not a surprising one. But you have to look at this from the Big Ten's point of view, too. The league has valuable relationships with these bowls and their corporate sponsors. You also have an unprecedented situation at Penn State that will drag on for a while and bring negative publicity to the bowl game (again, not the players' fault). You had the Insight Bowl group that had dealt with its own negative-publicity situation in the past year. You had the Meineke Car Care Bowl of Texas not wanting to pair two teams (Penn State and Texas A&M) without permanent head coaches. Could the Big Ten have done more? Sure. But the league has bigger interests than Penn State -- again hard for Penn State fans to hear, but true -- and creating tension with its bowl partners might not be the smartest way to go. Again, I'm not saying it's right, but you have to look at it from both sides. Would the ACC have done more? We'll never know.
---
DaReganOnDaTrack from Grand Rapids, Mich., writes:
I love you guys. And I love where both of you had Michigan State: in the the top 13 at least. Im a die hard spartan fan and was in Lucas Oil. Seeing the ref throw the flag nearly brought tears to my eyes. Toughest Spartan loss since the the 07 michigan loss. I understand why Michigan State is not in BCS bowl. Its a business and its about money. But shouldn't they get the rankings right? Michigan State dropped 4 spots losing to the best team in the B1G by 3 points. Yeah, wisconsin was a 2 loss team. But one of their losses came to Michigan State!!!! In addition, how the heck is michigan 13, four spots better than MSU?!?!?! We have the same number of wins, plus the head to head and a tougher schedule!!! Im not complaining about the BCS bowl picks, Im complaining about what goes in to the ranking formula. Michigan State should not be four spots behind a team they beat and have the same number of wins, not to mention AFTER THEY LOSE A THE B1G TEN CHAMPIONSHIP BY THREE POINTS!!!! This needs to be fixed for all Conference Championship losers!!!
Adam Rittenberg:
We love you, too, Regan. I think you have the right perspective on the whole BCS bowl selection/BCS standings situation. BCS at-large berths are based on brand name, fan base and other factors that have little to do with on-field performance. The Sugar Bowl is a business that made what it believes is a smart business decision by inviting Michigan. Hard to argue it from a business perspective. My bigger issue, like yours, is with the final BCS standings and the final coaches' poll. You can argue Michigan and Michigan State are evenly matched teams. Michigan State was one spot ahead of Michigan on both mine and Bennett's latest
ESPN.com power rankings ballots
. But to see the gap between the two schools on some of the
coaches' final Top 25 ballots
is ridiculous -- looking at you, Nick Saban, Les Miles and Bret Bielema. These teams shouldn't be six or eight spots apart. Michigan State should be higher than No. 17 in the final BCS standings.
---
Ted from Iron River, Mich., writes:
Hey Adam; simple question for you. How does
Russell Wilson
miss out as one of the five candidates for the Heisman? Why couldn't you make the case for two players from one team, on that great offense, making the list? I think the two losses that supposedly tarnished his Heisman status, is easily restored given what he did in UW's final games, especially the B1G Championship. Thanks.
Adam Rittenberg:
Ted, it's strange how Wilson fell so quickly out of the Heisman race. Even in Wisconsin's two losses, he rallied the team in the fourth quarter. It's not his fault the defense can't knock down a pass. To be fair, he wasn't nearly as sharp on the road this season than he was at Camp Randall Stadium, but he didn't bomb like some other Heisman candidates. The guy had one of the best statistical seasons in Big Ten history, much like
Montee Ball
did. But it's very hard for a team to send two players to New York that isn't competing for a national title. Also, it's hard to argue Wilson had a better season than
Robert Griffin III
or
Andrew Luck
, the two quarterbacks invited to New York. The case for Ball being better than
Trent Richardson
as the nation's best running back is a little stronger.
December, 5, 2011
12/05/11
9:10
PM ET
My Heisman Trophy ballot has changed every week for the last couple of months.
I'm not surprised there are more than three players going to the trophy presentation.
Five players were invited to New York for Saturday night's Heisman Trophy presentation -- quarterbacks
Andrew Luck
of Stanford and
Robert Griffin III
of Baylor, tailbacks
Montee Ball
of Wisconsin and
Trent Richardson
of Alabama and cornerback Tyrann Mathieu of LSU.
It's a shame the Heisman Trust didn't have room for three more quarterbacks because Houston's
Case Keenum
, USC's
Matt Barkley
and Boise State's
Kellen Moore
were just as deserving.
With five finalists going to New York, it figures to be one of the closer votes in recent Heisman Trophy history.
The closest vote in Heisman Trophy history came just two years ago, when Alabama tailback Mark Ingram edged Stanford's Toby Gerhart by only 28 points. Ingram received 227 first-place votes, Gerhart got 222 and Texas quarterback Colt McCoy, the second runner-up, received 203.
Given the number of finalists and their geographical regions, we could have another really close finish on Saturday night.
Luck, the runner-up to Auburn's Cam Newton last season, entered the 2011 season as the Heisman Trophy favorite. His performance didn't slip much this season, as he completed 70 percent of his passes for 3,170 yards with 35 touchdowns and nine interceptions.
I still feel Luck might be the most valuable player on any team in the country. Without him, there's no way the Cardinal is ranked No. 4 in the country and playing No. 3 Oklahoma State in the Tostitos Fiesta Bowl. Luck has done more with less, as Stanford lacks the game-changing playmakers that other teams have.
But Luck might still be the second-best quarterback in New York. Griffin, who is widely known as RG3, completed 72.4 percent of his passes for 3,998 yards with 36 touchdowns and six interceptions. He also ran for 644 yards with nine touchdowns.
Without him, the Bears wouldn't have beaten TCU, Oklahoma and Texas. Griffin's one drawback: He had a late interception that sealed the Bears' fate in a 36-35 loss at Kansas State on Oct. 1 and threw two picks in a 59-24 loss at Oklahoma State on Oct. 29. But with everything else RG3 has done this season, it's easy to give him a mulligan for the miscues.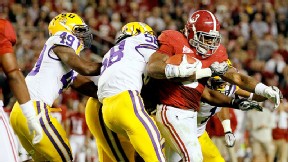 Kevin C. Cox/Getty ImagesRunning back Trent Richardson has been at his best in Alabama's biggest games.
I still believe Richardson is the best player in the country. He looked like the best player on the field in No. 2 Alabama's 9-6 loss in overtime to No. 1 LSU on Nov. 5. He had 89 rushing yards and 80 receiving yards in a game where every yard mattered. He finished the season with 1,583 yards with 20 touchdown runs and three touchdown catches. He's also Mr. Dependable, not losing a fumble in his past 520 touches and only once in 614 career touches.
Ball has been a scoring machine for the No. 10 Badgers this season, running for 1,759 yards with 32 touchdown runs and six touchdown receptions. His 38 total touchdowns are one shy of matching former Oklahoma State running back Barry Sanders' NCAA single-season record of 39 set in 11 games in 1988. Ball's production helped lead the Badgers to a Jan. 2 date against Oregon in the Rose Bowl Game presented by VIZIO.
Mathieu fell off my ballot after he was suspended from playing in the Tigers' 45-10 victory over Auburn on Oct. 22 for smoking synthetic marijuana. But his big plays helped the Tigers overcome deficits in each of their last two victories, over Arkansas and Georgia in the SEC championship game.
Mathieu -- aka the "Honey Badger" -- is the best player on the top-ranked team. He leads the Tigers with 70 tackles and has forced six fumbles and recovered five. He also is the most dynamic punt returner I've seen since Florida State's Deion Sanders. Mathieu has scored four touchdowns -- two on fumble returns and two on punt returns.
To penalize Mathieu for one foolish mistake wouldn't have been right. After all, Newton was briefly ruled ineligible at Auburn last season and 2010 Heisman Trophy finalist
LaMichael James
of Oregon was suspended from playing in last season's opener.
December, 5, 2011
12/05/11
7:53
PM ET
By
ESPN Stats & Information
| ESPN.com
On Monday the five finalists invited to New York for the Heisman Trophy ceremony were revealed. This year has featured one of the most interesting races for the Heisman as no one player has stood from the rest.
Here's a look at what a Heisman Trophy win -- or loss -- would mean to these players and their respective schools.

Trent Richardson, Alabama
Two seasons ago Trent Richardson was a part of a National Championship team with a Heisman Trophy winner, when running back Mark Ingram became Alabama's first winner. Richardson has nearly identical numbers to Ingram this season, and has already totaled 23 touchdowns compared to Ingram's 20 TD's.
If Richardson were to win the award it would put him and Ingram in some rare company. In the history of the Heisman Trophy only three times have two different players playing the same position at the same school won the award in a span of three seasons. It last happened when USC QB Matt Leinart won it in 2004 after Carson Palmer had taken home the award in 2002.

Andrew Luck, Stanford
Luck is listed second here as he finished second for the Heisman last season and Stanford has actually had the Heisman runner-up in each of the past two seasons (Toby Gerhart, 2009).
If Luck wins he would be the second player in Stanford history to win the award (Jim Plunkett, 1970) and join 1981 Herschel Walker as the only Heisman runner-ups to win the award the next season.
If Luck finishes second, Stanford would set a record. No school has ever had a Heisman runner-up in three consecutive seasons.

Montee Ball, Wisconsin
Montee Ball earned his invite thanks to his impressive numbers. Ball needs one touchdown in the Rose Bowl to tie Barry Sanders' FBS record for touchdowns in a season (39). Sanders won the Heimsan trophy during that 1988 season.
Ball's 38 touchdowns are the most by a Big Ten player since Eddie George had 25 in his Heisman Trophy winning 1995 season.

Robert Griffin III, Baylor
RGIII finished off a great regular season in which he threw 36 touchdowns compared to only six interceptions, while also leading Baylor to nine wins, its most since the 1986 season.
Griffin's invite is an accomplishment in its own considering he plays for Baylor. The Bears have only had one player finish in the top five of the Heisman vote in school history. In 1963 Don Trull finished fourth.
If Baylor's Robert Griffin III wins the Heisman Trophy this year, he will be just the third player since the BCS was established in 1998 to win the Heisman without his team playing in a BCS bowl game.

Tyrann Mathieu, LSU
The Honey Badger will take the trip to New York looking to join Charles Woodson as the only defensive backs to win the Heisman trophy.
Despite being a defensive player, recent history is on Mathieu's side to take home the award. Since 2003, seven of the past eight Heisman Trophy winners have come from the team at number one in the BCS standings entering the National Championship Game.
January, 11, 2011
1/11/11
11:00
AM ET
»
Power Rankings
:
ACC
|
Big 12
|
Big East
|
Big Ten
|
Pac-10
|
SEC
|
Non-AQ
The 2010 college football season is over, and the interminable wait for 2011 now begins.
Before taking a peek ahead at next fall, here's the final installment of the 2010 Big Ten power rankings.
1. Ohio State (12-1):
The Buckeyes once again sit atop the rankings after holding on to beat Arkansas in the Allstate Sugar Bowl. Although the circumstances surrounding the game sparked a lot of controversy, Ohio State showed tremendous focus and executed well on both sides of the ball against a good SEC opponent.
2. Wisconsin (11-2):
There's no shame in losing to a team like TCU, but Wisconsin left Pasadena especially disappointed after veering ever so slightly off course in the Rose Bowl. If the Badgers had fully committed to between-the-tackles running, they likely would have celebrated another Rose Bowl championship. Still a great season for Bret Bielema's crew.
3. Michigan State (11-2):
I'm reluctant to put the Spartans here after a non-competitive performance against 9-3 Alabama in the Capital One Bowl, but they still had three more wins than any other Big Ten squad below. Michigan State had a special season with a sorry ending, but the program is undoubtedly on the rise under coach Mark Dantonio.
4. Iowa (8-5):
We saw a little bit of everything from Iowa in the Insight Bowl, but Micah Hyde's electrifying pick-six ensured a third consecutive bowl win and dulled the disappointment from the regular season. Returning players like Hyde and running back
Marcus Coker
fueled Iowa's win, and the Hawkeyes should be right at home under the radar entering 2011.
5. Illinois (7-6):
No Big Ten team delivered a more complete postseason performance than Illinois, which outclassed Baylor and cruised to a 38-14 victory in the Texas Bowl. Quarterback
Nathan Scheelhaase
came of age in the bowl and the defense contained Baylor star
Robert Griffin III
. Illinois could be dangerous this coming season, but the NFL departures will hurt.
6. Penn State (7-6):
Florida gave Penn State every opportunity to build a big lead in the first half, but the Nittany Lions fell victim to too many mistakes. The defense made strides during bowl practice and should be a solid unit in 2011. Penn State's quarterback race will open up this spring, and it'll be interesting to see how much better this team gets during the offseason.
7. Northwestern (7-6):
Thanks to
Kain Colter
, the Wildcats found enough offense to keep pace with Texas Tech despite not having star quarterback
Dan Persa
. But it's pretty odd that Persa's injury seemed to take any life out of Northwestern's defense, which allowed 163 points in its final three games. Pat Fitzgerald and Mike Hankwitz need to get the D on track for 2011.
8. Michigan (7-6):
Speaking of defense, Michigan had none against Mississippi State in the Progressive Gator Bowl. Rich Rodriguez's fate might already have been sealed at the school, but the lack of improvement on defense made the decision pretty easy after the worst bowl loss in team history. Michigan has some pieces in place on offense, but the next coach must address the defensive woes to get the program back on track.
9. Minnesota (4-8):
No changes to the bottom three and the Gophers deserve to be here after ending the season with victories against two of the Big Ten's three bowl winners (Illinois and Iowa). I'm excited to see how
MarQueis Gray
fares in Jerry Kill's offense as he moves back to quarterback from receiver.
10. Indiana (5-7):
Despite
Brent Pease's about-face
, new Indiana coach Kevin Wilson is assembling a solid staff of assistants as he tries to change the culture in Bloomington. The Hoosiers have to figure out a way to compete better on defense in Big Ten play, especially since the offense likely will take a step back as quarterback
Ben Chappell
departs.
11. Purdue (4-8):
Danny Hope's teams have played hard amid adversity, but the results haven't shown up in his two years as head coach. Purdue gets a lot healthier during the offseason and should boast a dynamic offense in 2011. The potential for a big jump forward is here, but Purdue must reduce major mistakes, particularly in the kicking game.
December, 20, 2010
12/20/10
11:00
AM ET
As a three-year starting linebacker at Illinois, Martez Wilson has faced all types of quarterbacks.
More than a handful of the signal callers Wilson has tried to harass fall under the umbrella label "dual threat," a phrase often applied to Baylor star quarterback
Robert Griffin III
. But when asked who reminds him most of Griffin, Wilson doesn't identify an opposing quarterback.
He identifies a teammate.
"He reminds me of
Eddie McGee
that plays for us," Wilson said. "They're kind of similar, their body types are similar. They're both tall, lanky dudes."
But McGee, a senior who played two years at quarterback before playing mostly receiver the past two years, doesn't have similar stats to Griffin, who ranks seventh nationally in total offense (315.5 ypg).
Griffin boasts 40 career passing touchdowns and 21 on the ground. He had five games with at least 200 passing yards and at least 50 rushing yards this season. While Griffin will look at attack Illinois' secondary, his running ability is what sets the Baylor star apart.
"Instead of being so focused just on pass, you've got to focus and respect his ability to run the ball," Wilson said. "He does a lot of sprint-outs, so we have to do a good job of containing those."
Illinois ranks 29th nationally against the run (131.3 ypg), but the defense slipped during the month of November, as the Illini dropped three of their final four games. The Illini allowed 39.3 points per game in November after allowing just 17.2 points per game in five October contests.
"Swarm to the ball," said Wilson, an All-Big Ten selection who leads Illinois in tackles (105), tackles for loss (10.5) and forced fumbles (3). "Even if one person misses a tackle, it'll be someone else to clean up their work. If we swarm to the ball, play aggressive and hit hard, we'll do a good job to come out as winners."
McGee could provide a big help in practices leading up to the game.
Only one problem: he's not playing Griffin on the scout team.
"It'd be good if the coaches made the decision to put him there," Wilson said. "That'd give us a good a look. They're very similar players."