August, 31, 2013
8/31/13
7:55
PM ET
Iowa learned a painful lesson Saturday: it's how you start
and
how you finish.
After a sluggish start, the Hawkeyes did a lot of good things in the second and third quarters, and the early part of the fourth, in Saturday's season opener against Northern Illinois. Quarterback
Jake Rudock
made some big throws in his collegiate debut, and a defense led by three senior linebackers held Huskies star
Jordan Lynch
in check.


But mental and physical breakdowns on both sides of the ball doomed Iowa down the stretch, as Northern Illinois rallied for a
30-27 win
at steamy Kinnick Stadium.
Mathew Sims
' 36-yard field goal with four seconds left sealed it for NIU as Rod Carey recorded his first career coaching win.
This one will sting for a while for Iowa, which really needed something to go its way following a long and mostly gloomy offseason.
The Hawkeyes stumbled out of the gate but survived by scoring 17 unanswered points to take control midway through the game. Linebacker
Christian Kirksey
turned the momentum with a forced fumble, scoop and 48-yard touchdown return late in the first quarter. Rudock completed 13 of 21 attempts for 188 yards and a touchdown in the first half, and Iowa's defense began bottling up Lynch (56 rush yards on 22 carries) and his Wildcat-like, inside zone rushing attack.
But Iowa suffered a breakdown midway through the fourth, as a blown coverage allowed Lynch to find
Da'Ron Brown
wide open for a 33-yard score with 5:05 remaining. Lynch ended up hurting Iowa much more with his arm (275 pass yards, 3 TDs) than his legs.
Even then, the Hawkeyes appeared to be in good position to win as Rudock led the offense inside NIU territory. Then, on third-and-9 from the 44-yard line, offensive coordinator Greg Davis made one of those calls that drive Iowa fans batty: a bubble screen. It predictably went for a yard.
After a season where Iowa consistently called third-down passes with no chance of reaching the marker, Davis should know better. He should rip the bubble screen out of his playbook. The swing pass, too. They don't work.
Iowa still had a decent chance after the defense forced a three-and-out, but Rudock finally showed his inexperience, telegraphing a throw that NIU's Jimmie Hall easily picked off. Three plays later, Sims split the uprights to give the Huskies the win.
There were some positives in this game for Kirk Ferentz's crew, but it's all about the bottom line. Iowa found a way to lose.
Last year's Iowa win against Northern Illinois proved to mean nothing for the Hawkeyes. I have a feeling today's loss will be much more significant for the Hawkeyes going forward.
August, 28, 2013
8/28/13
1:00
PM ET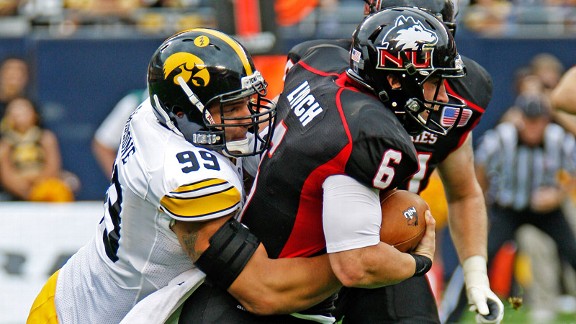 MRQ/Icon SMIJordan Lynch's struggles last year against Iowa, his first career start, serves as inspiration to both Lynch and Iowa QB Jake Rudock, who makes his first career start against NIU on Saturday.
This week a season ago was a rough for
Jordan Lynch
. The Northern Illinois quarterback made his first career start against a Big Ten team -- which at the time looked like the highest-profile opponent on the Huskies' schedule.
It did not go well, as Lynch had his worst game of the year. At the time, predicting an eventual Orange Bowl and breaking Denard Robinson's NCAA single-season quarterback rushing record seemed unlikely.
"Maybe I was a little bit nervous but more anxious," Lynch said. "I was too jacked up to play that game. I missed a lot of throws I should have made and there were a lot of things I could have done better.
"Again, it was my first start and it is not an excuse. I have 14 starts under my belt now and I'm a way better player than I was."
When Iowa redshirt sophomore
Jake Rudock
makes his first start Saturday against Northern Illinois, no matter what happens he can just look across the sideline and understand it can and possibly will get better for him.
Some of that will come through repetition, but in Rudock, Iowa thinks it has its quarterback solution. Iowa offensive coordinator Greg Davis said Rudock's intelligence helped him win the job -- he eventually wants to be a doctor -- along with his ability to make every throw asked.
While Davis said there's a chance Iowa would play multiple quarterbacks early in the season -- not a guarantee but a possibility -- Rudock stood out this fall.
"Jake immediately went to the head of the pack after the summer," Davis said. "Obviously he's been here two full years. He had a little jump maybe on some of the things we asked of our quarterback.
"He never backed off and continued to do things in camp that we liked."
Still, Saturday will be a nervous day for Rudock, who hasn't played in a game since he was a high school senior in 2010. When Iowa's coaches announced last week he would be the starter, he realized how big that really was.
"I had a slight smirk, a slight smile," Rudock said. "And also the realization that, hey, you need to get going and nothing is ever set in stone. Leading up to (the announcement), you start feeling like, 'OK, I got it.'
"You're confident you got it but you know it is just one day and you have to focus on things."
But he did notice what happened to Lynch last season in the opener, as Lynch completed 6 of 16 passes for 54 yards with 119 yards rushing in a 18-17 loss. Then he saw what Lynch did after.
That game -- and the Orange Bowl loss -- still bother Lynch. It's why he said he didn't reflect much on last season other than the day after the Orange Bowl. He knew he needed to improve things such as his footwork on his throws and how he commands the offense.
Lynch's progression mirrors Northern Illinois'. He -- and the Huskies -- had a breakout season last year. Yet since the Orange Bowl, changes have been incremental. Rod Carey is now in his first full season as a head coach, although he couldn't think of a true tangible thing since the end of last season which symbolized last season's breakthrough success.
"Our indoor (facility) is almost done, but that was underway before we went to the Orange Bowl so that's not quite fair to say because we were getting that before the Orange Bowl," Carey said. "But the indoor is almost done, so that's always fun. That's a good question."
Carey eventually came up with being noticed a little more when he went to dinner with his wife and more media attention. His quarterback gets the same. Lynch gets noticed a little bit more around campus in DeKalb, Ill., but he isn't hounded for autographs like someone who broke four NCAA records last season would be at a big school such as Iowa.
This all makes Saturday more interesting for NIU. The Huskies had the better season last year. They have the more experienced quarterback in Lynch, a potential Heisman Trophy candidate.
This will be the most high-profile game NIU plays this season. This was one of two games it lost last season, something which still bothers Lynch. If there was something he took from last season's run to now, it's that he's sick of coming close against big schools.
"Our motto this year is 'Finish the Fight,' " Lynch said. "It's not good enough anymore to come close to these Big Ten teams or BCS teams and lose by a point. That's not good enough for us anymore.
"We want to finish these games and walk out with a victory."
July, 1, 2013
7/01/13
10:00
AM ET
It has been a long wait, but the 2013 season is less than two months away. To get you geared up, we're taking a closer look at the list of nonconference opponents on each Big Ten team's slate this fall.

Purdue is next.
Cincinnati, Aug. 31 (road)
Coach:
Tommy Tuberville (0-0, first year; 130–77 overall in FBS)
2012 record:
10-3, 5-2 Big East
Offensive headliner:
Quarterback
Brendon Kay
still has to secure the starting job after replacing
Munchie Legaux
down the stretch in 2012, but he passed for 1,298 yards with 10 touchdowns and only two interceptions, completing 63 percent of his attempts. Kay also
sparkled in the spring game
with three touchdown passes.

Defensive headliner:
Senior linebacker
Greg Blair
earned All-Big East honors in 2012 after leading Cincinnati in both total tackles (138) and tackles for loss (9). Blair added two interceptions, two forced fumbles, six pass breakups, 2.5 sacks and four quarterback hurries.
The skinny:
Cincinnati is in a historic stretch of 10 or more wins in five of the past six seasons, including each of the past two. But like Purdue, the Bearcats are going through coaching transition as Tuberville takes command. The quarterback competition is an intriguing story to watch, but Cincinnati brings back enough firepower on both sides of the ball to have another good year.
Indiana State, Sept. 7 (home)
Coach:
Mike Sanford (0-0, first year; 16-43 overall in FBS)
2012 record:
7-4, 5-3 Missouri Valley
Offensive headliner:
Running back
Shakir Bell
earned third-team AP All-America honors after rushing for 1,475 yards and 11 touchdowns last fall. He finished sixth in the FCS in rushing and recorded seven 100-yard rushing performances.
Defensive headliner:
Cornerback
Calvin Burnett
is a back-to-back all-conference selection who recorded four interceptions, eight pass breakups and 60 tackles, including two for loss and a sack. He also averaged 15.6 yards on five punt return attempts.
The skinny:
Indiana State has transformed its program in recent years, although the loss of head coach Trent Miles to Georgia State stings. Sanford struggled mightily as UNLV's head coach and then as Louisville's offensive coordinator before rebounding as an assistant at Utah State under current Wisconsin coach Gary Andersen. Bell is a huge weapon for the Sycamores' offense, but Indiana State must replace six starters on defense from the 2012 team.
Notre Dame, Sept. 14 (home)
Coach:
Brian Kelly (28-11, fourth year)
2012 record:
12-1 (lost in BCS National Championship Game)
Offensive headliner:
Notre Dame loses most of its offensive firepower to the NFL or to suspension (QB
Everett Golson
), but top wide receiver
TJ Jones
returns after tying for the team lead in receptions (50) and touchdown receptions (4). Jones averaged 13 yards per reception in 2012.
Defensive headliner:
With Manti Te'o gone, junior defensive end
Stephon Tuitt
likely becomes the star of the defense. Last year, he had 12 sacks and three forced fumbles.
The skinny:
It has been a rough offseason for Notre Dame since getting dominated by Alabama in the BCS title game. The Irish once again will turn to
Tommy Rees
at quarterback after Golson was suspended for academic reasons. Notre Dame's defense includes several future pros and should be among the nation's best. The Irish have won five straight against Purdue and seven of the teams' past eight meetings.
Northern Illinois, Sept. 28 (home)
Coach:
Rod Carey (0-1, first full year as head coach)
2012 record:
12-2, 8-0 in MAC (lost to Florida State in Orange Bowl)
Offensive headliner:
Quarterback
Jordan Lynch
finished seventh in the Heisman Trophy voting after setting four NCAA, two MAC and 14 team records in his first season as a starter. Lynch finished fourth nationally in rushing (1,815) and second in total offense (4,953), setting NCAA records for quarterback rushing and 100-yard rushing games by a quarterback (12). He earned second-team AP All-America honors as an all-purpose player.
Defensive headliner:
Safety
Jimmie Ward
is a back-to-back All-MAC selection, earning first-team honors in 2012. He led NIU in tackles (104) and interceptions (3) as a junior, finishing second on the team in pass breakups (11) and adding a forced fumble.
The skinny:
NIU has established itself as one of the nation's top programs from a nonautomatic-qualifying conference. The Huskies boast 34 victories in the past three seasons, although three of their losses came against Big Ten opponents (Illinois, Wisconsin and Iowa). Although Lynch struggled in the Orange Bowl against Florida State's superb defense, he enters the season as a national awards candidate and will play behind a veteran offensive line. NIU loses several key pieces on defense, including All-MAC ends Sean Progar and Alan Baxter.
Thoughts:
In a word, yikes. New Purdue coach Darrell Hazell likes challenges and gets plenty in his first nonleague slate, which is the toughest in the Big Ten. The Boilers face two teams that appeared in BCS bowl games last season and a third in Cincinnati that reached back-to-back BCS games in 2009 and 2010 and won 10 games plus a bowl in each of the past two years. Purdue likely will be favored in only one of the four contests (Indiana State). One plus for Purdue is that three of its four nonconference opponents have new head coaches (NIU's Carey served as the team's offensive coordinator for most of 2012 before taking over for the Orange Bowl), while the fourth, Notre Dame, endured a very tough offseason and enters the fall with big question marks. The season opener is pivotal as a road win against a good Cincinnati team would give the Boilers a confidence boost. A 2-2 mark would be respectable for Purdue, while 3-1 or 4-0 would send expectations soaring for Hazell's first season.
More nonconference primers