July, 31, 2012
7/31/12
1:00
PM ET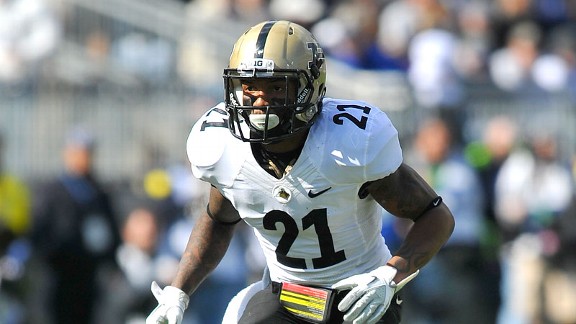 Randy Litzinger/Icon SMIPurdue cornerback Ricardo Allen enjoys the challenge of going one-on-one with bigger receivers.
CHICAGO -- At 5-foot-9 and 176 pounds, Purdue junior cornerback
Ricardo Allen
is a small man in a big-man's game.
The key to his success: not playing like a small man.
Allen, who has started all 25 games of his Boilers career, describes his playing style with one word -- aggressive -- and backs it up on the field. He typically lines up just inches from opposing receivers, even if those men stand more than a few inches taller than him, as they usually do. Whether a receiver is 5-10 or 6-6, Allen's goal is to challenge them from the moment the ball is snapped.
"I used to play down to my size and think because I was small, I'd have to be an off corner," Allen said. "But most big receivers aren't really good on the line. So I have changed."
Allen enters his junior season among the Big Ten's most accomplished cornerbacks. He has led the Boilers in interceptions with three in each of the past two seasons. He has returned three picks for six points, which ties Rod Woodson and Mike Rose for the all-time team record.
Like all cornerbacks, Allen gets burned on occasion. But his production is undeniable: 164 total tackles (118 solo), 6.5 tackles for loss, six interceptions and 14 passes defended.
Not bad for a guy some considered too small to play in a major conference.
"Miami originally offered me, but Mr. [Randy] Shannon didn't like me for my height," said Allen, referring to the former Hurricanes coach. "I had a lot of people who offered me but didn't like my height. South Carolina pushed away from me because of my height. I was recruited by a lot of schools, but when the time came down to it, everybody kind of shied away from me."
The Daytona Beach, Fla., native eventually landed at Purdue, part of a 2010 recruiting class heavy on players from the Sunshine State. Allen rose atop the depth chart immediately and sparkled as a freshman, earning second-team All-Big Ten honors (media) and leading the team in interception return yards (129).
The 2010 season convinced Allen that he could play at a high level.
"It gave me confidence that my size doesn't really matter anymore," he said. "I play with the biggest and I play with the best receivers around."
April, 25, 2012
4/25/12
12:00
PM ET
Here's your hump day linkage.
October, 12, 2011
10/12/11
2:30
PM ET
A cornerback doesn't record three pick-sixes in a year and a half of college ball without taking some risks along the way.
Purdue's Ricardo Allen calls himself a risk-taker. Anyone who watches Allen calls him a playmaker.
"You can't be one of the best," Allen said, "if you don't take chances."
It was a lesson Allen learned in high school, and one that has helped him become one of the nation's best young cornerbacks.
The sophomore last Saturday intercepted a
MarQueis Gray
pass and raced 37 yards to the end zone, as Purdue went on to crush Minnesota. Allen recorded his third interception return for a touchdown in 17 games with the Boilers, tying him with former All-American defensive back Rod Woodson and linebacker Mike Rose for the team record. He had interception returns of 94 yards against Michigan and 35 yards against Michigan State last year.
[+] Enlarge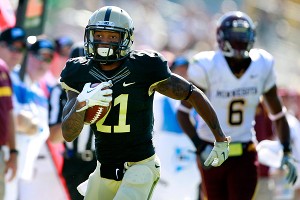 Zuma Press/Icon SMIRicardo Allen raced 37 yards to the end zone following an interception last week against Minnesota.
Allen, who led the Big Ten in interception return yards (129) as a true freshman in 2010, has five interceptions in his career.
"He came on the scene last year as a true freshman and really was a dominant player at times," Purdue coach Danny Hope said. "One thing about Ricardo that makes him such a special player is he's very, very competitive and he's never satisfied.
"He's certainly not afraid to go and make a play."
Allen wasn't always so fearless. Early in his high school career, he lacked confidence and "used to be more conservative."
Then he started studying some of football's best cornerbacks, players like Darrelle Revis and Antonio Cromartie who, like Allen, embraced being in man-to-man coverage.
"My senior year of high school, I used to watch a lot of film and I'd see the best; they always take chances," Allen recalled. "I figured out, 'What's the worst that can happen?' Even the best get beat."
Like every defensive back, Allen has been humbled. He spent much of a Week 5 game against Notre Dame matched up against Fighting Irish star receiver
Michael Floyd
, who torched Purdue for 12 receptions, 137 yards and a touchdown in a 38-10 victory.
Allen called Floyd the best receiver he's faced so far in college and thinks the experience will prepare him for other No. 1 wideouts down the road.
Even the best get beat.
"I'm pretty aggressive," he said. "I'm not scared to give up a catch here and there to try and go for an interception every now and then."
Allen can usually sense an interception opportunity early in a particular play.
"If I'm running the route as well as the receiver, I'll probably go for [the interception]," he said. "But if he gets out of his break before me, most of the time I'll probably just go for a bat-down."
Allen's style drew him to Purdue's coaches when they began recruiting him out of Mainland High School in Daytona Beach, Fla. Only 5-foot-9 and 176 pounds, Allen isn't an imposing corner but boasts top-end speed and doesn't shy away from big receivers.
"He's always been a guy who would run fast and break on the ball and gets excited about being a playmaker and making big plays," Hope said. "So he's hungry. Some of it's talent and some of it's preparation, and a whole lot of it is want-to on his part.
"He loves to play football, and he loves to be a great player."
Allen knew a bit about Woodson before he arrived at Purdue. He soon realized Woodson's legacy in West Lafayette and watched tape of the two-time Boilers All-American and 11-time Pro Bowler.
Allen has two-and-a-half years to break Woodson's pick-six record. Woodson's career interception yards record (276) also is within reach.
"That's a great accomplishment, being able to have my name with that kind of name," Allen said. "But I'm going to try and go break [the records]. Hopefully, I can."
May, 10, 2010
5/10/10
4:00
PM ET
March Madness is over, but we're doing our own little
bracket
here at ESPN.com, as we search for the
college program that boasts the best pipeline to the NFL
. The top 16 point earners entered the bracket, and three Big Ten programs -- No. 9 Penn State, No. 11 Michigan and No. 12 Ohio State -- all made the cut.
Two other Big Ten programs cracked the Top 25 but fell short of the bracket.
Michigan State comes in at No. 23 with 48 points, boasting nine first-team All-Pro selection, eight second-team All-Pro selections and 31 Pro Bowl appearances for players
drafted between 1979-2009
. The Spartans' top pros during the time span included kicker Morten Andersen, wide receiver Andre Rison, linebacker Julian Peterson and offensive tackle Flozell Adams.
Iowa is tied with Michigan State at No. 23 in the standings. The Hawkeyes produced 10 first-team All-Pros, 10 second-team All-Pros and 27 Pro Bowl appearances. Iowa's top players during the last three decades included linebacker Andre Tippett, safety Merton Hanks (love the funky chicken dance!), punter Reggie Roby, safety Bob Sanders, defensive end Aaron Kampman and kicker Nate Kaeding.
Purdue finished at No. 26 in the standings with 47 total points. The Boilers are led by former Defensive Player of the Year Rod Woodson and reigning Super Bowl MVP Drew Brees, along with former All-Pro fullback Mike Alstott.
September, 18, 2009
9/18/09
12:00
PM ET

Posted by ESPN.com's Adam Rittenberg
Minneapolis is beautiful this time o' year.