February, 4, 2014
Feb 4
10:00
AM ET
Several Big Ten recruiting targets will announce their college choices on national signing day, and perhaps none will generate more regional attention than
Malik McDowell
. The 6-foot-6, 260-pound defensive lineman from Southfield, Mich., rated as the nation's No. 60 overall player by ESPN Recruiting Nation, is
deciding among four schools
, three of which are in the Big Ten: Michigan State, Michigan and Ohio State.
McDowell visited Ohio State last weekend after visiting Michigan State the previous week. His destination remains a mystery, and he'll announce his choice at 9:30 a.m. ET Wednesday.
[+] Enlarge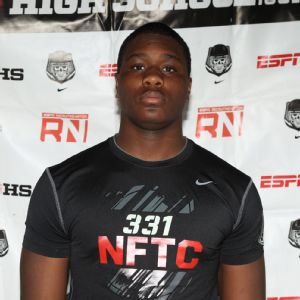 Tom Hauck/ESPNMalik McDowell and his parents apparently have different views on where he should attend school.
While McDowell has had positive things to say about all four schools, his parents are hesitant about their son playing close to home. Some recruiting analysts have considered Michigan State the favorite to land McDowell, including
ESPN's Tom Luginbill
, and McDowell told Rivals.com that he's most comfortable with MSU. But McDowell's mother made it clear Monday that she would prefer her son not end up in East Lansing.
From the
Detroit Free Press
:
"We don't want him at MSU," Malik's mother, Joya Crowe, said Monday night, and she gave multiple reasons.

"Something happened; I don't want to put it out there what it was," she said of her son's recent official visit, "but I had a bad experience at MSU."

Asked to elaborate, she said: "It was something on my end, I don't want to get into specifics."

Crowe said she and Malik's father, Greg McDowell, also fear "too much social life" at MSU.

"I want him to get a good education," Crowe said. "Not that he can't get a good education at MSU. But he also wants to be a first-round pick after college. Nothing is guaranteed, but I don't think their defensive line coach has the background for that."
Crowe's last remark is a bit of a head-scratcher. Didn't Spartans defensive end
Shilique Calhoun
become a second-team All-American last year under the watch of first-year line coach Ron Burton?
As Free Press reporter Joe Rexrode wrote on Twitter, Crowe's comment about Burton
reeks of negative recruiting
from another McDowell suitor. Would it be enough to push McDowell away from MSU?
The bigger issue is the apparent desire of
both of McDowell's parents for their son to leave the state
because of the potential distractions there. Ohio State fans certainly hope it's the case. It would be a blow to the Big Ten if McDowell picks Florida State, as the Big Ten needs to keep as many of the region's elite prospects as possible.
We've seen recruits defy their parents' wishes with their college choices before. Running back
Alex Collins
, a 2013 recruit, wanted to attend Arkansas but
his mother refused to sign his national letter of intent
, wanting Collins to play for Miami. Collins
eventually got his father to sign the letter
, and he rushed for 1,026 as a freshman for the Razorbacks this past season.
It will be interesting to see how much influence McDowell's folks have on his selection.
As Crowe told the Free Press, "It'll be one of the hats on the table. I hope he makes the right decision."
September, 11, 2013
9/11/13
3:00
PM ET
Michigan State defensive end
Shilique Calhoun
was having a bad practice on Tuesday evening. So bad that he apologized to teammates and coaches about his performance.
[+] Enlarge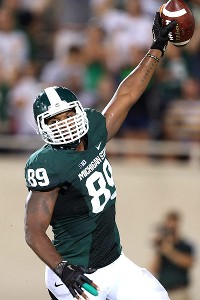 Mike Carter/USA TODAY SportsFrom his defensive end position, Michigan State's Shilique Calhoun has already scored three TDs this season.
That only opened him up to some gentle razzing. More than one Spartan told Calhoun that night, "Don't worry about it. You're a Heisman hopeful, so you'll be just fine."
It's hard not to joke about Calhoun's absurdly good start to the 2013 season. The redshirt sophomore has scored three touchdowns in two games, including two in last week's win over South Florida. For that effort, he was named the FWAA/Bronko Nagurski national defensive player of the week. He has outscored the entire Michigan State offense and has found the end zone more often than all but four players in the Big Ten so far this season. He's even responsible for one more touchdown than Ohio State star
Braxton Miller
.
That has led to cracks about whether he can play quarterback for the Spartans. Defensive coordinator Pat Narduzzi called him a "running back on defense." And Calhoun stunningly appeared in
ESPN.com's latest Heisman watch
, gaining a fifth-place vote. Calhoun finds all the attention is a little bit strange, but he's taking his newfound fame in unselfish stride.
"I told my teammates that it's a credit to them," he said. "It wasn't me or my individual play; it was a credit to those guys for providing me with the plays they did.
"I think it was just lightning in a bottle. I happened to be at the right place at the right time. I guess God was looking down at me and saying, 'You know, you can have these three.'"
But Calhoun is not just some lucky stiff whom the ball happened to find. Michigan State has known for some time that he was a special athlete who just needed to get stronger, and he's beginning to live up to that potential in his first year as a starter.
The 6-foot-4 Calhoun arrived on campus weighing about 218 pounds. Now, he's listed at 250.
"You could see that he was a slippery guy that could accelerate and get off blocks," head coach Mark Dantonio said. "And he liked to play. What he lacked was an overall sense of power.
"He had the gifts, that we would see in practice, but he never really put it together on the field to be a dominant player. He was an OK player, sort of trying to find his way, trying to develop. Now, he's playing much more confidently, and when a guy plays confidently, he plays fast."
Speed and athleticism have never really been an issue for Calhoun, who grew up primarily focusing on basketball. He averaged 17 points and 10 rebounds his senior year at Middletown (N.J.) North High School before he walked off the team in the middle of a game in a dispute with his coach (an incident Calhoun says was dumb and immature but that he learned from). He had scholarship offers to play basketball at lower-level Division I schools like Monmouth.
"Basketball was mostly my life," he said. "When I woke up, I would go to the basketball court and work on my jumper, work on dunking. It was my first love and will always be one of my loves. If I get any free time, I'll still go shoot alone or play a pick-up game. You can never let go of that first love."
Calhoun said he realized late in high school that football provided a better future for him. East Coast schools like Boston College, Rutgers and Pitt recruited him, but Michigan State won out during his visit for the 2010 home game vs. Illinois. Calhoun remembers seeing Narduzzi jump on Trenton Robinson's back after Robinson intercepted
Nathan Scheelhaase
in the fourth quarter, drawing a penalty in the process. He said that showed him that the Spartans were a family.
What Michigan State saw in Calhoun was a lanky athlete who needed time in the weight room but could eventually fit its defensive system perfectly. Calhoun is the just latest example of the Spartans' success in finding two- or three-star recruits and developing them into defensive studs, usually after a redshirt year.
"Shilique was a recruited player, no doubt about it," Dantonio said. "Was he a national recruit? Probably not. Is he playing a a national level? Absolutely, yes."
Calhoun is the first to admit that he hasn't totally arrived yet, despite the touchdown barrage. Though he has two sacks in his past three games, dating back to last season's Buffalo Wild Wings Bowl, he says he needs to become a better pass rusher. He also wants to continue to get stronger so he can improve in stopping the run.
"People are going to start running at him, running play action, throwing double teams at him to see if he can handle it," Michigan State defensive line coach Ron Burton said.
Burton still sees much room for growth in Calhoun, saying his body is still growing and that he's very coachable. Calhoun already has the personality of a star -- "he can light up a room in any setting," Burton says, "whether he's talking to the janitor or the secretaries. He can relate to everyone." But Calhoun sheds his easygoing, friendly manner in the locker room before games, donning his special six-bar face mask and
channeling Bane from "The Dark Knight Rises"
as his alter ego.
"Once I put on that helmet with that face mask, I'm a totally different guy out there," he said. "It's not Shilique Calhoun. I'm totally angry but focused and ready to exceed expectations."
Calhoun has definitely done that in his first two games this season. He has somehow gotten himself on the Heisman radar, though basketball doesn't stay too far out of his mind.
"Let [Spartans basketball coach] Tom Izzo know I'm ready," he joked at the end of an interview this week. "He might let me on that court."
Defense
and
scoring? Sounds right up any coach's alley.
June, 4, 2013
6/04/13
12:00
PM ET
Roy Hibbert has been working on the links since the final buzzer Monday night. That's why he left the court so quickly.
May, 3, 2013
5/03/13
12:00
PM ET
"Just pretend you're visiting a huge outdoor loony bin." Happy Derby Eve.
April, 18, 2013
4/18/13
9:00
AM ET
EAST LANSING, Mich. -- Michigan State defensive coordinator Pat Narduzzi didn't want to nag any more.
Narduzzi always had told his defenders exactly what they needed to do to become an elite unit. He shaped the identity of the unit, rather than the players themselves.
"It's like your mother telling you to make your bed before 8 o'clock, 'Don't come down and eat breakfast, do this and do this,' " Narduzzi told ESPN.com. "And you're going, 'C'mon, Mom, can't I eat breakfast first and then make my bed?' Well, me coming in there and telling them all those things is the same."
Several years ago, Narduzzi put the players' identity in their own hands. He no longer would outline the traits that would make them a great unit. The defenders met as a group and brainstormed the core values they wanted to display on the field.
"When people watch you on tape, when people watch you on Saturday afternoons on ESPN, what are they saying about you?" Narduzzi told the players. "Are they saying, 'Look at these guys. They look confused.' Or are they saying, 'They're playing fast.' "
They chose a nickname -- Spartan Dawgs -- and a list of terms that best reflected their goals. The final product is a blueprint for a defense that has come to define the Michigan State program in recent years.
It can be found in meeting rooms, players' binders and in the locker room before games.
"We all come up with some things we can go by, stuff we need to do during the game, which is dominate, which is create turnovers, which is making plays," senior cornerback
Darqueze Dennard
said. "Stuff like that can motivate us and give us a guideline for how we come into each game.
[+] Enlarge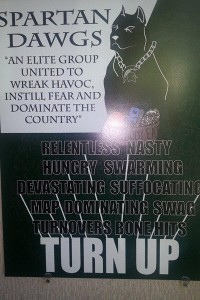 Michigan State athletic communicationsMichigan State's defense has chosen Spartan Dawgs to be its nickname.
"We've got a nice poster with the Spartan Dawgs, the goals and a little mean dog. It's kinda cool."
Defensive lineman
Tyler Hoover
, a studio art major, designed last year's poster, which features a dog wearing a Spartans logo on a chain. The dog's bowl includes a Big Ten championship ring and the words "Everybody eats."
The poster defines Spartan Dawgs as: "An Elite Group United to Wreak Havoc, Instill Fear and Dominate the Country." Below are words like relentless, nasty, swarming, devastating, turnovers and dominating. The poster ends with the words: TURN UP.
The 2011 poster was similar, and included the statement:
We will set the standard nationally for the most reckless, disruptive force unleashed on any team
. It's not exactly Shakespeare, who in "A Midsummer Night's Dream" wrote about the "hounds of Sparta" --
So flew'd, so sanded, and their heads are hung/With ears that sweep away the morning dew;/Crook-knee'd, and dew-lapp'd like Thessalian bulls
-- but it works for the players.
"We run out of synonyms, to be honest," senior linebacker
Max Bullough
said. "We have a good idea of what we want to do, where we want to be. It's just adding little flakes here and there, having different guys on the team and who's going to step up and say, 'This is what we should have on it.'
"It's pretty similar each year."
So are the results of the Spartans' defense. Michigan State finished fourth nationally in total defense last season (274.4 ypg) after placing sixth in 2011 (277.4 ypg). The unit also has ranked in the top 10 nationally in both points allowed and rushing yards allowed in each of the past two seasons. Last year, Michigan State finished third nationally in pass efficiency defense.
A high standard has been set, but the Spartans expect to reach it again this season. Seven defensive starters return, including two 2012 first-team All-Big Ten selections in Bullough and Dennard, along with honorable-mention selections in safety
Isaiah Lewis
, linebacker
Denicos Allen
and end
Marcus Rush
. The Spartans boast one of the deepest secondaries in the country, a veteran linebacking corps and several potential stars up front like
Shilique Calhoun
, who locked up a starting end spot opposite rush this spring.
"We have an experienced secondary coming back, an experienced defense coming back," Lewis said. "I'm just expecting what everybody else is expecting, to come out and dominate other teams."
The defense has areas that can be improved, such as generating more sacks (tied for 93rd nationally last season, 1.54 per game) and takeaways (tied for 73rd with 20). But asked what the next phase is for the defense, Narduzzi replied, "Keep doing what we're doing."
The Spartans have evolved into an elite defense under Narduzzi and coach Mark Dantonio, a former defensive assistant at four FBS schools, including Michigan State (defensive backs, 1995-2000) and Ohio State (defensive coordinator, 2001-03). But they weren't always that way.
Michigan State finished 31st, 58th, 73rd and 43rd in defense during Dantonio's first four seasons as coach. The Narduzzi/Dantonio-led defenses at Cincinnati from 2004 to 2006 were decent but not special, finishing no higher than 31st nationally.
[+] Enlarge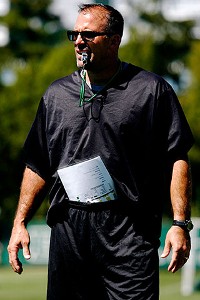 AP Photo/Al GoldisPat Narduzzi's Michigan State defense ranked fourth nationally in total defense last season.
Dantonio identifies three factors that have helped the Spartans' defense reach nationally elite status: stronger recruiting/player development, staff continuity, and players who have experienced success and know the standard.
"We've got players who have excelled in the past, and success breeds success," Dantonio said. "When they have the same teacher, and that same base concept stays the same, over a period of time you begin to handle it more efficiently. I think that's happened to our football team. It doesn't mean we don't have breakdowns. We do. But we're able to overcome those, and we're able to play with a lot of confidence and we're able to play fast.
"Any time you can do those two things ... you can be successful."
The same teacher is Narduzzi, who has served as Dantonio's defensive coordinator throughout his head-coaching career. Despite being courted by Texas A&M after the 2011 season and being mentioned for several head-coaching vacancies, he'll remain with the Spartans for a seventh season this fall.
Assistants Harlon Barnett (secondary) and Mike Tressel (linebackers) also came with Dantonio and Narduzzi from Cincinnati. The defensive staff had its first change this past offseason, when line coach Ron Burton replaced Ted Gill.
"There's something to be said about that," Bullough said. "You can play fast, you know the defense, you don't have to worry about the little things and the big things will take care of themselves."
Michigan State's defense wasn't the reason the team backslid from 11 wins in 2011 to seven last season. The unit made strides in most major statistical categories and played arguably at a championship level. But it wasn't perfect, and with Michigan State's offense sputtering -- the Spartans finished 108th in scoring and 95th in total yards -- it cost the team. They dropped five Big Ten games by a total of 13 points.
There's a concern that the gap between the defense and the offense will create splintering, but Dennard says the Spartans "never got divided." Still, the offensive players know they must make up some ground this offseason.
"Each day, going to practice is a challenge for us," offensive tackle
Fou Fonoti
said. "Seeing them play with the amount of emotion, and you see Coach Narduzzi, it puts that fire for us. We've got to execute better, so we're trying to feed off of that."
This year's Spartan Dawgs blueprint should be finalized soon. One word likely to appear, if Lewis has a say, is nastiness.
Barnett has a picture of The Incredible Hulk on the wall of the defensive backs' meeting room and encourages his players to "bring the other guy out."
"I'm a nice guy off the field, but when you step on that field, you aren't that nice guy any more," Lewis said. "You've got to bring out that other side. ... Just a nasty guy, somebody mean, somebody angry."
Somebody striving to be the best.
"We want to be the No. 1 defense, we want to be the talk of the nation," Dennard said. "We take so much pride in that. None of us forget the blueprint."
February, 19, 2013
2/19/13
12:00
PM ET
February, 8, 2013
2/08/13
1:55
PM ET
Michigan State has hired Air Force assistant Ron Burton as its new defensive line coach. He replaces Ted Gill, whose contract was not renewed.

Burton is a 21-year coaching veteran who has spent the past 10 years tutoring defensive linemen at Air Force. He has also worked at Indiana, coaching linebackers from 1997-2001, Eastern Michigan and Grand Valley State.
"He brings a wealth of knowledge to the position," Michigan State coach Mark Dantonio said in a statement released by the school. "Ron played four years in the NFL and has been around some of the game's top coaches at both the professional and collegiate levels. In the pros, he played for Tom Landry, Jimmy Johnson and Gene Stallings, and he started his tenure at Air Force under Fisher DeBerry, one of college football's great coaches.
"He was simply dynamic during the entire interview process. We had an opportunity to share some ideas last year in a professional development setting, and we believe Ron is a natural fit in terms of defensive terminology and concepts. He also brings great energy and management skills to the coaching staff."
Burton said in the school's release that he gained respect for the Spartans' staff during last year's meeting.
"We sat and talked football, and I was simply amazed at how the staff handled things," Burton said.
The Spartans lose three starters off last season's defensive line, including early draft entrant
William Gholston
, but Burton should still have a lot to work with. Junior
Marcus Rush
will be a third-year starter at defensive end, while young players like
Joel Heath
,
Shilique Calhoun
and
Lawrence Thomas
show a lot of promise.
February, 19, 2009
2/19/09
9:00
AM ET
Posted by ESPN.com's Adam Rittenberg
You don't have to look back too far to identify the faces of Northwestern football. The program's history before 1995 was mainly miserable, and that's putting it mildly. There was a 34-game losing streak and years of non-competitive teams in the Big Ten.

But everything shifted in 1995 as the Wildcats won the Big Ten and reached the Rose Bowl. The program has been respectable ever since, winning two more league titles and reaching five bowl games.
The first three faces for Northwestern's Rushmore were obvious, while the fourth was a tougher choice.
Gary Barnett -- Barnett changed the culture in Evanston and led one of the most improbable college football stories in recent memory as Northwestern won the 1995 Big Ten title and reached the Rose Bowl. As Wildcats head coach from 1992-99, Barnett helped the Wildcats to two league titles and their first bowl games since 1949.
Otto Graham -- One of the greatest all-around athletes in school history, Graham earned All-America honors in both football and basketball. Earning the nickname "Automatic Otto," Graham broke every Big Ten passing record during his college career and won the league's MVP award in 1943. He was later inducted into both the college and pro football Hall of Fame.
Pat Fitzgerald -- Fitzgerald won back-to-back National Defensive Player of the Year awards as a standout middle linebacker for the Wildcats on their Big Ten title-winning squads. He was inducted into the College Football Hall of Fame in December and became the nation's youngest head coach in 2006 when he took the reins at his alma mater. Northwestern went 9-4 in Fitzgerald's third season, and he's regarded as one of the game's top young coaches.

Darnell Autry -- When your face has been on the cover of Sports Illustrated, there's a pretty good chance it ends up on your team's Rushmore. Along with Fitzgerald, Autry was a front man for the 1995 Rose Bowl squad and finished fourth in Heisman Trophy voting that year. The running back owns two of the top four single-season rushing totals in team history.

Others considered for the fourth spot included: Paddy Driscoll, Ron Burton, Mike Adamle and Ralph Baker.