January, 10, 2013
1/10/13
9:00
AM ET
Illinois' offensive staff will have a fairly different look in 2013 after the unit finished 119th out of 120 FBS teams this past season.
We already know Illinois didn't retain offensive coordinator/quarterbacks coach Chris Beatty and is expected to name former Western Michigan coach Bill Cubit as his replacement. Illinois also will have a new offensive line coach as
Luke Butkus reportedly is leaving the program
to join Florida International. FootballScoop
first reported
Butkus' move to FIU.
Why would Butkus leave a Big Ten program for one in the Sun Belt? He played center for new FIU coach Ron Turner at Illinois and reportedly will be run game coordinator at the school. He also could be seeing the writing on the wall as head coach Tim Beckman enters a make-or-break 2013 season in Champaign. Illinois' offensive line struggled this season, as the Illini ranked 97th nationally in rush offense and 111th nationally in sacks allowed. Butkus, the nephew of Illini great Dick Butkus, joined Beckman following five years as a low-level assistant in the NFL.
It'll be interesting to see where Illinois turns for this hire and whether any more changes are coming for 2013. Cubit's hiring is expected to be announced next week. I heard in late November that Illinois would have at least two new assistants for 2013 (Butkus was one of the names mentioned).
January, 4, 2013
1/04/13
12:00
PM ET
November, 9, 2012
11/09/12
12:00
PM ET
January, 6, 2012
1/06/12
2:00
PM ET
Penn State has replaced the quintessential college coach, a man with more Division I wins than any coach in history, with a guy coming straight from the NFL. It's an interesting choice, to be sure, and one that has some mixed historical precedent.
The closest comparison for Bill O'Brien, of course, is Charlie Weis. Both were New England Patriots offensive coordinators with no college head coaching experience who landed jobs at historic programs. Weis' tenure at Notre Dame started off strongly, with back-to-back BCS appearances, but he eventually flamed out, going 16-21 his final three years to earn a pink slip.
Like O'Brien, Weis coached with the Patriots through the NFL playoffs before joining his new team, which presented its challenges. Even though Weis was a Notre Dame alumnus, he had far less college experience than O'Brien, who coached 12 years in the ACC before heading to the pros.
Straight-from-the-NFL hires have not always worked out in recent Big Ten history, either.
[+] Enlarge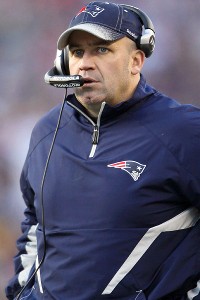 Elsa/Getty ImagesWill new Penn State coach Bill O'Brien be more like Charlie Weis or Kirk Ferentz?
The last NFL coordinator to get a college head coaching job in the league was Illinois' Ron Turner. He was the Chicago Bears' offensive coordinator before taking over the Illini, and he finished with a 35-57 record in eight years. The highlight was a 10-2, Sugar Bowl season in 2001 during which he was named Big Ten coach of the year. But Illinois had only two winning seasons under Turner, who went 9-26 his final three years in Champaign. Unlike O'Brien, Turner had previous head coaching experience, with one year leading San Jose State.
Nebraska, another storied program like Penn State, famously went outside its family with an NFL coach. Shortly after his dismissal as the Raiders' head coach, Bill Callahan was hired by the Huskers to replace Frank Solich. Callahan changed the option attack to a West Coast passing offense. Despite some big numbers offensively, Nebraska went just 27-22 in his four years, with a pair of losing seasons, before he was ushered out. Huskers fans complained that Callahan never "got" the Nebraska tradition and culture.
Minnesota hired Tim Brewster -- who like O'Brien, had no college head coaching experience -- to lead its program in 2007. The former NFL assistant went 15-30 before being fired midway through his fourth season with the Gophers.
A far more successful example is Iowa's Kirk Ferentz. He was the offensive line coach under Bill Belichick -- O'Brien's most recent boss -- for six seasons before taking over the Hawkeyes. He is a three-time Big Ten coach of the year who has led Iowa to two BCS appearances. Unlike O'Brien, however, Ferentz had ties to Iowa as a former longtime assistant under Hayden Fry, and he had been a head coach at Maine.
Do you think Penn State would be happy if O'Brien turned out to be the next Nick Saban? Saban was the Cleveland Browns defensive coordinator under Belichick the year before getting the Michigan State head coaching job in 1995. While the Spartans were mediocre his first four years, they went 9-2 in his fifth and final season. Saban later went straight from the Miami Dolphins to Alabama, though by then of course he had already won a national title at LSU. And he had been a head coach, at Toledo, before landing the Michigan State gig.
The Nittany Lions could also hope that O'Brien follows the path -- at least in some ways -- of current Arkansas coach Bobby Petrino. He, too, was a longtime college assistant and offensive guru who spend three years on an NFL staff (with the Jacksonville Jaguars). Petrino got his first head coaching job at Louisville at the same age (42) that O'Brien is now. Petrino went 41-9 with an Orange Bowl win at Louisville, though he became almost as well known for his flirtations with other jobs as he was for his coaching acumen.
Al Groh is another former Belichick assistant who went from the NFL to college. He resigned from the New York Jets after one season to take the Virginia job. Despite having several talented players who went on to get drafted, Groh went just 59-53 in nine seasons with the Cavaliers, posting four losing seasons and never winning an ACC division title.
Results from former Belichick assistants are a mixed bag. Pat Hill had a successful 15-year run at Fresno State after going there straight from the Baltimore Ravens. Hill was fired following the 2011 season but compiled a 112-80 record and several memorable upsets.
Belichick proteges Josh McDaniels and Eric Mangini did not fare well as NFL head coaches, while Romeo Crennel had only one good season with the Cleveland Browns. Jim Schwartz, who is leading the Detroit Lions into the playoffs, was once a personnel scout under Belichick in Cleveland.
Probably the most successful example of all-time of an NFL-turned-college coach is Pete Carroll. After getting fired from -- yes -- the New England Patriots, he was hired by USC in 2001 even though he hadn't coached in college in nearly 20 years. He won 83 games in nine years with the Trojans, including seven BCS game appearances and two national titles.
Texas A&M was probably hoping for a Carroll-like effect when it tapped then Houston Texas offensive coordinator Mike Sherman as its head coach in 2008. Sherman, who spent six years as the Green Bay Packers head coach, had one nine-win season with the Aggies but three non-winning ones. He was fired after the team went 6-6 this season.
And then there's Dave Wannstedt, who took over his alma mater at Pitt in 2005 after nearly 20 years in the NFL. Wannstedt was 42-21 with the Panthers, including a 10-3 mark in 2009. But it took him until his fourth season to post a winning season, and he was dumped after a 7-5 campaign in 2010.
Questions that face coaches who come from the NFL to campus often are whether or not they can recruit, whether or not they can motivate college-age players instead of building a more sterile pro environment and whether or not they can adapt their schemes to fit players with less talent. Some have fared better than others.
Will O'Brien be more like Carroll or Weis? Will he be a young Saban or the current Saban? A Ferentz or a Sherman?
Only time will tell, but history says the NFL-to-college route isn't always a smooth ride.
January, 5, 2010
1/05/10
4:19
PM ET
A few tidbits for you on another frigid day in Chicago.
Speaking of the weather, I cracked up when I saw there's a wind chill advisory and a freeze warning for Opa Locka, Fla., site of tonight's FedEx Orange Bowl matchup between No. 10 Iowa and No. 9 Georgia Tech (Fox, 8 p.m. ET). Apparently 40-degree temperatures scare people down there. As my buddy Nick P. likes to say, get tough. Anyway, Iowa certainly will feel right at home tonight, as temperatures will be between 45 degrees and 51 degrees during the game. Winds are at 10 mph. Though Georgia Tech is a running team, the weather probably favors Iowa. Wonder whether the Yellow Jackets will need sideline heaters like Miami in the Champs Sports Bowl.
Wisconsin head coach Bret Bielema has confirmed that secondary coach Kerry Cooks will leave to join Notre Dame's staff. Cooks is expected to oversee the linebackers at Notre Dame. The Milwaukee Journal Sentinel also reports that Badgers reserve running back Erik Smith will transfer, which isn't surprising considering the team's logjam in the backfield.
Here's what Michigan coach Rich Rodriguez had to say about his new boss, Dave Brandon: "We are very excited that Dave will be leading our athletic department. He has been a successful leader in business, and I'm sure all of our teams will benefit from his experience."
Will Penn State running back Evan Royster follow teammate Navorro Bowman to the NFL? The Pittsburgh Post-Gazette's Ron Musselman thinks so.
Several former Illinois assistants, including former head man Ron Turner, got the boot from the Chicago Bears today.
July, 23, 2008
7/23/08
8:00
AM ET
Posted by ESPN.com's Adam Rittenberg
Big Ten media days begin Thursday with all 11 coaches appearing at the Hyatt Regency Chicago. Joe Tiller will tell fish stories, Joe Paterno will snap off some good one-liners and Tim Brewster will show he has no need for a podium nor a microphone. I'll have a media day primer for you later today, but first here's a look around the league: