December, 30, 2011
12/30/11
11:45
PM ET
I have a contract with ESPN.com. It has a start date and an end date. It has a predetermined salary structure. It includes job expectations, company policies and, like any contract, a lot of legalese. But the important things are spelled out clearly.
Before agreeing to the terms, ESPN's legal department sends me the contract to review. I read it over. Usually several times. And then I sign it and send it in.
It's all right there in print -- no gray area.
[+] Enlarge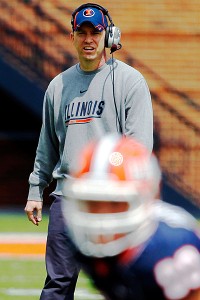 Michael Heinz/US PresswireJeff Brohm is among the Illinois assistant coaches who will fulfill their duties during Friday's bowl despite a contract dispute.
Four Illinois assistant coaches are steamed because they put pen to paper before fully studying what was written on the paper. They thought they had two-year rollover contracts and were surprised to learn recently that their deals had been reworked in the summer of 2010 and as a result, they no longer would be paid after Feb. 28. Illinois fired head coach Ron Zook on Nov. 27, and only one assistant (defensive line coach Keith Gilmore) is remaining on staff with new boss Tim Beckman.
The assistants were irate and lashed out. Offensive line coach Joe Gilbert called the situation "very unprofessional." They even threatened to boycott Saturday's Kraft Fight Hunger Bowl against UCLA, adding even more controversy to a game filled with it.
But the Bizzaro Bowl Boycott won't be taking place.
Zook told ESPN colleague Gene Wojciechowski on Friday night that
his former aides will show up Saturday at AT&T Park
.
"They're going to coach," said Zook, when contacted by ESPN.com Friday evening. "They're [the assistants] frustrated. But they're going to coach. They know it's about the kids. But they were trying to make a point. They've got careers, family, all of those things. They're class guys. And it's important that everyone knows they're really good people."
More from the story:
The dispute centers around a contract promise that Zook said was made to several of his assistant coaches by him and former Illinois athletic director Ron Guenther. According to Zook, the assistants -- Jeff Brohm, Ron West and Chip Long -- were told they would receive two-year deals which would run through the 2012 regular season. Assistant Joe Gilbert has told SI.com that he also was promised a multiyear contract.
"Somewhere -- I'm not sure how -- a couple of the contracts got changed," said Zook. "I truly believed they had two-year contracts. ... I'm not exactly sure how things got changed. I feel awful about it. They're great people and they did a great job. I don't know where it went wrong. I was under the understanding that they had two-year contracts."
I feel for the Illinois assistants. It's a bad deal for them, but it's because they signed bad deals. As athletic director
Mike Thomas told SI.com
, "We have a contract that's pretty clear, and we intend to honor that contract. We assume they'll honor it as well."
Boycotting would have been worse for the coaches and for the Illini players than it would have for the administration. If you want to stick it to your bosses, boycotting the Kraft Fight Hunger Bowl probably isn't the best move. If you want to stick it to your players, boycotting is the way to go.
Plus, these assistants are looking for jobs. They have good credentials. But no employer wants to see "quitter" on a résumé.
Who knows what to expect Saturday afternoon in San Francisco? But at least the Illini assistants with be with the players they've coached all season.
March, 25, 2010
3/25/10
12:00
PM ET
No, no, no, no, Cameron, the water makes it so worse. No!
Oh, you're right, that does make it worse. I feel like I ate the sun!
March, 18, 2010
3/18/10
4:00
PM ET
Arguably no FBS head coach in the country wants to get back on the practice field more than Illinois' Ron Zook. Illinois underwent a major staff overhaul following a disappointing 3-9 performance in 2009, as Zook hired two new coordinators (Paul Petrino and Vic Koenning), fired four assistants, demoted two others, replaced two coaches and hired another (Ron West). After losing the momentum from the 2007 Rose Bowl run, Zook needs to get things back on track in 2010. His roster remains talented but includes question marks at quarterback, offensive line and secondary.
Illinois opens spring practice March 30, and Zook recently took some time to preview the spring.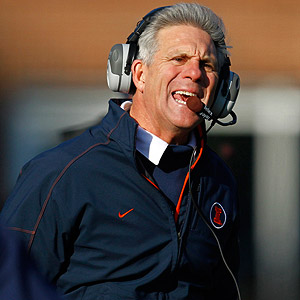 Mike DiNovo-US PRESSWIRECoach Ron Zook's Illini are adjusting to two new coordinators this offseason.
Is there a greater excitement than usual for spring ball after all the changes in the offseason and the struggles last year?
Ron Zook:
Yeah, there is. As a coach, you're always excited about spring ball because it gets you back on the field and you look forward to that. I wish we could start tomorrow. The enthusiasm around here, the energy, the players, it's an exciting time. I'm looking forward to seeing what happens.
Had you ever been through an offseason like this one before, with so many changes?
Zook:
Yeah. Any time you change jobs, it's the same kind of thing. But the good thing about this is it's almost like changing jobs, but you know everybody. You know what's going on, you know all the kids and what's going on with them and what buttons you have to push there. From that standpoint, it's neat because you know the deal.
You've had a chance to be around these new coaches for a bit of time now. What have you learned about them?
Zook:
I don't know if I've learned anything new, but it's a lot of fun. I told my wife, being around Paul, he's an offensive Ron Zook. Vic is a very, very thorough guy, reminds me of guys that I've coached with in the NFL. It's fun. We think alike in terms of where we're headed and the things we have to do. From that standpoint, it's been a breath of fresh air. It's been really fun.
Heading into the spring, players are going to have new coordinators on both sides of the ball, some new things being thrown at them. Do you have to manage expectations or does the bar have to be set really high right away?
Zook:
The expectations and the excitement is there. That's just how the coaches are. They bring it. To me, the biggest question is we have to try and get through spring and get everybody in the right place. It's a little bit different when you're putting in a new offense and a new defense, making sure you've got guys in the right place. The other thing you see is guys are starting all over. Everybody gets a clean slate and everybody gets an opportunity to prove themselves.
With the quarterback spot, it's always hard to lose a four-year starter [Juice Williams]. How do you look at that group going into the spring? How much attention will you devote to that spot?

Zook:
Everybody's paying attention to that because that's the one position that usually is going to dictate the success of your team in the long run. It's exciting. The fun thing about it is the competition is going to be intense. Everybody is starting on the same foot, that's the great thing. Everything's new, so no one's got an [edge], even though
Jacob Charest
, he's the one guy who's got some playing time.
Eddie McGee
as well, but Eddie has spent as much or more time at wide receiver as he has at quarterback. That will throw an added mix into it. Jacob and Eddie are the two that have playing time. Nathan [Scheelhaase] is a guy we've been very, very excited about and high on. And then Chandler Whitmer's come in, and I've been very, very impressed with the way he's handle things, the 6 a.m. drills, the way he's competing. Him and Nathan both are up here all the time, in the offices, by themselves watching tape, which is a good sign.
Paul mentioned the importance of building the offense around whoever emerges as the starter. How important is it to have some separation, maybe one or two guys, by the end of the spring?
Zook:
I don't think you can go in saying we want them to separate. You have to go in and see what it is. The great thing is [Petrino has] done it with a pure drop-back passer, he's done it with a mobile guy that can run around and make things happen. The thing you have to do at quarterback is do what they do. It was good when you had Juice and Eddie because the offense really didn't change.
March, 2, 2010
3/02/10
9:00
AM ET
The Big Ten was the only major conference to avoid head-coaching changes this offseason, but the league certainly had its share of staff shuffling with assistants coming and going. Indiana's
hiring of Mo Moriarity as offensive line coach
on Monday marked one of the last turns on this year's Big Ten coaching carousel. Wisconsin still needs to hire a defensive assistant, but things are just about wrapped up.
Barring any late coaching changes, here's a look at who's gone, who's back and who's in new roles.
ILLINOIS
Offensive coordinator
Who's out: Mike Schultz (fired)
Who's in: Paul Petrino (previously offensive coordinator/wide receivers coach at Arkansas)
Defensive coordinator
Who's out: Dan Disch and Curt Mallory both were demoted to position coaches. Disch is staying on staff as linebackers coach.
Who's in: Vic Koenning (previously co-defensive coordinator at Kansas State)
Quarterbacks coach
Who's out: Kurt Beathard (fired)
Who's in: Jeff Brohm (previously quarterbacks coach at Florida Atlantic)
Tight ends coach
Who's out: Jim Pry (fired)
Who's in: Greg Nord (previously running backs coach/recruiting coordinator at Louisville)
Running backs coach
Who's out: Reggie Mitchell (left to become running backs coach/recruiting coordinator at Kansas)
Who's in: DeAndre Smith (previously running backs coach at UNLV)
Other moves
Mallory left his position as secondary coach to become defensive coordinator at Akron.
Special-teams coordinator Mike Woodford was fired along with Schultz, Beathard and Pry.
Ron West was hired as a defensive assistant. His official responsibilities have not been announced.
INDIANA
Offensive line coach
Who's out: Bobby Johnson (left to become assistant offensive line coach with the Buffalo Bills)
Who's in: Myron "Mo" Moriarity (previously served as head coach at Carmel (Ind.) High School
IOWA
No staff changes, but recruiting coordinator Eric Johnson was named tight ends coach. Wide receivers coach Erik Campbell previously had worked with the tight ends, while Johnson had helped Darrell Wilson with the linebackers.
MICHIGAN
Linebackers coach
Who's out: Jay Hopson (left to become defensive coordinator at Memphis)
Who's in: Quality control assistant Adam Braithwaite was promoted to outside linebackers/strong safeties coach. Defensive coordinator Greg Robinson will take a more active role with the linebackers in 2010.
Other moves
Secondary coach Tony Gibson will continue to work with cornerbacks and free safeties, and also serve as special-teams coordinator.
MICHIGAN STATE
Running backs coach
Who's out: Dan Enos (left to become head coach at Central Michigan)
Who's in: Brad Salem (previously served as head coach at Augustana College)
MINNESOTA
Offensive coordinator/quarterbacks coach
Who's out: Jedd Fisch (left to become quarterbacks coach with the Seattle Seahawks)
Who's in: Jeff Horton (previously served as quarterbacks coach with the Detroit Lions)
Wide receivers coach
Who's out: Richard Hightower (left to become assistant special-teams coach for the Washington Redskins)
Who's in: Steve Watson (previously served as associate head coach with the Denver Broncos in 2008)
Other moves
Running backs coach Thomas Hammock was named co-offensive coordinator
NORTHWESTERN
No coaching changes
OHIO STATE
No coaching changes
PENN STATE
No coaching changes
PURDUE
Defensive line coach
Who's out: Terrell Williams (left to become defensive line coach at Texas A&M)
Who's in: Gary Emanuel (previously served as defensive line coach at Rutgers). Emanuel also was named co-defensive coordinator with a focus on run defense.
WISCONSIN
Defensive backs coach
Who's out: Kerry Cooks (left to become outside linebackers coach at Notre Dame)
Who's in: Chris Ash (previously served as defensive backs coach/recruiting coordinator at Iowa State)
Other moves
Randall McCray, who served as Wisconsin's recruiting coordinator and assistant secondary coach, left to become defensive coordinator at Middle Tennessee. Wisconsin has yet to fill the vacancy.
February, 8, 2010
2/08/10
2:58
PM ET
Illinois' massive coaching staff shuffle is now complete, as the school named veteran Ron West as a defensive assistant on Monday.
No role was specified for West in a news release, but he will reportedly work alongside Dan Disch, the team's former co-defensive coordinator who will now work with the inside linebackers. West replaces Curt Mallory, who left last month to become Akron's new defensive coordinator.
The Illini also named new tight ends coach Greg Nord as recruiting coordinator and added assistant head coach to offensive line coach Joe Gilbert's title. Nord served as recruiting coordinator at Louisville, his last coaching stop.
West previously served as co-defensive coordinator/linebackers coach at Tulsa. Before Tulsa, he spent 10 seasons on Clemson's staff, where he worked under new Illinois defensive coordinator Vic Koenning. West coached both sides of the ball at Clemson.
"[West] and Vic have a great working relationship and that will add a needed cohesiveness as we move forward on the defensive side of the ball," Zook said in a statement. "Ron shares our passion for getting this program back on track and will be a great teacher and leader for our young men."
The connection with Koenning clearly fueled the move for West, who said in a statement: "I am excited about being reunited with Vic. The last time we were together, the defense was in the top 10 in the country. We'll expect to create that passion on defense that puts us in national rankings."
Although the shuffling on Illinois' defensive staff wasn't as dramatic as the offensive side, it will be interesting to see how these coaches work together. Disch's role is much smaller, Koenning and West are new and line coach Keith Gilmore is the only holdover in the same position.
February, 8, 2010
2/08/10
12:00
PM ET
We are hereby sentenced to 206 days without college or pro football. Ugh.