September, 27, 2011
9/27/11
9:00
AM ET
Week 4 brought a chance for Big Ten teams -- and the Big Ten bloggers -- to pad their stats a bit. And that's exactly what we did in the afternoon, storming out to a 7-0 start.
Then night fell. And so did our records.
Bennett and I both predicted a clean sweep for the Big Ten on Saturday. Minnesota and Indiana didn't do their part, however, dropping both of us to 8-2. For me, that's significant progress. For Bennett, it's just another week.
Let's take a look back at the
Week 4 predictions
.
First, a check of the standings:
WEEK 4
Adam Rittenberg:
8-2
Brian Bennett:
8-2
SEASON
Rittenberg:
33-13 (.717)
Bennett:
36-10 (.783)
Now it's time to rewind ...
Central Michigan at Michigan State
San Diego State at Michigan

Eastern Michigan at Penn State
Louisiana-Monroe at Iowa
Colorado at Ohio State
South Dakota at Wisconsin
Western Michigan at Illinois
North Dakota State at Minnesota
Indiana at North Texas
Nebraska at Wyoming
September, 24, 2011
9/24/11
3:09
PM ET
The Brady Bowl is all over, and Brady Hoke's new crew beat his old one.
Let's take a look ...


Michigan 28, San Diego State 7
: The Wolverines won this game because of two reasons, one a surprise and the other certainly not. The defense put together its best performance of the young season, making big stops and keeping San Diego State off of the scoreboard for nearly three quarters. Aztecs star RB
Ronnie Hillman
got his yards (110) but didn't really hurt the Wolverines, who received some nice performances from DE Craig Roh and the front seven. While a more polished passing team will hurt Michigan, the defense is taking some very important steps.
The other reason for victory was the run game, led by, who else,
Denard Robinson
(200 rush yards, 3 TDs). The junior QB repeatedly gashed San Diego State when operating in the shotgun spread, and he and the other ball-carriers received plenty of help from the offensive line. Still, it's tough to fully buy Michigan after watching Robinson struggle with his passing again (8-for-16, 2 INTs).
The Wolverines won't win many Big Ten games with four turnovers, especially three after halftime. The defense prevented the mistakes from hurting today, but Michigan still has a lot to clean up.
September, 24, 2011
9/24/11
1:33
PM ET
It's blowout city around the Big Ten in the first four games.
Let's check out what's happening:


Michigan 21, San Diego State 0:
Denard Robinson
will get the attention, and rightfully so as he continues to dazzles with his feet. "Shoelace" already has tied a single-game career-high with three rushing touchdowns and has 139 rush yards. Some team will force Robinson to pass the ball, but San Diego State isn't it. But the bigger story in my opinion is Michigan's defense has kept San Diego State off of the scoreboard despite allowing 163 yards and being on the field for 16:33. The Wolverines forced a
Ronnie Hillman
fumble and seem to be flustering Aztecs quarterback
Ryan Lindley
, who completed just 7 of 14 passes in the half. Brady Hoke and Greg Mattison have to be encouraged with the defense so far.


Michigan State 31, Central Michigan 0:
The statistic that stood out for me after Michigan State's loss to Notre Dame last week was yards allowed. Yes, the Spartans got thumped 31-13, but they only allowed 275 yards to the Irish. It showed me the MSU defense could still be very good, and we've seen the unit sparkle today against Central Michigan. The Spartans recorded three first-half takeaways, including a 37-yard interception return for a touchdown by safety Isaiah Lewis. The defense is stifling Central Michigan, holding the Chippewas to 47 first-half yards. Spartans sophomore
Le'Veon Bell
, meanwhile, is making a strong case to be the team's top running back with three first-half rushing touchdowns. Bell and the offensive line look very good so far.


Penn State 17, Eastern Michigan 0
: The Nittany Lions have a big lead, but more importantly they might -- just might -- have gained some quarterback clarity.
Rob Bolden
didn't play poorly, but the offense took off once Matt McGloin came in during the second quarter. McGloin was 9-for-10 for 143 yards, including the first two Penn State touchdown passes of the season -- to
Joe Suhey
and
Derek Moye
. McGloin would have had another one, but
Michael Zordich
fumbled at the goal line for a touchback. The defense has been stout, and Penn State came up with three turnovers -- a fumble recovery, interception and a blocked punt. The two things to watch in the second half are whether McGloin continues to play this well, and this much, and what we can find out about linebacker Michael Mauti's injury.


Iowa 28, Louisiana Monroe 3
: Are we witnessing the blossoming of the Iowa offense? OK, it's only Louisiana Monroe, but this is three straight quarters now that the Hawkeyes have been humming, especially in the passing game.
James Vandenberg
has thrown for 200 yards and two touchdowns, both of them to
Marvin McNutt
. Vandenberg is one yard shy of 600 passing yards his past four quarters and is playing with a ton of confidence. Meanwhile,
Marcus Coker
looks like he's on his way to a 100-yard day. The defense has looked strong as well since the Warhawks drove for a field goal on their first possession. There should be no need for late-game drama in Iowa City today.
September, 24, 2011
9/24/11
12:33
PM ET
After starting slowly in its first three games, Michigan is off and running in the Brady Bowl.
Unable to score in the first quarter entering today's game, the Wolverines reached the end zone twice in the first nine minutes.
Denard Robinson
has sparked the Wolverines to easy touchdowns on their first two offensive possessions. It's amazing how opposing defenses still don't make Robinson their top priority, as he's so dangerous every time he touches the football. Michigan remains very much in spread mode. While you see wrinkles of Al Borges' offense, Borges is playing to his strength -- and that's Robinson as a ball carrier.
Michigan's defense, meanwhile, continues to look vulnerable at times but has made up for it with big plays. San Diego State had a nice drive going and pushed the pile with
Ronnie Hillman
before a Wolverines defender jarred the ball loose. The Aztecs can put up points in this one, but they have to finish drives.
Michigan leads 14-0
.
September, 22, 2011
9/22/11
10:15
AM ET
This week's sorry slate of Big Ten games tested my what-to-watch detective skills. Are there really 10 things to watch around the league on Saturday?
You bet, and here they are.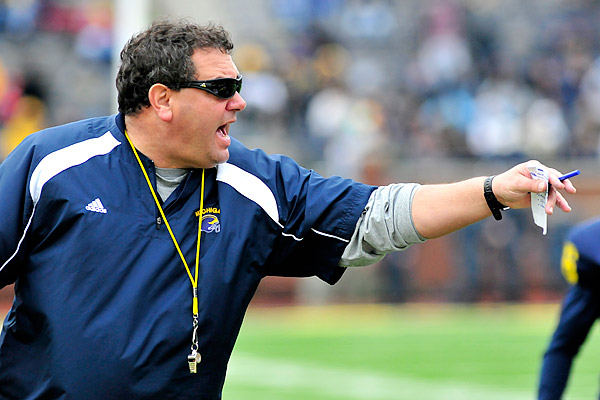 David Dermer/Getty ImagesMichigan coach Brady Hoke will face his former team, San Diego State, in an emotional game this Saturday.
1. The Brady Bowl:
Michigan coach
Brady Hoke goes up against his former team
as San Diego State visits the Big House. There's a lot of familiarity on both sides, and it will be interesting to see the coaches match wits, particularly longtime colleagues Al Borges (Michigan's offensive coordinator) and Rocky Long (San Diego State's head coach). The Aztecs players will be geared up to face Hoke, and the Wolverines much match their intensity.
2. Miller time or Cup 'o Joe:
Ohio State coach Luke Fickell was noncommittal Tuesday about his starting quarterback for Saturday's game against Colorado, although he seemed to lean toward true freshman
Braxton Miller
. Fickell wants more big plays from the offense and Miller can provide them. He also elevates the risk for mistakes, committing two turnovers in the loss to Miami. Miller clearly is Ohio State's future at quarterback, but Fickell needs to win now as his own future is in doubt. It'll be interesting to see what the young coach does with his signal-callers.
3. Illini defense to be tested again:
Illinois' defense carried the team to a signature win last week against Arizona State. Vic Koenning's unit faces another test Saturday against Western Michigan and talented quarterback
Alex Carder
, who ranks 12th nationally in passing efficiency. If the Illini don't tighten up a bit in the secondary or pressure the pocket like they did last week, Carder will capitalize. Illinois also must avoid the letdown factor against a team it lost to in 2008.
4. Blackshirts look for boost:
We're still waiting for the Nebraska defense to live up to the lofty expectations placed on the unit -- both inside and outside the program -- entering the season. The Blackshirts have allowed 68 points in their past two games and rank in the middle of the pack nationally in most major defensive statistical categories. The Pelini brothers will look for a more polished performance against 3-0 Wyoming before a much tougher game next week at Wisconsin.
5. The Bison are coming:
Most games against FCS opponents are glorified practices, but not for Minnesota. The Gophers lost to South Dakota last year and North Dakota State in 2007, and they barely escaped against South Dakota State in 2009. Jerry Kill might be the perfect coach to prepare Minnesota for a rematch with North Dakota State, as he spent a lot of time at the FCS level and knows how motivated those teams are to face the big boys. The Bison are ranked No. 6 in the latest FCS poll and provide a significant challenge for Kill's Minnesota squad.
6. Hillman vs. Denard:
Two of the nation's most dynamic ball carriers will share the field Saturday at the Big House. San Diego State's
Ronnie Hillman
, the nation's second-leading rusher (165.7 ypg), will test Michigan's defensive front seven. Michigan will counter with -- who else --
Denard Robinson
, who has been brilliant with his feet despite some ups and downs as a passer in the first three games.
7. The McGloin-Bolden saga:
Will Week 4 finally provide some clarity in Penn State's seemingly never-ending quarterback competition? Most Nittany Lions fans certainly hope so. Coach Joe Paterno wants to be fair to both
Rob Bolden
and
Matthew McGloin
, both of who have had their ups and downs in the first three games. "I don't know what I'm waiting for,'' Paterno said this week. Maybe a touchdown pass. Penn State is one of only three FBS teams not to record a passing touchdown in the first three games.
8. Young lines under the gun:
Michigan State and Indiana both will send relatively inexperienced offensive lines onto the field Saturday. Injuries have taken their toll on the Spartans' line, and junior-college transfer Fou Fonoti needs to step up at tackle in place of Skyler Burkland. Despite a flurry of false-start penalties last week, Indiana plans to start several freshmen offensive linemen in its first true road game against winless North Texas.
9. Iowa's green-out:
Iowa fans excel at
color coordination
, but you'll see plenty of green mixed in with black and gold on Saturday at Kinnick Stadium. The school is encouraging its fans to wear green as a tribute to former safety Brett Greenwood, who remains hospitalized after collapsing Sept. 9 during a workout. It's a great idea and I hope to see plenty of green in the grandstands.
10. Bucky Badger's pushups:
Wisconsin scored 70 points or more three times last season, and the Badgers could close in on the plateau Saturday against FCS South Dakota. The Badgers lead the Big Ten in scoring (45 ppg) and total offense (505.7 ypg). Although Bret Bielema likely won't take many chances with his starters a week before Nebraska comes to town, his team should produce plenty of points -- and pushups for its beloved mascot.
September, 22, 2011
9/22/11
9:00
AM ET
Bennett might be the new guy around here, but you wouldn't know it from the predictions. At this rate, Rittenberg might want to find a new conference home. I hear the Big East needs bodies.
Week 4 brings both bloggers a chance to pad their stats, only one opponent from a major conference, Colorado, is on the docket.
Let's get to the predictions!
CENTRAL MICHIGAN at MICHIGAN STATE
Brian Bennett: The first of our many directional Michigan school games this week. The Chippewas don't have enough firepower to counteract a tough Spartans' D. ...
Michigan State 31, Central Michigan 13
Adam Rittenberg: The Chips are no longer the world beaters they were under Brian Kelly. Michigan State's defense performs well and a patchwork offensive line does enough to help
Kirk Cousins
have a big day. ...
Michigan State 28, Central Michigan 14
SAN DIEGO STATE at NO. 22 MICHIGAN
Adam Rittenberg:
Ah, the Brady Hoke Bowl. The Aztecs will be fired up for this one, and they'll give Michigan a very good test before Big Ten play begins.
Ronnie Hillman
makes some plays, but
Denard Robinson
makes more as Michigan survives.
Michigan 31, SDSU 27
Brian Bennett: Michigan better avoid its slow starts this week, because the last thing it wants is a confident, revenge-minded bunch of Aztecs on its hands. Robinson does his thing, though, and the Wolverines get a couple of key turnovers to stay unbeaten. ...
Michigan 28, SDSU 23
EASTERN MICHIGAN at PENN STATE
Brian Bennett: The Eagles hung tough for a half at the Big House last week, and Penn State's offense will let a lot of teams hang around. But the talent gap is still too large, and
Silas Redd
goes for more than 100 yards on the ground. ...
Penn State 27, E. Michigan 3
Adam Rittenberg: I think this is the week when Penn State gets clarity at the quarterback position. Just don't ask me which guy separates himself. Either way, the Lions' defense rolls, recording at least two takeaways. ...
Penn State 30, E. Michigan 7
LOUISIANA-MONROE at IOWA
Adam Rittenberg: ULM isn't a bad defensive team (38th nationally in yards allowed), but Iowa has some confidence in the passing game as several options emerged last week alongside
Marvin McNutt
.
James Vandenberg
tosses two touchdown strikes in this one. ...
Iowa 31, ULM 14
Brian Bennett: The Warhawks got off to a great start last week at TCU before fading. Iowa should have some momentum from last week's comeback, though. ...
Iowa 35, ULM 17
COLORADO at OHIO STATE
Brian Bennett: My boldest prediction: the Buckeyes complete more than four passes.
Braxton Miller
starts and has an up-and-down day, but the Silver Bullets clamp down the Buffs. ...
Ohio State 21, Colorado 10
Adam Rittenberg: Wow, you truly are a gambler, BB. It definitely sounds like Miller time in Columbus. Can't see Ohio State lighting up anyone right now, but the Buckeyes do enough in the second half to win this one.
Ohio State 19, Colorado 12
SOUTH DAKOTA at NO. 6 WISCONSIN
Adam Rittenberg: Bucky Badger had better bulk up this week. He'll be doing plenty of push-ups in this one as Wisconsin keeps it on the ground with
Montee Ball
and
James White
. ...
Wisconsin 66, South Dakota 10
Brian Bennett: I actually feel kind of sorry for the Coyotes. Since Bret Bielema was still passing up 49-7 on Northern Illinois last week, this one could get real ugly. ...
Wisconsin 70, South Dakota 13
WESTERN MICHIGAN at NO. 24 ILLINOIS
Brian Bennett: Trap Game Alert! Sandwiched between the Arizona State upset and the Big Ten opener against Northwestern, I think the Illini are due for a letdown. But the defense showed me last week that it's better than I thought, and it will slow
Alex Carder
and the Broncos just enough. ...
Illinois 31, Western Michigan 23
Adam Rittenberg: I agree on the letdown front. Illinois has some holes in the secondary that Carder will exploit, but Western Michigan won't be able to stop a revived run game from
Jason Ford
,
Nathan Scheelhaase
and
Donovonn Young
. ...
Illinois 35, Western Michigan 24
NORTH DAKOTA STATE at MINNESOTA
Adam Rittenberg: The Gophers have no reason to overlook North Dakota State after their recent struggles against FCS foes. Jerry Kill will make sure his team is ready. That doesn't mean it won't be close, but
MarQueis Gray
again shows why he's the best athlete on the field. ...
Minnesota 28, North Dakota State 23
Brian Bennettt: As I said in my chat, it's not a good idea to sleep on the Bison, figuratively or literally. This is a very good FCS team that will be highly motivated. But I liked what I saw from the Gophers last week, and they win on a late field goal. ...
Minnesota 24, NDSU 21
INDIANA at NORTH TEXAS
Brian Bennett: The Polite Green rank No. 6 in our
Bottom 10
this week and are about as big a pushover as it gets in the FBS. But it's not like Indiana can just show up and beat anyone, especially on the road. The Hoosiers offense is getting a little better, though, and Ed Wright-Baker comes through in the fourth quarter. ...
Indiana 35, North Texas 24
Adam Rittenberg: I worry about Indiana's young offensive line on the road, especially after false start fever last week at home. But North Texas is truly abysmal, and Indiana will find a way to prevail in Denton. ...
Indiana 27, North Texas 21
NO. 9 NEBRASKA at WYOMING
Adam Rittenberg: Wyoming is undefeated but hasn't faced any team close to Nebraska's level. The Pokes hold their own in the first quarter or so before
Taylor Martinez
and
Rex Burkhead
run away with this one. ...
Nebraska 38, Wyoming 14
Brian Bennett: The Huskers offense will have a field day, and I also see a bounce back for the Blackshirts against Wyoming's true freshman quarterback. ...
Nebraska 44, Wyoming 13
Byes:
Northwestern, Purdue
Yes, it's lame that we agree on every game, but given this sorry slate, what did you expect?
SEASON RECORDS
Rittenberg:
25-11 (.694)
Bennett:
28-8 (.778)
January, 10, 2011
1/10/11
3:26
PM ET
The Football Writers Association of America revealed its
Freshman All-America team
Monday, and only two Big Ten players made the list.
The most surprising part: neither player is named
James White
.
White, the 2010 Big Ten Freshman of the Year, didn't make the FWAA's squad. Indiana tight end Ted Bolser and Illinois defensive lineman Akeem Spence both appear on the list.
Bolser and Spence quietly had outstanding freshman seasons for their teams. Bolser had 407 receiving yards and five touchdowns, and Spence finished with 45 tackles, including four for loss and a sack.
But let's get back to White. South Carolina's
Marcus Lattimore
and San Diego State's
Ronnie Hillman
were the two running backs on the team. It's hard to argue with either selection, and running back might be the most competitive position among freshman, but it's still surprising not to see White's name appear.
The guy came out of nowhere to lead Wisconsin and rank seventh in the league in rushing. Not easy to top that, especially given Wisconsin's depth in the backfield.