Big Ten:

Ross Pierschbacher
October, 8, 2013
10/08/13
8:00
AM ET
There are still a ton of prospects on the board for Big Ten teams, so conference recruiting reporters Tom VanHaaren and Brad Bournival take a look at the best and worst case scenarios remaining for each team.

Illinois
Best-case scenario:
Illinois picked up an offensive line commit on Monday with
Peter Cvijanovic
(Great Barrington, Mass./East Coast Prep), which gives the Illini two offensive line commits. Despite having four wide receiver commits on board, it looks like the staff would take another receiver in this class.
September, 4, 2013
9/04/13
3:30
PM ET
We're moving into Week 2 of the college football season and there wasn't much movement in terms of recruiting. Here is a look at some trends and questions going into the weekend for the Big Ten conference.

Trending up:
Brad Bournival:
Michigan State. Even though the Spartans didn't move up in the rankings, the green-and-white have plenty of big-time visitors slated to attend this weekend's game against South Florida. ESPN 300 athlete
Montae Nicholson
(Monroeville, Pa./Gateway) is the biggest of the bunch, but he'll be joined by ESPN Junior 300 running back
Larry Scott
(Hubbard, Ohio/Hubbard), 2015 cornerback
Tyson Smith
(Bloomfield, Mich./St. Mary's Prep) and 2016 offensive tackle
Thiyo Lukusa
(Traverse City, Mich./Traverse City West), as well as 2014 commits
Matt Sokol
(Rochester Hills, Mich./Adams),
Deon Drake Jr
. (Detroit/Cass Tech),
Jalen Watts-Jackson
(Orchard Lake, Mich./St. Mary's Prep) and
David Beedle
(Clarkston, Mich./Clarkston).
To continue reading this article you must be an Insider
August, 20, 2013
8/20/13
5:00
PM ET
Only a few more of these before the season kicks off. Can't wait.
Don't forget:
Twitter!
To the inbox ...
Scott from Williamsport, Pa., writes:
Hey Adam, As we gear up for another season, we begin to speak about the Big 10 national perception. Do you think that part of the problem with the Big 10 is that it allows its identity to be wrapped up around OSU and MU? And that is not only from outside the league, but I think people inside the league also have that view. To prove that point I ask a simple trivia question. What Big 10 team has the most bowl wins since 1993? Hint: It's not OSU or MU.
Adam Rittenberg:
Just so everyone's clear, I'm assuming you mean MU is Michigan. This is an interesting topic, Scott, and one I've discussed with other writers and even Big Ten officials. Big Ten fans who don't root for Michigan and Ohio State have raised this issue many times on the blog, and there's some truth to the belief that the league identity remains too rooted in those two programs. Here's the problem: the Big Ten actually has had more parity in the past 20 years than any time in its history, as teams like Wisconsin, Iowa, Penn State, Northwestern, Purdue and now Michigan State have made surges. But where has all that parity gotten the league? Nowhere. The national titles still aren't coming, and that's really all that matters with national perception. The SEC's depth has shown up when it counts -- five programs have won BCS national titles -- while the Big Ten's depth hasn't translated well enough in the biggest games.
When it comes to pure perception, the Big Ten might be better off with 2-3 dominant teams that could win the crystal football on a regular basis. It's safe to assume Ohio State would be one. Would Michigan be the other? We haven't seen it too often in the BCS era, but no other team -- Penn State, Nebraska, Wisconsin -- has really established itself as a national title contender. Until that happens, the default perception of the league will focus on Ohio State and Michigan, the two most tradition-rich Big Ten powers. People talk about what they know, and those two programs still represent Big Ten football more than any others.
---
Steve from Khandahar, Afghanistan, writes:
Is there heir apparent to Braxton Miller currently on the Buckeye roster? Of the four freshmen currently on the roster, I have only heard any buzz (sounded like a baby fly) about one, Cardale Jones. Should the Buckeye faithful be getting nervous about not recruiting any highly ranked QBs this past summer? What are the chances Miller stays for his senior year to allow Urban Meyer to grab a top 2015 recruit?
Adam Rittenberg:
Steve, this is a fair question as Ohio State needs to start thinking about life after Miller. But I think Miller sticks around for his senior season, as I doubt he'll develop into a can't-miss NFL prospect this year. When I asked offensive coordinator Tom Herman about Miller reaching his full potential in 2013, he replied: "This year? I think it will be really hard because of some of the rudimentary and remedial things we still had to work on going into this year for him to reach his full potential this season." Maybe that's Herman wanting one more year to work with Miller, but I think there's some truth there. As for the future, Jones certainly is a name to watch, but Ohio State hasn't brought in another quarterback who makes major waves nationally. Perhaps J.T. Barrett or 2014 recruit Stephen Collier or someone else steps forward, but you're right about the lack of buzz.
---
Scott R. from Chadron, Neb., writes:
Hey Adam. Just wondering, it's not your ranking, but what are your thoughts on Sports Illustrated having Nebraska as unranked? Not sure if I'm just biased, or if Nebraska really has a shot at being 7-0 at one point in the season. Gotta beat UCLA, but if we do, we could be top 10 by November. Of course, what happens then is going to make or break, particularly playing Michigan in Ann Arbor... but still, unranked?!? And behind Northern Illinois? (No disrespect to them, but SI talks about what a huge challenge Iowa will be for Northern Illinois this season... yet they ranked them ahead of us...)
Adam Rittenberg:
I'd be lying if I said the
SI rankings
didn't raise an eyebrow or two, especially with where they had Michigan State (No. 15) in relation to the rest of the Big Ten. Sure, defense can win championships, but Michigan State has some major questions to address on offense. I agree Nebraska has a great chance to start the season 7-0, and 10 or 11 wins certainly is realistic for Bo Pelini's crew. But in terms of perception, the Huskers left many folks with a sour taste by falling flat in the Big Ten championship game and surrendering 105 points in their final two games. Nebraska is a Top 25 team in my view because of the offense, but there are some uncertainties with Pelini's D. Northern Illinois has 23 wins the past two seasons and brings back a superstar in quarterback Jordan Lynch. I don't have an issue with the Huskies being ranked, but Nebraska should be, too.
---
Jason from Rochester, Minn., writes:
You mentioned in one of your recent mailbag responses that you'd be attending the latest Badgers scrimmage. Anything interesting come out of it?
Scott E. from Barron, Wis., writes:
Hey Adam, I saw you on a video from Madison yesterday. Where is our report? How is the team looking? How about the addition to Camp Randall?
Adam Rittenberg:
Jason and Scott, you better start following Brian and I on Twitter. I had plenty of scrimmage updates there, including some glowing words about my new man crush, Wisconsin freshman LB Leon Jacobs (get that kid on the field!). Wisconsin's offense looked good for most of the scrimmage, although the defense held out linebacker Chris Borland, defensive tackle Beau Allen and several other key players. The Badgers not surprisingly are loaded at running back -- freshman Corey Clement has extremely quick feet, can change directions in the hole and has the size to pass-block effectively -- and need more bodies at wide receiver and on the offensive line, which won't be as dominant as in years past. I gave Joel Stave a slight edge among the quarterbacks in Monday's scrimmage. Scott, I'm a big fan of the
new video board
and Wisconsin's facilities upgrades.
---
PSU Josh from Galesburg, Ill., writes:
Hello Adam: Any word on Penn State playing Michigan to start the B1G East football schedule early with their future schedules? It would be great to see Penn State play either Michigan, Michigan State, or Ohio State in September to begin their Big 10 slate yearly in the future schedules!
Adam Rittenberg:
I'll check on that, Josh, but I'm all for having conference games in early to mid September to make the Big Ten more relevant. Everyone should prepare for the Big Ten to be a national afterthought this season in Week 1, as there are few matchups that appeal outside the region. Pairing Penn State and Michigan or Ohio State in a season opener or a Week 2 matchup would bring more eyeballs to the Big Ten. I generally prefer marquee division games to take place during the stretch run in November, but I wouldn't be opposed to this idea every once in a while.
---
Scott from Davenport, Iowa, writes:
With Iowa losing their top recruit to Alabama, Don't you think that some of these player that go after championship teams, miss the chance of starting sooner than later. They also miss out on the bigger picture the possibility of going to the NFL. Iowa currently have more offensive lineman playing in the NFL than Alabama does.
Adam Rittenberg:
Scott, it's certainly a factor that recruits like Ross Pierschbacher must consider when making their college choices. But if Pierschbacher is as good as some recruiting analysts think, he should be able to start fairly early for any program, including Alabama. Both Iowa and Alabama do an excellent job of getting offensive linemen ready for the NFL. While the Hawkeyes might have more NFL linemen than the Tide, recent years have brought a surge in pro-caliber linemen from Nick Saban's program. Ultimately, Pierschbacher needs to have confidence that he can play on the highest level for the best program or he'll surely fail. We'll have to wait and see if his decision pays off or not.
---
Stay at home dad writes:
When do your chats start again? And can they be during my kids nap time (12:00- 2:00)?
Adam Rittenberg:
Chats should be starting up very soon, most likely next week. And I'm shooting for a noon ET chat slot, so it should work for your kids' nap schedule. See, I take care of my fans.
August, 14, 2013
8/14/13
2:00
PM ET
By
Brad Bournival & Tom VanHaaren
| ESPN Insider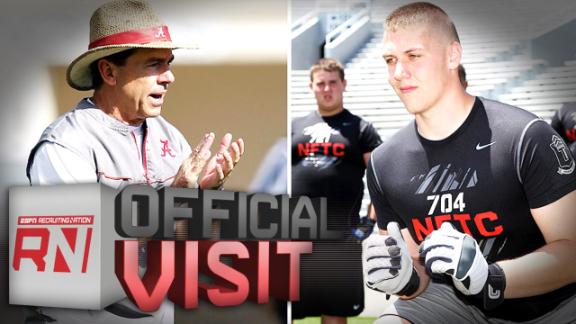 The latest
ESPN recruiting class rankings
are out, and seven Big Ten teams are ranked among the top 40 classes.
With movement happening across the board, trends and stories are developing. Big Ten recruiting writers Brad Bournival and Tom VanHaaren give you a look at what to watch within the conference:
To continue reading this article you must be an Insider
August, 12, 2013
8/12/13
10:22
AM ET
The season is still a couple of weeks away, but Iowa has already lost a major battle to the SEC.
One-time Hawkeyes commitment
Ross Pierschbacher
, whom ESPN.com rates as the No. 1 offensive guard in the Class of 2014,
flipped his pledge to Alabama on Sunday
.
He committed to Iowa in January but had been looking around, taking trips to both Alabama and Stanford. It's somewhat reminiscent of when the Hawkeyes were in the running for top offensive tackle prospect
Cyrus Kouandjio
in 2011, only to see him commit to Auburn and eventually wind up at Alabama. But this one hurts even more since Pierschbacher is from Cedar Falls, Iowa.
Kirk Ferentz has shown a great ability to develop offensive linemen into NFL players during his tenure in Iowa City. But his team is also coming off a 4-8 season, while the Crimson Tide has won three of the past four national titles.
There is still a lot of time between now and signing day in February, so perhaps Ferentz and his staff can flip Pierschbacher once again. For now, though, it's disappointing news for Hawkeyes fans.
August, 1, 2013
8/01/13
12:00
PM ET
August is here. That means preseason camps and the start of the 2013 season. Who's excited?
Onto the links ...
July, 31, 2013
7/31/13
12:00
PM ET
Happy baseball trading deadline day.
July, 18, 2013
7/18/13
12:00
PM ET
It's good to be back. Let's check out today's links ...
June, 4, 2013
6/04/13
9:00
AM ET
Now that we've moved into June, it's time once again to take stock of the Big Ten's 2014 recruiting efforts.
Indiana got its first commitment for 2014 over the weekend, giving every league team at least one in this class. Michigan continues to lead the way and currently has ESPN.com's No. 1 ranked class in the country. Ohio State is at No. 14, followed by Penn State at 16 and Northwestern at No. 19. Michigan also leads all teams with nine ESPN 150 commitments.
With the usual caveat that it's a long way away from signing day and much can change between now and February, here's a look at how the Big Ten teams are faring:
Michigan
2014 verbal commitments:
11
Spotlight:
Cornerback Jabril Peppers, whom ESPN ranks as the No. 2 prospect in the country, committed to Brady Hoke late last month in memorable style. He explained his choice while
rapping on live TV
. That takes some guts, and that's what you want to see from the guys who will be on an island defensively.
ESPN 150 selections:
9
Highest rated:
Peppers (ESPN grade: 95)
Northwestern
2014 verbal commitments:
11
Spotlight:
The Wildcats have a Top 20 class right now, according to ESPN.com. Pat Fitzgerald got six commits in May alone, the latest being 260-pound defensive tackle Fred Wyatt. Northwestern doesn't have an ESPN 150 player yet, but Fitzgerald has done a great job identifying the right kinds of players for his program, and now he's improving the overall speed.
ESPN 150 selections:
0
Highest rated:
QB Clayton Thorson (ESPN grade: 82)
Penn State
2014 verbal commitments:
10
Spotlight:
Scholarship restrictions haven't slowed down Bill O'Brien, who can only offer 15 initial counters in for the 2014 class. He's already got 10 lined up, so Penn State can be very choosy with its final five.
ESPN 150 selections:
1
Highest rated:
ATH De'Andre Thompkins (ESPN grade: 84)
Ohio State
2014 verbal commitments:
9
Spotlight:
To oversimplify things, Michigan's Brady Hoke has been cleaning up with early commitments, while Urban Meyer is arguably the best closer in the business. The Buckeyes have just two commitments since early April but are hot on the trail of man big-time prospects and are looking for a quarterback to headline the class.
ESPN 150 selections:
1
Highest rated:
CB Damon Webb (ESPN grade: 84)
Michigan State
2014 verbal commitments:
8
Spotlight:
The Spartans' coaches are known as great evaluators of talent, so the lack of stars next to recruits' names don't bother them. It remains to be seen how much the rise of Michigan and Ohio State will affect Mark Dantonio's efforts. Quarterback Chris Durkin, at 6-foot-4, has an accurate arm and can move.
ESPN 150 selections:
0
Highest rated:
ATH Byron Bullough (ESPN grade: 80)
Wisconsin
2014 verbal commitments:
6
Spotlight:
Though Gary Andersen's roots are out west, five of his six commitments in his first full recruiting class are from the state of Wisconsin. The exception is Ula Tolutau, an athlete from Andersen's native Salt Lake City, Utah. The five Wisconsin players are not surprisingly all linemen. The more things change ...
ESPN 150 selections:
1
Highest rated:
OT Jaden Gault (ESPN grade: 83)
Illinois
2014 verbal commitments:
5
Spotlight:
One thing Tim Beckman has to sell is playing time, and don't be surprised to see him hit the juco route again. One such transfer, tight end Trevor Kanteman, is listed as a 2014 recruit but could play this fall.
ESPN 150 selections:
0
Highest rated:
DE Tito Odenigbo (ESPN grade: 77)
Iowa
2014 verbal commitments:
3
Spotlight:
The Hawkeyes' second commitment of this class was a big one, as they landed top-ranked offensive guard Ross Pierschbacher in January. They've had only one commitment since then and none since April 3 despite some inclinations to offer players earlier. With offensive lineman comprising two of the three commits, Iowa still has a lot of work to do to upgrade its talent at the skill positions.
ESPN 150 selections:
1
Highest rated:
Pierschbacher (ESPN grade: 84)
Minnesota
2014 verbal commitments:
3
Spotlight:
The Gophers typically take their time, and so you don't see a whole lot of early commitments under Jerry Kill. He has landed one of the top in-state prospects in running back Jeff Jones.
ESPN 150 selections:
0
Highest rated:
Jones (ESPN grade: 78)
Purdue
2014 verbal commitments:
3
Spotlight:
The Boilermakers picked up their third commitment last Friday when Georgia receiver Gregory Phillips said yes to Darrell Hazell. Purdue fans are still waiting for some blue-chippers to hop on board.
ESPN 150 selections:
0
Highest rated:
LB Brandon Garner (ESPN grade: 70)
Nebraska
2014 verbal commitments:
2
Spotlight:
The Huskers have had a slow go of it on the recruiting trail thus far, getting commitments from only a pair of safeties. This time a year ago, Nebraska had eight verbal commitments. It's disappointing, to be sure, but the coaching staff is hoping to land a bunch of commitments this summer when prospects come to Lincoln for camps and visits.
ESPN 150 selections:
0
Highest rated:
S Jason Hall (ESPN grade: Not ranked)
Indiana
2014 verbal commitments:
1
Spotlight:
Kevin Wilson didn't get his first commitment until linebacker Michael Barwick pledged over the weekend. But remember that the Hoosiers had no commitments in early June 2013 and ended up with one of the top-ranked classes in recent program history. So it's no time to panic.
ESPN 150 selections:
0
Highest rated:
Barwick (ESPN grade: Not ranked)
May, 13, 2013
5/13/13
2:30
PM ET
There has been plenty of recent news on the recruiting trail around the Big Ten, and we're a bit
overdue for a scorecard
, so here's the latest rundown. Teams are sorted based on most verbal commitments for the 2014 class.
MICHIGAN
Total commits:
9
ESPN 150 commits:
8
The latest:
Michigan's recruiting once again is off to an extremely fast start, as the Wolverines not only are piling up commits but quality players. Defensive end Lawrence Marshall on Saturday
became the eighth ESPN 150 prospect
to pick Michigan. No other FBS team has more than five ESPN 150 players pledged for the 2014 class. Barring a surprise turn, Michigan will sign a top-5 class in February. The Wolverines currently rank No. 3 in the RecruitingNation rankings.
PENN STATE
Total commits:
9
ESPN 150 commits:
1
The latest:
Penn State has filled out most of its 2014 class before mid May, and the Lions are adding quality prospects like ESPN 150 athlete De'Andre Thompkins, wide receiver Chris Godwin and linebacker Troy Reeder. The Lions picked up two more commits late last week in defensive back Marcus Allen and linebacker Jared Wangler. Bill O'Brien and his staff have to be selective because of scholarship restrictions, but they've also been aggressive in piling up early commits. Penn State is No. 13 in the latest class rankings.
NORTHWESTERN
Total commits:
8
ESPN 150 commits:
0
The latest:
Northwestern is quietly putting together the best class in coach Pat Fitzgerald's tenure. The Wildcats are 19th in RecruitingNation's class rankings after an excellent week that ended with them landing talented running back Auston Anderson on Thursday. Anderson's pledge came on the heels of four-star athlete Dariean Watkins choosing Northwestern. Although Northwestern hasn't landed an ESPN 150 prospect, it boasts several commits (QB Clayton Thorson, Watkins) who are close.
OHIO STATE
Total commits:
8
ESPN 150 commits:
1
The latest:
Urban Meyer's assistants are all over the recruiting trail -- and
letting us
know
about it on Twitter
-- and after a six-week drought without a commitment, the
Buckeyes added one Sunday
in wide receiver Lonnie Johnson. The Gary, Ind., native had offers from Indiana, Purdue and Nebraska, among others, but gives Ohio State a four-star prospect at a position of need. Ohio State checks in at No. 14 in the latest class rankings.
MICHIGAN STATE
Total commits:
6
ESPN 150 commits:
0
The latest:
The Spartans' total hasn't changed since they picked up linemen Brian Allen and Enoch Smith Jr. during spring game weekend, but they're
closing in on prospects like tight end
Matt Sokol and
defensive end
Rashawn Pierce. The downside is that Michigan State lost Marshall to rival Michigan
after many believed Marshall would go green
. Michigan State also had been pursuing Watkins, who verballed to Northwestern.
WISCONSIN
Total commits:
4
ESPN 150 commits:
1
The latest:
Gary Andersen's staff has added just one 2014 commit (defensive tackle Craig Evans) since taking over in late December. Although Evans pledged in March, the Badgers staff has been active on the recruiting trail and
extending plenty of scholarship offers
. Wisconsin made a
late addition to its 2013 class last week
by picking up junior-college cornerback Tekeim Reynard.
ILLINOIS
Total commits:
4
ESPN 150 commits:
0
The latest:
The Illini added to their quarterback depth earlier this month by
picking up a commitment
from Ohio prep signal caller Chayce Crouch. Crouch led his team to the state championship game last season and had received scholarship offers from several MAC programs, as well as some interest from other Big Ten schools. Illinois also has injected some more spice into its in-state rivalry with Northwestern by picking up defensive end recruit Tito Odenigbo, the younger brother of Wildcats defensive end Ifeadi Odenigbo.
IOWA
Total commits
: 3
ESPN 150 commits:
1
The latest:
The Hawkeyes haven't added to their total since getting a pledge from offensive lineman Lucas LeGrand in early April. But with three in-state prospects -- headlined by guard Ross Pierschbacher, the nation's No. 47 player and highest-ranked Big Ten commit, according to RecruitingNation -- Iowa still is off to a decent start. Iowa is
extending its recruiting reach to Georgia
and recently offered defenders Henry Famurewa and Bradley Chubb.
MINNESOTA
Total commits:
3
ESPN 150 commits:
0
The latest:
The Gophers added two verbals during spring game weekend in athlete Dimonic McKinzy (early All-Name team nominee) and defensive tackle Steven Richardson. In-state running back Jeff Jones, a three-star prospect, headlines the class so far. Like the previous coaching staff, Jerry Kill and his assistants are targeting Texas for recruits like linebacker Everett Williams and defensive end Noah Westerfield.
NEBRASKA
Total commits:
2
ESPN 150 commits:
0
The latest:
The Huskers wait for their second 2014 commitment ended last week as Texas defensive back Jason Hall pledged for Big Red. At 6-foot-2 and 192 pounds, Hall brings
excellent size to Nebraska's defensive backfield
. Although Nebraska should continue to add to its total in the coming weeks and months, recruiting coordinator Ross Els told ESPN.com last week that the Huskers
likely won't see a surge until prospects start coming to campus on official visits
this fall.
PURDUE
Total commits:
1
ESPN 150 commits:
0
The latest:
Purdue is going back to its recruiting roots under new coach Darrell Hazell, as its first verbal for 2014 comes from the fertile state of Texas. The Boilers recently added wide receiver Trae Hart to the mix. I'll have more on this later in the week, but Boilers recruiting coordinator Gerad Parker said the program is ramping up its efforts in the Lone Star State, mindful of the success former Purdue boss Joe Tiller had there.
INDIANA
Total commits:
0
ESPN 150 commits:
0
The latest:
After signing an excellent recruiting class in February, Indiana's efforts for 2014 are off to a slow start. Indiana and Colorado are the only programs from a big-five conference (ACC, Big 12, Big Ten, SEC and Pac-12) without a verbal commit for next year. Things should pick up when camps kick off next month in Bloomington.
Future Big Ten members Rutgers and Maryland also are recruiting for the Big Ten, so here's a quick look at how they're doing ...
RUTGERS
Total commits:
9
ESPN 150 commits:
0
The latest:
The Scarlet Knights recruited well under Greg Schiano, had six players selected in April's NFL draft and continue to bring in quality players under Kyle Flood. After a productive March and April, Rutgers began May by adding a pledge from defensive tackle Pete Mokwuah. Running back Joshua Hicks and defensive end Justin Nelson headline Rutgers' 2014 so far. Rutgers also went into current Big Ten territory for quarterback Tyler Wiegers from Detroit Country Day School.
MARYLAND
Total commits:
3

ESPN 150 commits:
0

The latest:
The Terrapins added two pieces to their 2014 class in recent weeks in running back Johnathan Thomas from Massachusetts and athlete William Ulmer from Washington D.C. Maryland has plenty of local and regional players on its radar for 2014, as the areas surrounding College Park consistently produce a ton of FBS talent. The Terps picked up most of their 2013 recruits before the start of the season, but they might have to be more patient after a 4-8 record in 2012.
March, 26, 2013
3/26/13
12:00
PM ET
Minnesota hits the practice field today and Iowa follows Wednesday. Big Ten spring football is finally in full swing.
To the links ...
February, 19, 2013
2/19/13
11:00
AM ET
By now you've had time to digest the
2013 recruiting classes in the Big Ten
. Many of you turned the page to 2014 long ago, so it's time for us to catch up.
The Big Ten has
19 verbal commits for the 2014 class
, which ranks fourth among FBS conferences and 11 behind the SEC. Nine Big Ten schools have received commitments, and future Big Ten members Maryland and Rutgers both are on the board with one commit each.
Here's a snapshot of 2014 recruiting in the Big Ten ...
ILLINOIS
Commits:
0
Comment:
The Illini didn't get their first 2013 commitment until Feb. 28, 2012, and they're
pursuing several coveted in-state prospects
. Some recruits might wait and see with Illinois as coach Tim Beckman faces a pivotal season after a disastrous 2012.
INDIANA
Commits:
0
Comment:
The Hoosiers didn't get their first 2013 commitment until last June, so there's not a major rush here. Indiana finished the past recruiting cycle very strong and was able to flip a few players who had pledged elsewhere.
IOWA
Commits:
2
Comment:
The Hawkeyes are off to a good start with offensive lineman
Ross Pierschbacher
, an in-state prospect who has received good reviews. Iowa also remained within its borders for athlete
Jay Scheel
, who had received interest from other area teams like Nebraska and Iowa State. Both men are on
ESPN's Watch List
.
MICHIGAN
Commits:
3
Comment:
Fast starts have been a hallmark of Brady Hoke's recruiting at Michigan, and the trend is continuing for the 2014 class. Size stands out among all three Wolverines' commits, including 6-foot-6, 230-pound quarterback
Wilton Speight
from Richmond, Va., who
reclassified for the 2014 class
after breaking his collarbone as a junior. ESPN Watch List prospects linebacker
Michael Ferns
and defensive tackle
Bryan Mone
are nice additions.
MICHIGAN STATE
Commits:
3
Comment:
The class is off to an excellent start as all three commits are on ESPN's 2014 Watch List. The intrigue surrounds wide receiver prospect
Drake Harris
, who has received interest from Ohio State, Michigan and other top programs and could be pried away from Michigan State. The class also includes another Bullough, this time Byron, the younger brother of current Spartans Max and Riley.
MINNESOTA
Commits:
1
Comment:
Running back
Jeff Jones
not only puts Minnesota on the board for 2014, but he's a solid in-state prospect on the ESPN Watch List. A
lack of homegrown talent hurt Minnesota
in the 2013 class, which included just one in-state prospect, so Jones' pledge is a good sign.
NEBRASKA
Commits:
0
Comment:
It's still early, Huskers fans, although your anxiety about Bo Pelini's recruiting won't be quelled until Nebraska gets on the board with some decorated prospects. Nebraska's first 2013 recruits didn't commit until mid-April of last year.
NORTHWESTERN
Commits:
1
Comment:
The Wildcats' defensive back recruiting has improved in recent years, and the coaches hope they've made another good addition in safety
Jordan Thomas
, an ESPN Watch List prospect from Klein, Texas.
OHIO STATE
Commits:
4
Comment:
Although Ohio State continues to recruit aggressively in the Southern states, its first four commits for 2014 come from the Midwest (3 Ohio, 1 Michigan). The Buckeyes went to Detroit's Cass Tech High School, a traditional Michigan hotbed, for cornerback
Damon Webb
. They
recently lost a commitment
from defensive end
Lawrence Marshall
, who is still considering the Buckeyes but also Michigan and Michigan State.
PENN STATE
Commits:
1
Comment:
Running back is and will be a major need for Penn State, especially after the 2012 season. The addition of Maryland native
Mark Allen
, who committed back in October, should help.
PURDUE
Commits:
0
Comment:
New Boilers coach Darrell Hazell took his time putting together a staff and had to focus on finishing the 2013 recruiting cycle, so the lack of commits isn't a huge surprise. It will be interesting to see Hazell's vision/strategy for his first full class at Purdue and how successful he'll be on the trail.
WISCONSIN
Commits:
4
Comment:
All four Wisconsin commits made their pledges last year, before the coaching change. New coach Gary Andersen did a good job of keeping Wisconsin's 2013 recruits on board and will need to do the same with this group, which includes ESPN Watch List selections in quarterback
Chance Stewart
and offensive lineman
Jaden Gault
.