April, 18, 2013
4/18/13
12:00
PM ET
March, 12, 2013
3/12/13
1:00
PM ET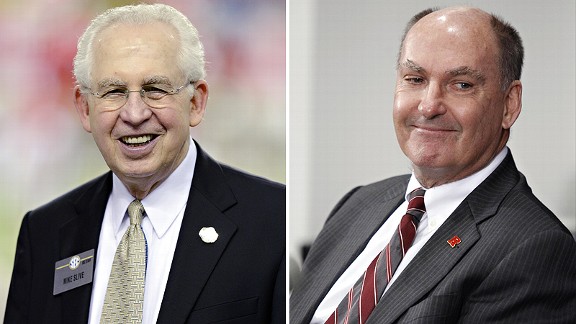 USA TODAY SportsSEC commissioner Mike Slive, left, and Big Ten commissioner Jim Delany are among the most powerful men in sports.
Sports Illustrated recently came out with its list of the
50 most powerful people in sports
. Two college conference commissioners made the rundown: the SEC's Mike Slive at
No. 17
, and the Big Ten's Jim Delany at
No. 26
. The men who lead the nation's richest and most popular conferences have been
rivals throughout the years
, and they've both made moves to strengthen their leagues and shape college football.
Bloggers Chris Low (SEC) and Adam Rittenberg (Big Ten) weigh in on Slive, Delany and which commissioner -- in the immortal words of Snap! -- has got the power.
Chris Low on Slive
The easy part would be starting with the rings, although Mike Slive himself doesn't have a jewelry box overflowing with national championship bling. He's content to let the SEC schools display their own hardware. And for those not keeping count, it's up to seven straight national championships now for the SEC.
There's such a thing as power, and then there's the kind of power you command when you're on top.
The SEC is looking down at everybody else in the college football world and has been for a while, and Slive's a big reason why. The administrators and coaches in the league have supreme confidence in him to make the right moves in the ever-changing landscape of college athletics.
They don't necessarily fear Slive, but they also know better than to cross him. Lane Kiffin and Tennessee got a dose of his wrath.
One of the most obvious examples of Slive's power is the four-team college football playoff, which will begin in 2014. Remember that he was the one who proposed a playoff back in 2008, and not enough other people were on board at the time.

Well, everybody's on board now, and it's a reality. Not only that, but the format is basically what Slive wanted. There aren't any restrictions about having to win your conference championship, and the games will be played at bowl sites ... and not on college campuses.
Slive didn't want the playoff party to be limited to conference champions. The rest of the country moaned and groaned over the all-SEC BCS National Championship Game in 2011 between Alabama and LSU. Slive wanted to make sure the door was open for multiple SEC teams to get into the four-team playoff, because more times than not, at least two SEC teams will be deserving.
Most people would agree that conference expansion is far from over. But with all of the jockeying to this point, did any conference benefit more than the SEC with its addition of Texas A&M, which secured a foothold in the state of Texas?
The value of that move will be front and center when the SEC negotiates its next television contract with CBS and ESPN. You better have a good calculator to tabulate those figures.
And, oh yeah, Slive knows a thing or two about steering clear of serious NCAA trouble.
The SEC is always going to be the SEC. After all, the league's unofficial slogan is, "If you ain't cheating, you ain't trying."
Slive's not real fond of that slogan, by the way. But the NCAA has done its share of poking around several different SEC programs over the past several years, and the last school to be hit with a postseason ban in football was Mississippi State in 2004.
Nobody's suggesting that Slive has a direct line to the NCAA enforcement staff.
But he also has clout, and probably more importantly, a keen understanding of how the NCAA process works. He can be a huge asset when SEC schools are trying to navigate choppy waters.
Just ask Auburn and Cam Newton.
Slive, a former district court judge in New Hampshire, jokingly refers to himself as a recovering attorney.
Now a proud grandfather, he looks the part with the white hair, warm smile and stooped-shoulder walk.
He's quick to deflect any talk about his role in making the SEC the juggernaut that it's become.
Of course, the most powerful people don't have to talk about what they've done. Everybody already knows.
Adam Rittenberg on Delany
This discussion essentially comes down to how much a commissioner's power stems from the number of football national championships that are won in his conference. If crystal footballs are the sole basis for determining which commissioner carries more clout, Slive wins in a landslide. After all, the SEC has won the past seven national titles, the league's total during Slive's tenure as commissioner (2002 to present). Delany has been Big Ten commissioner more than twice as long (1989 to present), but the league has claimed only two football national titles (1997, 2002) during that span, and none in the past decade.
But let me remind everyone that neither of these men plays football or coaches football. They have no direct control over whether their teams hoist the crystal football. They can put their leagues in the best possible positions to compete for championships by increasing revenue and TV exposure, and by shaping the BCS/playoff format, but their work is done outside the lines, not between them.

Although Slive has done some great things as SEC commissioner, his timing also has been impeccable. Was Slive's predecessor, Roy Kramer, a bad commissioner because SEC teams won only three national titles during the 12 football seasons in which he served? Such a notion seems absurd. The Big Ten's lack of championships in the major sports is part of Delany's legacy as commissioner, but can anyone reasonably argue that Delany has put the league in a weaker position to win titles? Also absurd.
If anything, Delany has strengthened the Big Ten's chances to win championships and continued to build the league even when it wasn't winning championships. His teams simply have let him down over and over -- not just in football, but in men's basketball -- while Slive's teams have come through time and again.
If we're basing this on how much a commissioner has done in his role, Delany has built more power than Slive. He fundamentally changed the television landscape by spearheading the Big Ten Network, an idea many thought would crash and burn but instead has flourished. The Big Ten pioneered the use of instant replay, which is a staple around college football these days. Delany expanded the Big Ten with home-run additions, first from the East (Penn State) and then the West (Nebraska). Some blame the Big Ten for launching realignment fever in December 2009, but you can also argue Delany was ahead of the curve in sensing what would come around in college sports. Although Delany's latest expansion moves -- Maryland and Rutgers -- and possible future moves (Georgia Tech, Virginia, North Carolina) aren't overly popular among Big Ten fans, his goal to expand the Big Ten footprint into new markets and create new revenue streams for the league is understandable.
Although Slive is older, Delany has been around longer and has accomplished more. His name resonates throughout the sports world more than Slive's. And while Slive and other conference commissioners have brokered historic television deals, Delany and the Big Ten are the last in line -- the current deal expires in 2016 -- and are poised to cash in really, really big.
The past few years have been tough for the Big Ten, both on and off the field. The scandals at Penn State and, to a much lesser extent, Ohio State, damaged a reputation Delany helped to build. Delany's strong support of the BCS system also didn't help his cause as public opinion shifted sharply toward a playoff. But the notion that Delany "lost" the playoff debate is a farce driven by media members who didn't actually listen to what he said throughout the process (Delany has smartest-guy-in-the-room syndrome and sometimes talks over people rather than to them). He was
first to mention using a selection committee
, which will be adopted. And while the playoff participants won't all be conference champions, league champions will get preference over non-champions at the 4-5 margin, as Delany wanted.
SI.com's Andy Staples recently wrote
the gap between Delany and Slive is thin
and gives Slive the edge based on the SEC's championships. That's fair. But if you want to base power on what each commissioner actually has done, Delany gets my vote.
June, 13, 2012
6/13/12
8:15
AM ET
Michigan announced late Tuesday night that in addition to unretiring the No. 48 worn by former President Gerald Ford, it
will unretire two other jersey numbers
.
The team will unretire the No. 47 worn by Bennie Oosterbaan and the No. 87 won by Ron Kramer. Both men played end for the Wolverines, while Ford played center from 1932-34. All three men will be "honored in perpetuity" by having their names on a patch on the jerseys worn by future Michigan players, beginning this season. Michigan's coaching staff has yet to determine who will wear Nos. 47, 48 or 87 this season.
"The success and acceptance of the Desmond Howard Legend recognition led to conversations with the family members who had retired jerseys, several of whom were never recognized or celebrated in the appropriate manner," Michigan athletic director Dave Brandon said in a prepared statement. "The Ford, Kramer and Oosterbaan families want to see their family member honored in this way. We have yet to have any discussions with the Wistert or Harmon families. This program is about tradition and legacy and this is a unique way to recognize these great Wolverines."
Michigan honored Howard, the 1991 Heisman Trophy winner, during its historic night game against Notre Dame last season. Howard's No. 21 jersey will be worn by
Roy Roundtree
this year. Michigan is tentatively scheduled to honor Oosterbaan during its Sept. 8 game against Air Force, Kramer during its Sept. 15 game against Massachusetts and Ford during its Oct. 13 game against Illinois.
The lockers assigned to the three jersey numbers at both Michigan Stadium and Michigan's practice facility will reflect the fact that Ford, Oosterbaan and Kramer donned those numbers.
Michigan still will have retired jerseys for Tom Harmon's No. 98 and Francis, Albert and Alvin Wistert's No. 11, at least for now.
July, 29, 2010
7/29/10
9:00
AM ET
It's here.
After months of waiting and breaking down pretty much everything about these teams, we can finally see the light at the end of the tunnel. Big Ten football media days take place Monday and Tuesday in Chicago, marking the unofficial start to the 2010 season.
Rejoice!
Media days are moving from downtown Chicago to McCormick Place, and that's not the only change with this year's event. In case you were in Azerbaijan for the past three months, the Big Ten expanded this summer, adding Nebraska as its 12th member. As a result, the Big Ten has some major decisions to make regarding potential division alignment, scheduling and a possible conference championship in football, and these will be the big-ticket items as league brass and all 11 athletic directors meet in Chicago. Nebraska AD
Tom Osborne will be attending all the meetings
next week, not entirely in a listen-only mode, although his presence certainly will be felt.
I've been told that division alignment and scheduling are the top two priorities and should be resolved before Sept. 1. The Big Ten will present data and proposals to the athletic directors, who expect to reach a consensus, like they have on other major topics in the past. Although divisions and a championship game are very likely, nothing is guaranteed. Don't expect any resolution on a championship game next week, although the league certainly has no shortage of options. The Big Ten could go with a rotation or a permanent site, as
Roy Kramer advocates
. Venues like Detroit's Ford Field, Indianapolis' Lucas Oil Stadium, Chicago's Soldier Field, Cleveland Browns Stadium and Green Bay's Lambeau Field all have expressed interest in hosting the event.
One item not to be overlooked is the possibility of the Big Ten going to nine conference games after Nebraska joins in 2011. There was some momentum for this even before expansion heated up, and it will be discussed seriously in Chicago.
Here are a few other major story lines sure to crop up next week:
Is the Big Ten done expanding? The league is still only eight months into its 12- to 18-month period to study expansion. Although the Big Ten already acted, it did so because of outside circumstances regarding the Big 12 and Pac-10. Before things got crazy in early June, I heard from multiple league sources that expansion likely wouldn't happen until the late fall or early winter. The Big Ten is now back on its own timetable, so it could "act again" before the study period expires in June 2011.
We haven't heard from Joe Paterno since April, as the 83-year-old Penn State head coach dealt with health issues for much of May and June. Paterno had been the Big Ten's most vocal advocate for expansion last year, and it will be interesting to get his take on Nebraska, divisions, a championship game, etc. Although Paterno has given no indication that he'll retire any time soon, the question is always relevant. He also has a quarterback competition on his hands.
Speaking of quarterbacks, Rich Rodriguez must choose one entering a make-or-break season at Michigan. Tate Forcier and Denard Robinsonenter preseason camp in a dead heat after Robinson's strong spring. Rodriguez should be happy to talk football, but he'll also be asked about his job status, his new boss Dave Brandon, and his impending trip to Seattle to appear before the NCAA's Committee on Infractions.
Expectations have been raised for Iowa and Wisconsin entering the 2010 season. Michigan is down, and Penn State might be rebuilding a bit after losing six first-team All-Big Ten performers, so this is a real chance for the Hawkeyes and Badgers to establish themselves as league powers. Iowa reached two BCS bowls in the past decade, but can the Hawkeyes be a 10-win team year in and year out? Wisconsin has been the poster child for very good, but how can the Badgers take the next step and become great again? It'll be interesting to see how both programs are handling the high hopes.
Finally, let's take a quick look at the schedule of events.
DAY 1 (Monday, Aug. 2):
All 11 head coaches plus commissioner Jim Delany will address the media at the dais from 11 a.m.-3 p.m. ET. I'll be blogging throughout this session, so be sure to check in often here as well as
on Twitter
.
Here's the rundown (all times Eastern):
11:00 a.m. Bret Bielema (Wisconsin)
11:15 a.m. Pat Fitzgerald (Northwestern)
11:30 a.m. Ron Zook (Illinois)
11:45 a.m. Rich Rodriguez (Michigan)
12:15 p.m. Mark Dantonio (Michigan State)
12:30 p.m. Bill Lynch (Indiana)
12:45 p.m. Danny Hope (Purdue)
1:15 p.m. Joe Paterno (Penn State)
1:30 p.m. Tim Brewster (Minnesota)
1:45 p.m. Kirk Ferentz (Iowa)
2:00 p.m. Jim Tressel (Ohio State)
2:30 p.m. Big Ten commissioner Jim Delany
DAY 2 (Tuesday, Aug. 3):
All 11 coaches as well as three players from each team will meet with the media from 9-11 a.m. ET in more informal, roundtable settings. Here's the
roster of players
who will attend.
I know I'm getting excited for media days, and the Big Ten blog is definitely the place to be for all the coverage in Chicago.
June, 10, 2010
6/10/10
3:45
PM ET
Big Ten commissioner Jim Delany clearly dropped a clue about the league's expansion plans Sunday, when he told a group of reporters, "We could not act; we could act; we could act and act again."
Act and act again.
I admit I didn't think much of the comment at the time. And I still think that if the Big 12/Pac-10 hadn't forced the Big Ten to accelerate its timetable for expansion, the league likely would have acted just once in expansion.
And that could still happen. Nebraska,
expected to become a Big Ten member
as early as Friday, could be the beginning and the end of the league's expansion push. A source with knowledge of the Big Ten's plans tells me no other additions are imminent besides Nebraska. The Big Ten isn't waiting on Notre Dame or anyone else at this point, the source said.
Still, none of us should be shocked if Delany decides to act again.
"The process, as designed, contemplated a single action or phases," said Michigan State president Lou Anna Simon, the chair of the Big Ten's Council of Presidents/Chancellors. "The process was designed to keep open those options."
Roy Kramer agrees.
The former SEC commissioner tells colleague Gene Wojciechowski that
Nebraska likely would be just the first step
for the Big Ten in expansion.
"If Nebraska goes it would be my understanding that Missouri would be not far behind," Kramer said. "Then they would have to look to the East Coast. Rutgers. Maybe Syracuse."
Although the Big Ten has reiterated its desire to study expansion thoroughly and limit damage (i.e. Armageddon) on the back end, Kramer doesn't think it will stop Delany and his league from reaching 16 teams.
"If the Nebraska domino falls, the Armageddon is out there," he said. "Now forget about your conscience and do what's right for your conference. … You got to look at it from 10 years from now, eight years from now, six years from now. ... My best guess is that the Big Ten will eventually get to 16 in phases."
Phases. There's that word again. Nebraska looks like Phase 1. But another phase could include the Big Ten's longtime target: Notre Dame.
"If I were [Notre Dame] I think a move to the Big Ten would be very fortuitous for us in the long range," Kramer said. "If the Big East were to fall apart, then Notre Dame would be in a tough position with the other sports. Nobody is going to take them as a part-time member."
I'm not so sure the Big East will fall apart -- in some scenarios, the league could end up stronger in football -- but these are some interesting thoughts from a guy who spent time on the front lines of expansion in college sports.
October, 23, 2008
10/23/08
2:55
PM ET
Posted by ESPN.com's Adam Rittenberg
Big Ten Conference commissioner Jim Delany has agreed to a contract extension through 2013, the league's council of presidents/chancellors announced Friday.
An extension has been in the works for some time. The agreement was finalized during the summer and the details were finally completed today. Financial terms of the agreement were not disclosed.
Here's what Delany told me this summer about his future with the league.
"I'm still enjoying what I'm doing. I expect that I'll be here for an indefinite period of time. I don't think I'm going to work as long as [former SEC commissioner Roy] Kramer did or maybe [current SEC commissioner Michael] Slive or even [Tom] Hansen, but I think I'll be here for the next five years or so. That's my horizon."
Not surprisingly, the new contract runs through the next five years. Delany will be 65 at the end of the contract and likely would follow his commissioner colleagues Mike Tranghese and Tom Hansen into retirement.
The Big Ten has taken some hits on the field with its recent performance, but there's little doubt the league has one of the most powerful commissioners in the country. Delany launched the Big Ten Network and maintained a strong partnership with the Rose Bowl, which has helped the Big Ten place more teams in BCS games (17) than any other league.
Delany has drawn criticism for his opposition to a playoff system, but his influence throughout the sport makes him a popular man in the Big Ten region.
July, 31, 2008
7/31/08
10:26
AM ET
Posted by ESPN.com's Adam Rittenberg
| | |
| --- | --- |
| | |
| | AP photo/Janet Hostetter |
| | Jim Delany says the Big Ten Network project isn't done until there's "full distribution." |
PARK RIDGE, Ill. -- Some consider him the most powerful man in college athletics. Others label him the biggest obstacle to a college football playoff system. Big Ten commissioner Jim Delany might be both, but his influence in college football is undeniable.
Only the fifth commissioner in Big Ten history, Delany enters his 20th year in the job. He has seen the league add an 11th member, negotiated several new TV contracts and helped establish the Big Ten Network, a massive project that generated both excitement and criticism. A long-anticipated agreement between the Big Ten Network and Comcast was reached this summer, but some Big Ten fans still don't have access to the programming. After a nasty bout with an illness last week, Delany sat down with me Wednesday at the Big Ten offices. You can only get to so many topics in a 15-minute interview, but Delany discussed the Big Ten Network, the BCS/playoff debate, nonconference scheduling and his own future.
You mentioned last week [at Big Ten media days] that two of your peers, [Pac-10 commissioner] Tom Hansen and [Big East commissioner] Mike Tranghese are retiring. Have you thought about how much longer you'll do this job?
Jim Delany: Yeah. I'm still enjoying what I'm doing. I expect that I'll be here for an indefinite period of time. I don't think I'm going to work as long as [former SEC commissioner Roy] Kramer did or maybe [current SEC commissioner Michael] Slive or even Hansen, but I think I'll be here for the next five years or so. That's my horizon.
Have you thought at all about what your legacy might be?
JD: Not really. To be honest, I feel like I go from cycle to cycle, cycles of bowl games and cycles of television agreements. At different times you have different challenges. One might be incorporating Penn State, another might be trying to incorporate the Big Ten Network, another one might be, 'Hey, we've got an initiative on sportsmanship. We're trying to raise academic standards.' I sort of get involved in a lot of projects. But I'm obviously conscious of, did we start a men's [basketball] tournament? How's it going? Are we able to re-establish the Rose Bowl within the BCS? So I'm very much aware of trying to have an incline, a gradual improvement in bowls, bowl access, making the championship game a better game, continuing to grow our postseason tournament.
I've always been pleased to see the level of commitment our schools have to [gender] equity. At one time we were 71 percent male, and today we're near 50-50. And also the exposure. For many decades, we were considered the big two and the little eight. Now with bowl opportunities and television opportunities and the resources that we have, there's just a lot more parity. We've had seven different teams go to the Final Four in the last 15 or 20 years. We've had eight or nine different teams win or share Big Ten [football] championships. So the notion of having great traditional programs, whether it's Michigan or Ohio State or whoever, but also having the ability of everybody to have a chance and keep hope in the programs, that's what makes it special.
The Big Ten Network was obviously a major project. What's the next big thing on your schedule?
JD: I don't consider the Big Ten Network to be completed until we have full distribution. Until we've got distribution in Iowa and Wisconsin and Ohio, to the same level we have in the other five states, it's a work in progress. We didn't expect it to be easy. Obviously, you're judged on the progress you make. We've made some, but obviously you're not all the way there. Once you get there with distribution, the pictures were great, the HD pictures were great and the games were good, the talent was good.
Then you start really trying to build the brand of the schools, the brand of the teams and the brand of the conference by working on programming that supports the schools and the teams and the athletes. One of the things we were surprised by is we had so much promotional time because it wasn't fully distributed. As a result, we didn't have all the advertisers. So we had a lot of time to promote, to blow our own horn, but we didn't really have the inventory and the creative behind it. So we're much better positioned going into Year 2 to do that. In Year 3, we'll be in an even better position.
In terms of the negotiations with Mediacom and other companies, where are those right now? What's holding it up?
JD: They're just discussions. I'm not at the table. I'm going to let them play out. I think we have to be patient, to some extent. At the same time, we've got to be able to communicate with fans and right now, everybody's just working hard to see whether or not there's a resolution.
So for the Iowa fans who want to see that Iowa State game [Sept. 13], is it still up in the air?
JD: Yeah, there's not much I can say to them other than we're in discussions and I'm not at the table. There's not much to add to that.
I asked you last week about the BCS and the playoff argument. As commissioners, you obviously have to do your jobs but also pay attention to what the fans want. You mentioned they're voting by going to the games.
JD: What I meant by that was not that they're voting for the BCS with their feet. They're voting for the meaningfulness of the games that are occurring during the regular season, which, in my view, is related to the power and the contribution of the BCS and the system. You could agree or disagree about the BCS, but anybody who says the regular season isn't more alive in its Technicolors, 3-D, compared to what it was a decade ago -- and I attribute a lot of that to the BCS. I don't mean they're voting for the BCS. I mean they're voting for a healthy regular season.
If the movement for a playoff increases, will we see a playoff in the next 10, 15 years?
JD: When I was 30, I saw the next 10 years pretty clearly, and at 60, I don't see the next five years as clearly. Maybe that's why there's a visionary out there who can tell you what's going to be there in 15 years. Fundamentally, college football is different than a lot of other sports. It's been a one-semester sport. The regular season [games are] not a commodity, there aren't 30 of them, there are 12 or 13 of them. We've done a pretty good job historically, because the Auburn-Alabama game has meaning and the Army-Navy game, UCLA-USC, all those games, through television, have become national games. At one time, they were regional. And now, as a result of the BCS and the rivalries, other games that have been sort of lower down the food chain -- important, but not as important -- have got new meaning. I'd even go so far as to say we've created new value at Boise and Hawaii, and it does drive some people crazy when they don't get to go to the BCS, but it also makes their fans even more interested the following y
ear.