August, 5, 2013
8/05/13
9:00
AM ET
Darrell Hazell and Greg Hudson have every right to reserve judgment and hide the hyperbole when it comes to Purdue defensive tackle
Bruce Gaston
.
They have yet to coach Gaston in a game for the Boilers. The only full-pads, full-go assessment opportunity they've had with the senior took place in the last two weeks of spring practice, when he Gaston returned after his rehab from thumb surgery.
[+] Enlarge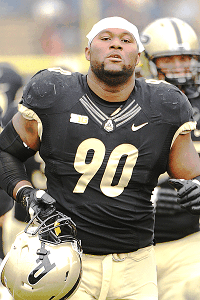 AP Photo/David DurochikPurdue Boilermakers defensive tackle Bruce Gaston is impressing his coaches.
It didn't take Gaston long to dazzle his new coaches. Now they can't help but gush about him.
"We were a different football team," Hazell, the Boilers' first-year head coach, told ESPN.com. "Different football
team
, not defense. I didn't realize how good he was. When he came back, we had to scheme him on offense. That's how good he was."
Hudson, Purdue's defensive coordinator, is still figuring out the pieces as he constructs his first defense in West Lafayette. But he knows where to start, thanks to Gaston.
"The man in the middle, no doubt about it," Hudson said. "He is The Guy. He's our Derek Jeter. In baseball, you better be good up the middle. When I grew up [in Cincinnati], it was [Pete] Rose and Joe Morgan and Johnny Bench up the middle. They were tough.
"We've got to be strong up the middle in our defense, and he's the closest one to the ball, so it starts with him."
Gaston relishes the responsibility. He spent the past three seasons understudying Kawann Short, a three-time All-Big Ten selection and a second-round pick of the Carolina Panthers in April's NFL draft. The 6-foot-2, 310-pound Gaston also has been around long enough to share a line with Ryan Kerrigan, the 2010 Big Ten Defensive Player of the Year and a first-round pick in the 2011 draft.
He has been around elite players. After recording two forced fumbles and 5.5 tackles for loss as a junior, Gaston wants to be one in his final season at Purdue.
"I'm a senior now, I know a lot," said Gaston, who has 17 career tackles for loss, four sacks, three fumbles recovered and a blocked kick. "The young guys, they really don't know much what to do against some of the guys who have been here. They expect for me to be a leader. The way I am, I present those qualities, and they expect me to follow those qualities, be a leader, be a dominant player on defense and help us get to the next level.
"It's my obligation to pay back. My tribute to the university, really."
Gaston brings personality to a Boilers defense that surrendered 31.2 points per game last season and more than 500 yards in five contests. Like Short, who continues to motivate his teammates with encouraging text messages, Gaston makes communication a priority in practices and meetings.
Yelling is easy, according to Hudson, who adds that most who do it don't know what they're talking about. Gaston, meanwhile, is more of a "conversationalist."
"He'll talk to anybody," Hudson said. "He'll try to reach out to the young guys and give them advice, but he also is involved in the development of the older guys. I like that he's bought into everything that Coach Hazell has laid out for us on this road to where we're going.
"He'll be a big voice in how we move forward and develop."
Gaston understands the value of the defensive tackle position -- "What we do affects the rest of the play," he said -- and has a long list of areas to improve, from keeping his pad level lower to creating a better burst off of the snap to taking a quicker step and a more agile step to reach the second level.
Hudson sees parallels between Gaston and Jay Ross, a Buffalo Bills defensive tackle who Hudson coached at East Carolina. The two are similar in size, and Gaston boasts a strong speed-to-power ratio.
"Anybody that's over 300 pounds and can bend and wiggle like him, and then has very good strength, it's a good combination of things," Hudson said. "Is he going to be like a five-tool guy in baseball? Maybe. Now he's got to develop 'em and become an exceptional player."
Gaston still has his left hand in a cast, and while he doesn't know when it will be removed, the injury is healing at "an exceptional rate." He doesn't expect to be limited from a technique standpoint.
The bigger question with Gaston, like many larger defensive tackles, is durability. How many plays can he remain on the field this season? Purdue needs him out there more than in past years, especially because of the attention he'll command without Short flanking the other side.
Hazell hopes new defensive line coach Rubin Carter, a former All-American nose tackle at Miami who went on to play 12 seasons for the Denver Broncos' celebrated "Orange Crush" defense, can keep Gaston in the game.
"[Carter] played nose guard for the Broncos for all those years when there were no rules," Hazell said. "They were high-lowing him. So he understands, 'Get back in.' That's what Bruce needs right now, a little bit of get-back-in-the-game mentality when you feel a little nicked up.
"That's a good match."
Gaston's chief goal as a senior is crystal clear: to dominate. He won't spend time overanalyzing it. He knows it will take greater consistency and durability to achieve.
And he'll know when it's happening.
"It's almost a feeling of euphoria," he said. "It's like when you're lifting, the endorphins, the relief, it just feels good. You're truly in the moment, you're helping a team, all of it.
"All good things."
May, 21, 2013
5/21/13
10:00
AM ET
Gerad Parker and his fellow Purdue assistants need no tutorial on what the state of Texas means to the Boilers' program.
They get a reminder every time they turn on the television every Sunday during the NFL season. Former Purdue coach Joe Tiller built his program largely on recruiting the Lone Star State, and the centerpiece of Tiller's efforts plays quarterback for the New Orleans Saints.
"We knew from what Coach Tiller was able to do here at Purdue," Parker, Purdue's recruiting coordinator and tight ends coach, recently told ESPN.com. "The players that came out of [Texas], the first one obviously being You Know Who in Mr. [Drew] Brees. Those guys did a good job in Texas."
[+] Enlarge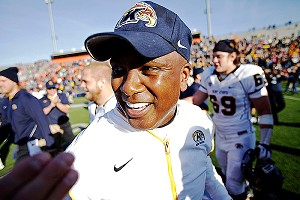 AP Photo/J.D. PooleyNew Purdue coach Darrell Hazell and his staff will be making recruiting talent out of Texas a priority.
Purdue's 2000 team that won the Big Ten and reached the Rose Bowl included 12 Texans on the roster, including Brees, first-team All-Big Ten linebacker Akin Ayodele, linebacker Landon Johnson and safety Ralph Turner. The Boilers currently have five Texans on the roster, including starting defensive end
Ryan Russell
.
Those numbers could increase under the new staff. Although head coach Darrell Hazell and several of his assistants have ties to the East Coast and, of course, to Ohio, Texas will be a priority for Purdue's recruiting in the coming years. Parker had two assistants each spend a week recruiting in Texas during the post-spring evaluation period.
Purdue's lone commitment so far for the 2014 -- wide receiver Trae Hart -- hails from Texas. The Boilers are
pursuing other Texas prospects
like quarterback David Blough, a Carrolton native recently selected for the Elite 11 finals. Blough learned he had made the finals when
Brees tweeted about it
.
"Texas is another state that has great football, great tradition, those kids grow up playing, they're well-coached" Parker said. "So we wanted to get back and put our feet in the ground and obviously get some kids from that area."
Purdue's previous coaching staff didn't hide its preference for Florida recruits, and there are 19 Floridians on the current roster and five in the incoming recruiting class. Although the team's recruiting map will spread out a little more under Hazell and his assistants, they aren't going to neglect the Sunshine State.
Three of Hazell's assistants -- offensive line coach Jim Bridge, defensive line coach Rubin Carter and secondary coach Jon Heacock -- all have recruited Florida for years and will continue to do so.
"We've got Florida still covered, there's no question about it," Parker said. "With the players we have currently, who are all pretty good players, we want to keep that tradition alive, and the only way you do that is continue to sign kids from that area."
May, 7, 2013
5/07/13
3:00
PM ET
WEST LAFAYETTE, Ind. -- Purdue's reputation for producing great quarterbacks is recognized throughout college football, as names like Brees, Griese, Herrmann, Dawson and Everett are linked to the program.
But there's another position where Purdue has put together a similar track record of excellence: defensive end. The Boilers' D-end tradition isn't as well-known as its quarterback heritage, but consider the names who have come through the program in the past two decades: Roosevelt Colvin, Chike Okeafor, Akin Ayodele, Shaun Phillips, Ray Edwards, Rob Ninkovich, Cliff Avril, Anthony Spencer and Ryan Kerrigan, the 2010 Big Ten Defensive Player of the Year and a unanimous All-American.
All nine players went on to the NFL, and several like Kerrigan and Spencer are in starring roles. Purdue has called itself the Cradle of Quarterbacks for years. It now also uses the label
Den of Defensive Ends
.
Boilers junior defensive end
Ryan Russell
needs no education on the subject.
[+] Enlarge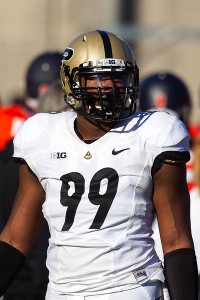 AP Photo/Damen Jackson via Triple Play New MediaRyan Russell hopes to be next in the long line of disruptive defensive linemen developed at Purdue.
"Very aware," Russell told ESPN.com. "A lot of those guys come back, Roosevelt Colvin, I had a chance to talk to Cliff Avril when we went to the Little Caesars [Pizza] Bowl in Detroit. I knew Ryan Kerrigan and he came back and talked to us.
"It's a big tradition, and I'm hoping definitely to uphold it."
After losing defensive tackle Kawann Short, a second-round pick in last month's NFL draft, Purdue is looking for the next star to emerge along a line that underperformed in 2012. The Boilers finished 78th nationally in both rush yards allowed (182.3 YPG) and sacks recorded (1.69 per game).
Along with veteran defensive tackle
Bruce Gaston
, Russell is viewed as a potential major contributor up front this fall. The 6-foot-5, 275-pound junior will enter his third season as a starter and his first under Purdue's new coaching staff. After recording 33 tackles and making 11 starts as a redshirt freshman in 2011, Russell had 37 tackles, including 8.5 for loss and four sacks, last season.
"He's got a power-to-speed ratio that's good for him to be a factor," defensive coordinator Greg Hudson said. "He can play the run, but he's got that end build and speed where he can also affect the passer.
"He's got that prototype look and ability."
Russell might look the part, but like many of his teammates, he needs to get stronger. His speed and lower-body strength are in good shape, and he has fully recovered from knee and ankle injuries, but his upper body "isn't really where I would like it to be."
After practicing alongside Kerrigan as a true freshman in 2010, Russell understands the gains he needs to make.
"Ryan Kerrigan was one of the strongest people I've ever met," Russell said, "so when that's the standard with the Big Ten, Purdue defensive linemen and defensive ends, we definitely and myself personally have a long way to go."
Kerrigan led the country in tackles for loss (26) in 2010, finished third in sacks (12.5) and tied for second in forced fumbles (5). Russell observed firsthand the relentless motor that drove the Boilers' star.
When one pass-rush move didn't work, Kerrigan would simply move to the next and the next until the whistle blew.
"Pass-rushing a lot of the time is a mentality, going 110 percent, outworking somebody all the time, every play," Russell said. "[Defensive line coach Rubin Carter] always says, 'If you're not going to make the play, they will.' So just always having that mentality that you're going to get there is a big thing.
"Your get-off and your motor is the engine that runs the train."
Russell is taking well to the new staff, the faster practice pace and the new defensive scheme under Hudson. He has worked extensively with Carter, a former longtime NFL assistant, on using his hands more effectively to fend off offensive linemen.
Hudson, who last season had a front-row seat for one of the nation's best defensive lines as a Florida State defensive assistant, shapes his system around Russell and the other down linemen.
"We will do things to turn him loose," Hudson said. "We cater to the D-line. We're going to make sure they know what's going on, there's no confusion and they're happy. And when the ball's snapped, we say, 'Take off, break off.'
"That's what we want them to do."
Russell continues to follow Kerrigan with the Washington Redskins, and he also studies the other Purdue greats he has met like Avril (Seattle Seahawks), Ninkovich (New England Patriots) and Spencer (Dallas Cowboys).
"You have a common ground," Russell said. "They started the same place you started, and what they're doing is the goal, so you're trying to see what they're doing to get to the goal you all share."
April, 11, 2013
4/11/13
3:00
PM ET
Our look at a Saturday packed with spring games around the Big Ten continues with Purdue. Head coach Darrell Hazell wraps up his first spring session with the annual Black & Gold spring game at Ross-Ade Stadium.
Here's a closer look:
When:
Saturday, 1 p.m. ET
Where:
Ross-Ade Stadium in West Lafayette, Ind.
Admission:
Free. Gates open at noon. Free parking is available on a first-come, first-served basis in the A Lot (west half only), F Lot, G Lot, H Lot (upper and lower), R Lot and Z Lot. The family fun fest takes place from 11 a.m.-noon ET and is open to all kids in eighth grade or younger.

TV:
Live on BTN2Go
. Big Ten Network will air the game at 9 p.m. ET on April 15.
Weather forecast:
Partly to mostly cloudy, temperatures between 41-48 degrees, winds at 15-17 mph.
What to watch for:
There are new schemes on both sides of the ball, an evolving quarterback competition and a different feel with Hazell and the new staff. Purdue
drafted teams Wednesday
-- secondary coach Jon Heacock will lead the Black team and defensive line coach Rubin Carter will lead the Gold squad. Full rosters are
here
.
The quarterbacks will be in the spotlight Saturday and it will be interesting to see how the Black squad rotates senior
Rob Henry
and freshman Danny Etling, as they seem to have separated themselves a bit in the competition. Henry tried to
trade Etling to the Gold squad
for offensive lineman
Robert Kugler
and punter
Thomas Meadows
but was shot down.
Etling made a move last week and shared most of the reps with the first-team offense in practice earlier this week. Henry has worked extremely hard to learn John Shoop's pro-style system, and while he's always branded as an athlete first, he wants to show he can be an effective pocket passer.
Austin Appleby
, meanwhile, will lead the Gold squad and has a good opportunity to end the spring on a strong note. Although Appleby seems to have fallen back a bit in the race the last week, he can leave the coaches with a strong impression coming out of the spring.
Line play also will be an area to watch as
Purdue tries to get closer to being "Big Ten strong
." Defensive tackle
Bruce Gaston
Jr. is back on the field after recovering from thumb surgery, and he'll lead the Gold squad line, while end
Ryan Russell
lines up for Black. Hazell told ESPN.com this week that the offensive line is "starting to make strides," so it will be interesting to see which team protects the passer better. The defensive line is thin as
Ryan Isaac
,
Greg Latta
and
Brandon Taylor
all are out with injuries.
The secondary could be a strength for Purdue this fall, and while top defensive backs like
Ricardo Allen
,
Frankie Williams
and
Normondo Harris
are split between the teams, all have opportunities to showcase their playmaking ability. Outside receivers
Dolapo Macarthy
and
Charles Torwudzo
, both of the Gold team, will challenge Williams and Harris.
Running back
Akeem Hunt
has had a very good string in establishing himself as the starter, and he'll help lead the Black team's offense. The Gold will counter with
Robert Gregory
and, if he's cleared,
Brandon Cottom
.
February, 28, 2013
2/28/13
12:00
PM ET
We're previewing spring football in the Big Ten today and Friday. Be sure to check it out.
Link time ...
February, 28, 2013
2/28/13
11:15
AM ET
Here comes the story of the hurricane ...
OK, so Purdue isn't hiring
that Rubin Carter
to coach its defensive line. But a man by the same name will guide
Ryan Russell
,
Bruce Gaston
and the other linemen this fall as first-year coach Darrell Hazell is completing his coaching staff.

Carter spent last season coaching defensive line at FCS Towson University, but he brings extensive experience at both the college and NFL levels. He has coached defensive linemen for three NFL teams -- Denver, Washington and the New York Jets -- as well as in college for New Mexico (2009-11), Temple (2004-05), Maryland (1997-98), San Jose State (1995-96) and Howard (1989-93). Carter also served as head coach at Florida A&M from 2005-07.
A former All-America nose tackle at Miami, Carter played 12 seasons for the Denver Broncos and was part of the famous "Orange Crush" defenses.
Hazell appears to have made a very good choice with Carter, who will oversee a group that underachieved in 2012 and loses its biggest piece in tackle
Kawann Short
. Carter's extensive experience around the country also should aid Purdue's recruiting efforts. He'll be the third defensive line coach the players have had in as many seasons, so it'll be important to make the transition as smooth as possible.
Carter's hiring would complete Purdue's staff, but Hazell likely will have one more vacancy as offensive line coach Jim Bollman reportedly is headed to Michigan State to become offensive coordinator there. Neither Purdue nor Michigan State has confirmed or denied Bollman's reported move to East Lansing.