Big Ten:

Russell Wilson to Wisconsin
June, 29, 2011
6/29/11
11:09
AM ET
Big Ten bloggers Adam Rittenberg and Brian Bennett will occasionally give their takes on a burning question facing the league. We'll both have strong opinions, but not necessarily the same view. We'll let you decide which blogger is right.
Today's Take Two topic is this:
With
Russell Wilson
now in the fold at quarterback, is Wisconsin the new Big Ten favorite for 2011?
Take 1: Brian Bennett
I liked Wisconsin before Monday's news, and now I'm fully aboard the Badger Express. I watched closely as Wilson torched some Big East teams last season, so I know just how good of a playmaker he is. He'll make the receivers better, and his ability to move out of the pocket will cover up the loss of two star offensive linemen. Yes, he's coming in late and has to learn a new offense, new teammates, etc. But this is also a three-year starter and a really smart guy who will pick things up quickly. Wisconsin simply hasn't had a guy like this under center, and I pity the poor defensive coordinator who has to prepare for both Wilson and the powerful running game of
Montee Ball
and
James White
. True, the Badgers still have to go to Columbus and East Lansing, but those are the only two demanding road games on the schedule. Given the problems at Ohio State, some offensive line issues at Michigan State and Nebraska's tough schedule, I say the reigning Rose Bowl runner-up is the best bet to get back to Pasadena this season.
Take 2: Adam Rittenberg
Wilson undoubtedly makes Wisconsin a better team. He provides depth at the most important position on the field, and at a spot where the Badgers are thin after
Jon Budmayr
. But it's bit too simplistic to say Wilson automatically makes Wisconsin the Big Ten favorite. The equation is more complicated. I might make that claim after seeing Wilson win the starting job, play a few games and show he has made a smooth transition not just with the system, but as a new team leader. But there are some unknowns right now. I think Wisconsin can be considered the favorite in the Leaders division, which isn't as deep as the Legends division, especially after the recent turmoil at Ohio State. Although the Buckeyes should never be dismissed and teams like Penn State and possibly Illinois might contend, Wisconsin has the most complete team in the division. The Legends division, however, packs a punch with teams like Nebraska, Michigan State, Iowa, Northwestern and Michigan. There are more teams with the potential to challenge for a league title. Wisconsin also faces tough road with trips to both East Lansing and Columbus, two places where the Badgers have struggled. A November visit to Illinois also could be tricky. So while Wilson is a huge get and Wisconsin's coaches should be commended for being aggressive, I'm not quite ready to brand the Badgers as the clear-cut Big Ten favorite.
June, 29, 2011
6/29/11
10:00
AM ET
Wisconsin coach Bret Bielema stayed in the background on Monday when
Russell Wilson
announced he was transferring to the Badgers. Bielema said he wanted the day to belong to Wilson. On Tuesday, the Badgers coach was ready to
talk to reporters
about recruiting the former NC State quarterback, which he called the "most unique situation ever."
Just getting time to talk to Wilson proved difficult. Because he was playing minor-league baseball with the Asheville (N.C.) Tourists, Wilson had two days off in May and early June, Bielema said. He used one to visit Auburn and the other to come to Wisconsin.
[+] Enlarge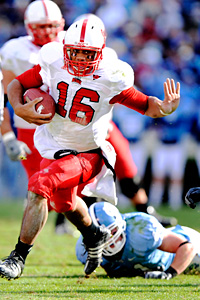 Bob Donnan/US PRESSWIREBret Bielema sold Russell Wilson on the fact that the Badgers are an "offense-oriented" team.
Bielema said Wisconsin appealed to the NCAA for a special waiver to go meet with Wilson's mother, but that was rejected. Neither he nor his coaches were allowed to watch Wilson play baseball. One thing they did for homework was send offensive coordinator Paul Chryst to Wilson's high school for a day to learn as much about the player as possible. Bielema only really knew about Wilson from what he saw on TV during Thursday night games, and he could only call him once a week under NCAA rules.
But from Wilson's visit to Madison and Bielema's calls to the NC State staff, a positive picture emerged. Wilson has already graduated and has a fiancee, so Bielema said he's a more mature guy whose biggest challenge might be relating to everyone else on the team.
"He is definitely a task-oriented individual," Bielema said. "He's very guarded, very reserved. He's opened up more and more as we've moved forward. He likes to have a plan in front of him, laid out in a way he knows he can follow. ... Everything I've learned about him, I think it's going to be a nice fit when he's here full time."
Bielema never came out and promised Wilson the starting quarterback job.
"But obviously I told him as a guy with one year of eligibility, I'm not bringing you in with the intention of seeing how you sit on the bench," Bielema said. "... I wouldn't have gone down this path if it wasn't someone I really respected as a person that I thought could handle this situation.
"He is a gifted athlete. ... Our offense is a little bit different now, you've got the play-action and the run-action that's going on, in combination with his skills. It's pretty special."
Wilson is planning on reporting in a few days and will begin taking classes at Wisconsin on July 11. Last year at NC State, he didn't report back from baseball until Aug. 1, and Bielema said Wilson didn't feel as prepared as he needed to be for the start of the season.
Jon Budmayr
had won the starting quarterback job in the spring and now in all likelihood will be pushed down the depth chart. Bielema said as of Tuesday afternoon he hadn't had a chance to talk to Budmayr in his rush to get the Wilson scholarship papers submitted. But he and Chryst had talked with Budmayr this summer about the situation.
"And I loved Jon's reaction," Bielema said. "He goes, 'Coach, whatever happens, it's not going to change the way I prepare for this upcoming season.'"
Bielema said other schools sold Wilson on the chance to compete for the Heisman and win a national championship, and they brought up the fact that Wisconsin is known as a running school. Bielema took a different approach.
"We're an offense-oriented school," he said. "I get it, we have good running backs. But there have not been a lot of people in college football, especially over the last couple of years, who have been as balanced as we are. That's the part that we ended up selling to him -- you've got a chance to come in here and you're not going to have to do it on your own."
June, 28, 2011
6/28/11
10:00
AM ET
Russell Wilson
going to Wisconsin is a pretty big story. So big that we decided to break out some of the national reaction as to not bog down the lunchtime links today. Here's some of what people are saying about the former NC State quarterback's decision on Monday to play for the Badgers:
June, 27, 2011
6/27/11
3:00
PM ET

Adam Rittenberg looks at the state of the Badgers following the news that quarterback Russell Wilson is coming to Madison.
June, 27, 2011
6/27/11
1:47
PM ET
Wisconsin has
prevailed
in the
Russell Wilson
sweepstakes.
In doing so, the Badgers might have put themselves over the top in the 2011 Big Ten title race.
Most viewed Wisconsin as being a quarterback away from another Big Ten title or a possible national championship push. The Badgers boast
arguably the nation's best running back tandem
in
James White
and
Montee Ball
and
one of the nation's top offensive lines
. A nice core returns on defense. Wisconsin not only gains another quarterback but a potentially elite one in Wilson, an All-ACC quarterback who passed for 8,545 yards and 76 touchdowns in three seasons with NC State.
The Big Ten race looked wide open before Wilson picked the Badgers, especially given the recent turmoil at Ohio State. I've seen up to four teams -- Nebraska, Wisconsin, Michigan State and Ohio State -- listed as league favorites entering the season.
How does Wilson's arrival at Wisconsin change the Big Ten picture?
Here's your chance to weigh in.
June, 27, 2011
6/27/11
12:47
PM ET
It's
official
: Quarterback Russell Wilson will play football for Wisconsin this fall.
Here's the statement released by Badgers coach Bret Bielema:
"Russell will come in and compete for the starting quarterback position. This is an unusual situation, especially for a program that prides itself on developing players throughout their careers, as we do here at Wisconsin. However, this is a special situation and Russell is the type of player and person that fits very well with our team."
Still beating the developmental-program drum? It makes sense as Wisconsin always will pride itself on making lightly recruited players into stars. Bielema often talks about Wisconsin being an "unsexy program."
But the recent success on the field and in recruiting, combined with Wilson's arrival, certainly adds some prestige for the Badgers.
June, 27, 2011
6/27/11
12:05
PM ET
They're jumping around in Madison today.
[+] Enlarge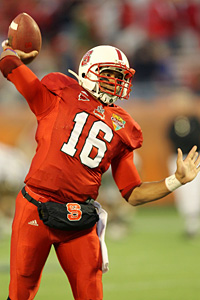 Mike Ehrmann/Getty ImagesFormer NC State quarterback Russell Wilson will take his talents to Wisconsin this fall.
Former NC State quarterback
Russell Wilson
is
headed to Wisconsin to play football this fall
, sources have told ESPN. Wilson chose Wisconsin over both Auburn and the chance to continue playing baseball for the Asheville Tourists, a Colorado Rockies Class A affiliate. The Tourists announced Wilson's departure Monday.
Wilson will discuss his decision on ESPN's "College Football Live" at 3:30 p.m. ET. Because he graduated from NC State with one year of football eligibility remaining, Wilson is eligible to play for another FBS program immediately.
His move to Madison has major implications for both Wisconsin and the rest of the Big Ten. Wisconsin has many of the pieces in place for another run at a Big Ten title, a Rose Bowl and possibly more. The consensus is that the Badgers' primary weakness is the quarterback position. The signal-callers struggled for much of the spring, and depth after
Jon Budmayr
had been a concern.
In steps Wilson, who brings very impressive credentials from NC State. He earned All-ACC honors and passed for 8,545 yards and 76 touchdowns in three seasons with the Wolfpack. His skills both as a passer and as a playmaker make him stand out from Wisconsin quarterbacks of the past.
He will need to adjust quickly and beat out Budmayr for the starting job in camp, which isn't a guarantee. He also must establish himself as a leader in the locker room despite joining the team just weeks before camp begins.
The good news is that Wilson boasts experience and seems to have a good head on his shoulders.
Wisconsin's pro-style offense seemed to fit Wilson better than Auburn's scheme, given what he ran at NC State. If he can catch on quickly both on the field and in the locker room, Wisconsin could be primed for another special season.
Does this make the Badgers the undisputed Big Ten favorites? I don't know if I'm quite ready to go that far without seeing Wilson in a few games. Wisconsin should be the favorite in the Leaders Division, especially because of the messiness in Columbus, but there are several formidable teams in the Legends Division.
I'll have plenty more on Wilson's big decision, so stay tuned.