January, 2, 2014
1/02/14
12:16
AM ET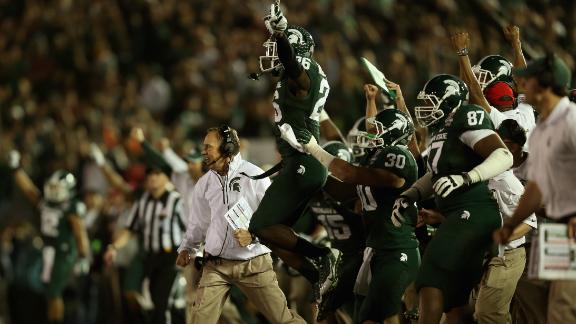 PASADENA, Calif. -- For a year, Mark Dantonio challenged his Michigan State team to find the inches that separate good from great and great from special.
Plenty of programs ascend, but most reach a point and then stall. They just can't push through.
Sometimes it's because of talent or coaching or tradition. Maybe it's a penalty in the closing moments of the 2011 Big Ten championship game, or five Big Ten losses by a total of 13 points in 2012. Maybe it's an off-field situation like a campus fight before the 2009 Alamo Bowl or the shocking suspension of a star player a week before the Rose Bowl. Any of these things can leave a program just short of its goals.
But when the inches are located and traversed, it's obvious. You can see it on the faces of current players and coaches, former players, family members, fans and everyone connected to the program.
[+] Enlarge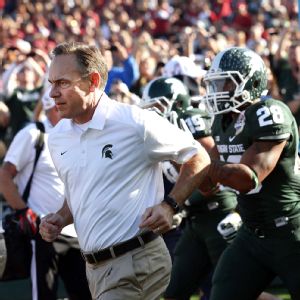 Richard Mackson/USA TODAY SportsMark Dantonio and Michigan State proved that the Spartans can run with any program in the country.
It happened for Michigan State early Wednesday night at the most historic setting in college football. MSU's 24-20 win against Stanford in the 100th edition of the Rose Bowl Game presented by VIZIO marked a final step, a ceiling shattered and a confirmation that the Spartans indeed belonged.
"You've got to find the inches, and more importantly, you've got to believe that you belong there, too," Dantonio said. "You can't second-guess yourself. You have to dream big."
The Spartans can dream bigger than they have in nearly 50 years after recording a team-record 13 wins, including status-affirming triumphs against Ohio State and then Stanford. Fittingly, MSU found the final inches by stuffing Stanford fullback
Ryan Hewitt
on a fourth-and-1 attempt with 1:46 to play.
Middle linebacker
Kyler Elsworth
, replacing suspended co-captain and All-Big Ten selection
Max Bullough
, made the initial hit while leaping over a mass of massive Stanford linemen.
Darien Harris
, Bullough's other understudy, and end
Shilique Calhoun
also converged on Hewitt, stopping him inches shy of the marker.
"It's like a movie," defensive coordinator Pat Narduzzi said. "You couldn't put in a better story. We had our leader out and he stepped up, just like I thought."
Elsworth, a senior who had played mostly special teams, started his first game in his final game and earned defensive player of the game honors. He triggered a defense that didn't allow a touchdown after the game's first drive and held Stanford to 71 yards on 27 carries in the final three quarters.
Narduzzi counted only one "misfire" in communication, a major concern without Bullough.
"I couldn't imagine a better stage to play on, a better stage to start my first game in five years," Elsworth said. "This is the way everybody wants to end their career."
That Bullough's absence didn't matter epitomized a Michigan State team unfazed by adversity. The Spartans didn't have a quarterback, a running back or an offensive identity in September. They found one in October. Several questionable pass-interference penalties helped doom them at Notre Dame. The no-fly zone secondary went on to rank second nationally in pass defense efficiency.
When Ohio State erased a 17-0 lead in the Big Ten title game with 24 consecutive points, MSU responded by scoring the final 17. And when Stanford surged to a 10-0 lead Wednesday, the Spartans cleaned up their play and dominated the final three quarters.
"I told our guys, 'This is your legacy right here,'" Narduzzi said. "I think we'll go down as the greatest team ever to play Michigan State football."
No player symbolizes the Spartans' resilience like quarterback
Connor Cook
. He made some bad throws Wednesday, none worse than an ill-advised screen that Stanford's
Kevin Anderson
returned to the end zone late in the second quarter. After the pick-six, Cook approached Dantonio.
"Hey, you good?" Dantonio asked.
"I'm fine," Cook responded.
They exchanged a fist bump. On the ensuing series, Cook led MSU downfield for a touchdown 28 seconds before halftime.
"Any time you can end the half on a touchdown, that gives you so much momentum," said Cook, who passed for a career-high 332 yards. "That was like the turning point of the game."
MSU became the first team to rally from a halftime deficit to win the Rose Bowl since Wisconsin in the 2000 game. Back then, the Big Ten more than held its own here, but the league since had gone 1-9 in its most celebrated game.
A system that often didn't place the Big Ten champion in the Rose could be blamed, but the league also lacked teams that proved they belonged. MSU has added its name to a very short list.
"Not only did they get here, but they won," said former Spartans quarterback Kirk Cousins, the team's honorary captain. "They beat a good Ohio State team and an outstanding Stanford team to make this happen. They didn't back into it."
"

The national championship, that's the next step for us. The Rose Bowl was this year, but the national championship is definitely next year.

"

-- Michigan State DE Shilique Calhoun
The Spartans are assured of their first top-five finish since 1966. The playoff era dawns next fall, and MSU suddenly can target the Final Four not only in basketball.
Cook and most of the offense returns. The defense should be strong again.
"One of the elite teams throughout college football," wide receiver Macgarrett Kings said. "We've got players, we've got talent, we have the coaches."
MSU plans to keep its coach for the foreseeable future, despite potential overtures from Texas.
The Detroit Free Press
reports Dantonio soon will be awarded a raise that will put him among the top three Big Ten coaches in salary.
It's big-boy money for the leader of a big-boy program.
"The national championship, that's the next step for us," said Calhoun, who plans to return for his junior season. "The Rose Bowl was this year, but the national championship is definitely next year."
No one put MSU in the national title talk when Dantonio arrived. Former linebacker Greg Jones described a "loose" culture that Dantonio had to rein in.
It was a gradual climb. First bowl appearances, then bowl wins, then a Big Ten title and finally a Rose Bowl championship.
"They made me a believer," Jones said. "They made everybody a believer."
The Spartans found the inches and broke through ceiling. They've reached the next floor.
They don't plan on leaving.
December, 28, 2013
12/28/13
6:30
PM ET
LOS ANGELES -- When a team loses a three-year starter, a two-time All-Conference performer and a two-time team captain to a shocking suspension in advance of the Rose Bowl, as Michigan State did with linebacker
Max Bullough
, it matters. It matters big-time.
This is something that Michigan State and Stanford players agree on.
[+] Enlarge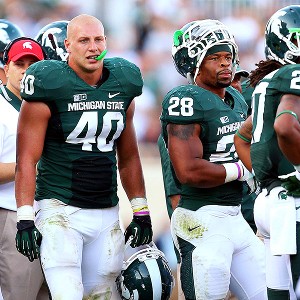 Mike Carter/USA TODAY Sports Michigan State's defense will have to find ways to replace the leadership of Max Bullough (40).
"You can tell he was a leader on defense by the way the team reacts to him," Cardinal fullback
Ryan Hewitt
said. "So you know they're going to be missing their leader, their smartest player on defense."
The Spartans led the nation in rushing and total defense, and Bullough was a big reason why. His 76 tackles and 9.5 tackles for a loss ranked third on the defense. His potential replacements, senior
Kyler Elsworth
and sophomore
Darien Harris
-- a starter hasn't been named -- combined for 17 tackles.
While the physical loss is big, it's perhaps more challenging to lose Bullough's smarts and leadership. Mental mistakes, even more than physical shortcomings, are often critical in defensive-minded, low-scoring games, as most expect the Rose Bowl to be.
"I think they'll probably miss his leadership," Stanford offensive coordinator Mike Bloomgren said. "I feel like he was probably the quarterback of their huddle, and in addition they will miss some of those checks at the line of scrimmage."
And that could provide Stanford with the opportunity for an explosive play.
STANFORD STYLE
: Bloomgren was asked about Stanford's style of play. In past years, Stanford players have talked about "class and cruelty." It appears they have a new colorful mantra.
"When I think about our offense," Bloomgren said. "I want it to be intellectual brutality."
In other words: It's about smart guys who run over their opponents.
Quarterback
Kevin Hogan
, who is not known for turning colorful phrases to the media, picked up this same theme without much prodding.
"I would say that no one can out-weigh our physicality, out-toughen us," he said. "That's our goal. We want teams to quit, we want them to tap out and say, 'If you do that one more time, I'm done.' That's our goal."
MOVING UP FROM THE IVY LEAGUE
: One of the popular topics this week is Stanford's rise to national football power as the preeminent academic university playing AQ conference football. Defensive coordinator Derek Mason pointed out that the Cardinal's recruiting pool is about "one percent" of the AQ-conference capable high school football players.
But recruiting has gotten easier than it was during the early Jim Harbaugh years. Fifth-year senior outside linebacker
Trent Murphy
said he didn't know anything about Stanford when it first started recruiting him out of Mesa, Ariz.
"I couldn't tell you what division Stanford was in," he said. "I thought it was an Ivy League school and played Harvard in a smart school bowl every year. My perception was skewed until Jim Harbaugh showed up at my door with a big grin on his face and a hungry look in his eye and he said, 'Here is what we want to do and we want you to be a part of it.' And I was like, 'Okay!'"
GOAL LINE STAND
? Stanford RB
Tyler Gaffney
has scored 18 of his 20 rushing touchdowns against eight or more defenders in the box, the most such touchdowns among AQ running backs. On average, 50 percent of rushing touchdowns are scored against defenses with eight or more defenders in the box.
Michigan State, meanwhile, has allowed just seven rushing touchdowns all year.
GETTING DEFENSIVE
: Michigan State and Stanford both rank in the top 10 in ESPN's defensive efficiency ratings. Michigan State leads the FBS in yards allowed per game (247.8), rush yards allowed per game (80.5) and third-down defense (28 percent). Entering bowl season, Stanford ranks atop the Pac-12 and among the top 15 nationally in each of those categories.