September, 9, 2014
Sep 9
4:00
PM ET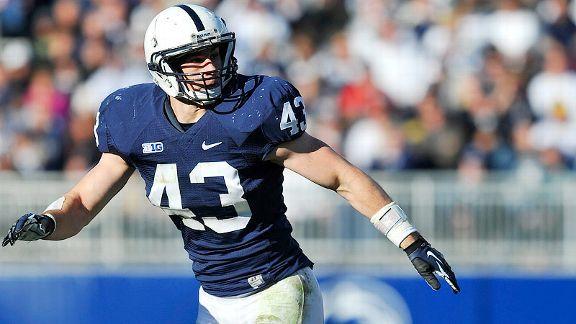 STATE COLLEGE, Pa. -- Linebacker
Mike Hull
finished up his spicy chicken sandwich at an off-campus fast-food joint while chatting and joking around with his roommates. They didn't have the slightest idea on Monday that they were moments away from an announcement they had waited for two seasons to hear.
Sure, they knew the Mitchell Report was set to be released. And, yes, they were even aware of rumors -- first started by
a clothing store blog
-- that Penn State might gain bowl eligibility
or
its missing scholarships. But they didn't expect it all to
come down that afternoon
; they just expected to sit at their small table, use their BOGO discount and enjoy their day off from football.
Then defensive back
Jesse Della Valle
checked his cell phone and told the group, wide-eyed, about what he saw. They didn't believe him – until they checked.
Due to Penn State's progress in ensuring athletics dept functions with integrity, NCAA immediately restores football postseason eligibility. - NCAA (@NCAA) September 8, 2014
Moments later, the four teammates received a mass group text for an instant team meeting. It was happening. And, even while recalling it all Tuesday afternoon, Hull seemed like he still couldn't quite believe it.
"I was smiling ear to ear and a lot of the other guys were just ... we couldn't believe everything turned around like that," Hull said. "We were expecting the worst when those were handed down."
Coach James Franklin opened his news conference on Tuesday with a big smile and by performing a little jig while jazz music played from the nearby phone line. He seemed reluctant at first to touch on the NCAA's decision, in part because it took him more than eight minutes to take questions from the media, but he couldn't stop the flood of that topic.
He wanted to focus on Rutgers, talk about Rutgers, but Penn State's newfound potential for a bowl drove the conversation. He pledged the team wouldn't look back to Monday's celebratory news and let it interfere with Saturday's game. But he also said he knew how important this was for players -- some of whom cried and most of whom looked dejected -- following the sanctions announcement in July 2012.
"This is great, now there's nothing being held back from them in terms of opportunities," Franklin said. "They have the ability to chase their dreams. But, we're going to go back to our same approach: One game at a time."
These players, especially these seniors,
didn't want to talk about this possibility
two months ago. They didn't want to think about it. At Big Ten media days in Chicago, Hull said as much. His teammate, the normally softspoken
Bill Belton
, snapped at a reporter who asked what a bowl game would mean to them.
"How would you react if you were on a bowl ban?" an agitated Belton asked, before some mild back and forth. "I'm just saying, like, if you were a kid in a program and you were in a bowl ban, it would be exciting. That's what I'm saying."
A lot of the players on this team had already resigned themselves to the NCAA's fate. Their hopes were dashed in July 2012 and, perhaps, the only thing worse would have been to get them up once more -- only to see them dashed again.
But then Monday came.
"A lot of times, you don't realize how much you miss something until you don't have it," senior safety
Ryan Keiser
said. "And we're thankful we're eligible again."
The 49 remaining players who stuck through Penn State's sanctions were called up to the front of the team meeting Monday afternoon. Their teammates showered them with a standing ovation; a smile was fixed to nearly everyone's face.
It wasn't just the seniors who were commended, it was everyone -- such as redshirt sophomore
Geno Lewis
, who was part of Penn State's 2012 recruiting class. He lived on campus for just weeks when the sanctions came down. But he chose to stay.
Lewis lingered outside Beaver Stadium on Tuesday afternoon. He knew, back as an 18-year-old, he might wind up graduating without ever going to a bowl. So when asked Tuesday if he ever thought, ever dreamt, of experiencing back-to-back winning seasons and
then
going to a bowl, he stopped walking for a moment and just paused.
"I was surprised about the bowl, but I always had faith," he said. "That's really all you can do. I'm just very happy and humbled."
Added Hull: "It's really worked out the best it possibly could."
August, 13, 2014
Aug 13
11:00
AM ET
STATE COLLEGE, Pa. -- The season hasn't yet started for Penn State, but
Christian Hackenberg
is already making program history.
The second-year quarterback was announced as a team captain Wednesday morning, making him the first sophomore to earn the honor in the team's 128-year history. Injured senior guard
Miles Dieffenbach
joins him as the other offensive captain.
"Christian's got a lot of tools, there's no doubt about it," James Franklin said during Big Ten media days. "The thing that I'm most impressed with is how humble and how hungry and how open he is to coaching."
The captaincy isn't a huge surprise since Hackenberg is widely regarded as the team's top player. It's more surprising he's the first sophomore ever in program history to achieve the feat.
Then again, he became just the third quarterback to ever start a season opener as a true freshman, so the opportunity hasn't often been there in the past. Eugene "Shorty" Miller became the first to start in 1910 and Rob Bolden the second exactly a century later.
Hackenberg is actually only the second-youngest player to earn the honor, though. Tailback Johnny Chuckran became the first and only freshman team captain in 1944, during World War II. According to Penn State historian Lou Prato, Chuckran was named captain in Week 4 after all the Marines -- which included six starters -- left.
Penn State also named the defensive co-captains as linebacker
Mike Hull
and defensive end
C.J. Olaniyan
. Three players – kicker
Sam Ficken
and safeties
Jesse Della Valle
and
Ryan Keiser
– were the special teams co-captains.
July, 23, 2014
Jul 23
9:00
AM ET
Our preview of each position group in the Big Ten reaches its final stop on the defensive side: the secondary.
The two best secondary players from last season both were drafted in the first round this spring: Michigan State's
Darqueze Dennard
and Ohio State's
Bradley Roby
. New stars are sure to emerge this season. Let's take a look at where things stand:

Best of the best:
Michigan State
The Spartans finished No. 3 in the FBS in pass defense last season, though the "No Fly Zone" lost two key members in Thorpe Award winner Dennard and safety Isaiah Lewis. Still,
Kurtis Drummond
might well be the best safety in the Big Ten, and
Trae Waynes
is ready for his star turn at cornerback.
Darian Hicks
will hold down the other corner spot, with a spirited competition for time at the other safety slot. With the combined brain power of Mark Dantonio, Pat Narduzzi and Harlon Barnett, we expect Michigan State to keep the title of the league's top secondary.

Next up: Penn State
There's lots of strong returning experience here, with corners
Jordan Lucas
-- a leading All-Big Ten candidate -- and
Trevor Williams
, plus safety
Adrian Amos
, who appears on the cusp of stardom.
Ryan Keiser
started five games at safety last year, too. Defensive coordinator Bob Shoop's background is in coaching the secondary, so we're excited to see what he can do with this group.

Sleeper: Minnesota
Safety Brock Vereen is on the Chicago Bears now, but underrated corner
Eric Murray
is back along with veteran safety
Cedric Thompson
.
Derrick Wells
, who has bounced between safety and corner, should stick at the other cornerback spot, and
Briean Boddy-Calhoun
returns from injury. The Gophers believe they are as deep as they've been in the secondary under Jerry Kill, and that could lead to good results this fall.

Problem for a contender: Ohio State
It's hard to label this as anything but a problem right now, given how the Buckeyes struggled down the stretch in pass coverage last year before losing Roby a year early to the draft. Yet there is still a lot of reason for optimism. New secondary coach/co-defensive coordinator Chris Ash is remaking the unit into what should be a more athletic bunch.
Doran Grant
anchors the group at corner, while
Vonn Bell
and
Tyvis Powell
should add speed and length at safety. If young players come through here, Ohio State's defensive backfield could make a huge leap forward. Until we see that happen, though, it remains a concern.
May, 9, 2014
May 9
4:00
PM ET
Is it a bit drafty in here? Wishing you a great weekend.
Twitter?
Yes, please
.
Let's check that inbox ...

Shane from Maine writes:
I usually ask Wolverines-related questions, but something else caught my attention. What are your thoughts on Iowa's schedule? It looks REALLY soft. Do you think the Hawkeyes have a chance to go undefeated in a season that has their toughest games at home against Wisconsin and Nebraska?
Adam Rittenberg:
Iowa's schedule looks extremely beneficial, Shane, but I don't see the Hawkeyes running the table. They're a good team that could build on last season's success, but the Hawkeyes almost always find themselves in close games because their talent isn't head and shoulders above the competition. Easy schedule or hard schedule, you need to be a truly elite team with elite talent to run the table in a major conference (see: 2013
Florida State Seminoles
). Iowa will end up on the short end of some close game, but I predict a good season (9-10 wins).
---

Jeff from Baltimore writes:
This week, we saw what I would call (Jim) Delany's most out-of-the-box, hell, out-of-the world, decision in giving the 2017 BBall tourney to D.C. Now, living in Baltimore, I like the idea of cutting out of work early and driving to the Verizon Center, but it won't have the same feeling as if it would and should in either Indy or Chi-town. Do you see him repeating this thinking for the football championship?
Adam Rittenberg:
Jeff, I wrote about this back in January. There's
no desire to move the football championship game
outside of the Midwest. The Big Ten loves Indianapolis and everything it brings, and it could consider sites like Chicago, Minneapolis and Detroit in future years. The difference with football is the event includes only two teams and two fan bases, not all 14. It's less likely to draw general Big Ten fans than the basketball tournament, a multi-day event featuring more games and teams. Big Ten deputy commissioner Brad Traviolia said of the hoops tournament: "Regardless of where you place it, you're going to have a team or two that basically will be a home team, whether it's Indiana and Purdue in Indianapolis or whether it's Maryland in D.C. or Rutgers and Penn State in New York." Geography matters more for the football title game.
---

Grant from San Francisco writes:
As a lifelong Spartans fan, I am becoming increasingly weary of all the unbridled optimism surrounding the program this coming season. I have experienced this before and know just how fast the wheels can come off. You guys spent some time with the team, so maybe you can provide some insight. With a huge matchup in Week 2 against Oregon, what exactly is [Mark] Dantonio doing now that the team is starting at the top with everything to lose, rather than starting unranked with nothing to lose? Quotes keep coming out about "we are hungry"... "we are tired of talking about last year"... but how exactly are they preventing complacency?
Adam Rittenberg:
Grant, I understand your concern about MSU's history when starting on top, but it's also important to acknowledge the culture change under Mark Dantonio. This team has won 11 or more games in three of the past four seasons. MSU had a disappointing 2012 season but was a few plays away from winning eight or nine games. Also, the quarterback situation with
Connor Cook
is much more stable than it was in 2012. Brian Bennett visited the Spartans this spring and came away thinking they're locked in and not getting complacent. The continuity in the coaching staff really helps, and most MSU players suffered through the 2012 season and haven't forgotten it. You don't really know how a team responds until the games begin, but Dantonio isn't the type to let anyone take their foot off of the gas. His recent track record confirms this.
---


Rolf from Seattle writes:
I have to question your Ohio State draft pick of
Devin Gardner
. First off he went to that school up north, so that would never happen. Second, he is going to be gone next year anyway and doesn't leave Ohio State with any more time left than Braxton. Third, with three backups behind Braxton, another year in the system should get at least two of them ready to carry the torch. Fourth, Devin went to TSUN!!!!! Anyway, the blog is still awesome.
Adam Rittenberg:
Thanks, Rolf, and yes, I realize
sending a Michigan player to Ohio State
doesn't sit well with all (Justin Boren worked out OK, though). The Buckeyes clearly need a quarterback to replace
Braxton Miller
, and I'm not confident enough in any of the current backups to step in, especially with a revamped offensive line. Brian had the Buckeyes adding
Tre Roberson
, who has more eligibility left than Gardner and also fits in a spread offense. But I think Gardner, in the right system like Ohio State's, has more upside. Despite Michigan's offensive line troubles, Gardner still finished second in the league in passing and had some huge games. Ohio State needs a one-year fill-in here, and Gardner is the best option.
---

Greg from Boulder writes:
As a suddenly greedy Penn State fan, should I have any concern that Penn State is having trouble closing the deal on top talent in the secondary in the way-too-early 2015 class?
Adam Rittenberg:
Concern? About Penn State's 2015 class? No, don't be concerned. What
James Franklin
and his staff have done in the past four months is rather remarkable, especially with the program still under NCAA sanctions. They already have
Jarvis Miller
in the fold and will add other defensive backs before signing day, which is a very long way away. Also remember that Penn State likely will only lose two players -- safeties
Adrian Amos
and
Ryan Keiser
-- from this year's secondary rotation.
March, 12, 2014
Mar 12
9:00
AM ET
If you live in State College and haven't shaken James Franklin's hand, high-fived the Penn State coach or snapped a picture with the new leading Lion, you're probably a recluse.
Since his
Jan. 11 introduction
, Franklin has been a man about town, at least when he's not feverishly recruiting or
attending the State of the Union address
as a congressman's guest. From speaking to crowds
at THON
and
other Penn State
athletic
events
, to
wearing a wig so he could get his (already bald) head shaved
at a fundraiser, Franklin is everywhere.
But there's a group of Penn Staters with whom he has yet to connect, at least not nearly as much as he'd like to.
"We've had very little time to interact with the players," Franklin told ESPN.com. "The 20-hour rule and all those things are good rules, but when you're a new staff, it makes it challenging. We've got to build relationships, we've got to build trust, and we've got to get our system installed. That's why we've been successful in the past.
[+] Enlarge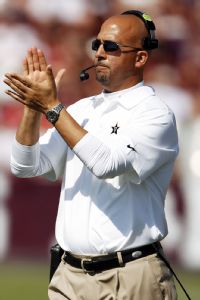 AP Photo/Eric Christian SmithJames Franklin says offensively his system will be similar to that of former coach Bill O'Brien.
"That's what our focus is right now. We've been running since Day 1."
There will be running when Penn State opens spring practice Monday. Blocking and tackling, too. There will be installation in all three phases and position competitions -- all the standard signs of spring ball.
But the most important work will take place away from the field and might have nothing to do with football.
"It starts in the locker room and selling your vision, selling the culture you want to create," offensive line coach Herb Hand said. "You don't know the kids and they don't know you. That's the first challenge coming in, the development of relationships. You're doing that after you've been on the road recruiting for two or three weeks. And then you're in the middle of winter workouts and you're barking and screaming and getting after them and you hardly know them.
"Relationships take time."
The process is under way at Penn State after an intense winter program.
"I haven't had a coaching staff push us this hard as far as conditioning goes, and also as far as competition," senior linebacker
Mike Hull
said. "You can tell Coach Franklin's real passionate about what he does, and he fires us up.
"[The coaches] talk about building relationships, and that's exactly what they've done."
After the recruiting whirlwind concluded, Hand
took the offensive linemen to dinner, wisely selecting a Chinese buffet ("When you walk in with 13 or 14 300-pound people, that'll garner some attention"). Defensive coordinator Bob Shoop, meanwhile, gleaned insight into his new team by spending last weekend reading John Bacon's book, "Fourth and Long: The Fight for the Soul of College Football," which chronicled Penn State's transition and tumult in 2012.
"These guys have been through a lot," Shoop said. "They've have had four [defensive] coordinators in four years. They've seen the good and bad of the profession. I'm just amazed with their approach and their maturity."
The second challenge for Franklin and his staff isn't a new one during the sanctions era. Scholarship reductions had a larger impact on the Lions' depth in Year 2 than Year 1, and as Franklin recently noted, "The longer you're in it, the more effect it has."
There are some potential trouble spots such as the offensive line, which enters the spring with only three scholarship tackles (
Donovan Smith
,
Andrew Nelson
and mid-year enrollee Chasz Wright). Franklin admits PSU has "major depth issues" up front.
Hand's response? Bring it.
"I could sit there and say this is going to be an obstacle for us and we'e going to struggle," he said. "You know what's going to happen? We're probably going to struggle because of our depth. But you go back to Core Value No. 1: have a positive attitude. Let's dwell on the opportunity."
When Shoop watched tape of PSU's defense last year, he saw the same linemen remaining on the field and few personnel combinations. Shoop's Vanderbilt defense used 20-22 players, while Penn State rarely played more than 15.
The hope is this year's defense will have more bodies, although Penn State is thin at tackle and cornerback. Shoop likes the foundation at defensive end with
C.J. Olaniyan
and
Deion Barnes
, and at safety, the position he directly coaches, as
Adrian Amos
returns alongside
Ryan Keiser
.
Linebacker depth surfaced in 2013, but Shoop is willing to get creative. One possibility: a 4-2-5 alignment with a hybrid safety/linebacker.
Amos, who has played both cornerback and safety but will start off at strong safety, provides a building block.
"So big, so strong, so fast," Shoop said. "He can contend for first-team All-Big Ten and be a guy who receivers national recognition if he pushes himself to the next level."
PSU returns an excellent centerpiece on offense in quarterback
Christian Hackenberg
, who will operate a system that, according to Franklin, won't differ dramatically from Bill O'Brien's. Franklin lived on the same street as O'Brien when the two worked at Maryland and is philosophically aligned with his predecessor.
Shoop will pressure more than the Lions did in the past, but the structure of the defense shouldn't change much, either.
"Very, very similar concepts," Franklin said. "The terminology is just a little bit different."
According to Shoop, the players are taking a businesslike approach to their latest transition. Hull came to a program that had been the model for stability in college football. It has been anything but in his time there.
"The first time was real hard," Hull said. "We didn't really know what to expect at all. This time, it's been a lot easier. Whenever a new staff comes in, they want to get in all their policies and values. Some people it frustrates, but it's good to have myself,
Miles Dieffenbach
, some of the older guys tell them it will get better, it just takes time."
Penn State must maximize its time this spring. Installation, development and evaluation are the staff's top three goals, according to Hand.
But there's an even bigger objective.
"How do you prove trust?" Hand said. "Studying them, finding out where's their hometown, what's their family situation like, what's their major.
"Once you win the locker room, everything else will take care of itself."
March, 6, 2014
Mar 6
3:00
PM ET
We're taking snapshots of each position group with every Big Ten team entering the spring. Up next: the defensive backs.

Illinois:
The secondary returns mostly intact from 2013, as Illinois returns starters at both cornerback spots (
V'Angelo Bentley
and
Eaton Spence
), as well as
Zane Petty
, who started the final seven games at free safety.
Taylor Barton
, who opened last season as a starting free safety, also is back. Building safety depth is important this spring as Illinois must replace
Earnest Thomas III
. Barton will compete with
Jevaris Little
and others for playing time. The depth is much better at corner as
Darius Mosely
and
Jaylen Dunlap
both saw significant action as freshmen last fall.

Indiana:
Like Illinois, Indiana returns a lot in the defensive backfield but must improve after struggling to stop opponents in 2013. The Hoosiers also lose only one starter in safety
Greg Heban
, a mainstay during the past four seasons. There's a lot of experience at cornerback with returning starters
Tim Bennett
(senior) and
Michael Hunter
(junior), along with reserve
Kenny Mullen
(senior). Decorated recruit
Rashard Fant
, who redshirted in 2013, will compete for significant playing time. Senior safety
Mark Murphy
will lead the secondary, and sophomore
Antonio Allen
could fill the other safety spot when he returns from an ACL tear. Building depth here always is a priority at IU.

Iowa:
The situation isn't as dramatic as the linebacker spot, but Iowa still must replace two productive players in cornerback
B.J. Lowery
and safety
Tanner Miller
, who combined for six interceptions in 2013. Lowery is the more significant loss, as he had 19 passes defended and three forced fumbles. The good news is
Desmond King
looks like a budding star and he will move into the featured role Lowery occupied.
Jordan Lomax
,
Sean Draper
and others will compete to start opposite King. Strong safety
John Lowdermilk
returns after a solid junior season. Lomax also could play free safety and will compete there with
Anthony Gair
and
Nico Law
, who both appeared in all 13 games last fall as reserves.

Maryland:
The back four aims for better results on the injury front and on the field in 2013. Maryland returns both starters at safety in
Sean Davis
, the team's leading tackler with 102 last fall, and
Anthony Nixon
, but there should be competition behind them with
A.J. Hendy
and
Zach Dancel
. The cornerback position is worth watching this spring as
Dexter McDougle
departs and
Jeremiah Johnson
remains limited by a toe injury.
Will Likely
has opened the spring as a starter, and
Alvin Hill
could rise up after recording 24 tackles last season.

Michigan:
The secondary took a step back in 2013 and
all jobs are open
even though Michigan returns two veteran cornerbacks --
Blake Countess
and
Raymon Taylor
-- and some experience at safety.
Jabrill Peppers
, the nation's No. 2 overall recruit according to ESPN Recruiting Nation, will play a major role for the Wolverines this fall, whether it's at corner, safety or nickel. Junior
Jarrod Wilson
started the first seven games of last season at free safety, and
Dymonte Thomas
is a good candidate to start at one of the safety spots. Michigan should expect more from this group in 2014.

Michigan State:
Will opposing offenses invade the
No Fly Zone
in 2014? Not if Michigan State can fill several spots, none bigger than
Darqueze Dennard
's at cornerback. Dennard, a unanimous All-American and the Jim Thorpe Award winner, departs to the NFL, and junior
Trae Waynes
slides into the featured corner role after a promising sophomore season. The competition opposite Waynes heats up this spring as
Ezra Robinson
,
Darian Hicks
,
Jermaine Edmondson
and
Arjen Colquhoun
compete. Free safety
Kurtis Drummond
boasts 21 career starts and enters 2014 as one of the league's top safeties.
RJ Williamson
likely will fill
Isaiah Lewis
' spot at strong safety, and
Demetrious Cox
provides depth.

Minnesota:
Like the Gophers' defensive line, the secondary loses a huge piece in
Brock Vereen
, who played both safety and cornerback last season. But there might be enough returning pieces to fill the void. Cornerback
Eric Murray
had a
very solid first season as a starter
, and Minnesota also brings back
Derrick Wells
and
Briean Boddy-Calhoun
, both of whom have starting experience. Leading tackler
Cedric Thompson
and
Antonio Johnson
finished last season as the starting safeties, and both are back. Senior
Grayson Levine
provides some experience in a reserve safety role.

Nebraska:
An important spring awaits new defensive backs coach Charlton Warren, who must identify new starters at cornerback, safety and nickel. The Huskers are replacing
Ciante Evans
and
Stanley Jean-Baptiste
, who combined for eight interceptions, 18 passes defended and 15 tackles for loss in 2013. Safety
Andrew Green
, who made 10 starts in 2013, also leaves. The good news is cornerback
Josh Mitchell
had an excellent bowl game and will fill a starting spot. Leading tackler
Corey Cooper
also returns at safety. There's not much experience at corner other than Mitchell, and
Daniel Davie
, Auburn transfer
Jonathan Rose
and others will compete. Nebraska brings back more at safety with
Harvey Jackson
, who made three starts in 2013, and junior
Charles Jackson
.

Northwestern:
That the Wildcats' secondary could be one of the team's biggest strengths seemed laughable three years ago, but it could be true this fall. All four starters return, led by safety
Ibraheim Campbell
, one of the Big Ten's most productive defenders (262 career tackles). The depth at cornerback looks strong as starters
Nick VanHoose
and
Matt Harris
return, along with
Dwight White
and
Daniel Jones
, who opened 2013 as a starter and is coming back from an ACL tear.
Traveon Henry
should start alongside Campbell, and there are some promising young safeties like
Godwin Igwebuike
.

Ohio State:
Pass defense proved to be Ohio State's downfall in 2013, and the Buckeyes' secondary will be under the microscope this spring as new assistant Chris Ash steps in. Ohio State loses All-Big Ten cornerback
Bradley Roby
and will lean more on
Doran Grant
, who started opposite Roby in 2013. Ash also expects big things from
Tyvis Powell
, who will start at one of the safety spots. Safety
Vonn Bell
finally logged significant playing time in the Orange Bowl and could become a permanent starter as a sophomore. Veteran
Ron Tanner
and
Cam Burrows
also are in the mix at safety. There should be good competition to start opposite Grant, as
Armani Reeves
tries to hold off redshirt freshmen
Gareon Conley
and
Eli Apple
.

Penn State:
After a season of moving parts and inconsistent plays, Penn State hopes for a more settled secondary.
Adrian Amos
, who alternated between cornerback and safety last season, will lead the group and brings plenty of experience.
Jordan Lucas
likely will start opposite Amos at cornerback after making strides toward the end of his sophomore season. PSU loses some leadership at safety with
Malcolm Willis
and
Stephen Obeng-Agyapong
departing and will lean on
Ryan Keiser
and
Jesse Della Valle
, both of whom have starting experience. Converted wideouts
Trevor Williams
and
Malik Golden
provide depth at cornerback and safety, respectively.

Purdue:
The rotation from 2013 returns almost completely intact, but Purdue loses a very big piece in cornerback
Ricardo Allen
, a four-year starter. Cornerback
Frankie Williams
enters his third year as a starter and will slide into Allen's featured role, while the competition for the other top corner spot will feature
Antoine Lewis
and
Leroy Clark
, among others. Purdue has plenty of experience at safety with
Taylor Richards
, who started every game in 2013, and
Anthony Brown
, who replaced the injured
Landon Feichter
and had 69 tackles. Feichter also is back from a broken leg.

Rutgers:
This group is anxious to turn the page after a season filled with personnel issues and poor performance (Rutgers finished 120th nationally in pass defense). Senior safety
Lorenzo Waters
leads the group after recording 62 tackles and two forced fumbles in 2013.
Johnathan Aiken
will try to start opposite Waters at free safety, although he'll be pushed by
Delon Stephenson
and
Tejay Johnson
, who started three games last fall.
Gareef Glashen
started six games last season and seems likely to retain one of the top cornerback spots. There will be competition at the other between
Anthony Cioffi
and
Nadir Barnwell
, both of whom started games as true freshmen in 2013. The most intriguing player to watch is cornerback
Ian Thomas
, who
returns to the team after quitting midway through last season
, one that he began as a starter.

Wisconsin:
The Badgers are relatively young at both secondary positions but boast far more experience at cornerback than safety. Junior
Darius Hillary
and sophomore
Sojourn Shelton
started all 13 games at cornerback last season.
Peniel Jean
adds even more experience at the position. Safety is much less settled as
Dezmen Southward
graduates,
Michael Caputo
shifts to linebacker and
Tanner McEvoy
returns to quarterback.
Nate Hammon
and
Leo Musso
both played in all 13 games last fall as reserves. Newcomers like
Serge Trezy
and
Austin Hudson
could compete for time when they arrive this summer.
November, 4, 2013
11/04/13
1:00
PM ET
STATE COLLEGE, Pa. --
Bill Belton
didn't smile on Saturday as the media surrounded him with bright lights and tape recorders.
[+] Enlarge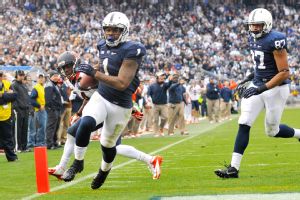 Randy Litzinger/Icon SMIBill Belton rushed for a career-high 201 yards in the overtime win over Illinois.
He became the first Penn State player to rush for 200 yards in a game since 2002, back when Larry Johnson crossed the 2,000-yard plateau and made a push for Heisman consideration. Belton celebrated his ninth birthday the last time the milestone was reached.
But Belton, as even-tempered as they come, spoke Saturday as if he rushed for 21 yards instead of 201. There was no sense of achievement in his voice, even after the emotional overtime win against Illinois. He barely grinned and spoke in a monotone voice, as if he were delivering a history report to a handful of disinterested students.
"Like I said before, the offensive line did a great job out there," he said. "All the credit goes to them."
You can take some credit, though. Can't you?

"A little bit. But I just want to, like, give it all to the linemen because they did a great job."
The junior tailback, who was relegated to backup just a month ago, let his play do most of the talking against Illinois -- and it was plenty loud. He had a career-high 36 carries and a career-high 201 rushing yards. He was never tackled in the backfield, accounted for nine first downs and 123 of his yards (5.85 ypc) came on first down alone.
He outgained Illinois' two backs by nearly a 4-to-1 margin and, with quite a few cut-backs and jukes, he made sure at least a few Illini defenders would be nursing sore ankles the next day.
"When he has a game like that it's not really surprising because you see it all year long," offensive guard
Miles Dieffenbach
said. "You're just waiting for him to have a breakout game like that."
During part of the locker room celebration, a video of which
was posted online
, the team erupted -- "All right, Billy!" -- in applause and cheers when Bill O'Brien mentioned Belton's 201-yard performance. Defensive backs
Adrian Amos
and
Ryan Keiser
smiled, waving their arms and recreating the game-ending interception. Belton, speaking with a large grass stain on his left shoulder pad, spoke in a whisper and deflected praise elsewhere.
The mild-mannered tailback, who prefers talking about his linemen instead of his career bests, has come a long way since last season, when he switched from wideout and struggled. O'Brien expected him to carry the ball about 25 times a game; he finished the season with 60 carries.
He looked lost at times. In the preseason, he admitted he just wasn't ready last year; he just wasn't a running back. But, this season, when fumbles forced
Zach Zwinak
to the bench against Michigan, Belton took over -- and looked just like the back O'Brien had envisioned. He rushed for 85, 98 and 201 yards in the past three games, and his 98 yards against Ohio State remains the most the Buckeyes have given up all season.
Belton glanced down Saturday afternoon and politely declined to address last season's "issues," of unfulfilled expectations and academic problems. But he didn't hesitate when asked just where this improvement came from.
"All of it is coaching," he said. "Instincts got me where I was last year; coaching got me where I am today."
Belton walked off the field Saturday and surveyed the chanting crowd. He swore he wasn't tired -- although he was probably just fine with a single overtime this time around -- and appeared to just take the entire experience in.
The closest he came to praising himself was retweeting a few congratulations over social media. It was a career-day for him, but he acted as if he'd been there before -- and, at this pace -- it sure looks like he'll be there again.
October, 24, 2013
10/24/13
8:00
AM ET
Injuries are an unfortunate part of the game. Every team must deal with them, but some teams get hurt harder than others. Today, we're taking a look at the teams that have been impacted the most this season. Here's our ranking of the top three:

1. Northwestern:
Injuries have played a major role in the Wildcats' 0-3 start in Big Ten play. All-American kick returner and star tailback
Venric Mark
has been healthy enough to play exactly one full game -- against Ohio State. Quarterback
Kain Colter
has been banged up just about all season as well. Both were reinjured at Wisconsin and missed all of last week's loss to Minnesota. In addition, top defensive tackle
Sean McEvilly
has played in only three games, while starting cornerback
Daniel Jones
suffered a season-ending knee injury in the opener at Cal.

2. Penn State:
The Nittany Lions had major depth issues to begin with because of NCAA sanctions. It hasn't helped that they have also dealt with a series of injuries. Tight ends
Matt Lehman
and
Brent Wilkerson
and defensive end
Brad Bars
were lost for the season. Linebacker
Mike Hull
was hurt for most of the first two months, as was tight end
Kyle Carter
. Wide receiver
Brandon Felder
missed the Indiana loss with an ankle problem. Linebacker
Ben Kline
has been limited after offseason shoulder surgery. Safety
Ryan Keiser
has been dealing with a hand injury since the Kent State game. This team can't afford many more injuries as it approaches the homestretch of the season.

3. Nebraska:
The Huskers' injury problems haven't adversely affected them -- at least not yet. Still, it's never easy when you lose your four-year starting quarterback, and
Taylor Martinez
hasn't played since Week 3 versus UCLA because of turf toe. He could be back this week, but All-American guard
Spencer Long
was lost for the season in the last game against Purdue with a knee injury. He'll be tough to replace.
September, 27, 2013
9/27/13
12:00
PM ET
Enjoy the fact that your royal overlords are a frail old woman and a tiny baby.
September, 23, 2013
9/23/13
9:00
AM ET
Remember two weeks ago when
we were debating Ohio State versus Michigan
as the Big Ten's top team? Well, the Buckeyes have created some separation from Michigan and the rest of the league with two dominant offensive performances. Michigan, meanwhile, either has a massive hangover from beating Notre Dame or a lot of issues to sort out.

We gave the Wolverines the benefit of the doubt after the Akron game and kept them at No. 2. After Saturday night's slopfest at Connecticut, we can no longer keep Michigan in the second slot. Northwestern looked lackluster for the second straight week but avoided the major scare Michigan has endured. Wisconsin, meanwhile, might be the league's second-best squad. We'll find out a lot about the Badgers this week in Columbus.
Minnesota and Iowa make nice moves this week, while Indiana takes a tumble.
As a reminder, we keep these rankings consistent with how we vote in the ESPN.com Top 25. Here's one final look at
last week's power poll
.
Let's get to the rundown ...
1. Ohio State (4-0, last week: 1):
We'll finally get a gauge on these Buckeyes as they open Big Ten play Saturday night against Wisconsin, but the recent results have been encouraging.
Braxton Miller
's absence once again didn't faze Ohio State, which scored 34 points in the first quarter and received a nice boost from running back
Carlos Hyde
in his season debut. Backup signal-caller
Kenny Guiton
continued his surge with a school-record six touchdown passes. Miller likely returns this week, but the Buckeyes' offense clearly is more than just one man this season.
2. Northwestern (4-0, last week: 3):
For whatever reason, Northwestern looks worse against weaker nonleague foes than seemingly stronger ones. The Wildcats had more positives against Cal and Syracuse than Western Michigan and Maine, although they were never in serious danger of losing in the past two weeks. Linebacker
Damien Proby
sparked a takeaway-driven defense Saturday. Quarterbacks
Kain Colter
and
Trevor Siemian
struggled but have two weeks to prepare for Ohio State, when running back
Venric Mark
is expected back.
3. Wisconsin (3-1, 1-0 Big Ten; last week: 4):
Credit Gary Andersen's players for not letting last week's unfortunate ending linger as they opened Big Ten play against Purdue. Wisconsin went back to what it does best, overpowering opponents with the run game, as
Melvin Gordon
and
James White
combined for 292 rush yards and four touchdowns. The Badgers' defense bottled up Purdue, surrendering only 12 first downs, 45 rush yards and 180 total yards. You have to like how Wisconsin is performing before this week's showdown in Columbus.
4. Michigan (4-0, last week: 2):
The Akron game could be forgivingly dismissed as a letdown. But when many of the same issues surface for the second straight week against a poor opponent, it's reason to be concerned. Michigan won't stay perfect much longer if quarterback
Devin Gardner
keeps turning over the ball (he leads the nation with 10 turnovers) and the offensive line endures periods of inconsistent play. Coach Brady Hoke and his staff have plenty of items to address this week before the Jug game against potentially undefeated Minnesota.
5. Nebraska (3-1, last week: 6):
After a turbulent eight days, Bo Pelini wanted his players to have some fun in their final nonleague tuneup. The offense had plenty despite playing without top quarterback
Taylor Martinez
, eclipsing 300 pass yards and 300 rush yards. Reserve quarterbacks
Tommy Armstrong
and
Ron Kellogg III
both performed well. The defense had a lot less fun, however, surrendering 465 yards in a performance that Pelini labeled its worst of the season. Nebraska has to get a handle on its defense this week before opening Big Ten play against Illinois.
6. Minnesota (4-0, last week: 7):
Knock San Jose State if you must, but the Spartans provided the biggest test for Minnesota to date, and the Gophers passed it with flying colors. Minnesota showed the physical dominance coach Jerry Kill has been waiting for, piling up 353 rush yards and six touchdowns behind quarterback
Mitch Leidner
and running back
David Cobb
. Although San Jose State's
David Fales
showed why he's an NFL prospect, the Gophers continued to force turnovers. Minnesota hosts Iowa this week in a game that has more than bacon on the line.
7. Michigan State (3-1, last week: 5):
The Spartans looked like the better team for much of Saturday's game at Notre Dame. But many of the same issues that surfaced in close losses last season -- stalled drives, dropped passes, not enough takeaways and missed field goals -- surfaced in a
17-13 setback
. Coach Mark Dantonio and his players say this feels different, and that they can overcome their errors to make some noise in a
wide-open Legends Division
. The defense remains championship-level, but there are other issues to sort out, namely quarterback.
8. Penn State (3-1, last week: 8):
Kent State's woeful offense turned out to be the perfect cure for a Nittany Lions defense that struggled mightily in a Week 3 loss to Central Florida. Safety
Ryan Keiser
and cornerback
Jordan Lucas
helped
trigger Penn State's first shutout since 2010
, as the Lions allowed only nine first downs and 190 total yards. The run game once again surged behind
Akeel Lynch
(123 rush yards) and others. Penn State's defense will face much greater tests when Big Ten play begins in two weeks.
9. Iowa (3-1, last week: 11):
Kirk Ferentz's crew is clearly on the rise after its most complete performance in recent memory. Iowa received numerous contributions on offense, two punt return touchdowns from
Kevonte Martin-Manley
and a pick-six from
B.J. Lowery
-- all during a 38-point first half against Western Michigan. Lowery added another pick-six in the second half and stomped the Broncos. After a rough start to the season, Iowa has the momentum it needs heading into a pivotal Big Ten opener against Minnesota.
10. Illinois (2-1, last week: 10):
The Illini sat back and watched the rest of the Big Ten in Week 4, enjoying the first of two open weeks. They'll have an excellent chance to improve to 3-1 this week against an 0-3 Miami (Ohio) squad that was shut out Saturday against Cincinnati and has scored just 21 points in its first three games. This is the perfect opportunity for Illinois' defense to rebound after getting gashed by Washington in Week 3. Illini quarterback
Nathan Scheelhaase
tries to bounce back after completing just 9 of 25 pass attempts.
11. Indiana (2-2, last week: 9):
Just when Indiana appears ready to turn a corner, it becomes Indiana again. For the second time in three games, Indiana limped out of the gate and fell behind, never finding a good offensive rhythm and struggling to stop Missouri's balanced attack. Missouri piled up 623 yards, a Memorial Stadium record for an Indiana opponent. The Hoosiers' defense remains far too vulnerable, and quarterback
Nate Sudfeld
struggled, throwing three interceptions. There's a lot to fix in the open week before Penn State comes to town.
12. Purdue (1-3, 0-1 Big Ten; last week: 12):
Trips to Madison haven't been kind to the Boilers, and Saturday's proved to be no exception as Darrell Hazell's team took a step back after an encouraging performance against Notre Dame. When you can't run the ball or stop the run, you have no chance, and Purdue struggled mightily in both areas. Hazell admits
Purdue must do some "soul searching"
following a rough start, and things don't get any easier this week against
Jordan Lynch
and Northern Illinois.
July, 16, 2013
7/16/13
12:00
PM ET
Like the Midsummer Classic, these links count:
June, 24, 2013
6/24/13
2:00
PM ET
Last summer, Penn State's
defensive backs used outside criticism for motivation
.

The Lions' secondary had to replace all four starters and
Malcolm Willis
and Stephon Morris reminded everyone of the gloomy forecast many had for the back four. "We're supposedly the worst unit on the team," Willis told his teammates after practices. "Everybody is doubting us, everybody is doubting our ability."
There are fewer doubts heading into the 2013 season. In fact, the secondary could be branded a potential strength for a defense that loses All-Big Ten performers up front (DT Jordan Hill) and at linebacker (Michael Mauti, Gerald Hodges).
Penn State returns both starters at safety from 2012 in Willis and
Stephen Obeng-Agyapong
, as well as
Adrian Amos
, who started at cornerback last fall but moved to safety in the spring and is
listed as a starter on the team's latest depth chart
. The safety group also includes
Ryan Keiser
, a reserve in 2012 who head coach Bill O'Brien labels a potential unit leader this season.
"We feel like we have better depth there than we had last year, and we've got a good amount of returning experience," O'Brien recently told ESPN.com. "And they're very well coached. That position has to be very well coached."
O'Brien credits defensive coordinator John Butler, the team's secondary coach in 2012, for pushing the right buttons with the personnel in the back four. This spring, the coaches moved
Trevor Williams
and
Malik Golden
from wide receiver to cornerback and safety, respectively. Williams emerged from the spring as a starter.
The Lions are undoubtedly younger at cornerback than at safety -- all players listed on the summer two-deep are freshmen or sophomores -- but they have flexibility with Amos, who had 44 tackles, two interceptions and three pass breakups last season.
"He's got to be ready to play a lot of different roles for us," O'Brien said. "He's a very valuable member of our team."
June, 13, 2013
6/13/13
2:25
PM ET
Penn State head coach Bill O'Brien released the team's post-spring depth chart on Thursday, which shows a few key position battles on tap when preseason practice begins in August. You can see the entire depth chart
here
.
O'Brien is clearly not ready to hand the starting quarterback job to junior college transfer Tyler Ferguson, who had the edge in spring practice. The first-string quarterback spot lists Ferguson OR incoming true freshman Christian Hackenberg, who will be given a chance to win the role in August.

The secondary also contains some battles, as fifth-year senior
Malcolm Willis
and redshirt junior
Ryan Keiser
are listed as tied for one of the starting safety jobs, while sophomores
Trevor Williams
and
Jordan Lucas
are co-starters for now at one of the cornerback spots. Keiser is a former walk-on who earned a scholarship just before spring ball began.
Adrian Amos
, who started every game at cornerback last year, is now listed as a starter at safety. He played some there this spring in anticipation of a possible position switch. Amos is ahead of last year's starter,
Stephen Obeng-Agyapong
, who has been dealing with a shoulder injury.
Junior
Kyle Baublitz
is ahead in the race to replace
Jordan Hill
at defensive tackle, with redshirt freshmen
Austin Johnson
and
Brian Gaia
behind him.
Also interesting: starting middle linebacker
Glenn Carson
is listed as the team's No. 1 long-snapper. Penn State players might have to become more versatile with reduced scholarship numbers.
Here's what O'Brien had to say in the official team release:
"We felt like it was a productive spring. We were able to accomplish a lot at all three areas. We felt like some of the younger players on our team were really improved. When we met with the players (after spring practice), I think they appreciate us sitting down with them and tell them one-on-one what their role is on the team and how they can change that role. We have a very good feeling about our team this summer."