September, 26, 2012
9/26/12
9:00
AM ET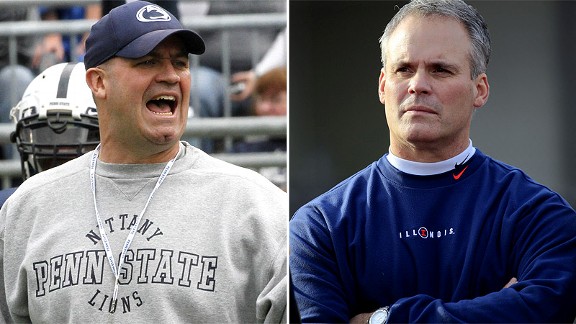 AP PhotoPenn State coach Bill O'Brien and Illinois coach Tim Beckman aren't exactly the best of friends.
During a week where Penn State's camp didn't talk much about Illinois or its poaching coach Tim Beckman, Bill O'Brien's long pause said it all.
Asked on Tuesday's Big Ten coaches' conference call about Beckman's claim Monday that he had reached out to O'Brien during Big Ten preseason media days in an attempt to diffuse any tension between the two, O'Brien hesitated for several seconds.
"Uh, I think I met him at the Big Ten media days," O'Brien said. "That's about it."
Translation: don't expect any pregame pleasantries between the two coaches Saturday in Champaign, Ill. The post-game interaction could be a little frosty, too.
O'Brien hasn't forgotten Beckman's not-so subtle attempt to lure Penn State players to Illinois after the NCAA imposed heavy sanctions on the Penn State program and made it as easy as possible for players to transfer, even within the Big Ten. Although O'Brien is trying to keep the focus on what Illinois' players do between the lines, the subplot of whether Illini coaches went over the line this summer undoubtedly adds to Saturday's game.
"It takes a lot to bother me," O'Brien said, "so I would tell you that, again, our players, myself, our staff, we're very focused on the task at hand."
O'Brien and his players were bothered in late July when Beckman sent eight assistant coaches to State College to pursue Penn State players. The Illini coaches weren't on campus but set up shop in town, making sure Lions players knew they were there. O'Brien passed a group of Beckman's assistants at the State College airport two days after the sanctions came down.
Penn State senior linebacker
Michael Mauti
didn't offer
much about the Illinois recruiting push
after last Saturday's win against Temple, only saying, "You can kind of gather how we feel about them." He didn't hold back in July during Big Ten media days, saying, "You're going to sit here and wish our program well and then try to pull the legs out from underneath us and take our kids? Well, you are playing by the rules. But there really are no rules. If you're gonna wish us well and then try to take our kids, then I got a problem with that."
He's not the only one, although the sentiment is different for each Penn State player.
What's clear is this: the Lions know what Illinois did last summer.
"Definitely, that's your first instinct," defensive tackle
Jordan Hill
said. "But it's all fun and games. Nobody's like, 'I hate these guys' or anything like that. It's just motivation. ... When it affects you in a negative way on and off the field, then you know it's going too far. You never want to take it too far to where it's affecting you badly."
Illinois ended up landing one Penn State player: reserve offensive lineman
Ryan Nowicki
. Beckman on Monday said he didn't regret the recruitment, noting that Illinois broke no rules, alerted Penn State of its intent and had been first contacted by Nowicki.
While Beckman wishes the situation hadn't attracted so much attention, he simply wanted to give Nowicki the opportunity to transfer.
"We did everything under the rules, and everybody was notified prior to anything happening," he said Tuesday. "... I'm sure it has a little bit of an effect on this football game, but it's still about tackling and blocking and doing the things right fundamentally to be successful."
Illinois quarterback
Nathan Scheelhaase
expects to see a geared-up Penn State squad Saturday, and while he's aware that the summer recruitment attempt could fuel some of the men in white helmets, both teams share the same primary objective: to start 1-0 in Big Ten play.
"Bulletin-board material and things that happened in the past can only last you for so long," Scheelhaase told ESPN.com. "At the end of the day, you've got to strap up and play football. That's what it comes down to."
August, 28, 2012
8/28/12
9:00
AM ET
We're just two days away from the 2012 college football season, and it's time to check out the top Big Ten games to watch this fall, in chronological order.
Here are 12 contests you don't want to miss ...
Friday
Boise State at Michigan State:
Although Michigan is the Big Ten's highest-rated team entering the season, Michigan State is getting more love as the league favorite. The Spartans get a chance to make a statement against a Boise State team that has built its reputation on winning games like these.
Saturday
Michigan vs. Alabama (at Arlington, Texas):
No regular-season game can shape the Big Ten's national perception more than this one, as Michigan takes on the defending national champ at JerryWorld. After an 11-win season in its first year under Brady Hoke, Michigan looks to take the next step and re-establish itself as a national power. Quarterback
Denard Robinson
has been very good in September throughout his career, and he can make a push for the Heisman Trophy with a big game against Bama.
Sept. 22
Michigan at Notre Dame:
The teams' past three meetings have had plenty of drama, thanks in large part to Robinson, who engineered Michigan's historic comeback under the lights last year in Ann Arbor. Robinson attempts to complete a career of tormenting the Irish in another night game at Notre Dame Stadium. Both teams play brutal schedules this fall, but Notre Dame, as the home team, really needs to end its slide against the Maize and Blue.
Sept. 29
Wisconsin at Nebraska
: Wisconsin rudely welcomed Nebraska to the Big Ten last fall with a 48-17 walloping in Madison. The Huskers try to avenge the loss as they open Big Ten play at Memorial Stadium. This is a big one for Nebraska quarterback
Taylor Martinez
, who threw three interceptions against the Badgers in 2011. The game also pits the league's top two running backs in Wisconsin's
Montee Ball
and Nebraska's
Rex Burkhead
.
Penn State at Illinois:
This game wouldn't have made the list six weeks ago. That was before the NCAA hammered Penn State with sanctions and Illinois coach Tim Beckman sent eight assistant coaches to Happy Valley to try to poach Lions players (he landed one in offensive lineman
Ryan Nowicki
). It's safe to say Beckman won't be receiving a Christmas card from Bill O'Brien. The Big Ten opener in Champaign has gotten a lot more interesting as two similar teams dealing with change face off.
Oct. 6
Nebraska at Ohio State:
Nebraska coach Bo Pelini returns to his alma mater for a critical cross-division game. The Huskers need to prove they can win in a hostile Big Ten venue, while Ohio State plays its league home opener under Urban Meyer. If you enjoy athletic quarterbacks, be sure to tune in as Martinez matches up with Ohio State's
Braxton Miller
, who flustered the Huskers last season before leaving the game with an ankle injury.
Oct. 20
Michigan State at Michigan:
This could be the game of the year in the Big Ten as the league's two highest-rated teams in the preseason square off. It's a rivalry game and a contest that could shape the race in the Legends Division. Last year's spicy contest in East Lansing only thickens the plot, and all eyes will be on Michigan State's
Will Gholston
and Michigan's
Taylor Lewan
as they reunite. The Spartans aim for their first-ever five-game win streak against the Wolverines.
Oct. 27
Michigan State at Wisconsin:
Blockbuster Saturday in the Big Ten begins with a rematch of the 2011 league title game. These teams brought us plenty of drama in 2011, and could be on course for a rematch in Indianapolis. The game features two outstanding running backs in Ball and Michigan State's
Le'Veon Bell
, as well as two quarterbacks -- Wisconsin's
Danny O'Brien
and Michigan State's
Andrew Maxwell
-- with something to prove. The Badgers have dropped just one home game to Michigan State since 1991.
Michigan at Nebraska:
Another pivotal Legends Division showdown takes place under the lights at Nebraska's Memorial Stadium. Although both teams face tests before this game, they should both be in the division race. Martinez and Robinson are two of the league's most exciting offensive players. Nebraska tries to avenge last year's blowout loss in Ann Arbor against a Michigan team that will be accustomed to hostile environments.
Nov. 3
Nebraska at Michigan State:
The final matchup between Legends Division frontrunners takes place in East Lansing. It completes a tortuous stretch for Michigan State (Michigan, Wisconsin, Nebraska), and marks another chance for Nebraska to prove itself on the road in Big Ten play. The Huskers dominated last year's contest, but Michigan State hasn't lost a home game since the 2009 season.
Nov. 17
Ohio State at Wisconsin:
The Buckeyes-Badgers rivalry should be the top Leaders Division matchup for years to come, and while Ohio State's bowl ban takes away some luster from this year's class, no one has forgotten the post-signing day spat between Bret Bielema and Meyer. There's no love lost between these two programs and their coaches, and though Ohio State can't win the division this year, it can shape the race with a victory in Madison, where Wisconsin has been dominant under Bielema.
Nov. 24
Michigan at Ohio State:
Hoke and Meyer meet for the first time in The Game, which should pit two good teams for the first time since the 2007 season. Michigan could be in the mix for the Legends Division title and possibly more, while Ohio State knows its season will end against the hated Wolverines. The Robinson-Miller matchup adds intrigue, and both teams should be strong on the defensive side. The unique circumstances surrounding the game make it a must-see event.
August, 20, 2012
8/20/12
2:00
PM ET
In the not so distant past, when a Big Ten player decided to transfer, it almost always signaled the end of his Big Ten career.
The Big Ten's old policy stipulated that a player who transferred from one Big Ten school to another couldn't receive athletics aid at his new destination. While some players still made the moves and paid their own way -- Wisconsin-turned-Minnesota safety Kim Royston comes to mind -- the rules typically steered transfers to other leagues.
The league since has loosened its restrictions, and several players seem to be capitalizing. Four players transferred within the conference this summer.
Kenny Hayes, a former Ohio State defensive lineman who
reportedly is transferring to Michigan State
, is the latest player to make a move within the league. Illinois last week
added Nebraska transfer Ryan Klachko
, an offensive lineman who redshirted in 2011. The Illini also recently picked up offensive lineman Ryan Nowicki, one of nine Penn State players to transfer from the program after the NCAA leveled heavy sanctions July 23. Another offensive lineman, Brian Bobek,
transferred from Ohio State to Minnesota in June
.
Nowicki is eligible to play immediately, according to the relaxed rules the NCAA devised for players interested in transferring from Penn State. Klachko, Hayes and Bobek both must sit out a season before becoming eligible in 2013.
But all four can receive immediate scholarships at their new schools, thanks to a recent change in the Big Ten's transfer policy.
Beginning with the 2011-12 academic year, athletes transferring within the Big Ten can receive scholarships from their new schools as long as they receive their full release.
Bobek won't be on scholarship until January only because Minnesota is at its limit for the season. But if Minnesota had room for him right now, he could receive aid.
The highly publicized case of former Wisconsin basketball player Jarrod Uthoff this spring had
more to do with Wisconsin restricting Uthoff's options
than the Big Ten making it difficult for Uthoff financially. Uthoff
transferred to Iowa in June
and will pay his own way for a year before being put on scholarship.
It'll be interesting to see if the revised policy on intraleague transfers leads to more moves within the Big Ten. While the Big Ten doesn't want to see this become a major trend, the league made the right call in allowing immediate scholarships to kick in. It's one thing for schools to be childish and hypocritical about granting releases, but league should be looking out for the players.
August, 15, 2012
8/15/12
1:45
PM ET
In a move that had been rumored for some time, former Nebraska offensive lineman Ryan Klachko officially
transferred to Illinois
on Wednesday.
Klachko, who redshirted last year for the Huskers, will sit out this season and will lose a year of eligibility, giving him three seasons to play for the Illini. He's a 6-foot-4, 290-pound guard who was an ESPN 150 recruit in the class of 2011.
The transfer makes sense because Klachko is from Springfield, Ill. And new head coach Tim Beckman made no secret of his desire to acquire more depth, which is a big reason why Illinois was so interested in Penn State transfers. They landed one in ex-Nittany Lions offensive lineman
Ryan Nowicki
, who's eligible this year.
So if you're keeping score at home, that's two offensive linemen who have transferred from other Big Ten schools to Illinois (both named Ryan, coincidentally). And that's two high-profile offensive linemen who have left Nebraska, as
Tyler Moore
went home to Florida this weekend and reportedly will not return to Lincoln until 2013, if at all.
Intra-conference transfers are still somewhat rare. It will be interesting to see if Beckman ruffles feathers of other coaches in the league by bringing some in. Then again, his main goal is just winning at Illinois.
August, 9, 2012
8/09/12
5:45
PM ET
By
Josh Moyer, ESPN RecruitingNation
| ESPN.com
STATE COLLEGE, Pa. -- Cornerback
Stephon Morris
gave a slight shrug Thursday before firing back at one of his former teammates, an offensive lineman who decided to transfer to another Big Ten school.

"C'mon, that's like me saying I'm going to transfer to Michigan. How would you feel? How would they feel?" he said. "Nah, that's a coward move to me."
Offensive tackle
Ryan Nowicki
, a redshirt freshman guard, was the lone Penn State player to transfer to another Big Ten school when he made the move to Illinois. Eight others transferred out of conference, and Morris wished them the best. But Nowicki?
Morris just shook his head.
"I haven't talked to none of them since camp started," he added.
Morris' brief rant offered some insight into the minds of returning players, who mostly remained mum after the nine transfers. Offensive tackle
Adam Gress
acknowledged anger was an initial reaction, but Morris' emotions didn't seem to wane a week after Nowicki's transfer made headlines.
Last Thursday, the night the news broke, Morris tweeted: "One thing u don't do is Jump from big ten school to another big ten school." The tweet came about a week after Illinois' coaching staff reportedly attempted to poach players while on-campus.
Still, most players Thursday deflected any talk of Nowicki. Most tempered their words and labeled the nine departures as relatively low.
"If you're taking a 120-question test and you get nine questions wrong, that's a pretty good grade," safety
Malcolm Willis
said. "That's how I look at it."
Added defensive tackle
Jordan Hill
: "That's a great number. We have 100-some guys on the team and, for only nine to be gone, that says a lot about who we are and who Penn State is."
Nine players -- three regular starters -- defected from Penn State since the NCAA handed down unprecedented sanctions that rolled back scholarships and banned postseason appearances for four years.
Those transfers include tailback
Silas Redd
(USC), quarterback
Rob Bolden
(LSU), linebacker
Khairi Fortt
(Cal), safety
Tim Buckley
(NC State), tight end
Kevin Haplea
(Florida State), defensive tackle
Jamil Pollard
(Rutgers), wide receiver
Justin Brown
(Oklahoma), kicker Anthony Fera (Texas), and Nowicki (Illinois).
August, 7, 2012
8/07/12
12:00
PM ET
August, 3, 2012
8/03/12
12:00
PM ET
Welcome back to the practice field, Iowa and Ohio State.
August, 2, 2012
8/02/12
3:55
PM ET
Illinois made waves last week by sending eight assistant coaches to State College to try to lure Penn State players. The aggressive and controversial approach has yielded at least one Nittany Lion.
Offensive lineman
Ryan Nowicki
, a redshirt freshman guard, is
transferring from Penn State to Illinois
, colleague Scott Powers and others are reporting. Nowicki's departure from Penn State has been in the works for a little while, and the 6-foot-5, 280-pound Glendale, Ariz., native, reportedly was deciding between Illinois, Washington and Arizona State.
The Big Ten has waived its intra-conference transfer rule for current Penn State players wishing to leave, Chad Hawley, the league's associate commissioner for compliance, told ESPN.com. So Nowicki will be eligible to play immediately for the Fighting Illini. A three-star recruit who redshirted during the 2011 season, Nowicki adds depth to an Illinois offensive line looking to replace two starters.
Nowicki is the eighth Penn State player to transfer since NCAA sanctions against the program came down last week. He's not a significant loss for the Lions at this point, but you have to wonder how many more will follow. One player Penn State can't afford to lose is wide receiver
Justin Brown
, who is considering an offer from Oklahoma.
Illinois would like to add more Lions to its roster, which features just 80 scholarship players (not counting Nowicki), first-year coach Tim Beckman said last week.
Penn State and Illinois face one another in the Big Ten opener Sept. 29 in Champaign.
August, 1, 2012
8/01/12
8:00
AM ET
Rob Bolden
's long, strange journey has led him to the Bayou.
Bolden, Penn State's opening-game starter at quarterback the past two seasons, will
officially join LSU's fall camp Wednesday
, according to a report in the New Orleans Times-Picayune. Bolden's exit has been in the works for a while. He asked to be released from his scholarship before the NCAA sanctions against Penn State's football program came down, a source tells ESPN. Bolden was removed from Penn State's official roster earlier this week.
[+] Enlarge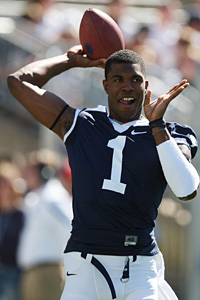 Rob Christy/US PresswireRob Bolden reportedly asked to be released from his scholarship before Penn State was sanctioned.
The signal caller had an odd career at Penn State, to say the least. He claimed the starting job in preseason camp two summers ago and became the first true freshman quarterback to start the opener for Penn State in 100 years. He had mixed results in the first half of the 2010 season, but seemed to be improving before suffering a concussion in a win at Minnesota. Bolden recovered, but was bypassed by
Matthew McGloin
, a decision that didn't sit well with Bolden or his family. Bolden tried to transfer after the 2011 Outback Bowl, but then-coach Joe Paterno refused to grant him his release. He ended up remaining at Penn State and earned the starting nod for the 2011 season but struggled, eventually giving way to McGloin.
Bolden and McGloin competed for the starting job this spring alongside
Paul Jones
, but Bolden ended up third on the depth chart. He finishes his Penn State career having completed 165 of 328 passes for 2,045 yards with seven touchdowns and 14 interceptions.
Bolden clearly has talent, but he couldn't find the consistency needed to lead a Big Ten offense. It'll be interesting to see how he fares at LSU, which had its own quarterback troubles last season.
While Penn State fans lament
Silas Redd
's departure to USC, they likely won't miss Bolden too much after his recent struggles. Still, he's another player to capitalize on the liberal transfer policy, joining Redd, tight end
Kevin Haplea
(Florida State) and safety
Tim Buckley
(NC State). Linebacker
Khairi Fortt
could be the next to depart as he recently visited Cal, and offensive lineman
Ryan Nowicki
will transfer to Illinois, Washington or Arizona State.
McGloin and Jones enter the 2012 season as Penn State's top two quarterbacks.