April, 15, 2014
Apr 15
12:00
PM ET
Heading to Hawkeye Country later today. Any recommendations?
April, 12, 2014
Apr 12
9:08
PM ET
LINCOLN, Neb. -- The Red-White game began in truly unique fashion on Saturday as Nebraska coach Bo Pelini exited the locker room for the Cornhuskers' traditional Tunnel Walk
cuddling a cat
.
In continuing a series of humorous moments related to his Twitter alter-ego, Pelini held the feline aloft seconds before the Huskers took the field for a scrimmage won by the offense, 55-46, over the defense before a crowd of 61,772 at Memorial Stadium.
[+] Enlarge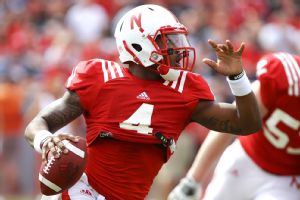 AP Photo/Nati HarnikTommy Armstrong Jr. still has work to do to solidify his hold on the starting quarterback role at Nebraska.
None of that means much to the Huskers in 2014. Here's a look at what does matter from Saturday:
As suspected, this stable of I-backs might rate as Nebraska's best in many years.
With
Ameer Abdullah
, the nation's top returning rusher, on the sideline,
Imani Cross
,
Terrell Newby
and
Adam Taylor
put on quite a show. Cross, in particular, showed great skill on his six carries, netting 100 yards and two touchdowns. The junior produced scoring runs of 20 and 39 yards in the first half against the No. 1 defense. Cross flashed a few moves and, of course, the power that helped him rush for 447 yards and 10 touchdowns last season. Newby gained 51 yards and caught a pass out of the backfield. The redshirt freshman Taylor rushed for 41 yards. He actually looked more impressive in other spring workouts. Each of the top four offer skills to help this offense.
The quarterback situation remains unsettled.
Tommy Armstrong Jr
. used this spring to solidify a once-tenuous hold on the No. 1 position, but he's still not a lock to start on Aug. 30, when Florida Atlantic visits Lincoln.
Johnny Stanton
and
Ryker Fyfe
displayed improvement through the 15 practices of March and April. Stanton, in particular, looks much more comfortable and in command of the offense in comparison to a month ago. If Armstrong slips, either backup is capable of snatching the job. Stanton threw for a team-high 135 yards and two scores on Saturday; Fyfe threw for 89. Neither QB was intercepted, and safety
Nathan Gerry
picked off Armstrong on the first drive of the day. Look past the numbers, though: Armstrong faced better competition. This position is about leadership. Because of his experience and overall poise, Armstrong has an edge. But watch the race for No. 2, and know the gap could be further sliced.
No obvious hole exists within the Nebraska defense.
The Huskers looked strong at linebacker to start the spring. The results of Saturday did nothing to dispel that belief as
Zaire Anderson
,
Michael Rose
and
Josh Banderas
-- a potential starting trio -- produced nice moments. Optimism comes from the growth of the secondary and the line. At safety, Gerry played well before suffering a shoulder stinger.
LeRoy Alexander
finished a solid spring at a position set to grow stronger with the return of
Corey Cooper
.
Charles Jackson
developed into a good option at the nickel spot. Up front, even without
Randy Gregory
on Saturday, the linemen held their own.
Greg McMullen
showed impressive pursuit of Armstrong on a sack.
Vincent Valentine
and
Maliek Collins
also appeared to play well.
April, 10, 2014
Apr 10
1:00
PM ET
A big crowd, as usual, is expected on Saturday as Nebraska wraps spring practice amid the annual festivities on campus that accompany the Red-White Game. Here's a preview:
When:
Saturday, 3 p.m. ET
Where:
Memorial Stadium, Lincoln, Neb.
Admission:
Reserved seats are $10. As of Wednesday, nearly 48,000 tickets had been sold. Youth in eighth grade or below receive free admission for participating in the Drug Free Pledge at halftime; a complimentary ticket is required. Free youth tickets are available only at the stadium ticket office.
TV:
Big Ten Network (Saturday at 8 p.m. ET)
Weather forecast:
Warm and possibly wet. A mix of clouds and sun is forecast, with a high of 82 degrees and wind from the south at 16 mph. The chance of rain is 60 percent during the day, with the potential for severe thunderstorms.
[+] Enlarge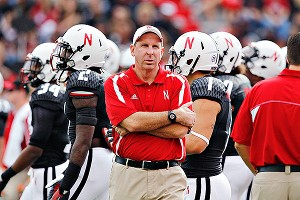 Bruce Thorson/USA TODAY SportsBo Pelini will watch from the sidelines as his Cornhuskers close the spring with Red-White Game on Saturday.
What to watch for:
First, know that the format is atypical. Coach Bo Pelini plans to roll out a scoring system that awards points to the offense and defense for good plays. There will be no Red and White teams, as in the past. The top offense will match against the No. 1 defense, No. 2 against No. 2 and so on. Leave the social scene outside the stadium a few minutes early, so you can get a grasp on the format before kickoff. An explanation will likely be displayed on the HuskerVision screens.
Nebraska opted for this change in order to protect its players from injury. With a roster of two teams, the Huskers would have been spread thin for the coaches' comfort level.
That said, you'll see plenty of the top Huskers, minus returning All-Big Ten honorees
Ameer Abdullah
at I-back and defensive end
Randy Gregory
. They've done enough this spring.
Behind Abdullah, Nebraska features an exciting group of backs. Keep an eye on the expanded pass-catching role of
Terrell Newby
and the tantalizing combination of size and speed offered by redshirt freshman
Adam Taylor
.
Of course, the quarterbacks will draw many eyes. Watch how
Tommy Armstrong Jr
. commands the attention of teammates and shows a noticeable improvement over his redshirt freshman season in surveying the field. The performance on Saturday of
Johnny Stanton
and
Ryker Fyfe
will serve as the last opportunity for nearly four months to impress coaches in their bid for the job of No. 2 QB.
Defensively,
Josh Mitchell
provides a vocal presence from his cornerback position. Alongside Mitchell, safeties
LeRoy Alexander
and
Nathan Gerry
have enjoyed breakout springs to help solidify the secondary. Corners
Jonathan Rose
and
Byerson Cockrell
are locked in a battle, and
Charles Jackson
has appeared to finally come of age in taking control of nickel spot.
Up front,
Vincent Valentine
and
Maliek Collins
have taken hold of the top spots in the interior and may give Nebraska its most talented pair of tackles in five years. Collins also shifts to the outside, where the Huskers are thin and have begun to look to linebacker
Marcus Newby
as an intriguing option to rush the passer.
March, 19, 2014
Mar 19
12:00
PM ET
March, 11, 2014
Mar 11
9:00
AM ET
Nine Big Ten programs will feature true quarterback competitions this spring, and we're taking a closer look at the candidates, the circumstances and the stakes of each race. Today's installment: Nebraska.
LINCOLN, Neb. -- Competition means something different to everyone.
It's a battle for some; for others, a necessity.
For
Tommy Armstrong Jr
., competition is a way of life. He embraced it last season when many might have withered, grasping the top quarterback job at Nebraska as a redshirt freshman in place of injured, career-long starter
Taylor Martinez
.
Armstrong fought consistency but came out on top, winning his final start against Georgia in the Gator Bowl.
[+] Enlarge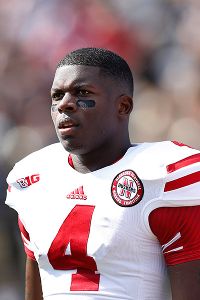 Joe Robbins/Getty ImagesWith eight starts under his belt, Tommy Armstrong Jr. is intent on being Nebraska's starting quarterback in 2014.
And that's when
Kenny Bell
was sure about Armstrong.
"You know guys who have that fire inside," said Bell, a rising senior and the Huskers' top wide receiver.
Notably, Bell points to I-back
Ameer Abdullah
, the top returning rusher nationally.
"In my mind, he's the best running back in the country," Bell said. "Tommy has that same kind of fire.
"I love Tommy. I'm all in with Tommy. I've got nothing but faith in the kid. What he showed me against Georgia, he might not make every perfect read or every perfect play, but the kid will compete. That's what I care about. That's most important to me -- guys who genuinely care about this team and compete with everything they have. That's what I love and respect about Tommy."
Spring practice began at Nebraska on Saturday with an open quarterback competition among Armstrong, redshirt freshman
Johnny Stanton
, senior wide-receiver convert
Jamal Turner
and walk-on sophomore
Ryker Fyfe
.
Seventh-year coach Bo Pelini said he doesn't classify the sophomore Armstrong, who started eight games and threw for 966 yards in 2013, in the same category as returners such as Bell or Abdullah.
Realistically, though, Armstrong owns the inside track to start next fall. And he doesn't plan to give an inch.
"Everything's a competition," Armstrong said on Monday after the Huskers' second of 15 practices this spring. "Anything can happen. Last year, my number was called. This year, I'm the No. 1 guy right now, and I just want to keep that."
The confident Texan completed 51.9 percent of his throws (68 of 131) and threw nine touchdowns. He also tossed eight interceptions and lost two fumbles.
Freshmen stuff, Armstrong said.
He often repeated mistakes within a game.
"It was a domino effect," he said.
No more. Armstrong says he is smarter and more in control. He's poised to serve as a leader of the quarterbacks despite his tenuous position among the group.
Looking back, he said, he wasn't nearly as ready for last season -- just 15 months out of high school -- as he thought at the time of his first start in September. The competition fueled him.
"Last year it was just a thing that happened," Armstrong said. "But this year, I'm trying to work as hard as I can to become the No. 1 guy and keep that in control, become better at the game, become better at what I did last year."
Important people back him. And not just Bell.
"He's a very confident kid," said Abdullah, returning for his senior season after rushing for 1,690 yards in 2013. "It doesn't take you long to see that ... We have a lot of faith in him. I expect a lot out of Tommy."
Abdullah described Armstrong, six months after his first start, as a "guy with influence" among the Huskers.
"We need him to be a leader," Abdullah said. "All the guys look up to him, because, let's face, he touches the ball every play."
Abdullah won't let Armstrong rest of his accomplishments. After all, he's not alone in Lincoln as an accomplished quarterback.
Stanton, a state-champion QB from Rancho Santa Margarita, Calif., earned co-MVP honors at the prestigious Elite 11 competition in the summer of 2012.
Stanton seems to enjoy a good competition, too. So far, like Armstrong a year ago, he's fighting to prove himself.
Armstrong shared a close relationship last season with senior
Ron Kellogg III
.
It's not like that with Stanton.
"We like competing," Armstrong said. "That's just how we were taught, growing up when it comes to our football, where we're from. Texas is big-time football; California is big-time football. That's the competitive nature of both of us."
Turner, who came to Nebraska as a quarterback three years ago, adds another element to the mix.
"One thing I try to bring is that swag," he said. "Everyone else can see that and play a little harder -- play with the swag that I have."
Armstrong and Stanton directed state championship runs in their home states, as did true freshman
Zack Darlington
in Florida two years ago. Darlington joined the Huskers in January. Classmate
A.J. Bush
plans to enroll in August. He won a state title last fall in Georgia.
Clearly, Pelini likes the winning pedigree and the competition it breeds.
"I want each guy to worry about making themselves better each and every day," he said. "That's the key. Don't worry about where you're repping, who you're repping with or anything else. Try to play efficient, winning football.
"I think they're all guys who are athletic. They have the tools to get it done. But across the board, they've got a lot to learn."
March, 8, 2014
Mar 8
5:30
PM ET
LINCOLN, Neb. -- How's this for a surprise on the opening day of spring football practice? Nebraska has a new quarterback.
Well,
Jamal Turner
is not new; the 6-foot-1, 185-pound senior caught 60 passes over the past three seasons. And he has played quarterback -- in high school.
[+] Enlarge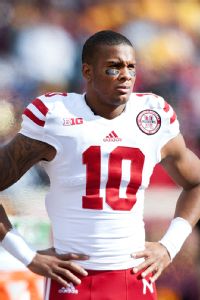 Hannah Foslien/Getty ImagesJamal Turner will workout at both receiver and quarterback this spring.
Turner shared time at QB on Saturday with several others behind
Tommy Armstrong Jr
. as the Huskers completed the first of 15 spring practices at their indoor practice facility.
Coach Bo Pelini said Nebraska plans "significant reps" for Turner in March and April.
Turner has tried the position in the past at Nebraska, Pelini said, but never in such an expanded role.
"This spring is a time for us to experiment and maybe take it to a different level," Pelini said. "He likes it. He thinks he's [NFL quarterback]
Russell Wilson
. Jamal isn't lacking for confidence.
"I thought he handled some things pretty well. He was further ahead than I thought he'd be. But when you play wideout, you kind of get how the offense runs."
Turner also spent time at receiver on Saturday. He accounted for more than 10,000 yards in his high school career at Arlington (Texas) Sam Houston.
Armstrong performed well on Saturday with the top offensive unit. Redshirt freshman
Johnny Stanton
also worked at the position in addition to walk-ons
Ryker Fyfe
and
Tyson Broekemeier
. Freshman
Zack Darlington
, who joined the team in January, wore a green jersey to restrict contact in his first workout.
Senior I-back
Ameer Abdullah
said he liked the element that Turner adds.
"We're just trying every new wrinkle we can to make this offense more dynamic," Abdullah said.
Pelini said he was pleased with the opening day.
"I liked the tempo, the enthusiasm," the seventh-year coach said. "Obviously, different guys are at different levels right now, as far as their knowledge, but I thought it was a good start."
The Huskers have installed changes this spring to terminology and other logistics in an attempt to simplify aspects of the offense.
Pelini said he expected more mistakes than occurred.
"I was surprised how smooth it went," he said. "There were very few missed assignments and alignment errors."
Other Notes
Secondary matters
: Senior safety
Corey Cooper
, Nebraska's top tackler in 2013, sat out on Saturday with turf toe, Pelini said. Cooper suffered the injury last week in a conditioning drill.
"I'm not going to push Coop at this time of year," Pelini said. "We want to make sure he's 100 percent."
Sophomores
LeRoy Alexander
and
Nathan Gerry
, a converted linebacker, played safety with the top defense in Cooper's absence.
Pelini said the Huskers used juniors
Charles Jackson
and
Byerson Cockrell
, a newcomer out of junior college, at nickel, the spot manned last season by versatile defender
Ciante Evans
. Junior
Jonathan Rose
performed well at cornerback opposite returning starter
Josh Mitchell
.
Getting bigger
: All-Big Ten defensive end
Randy Gregory
has made important strides in recent weeks, Pelini said, as the junior attempts to add weight.
The 6-6 Gregory, who recorded 10 ½ sacks last season, looked especially thin in January. But Gregory is back up to about 235 pounds, the coach said.
"His offseason has only begun," Pelini said. "He's got a long way to go before we play a game.
"Every day is important for Randy to get bigger."
Time to reflect
: Senior receiver
Kenny Bell
caught 52 passes for 577 yards last season and remains on track to shatter school records in both categories.
He's not resting on his accomplishments, though.
"I was disappointed in my year last year, for selfish reasons," Bell said. "I wanted to perform better."
Bell's production dropped from his sophomore season, when he caught 50 passes for 863 yards and a career-best eight touchdowns.
"I had a lot of time to self-reflect and think about it over these past three months," he said.
Spring football is often unenjoyable, Bell said, but he's determined to improve.
"I'm here to work, definitely. I want to win football games with my team. I want to do something that hasn't been done here in a long time, and that's win a conference championship."
January, 23, 2014
Jan 23
11:00
AM ET
In the three weeks since Nebraska beat Georgia to extend its streak of nine-win seasons, the Huskers have replaced secondary coach Terry Joseph with Charlton Warren, who is already making himself known on the recruiting trail, and retained I-back
Ameer Abdullah
for his senior season. That's not a bad start to the offseason, but there's more to do.
We continue our Big Ten offseason to-do lists with Nebraska.
[+] Enlarge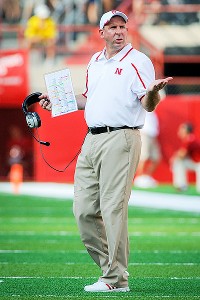 Eric Francis/Getty ImagesTurnovers have been a big issue for the Huskers under Bo Pelini.
1. Fix the turnovers.
Enough is enough, we know. You don't want to hear how the Huskers must address their issue with turnovers before taking the next step as a program. But it's
that
important so we'll keep talking about it. Nebraska extended an ugly trend under coach Bo Pelini last season, finishing 117th nationally in turnover margin at minus-11. In games after the nonconference season, the Huskers were dead last at minus-15; no other team was worse than minus-12. And those numbers include the Taxslayer.com Gator Bowl in which Nebraska finished plus-1. Without its two forced turnovers against the Bulldogs, the Huskers would not have won. It's a good launching point into an offseason in which all of the Huskers -- offensive, defensive and special teams players -- ought to work regularly to make this area a strength next season.
2. Solidify the QB spot.
Tommy Armstrong Jr.
started eight games as a redshirt freshman. He was brilliant at times against Michigan and Georgia and played well against lesser competition like Illinois and South Dakota State. Inconsistency was a concern, but Armstrong figures to improve in the coming months. After all, he was thrown into the mix with little warning after
Taylor Martinez
's toe injury forced the senior out in September. Armstrong has plenty of time to prepare the right way for next season. And that's the point: Give him time. Nebraska can have a nice quarterback competition in the spring with Armstrong and redshirt freshman
Johnny Stanton
, and even walk-on sophomore
Ryker Fyfe
and true freshman and early enrollee
Zack Darlington
. But by mid-April, offensive coordinator Tim Beck would be best served to identify a leader and define his role before August. If it's Stanton, go with it. But likely, the Huskers' offense will go as far as Armstrong can take it next fall.
3. Plug holes in the secondary.
Spring practice will be big for the defensive backs. Not only do they get to work out the kinks with Warren, their new position coach, but those 15 practices in March and April must go a long way toward identifying replacements for departed cornerbacks
Ciante Evans
and
Stanley Jean-Baptiste
. Start with
Josh Mitchell
, who collected two turnovers in the Gator Bowl. Mitchell will be a senior and part of the Huskers' core of leadership. Safety
Corey Cooper
gives them another solid piece in the secondary.
Harvey Jackson
and
LeRoy Alexander
showed flashes last season, but the Huskers need more bodies. From a promising group of inexperienced players like
Charles Jackson
,
Jonathan Rose
,
D.J. Singleton
and
Boaz Joseph
, Nebraska will search for key contributors this spring.
More to-do lists:
June, 4, 2012
6/04/12
12:00
PM ET
These are questions for wise men with skinny arms.