November, 15, 2014
Nov 15
6:35
PM ET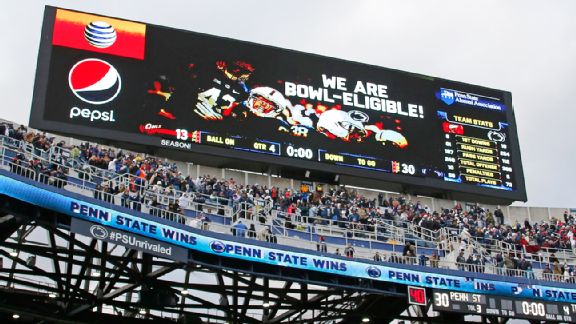 AP Photo/Gene J. PuskarOn Saturday, Penn State became bowl eligible for the first time since the NCAA levied sanctions against the program in 2012.
STATE COLLEGE, Pa. -- Linebacker
Mike Hull
never thought this day would come.
He can still remember the eerie silence on July 23, 2012, when unprecedented sanctions played on the five TVs in the players' lounge. He can remember his Penn State teammates' anger over the four-year postseason ban. He can remember the doubt and the second-guessing -- but never daydreaming about a bowl.
Not until Saturday. Not until he sat in a warm media room, following a bowl-clinching win over Temple, and reflected on how the Nittany Lions went from a program seemingly on life support to this.
"It's a huge day for the program and for everything we've been through," a smiling Hull said, following Penn State's
30-13
win over Temple and its first bowl-eligible season since 2011.
"I didn't think it was going to happen. I thought we were just going to play 12 games for each other -- and just live with that the rest of my career."
[+] Enlarge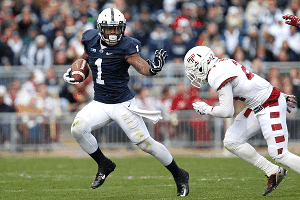 Matthew O'Haren/USA TODAY SportsBill Belton talked about the prospects of bowl eligibility this past summer. Now, the Penn State RB can celebrate it.
Many of Hull's teammates felt the same way. When the NCAA levied sanctions against Penn State in 2012, most outsiders thought the program was finished. Bowl games weren't a priority because the entire program was a question mark. The question wasn't, "When will Penn State make a bowl?" It was, "Will Penn State survive?"
To go from that kind of mindset to Saturday's celebration -- it was a contrast not lost on the seniors.
On the field, senior defensive end
Brad Bars
flung his gloves into the crowd. Hull leaped in the air to high-five fans' outstretched arms hanging over the tunnel, and offensive guard
Miles Dieffenbach
chest-bumped anyone in sight.
"Today was a special day," Dieffenbach said. "It's been a long five years here, a lot of ups and downs. … To finally have the opportunity to play in a bowl game -- I couldn't be happier for the guys, past or present."
Even this past July, during Big Ten media days, Penn State's players refused to reflect on possible bowl scenarios. They didn't want to get their hopes up. It wasn't until September that the NCAA lifted the Lions' postseason ban, so a trio of seniors just hemmed and hawed about the possibilities in Chicago.
Running back
Bill Belton
offered some mild back-and-forth on the prospect of a bowl back in July -- "How would you react if you were on a bowl ban?" -- before saying it's something Penn State doesn't think about. Hull and kicker
Sam Ficken
both said the issue was talked about, but it was something they didn't dwell on.
On Saturday, a bowl game was the only thing on these Lions' minds.
As PSU coach James Franklin stepped to the dais, his players snapped selfies in the locker room while music blared. "Bowl eligible baby!!!"
one tweet read
. Dieffenbach just yelled, while players pumped their arms in celebration.
On the field, fans yelled congratulations down to linebacker
Nyeem Wartman
, who just turned and yelled right back, "Thanks, appreciate it!" Smiles were fixed to most faces as they swayed to the end-of-game alma mater, and all the seniors took their turns ringing the victory bell -- they even let Hull cut in line.
If July 23, 2012, marked the inevitable "death" of the Penn State program, then Nov. 15, 2014, marked the rebirth. Not only did Penn State win eight games in Year 1 of the sanctions, seven games in Year 2 -- and at least six in Year 3 -- but it's also going bowling the first year it's not banned.
"It says a lot about the program, a lot about the guys Penn State recruits, and a lot about the guys in this area," Hull said. "We all love football, and it takes a special person to come to Penn State -- and I think that's why we withstood so much. We play for each other."
Added Ficken: "We just kept working hard. This is kind of the culmination of all that hard work and all that leadership."