June, 4, 2013
6/04/13
2:30
PM ET
Big Ten bloggers Adam Rittenberg and Brian Bennett will occasionally give their takes on a burning question facing the league. We'll both have strong opinions, but not necessarily the same view. We'll let you decide which blogger is right.
Colleague Ivan Maisel today writes about
the Pac-12's pipeline of sending head coaches to the NFL
and notes how the Big Ten has lost just one coach to the NFL (Indiana's Sam Wyche to the Indianapolis Colts) since 1948.
Today's Take Two topic
is this: Why hasn't the Big Ten sent more coaches straight to the next level, and when will the drought end?
Take 1: Adam Rittenberg
[+] Enlarge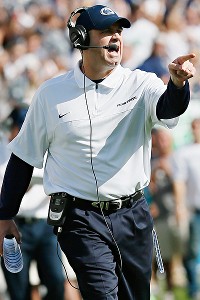 Rob Carr/Getty ImagesBill O'Brien's ties to the New England Patriots should make him an intriguing option as a future NFL head coach.
It's a bit baffling why the Big Ten hasn't sent more coaches directly to the NFL. You can talk about the conference's recent struggles, but the Big Ten still produces a lot of great NFL players and has coaches who have worked in the NFL and who are respected by key decision-makers with those teams.
The Big Ten has featured coaches who had been NFL head coaches (remember Lou Holtz, who coached the New York Jets in 1976, coming to Minnesota in 1984?), a head coach who came to the Big Ten from a USFL top job (George Perles from the Philadelphia Stars to Michigan State) and coaches who left Big Ten teams for other jobs but eventually became NFL head coaches (former Northwestern boss Denny Green, former Illinois boss Mike White, former Michigan boss Gary Moeller). Most Big Ten teams have run pro-style offenses and defenses during the years, and while more squads are going to the spread offense, it wouldn't be a huge transition for most coaches to go to the NFL. I think the tendency for Big Ten coaches to stay at their jobs for longer terms has contributed to the lack of direct NFL departures. Many Big Ten coaches looked at those jobs as destinations rather than springboards to the NFL.
I expect the Big Ten's NFL coach drought to end fairly soon. Kirk Ferentz's name has come up for years as an NFL candidate, and while he has remained loyal to Iowa, you have to wonder whether he'll eventually make that leap, if the opportunity is still there. Although Ferentz's stock has dropped a bit in recent years, he's still held in high regard in NFL circles. The other obvious name is Penn State's Bill O'Brien, who talked with several NFL teams about jobs after his first season with the Lions. Although O'Brien seems relatively happy at Penn State despite the challenges there, few would be surprised if he eventually moves onto the NFL, given his love for that league and his experience with the Patriots. He might not move in the next year or two, but I could see him guiding Penn State through the sanctions and then making the jump. Will the NFL court other Big Ten coaches? I don't see Urban Meyer as an NFL coach, but his success can't be overlooked. I can't see Brady Hoke leaving Michigan, although he might be a good fit in the NFL. Bo Pelini has some NFL experience, but I see him more as a pro coordinator than a pro head coach. I'm still watching Ferentz and O'Brien, and I'd expect one to make the jump sometime in the next 3-5 years.
Take 2: Brian Bennett
Yes, it's surprising that the Big Ten hasn't sent more coaches straight to the NFL, although the track record of college head coaches making smooth transitions into the NFL is spotty at best. For every Jimmy Johnson and Jim Harbaugh, there is a Nick Saban (who, by the way, went from Michigan State to LSU to the Miami Dolphins), and a Steve Spurrier. Time will tell if guys like Chip Kelly and Greg Schiano are ultimately judged as success stories at the next level. Still, you would think more Big Ten coaches would have been more attractive to the NFL, given the league's history of pro-style schemes and, let's face it, conservative play calling that thankfully is starting to erode in the pros.
Adam hit on what I think is the key point: the destination job factor. Think about the top coach in the Big Ten in the past 15 years: Jim Tressel. Wouldn't the Vest have fit right alongside a coach like Tom Coughlin in the NFL? Yet Ohio State was Tressel's dream job, and a place where he built his own fiefdom before it all collapsed. Even though the NFL can pay more, calling the shots at a major college program offers much better job security. I also think back on the story of Joe Paterno and how he was reportedly offered more than triple his Penn State salary to take over the Pittsburgh Steelers in 1969. Of course, he said no and stayed in State College for the rest of his life.
The same can probably be said for Hoke and Northwestern's Pat Fitzgerald, both of whom I think would make strong NFL head coaches. Yet neither seemingly has any desire to ever go anywhere else but their current job. Ferentz is no dummy. Why risk getting fired by taking over an NFL team -- one that probably wasn't very good, or else it wouldn't be in the market for a new coach -- when you have the cushiest contract in college sports? I wonder about Meyer. On the one hand, he has no pro experience. On the other hand, he's incredibly smart and competitive, and perhaps he'll one day view the NFL lifestyle as preferable to the nonstop recruiting demand of college, especially if he can add another national title or two. I feel like Pelini would jump to the NFL if a team wanted him, but I'm not sure how marketable he is as a pro head coach right now. I believe Mark Dantonio would succeed at the next level, but he seems like a college guy through and through.
O'Brien remains the obvious pick to break the drought. There's no question he's the most pro-ready coach in the Big Ten. The NCAA sanctions and constant distractions at Penn State have to wear on him, but you'd also think he'd want to taste the fruits of his labor once the Nittany Lions are eligible for a bowl again. Yet if the 61-year-old Bill Belichick decides to hang it up in the near future, the New England Patriots would have to take a hard look at O'Brien as his successor. If guys like Kelly and Schiano start to win big, the NFL might start looking toward even more college head coaches, including those in the Big Ten.
January, 27, 2012
1/27/12
4:30
PM ET
Jim Harbaugh
's success with the
San Francisco 49ers
and the
Tampa Bay Buccaneers
' flirtation with Chip Kelly and
hiring of Greg Schiano
make one thing clear: College football head coaches are in high demand to fill vacancies at the NFL level.
Harbaugh transformed the 49ers in his first season after leaving Stanford. Kelly, the Oregon coach, was a somewhat surprise target of the Bucs, who then moved onto Schiano, the Rutgers coach for the past 11 seasons.
Even former Ohio State coach Jim Tressel, a college coach throughout his career, was the runner-up for the Indianapolis' Colts' head-coaching vacancy.
It got me thinking about which Big Ten coaches would or could take the same job in the NFL.
Such a jump doesn't happen too often in this league.
In fact, a Big Ten head coach hasn't left for an NFL head-coaching job since Sam Wyche left Indiana for the
Cincinnati Bengals
after the 1983 season (he went 3-8 at IU). That's a surprising drought for one of college football's top conferences. While the Big Ten has had head coaches eventually go on to lead NFL teams (Michigan's Gary Moeller, Illinois' Mike White, Indiana's Cam Cameron), they didn't do so directly.
It speaks in part to the appeal of Big Ten head-coaching positions and the longevity of coaches in the league. Some would also argue that the quality of head coaches might not be as elite as that in league's like the SEC, where coaches like Nick Saban and Steve Spurrier have directly jumped to NFL head-coaching positions.
If the NFL hiring trend persists, some Big Ten coaches could get opportunities.
Iowa's Kirk Ferentz has repeatedly been mentioned for NFL head-coaching vacancies, most recently the
Kansas City Chiefs
' opening. Ferentz's coaching style and ties to the NFL as a former Bill Belichick assistant make him a potentially good fit. Although he has repeatedly pledged his loyalty to Iowa and makes very good coin, he remains the likeliest Big Ten coach to make the move.
Who else? Nebraska's Bo Pelini spent six years as an NFL assistant and actually might like life more outside the college football fishbowl. Pelini might be the next likeliest after Ferentz.
Wisconsin's Bret Bielema has spent his entire career in college, but he runs pro-style systems in Madison and has been very ambitious in his career.
Michigan's Brady Hoke? Don't see it, although his brother Jon is an NFL assistant.
Michigan State's Mark Dantonio? Nah.
Northwestern's Pat Fitzgerald is a young, ambitious coach who might fit in well at the next level, although he needs to prove more in a college role.
Ohio State's Urban Meyer doesn't seem like a guy who would make the jump to the NFL, primarily because of his offensive system. Then again, Tampa Bay's pursuit of Kelly surprised me, so anything is possible.
Which Big Ten coach do you think is likeliest to jump to the NFL?