April, 8, 2014
Apr 8
1:00
PM ET
Darrell Hazell's job requires him to evaluate all of Purdue's players, but he knows some position groups better than others.
Before taking his first head-coaching position at Kent State after the 2010 season, Hazell coached wide receivers at five different schools: Eastern Illinois, Western Michigan, Army, Rutgers and Ohio State, where he worked with the Buckeyes' wideouts from 2004-2010. Hazell also was an all-conference wide receiver at Muskingum University, where he still holds team records for career receptions (132) and receiving yards (1,966).
After coaching standouts such as Santonio Holmes, DeVier Posey and Anthony Gonzalez, Hazell can spot a potentially great receiver faster than most. He sees one in
DeAngelo Yancey
.
"He's the guy in the room that's different from everyone else," Hazell recently told ESPN.com. "We need to get him to play different than everyone else. He can be a very special guy."
Yancey had a somewhat special freshman year despite Purdue's struggles. He led the Boilers with 546 receiving yards, 206 more than any teammate. Yancey twice eclipsed 100 receiving yards in Big Ten games and was responsible for two of Purdue's three longest plays from scrimmage before the offense ignited in the finale against Indiana.
Only six other FBS freshmen averaged more receiving yards than Yancey in 2013. But he can do so much more.
"He's arguably one of the best players on the field every single time he's out there," Purdue quarterback
Austin Appleby
said. "He's just got to play like it every single time. That speaks to his maturation. He's still very young, but that doesn't matter.
"We all know how talented he is."
[+] Enlarge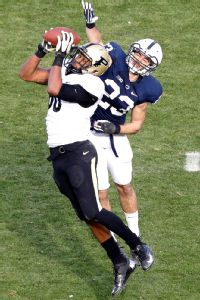 AP Photo/Gene J PuskarDeAngelo Yancey led Purdue in receiving yards as a freshman.
Yancey recognizes what others see in him. He knows he has to bring it out more this season for a Purdue offense that ranked last in the Big Ten in points and yards (119th nationally in both categories).
Several weeks ago, Hazell gave Yancey some practice tape from Hazell's time at Ohio State. Yancey watched players such as Posey and Ted Ginn go through the same drills and work on the same concepts as he is this spring.
Hazell doesn't often bring up his time at Ohio State, so there was a purpose when he did.
"He sent those guys to the league," Yancey said, "and ultimately that's where I want to go."
Hazell thinks Yancey is similar to some of his former Buckeyes wideouts.
"He's got size, he's got speed, he's got quickness, he's got the ability to catch around people," Hazell said.
An Atlanta native, Yancey initially committed to Kentucky but switched to Purdue last January
after feeling unwanted by the new UK coaching staff
. The 6-foot-2 wideout showed up to campus at around 200 pounds but quickly added 20 to his frame.
It took time to adjust to the extra weight, but Yancey felt comfortable running by the end of the season. It also took time to adjust to the responsibility placed on his shoulders.
"I was [surprised] early during the season, but once the season started progressing on, I embraced the role," he said. "When the big plays were needed, I took it upon myself to try and make them."
Yancey's Year 2 goals include more yards after the catch and being a leader.
"When I first came here, I wouldn't say stuff, or I would think they already have that leader position," he said. "But we've established if you're going to be a leader, make sure you're doing leader things, no matter what year you are."
One of those things is film study, which Yancey is doing more of this offseason. Hazell wants the rising sophomore to gain greater confidence against press coverage.
"We can do things structurally and schematically to help him," Hazell said, "but you'd rather have him figure it out first, how to beat man-to-man coverage, whether you're stuck in the boundary, whether you're to the field."
When he figures it out, look out.
"You'll see as time goes on, he's going to be huge for us," Appleby said. "We've just got to keep working every single day to get that killer mindset, that killer instinct to go get it. Because it's going to be one on one when the game is on the line, and everybody in the stadium is going to know who's getting the ball, and he's got to make a play."
July, 6, 2011
7/06/11
1:15
PM ET
NFL.com recently finished a countdown of the
Top 100 players in the NFL
, as voted on by the current players in the league.
Brady
It's a fascinating list that's sure to stir a lot of debate. But since this is a Big Ten blog, we're going to concern ourselves with where the Top 100 went to college.
There are 13 former Big Ten players on the list, including No. 1:
Tom Brady
. (Note: We're counting Nebraska players as Big 12 products since the Cornhuskers in the NFL participated in that league. Same thing for Colorado and Utah, Miami and Virginia Tech, etc.). Here are the 13 who made the cut and how they ranked overall:
1. Tom Brady, QB, New England (Michigan)
9.
Drew Brees
, QB, New Orleans (Purdue)
16.
Charles Woodson
, CB, Green Bay (Michigan)
28.
Jake Long
, OT, Miami (Michigan)
43.
Joe Thomas
, OT, Cleveland (Wisconsin)
47.
Nick Mangold
, C,
New York Jets
(Ohio State)
58.
Brandon Lloyd
, WR, Miami (Illinois)
63.
Cameron Wake
, LB, Miami (Penn State)
64.
Tamba Hali
, DE, Kansas City (Penn State)
76.
Santonio Holmes
, WR, New York Jets (Ohio State)
78.
Dallas Clark
, TE, Indianapolis (Iowa)
82.
LaMarr Woodley
, DE, Pittsburgh (Michigan)
97.
Shaun Phillips
, DE, San Diego (Purdue)
By school:
Michigan: 4
Ohio State: 2
Penn State: 2
Purdue: 2
Illinois: 1
Iowa: 1
Wisconsin: 1
(In case you're wondering, the two Nebraska players on the list are No. 51
Ndamukong Suh
and No. 55
Carl Nicks
)
Now let's see how the Top 100 stacks up
by college conference
:
Big East:
16
Big Ten:
13

SEC:
13
ACC:
12
Pac-10:
11
Big 12:
7
Notre Dame:
1
Non-AQ/Small schools:
27
This just reinforces what I always said in my previous job: The best football is played in the Big East. Actually, that league greatly benefits from eight Miami Hurricanes who played their careers in the league before the program jumped ship to the ACC.
It's interesting that the Big Ten has the same amount of Top 100 players as the mighty SEC, no? I thought all the best talent was supposed to be in the SEC. Hmm. The ACC continues to underachieve despite all its talent, while the Big 12 has curiously low representation here (only five players outside of Nebraska).
I also find it fascinating that 27 percent of the supposed cream of the crop in pro football never played in an AQ conference -- Kent State, for example, has three players on the list, more than Alabama, Florida and LSU combined and more than every Big Ten school except Michigan. East Carolina and Central Florida have as many Top 100 players as Ohio State and Penn State. More evidence that recruiting stars don't always equal NFL success. (And indeed, the No. 1 player on the list had to fight tooth and nail to earn a starting job at Michigan).
If nothing else, it's fun fodder for debate.
October, 15, 2010
10/15/10
12:00
PM ET
I know that this isn't a symbol for the crossroads of ideas. I now know it's a butt.
February, 8, 2010
2/08/10
11:15
AM ET
About a month after Iowa cemented a strong Big Ten bowl performance at Miami's Sun Life Stadium, the Big Ten once again stood out on the same field in a huge game.
[+] Enlarge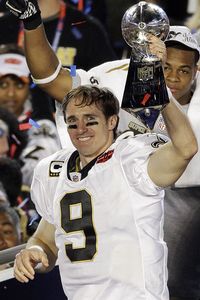 AP Photo/Charlie RiedelFormer Purdue signal-caller Drew Brees took home Super Bowl XLIV MVP honors.
Former Big Ten players had major roles for the
New Orleans Saints
in a
31-17 win
against Indianapolis on Sunday in Super Bowl XLIV.
Saints quarterback
Drew Brees
took home MVP honors after completing 32 of 39 passes for 288 yards with two touchdowns and no interceptions. Brees, a standout at Purdue, became the fourth former Big Ten player in the last nine seasons to earn Super Bowl MVP honors, joining former Michigan quarterback
Tom Brady
(2002, 2004) and former Ohio State wide receiver
Santonio Holmes
(2009).
Brees was brilliant Sunday, but the game's biggest play came from former Indiana cornerback
Tracy Porter
, who intercepted a
Peyton Manning
pass and raced 74 yards to the end zone with 3:12 left. Porter finished the game with four tackles.
Former Illinois running back
Pierre Thomas
recorded six receptions for 55 yards, including a 16-yard touchdown that gave the Saints their first lead early in the third quarter. Thomas also had 30 rush yards on nine carries.
Former Iowa tight end
Dallas Clark
recorded a game-high 86 receiving yards on seven receptions for the Colts.
And who can forget former Wisconsin linebacker Jonathan Casillas, who recovered the onside kick for New Orleans at the start of the second half.
Other Big Ten notables:
In case you missed it, here's the
full list
of former Big Ten players and coaches who participated in the game.
February, 3, 2009
2/03/09
4:51
PM ET
Posted by ESPN.com's Adam Rittenberg
Hours before national signing day, let's see what's on your mind.
John from Mansfield, Ohio, writes: Adam, I have just read in the paper today that the Athletic Department at Ohio State will be in the "Red" for the first time. They intend to raise ticket prices for football and men's basketball. Two questions: 1. What do you attribute this failure to at least break even? The excessively high salaries? 2. Do you think this could be the start of a trend in major college athletics?
Adam Rittenberg: John is referring to this article in The Columbus Dispatch. I'm not an economics expert, but it seems as though the financial crisis is hitting mega athletic departments with large numbers of varsity sports. Stanford, a regular contender for the Director's Cup, also reported major financial problems because of the economy. Ohio State and Stanford both carry a ton of sports. Escalating coaching salaries certainly play a role, and Ohio State has two very highly paid coaches in Jim Tressel and Thad Matta, but having to fund so many varsity sports really takes a toll at times like these. I definitely see this becoming a trend in major college sports, and other so-called factories will be hit hard.
---
Brian from Des Moines, Iowa, writes: I was reading the signing day preview and it says they asked the bloggers to fill out the "best" section. You picked Michigan as having the best uniform? I can see them being in the running for best helmet, but overall uniform has to go to Iowa's home attire.
Adam Rittenberg: I love the Hawkeyes' look at home, but Michigan boasts a more recognizable and traditional feel. I probably would have put Penn State second behind the Wolverines for best unis. Iowa is certainly among the Big Ten's top half, but I'm pretty sure most people outside Des Moines would pick Michigan's threads over the Hawkeyes'.
---
Derek from Glen Gardner, N.J., writes: In your last mailbag you mentioned that you thought the BigEast was deeper than the MWC. I have to agree with you, but what I believe you forgot was that BigEast teams have the ability to tell recruits that they can contend for a BCS game year-in and year-out. If the MWC was able to do that for the next 5 years, do you think the BigEast would still be deeper?
Adam Rittenberg: Having a BCS berth as a carrot for recruits certainly would help the Mountain West's bottom rung. I've never understood why San Diego State couldn't be a powerhouse, given its proximity to top recruits. Wyoming and UNLV seem like tough places to win, but both programs have shown flashes of promise. There is potential throughout the Mountain West, but the same can be said for the Big East. Syracuse won't be down for much longer, and Louisville has shown an ability to win in the past. The two leagues would be pretty close in the scenario you present, and the Mountain West might get the edge.
February, 2, 2009
2/02/09
12:00
PM ET
Posted by ESPN.com's Adam Rittenberg
Signing day is less than 48 hours away, but these links are ready right now.
Wisconsin takes a quality-over-quantity approach toward in-state recruiting, and it's paying off for Bret Bielema, Tom Mulhern writes in the Wisconsin State Journal.
"Since Bielema took over recruiting, prior to Barry Alvarez's final season in 2005, the Badgers have signed 14 players who have been ranked as four- or five-star recruits by Rivals.com. Nine of them were from Wisconsin. The Badgers have signed six players ranked as four-star recruits or better by Scout.com and five of them were from within the state."
February, 2, 2009
2/02/09
9:00
AM ET
| | |
| --- | --- |
| | |
| | AP Photo/Charlie Riedel |
| | For the second year in a row, a Big Ten receiver made the game-winning touchdown grab in the Super Bowl. This year it was former Ohio State standout Santonio Holmes. |
Posted by ESPN.com's Adam Rittenberg
For the second straight year, a former Big Ten wide receiver made the winning touchdown catch in the Super Bowl with exactly 35 seconds left in regulation.
And this time, he took home MVP honors.
Former Ohio State star Santonio Holmes made an electrifying grab in the back of the end zone to lift Pittsburgh past Arizona 27-23 in Super Bowl XLIII on Sunday night. Holmes, who made news earlier in the week with an admission that he sold drugs as a kid, had nine receptions for 131 yards to win the game's MVP award.
He's the first Big Ten player to win the award since former Michigan quarterback Tom Brady claimed the second of his two trophies in Super Bowl XXXVIII. Five former Big Ten players -- Brady, Holmes, Len Dawson (Purdue), Desmond Howard (Michigan) and Franco Harris (Penn State) -- have been named Super Bowl MVP.
Holmes' performance came a year after former Michigan State wide receiver Plaxico Burress caught a 13-yard touchdown to complete the Giants' comeback against Brady and the Patriots.
The Super Bowl was an impressive showcase for the Big Ten, which certainly needed a boost. The Big Ten will continue to take flak for its bowl performances, but arguably no league better prepares its players for the NFL.
Here are some of the highlights:
January, 30, 2009
1/30/09
12:45
PM ET
Posted by ESPN.com's Adam Rittenberg
Saturday, wait. And Sunday always comes too late. But Friday, never hesitate ...
"The geography of this year's class shows the shift in approach. There are six players from Florida, more than any other state, two from Arizona, one from Oklahoma, one from Louisiana and another from New Jersey. These were states that were only hit on occasion by the previous staff."
"So is Holmes a good guy or a bad guy? People are clearly much more complex than that. But when I see Holmes' comments about he once 'found cocaine in my dump truck when I was a kid, which was the worst thing ever,' I instantly realize this is a man who had to escape situations and exorcise demons I never faced in my own stable family background.

'Either you go to sell drugs or you play football,' Holmes said this week, describing his neighborhood. 'You're going to do sports or you're going to be on the corner.'"
January, 30, 2009
1/30/09
11:37
AM ET
Posted by ESPN.com's Adam Rittenberg
When Minnesota head coach Tim Brewster checked into his hotel Tuesday morning in Shreveport, La., the woman working at the front desk spotted the Golden Gophers logo on his shirt and smiled.
"The coach from Michigan just left," she told him.
Both Minneapolis and Ann Arbor, Mich., are located more than 850 miles from Shreveport, making it an odd place for Brewster and one of his Michigan counterparts to cross paths. But these days, Big Ten coaches are just as likely to bump into one another in Shreveport, Atlanta, Fort Lauderdale, Fla. and Houston as they are in Chicago, St. Louis, Pittsburgh and Detroit.
When Purdue head coach Danny Hope called ESPN.com on Wednesday afternoon, he was navigating a road near Bay City, Fla. An hour earlier, Wisconsin defensive line coach Charlie Partridge phoned in from the Fort Lauderdale area.
The Big Ten recruiting range is expanding far beyond the Midwest, and coaches are spending much of their time in the fertile states of the south and southeast.
If one incoming recruit symbolizes the recruiting change in the Big Ten, it's a safety expected to sign Wednesday with Wisconsin.
His name: Dezmen Southward.
His hometown: Fort Lauderdale.
"There's certainly great, great players in the Midwest, but just in terms of numbers, all you have to do is look at Division I signing day and the number of kids who play Division I out of this region here," said Partridge, who has recruited the Florida area for Wisconsin, Pitt and Iowa State, among others. "You can come down and get two to three kids who can have an impact on your program.
"People are recognizing the value of recruiting down here."
August, 23, 2008
8/23/08
4:52
PM ET
Posted by ESPN.com's Adam Rittenberg
COLUMBUS, Ohio -- What began as a benign comment quickly turned into a playful shouting match of slams across the Ohio State media room.
Sitting at the main interview table Friday afternoon, Buckeyes wide receiver Brian Hartline was asked to liken his skills to those of Ohio State's other Brian, senior wideout Brian Robiskie.
"Anything I can do, he can do," Hartline said, "and anything he can do, I can do."
When informed of Hartline's claim, Robiskie, sitting in the corner, shook his head.
"He can't do what I do," Robiskie said quietly, looking at his teammate.
"He cannot do what I can do!" Robiskie repeated, hoping to get Hartline's attention. "He can't do it! It can't happen!"
Hartline never heard him. When a messenger -- OK, it was me -- relayed Robiskie's assertion, Hartline immediately countered.
"Robo, what can you do?" Hartline asked loudly.
"Huh? Robiskie replied. "What can I do? I can be on the sidelines."
"Yeah, you can stay on the sidelines, hurt," Hartline chirped, referring to a shoulder injury that has kept Robiskie out of portions of the preseason. "I can't do that.
Robiskie said his shoulder is fine, and when Ohio State opens the season Aug. 30 against Youngstown State, the dynamic receiver tandem known as the Brians will be fully intact. The team's two top wideouts combined for 107 receptions, 1,629 receiving yards and 17 touchdowns last season, their first as full-time starters.
Both players are 6-foot-3, both joined the team in 2005 and both can punish defenses down the field, but there's some debate about how similar they really are.
Robiskie, a member of Ohio State's 4x100 relay team in track, plays outside receiver and hooked up with quarterback Todd Boeckman for several plays of 50 yards or longer last season. Hartline brings an intrepid attitude to the slot receiver spot, taking punishment and dishing it back when he goes over the middle.
"We've played with each other so much, worked with each other so much that there's not too many things that really differ in our games, said Robiskie, who led Ohio State with 935 receiving yards and 11 touchdowns last year. "The only thing that might jump out at me is that he plays inside in the slot where I might play a lot outside. That's not to say that he couldn't come outside and play.
Hartline isn't so sure about Robiskie's versatility.
"He definitely couldn't play the slot," Hartline said. "I can. I can play on the outside, too. It's fun, though. We're pretty fun-loving guys. I think I've rubbed off on him enough so that he'll stay a little loosened up."
Robiskie was Boeckman's top big play option last season, but Hartline should be more of a threat this fall after a strong preseason. Hartline often gets compared to former Ohio State wideout Anthony Gonzalez, who was overshadowed by Santonio Holmes and Ted Ginn in 2005 before nearly matching Ginn's production in 2006.

"It's a pretty fair comparison," Hartline said. "Gonzo got better, [quarterback] Troy [Smith] got better, I'm getting better, Todd's getting better. Once I start making some plays for [Boeckman], he'll trust me even more. ... The same plays we ran with Troy and Gonzo are the same plays we're running now."
Hartline might make a bigger name for himself this fall, but odds are he'll always be mentioned with Robiskie, much like Buckeyes linebackers James Laurinaitis and Marcus Freeman on the defensive side. But the wideouts don't mind getting grouped together.
As they showed Friday, it's hard to keep them separated.
So how different are they?
"They're completely different players, completely different attitudes, completely different personalities," wide receivers coach Darrell Hazell said. "The only thing the same is their name."
July, 24, 2008
7/24/08
1:12
PM ET
Posted by ESPN.com's Adam Rittenberg
CHICAGO -- Before the coaches started their interviews on the dais, the Big Ten played a 15-minute Points of Emphasis video to highlight elements that college football officials will follow this season.
Officials will focus on two areas this fall -- player safety and sportsmanship. The video showed examples of plays that demonstrate the fouls that will be called.
Regarding player safety, officials will focus on protecting defenseless players who are targeted above their shoulders or above the crown of their helmets. Fouls will result in a 15-yard penalty and possible ejection.
A new rule prohibits horse-collar tackles, grabbing the back or side collar of the jersey to bring down a player. Horse-collar tackles will be called only when defenders use them to immediately bring down ball carriers.
The player safety examples shown included:
A massive hit by Michigan State's Nehemiah Warrick to the helmet of Wisconsin wide receiver Kyle Jefferson in last year's game
A Bowling Green punt returner getting steamrolled by a Tulsa gunner
Minnesota safety Dominic Jones crushing Ohio State's Santonio Holmes in a helmet-to-helmet hit.

The unsportsmanlike conduct portion covered the fairly obvious displays -- taunting, high-stepping, end zone celebrations. These were some of the examples.
A Southern Miss defender spiking the ball after an interception
An Alabama player somersaulting into the end zone against Colorado
A player leaping into the stands and taking off his helmet after a touchdown, which can result in two unsportsmanlike conduct fouls.
USC's Desmond Reed somersaulting into the end zone against Illinois in the 2008 Rose Bowl. Reed's teammate, Fred Davis, also drew a flag for taunting after a touchdown.

BIG TEN SCOREBOARD
Wednesday, 12/24
Saturday, 12/20
Monday, 12/22
Tuesday, 12/23
Friday, 12/26
Saturday, 12/27
Monday, 12/29
Tuesday, 12/30
Wednesday, 12/31
Thursday, 1/1
Friday, 1/2
Saturday, 1/3
Sunday, 1/4
Monday, 1/12
Tweets from https://twitter.com/ESPNCFB/lists/b1g