July, 16, 2010
7/16/10
3:00
PM ET
I've got a great weekend coming up. Hope you do, too.
James from Chicago writes:
If Ohio St, Penn St, (or dare I say Michigan) were to go undefeated in regular season, they would be ranked higher than undefeated Boise St without any doubt. However, if one of the middle tier Big Ten teams (Northwestern, MSU, etc) were to pull off an unthinkable and go undefeated, then will they be ranked higher than undefeated Boise St and/or one-loss SEC winner?
Adam Rittenberg:
Great question, James. Preseason rankings really matter. I wish they didn't, but they shape the national title race way more than they should. It would be a lot tougher for a Big Ten team unranked in the preseason to leapfrog a Boise State or a one-loss SEC team even after running the table. You might need a team like Minnesota or Michigan that at least faces some decent nonconference opponents -- USC, Connecticut, Notre Dame -- in order to make such a big surge. Then again, shouldn't Boise State deserve a top ranking by handling all the preseason hype, beating a very good Virginia Tech team in the opener and then running the table, as many people expect? It makes for a good debate.
---
Anthony from Chicago writes:
Adam, I disagree with your key stretch in Illinois scheduel. To me, it's the first three games of the season at Missouri, Southern Illinois, and Northern Illinois. Let's say they go 1-2 in those games, then lose at home to OSU and at PSU. Illinois will be 1-4. Zook has had problems dealing with negative attitudes resulting from losing. Illinois will be in for a long season and could end up 3-9 again. If Illinois can come out of the first 3 games 3-0 and then lose to OSU and PSU, they'll be 3-2 with 6 games left vs teams in the bottom 7 of the Big Ten from the previous year. They would have a real shot at a 7 or 8 win season. I think starting the season strong is key for the Illini
Adam Rittenberg:
Anthony, you make some great points and I seriously considered going with the first three games as Illinois' key stretch. You're right that starting strong is huge for such a young team. But ultimately, Illinois needs to win Big Ten games, regardless of what happens in the first three contests. What if Illinois starts 3-0 but can't win a Big Ten game and tumbles through my key stretch? The team likely doesn't recover to reach bowl eligibility. Conversely, even if Illinois starts 1-5, a sweep of
my key stretch
puts the team back in bowl contention with some renewed confidence and a realistic shot of getting there. The ultimate answer is that both stretches will be huge for Ron Zook and the Illini. But I definitely see your point, especially after Illinois never truly recovered from the Missouri opener in 2009.
---
Dono C. from Tulsa writes:
Adam, are you as crazy as your picture looks? Do you think Mr. Stoops cares about an athletic budget? Or do you think that OU's athletic budget is lacking? And who are you to suggest that OU was led around by Texas - and not think that OSU wouldn't do the same to stay with their natural rival Michigan? I am sure you were in all of the Big 12 meetings when this was going on. I am sure you have first-hand knowledge, do you not? It's amazing - someone makes a comparison to OSU that you don't like and you rip them like you've just been insulted. You really did show your panties yesterday. Great job.
Adam Rittenberg:
Definitely as crazy as my picture, Dono. And why the fascination with my underwear? Is there something you want to share with us? Here's the deal. Oklahoma is a great job, and so is Ohio State. Bob Stoops is well paid and has the resources to succeed at OU, where he has done great things. But when you're talking about the true bigfoot programs in college football, both from a tradition standpoint and a financial standpoint, Ohio State is in a class right at the top with Texas and Florida. Oklahoma is just below the top group. Now would Ohio State attach itself to Michigan like Oklahoma did with Texas? I'm sure the Buckeyes wouldn't want to see anything happen to the Michigan rivalry, but Ohio State wouldn't let Michigan call the shots and totally defer to Ann Arbor. Oklahoma once functioned in a league independent of Texas -- remember when the OU-Nebraska rivalry mattered? -- but it certainly seemed like Texas held all the power during the recent Big 12/Pac-10 situation.
---
Erik from State College, Pa., writes:
Adam, love the blog and am generally quick to agree with most you say here, however I can't let your "trap game" prediction about PSU go. I think Al Golden has done a great job at Temple and I was rooting for him in the Eagle Bank Bowl, however Temple hasn't beaten PSU since 1941 and I don't see things changing in the near future. Temple had a great season last year however Penn State still handled them easily. Temple also lost to I-AA Villanova (sure they won the I-AA championship but still...). I think your afterthought about PSU vs. NU being a trap game has a lot of merit and should have taken one of the top 5 spots on the list. Around that time we'll be celebrating Joe Pa's 400th win and the NU game is sandwiched between an "under the lights" game with Michigan (a white out I'm sure) and an away game @ Ohio State, creating a good trap scenario.
Adam Rittenberg:
Some good points here, Erik. I would point out that Temple turned out to be a lot better team than the one Penn State faced in Week 2. The long winning streak against Temple is a reason why this could be a trap game. Did you think Notre Dame players ever thought they'd lose to Navy? Don't get me wrong: I'm not saying Penn State will struggle as much as Notre Dame did in 2007. But this Temple program is no longer a joke, and while a win against Penn State would qualify as a pretty huge upset, Penn State can't overlook the Owls. The Northwestern game might be more of a trap, though, for the reasons you mention.
---
Michael from Lake Mary, Fla., writes:
I'm curious if you think that the recent departures of Lloyd Carr and Brad Labadie from the Michigan Athletic department may be a result of new AD Dave Brandon's attempt to bring some unity to the department?
Adam Rittenberg:
There are a lot of theories out there, but in regards to Carr, I don't think Brandon had much to do with his decision. Carr earned enough currency at Michigan to make his own decisions. Labadie's situation was a little different. Labadie and assistant athletic director for football Scott Draper took the most heat in
Michigan's response to the NCAA's allegations
. Although Brandon said Labadie's decision
wasn't prompted by him being named in the NCAA investigation
, Labadie had to see the writing on the wall. It was in his best interest to look elsewhere, and I doubt Brandon or the other Michigan brass would stand in his way. This outcome was probably best for all parties involved.
May, 26, 2010
5/26/10
12:30
PM ET
Given the glut of Michigan coverage today, I'm going to split the links into two categories. You can thank me later.
Michigan musings

Other Big Ten news
May, 25, 2010
5/25/10
7:25
AM ET
Michigan begins its official response to the NCAA's Notice of Allegations with a sobering statement.
The University of Michigan ("the University"), which fielded its first football team in 1878, has won more football games than any institution, all without a major infractions case. After more than 130 years, the University's football program is before the Committee on Infractions for the first time. The University admits the violations in fact occurred. The University is disappointed that its history of no major infractions cases in its football program has ended.
It can't be easy for Michigan fans or anyone associated with the football program to read those words.
[+] Enlarge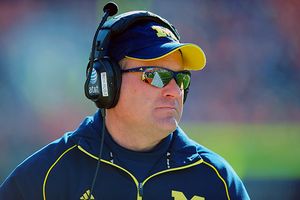 Andrew Weber/US PresswireRich Rodriguez's program will forfeit 130 hours of practice time during the next two years.
In its response, Michigan admits that four of the
NCAA's five allegations
against the program are true, including the "failure to adequately monitor its football program to ensure compliance" regarding the number, duties and activities of countable football coaches as well as time limits for CARA (countable athletically related activities).
While much of the language in the response is harsh, the self-imposed penalties aren't too severe.
Michigan reduced its quality staff by 40 percent -- from five to three -- and will prohibit it from attending practices, games or meetings for the rest of 2010. Despite a new NCAA rule that allows quality control staff to attend meetings, Michigan won't allow this to happen until 2011.

The football program will forfeit 130 hours of practice time during the next two years. The university found that the football program exceeded limits on football activities by a total of 65 hours in 2008 and 2009, so it simply doubled the total for its self-imposed penalty.

Michigan will issue letters of reprimand to seven people it deems responsible for the violations: Mike Barwis, Scott Draper, Brad Labadie, Joe Parker (senior associate athletic director, development/corporate relations), Rich Rodriguez, Judy Van Horn and Ann Vollano (assistant athletic director for compliance services).

The university also acknowledges the dismissal of former graduate assistant Alex Herron, named in one of the NCAA's allegations for "providing false and misleading information" to both NCAA and Michigan investigators. Herron was fired after Michigan received the NCAA's Notice of Allegations in February.

By admitting to major violations, Michigan knows it will go on NCAA probation for two years, which doesn't mean much unless more violations are committed.
No scholarship losses or loss of recruiting time for coaches to be found here. Will the NCAA deem this too light? We'll find out Aug. 13-14 in Seattle.