January, 13, 2010
1/13/10
2:00
PM ET
The Big Ten gave us plenty to remember in 2009, and here are 10 moments that stood out to me.
[+] Enlarge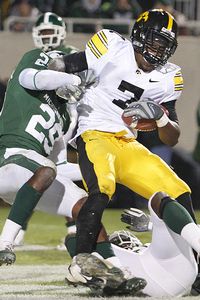 AP Photo/Al GoldisMarvin McNutt's TD reception as time expired gave the Hawkeyes the win over Michigan State.
Stanzi to McNutt with 0:00 on the clock:
Iowa's perfect record was on the line as the Hawkeyes offense lined up for one final play, trailing Michigan State 13-9 with two seconds left in an Oct. 24 game at Spartan Stadium. On fourth-and-goal from the 7-yard line, quarterback
Ricky Stanzi
found wide receiver
Marvin McNutt
in the end zone
for the win
as Iowa improved to 8-0.
Barclay kick comes up roses:
The pseudo Big Ten championship between Ohio State and Iowa went to overtime before Buckeyes backup kicker Devin Barclay, a 26-year-old former Major League Soccer player, drilled a 39-yard field goal for a
27-24 win
. Barclay's kick gave Ohio State the outright Big Ten title and its first berth in the Rose Bowl in 13 years.
Expansion on the table:
Arguably the Big Ten's biggest news story of 2009 didn't take place on the field, but in a meeting of league presidents and athletics directors in early December. The suits agreed to put league expansion on the front burner and
explore the possibility of adding a new member or members
. Though the Big Ten typically explores expansion every five years, the league's decision to go public about it is significant.
Decker gets decked but hangs on:
Minnesota wide receiver
Eric Decker
made a national name for himself against Cal, and one play stands out. Early in the second quarter, Decker
caught a 26-yard touchdown pass
and held on despite taking a vicious shot from Bears safety Sean Cattouse. He needed stitches in his chin but didn't miss a play and caught another touchdown just before halftime.
Rodriguez on the defensive:
After allegations of NCAA rule violations rocked Michigan a week before the season, an emotional
Rich Rodriguez defended his compliance record
and his approach with players at a Sept. 1 news conference. "We know the rules," Rodriguez said, "and we follow the rules." The NCAA launched an investigation into the allegations that has yet to conclude.
Bowl bliss for the Big Ten:
OK, so this isn't one moment, but four of them. Two took place in Orlando, one in Miami and one in Pasadena. They marked four bowl victories for Big Ten teams, all against top-15 opponents. These moments signified that the Big Ten hadn't fallen as far as many believed, and that the league will be a major player in the national title race in 2010.
Wootton sacks Stanzi:
It's rare when one play has as strong of an impact on two teams' seasons as Corey Wootton's
sack of Stanzi
did in a Nov. 7 game at Kinnick Stadium. It resulted in a Northwestern touchdown as the Wildcats went on to upset Iowa and go 3-0 in November to reach a New Year's Day bowl. Stanzi suffered a severe ankle sprain and missed the rest of the regular season, as Iowa saw its hopes for a perfect season and the Big Ten title disappear.
Fearless Forcier rallies Michigan past Irish:
The Michigan-Notre Dame game turned out to be an entertaining matchup between two very mediocre teams, but it also put
Tate Forcier
on the national radar. Forcier led the game-winning drive in the final minutes and found
Greg Mathews
in the end zone
with 11 seconds left
. The freshman accounted for three touchdowns (2 pass, 1 rush) and 310 total yards.
Illini season ends with a thud:
Illinois would like to forget the 2009 season, but it's easy to remember how the miserable campaign ended for Ron Zook's squad. Illinois led 52-51 as Fresno State went for a two-point conversion and the win.
Ryan Colburn
's desperation pass deflected to Devan Cunningham, a 350-pound offensive tackle, who
rumbled into the end zone
to give Fresno a 53-52 win.
Penn State punt team gets punk'd:
At a rain-soaked Beaver Stadium, Penn State led Iowa 10-5 early in the fourth quarter when Hawkeyes defensive end Adrian Clayborn trucked Nick Sukay, blocked Jeremy Boone's punt and
raced 53 yards to the end zone
. The play turned around the game, launched Iowa's magical run and handed Penn State a painful loss.
September, 22, 2009
9/22/09
2:32
PM ET

Posted by ESPN.com's Adam Rittenberg
Minnesota senior wide receiver
Eric Decker
showed against Cal why he's one of the
toughest players in America
when he caught a 26-yard touchdown and held on despite a vicious hit by Bears safety Sean Cattouse. He needed stitches in his chin but didn't miss a single offensive play.
It wasn't Decker's chin, but his troublesome left ankle that created cause for concern after the game. He sprained the ankle in the fourth quarter and left the field.
Though it's the same ankle that kept Decker out for several games last fall, head coach Tim Brewster expects the star wideout to be fine for Saturday's game at Northwestern (Big Ten Network, noon ET).
"He's ready to go," Brewster said Tuesday. "He ran on Sunday with our team and he's full go for practice today. He'll be 100 percent ready to go for Saturday."
That's a good thing for the Gophers, whose offense to this point has revolved around Decker. The senior ranks third nationally in receiving (138.3 yards per game) and tied for fourth in receptions (9 receptions per game).
Even though the Gophers have yet to establish other options, Decker continues to find openings in opposing defenses.
"One of the things we did when I coached in the NFL was script plays for our playmakers," Brewster said, "so each and every week, we have a script of plays to get Eric Decker to touch the ball."
September, 21, 2009
9/21/09
5:00
PM ET

Posted by ESPN.com's Adam Rittenberg
Kudos and criticism from Week 3 in the Big Ten.
Thumbs up, Iowa's defense
-- The Hawkeyes throttled an undermanned Arizona team, holding the Wildcats to eight first downs, 253 total yards and just one offensive touchdown when the game was out of reach. Safety Tyler Sash and defensive end Adrian Clayborn led the way. Despite all the chaos on offense, Iowa's defense has been the team's constant heading into Big Ten play.
Thumbs down, Northwestern's defense
-- Sherrick McManis' absence really hurt the Wildcats at Syracuse, but this unit has seen a decline in fundamentals and overall explosiveness. Northwestern controlled the line of scrimmage in most of its games last year, but the defense looked a step slow throughout a heartbreaking loss to the Orange.
Thumbs up, Eric Decker
-- The rest of the country finally got a glimpse of why No. 7 is such a special player. Decker accounted for all three Minnesota touchdowns against Cal (2 receiving, 1 pass) and became the school's all-time receptions leader with his second scoring grab. He might have made the toughest catch of the college football season on his first touchdown, leaping for the ball and taking a vicious hit from Cal's Sean Cattouse.
Thumbs down, Minnesota's offensive line
-- Despite the arrival of guru Tim Davis, the Gophers' front five has underperformed this season. You can't live by the motto "Pound the Rock" and average a Big Ten-worst 85.7 rush yards a game. Minnesota now ranks 109th nationally in rush offense after finishing 104th nationally last season.
Thumbs up, Indiana's secondary
-- The unit took advantage of Akron backup quarterback
Matt Rodgers
, picking off four passes in Saturday's road win. Safety Austin Thomas collected two picks for the second time in his career, and cornerback Ray Fisher made his mark on special teams, returning the game's opening kickoff 91 yards to the end zone.
Thumbs down, Michigan State's secondary
-- What had been billed as the team's deepest unit struggled for the second straight game. Notre Dame's
Jimmy Clausen
passed for 300 yards and two touchdowns against the Spartans, and he would have had more if not for an injury to star wideout
Michael Floyd
. This secondary is Mark Dantonio's baby, and he needs to get it on track Saturday against Wisconsin's
Scott Tolzien
, who has exceeded expectations.
Thumbs up, Terrelle Pryor
-- Pryor deserves some credit for playing the way he's supposed to playing and utilizing all of his natural gifts as a quarterback. The sophomore threw for a career-high 262 yards but more important, he rushed for 110 yards in a romp against Toledo. It marked the first time Pryor recorded 200 pass yards and 100 rush yards in the same game. I would anticipate we'll see many more from No. 2
Thumbs down, Purdue's defensive line
-- The Boilers led the Big Ten in pass defense a year ago, but was it simply a facade that masked their inability to stop the run? They certainly struggled Saturday against Northern Illinois, which piled up 280 rush yards in a 28-21 victory. Huskies running backs
Me'co Brown
and
Chad Spann
had little trouble finding room in the Boilers defense.
Thumbs up, Carlos Brown
--
Brandon Minor
hasn't been healthy all year, but Brown continues to answer the bell for Michigan. The senior rushed for a career-high 187 yards and two touchdowns, including a 90-yard burst, in the Wolverines' victory against Eastern Michigan. Minor will be a factor when his ankle heals, but Brown deserves to be a big part of the Michigan run game.
Thumbs up, Evan Royster
-- Despite battling the flu last week, Royster looked at his peak against Temple, rushing for 134 yards and a touchdown. Penn State needed some semblance of a run game to emerge before Iowa came to town, and Royster provided it against the Owls.
Thumbs up, Chris Borland
-- I feel terrible for not picking Borland as my Big Ten Special Teams Player of the Week, so this has to suffice. The Wisconsin freshman linebacker blocked a punt and forced a fumble on another punt against Wofford. Wisconsin recovered Borland's blocked punt in the end zone for a touchdown. No wonder the Badgers' coaches were so high on this guy in training camp.
Thumbs down, Purdue's punt block unit
-- Northern Illinois made an extremely gutsy call on the fake punt deep in its own territory, but Purdue simply can't let that happen. The Boilers needed to make sure they get the ball back with enough time to do some damage. Instead, Purdue ran out of time.
Thumbs up, Mike Kafka --
Kafka set a Northwestern record by opening the Syracuse game with 16 consecutive completions. He also set a team record for single-game completion percentage (83.3 percent) and caught his first career touchdown pass. Though his fourth-quarter interception proved costly, Kafka proved he's more than just a runner.
September, 20, 2009
9/20/09
11:28
AM ET

Posted by ESPN.com's Adam Rittenberg
Let's see how many picks the Big Ten and I can agree upon.
OFFENSE -- Minnesota WR Eric Decker
Decker is the entire Golden Gophers offense right now, and he showed why Saturday against Cal. He made an incredible catch in the end zone and held on for the score despite a vicious shot from Bears safety Sean Cattouse. Though he needed stitches in his chin, Decker didn't miss a single play and broke Ron Johnson's team record for career receptions with his second touchdown grab. He accounted for all three Minnesota touchdowns (2 receiving, 1 passing) against Cal and finished with eight receptions for 119 yards.
DEFENSE -- Iowa DE Adrian Clayborn
This award really should go to the entire Iowa defense, which shut down Arizona in Saturday's 27-17 win. But Clayborn gets the nod with an explosive performance up front, forcing a fumble and recording a career-high three quarterback hurries. Clayborn finished with six tackles and a sack in Iowa's win. Honorable mentions go to Wisconsin linebacker Culmer St. Jean (15 tackles, 2 TFLS, fumble recovery) and Indiana safety Austin Thomas (two interceptions).
SPECIAL TEAMS -- Indiana CB Ray Fisher
Fisher set the tone for Indiana's win against Akron by returning the opening kickoff 91 yards for a touchdown. His runback marked the first time in team history the Hoosiers have opened a game with a scoring return. Fisher, a converted wide receiver, returned punts last season but moved into the kickoff return role after the graduation of standout Marcus Thigpen.
September, 19, 2009
9/19/09
6:23
PM ET

Posted by ESPN.com's Adam Rittenberg
MINNEAPOLIS -- There are more famous wide receivers in college football than Minnesota's
Eric Decker
. There are faster ones and flashier ones.
But after Saturday's game against Cal, it'd be hard to believe there's a tougher one.
Only a handful of receivers could take the hit Decker absorbed from Cal safety Sean Cattouse in the second quarter and hold onto the ball for a touchdown. Even fewer would return to the game.
| | |
| --- | --- |
| | |
| | AP Photo/Paul Battaglia |
| | Eric Decker had a hand in each of Minnesota's touchdowns, catching two and passing for one. |
Decker didn't miss a single play.
"I was just happy that I didn't kill him," Minnesota quarterback
Adam Weber
said.
Decker's head snapped back to the turf and he lay there for several moments before walking to the sideline. The senior received four or five stitches in his chin but returned for Minnesota's next series and threw a pass on the first play.
"He's as tough a kid as there is," Minnesota head coach Tim Brewster said. "Obviously again today, he showed up really big."
His 26-yard touchdown catch despite the Cattouse hit tied Ron Johnson's team record for career receptions. Decker broke the record with a 12-yard touchdown grab in the third quarter and became the first Gophers player to eclipse 200 career catches.
"We needed a spark and we got some more consistent drives together, a couple big plays," Decker said. "Then we finally punched it in to the end zone."
Decker's play has been both a blessing and a curse for the Gophers, who still have yet to establish another offensive option.
The senior entered Saturday having accounted for 43.1 percent of Minnesota's offensive production. Against Cal he had a hand in all three Gophers touchdowns, catching two and passing for one, and represented 46.7 percent of the team's offensive output.
Despite its "Pound the Rock" motto and a pro-style offense, Minnesota has yet to return to its rushing roots in games. The Gophers finished with just 37 rush yards Saturday, a 1.8 yards-per-carry average. They entered Saturday ranked 10th in the Big Ten and 91st nationally in rushing (110 yards per game).
"Especially when we get into the Big Ten, we're going to have to run the ball," Weber said.
For now, the Decker show will have to suffice.
Decker might not get much recognition nationally, but he won a few backers in Berkeley with his play Saturday.
"Decker made an unbelievably great catch and a play," Cal defensive coordinator Bob Gregory said of Decker's first score. "He's a great player. Somebody said afterward he had a whole bunch of stitches in. That tells you what type of guy he is.
"He came right back and kept playing."
September, 19, 2009
9/19/09
12:50
PM ET

Posted by ESPN.com's Adam Rittenberg
MINNESOTA --
Eric Decker
just showed why he's one of the best wide receivers in the country. Whether the Minnesota star continues to show it today remains to be seen.
Decker made an incredible catch and managed to hang on for a 26-yard touchdown. He absorbed a huge hit from Cal safety Sean Cattouse, whose helmet went into Decker's chin. Decker's head snapped back as he hit the turf, and he remained down for several minutes before walking away.
Decker had his jersey off on the sideline and was getting examined by the training staff. He looks like he'll be OK, but I'll post an update when I get one.