January, 2, 2015
Jan 2
6:00
PM ET
LOS ANGELES — Perception, that truth-y thing that often stands in for reality, was front and center during the buildup to the College Football Playoff semifinal matchups on Thursday.
Florida State quarterback
Jameis Winston
talked about how "perception is reality" for him and how he can't change the minds of haters. Oregon offensive coordinator Scott Frost noted that coach Mark Helfrich had "an uphill battle in terms of perception" having to following Chip Kelly at the Ducks' helm. Helfrich's squad endured another round of questions about being perceived as a finesse team that wilts against programs perceived as more physical.
[+] Enlarge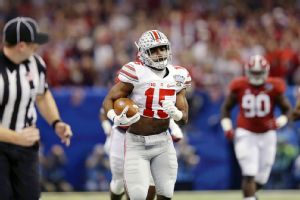 AP Photo/Brynn AndersonOhio State ran away from Alabama to cap a miserable bowl season for the SEC West, and there was nothing fluky about it.
Down in New Orleans, the perception was that top-seeded Alabama was too big and too bad and was going to leave a footprint on the collective foreheads of Ohio State, because that's what SEC teams do to Big Ten teams, particularly when that SEC team is Nick Saban's Crimson Tide.
It's then fair to say that perception suffered as bad a bowl season as the SEC West, which was unmasked as college football's tough guys when Saban's Crimson Tide capped a shocking 2-5 divisional face-plant by being bullied by the Buckeyes.
That, of course, happened just after Helfrich took a decisive step out of Kelly's shadow by leading his Ducks to a 59-20 brutalizing of a Seminoles team that hadn't lost in 29 consecutive games, a team that impressively passed the sight test but nonetheless was frantically tapping out to the Ducks' jujitsu on both sides of the ball before we were more than a few minutes into the fourth quarter.
And so the dominant college football paradigm was sledgehammered in the first go-round of our new system by a matchup that resembles a traditional Rose Bowl. For the first time since 2005, no SEC team will play for the national title, and the SEC will not win a national title for a second consecutive year after winning the previous seven.
Friday was an odd day if you've been around the sport for a while, not only because postgame celebrations at the Rose Bowl and Sugar Bowl were muted by the fact that the victories were secondary accomplishments that didn't conclude the season. The much-maligned Big Ten took down the state of Alabama -- Auburn lost to Wisconsin in the Outback Bowl -- which had won four of the previous five national titles, and Michigan State hushed Baylor, a team that still doesn't understand that its cowardly scheduling is the problem, not the media or CFP selection committee.
Those marquee Big Ten victories came after Michigan made a thundering statement by acquiring Jim Harbaugh, a hiring that stands in contrast to SEC power Florida looking to Colorado State for its next coach. No offense to the capable Jim McElwain, but his pleated khakis aren't nearly as inspiring or fascinating as Harbaugh's.
Oregon and Ohio State arrive as our finalists after seasons laden with adversity. Both have been wracked by injuries, the Buckeyes at quarterback, the Ducks everywhere else. Both suffered early-season defeats that had many dismissing them from the national picture. They also both feature creative, up-tempo offenses that stand in contrast to the two-back, pro-style sets that many traditionalists still write sonnets about. So there are some notable similarities.
There also are differences, of course. Ohio State has won seven national titles, the Ducks zero. Buckeyes coach Urban Meyer is probably a win away from having his face carved into the Mount Rushmore of coaches. Winning a third national title after capturing two at Florida and previously winning big at Bowling Green and Utah would insert him into the "best ever" discussion.
Of course, Phil Knight might build a golden statue of Helfrich outside Autzen Stadium if the Ducks win the first CFP, grabbing the only prize that has eluded the program during its steady rise as a national power since the 1980s.
Oregon will beat Ohio State if it sticks to the simple plan it used against the Seminoles. Before the Ducks squared off against FSU, another college football blue blood, Frost spoke of the necessity of "dictating" instead of reacting to what the Seminoles were doing.
"If we are reacting to what they are doing, we aren't at our best," he said.
[+] Enlarge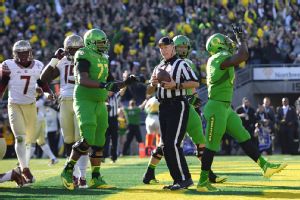 Kelvin Kuo/USA TODAY SportsFlorida State couldn't stand up to Oregon's physicality, another way the College Football Playoff semifinals contradicted conventional wisdom and stereotypes.
Did a team ever dictate a big game more than the Ducks did to the Seminoles, particularly in the second half, when FSU was supposed to take control? While Winston pulled out the "we beat ourselves" line afterward, he apparently failed to pay enough attention to Ducks' game film. Rendering teams into bloody hamburger during a sudden transformative frenzy is what Oregon does. The Ducks were not gifted those five turnovers from the Seminoles. They took them. The Ducks forced 30 turnovers this season and ranked second in the nation in turnover margin. They ranked first in turnover margin in 2012 and have been in the top 25 every year since 2010.
"All they did tonight was go out and act like themselves," said Frost.
Yet there was a little bit more to the Ducks' effort, and perhaps this can be attributed to Helfrich. There is no question that Oregon players and coaches were annoyed by the pregame talk about "finesse." Receiver
Byron Marshall
, who was pretty snappy about the topic before the game, said afterward that certain dismissive comments that were attributed to Florida State players were posted in the locker room, which further motivated the team. Kelly would have outright rejected such an approach as an outside distraction that had nothing to do with the quality of execution. Helfrich seemed to let his players marinate just a bit in the perceived -- that word! -- tweaks.
When asked about what Winston could have meant when he said "this game could have gone either way," about a 39-point defeat, Oregon center
Hroniss Grasu
was at a loss.
"I don't know what he was thinking," he said. "We beat them physically, we beat them mentally, our coaches outcoached them."
He then added: "They are a great team. We are just a better team."
Here's a guess that many of the Buckeyes could identify with those pregame sentiments and postgame conclusions.
Both these teams want a national title above all else. Winning is always the ultimate reward. But you can also bet both will sustain an internal perception that they still have to prove their doubters wrong, that they must still play with a chip on their shoulders.
And no matter what, when the smoke clears on Jan. 12, one more set of perceptions will be sledgehammered.