Big Ten:

Seth Broekhuizen
July, 14, 2011
7/14/11
1:15
PM ET
Our preseason position ranking series comes to an end today with everybody's favorite group: special teams.
For this ranking, we're going to consider punters, kickers and returners only. No offense to the long-snappers or the punt-team gunners, but things like kickoff coverage units are hard to forecast. We'll give a little extra weight to teams that have returning and proven players at these spots, because it's difficult to know how new punters and kickers will fare when the pressure of real games begin.
As the guys in these positions would say, let's kick it:
[+] Enlarge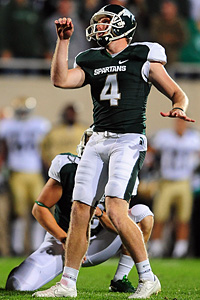 Andrew Weber/US PresswireDan Conroy was nearly perfect on his field goal attempts last season.
1. Michigan State:
Kicker Dan Conroy made 14 of his 15 attempts last year, and
Keshawn Martin
led the league in punt return average. They will miss punter Aaron Bates and will have to improve their kickoff return game. And you know you always have to watch out for the fake when the Spartans line up for a kick.
2. Wisconsin:
The Badgers are set at both punter and kicker, with seniors Brad Nortman and Philip Welch, respectively. Both are third-year starters who can be relied upon. Wisconsin will need to find a replacement for primary return man
David Gilreath
.
3. Penn State:
The Nittany Lions bring back punter Anthony Fera and punt returner
Devon Smith
, who finished just behind Martin in yards per attempt last season. Chaz Powell and
Stephfon Green
are dangerous kick returners. Fera could move over to handle field goals this season if incoming freshman Sam Ficken doesn't win the job.
4. Ohio State:
The Buckeyes have a veteran punter in senior Ben Buchanan and two threats to take a kick to the house in
Jordan Hall
and
Jaamal Berry
. Sophomore Drew Basil is expected to take over at place-kicker. Special teams are almost always a force in Columbus.
5. Purdue:
No one in the league has a bigger leg than Carson Wiggs; the questions is whether he can consistently harness it. Punter Cody Webster averaged 43.3 yards per attempt last season, second best among returning punters. The Boilermakers' return game needs to improve.
6. Illinois:
Derek Dimke was a Lou Groza semifinalist last season and broke the school record for points by a kicker. He nailed two 50-plus yarders. Ray Guy semifinalist Anthony Santella is gone, though return man
Troy Pollard
is back.
7. Northwestern:
Brandon Williams improved at punter as his freshman year went along last season. The Wildcats at long last have an elite return option in
Venric Mark
. But place-kicker was a concern this spring, with Jeff Budzien and Steve Flaherty competing for the job.
8. Iowa:
Kirk Ferentz's teams usually find a way to be good on special teams, so odds are the Hawkeyes will climb these rankings. But they lost a lot from 2010, including Ray Guy finalist and four-year starter Ryan Donahue, plus both primary return men. Eric Guthrie held the edge at punter after the spring. Place-kicker Mike Meyer returns after taking over that role for the final 10 games and doing a solid job.
9. Indiana:
Mitch Ewald was named to the Groza watch list after a strong freshman year in which he made 16 of 19 field goals. Chris Hagerup needs to increase his punting average of 39.4 yards. The Hoosiers should have enough athletes to replace Tandon Doss on returns.
10. Minnesota:
Dan Orseske's 36.1-yard average was worst among starting Big Ten punters in 2010, so that must get better. Jerry Kill must also find a new place-kicker -- NC State transfer Chris Hawthorne looks like the top option. Troy Stoudermire, one of the league's top return specialists, is back for his senior year.
11. Nebraska:
Like Iowa, this is a team that will almost assuredly outperform this ranking. But boy did the Huskers lose a lot of talent and experience. It will be difficult to match the value that punter/kicker Alex Henery brought -- Brett Maher and freshman Mauro Bondi will battle to replace him -- and Adi Kunalic was a secret weapon as kickoff specialist. Top returner Niles Pau is gone, too. The Cornhuskers will likely reload, but nobody has bigger shoes to fill at these positions in the Big Ten.
12. Michigan:
The kicking game looked like a disaster this spring, with neither Seth Broekhuizen nor Brendan Gibbons inspiring confidence. Incoming freshman Matt Wile might win the job this summer. This could prove to be an Achilles' heel for the Wolverines, as it was a year ago. On the plus side, Will Hagerup is the leading returning punter in the Big Ten, though he had only 33 attempts last season.
May, 4, 2011
5/04/11
10:00
AM ET
Michigan
2010 overall record:
7-6

2010 conference record:
3-5 (T-7th)
Returning starters
Offense: 9; defense: 8; kicker/punter: 2
Top returners
QB
Denard Robinson
, WR
Roy Roundtree
, C David Molk, WR
Darryl Stonum
, WR
Junior Hemingway
, DT
Mike Martin
, DE Ryan Van Bergen, CB J.T. Floyd, S Jordan Kovacs
Key losses
G Stephen Schilling, QB Tate Forcier, LB Jonas Mouton, LB Obi Ezeh, CB James Rogers
2010 statistical leaders
(*returners)
Rushing:
Denard Robinson* (1,702 yards)
Passing:
Denard Robinson* (2,570 yards)
Receiving:
Roy Roundtree* (935 yards)
Tackles:
Jonas Mouton (117)
Sacks:
Ryan Van Bergen* (4)
Interceptions:
James Rogers and Cameron Gordon* (3)
Spring answers
1. Roundtree shines:
Michigan's new offense seems to be clicking with receiver Roy Roundtree. The redshirt junior drew praise from offensive coordinator Al Borges for his play this spring, and he seems ready to grasp the No. 1 receiver role once again. Roundtree put up some nice numbers last fall but dropped too many passes. If he can take his game to the next level in a pro-style offense, he'll put himself on the NFL radar.
2. Gordon adjusting again:
Cam Gordon was the talk of spring practice a year ago after switching from wide receiver to safety. He endured some growing pains last season and once again made a position move in the winter, this time to linebacker. And once again, Gordon drew strong reviews from the staff for his spring performance. Michigan obviously needs more playmakers on defense, and Gordon should have a big role this fall.
3. High expectations for D-line:
The defensive line received a ton of attention this spring, as coordinator Greg Mattison and head coach Brady Hoke, two former line coaches, spent much of their time with the group. Players have welcomed Mattison's 4-3 scheme, and Michigan boasts good experience up front with Mike Martin, Ryan Van Bergen and Craig Roh. Jibreel Black had a good spring and adds to the depth at end, and hopes are high for big Will Campbell as he moves back to defense.
Fall questions
1. Robinson's transition:
As the spring game showed, quaterback Denard Robinson's transition from the spread to Borges' system will take some time. Although Robinson made strides as a passer last year and impressed Borges with his arm, he still needs to gain greater comfort working under center and dropping back to pass. Borges still will use Robinson as a runner but wants to protect Michigan's asset. The summer will be big for No. 16.
2. Cornerback health:
The hope is Troy Woolfolk (ankle) and J.T. Floyd (foot) return at full strength, stay healthy and elevate a shaky secondary this season. But there are no guarantees with rehabbing players, and it will be interesting to see how both cornerbacks look in preseason camp after both were limited this spring. Michigan needs more depth throughout the secondary, and while Courtney Avery and Greg Brown got a long look this spring, the team will be better off with Woolfolk and Floyd.
3. Special attention:
The kicking game was a mess for Michigan in 2011, and it remains a major question mark entering the summer. Seth Broekhuizen and Brendan Gibbons both missed kicks in the spring game, and the competition there is far from over. Incoming freshman Matt Wile enters the mix this summer, and a lot of folks hope Wile can quickly take control of a shaky situation.
April, 22, 2011
4/22/11
4:30
PM ET
Hoping everyone has a great weekend, especially those attending spring games!
Send in those questions
for Tuesday's mailblog.
Ryan from New Zealand writes:
Hi Adam, A lot of attention has been paid to rebuilding Michigan's defense and the changes to the offense. But, I haven't heard anything about their special teams changes. Notably, have they found a kicker yet? This was a huge problem last year and really created problems. Do you think they have fixed this problem area?Also, do you know when teams will release their 2011 schedules?Thanks,Ryan
Adam Rittenberg:
Ryan, the kicker situation still looks very shaky. Seth Broekhuizen and Brendan Gibbons both missed field-goal attempts in the spring game, although to be fair, that's only a sliver of what they did in practice this spring. Incoming freshman Matt Wile will have a chance to win the job in preseason camp, but until someone starts getting it done in games, you should worry. ... The full schedules should be released soon, along with the Big Ten's prime-time schedule of games.
---
Dan from Scottsdale, Ariz., writes:
I'd like to get your thoughts on the Jack Nicklaus take about Tress "taking the hit". Although Nicklaus claims to know nothing, he's really stirring the pot isnt he? If he's right and Tress wasn't the only one who knew, wouldn't that directly signal the NCAA to keep digging? And wouldn't Nicklaus' comments effectively end any relationship he'd have with Gee and Smith? Seems like the type of comments a well known alum would say to burn his bridge. Unless he can back them up, his comments seem reckless, careless and useless to me.Also, you took it easy on Pete from Chicago (from Wednesday's chat) regarding PSU feeling unwelcome to the B1G due to the OSU/Michigan rivalry. You subtly let him know about experiencing success. I'll not so subtly remind him PSU has pretty much been a doormat to UM since they joined the conference. Until recently UM has completely owned PSU and probably still would if they hadn't pushed Carr out...
Adam Rittenberg:
Nicklaus has his own museum on Ohio State's campus -- right next to the football complex, actually -- so he probably can say what he wants and avoid major repercussions. But it's interesting for sure, and I can say there are a lot of folks around the Big Ten who share this opinion about other people besides Tressel knowing what was happening at Ohio State. The NCAA definitely is digging for more information at Ohio State, not only about this situation but anything else that might come up. While I highly doubt Nicklaus knows more than Gene Smith and Gordon Gee about what happened, it's interesting that he has chosen to speak out.
---
Kyle from Denver writes:
Any news on Chris Borland from your Madison visit? I see you didn't mention him on the linebacker depth chart. Is the shoulder still an issue or will he be back competing for a starting role? After his stellar freshman year lets get this man-child on the field again!
Adam Rittenberg:
Kyle, I caught up with Chris and he's still working his way back from the shoulder surgeries. He's doing agility drills and recently started lifting again, which is a good sign. He expects to be medically cleared in a few weeks but won't participate in full contact until preseason camp. If Borland can stay healthy, he'll provide a huge lift at linebacker for the Badgers. Wisconsin really could use his playmaking skills after losing J.J. Watt.
---
Tony from Ann Arbor, Mich., writes:
Adam - Regarding Tressel's job status and relationship with this boss, if you signed a form like that for ESPN and it turned out to be a blatant lie, and it damaged ESPN's reputation in front of the whole county over months or more, cost ESPN hundreds of thousands (or more), and will likely cost ESPN major sanctions from its regulator (the FCC?) -- what would your job status be? What would be your relationship with your boss? Yeah, me too, and the same with everyone else reading this. OSU's handling of this situation sends a very bad message to its student athletes; it's an embarrasment to their university and to the Big Ten, among others. I might be from Ann Arbor, but I'm sorry to see it.
Adam Rittenberg:
Tony, the difference is I haven't made ESPN millions of dollars and made ESPN's shareholders (equivalent of Ohio State's football boosters) want to invest millions of dollars. Although that's all part of my grand plan, Tressel still has far greater value to the real power brokers at Ohio State, who ultimately decide when a coach gets fired. These situations really show who has the power at certain schools, and it's often not the president or the AD.
---
Nathan from Iowa writes:
Hey Adam,What is your opinion on
Adam Robinson
's possible re-acceptance onto the team? You've had strong opinions on previous situations about allowing people back onto the team after being kicked off for various reasons. Just wanting to hear your opinion on this. I think he should be allowed back on after what happened based on the substance policies set in place at the schools, this just happened at the extremely wrong time. I would still like to see a game suspension because of the timing that it happened, but I think he is a good kid who made a mistake.Thanks!
Adam Rittenberg:
Nathan, here's
my post on the Robinson situation
from back in January. My stance hasn't changed. I agree that Robinson was hurt by the timing of what he did -- right after the DJK situation and the internal examination of athlete drug-testing procedures -- but he shouldn't get off the hook easily. If he meets the conditions I outline in the post -- complete his drug counseling program, undergo frequent drug tests, maintain above-average grades and subject to a zero-tolerance policy -- he deserves another chance.
---
Michael from St. Louis writes:
Hi Adam - When digging through local papers to fill your lunch links during the offseason, do you ever get the feeling you've read a story a dozen different times already? We get it: Nebraska quarterbacks will be allowed to audible next year. Or last year (and I know you didn't have to go through this): Bo Pelini/Shawn Watson isn't going to name a starting QB until gameday! I guess this is more of a complaint than a question. Please, oh please, God - let the football season start soon.
Adam Rittenberg:
Here's to that, Michael! I know what you mean about the links, but it's the offseason and there are only so many storylines when you don't play games between late December/early January and September. I'll try my best to find some links that haven't been regurgitated too many times.
---
Tyler from Eden Prairie, Minn., writes:
On paper, who do you think has the best speed on the offensive side of the ball? I think Nebraska has to be up there or at the top with
Taylor Martinez
,
Rex Burkhead
, Jamal Turner,
Kyler Reed
, and Kenny Bell. They still have 3 4* RB's that will be there in the fall. And maybe even a freak athlete like Bubba Starling passes up MLB and plays for Nebraska.
Adam Rittenberg:
I'd agree on the Huskers, Tyler. Martinez and Burkhead both have shown they can run, and I'm excited to see what Turner and Bell can do in games. It might be wishful thinking on Starling, but you never know what happens with these two-sport athletes. Michigan and Ohio State also boast a lot of speed on offense (when the Buckeyes' top players are in the game), and Purdue and Illinois also have speed because of their dual-threat quarterbacks.
April, 18, 2011
4/18/11
11:00
AM ET
Brady Hoke wrapped up his first spring session as Michigan's coach on Saturday as the team held its spring game at the Big House. Backup quarterback
Devin Gardner
and the first-team defense registered a 14-7 win against starting quarterback
Denard Robinson
and the first-team offense.

Here's a quick snapshot of the Michigan spring game:
Game coverage:
Here
and
here
and
here
and
here
.
Quotable:
"We've made some baby steps and at times bigger steps during the spring, but we've got a long way to go. Our summer is going to be awfully important as a team. The gains we need to make strength-wise, the gains we need to make as far as technique and the fundamentals we need to play the game with. We're glad we don't open up tomorrow." -- Michigan coach Brady Hoke.
Highlights
After a 55-yard run on his first play from scrimmage, Robinson had some struggles. Robinson unofficially completed only 5 of 14 passes for 60 yards and had an interception negated by a penalty. He finished with 60 rushing yards on six rushes and had a couple of fumbles (none lost). Although Robinson's performance didn't inspire confidence among some Michigan fans, it's way too early to judge him as he's transitioning to a new offensive system. "We didn't run Denard very much, but in the real world, he'll probably run more than he ran today," offensive coordinator Al Borges said. "We're making a transformation here, and we're not going to learn about this transformation by the quarterback running every play."
Most of the positives Saturday came on defense, as Greg Mattison's group made several big plays. Safety Carvin Johnson recorded two interceptions and freshman linebacker Jake Ryan had an interception returned for a touchdown against Devin Gardner. Ryan also applied pressure several times in the scrimmage. "It was good to see some active guys," Hoke said. "We had some pressure at times which I thought was pretty good."
Standout defensive tackle Mike Martin saw some time at rush end Saturday after practicing there at times during the second half of spring ball. Martin is Michigan's most talented defender, and the coaches want to maximize his ability. "He showed the ability to rush the passer," defensive coordinator Greg Mattison told reporters. "We'll do that from time to time with our defense, we'll move guys around so they get better matchups. We've got a lot more we haven't done yet that is going to be good for a couple of those guys."
The kicking game remains a concern as Seth Broekhuizen missed a 31-yard attempt and Brendan Gibbons hit the upright from 48 yards out. Michigan must figure out a way to upgrade this area before the season kicks off Sept. 3.
November, 27, 2010
11/27/10
1:16
PM ET
COLUMBUS, Ohio -- Michigan got the answer it needed from
Denard Robinson
.
Unfortunately for the Wolverines, the kicking game continues to doom them.
Ohio State answered Michigan's touchdown with one of its own, as
Jordan Hall
raced 85 yards to the end zone following a short kickoff. Both Buckeyes' touchdowns can be connected to Michigan's special teams woes, as Ohio State only needed to drive 35 yards following a shanked punt by Michigan's Seth Broekhuizen, filling in for suspended starter Will Hagerup.
As bad as Michigan's defense has been this year, the special teams are even worse. And even less excusable.
Ohio State leads
17-7
midway through the second quarter.
November, 27, 2010
11/27/10
11:29
AM ET
COLUMBUS, Ohio -- Both teams are on the field going through warm-ups about 35 minutes before kickoff.
A couple of notes:
Michigan punter Will Hagerup didn't make the trip after violating team rules. Kicker Seth Broekhuizen will handle the punting duties today. Or maybe Tate Forcier will give it a shot. Yikes.
Wolverines receiver Junior Hemingway, listed as questionable for the game with a head injury, didn't go through warm-ups.
Not a huge fan of Ohio State's throwback jerseys. I'm trying to find a good comparison and opened this up to my Twitter followers. Best suggestions: San Diego State, Rutgers, Indiana, New Mexico. Can't see Alabama, guys, but maybe you can.
November, 20, 2010
11/20/10
1:25
PM ET
ANN ARBOR, Mich. -- The rout is definitely on at the Big House, as Wisconsin has completely dominated Michigan in all three phases and leads
24-0
at the break.
Some thoughts:
Turning point:
Down 7-0, Michigan put together a nice drive and reached Wisconsin's 17-yard line. But
Denard Robinson
misfired on a third-down pass, and Seth Broekhuizen missed a 30-yard field-goal attempt. Wisconsin never looked back, scoring 17 more points before the break.
Stat of the half:
Wisconsin quarterback
Scott Tolzien
completed his first 13 attempts for 196 yards before throwing an interception deep in Michigan territory just before the halftime. The pick broke a streak of 24 consecutive completed passes stretching to last week.
What Wisconsin needs to do:
Keep the pedal down. Remember that the Badgers led Michigan 19-0 at halftime the last time they were here, only to watch the Wolverines mount the biggest comeback in stadium history. Wisconsin's defense has been outstanding, and it's important to make Denard Robinson and the Wolverines work hard for their scores. Tolzien needs to make sure the pick just before halftime doesn't have a hangover effect.
What Michigan needs to do:
Make big plays on offense. It has been the calling card for Rich Rodriguez's unit, and the Wolverines won't get back in this game without some long touchdown plays. Wisconsin controls the clock too well and will limit possessions. The Wolverines also have to string together good defensive plays, a struggle all season, and avoid special teams blunders.
November, 20, 2010
11/20/10
12:56
PM ET
ANN ARBOR, Mich. -- Michigan's defense has taken the brunt of the criticism this fall, but the Wolverines' special teams woes have been just as damaging.
The Wolverines got nothing out of an impressive drive early in the second quarter as Seth Broekhuizen missed a 30-yard field goal. Michigan ranks last in the Big Ten in field goals, converting just 4 of 13 attempts this season. Against a super efficient team like Wisconsin, the Wolverines can't waste opportunities like that one.
Michigan's defense is making enough plays to keep this one within range, although Wisconsin really hurt itself with a chop block penalty on second-and-goal. Badgers quarterback
Scott Tolzien
has been perfect so far, completing 9 of 9 passes for 133 yards, while his Michigan counterpart
Denard Robinson
has been more erratic on his throws.
The Badgers lead 10-0
and they're looking for more.