February, 13, 2013
2/13/13
10:15
AM ET
The postseason position rankings march on with the group where it all begins: the offensive line. Traditionally one of the stronger positions throughout the Big Ten, the 2013 season brought mixed results. Several traditionally strong lines took a step back, while other groups surprised us.
As a reminder, these rankings are based solely on performance during the 2012 season. Star power matters, but depth often matters more, especially for a spot like offensive line. If you missed our preseason O-line rankings,
check 'em out
.
Let's begin ...
1. Ohio State (Preseason ranking: 5):
Few position coaches in the country made a stronger impact in Year 1 than Ohio State line coach Ed Warinner. He took a talented group that had underachieved in 2011 and turned it into the powerful engine of the Buckeyes' revamped offense. Converted tight end
Reid Fragel
blossomed at tackle along with
Jack Mewhort
, while center
Corey Linsley
stepped forward in his first year as the starter. The Buckeyes received solid guard play, and the line came on strong during the Big Ten schedule, beating up opponents in the red zone. Ohio State led the league in scoring (37.2 ppg) and finished second in rush offense (242.2 ypg).
[+] Enlarge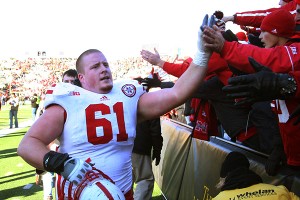 Reese Strickland/US PresswireSpencer Long stood out on a Huskers offensive line that blocked for the Big Ten's top offense.
2. Nebraska (Preseason ranking: 4):
Personnel losses didn't faze Nebraska in 2012, whether it was running back
Rex Burkhead
dealing with chronic knee issues or offensive lineman
Tyler Moore
transferring to Florida
. The Huskers' line took a nice step, leading the way for the Big Ten's top offense. Guard
Spencer Long
earned first-team All-Big Ten honors and second-team AP All-American honors, and tackle
Jeremiah Sirles
received second-team All-Big Ten honors. Nebraska's walk-on tradition remained alive and well with Long,
Justin Jackson
and
Seung Hoon Choi
. The line blocked well no matter who was carrying the ball. The only knock against Nebraska, much like Ohio State, was its sacks allowed total (35).
3. Penn State (Preseason ranking: 9):
First-year coach Bill O'Brien called the offensive line a pleasant surprise during spring practice, and the group continued its upward trajectory during the season. Despite losing four starters from 2011 and needing to absorb a dramatically different system, Penn State's line came together around senior center
Matt Stankiewitch
. The Lions protected quarterback Matt McGloin and created room for several running backs, including
Zach Zwinak
, who surged late in Big Ten play. Stankiewitch, guard
John Urschel
and tackle
Mike Farrell
all received All-Big Ten recognition, as Penn State's offense proved to be one of the league's biggest surprises in 2012.
4. Northwestern (Preseason ranking: 8):
Northwestern rarely has struggled to move the ball since installing the spread offense in 2000, but the run game had been lagging until this year. Although the Wildcats needed a featured back to take charge, as
Venric Mark
did in 2012, they also needed more from the offensive line, a group to which the coaches had recruited well. The line stepped forward in a big way as Northwestern finished 19th nationally in rushing. Guard
Brian Mulroe
earned second-team All-Big Ten honors, while tackle
Patrick Ward
was an honorable mention selection. The Wildcats didn't pass much but protected the pocket well, allowing a league-low 16 sacks.
5. Indiana (Preseason ranking: 12):
Youth was our big concern with the Hoosiers before the season, but the line came together nicely despite throwing several unproven players into the fire. Indiana surrendered only 17 sacks despite passing the ball more than anyone else in the league -- and racking up more pass yards (3,734). Freshmen
Jason Spriggs
and
Dan Feeney
held their own, and center
Will Matte
anchored the unit. Indiana struggled at times to run the ball but performed well in the red zone.
6. Michigan (Preseason ranking: 2):
The Wolverines' line had its moments, especially in pass protection, but Michigan struggled to generate a run game outside of quarterback
Denard Robinson
. Left tackle
Taylor Lewan
did his part in earning Big Ten Offensive Lineman of the Year honors, and his return for 2013 gives Michigan a big boost. Guard
Patrick Omameh
also earned first-team All-Big Ten honors from the coaches, but the line had some inconsistency against strong defensive fronts such as Notre Dame's and Michigan State's. Help is on the way as Michigan piled up elite offensive line prospects in its 2013 recruiting class.
7. Wisconsin (Preseason ranking: 1):
If the Wisconsin line was graded on its three performances in the Hoosier State -- at Purdue, at Indiana and against Nebraska in the Big Ten championship game in Indianapolis -- it likely would be at the top of the list. But the Badgers line only looked like a Badgers line for stretches this season. There were as many depressing performances (Oregon State, Michigan State) as dominant ones. The line repeatedly faced adversity, from the firing of line coach Mike Markuson after Week 2 to three different starting quarterbacks. To its credit, the group kept bouncing back. Tackle
Rick Wagner
, center
Travis Frederick
and guard
Ryan Groy
all earned All-Big Ten honors, and Frederick, like his predecessor Peter Konz, opted to skip his senior season and enter the NFL draft.
8. Purdue (Preseason ranking: 6):
The Boilers' line ended up just about where we thought it would, in the middle of the pack. Purdue finished in the top half of the Big Ten in total offense (fifth), rushing offense (sixth) and pass offense (third), despite dealing with a quarterback rotation for much of the season. There were some issues in pass protection, especially early in the season. The line lacked star power but
Robert Kugler
's emergence at guard later in the season was a bright spot. Purdue has endured some ups and downs with several converted defensive linemen on the offensive front and could take a step forward in 2013.
9. Michigan State (Preseason ranking: 3):
The Spartans had high hopes for their offensive line before the season, but things never really got on track. The
season-ending loss of right tackle Fou Fonoti
after two games really hurt, and other injuries cropped up throughout the fall. Although running back
Le'Veon Bell
racked up 1,793 rush yards, he made a lot of things happen on his own, and Michigan State struggled to convert red zone opportunities (44) into touchdowns (23). Guard
Chris McDonald
earned honorable mention All-Big Ten honors.
10. Minnesota (Preseason ranking: 11):
Notice a theme here about injuries? It continues with the final three teams on the list. Injuries hit Minnesota's offensive line especially hard, as the Gophers lost their top two centers in a win against Illinois and were constantly moving pieces around up front. The good news for Gopher fans is that the offensive line made significant strides for the bowl game against Texas Tech, as Minnesota racked up 222 rush yards. But the line had its struggles during Big Ten play, as Minnesota eclipsed 17 points just once in eight league games.
11. Iowa (Preseason ranking: 7):
Like Michigan State and Minnesota, Iowa's offensive line endured several key injuries, losing two starters (
Brandon Scherff
and
Andrew Donnal
) in a blowout loss to Penn State at Kinnick Stadium. The line blocked well for
Mark Weisman
during his early season surge, but Iowa still finished with the league's worst rushing offense (123 ypg) and second worst total offense (310.4 ypg). Iowa also struggled to reach the red zone (38 opportunities) or convert those chances into touchdowns (league-low 18). Center
James Ferentz
and guard/tackle
Matt Tobin
both earned honorable mention All-Big Ten honors.
12. Illinois (Preseason ranking: 10):
No position group is absolved of blame for Illinois' offensive struggles, and the line certainly underachieved for the second consecutive season. The Illini finished last in the Big Ten in both scoring and total offense, and 11th in both rushing and pass offense. They allowed a league-worst 39 sacks, and Illinois failed to score more than 22 points in any Big Ten contest. Sure, injuries were a factor, but the Illini had two good building blocks in tackle
Hugh Thornton
, a likely NFL draft pick in April, and veteran center
Graham Pocic
. Thornton earned second-team All-Big Ten honors from the coaches, while Pocic was an honorable mention selection. Despite the youth and a new system, this group should have been a lot better.
August, 24, 2012
8/24/12
2:15
PM ET
When the phone rang early Sunday morning in Seoul, Yu Mi Chu responded like any parent would. She worried.
Her son, Nebraska offensive lineman Seung Hoon Choi, never called home at 4 a.m.
"She thought I got in some kind of accident," Choi said.
Choi quickly put his mom at ease. He had good news. Nebraska had awarded him a scholarship. No accident.
"They said they're proud of me," Choi said. "That was the best part."
[+] Enlarge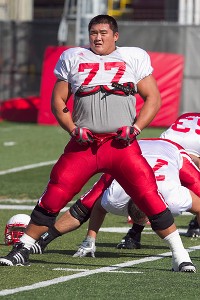 AP Photo/Nati HarnikOffensive lineman Seung Hoon Choi has joined a distinguished list of former Nebraska walk-ons who have earned scholarships.
Landing a scholarship is only the latest chapter in Choi's incredible story. He grew up in Korea and left for Lincoln at 14, an eighth grader who barely knew any English. He ended up living with his sister and then several host families from Lincoln Christian High School. He didn't play football until his sophomore year, and caught the eye of Huskers assistants living in the same town.
He eventually attended a Nebraska camp and was asked to walk on to the team. Last season he appeared in 11 games at guard, starting five.
The 6-foot-2, 295-pound Choi isn't the first Huskers walk-on to become a significant contributor. Nebraska's walk-on tradition might be unmatched in college football. Yet he's certainly the most unique.
And he's not alone among the Huskers' linemen.
If any Nebraska fans are concerned about the viability of the team's storied walk-on program, they need only look at the interior of the offensive line when the season kicks off Sept. 1. There's a decent chance Nebraska starts three former walk-ons -- Choi, junior guard Spencer Long and senior center Justin Jackson.
All three were among five players awarded scholarships Saturday.
"I saw him with a tear in his eye," Choi said of Jackson, his roommate. "After practice, we got in the locker room and hugged each other. It's something I can't really describe, a great feeling I got to share this moment with him and Spencer.
"We have our own pride as walk-ons."
Long, who started every game last season, was the lone junior of the five to receive a scholarship.
"Justin was shocked, Seung was shocked," Long said. "It was great to see those guys get rewarded for the work they've put in here."
Long had no FBS offers coming out of Elkhorn, Neb. But growing up in the state, he knew there was a path to Lincoln.
"I always knew we put an emphasis on the walk-on program here," Long said. "For players like me who weren't that highly recognized out of high school, the opportunity to come and play and try to prove yourself at the highest level is really awesome."
Like most freshmen, Long came to Nebraska unsure of how he'd measure up. But it only took a few snaps in practice for him to know he could compete at the FBS level.
Choi drew inspiration from players like former Huskers center Mike Caputo, a former walk-on who started his final 27 games and earned a scholarship before the 2009 season.
Now Choi, Long and Jackson are setting the example for other walk-ons hoping to take the field for the Huskers on fall Saturdays.
"We worked so hard to get where we are right now," Long said. "I'm proud to be next to two guys who have been through the same kinds of things that I have, and have had to work from the bottom to the top."
July, 24, 2012
7/24/12
2:30
PM ET
It's time to jump back into our preseason position rankings with a look at the offensive line units.
On Friday, we ranked the
top individual players at the position
. These unit rankings reflect star power as well as depth. We're heavily weighing these on last year's performance, along with potential for the 2012 season.
Away we go:
1. Wisconsin:
Sure, the Badgers lost two All-Americans (Kevin Zeitler and Peter Konz) from last year's line. But they've earned the benefit of the doubt for their ability to reload up front. Left tackle
Ricky Wagner
is an Outland Trophy candidate, and center
Travis Frederick
should be one of the best in the Big Ten. The key will be how the new-look right side with
Rob Havenstein
and likely
Robert Burge
moving into starting roles.
[+] Enlarge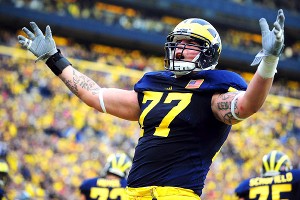 Andrew Weber/US Presswire With top tackle Taylor Lewan returning, Michigan fields one of the best offensive lines in the Big Ten.
2. Michigan:
The Wolverines might have the top tackle in the league with junior
Taylor Lewan
, and guard
Patrick Omameh
is a three-year starter. Senior
Ricky Barnum
is taking over for David Molk at center.
Michael Schofield
should be solid at right tackle, though the left guard spot remains a competition. It should be a strong starting group, though depth here is a major concern.
3. Michigan State:
This could be the best offensive line Mark Dantonio has had in East Lansing. Six players who started games last year are back, and there will be depth and competition at several spots. Third-year starter
Chris McDonald
is one of the league's top guards, while tackles
Dan France
and
Fou Fonoti
are dependable.
4. Nebraska:
The Cornhuskers lost three starters from last year's line, but much like Wisconsin, this is a group that usually reloads. Guards
Spencer Long
and
Seung Hoon Choi
provide nice building blocks, with
Tyler Moore
,
Jeremiah Sirles
and
Andrew Rodriguez
solidifying the tackle spots. The big question here is center and who will replace
Mike Caputo
.
5. Ohio State:
The Buckeyes had their problems up front last year and now are implementing a new offensive system. Urban Meyer wasn't happy with the group's work ethic in January but felt much better about them by the end of spring.
Jack Mewhort
replaces Mike Adams at left tackle, while
Andrew Norwell
and
Marcus Hall
try to live up their potential at guard.
Corey Linsley
earned Meyer's praise for his work at center. Keep an eye on the right tackle spot, where former tight end
Reid Fragel
is now the first-stringer. But true freshman Taylor Decker is pushing him.
6. Purdue:
Injuries kept the Boilers from building much cohesion this spring, but this can be a sturdy group when healthy. Three starters are back, with
Trevor Foy
moving from right to left tackle. This is an experienced bunch, but Danny Hope wants to see more dominance. Senior center
Rick Schmeig
should be a leader
7. Iowa:
The Hawkeyes must replace three starters, including NFL draft picks Reilly Reiff and Adam Gettis. But Iowa usually fields good offensive lines, and hopes are high for this year's edition. The leader is center
James Ferentz
, who now will be coached by his older brother, Brian Ferentz. Much will depend on how players like
Brett Van Sloten
and
Brandon Scherff
develop.
8. Northwestern:
The Wildcats lost two valuable starters in tackle Al Netter and
Ben Burkett
but return three-year starter
Brian Mulroe
at guard and promising sophomore center
Brandon Vitabile
. There should be good depth up front, but can the Wildcats generate a consistent rushing attack?
9. Penn State:
The good news is that the Nittany Lions played better than expected last year on the offensive line. The bad news is four starters are gone, not to mention some potential transfers in the wake of the NCAA sanctions. There is still talent here, including guard
John Urschel
and tackle
Donovan Smith
. But the least experienced line in the league will have to learn a new offensive system.
10. Illinois:
There was little excuse for the Illini O-line to play as bad as it did last year with standout players Jeff Allen and
Graham Pocic
in the mix. Pocic is back this year at center, though he might take some snaps at tackle as well. Young players like sophomore
Simon Cvijanovic
and redshirt freshman
Ted Karras
will need to come on. This unit should be improved, but it ranks low based on last year's finish.
11. Minnesota:
Jerry Kill shuffled this group last year and played a lot of youngsters. It's still a relatively inexperienced unit, but there is hope for improvement. Junior left tackle
Ed Olson
has the best chance to be a star.
12. Indiana:
Center
Will Matte
is one of the most experienced linemen in the league. But beyond him are several young players, including three true sophomores who started as freshmen last year. There's nowhere to go but up.
April, 2, 2012
4/02/12
12:00
PM ET
I had to get these links done early so I could hit up a lunch buffet with Betty Draper.
March, 19, 2012
3/19/12
12:00
PM ET
So is your Final Four still alive?
November, 12, 2011
11/12/11
11:41
AM ET
STATE COLLEGE, Pa. -- Back to football. Finally.
Both teams went through normal workouts. I didn't see any signs of a Paterno tribute on the Penn State players' uniforms, wrist bands or shoes. But that could change when they come back out for kickoff.


Defensive line coach Larry Johnson and linebackers coach Ron Vanderlinden will serve as co-defensive coordinators with Tom Bradley acting as head coach. Terrell Golden is working for the receivers with Mike McQueary on administrative leave and reportedly finished as a Nittany Lions coach.
For Nebraska (remember the Huskers?), guard Andrew Rodriguez didn't make the trip because of an undisclosed injury. Seung Hoon Choi will make the start in his place. Choi has started this season, and the Huskers play a lot of guys on the offensive line, so it shouldn't be much of an issue. Defensive lineman Chase Rome was banged up last week but practiced and should be good to go. Nebraska rarely operates in the shadows, but the focus has clearly been away from the Huskers this week.
Penn State had its bye last week, so the team is about as healthy as it could be at this point in the season. Backup running back
Derek Day
had his foot stepped on in practice this week and is not available, but he wasn't expected to contribute, anyway. The Nittany Lions' mental and emotional health is the real question.
September, 23, 2011
9/23/11
12:00
PM ET
I have the toes I have. Let's just leave it at that.
September, 17, 2011
9/17/11
3:14
PM ET
LINCOLN, Neb. -- Greetings from Memorial Stadium on a chilly, overcast day.


The big news from warm-ups: Alfonzo Dennard went through drills. He was expected to miss his third straight game with a leg muscle pull and still might. Is Bo Pelini simply playing cat and mouse?
But if he's able to go, his presence could be key, because Dennard is good at run support as well as being a top-flight cornerback. Nebraska could use him against a strong Washington ground game led by
Chris Polk
. The Huskies also have some talented receivers, especially
Jermaine Kearse
.
Washington will be without starting safety Nate Fellner. Can
Taylor Martinez
take advantage of the secondary? The Huskers' passing game has been shaky through the first two weeks.
Also for Nebraska, Seung Hoon Choi will start at left guard instead of Andrew Rodriguez.
Much more to come ...
August, 26, 2011
8/26/11
8:00
AM ET
You've asked for it and you've been very patient, so here it is. The Big Ten All-Name team.
Who doesn't love a good name? And there are some very strong candidates around the Big Ten this season.
The only criteria, besides having an awesome name, is a player must be on a Big Ten roster entering the 2011 season. Incoming freshmen are eligible. Names that could have a football connotation help your cause.
Let's do this ...
Coach:
Jerry Kill, Minnesota
OFFENSE
QB:
Moses Alipate
, Minnesota
RB:
Fitzgerald Toussaint
, Michigan
RB:
Mika'il McCall, Iowa
FB:
Jared Crank
, Purdue
OL:
Fou Fonoti, Michigan State
OL:
Jack De Boef, Purdue
OL:
Rocko Khoury, Michigan
OL:
Seung Hoon Choi, Nebraska
OL:
Riki Kodanko, Wisconsin
WR:
Fritz Rock
, Illinois
WR:
Xzavian Brandon
, Minnesota
WR:
Tariq Tongue
, Penn State
WR:
Nick Toon
, Wisconsin
TE:
Jake Stoneburner
, Ohio State
DEFENSE
DL:
DeJazz Woods, Illlinois

DL:
Kyle Baublitz, Penn State
DL:
Wisdom Onyegbule, Illinois

DL:
Shilique Calhoun, Michigan State
LB:
Storm Klein, Ohio State
LB:
Coddye Ring-Noonan, Wisconsin

LB:
Kaulana Judd, Purdue
DB:
Miami Thomas, Illinois
DB:
John Lowdermilk, Iowa
DB:
Peniel Jean, Wisconsin
DB:
Shady Salamon, Minnesota
SPECIAL TEAMS
P:
Alex Butterworth, Penn State
K:
Carson Wiggs, Purdue
PRACTICE SQUAD
Zepheniah Grimes, LB, Illinois
Griffen Dahlstrom, LB, Indiana
Curenski Gilleylen, WR, Nebraska
Whitney Mercilus, DE, Illinois
Caleb TerBush, QB, Purdue
Takudzwa Kubvoruno, WR, Michigan State
Dakota Getz, LB, Iowa
Darius Millines, WR, Illinois
Dusty Kiel, QB, Indiana
Chi Chi Ariguzo, LB, Northwestern
DeOn'tae Pannell, OL, Penn State
Khairi Fortt, LB, Penn State
Sahr Ngekia, TE, Minnesota
Montee Ball, RB, Wisconsin
Silas Redd, RB, Penn State
Nick Stoner, DB, Indiana (nod to Adam's hometown of Berkeley, Calif.)
Marlandez Harris, DL, Indiana
Logan Link, DB, Purdue
Stone Pinckney, LB, Northwestern