June, 26, 2013
6/26/13
9:00
AM ET
After recording just two victories on the field in 2012, Illinois tallied a big one off of it earlier this month when quarterback
Wes Lunt
announced
he would transfer to the school
. Lunt, who opened the 2012 season as Oklahoma State's starting quarterback as a true freshman, picked Illinois ahead of Sugar Bowl champion Louisville. The Rochester, Ill., native, will sit out the 2013 season in compliance with NCAA transfer rules and have three seasons of eligibility remaining. He'll arrive at Illinois' campus by July 8 at the latest.
ESPN.com caught up with Lunt earlier this week to talk about his transfer choice and his journey to the Illini.
You've had some time to digest the decision. How do you feel about it now?
[+] Enlarge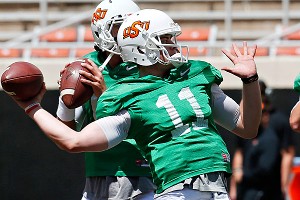 AP Photo/Sue OgrockiWes Lunt is at Illinois just months after participating in Oklahoma State spring practices.
West Lunt:
I feel the same, really excited and ready to get over there and start classes and start working out with the team.
What was the toughest or the most challenging part about the process you went through before making the decision?
WL:
The hardest thing with every process and this process is you have to tell somebody no. I developed a great relationship with both coaching staffs. Shawn Watson at Louisville and Charlie Strong had been so good to me throughout the process, and it was really hard to tell them no.
You chose between a program coming off of a Sugar Bowl championship and one that went 2-10 last year. How much for you was about the future than the present?
WL:
Obviously, the programs are in different spots right now. I've always wanted to play for Illinois. Just staying close to home and helping your state school out, there's something to be said about that. I'm excited to try to help them and move them in a lot better direction if I can. To be honest, I didn't follow them at all last year, I didn't know how their season went.
How did Illinois come onto your radar when you were looking to transfer?
WL:
My high school head coach [Derek Leonard] said they were interested if I decided to transfer, and after I got the release, Coach [Tim] Beckman called. It all started from there.
There was a lot made about the restrictions Oklahoma State placed on you (and later lifted). What was it like to deal with that as you weighed your options?
WL:
It was more of a frustration Day 1, and after you find out, you've just got to go with it and accept what was given to me. More than enough schools were available. I had like 37 blocked or something, but the ones I didn't have blocked were great schools.
When some of the restrictions were lifted, did you feel like you were too far into the search?
WL:
Yeah. I couldn't have talked to anybody. I just picked those first five schools because I had previous contact with them before I chose OSU coming out of high school. I knew the coaching staffs at those schools. Once they were blocked, I had two really good options. There were a lot of other schools that were interested, but those two schools [Illinois and Louisville] were great options.
What does Illinois offer you?
WL:
They offer me a lot. They offer a world-class education. I'm really looking forward to getting on campus and pursuing academics. The coaches created a great relationship. No matter how long they're going to be there, we're always going to have a relationship. I'm excited to get started and get working with the team. I've always wanted to play at Illinois, so I'm really excited about it.
What did you know about Coach [Tim] Beckman and also [offensive coordinator Bill] Cubit before the search started?
WL:
I knew Coach Cubit through Western Michigan because they offered me early out of high school [Cubit served as Western Michigan's head coach from 2005-12]. I never developed a huge relationship with him, just knew him a little bit. And then Coach Beckman, I didn't really know him at all. I was at OSU when that staff was hired and got on campus at Illinois. I knew he was the D-coordinator at OSU in '07 and '08. But once I got the release, they both contacted me, and throughout this month, I really talked to them a lot and built a relationship.
What about the offense Coach Cubit runs suits what you do as a quarterback?
WL:
I know his previous quarterbacks at Western Michigan have thrown for a ton of yards and had a lot of success with it. They get the ball out quick. It's a fast-paced offense, so it's exciting. I'm looking forward to it.
What were your conversations like with Coach Beckman or [Illinois athletic director] Mike Thomas about coming to Illinois and playing for this staff in 2014? Do you feel confident these coaches you committed to will still be there?
WL:
You can't predict the future. I know in college football, coaches are always going to bigger, better jobs, or getting fired. But I've committed to Illinois and to Coach Beckman, and I expect to play for him as long as I'm there. That's the mind-set you've got to have. I'm really happy about being coached by Coach Beckman and Coach Cubit, so I have the mind-set they'll be there as long as I am.
Did you have any conversations with Mike Thomas about Coach Beckman's future?
WL:
I didn't. I talked to Mike Thomas a lot, but nothing about that.
Have you had a chance to get to know any guys on the team or anyone Illinois is recruiting?
WL:
When I went on my second visit there, I met the O-line, and they told me what it was like to play for Coach Beckman. I know Malik Turner just committed, he's from SHG [Sacred Heart-Griffin High School] down in Springfield. I don't really know anybody, but I know of a lot of people, so I'm looking forward to building relationships.
What are your top priorities for this season, when you won't be playing in games?
WL:
Just getting better in all aspects of my game: in the weight room, in the film room and on the practice field just throwing. I'll play scout for the defense, just trying to make them be the best defense they can. It'll be a lot of getting better and learning the offense.
What do you think you've learned about yourself in the last nine months, going from a freshman starter at Oklahoma State to now a transfer for Illinois?
WL:
I've learned patience. There's a lot of things you can't control. And just getting closer with my family throughout. I have someone to lean on when life gets tough. It's a fun, bumpy ride, but I loved OSU and it was a great time and it was sad to leave.
I read that you didn't really want to leave. Is it bittersweet now that you've moved on?
WL:
It's definitely bittersweet. I wish the players and the coaches there the best. I'm not playing this year, so I'll follow them and see how they do.
Illinois hasn't had a lot go its way lately. Do you sense the excitement among fans about you coming to play for the Illini?
WL:
Yeah, it's exciting. I grew up when Juice Williams was playing, and everyone was really excited about Illinois football. I don't know if it's that extent now, but people are excited, and I think we'll drastically improve this year, hearing from Coach Beckman and the players. I'm just excited that Illinois is getting excited about its state school.
April, 11, 2012
4/11/12
9:00
AM ET
LINCOLN, Neb. -- After the way
Taylor Martinez
introduced himself to the college football world in 2010, footwork would seem like the last thing he'd need to significantly upgrade.
The Nebraska quarterback has little trouble moving forward or sideways, consistently wrong-footing defenders or simply outrunning them with his superb speed. Some signal-callers might offer their non-throwing arms to replicate what T-Magic does in the open field.
It's moving backward, however, when Martinez gets into trouble. Most people cite an awkward, shot-put-like throwing motion as his biggest problem, but his mechanical issues begin with his first step toward the pocket.
So while many of his teammates spent spring break doing the things normal college students do, Martinez returned to his native California and worked with noted quarterbacks guru Steve Calhoun. Their sole mission: footwork.
[+] Enlarge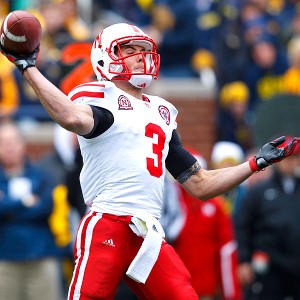 Rick Osentoski/US PresswireTaylor Martinez hopes improved footwork will make him a better passer.
"At first, if I took the left foot back, my body would lean back," Martinez told ESPN.com. "That's what caused me to maybe throw an awkward way. Now if I take my right foot back, my shoulders are more even, the way they're supposed to be.
"I feel a lot different. A lot more balanced."
Martinez might finally be striking a balance at Nebraska after two seasons of extremes.
He burst onto the national radar as a redshirt freshman in 2010 before toe and ankle injuries slowed his progress and production. Six weeks after a national coming-out party at Kansas State, Martinez endured a night at Texas A&M that he, coach Bo Pelini and all who love Nebraska football would just as soon forget.
He rode the roller coaster again in 2011, bouncing back from a three-interception disaster at Wisconsin to lead the biggest comeback in team history two weeks later against Ohio State. He had a solid stretch midway through the season but backslid against Michigan and in the Capital One Bowl. Martinez completed just 56.3 percent of his passes for the season, tossing 13 touchdowns and eight interceptions.
No player triggers more debate in this football-obsessed state than Martinez, whose play on the field and words off it, no matter how few of them, are constantly scrutinized. He once went months without talking to reporters, during which
his father shot down transfer talk
, and although he's gradually warming up to the spotlight, he remains guarded. In a bizarre news conference after the win over Ohio State, Pelini came to his defense, lashing out at a columnist who had criticized the quarterback. Although it has been a quiet spring for Martinez, he made waves by saying
anything shy of a national championship
would be a disappointment for Nebraska in 2012.
Martinez, by the way, is only halfway through his Huskers career.
"It seems like he's been around five years," Pelini said. "He's still a young guy. He's still got two years left, so he's got a lot of football left to play."
A lot of potentially great football, according to Pelini. Beginning this season.
"He's a better football player," Pelini said. "He's a lot more comfortable. His technique's better, his fundamentals are better. And if that continues, he has a chance to really make big strides. "
After the bowl game, offensive coordinator Tim Beck and Martinez identified five or six areas Martinez needed to improve during the offseason. Footwork topped the list, and on advice of his father, Casey, Martinez went to Calhoun's Armed & Dangerous camp last month.
They worked on dropping back with his right foot rather than his left and squaring his shoulders on throws. Martinez compared Calhoun's tips with what he heard from Nebraska's coaches, and was relieved to see they were "on the same path."
"There were some things techniquewise we identified and tried to fix," Beck said. "It's like a golf swing. You open your stance or loosen your grip, whatever, to offset your deficiency. This year, we've had the opportunity through spring to fix it. Footwork was one of the biggest issues with him."
It's not the only reason to believe Martinez will be improved this season. For the first time in his college or high school career, he will play in the same offense in back-to-back seasons.
Martinez attended three high schools, playing primarily quarterback at the final two. After playing under coordinator Shawn Watson at Nebraska in 2010, he had to absorb Beck's system last season, which also marked Nebraska's first in the Big Ten.
"That's going to be a big advantage for him," Pelini said. "He's been so caught up in what to do, but he hasn't necessarily been able to address some of the fine points that are going to make him a better football player -- the how and the why."
Martinez has seen a "huge difference" since the bowl game, whether it's reading blitzes, checking out of certain plays and into better ones or knowing where his weapons will be in an offense that gives route-runners additional flexibility. It doesn't hurt that Nebraska returns eight starters on offense, including seven of its top eight pass-catchers from 2011.
"You can just tell," running back
Rex Burkhead
said. "When he drops back to pass, he's not really missing that many reads. He's not looking around or rethinking a play. He knows exactly what to do before the play even starts."
Nebraska has had a top-15 rushing attack in each of the past two seasons and looks very strong in the backfield with Burkhead leading the way. Martinez, who had more rush yards as a freshman (965) than a sophomore (874), also could see an increased role as a ball carrier.
Beck admittedly took a cautious approach with Martinez last season, but he has more confidence in backup
Brion Carnes
. And while Martinez didn't miss any time in 2011, he said he hasn't felt this healthy since the 2010 game against Missouri, when he first injured his ankle.
"I think they'll be running me a little bit more this year," he said. "I'm really excited for that."
Although Martinez might be on the move more, Nebraska won't be going back to its 2010 offense.
Beck wants to push the pass more with a seemingly more confident Martinez and a more mature crop of receivers. Nebraska has finished 104th, 113th and 101st nationally in passing the past three seasons.
"We still believe in running the football to control the game," Beck said, "but I still think to win them, you've got to be able to throw it. So we've put more emphasis there."
Huskers coaches and players also have seen growth in Martinez as a leader. Pelini said being Nebraska's starting quarterback is impossible to prepare for until you've lived it. And for the past two years, through the ups and downs, Martinez has lived the life.
Martinez still has to win over a large portion of Huskers fans, but those inside the Osborne Athletic Complex have found reasons to believe.
"A lot of people agree, a lot of people disagree with the things he does or he says, but Taylor has always been good at blocking all the distractions out, whether it be good or bad," tight end
Ben Cotton
said. "He's obviously a quiet guy; people can see that. But he's done a great job of being a more positive vocal leader, not only for this offense but for this entire team.
"To see where he has come from, he's definitely grown up quite a bit."
A more balanced Martinez, in mind and in body, could help Nebraska take the next step in 2012.
February, 10, 2011
2/10/11
9:00
AM ET
Nebraska is officially part of the Big Ten blog, and the welcome wagon hasn't stopped rolling.
To help us learn more about the Huskers, I've reached out to colleague David Ubben from
the Big 12 blog
. David knows all about Big Red and covered Nebraska during its transition from the Big 12 to the Big Ten. After being nice enough to hand off the Huskers -- actually, I had to pry them from his hands -- Ubben took some time to talk about the Big Ten's newest member.
Let's go back to June 11. What was your initial reaction to Nebraska leaving the Big 12 for the Big Ten?
David Ubben:
Ha, well it was certainly an unpopular one among the Nebraska supporters. I thought it was a great move for the university and the football program, but a huge, huge blow to the future stability of the Big 12.
In short, I equated Nebraska leaving to
pulling the pin on the Texas Grenade that would blow up the Big 12
.
Obviously, that's not what ended up happening, and for a fan base that since June has despised all things Big 12, I was surprised at how much the Huskers didn't want to be blamed for the Big 12's demise. One would think they would relish in it.
At the core, I think there was some fear from fans that their Huskers might be villainized as a program for the self-serving move, but that's not at all what happened to Arkansas, who certainly did much of the same thing to the Southwest Conference when it left for the SEC.
Back to your original question, though, Nebraska leaving definitely meant a weaker Big 12 if it continued to exist moving forward, and anyone who wants to try to argue otherwise is kidding themselves. Nebraska did what it needed to do: secure infinitely more stability and a good amount of cash with a move to the Big Ten, as well as the academic prestige that comes with, to borrow a phrase from deservedly maligned Missouri governor Jay Nixon, aligning themselves with Northwestern and Wisconsin rather than Texas Tech and Oklahoma State.
Yeah, anytime a school wants to upgrade its league, it should remember Mizzou and do exactly the opposite. But back to Nebraska. People know about the national championships, Dr. Tom and the option offense. What should Big Ten fans know about the current Nebraska program and its fan base as the Huskers transition to the conference?
[+] Enlarge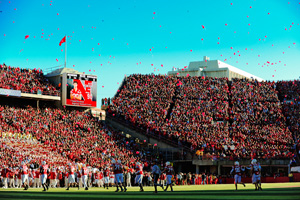 Eric Francis/Getty ImagesNebraska's Memorial Stadium has been sold out for every single home game since Nov. 3, 1962.
DU:
Nebraska's biggest asset is its fan base. People like to knock Huskers fans for being a bit full of themselves, but they have reason to be. They're going to rival any team in the Big Ten when it comes to traveling for road games. Prepare yourselves for a sea of red in your stadiums when Nebraska comes.
One big reason? It might be tougher to get a ticket to see the Huskers in Lincoln. Every single home game has been sold out since Nov. 3, 1962, a streak of 311 games. That's an NCAA record, of course. The ones who do make it into Memorial Stadium on fall Saturdays enter under permanent signs that read "Through these gates pass the Greatest Fans in College Football."
Is it obnoxious? Yes. Will it turn off a few opposing fans? Most definitely.
But I would argue that it's not inaccurate.
Husker fans are voracious supporters. They love their team. They know their team. They read about and are opinionated about their team. They spend money on their team. Any other fan base should admire at least that much. Because of that devotion, among other things, the program is one of college football's blue bloods and is able to make a big move that will benefit the program tremendously.
Let's talk about the team itself. Bo Pelini is an Ohio guy, and his track record on defense speaks for itself. Nebraska has seemed more up and down on the offensive side. How do you see the Huskers' style translating to the Big Ten?
DU:
That's presuming Nebraska has an offensive style. Nebraska was all about the run early in the year, and ran over and around just about everybody in the first half of the season. Since no one could stop it, they didn't have to throw much, and when they did, they were so, so dangerous.
But the offense slowed late in the season, and I thought they relied on
Taylor Martinez
to simply drop back and pass way too often and didn't run the zone read enough.
The latest word from Nebraska's recruits is they want an offense that most closely resembles Oregon's, likely minus the dizzying tempo. Offensive coordinator Shawn Watson would describe his offense as a bit of a hybrid between Oregon's offense and the West Coast passing attack, but he looks like he's on his way out.
I'm a big believer that you have to do what suits your personnel, and with a zone-read whiz like Martinez and quality running backs like Nebraska has, it would seem that's a good fit.
On the whole, though, Martinez has to continue to develop as a passer to really give the best defenses trouble. How much of that happens over the next three years will determine how successful they ultimately are. If he can't do it, there's nothing saying he's guaranteed to be the starter above incoming freshmen Bubba Starling (if he stays with football and doesn't sign an MLB contract) and Jamal Turner. Even
Cody Green
, who played when Martinez was injured this year, could earn some quality snaps if Martinez struggles as a sophomore.
Wow, sounds like we could soon have a QB controversy. Interesting. What do you think will be the biggest adjustments for Nebraska in transitioning from the Big 12 to the Big Ten?
DU:
I'm a big believer in Pelini as a defensive coach, so I think they'll be able to make these adjustments eventually, but they're going to have to change the type of players they recruit defensively. You need so many defensive backs (and good ones) to have success in the Big 12, and winning the line of scrimmage will put you over the top, but teams like Missouri and Texas Tech have had success in the league without doing it on a consistent basis.
The Big Ten is all about the beef up front. The Huskers are big and fast on the defensive line with guys like Jared Crick and Baker Steinkuhler. I don't see many problems there.
Nebraska's best linebacker this year, Lavonte David, made a Big 12-best 152 tackles. He also happens to be 210 pounds. Players like him, while they're incredibly valuable in the Big 12 for their ability to make plays in coverage and provide a speed rush, will be marginalized in Nebraska's future for bigger, run-stopping linebackers.
There will be all kinds of things that will have to change, but the type of defensive personnel will be No. 1 on the list. Specifically, Nebraska will need more, bigger linebackers and fewer defensive backs.
Nebraska always has recruited so well in the state of Texas. How do you think the move to the Big Ten will impact Nebraska's recruiting strategy?
[+] Enlarge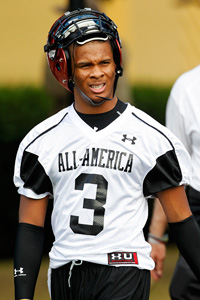 Cliff Welch/Icon SMI Now that it's left the Big 12, Nebraska will have more difficulty luring elite Texas high school players like Jamal Turner.
DU:
Oh, what a contentious question. So, so much disagreement on this issue.
I don't think there will be a time when Nebraska just has no one from Texas, but their success in the state will take a considerable hit with the move. I do believe the Huskers should continue to recruit the state, but I also think they need to take some of those efforts and resources previously allocated toward Texas and use them to start scraping the Rust Belt and compete with their new conference mates, rather than their old ones.
Pelini knows the area well, and I think the Huskers will have some success doing it. They had a huge year in 2011 in Texas, getting three top-tier, ESPNU 150 players in ATH/QB Jamal Turner, RB Aaron Green and CB Charles Jackson.
I do believe they can keep getting some talent like that in 2012 and 2013, but as recruits and their families really realize what life is like as a parent of a Texas kid playing in the Big Ten, they'll realize why so few Texas recruits elect to play in the Big Ten. I talked with Texas Tech coach Tommy Tuberville about this issue last week actually, and he said for most families, it's a huge deal. Watching on TV simply isn't the same thing as going to games, home or away. And the facts are, a lot of families can't afford to fly to a ton of games.
Nebraska traditionally only played one or two games in Texas during a season, three if they made the Big 12 title game and it was in Texas. That doesn't sound like many, but look at it this way, unless you can pay for a flight or make a ridiculously long drive, you're talking about going four or five months without seeing your son versus around two or fewer if they play games in Texas.
So in short, I don't think there will be a time when Nebraska absolutely can't recruit in Texas, but they need to take advantage of their new opportunities in Ohio and Michigan, too, as compensation for the guys who won't want to play up North.
OK, you're on the spot. How do the Huskers fare in Year 1 in the Big Ten, which has already branded them a legendary team in the Legends division?
DU:
The Big Ten certainly didn't do them any favors with their first-year schedule, booking them for trips to Wisconsin, Penn State and Michigan. Hosting Iowa, Michigan State and Ohio State is going to be tough, and they have to play the Buckeyes in the first game with their five suspended players back. Who knows what happens there?
With a still-maturing passer who won't have a ton of help at receiver, they'll have some struggles offensively, but they should be solid again on the defensive end.
I'll say 9-3 or 8-4. Short of what you might call a Legendary season, but certainly a good one.
Thanks to David for his time, and stay tuned as we'll both have more on Nebraska's move to the Big Ten.
February, 7, 2011
2/07/11
9:00
AM ET
Several Big Ten teams are still filling out their staffs for 2011, and we'll hear an official announcement or two later Monday.
Here's a roundup of what's been happening the last few days:
INDIANA

The Hoosiers on Friday announced the hiring of
Brandon Shelby as cornerbacks coach
. Shelby, who previously held the same position at Louisiana-Monroe, starred as a defensive back at Oklahoma during IU coach Kevin Wilson's time there and also served as a Sooners' defensive assistant in 2006. Shelby replaces Corey Raymond, who left Indiana to take a position at Nebraska. Although Nebraska hasn't made an official announcement about Raymond, he's expected to replace secondary coach Marvin Sanders, who resigned Thursday.
Indiana also last week hired Nebraska defensive assistant Brett Diersen as defensive tackles coach and Air Force running backs coach Jemal Singleton to the same position. Diersen replaces Jerry Montgomery, who Wilson said left for a position at Michigan.
These appointments complete Wilson's staff for 2011.
NEBRASKA

So far, Sanders' resignation is the only official announcement Bo Pelini has made about his staff. But Wilson said Raymond is on his way to Lincoln, and all signs point to offensive coordinator Shawn Watson and receivers coach Ted Gilmore being on their way out. Nebraska's offensive production dipped toward the end of the 2010 season, and the Huskers' receivers had an up-and-down year.
Multiple media reports from Nebraska state that
Pelini might be targeting
Oregon receivers coach Scott Frost, the former Huskers' star quarterback, and Notre Dame offensive line coach Ed Warinner as replacements. Warinner served as Kansas' offensive coordinator from 2007-09 and spent time in the Big Ten as Illinois' offensive line coach and run game coordinator from 2005-06.
The interesting part of this is
Pelini reportedly will hand over play-calling duties
to running backs coach Tim Beck. The Lincoln Journal Star and Omaha World-Herald both report that Frost might not leave Oregon unless it's for a job as a play-caller elsewhere.
Pelini seems to be reshaping his staff before Nebraska's jump to the Big Ten. It will be fascinating to see how things play out in Lincoln.
MICHIGAN

Coach Brady Hoke will finalize his staff Monday and announce the defensive assistants to join coordinator Greg Mattison.
Montgomery is on his way to Ann Arbor, and he'll reportedly be joined by Akron defensive coordinator Curt Mallory on the Michigan staff. Expect Mallory to coach the Wolverines' secondary, while Montgomery will work with the defensive line. Mallory played at Michigan and has spent his entire coaching career in the Midwest, serving as Illinois' secondary coach and co-defensive coordinator from 2007-09. Montgomery played at Iowa and most recently served as Wyoming's defensive line coach.
MICHIGAN STATE

After promoting Dan Roushar to offensive coordinator last week, Mark Dantonio reportedly has found the final member of his staff.
According to The (Mount Pleasant) Morning Sun, Central Michigan receivers coach
Terry Samuel has left to take the same position
on Michigan State's staff. Samuel, who played wide receiver at Purdue, worked his way up through the FCS ranks before joining former Dantonio assistant Dan Enos at Central Michigan last year.
He'll coach the position group that previous Michigan State offensive coordinator Don Treadwell oversaw. Samuel inherits a deep and talented receiving corps led by B.J. Cunningham and Keshawn Martin.

WISCONSIN
The Badgers lost a key assistant over the weekend as running backs coach John Settle departed for the same position with the Carolina Panthers. Settle did an outstanding job with Wisconsin's running backs, helping to mold standout players like P.J. Hill, John Clay, James White and Montee Ball.
Although Wisconsin always recruits talented backs, Settle leaves some big shoes to fill. It will be interesting to see who coach Bret Bielema hires as his replacement.
February, 4, 2011
2/04/11
5:21
PM ET
So far, Nebraska has announced only one departure from Bo Pelini's staff, as secondary coach
Marvin Sanders resigned Thursday
.
But it appears the staff changes aren't done yet.
A
posting for an assistant football coach
appeared Friday on the University of Nebraska's jobs Web site.
Description of work: "Responsible for offensive game preparation, on-field strategies and game tactics. Conduct student-athlete recruiting, monitor academic progress of current student athletes and provide instruction to team in the execution of offensive schemes and techniques."
Minimum qualifications: "Bachelor's plus three years successful collegiate coaching experience required; equivalency. Demonstrated ability to recruit national-level student athletes necessary. Must have knowledge and commitment to NCAA, Conference, and University regulations. Excellent interpersonal/organizational skills essential."
There has been a lot of buzz that two offensive assistants, coordinator Shawn Watson and receivers coach/recruiting coordinator Ted Gilmore, are on their way out. Watson, Gilmore and Sanders all were absent from a fan recruiting event Wednesday night in Omaha.
Watson's future with Nebraska has been a popular topic the past two months. He was a candidate for several head-coaching vacancies but didn't get them, and thus far, Nebraska hasn't announced any changes.
So if you're qualified and interested, send in your application by Feb. 17.
And stay tuned for more information.
February, 3, 2011
2/03/11
3:27
PM ET
December, 31, 2010
12/31/10
1:03
PM ET
Michigan State will be sad to see Don Treadwell go, but few Big Ten assistants are more deserving of a head-coaching position than Treadwell.
(UPDATED: Statements below)
After four years as Spartans' offensive coordinator,
Treadwell has accepted the head-coaching position at Miami (Ohio)
, his alma mater. He's the second Michigan State assistant to leave for a MAC job in as many seasons; running backs coach Dan Enos went to Central Michigan after last season. Nebraska offensive coordinator Shawn Watson and Ohio State co-defensive coordinator/linebackers coach Luke Fickell also were in the mix at Miami.
Treadwell's highlight as a Spartans' assistant came this season as he ran the program during Mark Dantonio's health-related absence. He made several gutsy play calls in Michigan State's biggest win of the season, a 34-24 triumph against Wisconsin on Oct. 2 that proved to be the Badgers' only loss.
Arguably no assistant in America played a bigger role in a signature win than Treadwell. He figured to land a top job soon, and Miami (Ohio) is a good spot for him.
Treadwell will coach his last game for Michigan State on Saturday in the Capital One Bowl before moving onto his new gig.
It will be interesting to see where Dantonio turns for a successor. Offensive assistants Dave Warner (quarterbacks), Dan Roushar (offensive line) and Mark Staten (tight ends, recruiting coordinator) all have been with Dantonio for a while, so there's certainly a chance he'll promote one to the coordinator spot.
Michigan State undoubtedly will stick with the pro-style offense that has worked well this season under Treadwell's leadership.
Staff continuity had been a hallmark for Dantonio, so Treadwell's departure presents a bit of a challenge. But I'm sure Dantonio is thrilled to see a top assistant get his shot to run a program.
Here are some statements regarding Treadwell heading to Miami.
Mark Dantonio
"Don Treadwell will be an outstanding head coach - he comes from a great background of coaches and he's ready for this position. He will serve his players well, not only as a coach but as someone they will look up to for the rest of their lives. To go back and do this at his alma mater makes it even more special to him. I know he's extremely excited for this next challenge in his life. We will miss Don and his family deeply here at Michigan State, and I will miss him personally, but this is his opportunity, his time.
"He did a phenomenal job stepping in while I was down, continuing to keep our system in place while showing incredible composure, which is one of his greatest attributes. So often, a team reflects its leader. At that point in time, leadership was thrust upon Don Treadwell. It was thrust upon our players, it was thrust upon all of our coaches, but in particular Coach Tread. They took on that persona of quiet confidence, assurance, and composure. You saw our team play like that, especially in the Wisconsin game, which was maybe our biggest win of the entire season. He was instrumental in helping us build a foundation with our program."
Michigan State athletic director Mark Hollis
"Even prior to this year, there was no question Don Treadwell was prepared for a head coaching job. In the unfortunate situation with coach Dantonio, he just shined throughout that entire process, not only holding the team together but being the face to represent Michigan State football publicly. There's no doubt in my mind that he has both the football knowledge and the presence to bring a community together to make Miami's program continue to thrive and get better and better. He's been a head coach with us, and now he'll have his own program to run."
Don Treadwell
"It's a dream come true to return to my alma mater, Miami, as head football coach. Miami has always held a special place in my heart, and the opportunity to be a part of the 'Cradle of Coaches' is a privilege as well as a responsibility. I have a blueprint for success for our student-athletes: in the classroom, on the playing field and in the community. Everyone in the program plays an important role, and with all of us heading in the same direction, we can add a new chapter to the rich tradition of Miami football. I can't wait to roll up my sleeves and get started."
December, 27, 2010
12/27/10
3:00
PM ET
It will be interesting to see how several recent coaching changes impact bowl games involving Big Ten teams.
Let's take a look:
TicketCity Bowl
Texas Tech announced Sunday that
defensive coordinator James Willis is leaving the program
. Willis won't coach for the Red Raiders in their upcoming TicketCity Bowl matchup against Northwestern. Texas Tech's defense isn't very good (116th nationally, 463 ypg allowed), and the timing of Willis' departure can't help matters.
On the flip side, the Red Raiders are no strangers to coaching shakeups before bowl games. They dealt with the firing of head coach Mike Leach days before the 2009 Alamo Bowl and still went out and beat a shorthanded Michigan State team.
It'll be interesting to see how Texas Tech's defense performs against a Northwestern offense still reeling from the loss of star quarterback
Dan Persa
.
Outback Bowl
Despite the annual
JoePa-is-retiring/sick email
, it appears as though the major coaching news in the Outback Bowl rests with Florida.
Head coach Urban Meyer is stepping down after the bowl game, and offensive coordinator
Steve Addazio was hired last week as Temple's coach
. Addazio beat out Penn State defensive coordinator Tom Bradley and others for the job. Addazio will remain with Florida through the Outback Bowl.
Although it wouldn't shock me if Florida put together an inspired performance for Meyer's final game, I've got to wonder how all this turmoil affects the Gators' players. They're used to BCS bowls and endured a disappointing 7-5 season. The quarterback situation seems shaky, and starter
John Brantley
is contemplating a transfer.
Penn State, meanwhile, avoided major changes to Paterno's staff. This seems like a situation where the Lions could capitalize.
Rose Bowl Game presented by VIZIO and Allstate Sugar Bowl
Two Big Ten assistants have taken head-coaching jobs this month, but both are sticking around for bowl games. Wisconsin defensive coordinator Dave Doeren was named head coach at Northern Illinois, while Ohio State receivers coach Darrell Hazell has landed the top job at Kent State.
I talked with Doeren on Sunday, and he's very much locked into Rose Bowl preparation. Although he has started to put together his staff at NIU, he has remained in Madison for most of the month. I don't think his impending departure is much of a distraction for Badgers' players, especially since Doeren's replacement likely will from within the current staff.
Hazell also is the type of coach who won't let his new role distract him from the task at hand. Ohio State needs all of its coaches locked in after last week's suspensions bombshell.
Although I doubt we'll see many major coaching moves this week, keep an eye on Nebraska offensive coordinator Shawn Watson and Ohio State co-defensive coordinator Luke Fickell. Both are in the mix for the vacancy at Miami (Ohio), and I hear Watson has an excellent chance to land the job.
There's also talk of
Texas eying Wisconsin offensive coordinator Paul Chryst
for its OC vacancy.
December, 22, 2010
12/22/10
1:00
PM ET
USA Today continued its
comprehensive look at coaches' salaries
with a look at how the assistants are faring (not too bad, despite a down economy).
The number of assistant coaches earning $250,000 or more is on the rise, particularly in the SEC, but what strikes me is the Big Ten's absence among the very top earners. No Big Ten assistant ranks among the top 10 nationally in salary and only Illinois offensive coordinator Paul Petrino ($475,250) ranks in the top 30 in earnings. The SEC, meanwhile, has 14 assistants among the top 30.
[+] Enlarge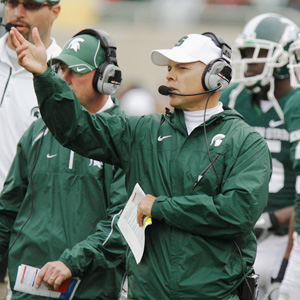 AP Photo/Carlos OsorioDon Treadwell was one of the Big Ten's best bargains last season at $235,250.
Are Big Ten assistants getting short-changed? Are Big Ten assistants inferior to those in the SEC? Why such a discrepancy?
I think the quality of coaching remains very high in the Big Ten and several assistants might want to get new agents. I also think that wild spending on assistant coaches is less a part of the culture in the Big Ten than it is in the SEC, Big 12 or even ACC. Will we ever see a Big Ten coordinator make more than $900,000, like Will Muschamp did at Texas, or more than $500,000? Perhaps we will, but I think it's doubtful.
There are also quite a few top assistants at big-time programs in the Big Ten who don't seem likely to make the jump to head-coaching positions elsewhere. While we've seen Big Ten assistants like Wisconsin's Dave Doeren and Ohio State's Darrell Hazell land top jobs this month, there aren't a ton of red-hot coaching prospects in the Big Ten.
It's interesting to see the discrepancy.
Who are the Big Ten's highest-paid assistants? Check 'em out:
(Note: As a private institution, Northwestern doesn't have to reveal coaches' salaries; Penn State declined to provide coaches' salary information.)
1.
Illinois offensive coordinator Paul Petrino (total compensation: $475,250, maximum bonus: $39,000)
2.
Wisconsin offensive coordinator Paul Chryst (total compensation: $361,094, maximum bonus: $122,500)
3.
Illinois defensive coordinator Vic Koenning (total compensation: $325,120, maximum bonus: $26,000)
4.
Ohio State offensive coordinator Jim Bollman (total compensation: $311,500, maximum bonus: $50,550)
5.
Ohio State defensive coordinator Jim Heacock (total compensation: $309,000, maximum bonus: $51,500)
6.
Minnesota defensive coordinator Kevin Cosgrove (total compensation: $305,000, maximum bonus: $0)
7.
Michigan offensive coordinator Calvin Magee (total compensation: $282,100, maximum bonus: $0)
8.
Michigan defensive coordinator Greg Robinson (total compensation: $277,100, maximum bonus: $0)
9.
Ohio State assistant head coach/receivers coach Darrell Hazell (total compensation: $264,800, maximum bonus: $48,133)
10.
Iowa offensive coordinator Ken O'Keefe (total compensation: $260,524, maximum bonus: $0)
Nebraska's highest-paid assistants are offensive coordinator Shawn Watson ($380,000 salary, $130,833 maximum bonus) and defensive coordinator Carl Pelini ($375,000 salary, $129,375 maximum bonus).
Illinois' decision to spend big bucks for its new coordinators plays out here. It's interesting that for a defense-oriented league like the Big Ten, three of the four highest-paid assistants are offensive coordinators.
The Big Ten's biggest assistant coach bargain in 2010: Michigan State offensive coordinator Don Treadwell ($235,250), who led the team during coach Mark Dantonio's absence. All but one of Ohio State's assistants makes more than Treadwell.
Another major bargain is Wisconsin running backs coach John Settle ($129,792).
Your thoughts on the coaches' salaries?