August, 26, 2014
Aug 26
4:40
PM ET
Like many football coaches, Penn State's James Franklin subscribes to the theory that young players can contribute quickly at wide receiver.
"The farther from the ball you are, the better chance you have to get on the field early," Franklin said Tuesday. "That's where it really comes down to skill, speed and quickness."
Franklin is one of several Big Ten coaches who are banking on that adage being true right now. Because as Week 1 rapidly approaches, many league teams are hoping that some true freshmen and other very inexperienced players can make a major impact on their offenses.
That's a byproduct of the Big Ten losing its top seven and nine of its top 10 receivers from 2013. The youth movement is on at that position, and it's happening in earnest at some places.
Penn State is replacing record-breaking receiver
Allen Robinson
, who left for the NFL after his junior year. Franklin said true freshmen
Saeed Blacknall
and
Chris Godwin
will play this weekend against UCF in Ireland.
"They've done well," Franklin said. "We need those guys to have roles for us, and hopefully that grows as the season goes on. Both of them are big, physical guys, they're mature and they've handled it extremely well. And with our lack of depth at that position, we needed that."
The Nittany Lions are also hoping for contributions down the road from first-year players
Daesean Hamilton
and
De'Andre Thompkins
.
Few teams are as green at wideout as Illinois, which will break in several new receivers this weekend against Youngstown State. They include true freshmen
Mike Dudek
and
Malik Turner
and junior-college transfers
Geronimo Allison
and
Tyrin Stone-Davis
.
"I'm really happy with the guys we have now," head coach Tim Beckman said. "The game experience isn't there for them yet, but I'm really happy with the athleticism, and I'm happy with the way they have learned the game and the offensive system."
Beckman said
Martize Barr
, who was a junior-college transfer last season, and junior
Justin Hardee
have done "an outstanding job teaching [the newcomers] how to practice and play. Now, we'll see how that works on Saturday."
Wisconsin's receivers could get the biggest baptism by fire, as they take on LSU on Saturday. True freshman
George Rushing
will be in the mix, and head coach Gary Andersen said he "has picked up the scheme and consistently made big plays." Freshmen
Krenwick Sanders
and
Natrell Jamerson
are vying for playing time as well.
"We're going to be receiver-by-committee," Andersen said. "We're not going to be receiver-by-Jared-Abbrederis."
Hopes are high for the talent on the perimeter at Ohio State. Still, three guys who are expected to play a lot --
Jalin Marshall
,
Corey Smith
and
Michael Thomas
-- have yet to see a down in the FBS. True freshman
Freddy Canteen
will play early and often for Michigan. Redshirt freshman
Derrick Willies
turned heads this spring at Iowa.
Indiana has one proven commodity in senior
Shane Wynn
. True freshmen
Dominique Booth
,
J-Shun Harris
and
Simmie Cobbs
have all worked their way into the rotation for Kevin Wilson, who's always been willing to play newbies.
Ricky Jones
, who barely played as a redshirt freshman last year, and former walk-on
Damon Graham
should also be in the Hoosiers' two deep vs. Indiana State.
"Oh, there's going to be some [mistakes]," Wilson said. "You're always concerned about it."
The time to find out if all these young receivers in the league are ready is almost here.
February, 5, 2014
Feb 5
3:00
PM ET
Indiana signed a class of 26 players on Wednesday, including six who enrolled early. I caught up with head coach Kevin Wilson to talk about the Hoosiers' class in this Q&A:
What were your priorities going into this class?
[+] Enlarge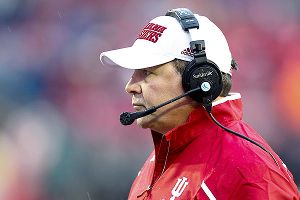 AP Photo/Andy ManisIndiana coach Kevin Wilson is hoping this recruiting cycle pays off in 2014 and beyond.
Kevin Wilson:
We've got a lot of guys back. On paper, I think we're going to be one of the more veteran teams in the country with starters back. But we were able -- with the seniors we had and the way we used some walk-on scholarships -- to sign a large number. Going back to last year, we really took a lot on defense because the offense was young and we really lost no one. This year, we signed four offensive linemen, with three of them coming in midyear. And even though we got the O-line back [from 2013], it's a pretty good deal because we didn't sign an O-lineman last year. We didn't take a quarterback last year, and so
Alexander Diamont
came in here midyear. Even though we know we need help on defense, I think in the future, them being here will really help with our offensive continuity.
Receiver is where we take a hit this year with
Kofi Hughes
,
Duwyce Wilson
and
Cody Latimer
[all leaving]. I think we'll have enough depth there with a [6-foot-4] guy like
Simmie Cobbs
.
Dominique Booth
is a big guy, and a little slot guy like
J-Shun Harris
, I think, is a perfect fit for us.
Coray Keel
, who's 6-2 and out of Georgia, to me, is underrated. He's pretty good.
Tevin Coleman
is a good runner, but we lost
Stephen Houston
and now we throw
Tommy Mister
in there and
Devine Redding
, I think those are quality players.
Now, defensively, we took a lot last year, and I think we backed it up with another decent crowd. At linebacker, I think we really helped ourselves there with
Tegray Scales
,
Greg Gooch
,
Robert McCray
-- two of those guys are 250-pounders. Guys like
Chris Covington
and
Zeke Walker
are 6-3, 205-pound, long kids who can be safeties or outside linebackers. And I was very impressed with what we got here in the end with
Tony Fields
,
Will Dawkins
and
Kiante Walton
. They're 200-pound safeties and corners. So again, we addressed our offensive needs of the future, and I think, hopefully, continued to upgrade the depth, competition, length and athleticism of our defense.

You added a lot of skill players. Does the success of your offense help your recruiting efforts?
KW:
It's not just what we've done here. At Northwestern, we were the total offense leader. Just look at how we've always done it with our quarterback play and style of offense. We've got four coaches on offense because I'm still very much involved in the game-planning. You know we lost a coordinator [Seth Littrell], but you're kind of still talking to the guy who runs it. … Tevin got hurt and didn't play the last couple of games. And I'm still kicking myself in the butt that we don't have a 1,000-yard back yet, because we've always had those guys, too.
So, I just think our style of offense, kids want to play it. We've kind of proved it year after year, and not just here, that we have a chance to play good offense.
It's kind of funny. Years ago, when offenses were taking off, a lot of teams were talking about pro-style offense, pro-style offense. Now look at the pro game -- it's now the college game. This style of offense is the way college football is going, and fortunately we're one of the teams that has a good feel for what we're doing.
You changed defensive coordinators in January, hiring Brian Knorr a few weeks before signing day. With that change, plus the talk of moving to more of a 3-4, how did that affect recruiting on the defensive side?
KW:
I've always said you need to be multiple if you can. To me, the worst recruiter in the world is someone who's on a schedule, and the worst coach is someone who has a playbook. You've got to be able to adjust to your kids. So I think you have to be multiple, and how much of it is four-man, three-man principles, the coverage is not going to change significantly. So I don't think we're going to come in and significantly be different schematically. We'll probably make some adjustments and see how it goes and how it takes off. The real deal is just trying to change our mindset, change our culture and continue to grow there.
We were lucky that when we did make the change, Coach Knorr came in when we had a weekend with 15 guys on campus, and 14 of them were defensive recruits. We didn't have a lot of defensive recruits committed early, and it was a fight and struggle until the end. But from the time he was on board until that Tuesday, he saw every kid we were after and wanted, and then we were able to get on some guys late. So in a two-week period both, he and Larry McDaniel, our new D-line coach along with [cornerbacks coach] Brandon Shelby ran the defensive recruiting. They did a heck of a job. They got on some great kids late. Even though we made some changes, I don't think it had a negative impact on our defensive recruiting. Hopefully, in some ways it solidified some things and helped us a little bit.
You haven't been hesitant in playing true freshmen right away. But with so many starters back, do you see this class as one that's adding depth and competition, or will there be many who play immediately again?
KW:
I think we've got to keep increasing our depth and competition, especially defensively. I have not one time promised a recruit that he's going to start here. He's got to earn it. I'm excited to see this team grow in the offseason, and we'll really be excited with so many guys coming back. And then you complement that with, on paper, one of best classes this school has had. I'm hopeful that we'll have depth, yes, to overcome an injury, but also to increase the competition to build a winning program. I wouldn't be surprised if you see some kids playing. Will it be a small number or a large one? I don't have a number in mind, but I can see a lot of these guys out there on the field as we crank it up this fall.
October, 17, 2013
10/17/13
2:00
PM ET


It's called the Big Ten Conference for a reason.

From big offers, to big official visits to big commitments, the Big Ten has been abuzz with activity.