July, 1, 2011
7/01/11
10:00
AM ET
When Dave Rimington and Boomer Esiason are out raising funds for the Boomer Esiason Foundation, they encounter plenty of people who want to talk football.
Not surprisingly, Esiason gets most of the attention.
"A lot of people who love football gravitate toward the quarterback," Rimington said.
Rimington understands. He's a center, after all. The best center in college football history, but still a center.
But there's one place Rimington and Esiason visit where their roles reverse -- Nebraska.
"When I go back with Boomer, he laughs and goes, 'They don't even know who I am here! They know more about a center than they do a quarterback,'" Rimington said.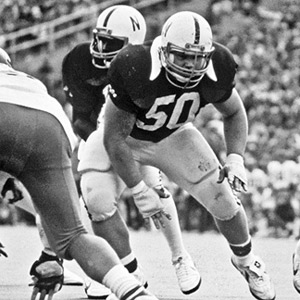 Nebraska Athletic DepartmentDave Rimington is still the only two-time Outland Trophy winner and the only offensive lineman to win Big Eight Player of the Year.
Rimington provided Nebraskans plenty of reasons never to forget him.
The Omaha native is one of the most decorated players in Huskers history. A two-time first-team All-American, Rimington anchored a line that propelled Nebraska's famed rushing attack in the early 1980s.
Rimington is still the only two-time Outland Trophy winner and became the first and only offensive lineman to win Big Eight Offensive Player of the Year honors, doing so in 1981. He earned first-team All-Big Eight honors in each of his final three seasons and capped his career with the Lombardi Trophy in 1982, finishing fifth in Heisman Trophy voting that year.
As ESPN.com wraps up its
Simply Saturday
series, a look at 50 college superstars who didn't quite replicate their success in the NFL, Rimington comes in at No. 7 on the rundown.
The former Nebraska star still has ties to football. The
Dave Rimington Trophy
is awarded annually to the nation's top center and presented every January in Omaha. Rimington also has held a summer football camp in Omaha since 1999 and attends two or three Huskers games per year.
But Rimington's primary focus is more important. Since 1995, he has served as president of the Boomer Esiason Foundation, which raises funds to support cystic fibrosis research and heightens awareness about the disease.
Rimington has been with the foundation since its inception and seen it go from generating $60,000 at its first event to now closing in on $100 million raised.
"If you looked at two former football players starting a foundation, it had disaster written all over it," Rimington said. "But Boomer was extremely motivated and I wanted to do as best I could for a friend."
It all began with a phone call.
Rimington had completed his business degree at Wisconsin -- he served as a graduate assistant football coach during his time in Madison -- and was living in Hong Kong with his wife, Lisa. He was studying Mandarin and looking for work when he received a call from Esiason, his close friend former teammate with the Cincinnati Bengals.
Esiason said he had some bad news. His son, Gunnar, had been diagnosed with cystic fibrosis, a genetic disorder that impacts the entire body.
"We were really good friends," said Rimington, who was in Esiason's wedding and visited Gunnar soon after his birth. "He asked me if I'd come back to New York to help him out, and I've been here ever since."
The foundation started with just three employees. They couldn't afford a Web designer, so Rimington learned HTML and Photoshop. He wore "a lot of different hats" in the early going.
Other than the Cystic Fibrosis Foundation, there were few charitable outlets focused on the disease. Rimington and Esiason looked at ways to leverage Esiason's celebrity -- he was playing for the New York Jets at the time -- to their advantage. Rimington's economics background also helped.
The foundation should reach the $100 million mark within the next year.
"If you had told me that when we first started, I would have laughed," Rimington said. "It's worked out pretty well."
Things worked out pretty well for Rimington at Nebraska, where he started three seasons and earned four letters. He helped the Huskers win back-to-back league championships and the 1983 Orange Bowl title.
Rimington thinks another lineman eventually will win multiple Outland Trophies, although he nearly didn't give himself the chance.
"The money is so much bigger now, and it's a lot bigger temptation to leave early," he said. "I almost tried. It got to the point where I won it the first time and I had really bad knees [and thought], 'Well, maybe I should try to jump right now.' I'm so glad I stuck around and played that senior year."
Rimington was a first-round pick of the Bengals in the 1983 draft and made the NFL's All-Rookie team that season. But his five years in Cincinnati didn't go smoothly and
ended with controversy
.
The Bengals released Rimington before the 1988 season after saying he failed a physical exam -- a questionable outcome after Philadelphia cleared Rimington to play immediately. He retired after the 1989 season.
"I went from one of the best organizations in college football to probably one of the worst organizations in the NFL," Rimington said. "I went from a weight room that was half the size of a football field to a weight room that looked like a junior high weight room, and the strength coach didn't want anybody to lift. ... It was ridiculous the stuff we had to go through there. I just had to shake my head. It's like the black hole of professional football.
"Good players go there and you never hear from them again."
Fortunately, that's not the case with Rimington, who is still doing plenty of good things with the Boomer Esiason Foundation.
"It's been a learning experience for me," he said, "and a lot of fun."
July, 1, 2011
7/01/11
9:00
AM ET
Several people can make the claim to being the best player in college football history. But only one guy has two Heisman Trophies to bolster his argument.
[+] Enlarge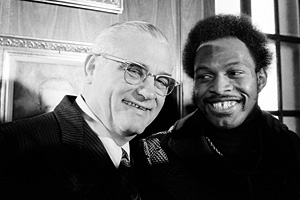 AP File PhotoOhio State's Archie Griffin, right, and coach Woody Hayes after Griffin was awarded the 1975 Heisman Trophy, on Dec. 2, 1975, in New York City.
Ohio State's Archie Griffin won his first Heisman as a junior in 1974, in a time when anyone but a senior earning the honor was still a rarity. He added his second stiff-arm statue in 1975 despite producing fewer rushing yards and touchdowns than he did as a junior. He also led the Big Ten in rushing as a sophomore.
Griffin was never physically imposing at a listed 5-foot-9 and 180 pounds. But that couldn't measure his heart or determination. He won the Buckeyes' starting tailback job as a true freshman, led the team to a 40-5-1 record during his career and started in four straight Rose Bowls. He finished with 5,177 career yards, and that was with Woody Hayes often resting him in the second half because the team was so far ahead.
Thanks to his incredible collegiate achievements, Griffin earned the No. 1 ranking in ESPN.com's Simply Saturday series, which profiles great college players who didn't quite reach the same heights in the NFL. That's not to say Griffin didn't have an impact in the pros; he played seven seasons with the Cincinnati Bengals and even made a Super Bowl. He just didn't match his exploits at Ohio State, scoring seven career touchdowns and posting a career-best of 688 yards in 1979.
I recently caught up with Griffin, who has been the president of the Ohio State Alumni Association since January 2004:
What's it like serving as the head of the alumni association for your alma mater?
Archie Griffin:
It's a wonderful feeling. I certainly enjoy working with alumni and having the opportunity to do the best we can to keep them connected to the university and making it special for them. It's really a wonderful job.
How much do people want to talk football with you whenever you're at alumni functions?
AG:
Football has certainly been a big part of my life, especially in the time I was playing. They always ask questions in regard to the game and what's happening at Ohio State. There's a big interest there and a great tradition, so certainly they want to know a lot about it.
What led you into this job?
AG:
It's a position I originally was not interested in, but a search firm contacted me in regards to it and got me interested. I originally was going to stay in athletics, as I spent 19 years in athletics at Ohio State and was going to continue that. I had aspirations at one time of being an athletic director until this came along. But it's been a great position for me, and I'm intending to stay in this position.
You had so many great accomplishments as a player at Ohio State. What really stands out to you when you think back on that time?
AG:
The thing that really stands out would be my teammates and the teams I played on, the players and the coaching staff. That's what was special about those years. I've always said I was at the right place at the right time with the right people. And I'm talking about great teammates and a coaching staff that allowed us to showcase our ability. And as a result, we had great success.
Anytime an underclassman wins a Heisman, your name is inevitably brought up. What's it like having your legacy be preserved and constantly mentioned?

AG:
It brings you back to when you were at a place where there were outstanding athletes and coaches who made sure they got the best out of the talent those athletes they had. Again, it all boils down to the team I was on.
Where are your two Heismans?
AG:
One of them is at the new Ohio Union -- they've got a ballroom named in my honor there, so it's in a case outside that ballroom. The other one is at a place called the Buckeye Hall of Fame Grill. I figured more people would see them in those places than would ever see them at my home.
Do you think someone will ever win two Heismans in a career again?
AG:
I think so. As a matter of fact, I thought somebody would have done it by now. And it hasn't happened, but certainly it's going to happen when you have sophomores win the award. I believe somebody will win it twice, and possibly a third time.
With today's media and so much analysis and criticism of players, it seems like every detail of a defending Heisman winner's game is picked apart. You actually won your second Heisman with stats that were down from the previous year. Do you ever think of what it might have been like if you had today's media covering you?

AG:
No, I don't think about that. I was part of the times when I won. I'm sure that the criticisms and those folks whose job is to analyze an athlete and teams -- I'm sure I would have gotten a little bit of that, no question.
What do you take from your time in the NFL?
AG:
I enjoyed those years in Cincinnati. We had some good times, some good years and some bad years. But any time you go through that and the game itself, it's a learning experience. Football teaches you a lot of life lessons. You learn to deal with adversity and learn to get up when you get knocked down. So you take those things with you when you get on with life's work. Even with those tough times in Cincinnati, I did learn how to deal with some really tough adversity, so it was all beneficial. And I enjoyed going to a Super Bowl in that time as well.
Did you think you would ultimately have more success than you did in the NFL?
AG:
Oh yeah. Don't get me wrong, I feel like I did have success. You can only do what you get the opportunity to do, and I will say I did the best I could with the opportunity I had. I think if you look at pro football players, if you can average 4 yards per carry and catch the number of passes coming out of the backfield that I caught, I think you could be happy with that. I'm certainly happy with that.
I'll be honest with you: when I came into pro football, I had goals of gaining 1,000 yards in a season. But I quickly learned that I wasn't going to run the ball enough to get those kinds of numbers. So I changed my goals, and I wanted to average about 5 yards per carry. I didn't quite average that, but I averaged over 4 yards per carry. And again, any back in pro football would feel like he had success if he averaged 4 yards per carry.
What was it like spending basically your entire career in the same state and same area?
AG:
It's been very nice. When I came out of Ohio State, I said I wanted to stay in Ohio so fans of mine could watch me play. I've been fortunate enough to do that and am glad that it happened that way.
How much interaction do you have with the current football team?
AG:
I have some interaction. I have a son on the team [redshirt freshman defensive back Adam Griffin] and he comes by the house with some teammates every now and then. Some players come by and see me every now and then, and I get to go over there and watch practice sometimes. I really enjoy it.
It must be nice seeing your No. 45 retired in the stadium, too.
AG:
I count that as a wonderful blessing.