September, 15, 2013
9/15/13
12:37
AM ET
BERKELEY, Calif. --
Kenny Guiton
had waited -- and prepared -- for the opportunity to start at quarterback for Ohio State for more than four years.
Boarding the plane to California, he sensed that opportunity was upon him -- he had practiced with the first team all week -- but it wasn't until coach Urban Meyer made it official on game day that he knew for sure.
"When I got the nod and everything, I was ready to go," Guiton said.
[+] Enlarge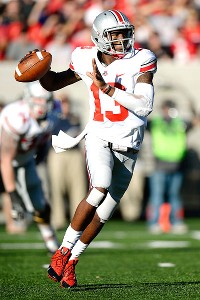 Thearon W. Henderson/Getty ImagesKenny Guiton had a career-best passing day in Ohio State's win over Cal.
Was he ever.
Stepping in for
Braxton Miller
(who remained sidelined with a sprained medial collateral ligament he suffered last week against San Diego State), Guiton turned in a brilliant performance, leading No. 4 Ohio State (3-0) to a 52-34 win over California (1-2).
Buckeyes fans did their part in making it a welcoming atmosphere for Guiton, as nearly half the sold-out crowd of 62,467 at Cal's Memorial Stadium came decked in scarlet and gray.
"That was tremendous," Guiton said. "That's one thing Coach Meyer just told us about. We're blessed. We're all the way on the West Coast, and we have half the stadium filled with scarlet and gray."
It didn't take long for the crowd to sound decidedly pro-Buckeyes.
After Cal opened with a three-and-out, Ohio State needed just two plays to take a 7-0 lead, as Guiton found
Devin Smith
for a 90-yard touchdown -- the longest play from scrimmage in Ohio State history.
Less than a minute of game clock had ticked away before Ohio State got it back, and again, the Buckeyes needed just a pair of snaps to find the end zone, this one capped by a 47-yard pass from Guiton to Smith.
Four offensive plays, 167 yards of offense and a 14-0 lead less than four minutes in.
By the time it was over, Guiton had completed 21 of 32 passes for 276 yards and four touchdowns without an interception. Not bad for a fifth-year senior who had just 317 career passing yards coming in. He also added 92 yards rushing on 14 carries as Ohio State piled up 608 yards of total offense.
Braxton who?
OK, maybe that's a stretch, but Saturday's result couldn't have been much more lopsided for the Buckeyes if their Heisman hopeful had been on the field.
At minimum, Guiton's play Saturday -- and in long relief in the Buckeyes' 42-7 win against San Diego State -- gives Meyer more to consider when putting together his game plans.
"I think [Guiton] will be in the game a little bit [when Miller returns]," Meyer said. "[Guiton] has been throwing the ball better than he has and throwing the ball downfield, so that's something I'll need to think about."
Despite the loss, Cal true freshman quarterback
Jared Goff
continued a torrid pace to the start of his career. The nation's leading passer coming in finished 31-of-53 for 371 yards and three touchdowns with one interception. He became the first Cal quarterback since Aaron Rodgers in 2003 to throw for more than 300 yards in three consecutive games.
Afterward, Meyer made a point to find Goff and convey to the 18-year-old just how impressed he was.
"I'm glad we're not playing them for a while," Meyer said. "That quarterback is a good player, and that tempo and style of offense -- you can see why they led the nation at Louisiana Tech and why they lead the nation right now in throwing."
Three games into the Sonny Dykes era at Cal, and the Golden Bears already have adopted the reputation of Dykes' teams at Louisiana Tech: all offense, no defense.
And that doesn't bode well for Cal's first road game of the season in two weeks at Oregon.
Cal has been torched for 556.3 yards and 42 points a game through three games, and those numbers don't figure to improve after a trip to Autzen Stadium, where Cal plays a Ducks team averaging 672 yards and 61.3 points through its first three games.
"It will be a challenge, but our guys will be excited to play, and when you are playing against a good offense, defense or team, you get excited to play," Dykes said. "Your guys are fired up, and we know we are going to be challenged and get better."
August, 12, 2013
8/12/13
3:00
PM ET
Preseason practice is in full swing, and kickoff is just around the corner. To get you ready, we're analyzing every Big Ten team's complete 2013 schedule.
Northwestern is up next in the rundown ...

Nonconference opponents (with 2012 records)
Aug. 31: at Cal (3-9)
Sept. 7: Syracuse (8-5)
Sept. 14: Western Michigan (4-8)
Sept. 21: Maine (5-6)
Legends Division games
Oct. 19: Minnesota
Oct. 26: at Iowa
Nov. 2: at Nebraska
Nov. 16: Michigan
Nov. 23: Michigan State
Crossover games
Oct. 5: Ohio State
Oct. 12: at Wisconsin
Nov. 30: at Illinois
No plays
Indiana
Penn State
Purdue
Gut-check game:
Ohio State will be the measuring stick for a veteran Northwestern team trying to legitimize itself as a Big Ten title contender following a 10-win season in 2012. The Wildcats will be favored in all of their non-league games, so there's a good chance both teams enter Ryan Field at 4-0, setting up the most anticipated home game of Pat Fitzgerald's tenure. Ohio State hasn't just dominated the series (59-14-1); the Buckeyes have pulverized Northwestern in many of the games. The teams meet for the first time since 2008.
Trap game:
After opening league play with Leaders Division heavyweights Ohio State and Wisconsin, Northwestern returns home to face Minnesota. The Wildcats have won three straight and five of the past six against the Gophers, but Jerry Kill's squad should be improved in Year 3, especially along both lines. Northwestern needs to secure a win at home before heading back out on the road for consecutive games.
Snoozer:
Northwestern has a decent non-league schedule, but Maine doesn't do much to move the needle. The Bears have had losing records in three of the past four seasons. Their only win against an FBS opponent came against Mississippi State in 2004.
Noncon challenge:
It's between Syracuse and Cal, and while the Orange were the better team in 2012, Cal could be the trickier game. Northwestern must visit Berkeley and play a late-night contest (9:30 p.m. CT kickoff) against a Bears squad that is somewhat of a mystery under first-year coach Sonny Dykes. Although Cal is extremely young, Jeff Tedford left some talent behind and Dykes' up-tempo offense could test Northwestern.
Telltale stretch:
There are really two of them, although the second carries more weight in Northwestern's quest to reach Indianapolis for the Big Ten championship game. The Wildcats open Big Ten play against Ohio State (Oct. 5) and Wisconsin (Oct. 12) -- at least one has held a share of the Big Ten title every year since 2004. They then open November with division challenges against Nebraska (Nov. 2), Michigan (Nov. 16) and Michigan State (Nov. 23). After blowing late leads in close losses to Michigan and Nebraska last season, Northwestern will seek a different result in games that could decide the division champion.
Analysis:
Northwestern's Big Ten schedule undoubtedly gets tougher in 2013, as Ohio State returns for the first time since 2008 and Wisconsin is back for the first time since 2010. The Wildcats don't play Penn State, but they miss both Indiana and Purdue, two of the league's weaker teams last season. There are few gimmes in league play, which makes games like Minnesota, Iowa and Illinois virtual must-wins if Northwestern intends to reach the next level it referenced throughout the offseason.
The non-league schedule is similar to last year's, perhaps a little weaker as both Cal and Syracuse -- along with Western Michigan -- went through head coaching changes. If Northwestern can at least split its first two Big Ten contests, it should enter November with a chance to make noise in the division. Fitzgerald's teams typically perform much better in November (15-9) than October (12-17), so a good start to league play is critical.
More schedule analysis
Legends:
Iowa
|
Michigan
|
Minnesota
|
Nebraska
Leaders:
Purdue
|
Penn State
|
Illinois
|
Ohio State
July, 12, 2013
7/12/13
9:00
AM ET
Your B1G and Pac-12 bloggers have been grinding away on their respective leagues' nonconference primer series. Here's
the Big Ten series
, and here's
the Pac-12 series
. Part of the fun is learning about other teams in other conferences and what they bring to the table. The Pac-12 and Big Ten face each other five times during the regular season. The Pac-12 got the better of the matchups last year. Will this year be different? Brian Bennett and Kevin Gemmell decided to talk it over.
Brian Bennett
: The first thing I look at for Big Ten-Pac-12 matchups in any given season is where the games are staged. Big Ten teams don't seem to think the West Coast is the Best Coast; they are just 5-20 in true road games against the Pac-12 since 2000, and that includes an 0-3 mark on the road versus the Pac-12 last year. (The league also has just one win in its past 10 Rose Bowls, but not all of those games came against the Pac-12.)
[+] Enlarge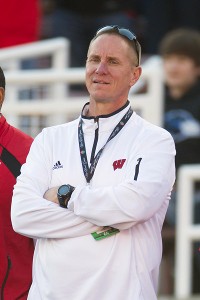 AP Photo/David StlukaNew coach Gary Andersen and the Badgers will have their hands full at ASU this season.
So it's not good news for the league that I cover that three of these five matchups are located far left of the Midwest. If there's any reason for optimism, it's that the Big Ten teams should be substantial favorites in two of the road games -- Northwestern at Cal in the opener and Ohio State against those same Bears in Week 3. Cal is intriguing because of new coach Sonny Dykes, but Northwestern and Ohio State are both legitimate Top 20 teams with conference-title aspirations; if they can shake off the jet lag and contain the Bears' passing attack, they should take care of business.
The two most interesting games -- and what look like virtual toss-ups -- are Wisconsin at Arizona State, and UCLA at Nebraska. The Badgers have a lot of returning talent, but a new head coach and different schemes on both sides of the ball. It's also going to be a clash of styles, with the Badgers' power running game going up against Arizona State's spread offense. Will Gary Andersen's team have its new systems figured out by then, and is Wisconsin's defense -- particularly its inexperienced secondary -- fast enough to handle the Sun Devils?
UCLA-Nebraska is probably not getting enough attention as a must-watch game this year. Last year's shootout in Pasadena, Calif., featured nonstop pingpong action, and both teams figure to have topflight offenses again. The Cornhuskers have a perilously young defense, but Bo Pelini's teams usually defend much better at home than on the road. Quarterback
Taylor Martinez
-- who grew up a Bruins fan but was recruited by them as a defensive back -- will be highly motivated to beat UCLA his senior year. This is Nebraska's only major test in the first seven games, and it's one I think the Huskers have to find a way to win.
Finally, there's Washington at Illinois. The Illini get the benefit of home turf, sort of, as the game will be played at Soldier Field in Chicago. We'll see if Tim Beckman's crew will inspire enough fans to show up by Week 3. While Washington has been mediocre for what seems like forever, I can't confidently pick Illinois to beat any half-decent power conference opponent at this point.
In the end, I say the Big Ten manages a winning record this time around against the Pac-12, taking the two games in Berkeley, Calif., and the one in Lincoln, Neb. A 3-2 mark sounds about right, though if Wisconsin can pull off the win in the desert, that could be a good sign for both the Badgers and the league as a whole.
Kevin Gemmell
: I'm going 3-2 also, but in favor of the Pac-12. After all, if we were in total agreement, it would make for a pretty boring Take 2. So I'll play the contrarian when it comes to UCLA-Nebraska.
[+] Enlarge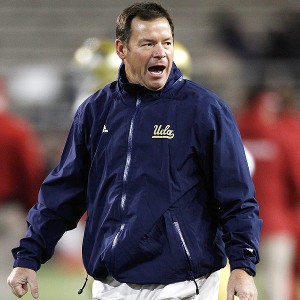 William Mancebo/Getty ImagesCoach Jim Mora and UCLA allowed just six points in the second half of last year's win against Nebraska.
We agree on the Cal games versus Northwestern and Ohio State -- though I think Cal is going to give both of those teams a better run than they are banking on. I like what Andy Buh is doing with a defense that could be sneaky good. And the Bears have
some explosive depth at wide receiver.
But ultimately it's a rookie quarterback -- whomever Dykes chooses among
Zach Kline
,
Jared Goff
and
Austin Hinder
-- and a team that will still have some growing pains as new systems are installed on both sides of the ball. Like you with Illinois, I'm not ready to give the Bears the green light yet. However, last year's game in Columbus, a 35-28 win for Ohio State, should serve as a reminder not to take Cal lightly. No doubt, the Buckeyes will remember
Brendan Bigelow
and his four carries, 160 yards and two touchdowns.
Both halves of the Pac-12 blog have been saying we believe Washington is going to get over that seven-win hump this year after three straight seasons of mediocrity. The Huskies have a lot of pieces in place with a returning quarterback, a 1,400-yard rusher, good receivers, a good line and the top tight end in the country. Their defense made huge strides last season in the first year under Justin Wilcox, and we're expecting another leap forward in 2013. What scares me is Washington's inconsistent play on the road the past few seasons. During the Huskies' trio of 7-6 seasons, they are 14-5 in Seattle (last year they played at CenturyLink Field) and 6-11 on the road. The past two years they are 11-2 at home and 3-8 on the road (0-2 in their bowl games at neutral sites). If the Huskies want to have a breakout year, they are going to have to win away from home. Steve Sarkisian actually talked about this
in a Q&A we did back in April
. But they certainly have the talent to win this game.
The ASU-Wisconsin game is really a critical one for the Sun Devils. It kicks off a four-game stretch (with no bye weeks) that also includes Stanford, USC and Notre Dame. ASU is another team looking for some national credibility, and this is its first opportunity to get some. You're right to talk about the ASU offense, but that defense -- which ranked first nationally in tackles for a loss and second in sacks last season -- is going to be crazy good with
Will Sutton
and
Carl Bradford
leading the attack. I'm banking on a good game, but ultimately one ASU wins at home.
That brings us to UCLA-Nebraska, a game I'm also surprised more people aren't geeked up about outside of the respective fan bases. This should be a fantastic showcase for both leagues.
Brett Hundley
impressed in his freshman campaign, and I think this game is going to be a spotlight for two of the country's most athletic quarterbacks. I was in Pasadena for the game last season, and what actually stood out to me was UCLA's defense -- particularly in the second half. The Bruins allowed only six points, and kept Martinez to 11 yards rushing and the Huskers to 106 total yards in the final 30 minutes. They should be improved in Year 2 under Jim Mora and Lou Spanos. If the Bruins pull this one off, it's going to be because of what they can do defensively.
March, 11, 2013
3/11/13
2:00
PM ET
As we prepare to embark on a handful of spring football trips, we're looking ahead to where we might go -- or would love to go -- when the season rolls around. This is a look at which Big Ten game we'd attend each week if it were up to us (which it isn't) and we had an unlimited travel budget (we most certainly don't).
We'll both pick a game for each week of the season and tell you why we'd go there. It's important to note that this is not our actual travel itinerary, although it would be great if it were. We're limiting ourselves to one game per week even when it's possible to attend more.
Let's get started with Week 1. Here's the schedule:
Aug. 29
UNLV at Minnesota
Indiana State at Indiana
Aug. 30
Western Michigan at Michigan State
Aug. 31
Northern Illinois at Iowa
Purdue at Cincinnati
Central Michigan at Michigan
Wyoming at Nebraska
Northwestern at California
Buffalo at Ohio State
Massachusetts at Wisconsin
Syracuse vs. Penn State (at East Rutherford, N.J.)
Southern Illinois at Illinois


Adam Rittenberg's pick:
Northwestern at California
Since I can't stay home -- what an uninspiring group of opening games, blech -- I'll go home, to my hometown of Berkeley, Calif., where Northwestern opens its season at Cal's
new jewel of a stadium
in Strawberry Canyon. After a 10-win season and a breakthrough bowl victory in Florida, Northwestern returns most of its core pieces and likely will enter the season ranked in the Top 25. It'll be interesting to see how Northwestern handles the increased attention and expectations as it makes the long trip to Pac-12 country, which
hasn't been friendly territory at all for Big Ten teams
in recent years. Big Ten teams are 5-20 in their last 20 true road games against the Pac-12.
This game should feature plenty of offensive firepower. Northwestern's
Venric Mark
returns to the field after rushing for 1,366 yards and earning All-America honors as an all-purpose player in 2012. He'll be joined by quarterbacks
Kain Colter
and
Trevor Siemian
, who functioned well in a rotation last fall. New Cal coach Sonny Dykes has some rebuilding to do, but he brings an extremely fast-paced, dynamic offense to the Bears. Dykes' Louisiana Tech team ran all over Illinois last season, and I'm interested to see how quickly his new team picks up his system, and whether Northwestern's defense, which improved in 2012 but still looks shaky at times, can slow down Cal. I might have picked Columbus if Vanderbilt hadn't backed out of its game against Ohio State, but a trip home for Labor Day weekend ain't bad. I'll be making stops at
Top Dog
,
Fat Slice
and
Kip's
. Yum.


Brian Bennett's pick:
Purdue at Cincinnati
Not exactly Michigan-Alabama or Michigan State-Boise State in Week 1 this year, eh? Northwestern-Cal is undoubtedly the best of a sorry lot. But since you picked that one, I'll make the short drive up I-71 to check out a battle of teams with new head coaches in Purdue-Cincinnati. It will be our first chance to see Darrell Hazell leading the Boilermakers, and I'm betting the team will look a lot more disciplined and prepared even in an opening game than we saw at times under Danny Hope. Meanwhile, the Bearcats have had a really strong program the past five or six years and won 10 games and a share of the Big East title last year. They will be adjusting to life under Tommy Tuberville, who shockingly left Texas Tech for a team that faces an uncertain conference future. Both teams will likely throw the ball around a lot, though we don't know right know whom Purdue will be starting under center; it could be a newbie like
Austin Appleby
or Danny Etling. Hazell knows Ohio well as a former Kent State head coach and Ohio State assistant, but his Boilers likely will be the underdog in this opener.
I always enjoy watching games at Cincinnati's Nippert Stadium, where you're right on top of the action and squeezed into the heart of campus. Covering a Bearcats game means I'll get the chance to say and type the name "
Munchie Legaux
" as many times as I want, so that's a nice bonus. This isn't a high-profile matchup, but it should be entertaining -- and informative.
September, 19, 2012
9/19/12
5:30
PM ET
Illinois' defense entered the season pegged as one of the Big Ten's best, a distinction linebacker
Jonathan Brown
thinks the Illini still merit.
"We've got the best front seven in the country,"
Brown told reporters
last week. "I firmly believe that."
His comments came four days after Illinois surrendered 45 points and 510 yards in a blowout loss to Arizona State. The Illini had communication problems early and missed tackles throughout the game. Perhaps the only positive is that the contest kicked off so late (10:30 p.m. ET) that most of the country missed it.
The debacle in the desert would seem to counter Brown's claim. Then again, it could be just an aberration -- a bad night after a long trip. Illinois has allowed just seven points in its two victories.
[+] Enlarge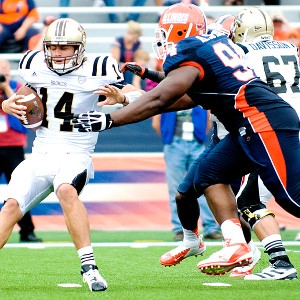 Bradley Leeb/US PRESSWIREAkeem Spence and the Illinois defense have allowed seven total points in two victories, but allowed 45 in a loss to Arizona State.
What is the real Illini defense?
The beauty is we'll soon find out, thanks to the schedule.
After a game that revealed virtually nothing -- last week's 44-0 smashing of woeful Charleston Southern -- Saturday night's test against Louisiana Tech figures to show much more about the Illinois defense. Louisiana Tech's offensive numbers, despite a small sample size (two games), are quite staggering:
Fifth nationally in total offense (603.5 ypg)

Third in scoring (56 ppg)

Ninth in rushing (289 ypg)

17th in passing (314.5 ypg)

Tied for 15th in offensive plays per game (83)
"They're not complicated with what they do," Illinois coach Tim Beckman said. "They just do what they do very well."
The final number might get Illinois' attention more than any other. Louisiana Tech coach Sonny Dykes wants his offense, led by senior quarterback
Colby Cameron
and freshman running backs
Tevin King
and
Kenneth Dixon
, operating at an accelerated tempo, and the Bulldogs ran 94 players in their opening win against Houston.
Arizona State coach Todd Graham also preaches a quick pace on offense, and although his Sun Devils ran only 67 plays against the Illini, they capitalized on a defense that looked out of sorts, especially early in the game.
"It was just a lack of communication," defensive tackle
Akeem Spence
told ESPN.com. "Guys were looking at the wrong person, getting the wrong call."
Illinois simplified the signaling issue and worked to prepare for Tech's pace this week. Coaches put players through "fastball" periods in practice, where Spence estimates six plays were run in a span of a minute or so.
They also went over rotations and substitution patterns for an opponent that makes it difficult to shuffle players on and off of the field.
"It's just guys talking," Spence said, "making sure one another is on the same page, and just getting on the small things not to get us beat. Make sure the guys have the right call. If we're all wrong, and we all have the wrong call, then we're all right. ... When they're going so fast, you can't really take guys out, and you don't want to get any stupid penalties, 12 men on the field, substitution penalties.
"I think we took the proper measures to get ready for these guys."
According to Spence, Illinois will look to take away King, Dixon and the run game and make Louisiana Tech one-dimensional. Like Brown, Spence hasn't lost any confidence in the front seven, which he thinks still can be elite.
Saturday night, they have the chance to prove it.
"We've got to execute a lot better than we did when we played Arizona State," Spence said. "If we do that, we'll have a better outcome. A lot better outcome."
January, 9, 2012
1/09/12
1:00
PM ET
Indiana and Arizona essentially swapped offensive coordinators in recent weeks. Rod Smith, the Hoosiers' co-offensive coordinator/quarterbacks coach left IU to rejoin new Arizona coach Rich Rodriguez in Tucson. Hoosiers coach Kevin Wilson replaced Smith with Seth Littrell, who spent the 2011 season as Arizona's offensive coordinator but was let go following Mike Stoops' firing. Littrell did his part with the Wildcats' offense, which ranked 16th nationally in yards per game (465.3 ypg) and third in passing (370.8 ypg) this season. Before joining Arizona's staff in 2009, Littrell spent four seasons coaching running backs at Texas Tech.

The former Oklahoma running back, who won a national title in 2000, will serve as Indiana's sole offensive coordinator.
I recently caught up with Littrell, who arrived in Bloomington on New Year's Day, to get his thoughts on joining the Hoosiers' staff.
Why Indiana? Why did this make the most sense for you?
Seth Littrell:
I've known Coach Wilson for a long time, and we've been talking back and forth for a while. We've always had somewhat of a relationship. I knew the unbelievable offenses he had at Oklahoma, and I thought it was a good opportunity for me to go into a great new conference and a prestigious school in Indiana, where they're doing great things right now. You look at the basketball program up and going again, and then with Coach Wilson here in his second year, I thought it was a good opportunity to be able to help him turn this and get back to competing and winning. Plus, it's a chance for me to be under a great offensive coach who can teach me some things.
You were working under a defensive coach at Arizona. How will that change for you now, working for a guy who had success on the offensive side?
SL:
It'll be unbelievable. I've been very fortunate to work with a lot of people, [Mark] Mangino and Mike Leach and Mike Stoops, and playing under Bob Stoops. I've had a great opportunity to work for offensive and defensive guys. The biggest thing I always look for is relationships and guys you feel comfortable around. It's a great environment, people are pulling in the same direction. And the more I talked with Coach Wilson over the phone, I felt very comfortable with him.
How would you describe your offensive philosophy?
SL:
I played under Mike Leach at Oklahoma in 1999, so a lot of it comes from that "Air Raid" background. But the biggest thing in coaching is you have to adjust. We've had to adjust. Sonny Dykes had to adjust when he first came to Arizona, and then I came in and we had Rob Gronkowski, so we used a little bit more tight end, play-action underneath. And then last year, we didn't have as many tight ends, so we were more spread. You have to be a teacher and you have to understand what your strengths and weaknesses are as an offense and each individual player, and hopefully build something great around them. People look at me, coming from a huge passing background, but you look at Dana Holgorsen, who's one of my best friends at West Virginia. He's tweaked it his way, I've kind of tweaked it my way. And the tweaks you see are based upon what we have as personnel, but at the same time getting those guys in the best situations to compete.
Have you had a chance to look at the personnel you'll be inheriting at Indiana?
SL:
Obviously, I've looked at some film, just when I came down on an interview. And as I've come back, I have had some time to watch some games here and there. And I'm extremely excited. They played a lot players last year. Shoot, Tre [Roberson] started the last five games [at quarterback] as a true freshman. He definitely has some strengths. I'm excited about him, I'm excited about the offense in general. There's players here you can compete and win with.
As you go out recruiting the next few weeks, what are some of the things you're going to be looking for?
SL:
The first thing you look at is character and determination to win. You want to get great people to surround this program, which is nothing new. Coach Wilson has been doing that since he got here. You look for people who want to come out and compete, and who want to be at Indiana. You can recruit all kinds of kids, but do they really want to be at Indiana? Do they really want to play in the Big Ten? Those are qualities you look for, and then you recruit from there. Obviously, we have different needs. We have a few more needs we need to fill up. But as a philosophy, the biggest thing you want to find are great athletes who have a will to compete and a will to win.
Kevin Johns has been there as a co-coordinator. How is that going to work with him, as far as play-calling and so forth?
SL:
We've sat down and talked, but the last week has been so fast. We have met, he's a great guy, the staff on offense is unbelievable. We've all talked, and I'm really excited about those guys. They're unbelievable coaches. This isn't about me. This is about this program. This is about an offensive staff coming together and working together. It's not about one guy saying, 'Here, this is what we're going to do.' That's never how it's been with me. We have an offensive staff, we sit down, we talk, we put all our heads together and we figure out the best way to help us be successful and win. That's what it comes down to. It's a team thing.
There's been more spread in the Big Ten the last 10 years. How do you think the offense works in the league? Are there different challenges in the Big Ten versus the Pac-12 or the Big 12?
SL:
I couldn't give a fair assessment on that because I've never been in this league. I haven't studied it a ton. Now we did play Iowa [in 2009 and 2010] while I was at Arizona, and they had some unbelievable defenses. They were big, strong, physical guys, and they were really good up front and really sound across the board. We have to sit down and watch and discuss as a staff, and we'll figure out the best thing for us to do offensively.
How big of a challenge is this?
SL:
Everywhere is a challenge in college football. It's hard to win games. Each week, you can never take it for granted, because you step on the field, wins aren't easy. I don't care where you're at. You can be at Oklahoma, or you can be at a I-AA [program], they're all hard. The biggest thing you have to do is prepare yourself mentally and physically each and every week. And you've got to enjoy it. You've got to have fun in the process. Those are the people who are going to be successful.