October, 20, 2011
10/20/11
11:00
AM ET
The
Wisconsin Badgers
who enter Spartan Stadium on Saturday night barely resemble the bunch that staggered out of the place on Nov. 1, 2008.
You might recognize the head coach, many of the assistants and some of the players. They're the same guys. The players will still wear all-white unis and helmets with the distinctive motion "W" on the sides.
But the similarities pretty much end there.
[+] Enlarge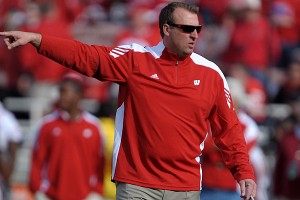 Kirby Lee/Image of Sport/US PresswireWisconsin coach Bret Bielema says he isn't upset after losing 11 assistants in the past three seasons.
These days Wisconsin is a program on the rise, approaching historic heights and hoping the final chapter of its story is written Jan. 9 in New Orleans. But if you want to know how the Badgers got here, you have to go back to when they reached rock bottom: Spartan Stadium, Nov. 1, 2008.
"It was a low point," coach Bret Bielema said. "I don't know if it was the lowest point in my coaching career, but that was a difficult one."
Wisconsin came to East Lansing at 4-4, already assured of a disappointing season. Considered a potential Big Ten title contender entering the fall, Wisconsin won its first three games and climbed to No. 9 in the polls.
Then the Badgers blew a 19-0 lead at Michigan and lost. Three more losses followed, including a 48-7 humiliation at home against Penn State. Bielema, who had gone 12-1 in 2006, came under fire, and many questioned whether Wisconsin could ever handle high expectations.
Wisconsin stopped its four-game slide against Illinois, setting up a game at Michigan State that, perhaps more than any other, showed how far the program needed to go.
Wisconsin built a 24-13 lead with 9:19 to play. But Michigan State's next possession began with an odd delay of game penalty on the defense, as Wisconsin was flagged for obstruction when safety Jay Valai bumped an official on his way to the field. Bielema, incensed by the call, earned a 15-yard unsportsmanlike conduct penalty for unloading on the official.
Rather than starting the drive at its own 36-yard line, Michigan State began on the Wisconsin 44 and marched to the end zone.
Wisconsin was flagged for eight penalties in the fourth quarter, including a holding call on future All-American John Moffitt, which nullified a run that likely would have sealed the win. Instead, Michigan State won 25-24 on a field goal as time expired.
"It was a game we thought we had in hand," Bielema said. "It was a difficult one, one we all grew from."
Wisconsin had significant edges in total yards (430-312) and rush yards (281-25) but came up short. The Michigan State loss stood out during a season of hard lessons for Bielema and his players.
"That was a challenging season, to say the least," senior wide receiver
Nick Toon
said. "We had a lot of penalties, a lot of mistakes, and didn't capitalize on our opportunities. It was a lack of discipline.
"That's not how we do things around here."
What has changed in the past 35 months?
Bielema cited three areas:
Improved communication on the road

Greater discipline, which begins in the types of players recruited

Opportunistic play on both sides of the ball
The Badgers drew 12 penalties against Michigan State in 2008. They drew 41 penalties all of last season, the fewest in the nation.
They finished 97th nationally in turnover margin in 2008 (minus-8). They improved to 47th in 2009 (plus-3), soared to sixth last season (plus-14) and rank tied for 11th nationally so far this season (plus-6).
Wisconsin football has become as much about not beating itself as beating the opponent with the power run, the play-action pass and opportunistic defense.
Still, the sight of Spartan Stadium on Saturday night might bring up bad memories. The Badgers have lost three consecutive games there, including their only regular-season loss in 2010, a
34-24 setback
.
"Things just haven't swung our way the last couple times we were there," Toon said. "That's on us. We've got to go in, do what we do, prepare like we've been preparing all year."
Bielema often has pointed to last season's loss at Spartan Stadium as the springboard for Wisconsin's Rose Bowl run, saying, "I didn't know going into Michigan State if we had a championship team, but I knew leaving that locker room we did."
Wisconsin's only loss since then came in the Rose Bowl, and the Badgers have recorded road wins in places like Iowa City and Ann Arbor.
Rarely do college players get three opportunities to play in a road stadium. After falling short twice, Toon and his fellow seniors are anxious to change the script -- and continue a storybook season.
"Obviously, we didn't get the results we wanted to have the last couple times we were up there," Toon said. "So to go back and have a chance to make that right in my senior season would be great."
June, 26, 2009
6/26/09
2:30
PM ET
Posted by ESPN.com's Adam Rittenberg
As I prepare to hit the road next week for some much needed R&R, I thought we should take a look at the most pivotal road games for each Big Ten team this season. Winning on the road in the Big Ten is never easy, and there might not be a greater factor to a team's success or failure than its performance away from its home turf.
Here are the road games that could make or break the season in the Big Ten. These aren't necessarily the toughest road games for a team, just the most important ones.
ILLINOIS
Fork in the road: Nov. 7 at Minnesota
The Illini will be coming off a fairly manageable stretch against Indiana, Purdue and Michigan, the league's worst three teams last season. If they haven't dug too big a hole to open Big Ten play, they could make a serious bowl push beginning at TCF Bank Stadium. But a loss could trigger a down-the-stretch slide, much like last year.
INDIANA
Fork in the road: Sept. 19, at Akron
Indiana enters the season with its head coach on the hot seat and serious doubts about the team's ability to get on track again. That's why an early trip to Akron and the new InfoCision Stadium is so critical. Indiana could be 3-0 after a win against Akron, or it could be 1-2 with a loss and starting the death march.
IOWA
Fork in the road: Sept. 26 at Penn State
One of the nation's toughest road schedules has been well-documented, and it all begins in Happy Valley. The Hawkeyes will get a huge boost from a victory at night in front of Penn State's white-out -- never easy to do -- and can validate themselves as a serious league title contender. A loss would reinforce Iowa's recent struggles on the road (the Hawkeyes went 2-3 last year) with more challenges ahead.
MICHIGAN
Fork in the road: Oct. 3 at Michigan State
Michigan's first road game will be pivotal in a number of ways. It could mark the first road start for a freshman quarterback (Tate Forcier or Denard Robinson), and it kicks off a tough stretch of games against the Big Ten's upper tier. Michigan might head to East Lansing at 4-0, but another loss to in-state rival Michigan State could sidetrack Rich Rodriguez's team.
MICHIGAN STATE
Fork in the road: Sept. 26 at Wisconsin
I'm starting to get really excited about this game because it could mean so much for both teams. Michigan State might be coming off its seventh consecutive victory at Notre Dame and looking to establish itself as a factor in the Big Ten title race. But the Spartans have dropped four of their last five games at Camp Randall Stadium, which will provide a tough setting for a new starting quarterback.
MINNESOTA
Fork in the road: Sept. 26 at Northwestern
The Gophers don't get many favors with their Big Ten road schedule, and their league-opening trip to Northwestern provides the best opportunity for a win. Minnesota will be coming off two emotional home games against Cal and Air Force, and could be anywhere from 3-0 to 1-2 entering Ryan Field. If the Gophers have taken the next step, they need to show it against Northwestern, which has delivered consecutive heartbreaking losses to Tim Brewster's team.
NORTHWESTERN
Fork in the road: Oct. 17 at Michigan State
For the second straight year, Northwestern could enter its showdown against Michigan State undefeated because of an easy opening stretch. The Wildcats took themselves out of last year's contest with a miserable first quarter, but they've had pretty good success at Spartan Stadium since 1995. A win could propel Northwestern toward a major bowl, while a loss would lower expectations.
OHIO STATE
Fork in the road: Nov. 7 at Penn State
An obvious choice here as Ohio State likely will take one of the nation's most impressive win streaks into Happy Valley. Provided the Buckeyes handle Purdue and Indiana, they will own a 17-game Big Ten road win streak. The last team to beat Ohio State at home? Penn State in 2005. A win in the Big Ten's premier game could clinch a league title for Ohio State. A loss could put the Buckeyes out of the BCS mix.
PENN STATE
Fork in the road: Oct. 3 at Illinois
Penn State plays six of its first seven games at Beaver Stadium, but a trip to Champaign could prove problematic. Illinois boasts the league's best passing attack, and Penn State's secondary likely will be its weakest link this fall. The Lions lost their last game at Memorial Stadium and struggled to contain Arrelious Benn last year in Happy Valley. A win likely means Penn State will be 7-0 heading to Michigan on Oct. 24.
PURDUE
Fork in the road: Oct. 10 at Minnesota
Like Indiana, Purdue is a team that needs some early success to keep things afloat. The opening stretch won't be easy, and Purdue hosts Ohio State and Illinois after its visit to the Twin Cities. The Boilers will have a rough time winning at Oregon in Week 2, so this game provides quarterback Joey Elliott and his teammates a chance to build confidence away from home.
WISCONSIN
Fork in the road: Oct. 10 at Ohio State
Wisconsin's overall schedule is extremely favorable this fall, but the team's biggest test arrives in Columbus. This isn't necessarily a must-win for Wisconsin, but the Badgers need to show they can play with the league's best on the road. Wisconsin faces Ohio State and Iowa in back-to-back weeks, and its performance in those games will determine whether or not the Badgers are back.
February, 25, 2009
2/25/09
9:46
AM ET
Posted by ESPN.com's Adam Rittenberg
Love and hate are the themes of the day around these parts, so I figured I'd chime in about the Big Ten. There are many reasons why I love covering football in this conference, and a few things I'm not so crazy about.
Let's begin with five good things.

Big stadiums --
Size matters in the Big Ten, which boasts three of the nation's four largest stadiums at Michigan, Penn State and Ohio State. Ohio Stadium, Beaver Stadium and Camp Randall Stadium are on the short list of toughest places to play, and other Big Ten venues (Kinnick Stadium, Spartan Stadium) add their own charm. The game-day experience is truly captured where Big Ten teams call home.
The Game (and other rivalries) -- The Big Ten lays claim to quite possibly the greatest rivalry in all of sports, between Ohio State and Michigan. No series has produced more colorful figures and memorable moments. The league also features exciting annual matchups like Michigan-Michigan State, Penn State-Ohio State and Minnesota-Wisconsin. At stake are coveted items like a bronzed pig, a giant ax, a brown jug and an ancient bucket.
Regent Street and the Beaver Stadium grounds -- They are two of the nation's prime tailgating spots, and they both belong to the Big Ten. Tailgating at Wisconsin or Penn State is an experience every college football fan should enjoy. You get beer and brats in Madison, and elaborate set-ups and daylong debauchery in State College. As a college football fan, you can't go wrong at either place.
Legendary coaches -- The Big Ten has produced legendary coaches through the decades. From Fielding Yost and Bob Zuppke to Bernie Bierman and Fritz Crisler to Woody and Bo to Hayden Fry and Duffy Daugherty to Barry Alvarez and Jim Tressel, the Big Ten has been at the top of the coaching ranks. The arrival of Penn State's Joe Paterno in 1993 has only added to the league's rich coaching tradition.
Night games in Columbus, Madison and State College -- Noon kickoffs are generally the norm in the Big Ten, which sort of blows but makes the rare night game all the more special. Ohio State will host only the ninth night game in team history this fall against USC, and the atmosphere will undoubtedly be electric. Same goes for any game under the lights at Camp Randall Stadium -- there were two last year -- and at Penn State, which thankfully welcomes night football more than any other Big Ten team.
August, 5, 2008
8/05/08
5:51
PM ET
Posted by ESPN.com's Adam Rittenberg
EAST LANSING, Mich. -- I just got back from watching Michigan State's practice and touring the new $15.5 million Skandalaris Football Center, a very impressive facility that officially opens Aug. 21.
Here are some items of note from each one:
PRACTICE
Media were allowed to view the first seven periods of Tuesday's practice, which consisted mainly of special teams and individual drills. Unlike Michigan, which piped in Motown tracks on Monday, the Spartans' music selection varied from Stevie Wonder's "Very Superstitious" to some rock song I couldn't recognize. Jay-Z apparently was featured on Monday.

Ryan Allison's position journey has brought him to weak-side linebacker, where he's a primary candidate to start. Allison came to Michigan State as a wide receiver and appeared in nine games as a freshman before starting two contests his sophomore year. He moved to safety during Champs Sports Bowl practice before switching to linebacker this spring.

He's competing with junior Brandon Denson for the top job.

"He had a great offseason," defensive coordinator Pat Narduzzi said. "Wait till you see what he looks like. He put on about 20 pounds. So I'd say he has a sense of urgency, may have the upper hand as far as maturity goes."
Freshman wide receiver Fred Smith looks physically ready to compete for playing time right away. He's listed at 6-2 and 218 pounds and seemed every bit that big as he worked out with the wideouts Tuesday. Several Michigan State beat writers I spoke with said the coaches are also high on another freshman wideout, Keshawn Martin, a sparsely recruited speedster from Inkster, Mich.

I tried to get a glimpse of the running backs to see who would complement Javon Ringer in the backfield. Junior A.J. Jimmerson was getting reps as the second-team back and also completed a halfback option pass. There's also some buzz about redshirt freshman Andre Anderson.

When Mark Dantonio came over to say hello to me, I was surprised to see a piece of tape across his chest with the words "Coach Dantonio." Does the head coach really need a name tag? Evidently, everyone does at Michigan State, and Dantonio is making no exceptions for himself. A team official told me Dantonio was writing several players' names on their helmets with a Sharpie at Monday's practice.

Place-kicker Brett Swenson was getting razzed about his light blue shoes, which looked like they belonged to a North Carolina player. Swenson colored over the blue with green, but you could still tell. Kickers.

Dantonio spent the latter part of the viewing period working with the safeties.

Several players rotated on punt returns, including freshman running back Caulton Ray.
SKANDALARIS FOOTBALL CENTER
As expected, this place is a major upgrade for the Spartans, who had their offices in trailers before moving in recently. The lobby includes several displays highlighting team history, including panels featuring Michigan State players that won national awards. Butkus Award winner Percy Snow and Outland Trophy winner Ed Bagdon are among the players featured.
A display honoring Michigan State's two outright national championships will also be placed in the lobby.
Two of my favorite touches were the main elevator, which is in the shape of the football, and hashmarks in 5-yard increments that line the building's hallway.
The hallway contains displays honoring Michigan State's College Football Hall of Famers, first-team All-Americans and all-time NFL roster. A picture of former Spartans wideout Plaxico Burress catching the Super Bowl-winning touchdown and hoisting the championship trophy is prominently displayed.

The main meeting room is bisected by an aisle with a divider above, so coaches can meet with the entire team, then split up into offense and defense before breaking off into position meetings. The setup should save a ton of time. The smaller meeting rooms for players and coaches also looked first-rate.

Dantonio's corner office has an impressive view of campus, including Spartan Stadium, the Breslin Center and several practice fields.
July, 18, 2008
7/18/08
9:46
AM ET
Posted by ESPN.com's Adam Rittenberg
Happy Friday to all. Big Ten media days are less than a week away and every team but Purdue opens preseason practice on Aug. 4, so gear up. The season's almost upon us. Here's the daily look around the league:
July, 11, 2008
7/11/08
5:08
PM ET
| | |
| --- | --- |
| | |
| | Steve Grayson/WireImage |
| | Ohio Stadium is the toughest place to play in the Big Ten. |
Posted by ESPN.com's Adam Rittenberg
It has been a year since Minnesota held its construction kickoff for TCF Bank Stadium, the 50,000-seat facility scheduled to open for the 2009 season. Of all the ongoing stadium projects in the Big Ten, Minnesota's will undoubtedly have the greatest impact on the program.
For all of coach Tim Brewster's effervescence and glass-half-full attitude, Minnesota was never going to get back to the glory days without its own on-campus facility. Athletic director Joel Maturi puts Minnesota near the bottom of the Big Ten in football income, Sid Hartman writes in the Minneapolis Star Tribune.
"Ohio State's number one at $59 million and Northwestern is at the bottom at $15.5 million, and we're not far from the bottom. We're a little over $17 million," Maturi said.
That will change soon enough.
Not surprisingly, the Hump Dome was nowhere to be found on EA Sports' gallery of the "25 toughest stadiums" in college football, according to NCAA Football 09.
Which stadiums made the list? The usual suspects. Ohio Stadium came in at No. 3, followed by Beaver Stadium at No. 4, Camp Randall Stadium at No. 8 and Michigan Stadium at No. 13.
Here's my list of the league's toughest venues.
1. Ohio Stadium: The shoe has been filled in, but it only makes this place louder and meaner. Definitely the most intimidating Big Ten stadium for a road team.
2 . (tie) Beaver Stadium: Gotta admit, I haven't been to State College in a while, but I remember this place being loud. From talking to my colleagues who attended last year's game against Notre Dame, night games at Beaver Stadium are raucous.
2. (tie) Camp Randall Stadium: I've almost upchucked my bratwurst sitting in the press box at the end of the third quarter, when House of Pain's "Jump Around" starts blaring and the stadium shakes. (By the way, what ever happened to House of Pain?) Possibly my favorite place to watch a game in the Midwest: great tailgating, rowdy fans and not a lot of fun for the road team.
4. Kinnick Stadium: The pink visitor's locker room only enhances a very hostile experience for road teams. That Hayden Fry guy was a genius.
5. Michigan Stadium: In this case, size doesn't matter. The Big House is, well, big, but it's a shallow bowl that doesn't hold sound as well as other venues.
6. Spartan Stadium: Seems like a much more hostile place to play at night than during the day, but there's a sizable student section in the southwest corner.
7. Ross-Ade Stadium: Fans are generally nice and the place doesn't get too loud. Then again, where else can you ride the elevator with Purdue alum Neil Armstrong like I did last year before the Northwestern game. Very cool.
8. H.H.H. Metrodome: The Hump has grown a bit dumpy, but it still gets very loud when the Gophers are rollin'.
9. Memorial Stadium (Illinois): The massive facelift combined with an exciting team will make this relic a feared destination again. But at the moment, it's not.
10. Ryan Field: The fact that visiting fans usually outnumber Wildcats backers for Big Ten games doesn't help much, but at night, Ryan Field rocks.
11. Memorial Stadium (Indiana): The renovations should help, as will a better team, but there's not a lot of atmosphere here. Visiting teams won't shudder stepping onto the field.