Big Ten:

spartans-buckeyes 100111
October, 1, 2011
10/01/11
9:20
PM ET
COLUMBUS, Ohio -- So it has come to this for Ohio State: Michigan State defensive players felt disappointed to let the Buckeyes score at home.
The Spartans were 10 seconds away Saturday from recording the first shutout by a visiting team since 1982. Deep down, they knew they let that piece of history get away.
"It hurts a little bit," safety Trenton Robinson said. "We were so close to doing it. Personally, I missed a tackle on that last play, and I'm going to have to make up for it next week."
Used to be, other teams felt lucky to score themselves when coming into Ohio Stadium. And Michigan State didn't do a lot of that on Saturday, reaching the end zone only once in a
10-7
eyesore of a victory. Truthfully, though, this game was far more lopsided than the final score and exposed just how many problems the Buckeyes have on offense, while justifying the No. 1 defensive ranking the Spartans brought into the game.
[+] Enlarge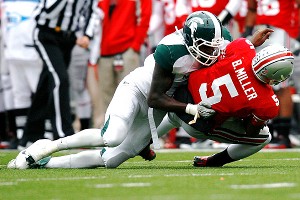 Kirk Irwin/Getty ImagesMichigan State racked up nine sacks as the Spartans' defense stifled the Buckeyes.
Ohio State is one-dimensionally dysfunctional, and Michigan State's coaches knew it. They felt comfortable bringing pressure up the middle all day long, confident that there wasn't much freshman quarterback
Braxton Miller
could do about it.
"We knew that because they have a couple of inexperienced quarterbacks, they can only run a certain amount of plays," Spartans defensive tackle Jerel Worthy said.
In fact, the Buckeyes' offensive playbook on Saturday looked like about as thick as a take-out menu. In the first three quarters, they attempted one pass on first down, stubbornly sticking to a predictable running game even on first-and-15 at one point. Of course, that one pass resulted in a Miller interception. He completed only five passes before being pulled in the fourth quarter, meaning Ohio State's starting quarterbacks now have a total of 12 completions their past three games combined.
So Mark Dantiono blitzed and blitzed again until his team had nine sacks and 13 tackles for loss. At one point, Worthy met Miller as soon as he received the snap and took him to the turf. Miller couldn't even use his elusiveness to make plays because, as Dantonio said, "we put a fence around him."
"I love going against a young quarterback -- we all do," Robinson said. "You start bringing all that pressure, and their eyes get huge. We knew what was coming the whole game."
This Michigan State defense is legitimate, and it will only get better if young players like sophomore William Gholston keep improving. The 6-foot-7 former highly-recruited defensive end had arguably his best game yet, with a sack, three tackles in the backfield and numerous hurries. Dantonio called him dominant, and Gholston said he felt as comfortable as he was in high school.
That defense can keep the Spartans in Big Ten contention all season long, but they'll have to play more cleanly on offense. Though Dantonio praised quarterback
Kirk Cousins
, the fifth-year senior misfired on a few key throws, tossed two interceptions and lost a fumble late in the first half when the ball just slipped out of his hands. Fittingly in a game like this, Cousins admitted that his team's only touchdown of the day -- a 33-yard pass to
B.J. Cunningham
-- came off a broken play where Cousins just threw it up in hopes Cunningham could make a play.
And yet, Ohio State would love to have a playmaker like Cunningham, who grew up in nearby Westerville, Ohio. The four suspended players from the tattoo scandal return next week, including three frontline offensive starters. But even then, Luke Fickell will be hard-pressed to fix a broken, unimaginative offense led by a shaky quarterback.
Miller was benched in favor of former starter
Joe Bauserman
in the fourth quarter, and Bauserman threw for 87 of the team's lousy 187 total yards, including the late embarrassment-saving touchdown. He also showed the same lack of mobility and inaccuracy that got him benched after the Miami game. Fickell insisted after the game that Miller remains his starter.
The Buckeyes players are young and talented enough to make you think they'll get better, especially with
Dan Herron
and
DeVier Posey
working back into the mix. Problem is, that improvement must come in games at Nebraska, at Illinois and against Wisconsin before October ends.
"We knew it wasn't going to be easy," Fickell said. "And we knew today wasn't going to be easy. And we've talked about it from the getgo that we're going to have to get better each and every week. If we don't, things won't be well."
Things look much better in East Lansing after Michigan State got its first win in Columbus since 1998. Dantonio got his first victory over the team he used to coach, beating the only Big Ten club he's faced that he'd yet to master. For the 24 players from Ohio, many of whom felt they weren't recruited hard enough by Ohio State, nothing could be sweeter. In a Friday night meeting, Cousins urged the Ohio natives to lead the way with their passion "if they ever wanted to walk the streets at home again."
"Whether Ohio State is No. 1 or not, to go on the road and win here, for us and our coaching staff, it's a big deal," Robinson said.
Just maybe not as big of a deal as it used to be.
October, 1, 2011
10/01/11
6:47
PM ET
COLUMBUS, Ohio -- Michigan State got an important, if unsightly, victory and nearly did it in historic fashion.


The
Spartans beat Ohio State 10-7
in an offensively challenged game for their first win in Columbus since 1998, snapping a seven-game losing streak to the Buckeyes. A touchdown pass from
Joe Bauserman
to
Evan Spencer
with 10 seconds left helped Ohio State avoid its first home shutout since 1982 against Wisconsin. Michigan State then recovered the onside kick.
Better keep those records for offensive futility handy for the Buckeyes, who are a complete mess on that side of the ball. Give an enormous amount of credit to the Michigan State defense, which came into Saturday ranked No. 1 in the nation statistically and certainly justified that. The Spartans should have won this game by a much more comfortable final score but made a litany of mistakes themselves.
Still, it's big one because they won on the road, which is where their season will be defined this year. Ohio State must go to Nebraska next week with all kinds of question marks hovering over the program. One of those includes whether Bauserman, who played the entire fourth quarter and finally got the offense moving, should replace
Braxton Miller
at quarterback.
More to come ...
October, 1, 2011
10/01/11
6:02
PM ET
COLUMBUS, Ohio -- Ohio State was doing nothing on offense with
Braxton Miller
. So why not give
Joe Bauserman
a shot?
That's what happened after the Buckeyes came up with an acrobatic interception in the end zone by C.J. Barnett on a tipped ball. Bauserman did complete a pass to
Jake Stoneburner
, but a pair of penalties and yet another sack put his team in a big hole near its own end zone. So the end result was about the same.
A spark? Hardly. But it's worth a try at this point. Anything would be.
October, 1, 2011
10/01/11
5:54
PM ET
COLUMBUS, Ohio -- Remember how bad Ohio State's offense looked against Miami? Well, the Buckeyes have been even worse through three quarters today.
At least the Buckeyes managed a couple of field goals in that debacle against the Hurricanes. Against Michigan State, they are lucky to get a first down that isn't aided by a Spartans penalty.
Michigan State hasn't done much right with the ball, either, but it will have the ball at the Ohio State 6 when the fourth quarter starts. A touchdown makes this a 14-0 game and would seem like an insurmountable lead the way things have gone.
Among the many troubling aspects for Ohio State's offense: the middle of the offensive line, including All-American center Mike Brewster, is allowing far too much defensive penetration;
Braxton Miller
, who's been sacked four times and hit multiple others, is not showing any elusiveness under pressure; and the play calling is completely predictable -- the Buckeyes have yet to attempt a pass on first down.
Spartans sophomore defensive end William Gholston may be having the best game of his career. He's been all over the place, pressuring Miller, dragging down ball carriers and knocking away the rare Ohio State pass (it helps to be 6-foot-7). The Buckeyes have no answer for him or any other piece of the opposing defense.
October, 1, 2011
10/01/11
5:05
PM ET
COLUMBUS, Ohio -- Quick analysis from Ohio Stadium, where Michigan State leads Ohio State
7-0
:


Turning point:
Michigan State cornerback Darqueze Dennard ripped the ball away from Ohio State receiver
Devin Smith
as the two were falling backward. That went as an interception as the Spartans took over at their own 6-yard line in the second quarter. That was the Buckeyes' best and only chance to score in the first half, and the way things are going, they might not get another chance that good today. Ohio State did get a break in the final minute of the half when
Kirk Cousins
simply dropped the ball while going back to pass. Michigan State had driven inside the Buckeyes' 35 and looked like it was ready to build the lead. Still, the way Ohio State's offense has played, a 7-0 cushion might be enough.
Stat of the half:
Ohio State has 87 total yards in the half and only 31 rushing yards on 21 carries. A lot of that is due to negative yardage from sacks, as Michigan State has repeatedly gotten penetration right up the middle and collapsed on quarterback
Braxton Miller
. William Gholston, Jerel Worthy and Max Bullough have been among the stars on the Spartans' defense.
Best player in the half:
Michigan State receiver
B.J. Cunningham
. The Spartans' career receiving yards leaders is clearly the best offensive playmaker on either side, which admittedly isn't saying much in this game. He has seven catches for 90 yards and the game's only score, coming on a 33-yard touchdown reception in the first quarter.
What Michigan State needs to do:
Keep attacking with the pass. The running game has only been intermittently successful, while the Ohio State cornerbacks are playing soft against Cunningham and the other receivers. Cousins has completed 13-of-19 passes, but he has misfired on a few open throws and had that costly turnover. The Spartans need more out of their senior leader at quarterback.
What Ohio State needs to do:
The Buckeyes might very well need a defensive or special teams score -- or at least a huge play there -- to get on the board today. Barring that, they're going to have to vary things up with their all-too-vanilla offense, which is so predictable that Michigan State appears to know what's coming every down. Maybe even
Joe Bauserman
could provide a spark off the bench, as Miller looks lost and has gotten hit a lot in the first half. Ohio State is very lucky to be down by only one touchdown.
October, 1, 2011
10/01/11
4:13
PM ET
COLUMBUS, Ohio -- On the second to last play of the first quarter, Ohio State's Braxton Miller completed a pass for a first down.

This qualified as breaking news. The Buckeyes hadn't managed a first down in their first three possessions, and the passing game looked as nonexistent as it did against Miami.

Clearly, Ohio State is going to have trouble moving the ball against a Michigan State defense ranked No. 1 in the country. Especially since the Buckeyes' offense is predictable and one-dimensional. Carlos Hyde's ability to move piles after initial contact has been the best thing going for the Buckeyes offense so far.

Michigan State's first quarter touchdown looms large in a game where points seem to be at a premium. While the left side of the Spartans' offensive line has already been blown up a few times by the Buckeyes' D, Ohio State lacks a dynamic playmaker like B.J. Cunningham in the passing game. Cunningham caught a 33-yard pass in the end zone from Kirk Cousins after tight end Garrett Celek opened the play up with a crushing block. Cunningham is better than Ohio State's corners and better than anything on Ohio State's offense.

The Buckeyes need to get creative when they have the ball, or it could be a long day.
October, 1, 2011
10/01/11
3:02
PM ET
COLUMBUS, Ohio -- It's an overcast, cool game with a threat of some rain here at Ohio Stadium. The weather could potentially impact the passing game, which probably favors Ohio State more than Michigan State.


Buckeyes running back
Jaamal Berry
, who was reportedly involved in an
unusual and still unclear incident
which required that he seek medical treatment earlier in the week, is in uniform and warmed up. So he must be OK. With the way
Jordan Hall
and
Carlos Hyde
have been playing, Berry might not be needed.
For Michigan State, offensive lineman Jared McGaha (knee) returns from injury and should play at one of the guard spots. That should help a banged-up Spartans offensive line. Injured center Blake Treadwell (knee) did not make the trip. Nose tackle Anthony Rashad-White also is back after missing last week's Central Michigan game, and wide receiver
Keshawn Martin
is available as well.
October, 1, 2011
10/01/11
1:00
PM ET
COLUMBUS, Ohio -- As expected, Ohio State will be without starting defensive end Nathan Williams and starting wide receiver Corey "Philly" Brown for Saturday's game against Michigan State.
Williams (knee) and Brown (ankle) have missed the past two games. Brown is able to run but still has trouble cutting on the ankle he injured against Toledo.
Freshman J.T. Moore will continue to start for Williams, while
Chris Fields
is listed as the starter for Brown. True freshman receiver
Devin Smith
will likely continue to get more playing time after catching two touchdowns last week against Colorado.