Big Ten:

Spartans-Hawkeyes-103010
October, 30, 2010
10/30/10
9:19
PM ET
IOWA CITY, Iowa -- Nostradamus didn't show up in the bowels of Kinnick Stadium late Saturday afternoon.
Even the great forecaster couldn't take credit for calling this one.
Michigan State and Iowa had produced three of the Big Ten's most exciting matchups the past three years. Iowa won a double-overtime contest in 2007. The Spartans preserved a 16-13 win the next year when Adam Decker stuffed Doak Walker Award winner Shonn Greene on fourth-and-1. Last year, Iowa won 15-13 on a touchdown pass with no time left on the clock to preserve its undefeated record.
[+] Enlarge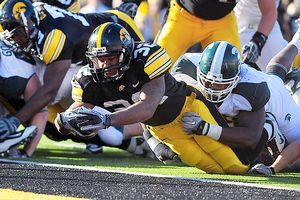 Andrew Weber/US PresswireAdam Robinson and Iowa ran over Michigan State 37-6 on Saturday. It was the fifth-largest margin of defeat for a Top 25 team since 2000.
A day before Halloween, these two teams seemed destined to deliver another thriller.
Iowa had other ideas.
The 18th-ranked Hawkeyes dominated No. 5 Michigan State, ending the Spartans' quest for perfection in convincing fashion with a
37-6 victory
at Kinnick Stadium, the
graveyard for Big Ten unbeatens
. The 31-point final margin represented the fifth-largest margin of defeat by an AP Top 25 team since 2000.
"I didn't see this coming," Spartans coach Mark Dantonio said. "Our guys prepared mentally, emotionally."
Not far away in Iowa's interview room, coach Kirk Ferentz echoed his colleague.
"You never see that coming," Ferentz said, "not against a very good team like this. I never see those coming against anybody."
Ferentz often talks about how Iowa will never be confused with a true college football heavyweight. The Hawkeyes don't have a large margin for error. They don't just show up and dominate.
But Iowa had the potential to deliver a complete performance. Iowa entered the year with lofty expectations, but it hadn't met them.
After two losses that showed just how small the Hawkeyes' margin for error can be, the players responded, jumping ahead to a 37-0 lead and never looking back.
"That's the team you want to be," receiver
Marvin McNutt
said. "We have talent and the times we execute, we know we can do the right thing."
McNutt felt Iowa didn't execute well in practice leading up to last week's game against Wisconsin. It translated to the field, as the Hawkeyes suffered a 31-30 loss that left plenty of what-ifs.
If Iowa lost its third game Saturday, you could start talking about a season of what-ifs. But the Hawkeyes answered every question.
Ferentz didn't know how his team would respond from the Wisconsin loss.
"Absolutely not," he said. "You hope we practice well. You always hope that. My sense was our guys were preparing the way they were supposed to, watching tape and doing that kind of thing. ... But I also know [the loss] was back in everybody's minds. It was a tough week."
Michigan State, meanwhile, saw no clues of the impending disaster.
Defensive coordinator Pat Narduzzi said the team had "one of the best weeks of practice ... all year." Head coach Mark Dantonio didn't feel the reinstatement of cornerback Chris L. Rucker caused any distraction. The Spartans had built their 8-0 record on resilient play, taking punches and countering and never giving up.
"Did we come unprepared? I don't think so," Dantonio said. "Did things snowball on us? I guess they did."
It's easy to pinpoint the moment the snowball picked up speed.
[+] Enlarge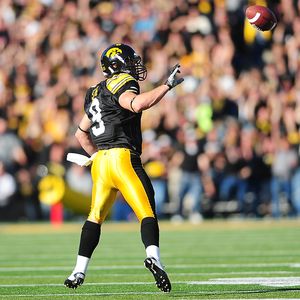 Andrew Weber/US PresswireTyler Sash's lateral, following an interception of Michigan State quarterback Kirk Cousins, resulted in a 66-yard return touchdown for Michah Hyde.
Not surprisingly, Iowa delivered the first punch and took a 10-0 lead. But Michigan State was moving the ball and reached midfield before a
Kirk Cousins
pass to
B.J. Cunningham
sailed right into the arms of Iowa safety Tyler Sash.
Sash had seen Michigan State run the same play last year and anticipated it, making the easy pick. He didn't anticipate what came next. After racing 6 yards upfield, Sash lateraled the ball over Cunningham's head to teammate Micah Hyde, who ran the remaining 66 yards to the end zone.
"It's like the point guard that pulls up from 40 feet deep and shoots a 3-pointer," Sash said. "If he makes it, it's alright. But if he misses it, what are you doing?"
Sash, by the way, was a standout basketball player in high school who received Division I interest. He
first got on Ferentz's radar screen while playing AAU basketball
in fifth grade against Ferentz's son, James.
The playmaking safety showed off his hoops skills with the lateral to Hyde.
"I'll do it again if the same thing happens," Sash said with a smile.
"I liked the outcome," Ferentz said. "He's an older guy, I trust our guys. I don't think we practice that."
Sash's magic propelled the Hawkeyes, but their performance wasn't sleight of hand.
A defense that allowed 59 points the past two weeks kept Michigan State off the scoreboard for three quarters. Three Hawkeyes' defensive backs picked off Cousins, who entered Saturday with just four interceptions in 212 pass attempts this season.
Iowa's offense also surged, as quarterback
Ricky Stanzi
delivered another near-spotless performance (11-for-15 passing, 190 yards, 3 TDs) and got help from running back
Adam Robinson
(69 rush yards, TD, 32-yard receiving TD), tight end
Brad Herman
(3 receptions, 80 yards) and others. The Hawkeyes effectively mixed plays and personnel, and just about everything clicked.
"It's a great football team," Narduzzi said. "We knew emotionally, they'd be fired up, [defensive coordinator] Norm Parker was back in the house. ... We expected them to be a well-coached team and come play their tails off because they're fighting for a piece of the Big Ten championship."
Michigan State is right there, too, but Iowa's win ensures the Hawkeyes remain in the title fight heading into November.
"We weren't hitting on all cylinders in previous weeks," Sash said. "I think we did today."
October, 30, 2010
10/30/10
8:18
PM ET

Iowa's Shaun Prater talks about the defensive performance in the win over Michigan State.

October, 30, 2010
10/30/10
8:12
PM ET

Adam Rittenberg talks with Iowa's Tyler Sash after the win over Michigan State.


October, 30, 2010
10/30/10
6:48
PM ET
IOWA CITY, Iowa -- Maybe Michigan State overachieved or perhaps the Spartans just caught Iowa at the wrong time.


Either way, the Spartans' perfect season ended without much suspense as Iowa dominated them in a
37-6
win. Michigan State endured a pre-Halloween nightmare against Iowa, which performed like the team many thought it would be before the season.
The Spartans' loss really shakes up the Big Ten title race, as four teams -- MSU, Iowa, Ohio State and Wisconsin -- all have one conference loss. I'm sure I'll rehash the tie-breaking scenarios in the coming days, but all is not lost for the Spartans, who still might reach the Rose Bowl by winning out.
Iowa hopes this type of performance can be a springboard heading into back-to-back road games. The Hawkeyes then host Ohio State on Nov. 20 in what could be the decisive game in the Big Ten.
I'm heading down for interviews but will have more from Kinnick Stadium, so stick around.
October, 30, 2010
10/30/10
6:19
PM ET
IOWA CITY, Iowa -- Kinnick Stadium hasn't been kind to recent Big Ten national title game hopefuls.

In 2008, the Big Ten's last unbeaten team, Penn State, fell to Iowa in early November at Kinnick.

Last fall, Iowa's amazing 9-0 start ended with a stunning home loss to unranked Northwestern.

Now it appears Michigan State's dreams of reaching the title game will be dashed at Kinnick. And barring a wild month of December, the Big Ten will be left out of the national title game once again.

This is clearly not a good place to be if you're undefeated late in the season.
October, 30, 2010
10/30/10
5:51
PM ET
IOWA CITY, Iowa -- Last week, Michigan State stormed out of the halftime locker room and trimmed its deficit right away against Northwestern.
The Spartans don't have the same zest this week. And against an Iowa team doing everything right, the Spartans didn't have a chance.
Kirk Cousins
has thrown his third interception after entering the game with just four picks in 212 pass attempts. Iowa's offense continues to surge as
Marvin McNutt
's touchdown put the Hawkeyes up
37-0
.
This is the team Iowa fans have waited all season to see: merciless on defense, efficient on offense, solid on special teams. Iowa probably needed to stumble last week to play like this, but the Hawkeyes also must be wondering what might have been.
Michigan State's performance certainly is discouraging, but the the Spartans still have a lot to play for in the final month of the season.
October, 30, 2010
10/30/10
5:08
PM ET
IOWA CITY, Iowa -- Wow.
My thoughts at the half as
No. 18 Iowa is crushing No. 5 Michigan State 30-0
.
Turning point:
Iowa made a statement on the game's first possession, marching 80 yards in 12 plays. But the real turning point came late in the first quarter with Iowa ahead 10-0. Hawkeyes safety Tyler Sash intercepted a
Kirk Cousins
pass and lateraled the ball over a Spartans player's head to teammate Micah Hyde, who raced 66 yards for a touchdown. Michigan State seemed to be moving the ball well before Sash provided a little more Halloween magic.
Best player in the half:
Iowa running back
Adam Robinson
. He has done it all for the Hawkeyes: tough runs, a huge block on a
Ricky Stanzi
scramble and his first career touchdown catch, a 32-yarder. Robinson has 40 rush yards and a touchdown on 13 carries, but he's earned every inch out there. Stanzi and defensive lineman Mike Daniels also have been fabulous.
Stat of the half:
Cousins has thrown only one incomplete pass in 15 first-half attempts. The Spartans junior has completed 12 passes to his teammates for 90 yards, and has thrown two interceptions that led to Iowa touchdowns.
October, 30, 2010
10/30/10
4:43
PM ET
IOWA CITY, Iowa --
Kirk Cousins
has been a model of consistency through Michigan State's first eight games, throwing only four interceptions in 212 pass attempts.
But he looks rattled so far today.
Cousins threw his second ugly-looking interception of the second quarter, and Iowa once again capitalized for a touchdown
to go up 23-0
. The Michigan State junior just isn't getting enough velocity on his throws, and Iowa's defensive backs are making fairly easy plays for the interceptions.
Iowa running back
Adam Robinson
, meanwhile, continues to have a huge first half, doing it all for the home squad. His 32-yard touchdown catch marked the first of his career.
Ricky Stanzi
made an outstanding throw and continues to put up big numbers for the Hawkeyes.
It'll be tough to see MSU dig out of this hole on the road against a hungry Hawkeyes team.
October, 30, 2010
10/30/10
4:24
PM ET
IOWA CITY, Iowa -- There's something about Iowa's Tyler Sash and Halloween.
A year after his pinball-like 86-yard interception return for touchdown against Indiana on Halloween, the Iowa junior safety just made another wild play. His interception and lateral to teammate Micah Hyde, which went over the head of Michigan State wide receiver
B.J. Cunningham
, resulted in a 66-yard touchdown and a 17-0 Iowa lead.
Sash probably doesn't want to try that lateral again, but it worked out and Hyde made an impressive run and dive for the pylon. Hyde's 66-yard runback is the ninth-longest in team history.
Lost in it all was arguably the worst pass
Kirk Cousins
has thrown all season. The Michigan State quarterback has made great decisions the past few weeks, but that wasn't one of them.
So Michigan State is in a
17-0
hole on the road for the second straight week.
Can the Spartans rally again? It'll be tough.
October, 30, 2010
10/30/10
3:55
PM ET
IOWA CITY, Iowa -- One of my
keys for Michigan State today
was being able to take Iowa's first punch.
Well, the Hawkeyes just delivered one.
Iowa marched 80 yards in 12 plays on the game's first possession, mixing things up extremely well on offense to take a
7-0
lead. The Hawkeyes received contributions from several players, none more impressive than sophomore running back
Adam Robinson
, who has been the team's MVP this season. Robinson had several tough runs, including a 7-yarder to set up first-and-goal. Iowa fans, please stop talking about
Brandon Wegher
and appreciate the guy you have running the ball. He's been fabulous.
It's good to see Iowa get tight end
Allen Reisner
involved, and
Marvin McNutt
made a spectacular over-the-shoulder catch for a 17-yard gain.
Good stuff early from Iowa, which leads 7-0 with 7:07 left in the first quarter.
October, 30, 2010
10/30/10
3:06
PM ET
IOWA CITY, Iowa -- We're about 30 minutes away from kickoff here at Kinnick Stadium and both teams are on the field going through warm-ups.
Michigan State cornerback Chris L. Rucker went through warm-ups and looks ready to play. Wide receiver
Keshawn Martin
is in uniform, but will only play in emergency situations.
Bennie Fowler
and
Mark Dell
will handle punt returns.
Iowa linebackers Jeff Tarpinian and Jeremiha Hunter also went through warm-ups, although it's likely that true freshman James Morris will get the nod at one of the linebacker spots.
Much more to come from Kinnick Stadium, so keep it right here.
October, 30, 2010
10/30/10
2:30
PM ET
IOWA CITY, Iowa -- Greetings from eastern Iowa, where No. 5 Michigan State puts its undefeated record on the line against No. 18 Iowa.
It's a beautiful day for football with no rain in the forecast and fairly light winds. Halloween is in full swing here, and I saw quite a few people in costume last night walking around downtown. Some of my favorites: "The Situation," Bret Michaels, the sun from the Jimmy Dean commercials and two Avatars. Good stuff.
OK, back to football.
These teams have provided three of the Big Ten's most exciting matchups since 2007, and their past three games have been decided by a total of 12 points. Expect another close one today.
Many see today's game as the final barrier between Michigan State and an undefeated season. The Spartans' remaining schedule has home games against Purdue and Minnesota and a road trip to Penn State. They'll be favored in all three matchups. It's a different story today as the oddsmakers and most experts, aside from the stars of "ESPN College GameDay," are picking Iowa to win. I'm sure coach Mark Dantonio is using the underdog role as a way to motivate his team.
Iowa also has plenty to play for, as a loss likely removes the Hawkeyes from the Big Ten title race. If the Hawkeyes drop to 5-3, you can brand this season as a disappointment given the preseason expectations. Defensive coordinator
Norm Parker returns to Kinnick Stadium today
for the first time since his foot-amputation surgery late last month, so you know the Hawkeyes will be fired up to see Norm.
I've spent enough time on the Chris L. Rucker situation, but
the Spartans cornerback decided to make the trip
. He won't start, but could play today.
Michigan State receiver/return man
Keshawn Martin
and Iowa linebacker Jeff Tarpinian both have been battling injuries. I'll look out for them during warm-ups and let you know how they look.
That's it for now. Sit back, relax and enjoy. Plenty more coming from Kinnick.