August, 15, 2012
8/15/12
12:00
PM ET
Links to get you over the hump.
July, 13, 2011
7/13/11
3:00
PM ET
When
Da'Jon McKnight
first learned that Minnesota was interested in recruiting him, he had a simple question.
"I said, 'Where is Minnesota,'" McKnight recalled this week. "'Is it up there by Canada?' I didn't know where it was on the map."
[+] Enlarge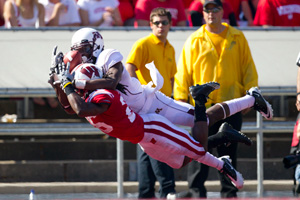 Jeff Hanisch-US PresswireReceiver Da'Jon McKnight, shown making a diving TD catch against Wisconsin last season, is one of Minnesota's four players from Dallas' Skyline High.
Luckily, McKnight got some geographic help from his prep teammates. He was one of four players from Dallas' Skyline High School to form an unusual Texas-to Twin Cities pipeline in former coach Tim Brewster's first full recruiting class. Now the "Skyline Four" -- cornerback/special teams ace Troy Stoudermire, starting linebacker Keanon Cooper, reserve linebacker Spencer Reeves and star receiver McKnight -- are nearing the end of their time with the Gophers.
They hope that by the time they leave, Minnesota is back on the map, so to speak, in college football.
Stoudermire and Reeves were the first two to commit to Brewster, in November of 2007. McKnight followed later that month. Cooper, the highest-rated recruit of the bunch, didn't come on board until right before signing day the following February.
"I tried to take an individual approach," he said. "My decision wasn't based on where my teammates went but was based on where I felt comfortable going. It just took me a little longer."
They each took slightly different paths once they got to campus. Stoudermire contributed right away as a kick returner on the 2008 Insight Bowl team, while McKnight caught only one pass that season. Cooper redshirted, while Reeves had to shore up his academics. As a result, Stoudermire and McKnight are seniors this year, while Cooper and Reeves are juniors in terms of their athletic eligibility.
Cooper and Stoudermire roomed together their first year, and he and Reeves play the same position. As happens with most high school friends when they get to college, their social circles changed and enlarged. But the Skyline Four say they've remained close.
"We all still hang around each other," McKnight said. "We still talk and reminisce about high school and our coaches and teammates. We came up here as one, so we keep that bond between us."
The bond might be even stronger whenever they get a chance to go home during breaks. McKnight said all four have found themselves on the same flights the past two times they've all returned to Dallas.
"Sometimes we go back, and our families and friends are on the same break as us," Cooper said. "No one is in town. So we all end up contacting each other and other hanging out."
Moving so far north meant making some adjustments. Cooper said he was told at first that all Minnesotans were focused solely on hockey, something he found not to be true. McKnight says, "I don't think you ever get used to the winters up here."
They came to Minnesota with big dreams of turning the Gophers program around under Brewster. After their first two seasons ended in bowl losses, they suffered through a 3-9 season in 2010 and saw Brewster get replaced by Jerry Kill. They still hope for a resurgence like the one they engineered in high school; Skyline went 12-2 their senior year, advancing to the Texas 5-A regional final for the first time in more than 30 years.
"It's kind of the same situation," Cooper said. "Before we went to Skyline, they weren't really a big powerhouse, but toward the end of my career we managed to get it done. We got a new coaching staff and a new philosophy during our high school years, and now we've gone from the Coach Brewster era to the Coach Kill era. I feel like it's kind of the same model."
This will be the last season that the Skyline Four will ever play together as a group. They hope to make it a memorable one.
March, 30, 2011
3/30/11
1:30
PM ET
The spring superlatives series, which examines the strongest and weakest position groups throughout the Big Ten, continues with Minnesota.

Strongest position: Linebackers
Top returnees: Gary Tinsley (90 tackles, 9.5 tackles for loss, 1.5 sacks, 1 interception, 1 forced fumble in 2010); Keanon Cooper (68 tackles, 4.5 tackles for loss, 1 pass breakup); Mike Rallis (37 tackles, 6 tackles for loss, 3 interceptions); Spencer Reeves (23 tackles, 2 tackles for loss)
Key losses: None
The skinny: Some might scratch their head at this selection, but Minnesota's struggles on defense last fall had more to do with a nonexistent pass rush than linebacker play. The Gophers return everyone at the linebacker spot and adds Brendan Beal, a transfer from Florida who sat out last season. Tinsley was the team's best defender last fall and could contend for All-Big Ten honors with a strong season in 2011. Rallis can be a difference maker if he stays healthy, as he showed with a team-leading three interceptions last season. Cooper also is healthier after playing last season with a bad back. Minnesota doesn't have a ton of options at a lot of positions, but linebacker is one of them.
Weakest position: Defensive end/pass rusher

Top returnees: D.L. Wilhite (14 tackles, 2.5 tackles for loss, 1 sack in 2010); Matt Garin (13 tackles (13 tackles, 1 tackle for loss)
Key losses: Jewhan Edwards played DT but was Minnesota's top pass-rushing "threat," leading the team in both sacks (3) and tackles for loss (11) in 2010.
The skinny: If Minnesota plans to surprise people this fall, it must improve the nation's worst pass rush. The Gophers should be OK on the interior line, but the defensive ends really need to upgrade their play after falling well short of expectations this past season. Wilhite displayed potential as a freshman but took a step back last year, and the high hopes for players like Ra'Shede Hageman never panned out. New defensive coordinator Tracy Claeys wants to be more aggressive and turn the defensive ends loose, which could be good news for the group. While Minnesota could have some issues on offense at receiver and along the line, the pass rush is a glaring weakness right now.
March, 22, 2010
3/22/10
3:45
PM ET
Competition will be in the air Tuesday as Minnesota kicks off spring practice. The Gophers lose 11 starters from a team that reached the Insight Bowl, and the depth chart is wide open entering the spring. Much of the attention will be on the quarterback spot, as three-year starter
Adam Weber
tries to hold off
MarQueis Gray
and
Moses Alipate
. On defense, the Gophers lose all three starting linebackers, both starting cornerbacks and both starting defensive tackles.
Head coach Tim Brewster took some time Monday to preview spring ball.
[+] Enlarge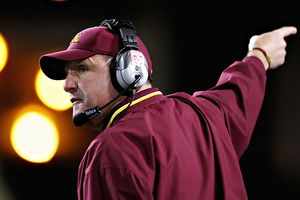 Christian Petersen/Getty ImagesTim Brewster would like to have the quarterback depth chart sorted out by the end of spring practices.
What are you looking forward to seeing when you get back on the field Tuesday?
Tim Brewster:
This is really going to be a good group for us. It's a young group, a lot of talent in the group, they've really done a great job in the winter conditioning program. Guys came back off spring break in great shape. We had a great 6 a.m. run this morning. We've just got to do a great job as a staff this spring of developing these young guys. There's nothing complicated about what we're going to try to accomplish. Really just the fundamentals of the game, we'll spend a good deal of time on situational work, and then the thing that's going to be exciting for us is the competition. For the first time since we've been here, we've got some really good competitive situations at a lot of different spots. That's really exciting for us as coaches.
What are a couple of those key competitions we'll see?
TB:
Obviously, the quarterback position, how that's going to play out, and see Adam Weber continue to grow and see him compete with MarQueis [Gray] and Moses Alipate. We're going to have great competition at the tailback position with
DeLeon Eskridge
and
Duane Bennett
here now, and three young guys coming in this fall who are talented and have a chance to jump in the mix immediately. We've got some real good situations at linebacker: Sam Maresh and Gary Tinsley, Mike Rallis, Spencer Reeves, Aaron Hill, Keanon Cooper, Brent Singleton. The linebackers are young, but they're talented. That's going to be good to see.
For Weber, he's in a unique position, being the starter for three years and now competing for the job. How do you keep his confidence level up? What's his mental approach going into the spring?
TB:
I couldn't be more excited about adding [new offensive coordinator/quarterbacks coach] Jeff Horton. Jeff is an outstanding teacher. I love his demeanor. Never gets too high, never gets too low, very down the middle. He's got a very quarterback-friendly personality. The system, there's nothing complicated about what we're going to try to accomplish, and it's really going to allow Adam to go out and play well. It's going to allow MarQueis a chance to compete for the quarterback position. And it'll be exciting to see Moses Alipate. But certainly Adam's experience gives him a leg up. Again, I've been really pleased with Jeff's control there at that position. Those guys are really going to benefit from Jeff's experience.
Do you have a timetable in mind of where you'd like to be at quarterback by the end of the spring?
TB:
You'd love to see the position sort itself out by the end of spring practice. You'd love to have your starter in place. We're not going to go into training camp with a quarterback competition. We want to go in with a guy who is our starter, and I certainly think it'll play itself out that way. They're all going to get plenty of opportunity this spring to show what they can do. We're going to have some situations with the quarterbacks where the quarterback will be live [able to take on contact]. We haven't done that in the past. It will give us a chance to really evaluate the position well.
You've talked a lot about the offensive line and needing to upgrade there. What do you expect from that group this spring?
TB:
There's really good competition there, and Tim Davis is going to continue to do a good job in developing that group. We've got to get better up front, and I certainly believe we will be better with another year under Tim and in the system. Ed Olson is really a talented young redshirt freshman offensive tackle. He's going to really push Jeff Wills. We've got competition at center, we've got competition at guard. We're in a situation now where we've got a little depth, and it'll also be interesting, we're bringing in some really talented offensive linemen in this recruiting class. I understand that it's not easy for a freshman to come in and contribute, but it's done. You look across the country and there's a number of young guys that step in and help. We're really excited about Jimmy Gjere. He's a very talented young kid. He'll be here in June, he'll be with us all summer. He's weighing 310 pounds now, he's almost 6-foot-8, very athletic. I'll tell you a guy who's going to get your attention, a tight end we brought in named Tiree Eure, from Lackawanna Junior College. He's been very, very impressive to this point in the conditioning program. He's 6-6, he's 250 pounds and he runs. He's very athletic. We think he's going to help us a bunch as well.
Tuesday in Part II: Outlook at wide receiver, linebacker, defensive line and the secondary.
March, 25, 2009
3/25/09
10:36
AM ET
Posted by ESPN.com's Adam Rittenberg
MINNEAPOLIS -- There's a noticeable buzz around Minnesota football right now, with a new on-campus stadium opening this fall and plenty on the agenda for spring practice, which began Tuesday. The Gophers welcome new coordinators on both sides of the ball and a new offensive system, which will look more what fans are used to in the Twin Cities.
| | |
| --- | --- |
| | |
| | Jeff Gross/Getty Images |
| | Minnesota coach Tim Brewster is excited about the depth he has coming back this season. |
Head coach Tim Brewster saw the team improve its record by six games last fall, but the Gophers ended on a five-game slide, including a 55-0 thrashing at the hands of archrival Iowa. With 10 offensive starters back and several playmakers on the defensive side, Minnesota hopes to take another step forward this fall, but will negotiate what appears to be a much tougher schedule. Here are Brewster's thoughts on the squad as spring ball gets under way.
It seems pretty ambitious what you guys are doing this spring, with the new guys, the scheme tweaks and changes. Is it one of the more ambitious spring practice sessions you've been a part of?
Tim Brewster: I just don't think it's quite as ambitious as you think. We installed quite a bit of the offense before the bowl game. To me, what's exciting about where we're at is we've got some depth, we've got some experienced players, but more importantly, some really talented players coming back. And then when you add to the mix guys like [linebackers] Keanon Cooper, Spencer Reeves and Gary Tinsley, some of these guys particularly on defense, that's really an exciting thing for us.
You said you wouldn't trade [quarterback] Adam [Weber] for anybody in the country. You also think highly of MarQueis Gray. Do you envision MarQueis just sitting and waiting the next two years?
TB: No, no. We're going to incorporate MarQueis into every game. We'll go in with a plan on how we're going to utilize him. I brought [Texas offensive coordinator] Greg Davis up here from Texas, and I talked to Greg about how they incorporated Vince [Young] into the game plan in Vince's redshirt freshman year. He played every game, but what was the real thought process that went into it. We really had some good conversations on how to do that. It's a tough thing because of the flow of the game. You say, 'I want him to play the third series.' Well, something may dictate that the third series, you want to keep Adam in the game. But he'll make a contribution. Heck, MarQueis could play wide receiver. MarQueis could be a running back. There's a lot of different ways to utilize a player of his ability.
Does it help to have that reference point with Vince Young?
TB: Very strong similarities between the two. But the biggest challenge is this: We've been really lucky. Adam Weber's taken every snap. At some point, injuries happen. Is MarQueis Gray ready to step in and drive this car and run this offense? That's the biggest challenge that [new offensive coordinator Jedd Fisch] has, making sure MarQueis Gray is ready to be a full-time quarterback. He's the No. 2 quarterback at worst right now, so that's a real challenge.
It seems like line play is going to be a focus on both sides of the ball.
TB: Yes, and I think we're going to be much better up front. It really helped moving [left tackle] Dom Alford inside. Ryan Wynn is a very talented guy who was playing right tackle. He doesn't need to be a right tackle. He'll play at center, possibly at guard. Matt Carufel, also [at guard]. And then you look at the development of [left tackle Matt] Stommes. Stommes' measurables, shoot, the NFL people who have come in here have said, 'Who the heck is that?' It's kind of like the guy's come out of nowhere. And [right tackle Jeff] Wills' development is going to be big. Is he putting himself in a position where he can be a starter?
Some people would look to the secondary and say look what you guys did there last year, but it sounds like you're almost more excited about the D-line and the linebackers.
TB: I really am. The front seven for us has got a chance to be really good. I think we'll be good on the back end, too. We're just a little thin. A kid like [cornerback] Michael Carter coming in, Michael's going to have to play as a freshman. And we've got some other guys. Today it's so hard to find defensive linemen, and particularly the young inside guys, Jewhan Edwards and Brandon Kirksey, they've got a chance to be really good. And then you've got [Eric] Small and [Garrett] Brown. So we've got four inside guys. And then I think we'll be better on the edge. D.L. Wilhite's a kid who redshirted last year and has got really good speed. And with [Cedric] McKinley, [Derek] Onwuachi, we've got some guys there.
The spring gives you a chance to find some playmakers, too, especially with Weber limited and Eric Decker playing baseball.
TB: Eric Decker's going to be ready to play. What I'm concerned about is somebody else being ready. That's how you've got to look at it, a positive thing and not a negative thing.
You mentioned last year's team was significantly improved. Is that the same goal for 2009?
TB: This year, we want to make the same improvement, but it's a tougher step, a much tougher step, particularly with a much tougher schedule.
January, 22, 2009
1/22/09
6:43
PM ET
Posted by ESPN.com's Adam Rittenberg
Minnesota will add six players to its roster when spring practice begins March 24, including highly touted 2008 commits MarQueis Gray and Sam Maresh.
The Gophers also announced Thursday that starting safety Tramaine Brock will miss spring ball, though head coach Tim Brewster expects Brock to re-enroll during the summer and be eligible for the 2009 season.
Gray, a gifted dual-threat quarterback, left the team last season after the ACT board flagged his test scores. The Indianapolis native passed the ACT in November and should be the front-runner to back up Adam Weber next season.
Maresh, a standout linebacker, underwent heart surgery in June to repair his aortic valve but has recovered in time to begin practicing with the team this spring.
"Sam and his story are amazing," Brewster said in a statement. "It is truly a blessing for the state of Minnesota and the University of Minnesota to have him representing the university and playing football. He's been through a great deal. I'm just thankful and excited that he's healthy, doing well and ready to join our program."
Linebacker Spencer Reeves, another decorated 2008 recruit, also will rejoin the team for spring ball along with junior college transfer Jeff Wills, an offensive tackle. Minnesota also welcomes two transfers, former Notre Dame guard Matt Carufel and former Wisconsin safety Kim Royston, both of whom sat out last season in compliance with NCAA rules.