April, 28, 2014
Apr 28
3:30
PM ET
The last three Big Ten spring games were held over the weekend, and it's our job to recap them all.
[+] Enlarge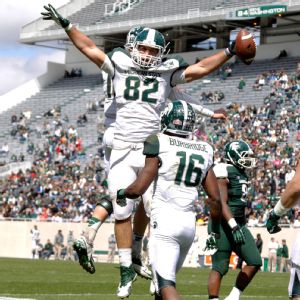 AP Photo/Al GoldisWith a big spring game, Michigan State might have found a new offensive weapon in Josiah Price.
Defending league champion Michigan State played before 35,000 fans at Spartan Stadium, falling short of Mark Dantonio's request for a crowd of 50,000 but having a fun day nonetheless. The White team defeated the Green squad 20-13, and you can find coverage of the event
here
,
here
,
here
and
here
.
Star of the game:
Sophomore tight end
Josiah Price
had five catches for 81 yards, including the game-winning 2-yard touchdown with 27 seconds left to go. "Josiah Price has taken big steps forward this spring," Dantonio said. "He's blocking much better. He's a big-time catch guy. The more you throw the ball to him, the more excited you get, the more confidence he gets."
How it went down:
Balance was a key word for the spring game, as -- unlike the past two years -- the offense was good enough to go toe to toe with the Spartans' defense.
Starting quarterback
Connor Cook
threw for 159 yards and two touchdowns but was also picked off twice. Backup
Tyler O'Connor
was intercepted three times. Safeties
Kurtis Drummond
and
Demetrious Cox
and cornerbacks
Darian Hicks
,
Ezra Robinson
and
Jermaine Edmondson
all came up with interceptions. That gives the Spartans confidence that their "No-Fly Zone" will remain in effect even without
Darqueze Dennard
and
Isaiah Lewis
.
The spring game also saw the unveiling of redshirt freshman
Damion Terry
, who scored on a 23-yard toss sweep on the White's first offensive play of the game. Terry later got banged up on a hit from
Demetrius Cooper
.
"We see certain people using two quarterbacks in systems," Dantonio said. "We experimented a little bit with those things and put a package together, so there are different things that we do."
Dantonio also found room for some fun during the scrimmage. The Green team pulled off a double pass where
R.J. Shelton
threw back to O'Connor, then threw 29 yards to
Tony Lippett
.
And the team's mascot, Sparty, got his traditional carry. After being leveled by the defense the past two seasons, Sparty
scored this time around
. See? More balance. Just don't expect more from Sparty in the fall.
"Sparty will probably redshirt," Dantonio said.
April, 25, 2014
Apr 25
1:30
PM ET
Spring football in the Big Ten bids farewell with the league's final three spring games on Saturday. We're previewing all of them, and wrapping things up with new league member Rutgers:
When:
4 p.m. ET Saturday

Where:
High Point Solutions Stadium, Piscataway, N.J.
Admission:
Free. Events begin at 10:30 a.m., and an alumni flag football game benefiting former Rutgers player Eric LeGrand will be held at 12:30 p.m. Players will sign autographs on the field after the spring game. The full schedule of events is
here
.
TV:
Streamed online via RVision at ScarletKnights.com
Weather forecast:
Partly sunny, with a high near 69 degrees. Wind around 15 mph. Chance of rain is 30 percent.
What to watch for:
The Scarlet Knights expect to hold a normal spring game scrimmage, and head coach Kyle Flood told reporters this week that he plans to be more involved with the on-field action than he has in the previous two years.
"I want to blow the whistles on the quarterbacks," Flood said. "We'll have Big Ten officials here, and when you put them in a situation where they have to decide if it's a sack or not a sack, there will be certain plays I want to let go a little bit longer, or maybe it would have been a sack, but I want to see some of the skill players play a little bit. I can control the pace and the tempo of everything if I'm down there."
The big story of the spring for Rutgers has been the quarterback battle.
Gary Nova
,
Mike Bimonte
and
Chris Laviano
have been sharing time with the first-stringers, and Nova is the only one with any real game experience. Flood hasn't tipped his hand on who might be leading the race, but he's anxious to see how they perform in a game-like setting.
Fans are also anxious to get a look at new offensive coordinator Ralph Friedgen's attack and hope it will lead to a more consistent downfield passing game. The former Maryland head coach's track record suggests it will. The offense returns most of its starters, though top tailback
Paul James
has missed contact drills this spring with a shoulder injury.
There's also a new coordinator on defense, though Joe Rossi was promoted from within and served as interim coordinator for the Pinstripe Bowl. Don't expect a whole lot to change on that side of the ball, where the Scarlet Knights are
undersized but undeterred
up front.
Big Ten fans can also get a peek at what one of the two new league members has in the way of personnel and fan support. Remember that the first 2014 conference game occurs in Piscataway on Sept. 13, when Penn State visits.
April, 25, 2014
Apr 25
10:30
AM ET
Spring football ends Saturday in the Big Ten. I'll give you a moment to compose yourself. Wipe those tears away. Football will be back soon enough.
Three teams wrap up their sessions and we're taking a look at each. Here's what to expect from Iowa at its annual spring scrimmage.

When:
3 p.m. ET Saturday
Where:
Kinnick Stadium, Iowa City
Admission:
Free. Fans are invited to join Iowa and the Johnson County Crisis Center in bringing nonperishable food items for the ANF Food Bank Drive. Collection bins will be found at all the open entrances to the stadium. The west and south stands are open for seating, and fans can enter through Gates A, F and G. Free parking is available in all university lots around the stadium.
TV:
Streaming at BTN2Go.com
Weather forecast:
Mostly sunny, high of 73 degrees, winds at 15 mph
What to watch for:
The Hawkeyes will pit the offense against the defense and use a modified scoring system that, in addition to standard scores, awards points for explosion plays (runs of 12 of more yards, passes of 16 or more yards), takeaways, three-and-outs, quarterback "sacks" and sudden changes (when the offense starts inside the 35-yard line and is held to a field goal or no points). Check out the points breakdown
here
.
[+] Enlarge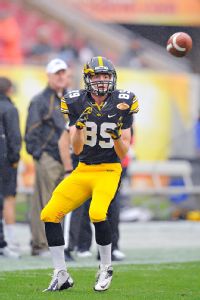 AP Photo/Scott A. MillerIowa coaches like the versatility of receiver Matt VandeBerg.
Iowa typically doesn't reveal much during its spring scrimmages, and most of the key spots are nailed down, such as at quarterback (
Jake Rudock
) and middle linebacker (
Quinton Alston
). The event provides fans a chance to check out the new linebackers, led by Alston but also featuring
Travis Perry
and
Reggie Spearman
.
The Hawkeyes look very solid up front but must fill holes at both free safety, where
Jordan Lomax
and
Anthony Gair
are competing, and at one cornerback spot, where
Maurice Fleming
and
Sean Draper
are listed as co-starters on the
latest depth chart
. Defensive coordinator Phil Parker said this week that
John Lowdermilk
is trying to hold off
Nico Law
at strong safety.
The receivers have generated buzz this spring as Iowa continues to ramp up the tempo, seeking explosiveness on offense. Familiar names such as
Kevonte Martin-Manley
,
Tevaun Smith
and
Jacob Hillyer
are back, but fans can get a glimpse of redshirt freshman
Derrick Willies
, a 6-foot-4 perimeter threat, as well as sophomore
Matt VandeBerg
, who has received high marks from the coaches. Offensive coordinator Greg Davis said VandeBerg can line up at more than one wideout spot.
Line play should be Iowa's strength this season -- as it is with the Hawkeyes' better teams under Kirk Ferentz -- so it will be interesting to see the top players work in the scrimmage. There's some competition at one defensive end spot between
Mike Hardy
and
Nate Meier
, and the left offensive guard position remains fluid.
Again, it's Iowa, so don't expect any major revelations Saturday. But the forecast looks great and fans should be geared up for a team that carries higher expectations into 2014.
April, 25, 2014
Apr 25
9:00
AM ET
The spring football odyssey in the Big Ten wraps up this weekend, as the final three spring games will take place Saturday. As we've done with the previous 11, we're going to preview each event. Let's take a look at the defending Big Ten champion
Michigan State Spartans
' spring fling:
When:
2 p.m. ET Saturday
Where:
Spartan Stadium, East Lansing, Mich.
Admission:
Free. Fans may also purchase press box seats for $75 (deadline is noon today). Stadium gates A, B, C, D and G open at 12:30 p.m. The first 30,000 fans will receive a commemorative 2013 championship team poster, and the team will be honored at halftime. Fans are invited to take photos with the 2013 Legends Division, Big Ten championship game and Rose Bowl championship trophies from 11:30 a.m. to 2 p.m. near the southwest ramp of Spartan Stadium, adjacent to Gate C.
TV:
Big Ten Network (live).
Weather forecast:
Mostly sunny, with a high near 56 degrees.
[+] Enlarge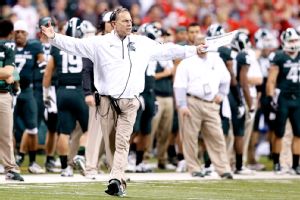 Joe Robbins/Getty ImagesMichigan State's spring game festivities allow Mark Dantonio's Spartans to celebrate the past and look forward to the future.
What to watch for:
This is a spring game but also -- as you can tell by the festivities -- a celebration of the Spartans' 2013 championship run. Head coach Mark Dantonio has said he wants 50,000 fans to show up because "that's where this program needs to go." That would be more than double the estimated turnout from a year ago, but the weather looks much better for Saturday than it did for the '13 spring game.
The team held its annual player draft on Wednesday afternoon, and the White team ended up with starting quarterback
Connor Cook
. Redshirt freshman
Damion Terry
, whom fans were clamoring for early last season, will see time at quarterback for both teams. It will be fascinating to see how the Spartans incorporate him this fall.
Other things to watch for include a new-look defense that is replacing six starters, including four All-Big Ten performers. Linebacker will be a particular area of curiosity, with
Max Bullough
and
Denicos Allen
gone and younger players such as
Jon Reschke
,
Riley Bullough
and
Shane Jones
pushing for playing time. Redshirt freshman safety
Jalyn Powell
was the surprise first draft pick among the safeties, ahead of veterans
RJ Williamson
and
Demetrious Cox
, so he obviously has the respect of his teammates.
Offensively, Michigan State returns the nucleus from last season's squad, although there will be some new faces on the offensive line. Tight end
Jamal Lyles
has turned a lot of heads this spring and could be unleashed on Saturday.
Regardless of how the spring game goes, Spartans fans should have plenty of reasons to smile this weekend.
April, 14, 2014
Apr 14
10:45
AM ET
We've been recapping all the spring game action in the Big Ten from over the weekend, and we're going to keep the
Northwestern
entry short and sweet.
Not because we have anything against the Wildcats. It's just that they didn't have an actual spring game. Because of injuries, head coach Pat Fitzgerald held a regular practice for his 15th session of the spring on Saturday.

Or at least it was supposed to be a regular practice, until storm clouds forced the team to rush indoors halfway through the drills.
"With the storm coming in," Fitzgerald said, "we had to adjust quickly, which was a good challenge for the guys. And I thought the guys came back and finished practice well."
You can find some coverage of the day's practice
here
and
here
. Because it wasn't a spring game, there is no star of the game or stats to report.
A big issue remains the defensive line, which had four key contributors out this spring.
"That is a major work in progress," Fitzgerald said. "I like what the guys did this spring, but there's no way, shape or form that we're ready to make any analysis there. I'd say the same thing at running back with the guys being out. Then we've got to get some things solidified in the kicking game."
There might not be another Big Ten team that will have to get more done early in fall camp than the injury-riddled Wildcats.
April, 14, 2014
Apr 14
10:30
AM ET
So much spring-game goodness on Saturday. We're recapping all the action today, and now it's time to review the
Minnesota Golden Gophers
' spring fling.
The team held a 70-minute scrimmage before about 5,000 fans at TCF Bank Stadium. You can find coverage of the day's events
here
,
here
and
here
.

Star of the game:
Redshirt freshman
Berkley Edwards
ran 11 times for 46 yards and had the day's only touchdown on a 19-yard scamper.
How it went down:
Gophers fans were hoping to see major improvement from an offense that sputtered down the stretch last season but witnessed the team reaching the end zone only one time.
"That's why you get this out of your system now," head coach Jerry Kill joked about the poor offensive showing.
It was only a spring game, and Kill believes the team did make progress on that side of the ball during its 15 spring practice sessions. But that wasn't really evident on Saturday.
Starting quarterback
Mitch Leidner
led the offense on six drives against the second-team defense, which led to just two field goals and an interception.
Jalen Myrick
made the pick on a play in which
Drew Wolitarsky
was open but Leidner underthrew the ball.
"I thought at times we put good drives together; we've just got to finish," said Leidner, who was 7-for-15 for 74 yards. "And there were a couple times when me and the receivers have to get on the same page. But I mean, that's why we've got however many months to work on that."
Edwards was a bright spot, and
Rodrick Williams Jr
. ran for 52 yards on nine carries. Sophomore tight end
Duke Anyanwu
led all receivers with three catches for 19 yards.
The defense had a solid day with four sacks and that interception by Myrick. Linebackers
Chris Wipson
,
De'Niro Laster
and
Nick Rallis
each had seven stops.
But more than half of the projected starters on defense didn't play, including tackle
Cameron Botticelli
. Kill said he is out for 5 to 6 weeks with a broken foot. With the defense down so many players, it was disappointing that the offense didn't take advantage. The passing game remains an obvious area of need this summer for the Gophers.
April, 14, 2014
Apr 14
9:30
AM ET
We're recapping all the spring game action from over the weekend today. Next up: Indiana.
The Cream team beat the Crimson 24-14 before a crowd of 9,200 at sunny Memorial Stadium. You can find coverage of the game
here
,
here
and
here.
Star of the game:
Wide receiver
Shane Wynn
had five catches for 141 yards and one touchdown.

How it went down:
Wynn took some grief for his choices and deliberation during Friday's player draft but delivered a big game that included catches of 60 and 56 yards, plus a 16-yard touchdown, all from
Tre Roberson
.
"I always trust Shane," Roberson said. "We talk before when we're on the sideline. If he knows he can go deep, we'll just look at each other. We'll send him deep, and I'll throw the ball as far as I can. He's so fast. You can't really out-throw him."
Looking for some clarity on who the starting QB might be? Don't bother. Head coach
Kevin Wilson
is fine with playing two guys, and there's little to separate the duo of Roberson and
Nate Sudfeld
. Roberson went 10-of-22 for 176 yards and an interception and also had a 65-yard scoring run, while Sudfeld was 29-of-40 for 273 yards with one score and two picks.
"We better manage the quarterback deal good," Wilson said. "That's my job. And I attack it in a positive way with those guys."
Star tailback
Tevin Coleman
took only three carries but gained 61 yards.
Anthony Davis
added 41 yards on five carries with a 30-yard score, and
Myles Graham
had two touchdown runs.
The Cream team averaged better than nine yards per carry, which is not a great sign for the defense. But the Hoosiers like the progress on that side of the ball. Defensive tackle
Nate Hoff
led all defenders with seven tackles, plus a sack, while sophomore corner
Rashard Fant
had six tackles, an interception and a pass breakup. They're both backups, and Indiana is hopeful that more depth and competition will lead to a better overall defense this season.
"I've been coaching at a lot of different places, and this is as physical a spring as I've ever been a part of, as far as just the fundamentals of teaching guys to get off blocks," new defensive coordinator Brian Knorr said.
April, 11, 2014
Apr 11
1:00
PM ET
Ten league squads wrap up spring practice this weekend, and we're taking a look at each spring game or scrimmage. Next up:
Indiana
.
When:
3 p.m. ET Saturday

Where:
Memorial Stadium
Admission:
Free. Fans are asked to enter the East side of the stadium and to sit in the East stands. Gates 4, 5 and 6 will be open. There will be a youth clinic from 1:30 to 2:30 p.m. for kids 12 and a pre-game tailgate party from 1:30 to 2:45 p.m., with free food for the first 3,000 fans in attendance or while supplies last.
TV:
Streamed live on
BTN2Go.com
.
Weather forecast:
Mostly sunny, with a high near 76.
What to watch for:
Coach Kevin Wilson will have the seniors draft teams this afternoon, though he said some players could end up playing for both the Crimson and Cream squads at times. This won't actually be the end of Indiana's spring session, as the Hoosiers will have one more practice next week.
IU has the kind of explosive offense that can make the spring game fun, and since
Nate Sudfeld
and
Tre Roberson
still are virtually even, both teams in the game are guaranteed to have a good quarterback. Wilson is looking for some wide receivers to step forward and replace the production of departed top targets
Cody Latimer
,
Kofi Hughes
and
Ted Bolser
.
Shane Wynn
has moved from slot to the outside this spring and will be one of the go-to guys, but most everyone else is unproven and still needs to learn how to make the tough, competitive catches. The tight end position has been hampered by injuries this spring.
But scoring and moving the ball shouldn't be a problem for the Hoosiers. Fans want to know if the defense, which has struggled mightily for three years under Wilson, has made any strides. There's a new boss on that side of the ball in Brian Knorr, who will use a 3-4 base that incorporates several different looks and fronts. Ten starters are back on defense, though safeties
Mark Murphy
and
Antonio Allen
have been held out of contact work this spring, creating reps for youngsters there. The Indiana defense has some beef up front and improving group of linebackers, but it still has a whole lot to prove.
That's why this is one instance where a low-scoring spring game might actually provide some optimism, because if the Hoosiers can stop their own offense, that's saying something.
April, 11, 2014
Apr 11
10:00
AM ET
Ten league squads wrap up spring practice this weekend, and we're taking a look at each spring game or scrimmage. Next up:
Minnesota
.
When:
3:30 p.m. ET Saturday

Where:
TCF Bank Stadium
Admission:
Free. Gates open at 1:30 p.m. ET. There will be a Gopher football alumni football game from 2-3 p.m. ET, and former players will sign autographs in the west plaza after the game.
TV:
Streamed live on
BTN2Go.com
. The game will be also shown Sunday at 6:30 p.m. on Big Ten Network.
Weather forecast:
Mostly cloudy, with a high near 67. Chance of precipitation is 70 percent, though most of the rain is predicted for the morning.
What to watch for:
One of the Gophers' biggest goals for this offseason was to develop more playmakers, especially in the passing game. So it would be very encouraging to see the offense come up with some explosive plays during the spring game.
Mitch Leidner
has established himself as the clear No. 1 quarterback, and the team is hoping young receivers
Drew Wolitarsky
and
Donovahn Jones
continue to make strides, along with a deep crew at tight end (
Maxx Williams
is out with a knee injury). The Gophers could also use a few more home runs in their rushing attack, and perhaps redshirt freshman
Berkley Edwards
, who broke off a 50-yard scoring run in last week's scrimmage, can provide that. Offensive coordinator Matt Limegrover knows he can still pound the ball with veteran backs
David Cobb
and
Donnell Kirkwood
, plus Leidner. Top recruit
Jeff Jones
is also on the way.
If Minnesota's offense can move the ball effectively against its own defense, that's a reason for optimism. Despite losing star defensive tackle
Ra'Shede Hageman
and defensive back
Brock Vereen
, coordinator Tracy Claeys can call on a pretty experienced crew. Claeys would like to see a leap forward from his linebacker group, which lost seniors
Aaron Hill
and
James Manuel
but returns guys like
Damien Wilson
,
De'Vondre Campbell
and
Jack Lynn
who saw action last season. Replacing Hageman will probably require a group effort, but the coaching staff likes the potential of
Scott Ekpe
and
Cameron Botticelli
inside.
All in all, the team probably has fewer question marks going into this spring game than any previous ones under Jerry Kill. That's why hopes are high in Minneapolis.
April, 10, 2014
Apr 10
4:30
PM ET
We're previewing all of the Big Ten spring games, even the ones that are not quite spring games, like
Northwestern
's practice on Saturday.

When:
11 a.m. ET
Where:
Ryan Field
Admission:
Free. Stadium gates will open at 10 a.m. ET
TV:
Big Ten Network (live)
Weather forecast:
Partly sunny, with a high near 68. Wind 10 to 15 mph.
What to watch for:
Just like last year, the Wildcats won't hold an actual spring game. Instead, their 15
th
session of the spring will be just like a regular practice, except that fans will be invited to attend.
And, no, they didn't scrap the spring game because of union demands. Pat Fitzgerald's team is simply too banged up to field two squads and go at it in any kind of live scrimmage. Northwestern opened spring drills with 11 players sidelined because of injuries, including potential starting defensive linemen
Sean McEvilly
,
Deonte Gibson
and
Ifeadi Odenigbo
, cornerback
Daniel Jones
and star running back
Venric Mark
.
Because of the injuries, Fitzgerald hasn't really been able to have scrimmages all spring and says he'll have to hold some during two-a-days in August to get his players up to speed.
There will still be some story lines to watch Saturday, and in fact, you may learn more from a regular practice effort than you would from most vanilla, fan-friendly spring exhibitions. Fitzgerald has said this is quarterback
Trevor Siemian
's team, which means the offense should be fairly reliant on the passing game and not so much the option. At receiver, transfer
Miles Shuler
has earned praise, and the oft-injured
Kyle Prater
has had a nice spring, Fitzgerald said this week. It's just about now or never for Prater.
Collin Ellis
has moved to middle linebacker, and there's a pretty good competition for his old spot on the outside, with
Jimmy Hall
and
Drew Smith
battling it out.
Mostly, though, the Wildcats and their fans are happy to see a day that should be all about football after their spring was dominated by union talk. The vote still looms, but at least on Saturday, the team can just practice, even if it's not a traditional spring game.
April, 7, 2014
Apr 7
10:15
AM ET
Spring (practice) has officially sprung for
Michigan
, which became the first Big Ten team to hold its spring game on Saturday at the Big House.
An estimated crowd of 15,000 took in the festivities, which included a non-scoring scrimmage. You can find coverage of the game
here
,
here
and
here
. And here's a brief recap:
[+] Enlarge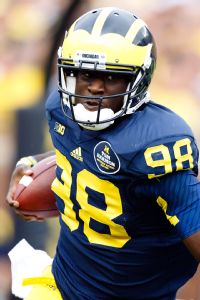 Rick Osentoski/USA TODAY SportsQuarterback Devin Gardner threw two interceptions and completed just two passes in the Wolverines' spring game.
Star of the game:
Cornerback
Jourdan Lewis
had two interceptions on the day, though he was also whistled for two pass interference penalties.
How it went down:
It was just a spring game, and as most teams are wont to do, the Wolverines kept things very vanilla for their first public practice session of the year.
Still, fans had hoped to see some inklings of progress, especially from the new offense led by coordinator Doug Nussmeier, who was hired away from Alabama in the winter. Players had talked about making more big plays in practice in Nussmeier's scheme.
There wasn't much evidence of that on Saturday. On the very first snap of the scrimmage,
Devin Gardner
was intercepted by Lewis in his own territory. Gardner -- still not 100 percent on his healing foot -- would finish just 2-for-10 for 53 yards, though he's in no danger of losing the job. Backup
Shane Morris
went 5-for-11 for 73 yards, and his final throw was also picked off by Lewis, who started at corner and made a nice impression in that competition. (He'll need to keep doing that this summer, since
Jabrill Peppers
is on the way).
"I definitely think we're going to be tighter on offenses this year," Lewis said afterward. "We are playing more man-to-man and we'll be closer to those guys to break it up or intercept it."
The one big play was a 44-yard strike from Gardner to
Freddy Canteen
, the early enrollee who has been the talk of the spring in Ann Arbor. He looks like the real deal and will likely earn a starting job at receiver.
The running game produced mixed results.
De'Veon Smith
got the most reps with the first unit, running nine times for 21 yards.
Derrick Green
added 16 yards on six carries, while
Justice Hayes
had six attempts for 33 yards. The offensive line, which included early enrollee
Mason Cole
as the first-team left tackle, struggled to open up holes and get a push up front. The defense registered five sacks, including one each from defensive linemen
Frank Clark
,
Brennen Beyer
and
Willie Henry
.
"Inconsistent" is how coach Brady Hoke described the offensive performance.
"I think there were a couple good runs in there that they did a pretty good job with," he said. "We needed to be a little more consistent in the protection game. Through the course of the 15 practices, I think there has been some real improvements made."
Hoke has maintained all along that a team depending on many freshmen and sophomores will need some time to come together. On Saturday, they showed that in several key areas.
"There's no question," Hoke said, "we need a lot of improvement."
April, 4, 2014
Apr 4
2:30
PM ET
The first Big Ten spring game of 2014 arrives on Saturday at the Big House. Here's a quick preview of what to expect from Michigan's spring fling.
When:
Saturday, 2 p.m. ET
Where:
Michigan Stadium, Ann Arbor, Mich.

Admission:
Free, though fans are encouraged to make donations to Mott Children's Hospital. Michigan Stadium gates open at 11 a.m., with an alumni flag football game scheduled to begin at noon. The men's lacrosse team will play Fairfield at 5 p.m.
TV:
Big Ten Network (live)
Weather forecast:
Partly sunny, with a high near 47. Winds 13 to 17 mph, with gusts as high as 28 mph.
What to watch for:
Coach Brady Hoke said the Wolverines will hold about a 45- to 50-minute scrimmage after "a lot of individual grind work." Hoke said his team, which has only 12 seniors, still needs to work on its fundamentals in its 15th and final practice.
One position full of youth that will have a lot of eyeballs on it Saturday is the offensive line. It's a group full of freshmen and sophomores, but Hoke said he has seen improvement there. An encouraging performance by that unit in the spring game, even with as little as that means, could scale back some of the intense scrutiny and criticism.
Receiver is another spot with a lot of new faces, as
Devin Funchess
is the only proven returning player. True freshman
Freddy Canteen
has turned a lot of heads this spring in the slot, and fans will get their first look at him in a Michigan uniform. Fans will be curious to see the offense in general under new coordinator Doug Nussmeier. Hoke said about 80 to 85 percent of Nussmeier's offense has been installed this spring, and he said there were a lot of explosive plays in last weekend's scrimmage. The offense should include much more north-south running, and a slimmed-down
Derrick Green
and
De'Veon Smith
should lead the way.
On defense, the public gets its first view of the new linebacker arrangement, with
Jake Ryan
moving into the middle and
James Ross III
at the strongside spot. Defensive coordinator Greg Mattison has talked about a more aggressive approach that will feature more blitzing, but don't expect to see much more than the usual vanilla spring schemes.
Devin Gardner
seems to have answered any questions about whether he'd retain the starting quarterback job by going through the spring on a foot that isn't 100 percent healed from the Ohio State game.
Shane Morris
and
Wilton Speight
should get plenty of reps on Saturday as well.