September, 10, 2012
9/10/12
2:30
PM ET
It was a brutal week for the Big Ten, and a brutal week for the Big Ten bloggers.
Both Brian Bennett and I took a beating in the
Week 2 predictions
, as we both expected a much better result from the league. It would have been even worse had we bet against the spread. Like Big Ten players and coaches, we can only hope this is rock bottom.
WEEK 2/SEASON RECORDS
Adam Rittenberg: 8-4, 18-6 (.750)
Brian Bennett: 7-5, 17-7 (.708)
Rewind time ...
New Hampshire at Minnesota
UCF at Ohio State
Penn State at Virginia
Purdue at Notre Dame
Indiana at Massachusetts
Air Force at Michigan
Michigan State at Central Michigan
Iowa State at Iowa
Wisconsin at Oregon State
Nebraska at UCLA
Vanderbilt at Northwestern
Illinois at Arizona State
September, 7, 2012
9/07/12
4:30
PM ET
Should be a fun Saturday of games. Hope you enjoy 'em.
Victor 614 from Columbus, Ohio, writes:
Whats up with all this hate on the Big Ten? I know Michigan got killed by alabama, but I think everyone knew they were overrated. And I know that the rest of the teams struggled, but Wisconsin is breaking in a new QB, Iowa isn't the Iowa of 4 years ago, and Northwestern has always been shaky at best. Michigan State beat Boise State, who all of a sudden is a bad team without Kellen Moore and Doug Martin, even though they've proven to be a consistent program. I know Michigan was expected to compete for a Big Ten title in the preseason, but it was just that, preseason. The Big Ten isn't on SEC level or even USC or Oregan's level, but this is really a rebuilding year for the conference as a whole. Am I wrong to think that there is alot of unfair animosity toward the Big Ten compared to other conferences?
Adam Rittenberg:
Victor, I agree that any win against Boise State means something, and while I think some go too far in using Michigan's performance to paint the entire Big Ten, you can't spin Week 1 as a positive one for the league. Other than Nebraska and, to a certain extent, Illinois, no team notched a truly impressive win. Part of that was the schedule, but the week would have been a bit better had Wisconsin pounded Northern Iowa, Northwestern held onto its big lead at Syracuse and Penn State beaten Ohio. That said, it's way too soon to say the Big Ten is down or a bad conference this year. The league clearly can't compete with the nation's elite at the very top, and its recent record against top 5 teams is downright shameful. But as I've written many times, it's all about building depth in the Big Ten. I see progress there with Ohio State on the rise again, Michigan State and Wisconsin racking up wins, Nebraska stabilizing and Michigan recruiting really well. The overall depth in the league could turn out to be decent this year, although we'll likely only find that out when the bowl season rolls around.
Decker from Hastings, Neb., writes:
Adam, Haven't heard much about
DeAnthony Arnett
so far, after quite the buzz during the offseason. What can you tell me about his status right now and also whether you expect the Spartan wideouts to pick up their game. I know Maxwell was rushed on plenty of throws on Friday but we saw a handful of miscues from the receivers. This weekend should be good for Maxwell and the rest of his offensive squad to find their rhythm. Your thoughts?
Adam Rittenberg:
Decker, I was really surprised not to see more of Arnett against Boise State, especially given the Spartans' struggles in the pass game. Michigan State receivers coach Terry Samuel said this week that
Arnett should have a bigger role Saturday against Central Michigan
. While Arnett might not have had the best offseason as far as standing out among the receiver group, he seems to be picking things up now. Plus, the guy had 24 catches last year in the SEC as a freshman. Can't hurt to make him a bigger part of the game plan this week.
JT from West Coast Hawk Town writes:
You and Brian both picked Iowa over Iowa State this weekend. That gives me some relief. The clones seem overly confident in this game. The clone fanbase is usually delusional, but I'm still not confident in my Hawks yet. What do you guys see, aside from the game being in Kinnick, that gives Iowa the edge?
Adam Rittenberg:
Playing at Kinnick obviously benefits Iowa. Only two of the Hawkeyes' seven losses to Iowa State under Kirk Ferentz have happened at home and none since 2002. Iowa usually takes care of its turf, even against the dreaded Cyclones. Also, I was pleasantly surprised with the defensive line play against Northern Illinois.
Steele Jantz
had his way with Iowa last year, and the Hawkeyes must put more pressure on him Saturday. I feel better about that happening after seeing what
Joe Gaglione
, Dom Alvis and co., did against NIU. I also don't think Iowa State can handle Iowa's rushing attack for four quarters, especially if
Damon Bullock
duplicates what he did in the opener, getting stronger as the game goes on. It'll be close, but Iowa should prevail.
Ben from Ann Arbor, Mich., writes:
Adam, today you posted an article saying that Penn State and OSU ARE eligible to be named Leaders Division champs. If this is true, and, say, Wisconsin finishes second or third in the standings behind them yet beats the Legends Division champion in the B10 championship, Wisconsin would officially be named Big Ten Champion, but not a division champion. That, like Alabama being National Champions but not Conference Champions, just doesn't sound right. Penn State and OSU are banned from the postseason and B10 championship, they shouldn't be a champion of their division.
Adam Rittenberg:
I hear ya, Ben, and it sets up some potentially embarrassing situations, like having to present a team on postseason probation an official Big Ten trophy for winning the division. The Big Ten's rationale is that because Ohio State's and Penn State's games count in the division race, they should be part of that race. It would be odd to have a division champion go against a division "representative" in Indianapolis and for that representative to win the title. But that's the path the Big Ten has chosen to go down with two of its marquee programs on postseason probation.
Brian from Portland, Ore., writes:
Adam, Longtime Northwestern football fan, which I know seems like an oxymoron (don't worry, Illini fans; it's OK that you don't know what that word means). Given the incredible disparity between the offense and the defense for the past few seasons, is it legitimate to question whether Fitz should replace Hankwitz? I know we had a good defensive season or two, but the recruiting is getting better and the results don't show on the field. I know Fitz is loyal, but there has to be a limit, right?
Adam Rittenberg:
Brian, while I'm not in favor of coaches making rash changes whenever things start to go downhill, everyone on a staff needs to be held accountable. I think this is an important season for Hankwitz and the rest of Northwestern's defensive staff. Hankwitz boasts a ton of experience, but he has been dumped before (Wisconsin) and is far from foolproof. It's more than fair to question whether Fitzgerald is too loyal to certain folks, whether they be moderately talented veteran players or assistants who aren't getting the job done well enough in the Big Ten. I think Fitzgerald has a lot of great qualities as a head coach and clearly represents Northwestern well. But part of the job is making tough decisions with personnel and assistants, and if the defense doesn't improve, Fitz will face some difficult choices after the season.
Amit from New York writes:
Adam, as a Michigan fan I'm deeply disappointed (although not unexpected) with the outcome of the Alabama game. It really seemed like Denard regressed during the game. I know you guys read MGoBlog, so I wanted to pass along the
play-by-play analysis
that Brian Cook did for the game: Interesting enough, he deduced that Denard actually played well, and the stagnancy/regression on offense was more so a combination of poor OL play, playcalling from Borges, inconsistency and lack of separation from the WRs, and simply fantastic DB play (from Milliner in particular).Thoughts? Passing it along not b/c it's making excuses for Denard, but it's actually insinuating that Denard played well (which I haven't heard anyone in the MSM contend).
Adam Rittenberg:
Amit, good stuff. Brian and the MGoBlog crew do an excellent job, especially with play breakdowns like these. I think it's a stretch to say Denard played "well," but the game definitely showed me bigger issues at offensive line and running back than it did at quarterback. If you get dominated up front like Michigan did, you can't execute the majority of your game plan and either have to scrap it entirely or go with a limited set of plays. I'm not absolving Borges, either, but it's hard to scheme your way through an ineffective line. Michigan had to be a lot better up front in order to hang with Alabama. While it doesn't excuse some of the bad decisions Denard made, he doesn't deserve the bulk of the blame for the loss. He didn't have much of a chance to attack the Tide.
Travis from St. Louis writes:
Adam- I recently located a summary B1G football schedule and noticed a trend. Four teams (Indiana, Minnesota, Nebraska, and MSU) get two weeks to prepare for Northwestern. Several teams in the B1G (most notably OSU and Nebraska) do not have to worry about teams getting two weeks to prepare for them at all. I realize it is not absolute that teams will win if they get two weeks to prepare for an opponent, but don?t you think there is a distinct schedule disadvantage Northwestern has to overcome?
Adam Rittenberg:
Interesting observation, Travis. I'll check with the Big Ten about this and see if there are rules to prevent potential disadvantages for certain teams. That said, I think the bye week is vastly overrated as something that helps teams. We've seen examples
here
and
here
of teams struggling quite a bit following open weeks. While these breaks in the schedule allow teams to rest and recharge, the evidence doesn't show that they give teams huge edges as far as preparation.
Michael from Columbus, Ohio, writes:
With Oregon State game cancelled this past weekend, how much of a disadvantage is Wisconsin at for preparing for OSU with no game tape available. I know this team needs to works on things and Wisconsin doesn't play to well on the road against Pac-12 opponents. What must the Badgers do to stymie the upset on the road?
Adam Rittenberg:
It's always nice to have tape on your opponent, Michael, but I think Wisconsin just needs to play its game and not get too wrapped up in Oregon State. The Badgers destroyed this team last year and had a terrific performance on the defensive side. If Wisconsin can establish the run and the play-action pass, and generate a good pass rush up front, I don't think Oregon State can hang with the Badgers for four quarters. The Oregon State program is trending downward, and even in good seasons, Mike Riley's teams get better as the fall goes along. While I'm sure Oregon State will have some schematic things to throw off Wisconsin, it's a four-quarter game and the better team should win if it plays its game.
September, 6, 2012
9/06/12
10:15
AM ET
Ten items to track Saturday as Week 2 of Big Ten action gets under way.
1. West Coast swing:
The Big Ten-Pac-12 scheduling alliance fell apart this summer, but three matchups between the leagues are on tap Saturday. All three take place at Pac-12 stadiums, where Big Ten teams have struggled mightily, failing to win a game since 2007 and recording only three wins since 2001 (Nebraska was a member of the Big 12 when it spanked Washington in Seattle in 2010). Wisconsin, Nebraska and Illinois must handle long trips, time changes and tricky opponents to end the trend. Fortunately for Nebraska, quarterback
Taylor Martinez
and a group of his teammates
will feel right at home at the Rose Bowl
.
2. TerBush's turn:
Despite being suspended for Purdue's season opener, quarterback
Caleb TerBush
earned the nod as the Boilers' starter for Saturday's game at No. 22 Notre Dame. Coach Danny Hope thinks TerBush gives the Boilers the best chance for a strong and steady start and pointed to the senior's ability to outplay both
Robert Marve
and
Rob Henry
in camp. Most Purdue fans didn't seem too thrilled with the decision, but TerBush, who started all 13 games last season, has a chance to prove them wrong and record a huge win for the program.
[+] Enlarge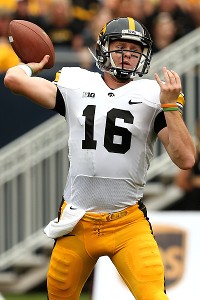 Jonathan Daniel/Getty ImagesIowa needs a more consistent performance Saturday from quarterback James Vandenberg.
3. Toussaint's return:
Michigan needs to get off of the mat after being embarrassed in its opener against Alabama. The Wolverines will get a boost from running back
Fitzgerald Toussaint
, who returns from suspension to make his season debut against Air Force.
Toussaint said he let the team and his family down
following his drunken driving arrest and should have no shortage of motivation when he gets back on the field. Coach Brady Hoke likely will start Toussaint, who rushed for 1,041 yards and nine touchdowns last season, against the Falcons.
4. Hawks eye Cy:
A huge empty trophy case greeted Iowa players in the middle of their locker room this week, as coach Kirk Ferentz reminded his team of what's at stake Saturday. Iowa has struggled in its trophy games of late, but it can regain one Saturday against in-state rival Iowa State. The Hawkeyes look for a stronger performance from senior quarterback
James Vandenberg
and a stingier defensive effort against Iowa State signal-caller
Steele Jantz
, who went nuts in last year's game.
5. Lions seek balance:
After an emotion-charged opener in State College, Penn State hits the road Saturday against Virginia in search of its first win under coach Bill O'Brien. A key objective for Penn State is greater offensive balance after it had more than twice as many passes (48) as rushes (22) in last week's loss to Ohio. Only four FBS teams attempted fewer runs than the Lions, who likely will feature several backs at Virginia, possibly including true freshman
Akeel Lynch
, as top back
Bill Belton
deals with an ankle injury.
6. Wildcats' QB rotation:
Northwestern coach Pat Fitzgerald says
Kain Colter
is his starting quarterback, but backup
Trevor Siemian
remains very much in the mix after leading the game-winning scoring drive last week at Syracuse. Colter, who
gave way to Siemian on the decisive drive
, has recovered from a left shoulder injury that slowed him late in the Syracuse game. But it will be interesting to see how Northwestern uses him and Siemian on Saturday night against Vanderbilt. Given Northwestern's defensive woes, it likely needs all the help it can get on offense to beat a talented Commodores team.
7. Maxwell, Gray look to rebound:
Michigan State and Minnesota both recorded hard-fought wins in Week 1, but both need to see improvement from their quarterbacks on Saturday.
Andrew Maxwell
had three interceptions and no touchdowns in his first career start for the Spartans, who boast a championship-level defense and a championship-level running back in
Le'Veon Bell
but might not get there without solid quarterback play. Gray had a misleading stat line against UNLV and needs to show better accuracy on his passes, beginning this week against FCS New Hampshire.
8. Buckeyes battle test:
Ohio State coach Urban Meyer expects Saturday's game against Central Florida to "be a war." While the Buckeyes are heavily favored, UCF should provide a much better test than Miami (Ohio) did last week, especially for the Buckeyes' defense. UCF is the preseason favorite in Conference USA's East Division and boasts a talented quarterback, sophomore
Blake Bortles
. Both squads are ineligible for postseason play because of NCAA violations, but they should provide an entertaining game in C-Bus.
9. Backups in spotlight:
The injury bug took a toll on the Big Ten in Week 1, and several key players will or should be sidelined Saturday. We know Michigan cornerback
Courtney Avery
will step in for
Blake Countess
, who suffered a season-ending ACL tear against Alabama. Illinois quarterbacks
Reilly O'Toole
and
Miles Osei
took most of the snaps this week in practice as the team could play without starter
Nathan Scheelhaase
at Arizona State.
Derek Day
will get the first shot at running back for Penn State if Belton can't go, and a host of Nebraska backs, led by
Ameer Abdullah
, will carry the load if
Rex Burkhead
(knee) isn't ready for UCLA.
10. Hoosiers seek milestone:
It's all about baby steps for Indiana's program, which can take another one Saturday at UMass. The Hoosiers are still seeking their first win against an FBS opponent under coach Kevin Wilson and can record one against the Minutemen, who are in their first season as an FBS member. An Indiana victory also would eclipse its victory total from all of last season. Expect Wilson to open up the offensive playbook a little more with quarterback
Tre Roberson
, who played well in the opener.
September, 6, 2012
9/06/12
9:00
AM ET
It's prediction time again as we attempt to forecast Week 2 in the Big Ten.
Although opening weekend had more big-ticket games, Week 2 features more potential toss-ups around the league. Seven Big Ten teams hit the road Saturday, including three squads -- No. 13 Wisconsin, No. 16 Nebraska and Illinois -- visiting Pac-12 opponents.
Both of us went 10-2 in Week 1, and we'd probably take that record again Saturday.
Let's get to it ...
NEW HAMPSHIRE at MINNESOTA
Brian Bennett: No repeat of last year's North Dakota State debacle for the Gophers, who improve to 2-0 behind a strong running game, led by
Donnell Kirkwood
. ...
Minnesota 31, New Hampshire 20
Adam Rittenberg: The Gophers can't afford to take any team lightly and have dropped their past two games against FCS teams (North Dakota State and South Dakota). Still, I liked what I saw from Minnesota's defensive front in the opener. The Gophers get enough from
Ra'Shede Hageman
& Co., and
MarQueis Gray
rebounds with three touchdowns (2 pass, 1 rush) as the team survives against New Hampshire. ...
Minnesota 26, New Hampshire 20
UCF at No. 18 OHIO STATE
Adam Rittenberg: The Knights provide a much tougher test for Ohio State than Miami (Ohio) did, and the Buckeyes' defense has some early struggles before rebounding. I expect another big performance from
Braxton Miller
, who gets
Jake Stoneburner
more involved in the passing attack as Ohio State pulls away in the third quarter.
... Ohio State 34, UCF 17
Brian Bennett: The Buckeyes' offense gets off to a stronger start than last week, and
Carlos Hyde
goes for 100 yards. That and another big special-teams play help Ohio State break this one open.
... Ohio State 38, UCF 21
PENN STATE at VIRGINIA
Brian Bennett: Call me crazy, but I think the Lions will rebound after their Week 1 loss. I see a much better performance by the Penn State defense, and
Matt McGloin
hits
Allen Robinson
for two touchdowns as PSU finally gets some good news. ...
Penn State 17, Virginia 14
Adam Rittenberg: It wouldn't surprise me if Penn State's offensive line controlled Virginia and the Lions' defense stepped up, but I don't think the Lions have enough firepower to win on the road against an improving Cavaliers program. McGloin has some early success, but Penn State once again fades down the stretch. ...
Virginia 21, Penn State 14
PURDUE at No. 22 NOTRE DAME
Adam Rittenberg: I'd pick Purdue if the game were in West Lafayette, and I expect Notre Dame to start slowly after the long trip to Ireland. But the Irish have a more dynamic offense than the Boilers, and Purdue's defense will start to show some cracks in the third quarter against
Everett Golson
. Both
Caleb TerBush
and
Robert Marve
see plenty of snaps in this one for the Boilers.
... Notre Dame 27, Purdue 21
Brian Bennett: Every time Notre Dame does something good, it usually backslides. So I see the Irish faltering after their strong performance in Dublin. Purdue is due, and
Kawann Short
dominates defensively and blocks a field goal for the win.
... Purdue 28, Notre Dame 24
INDIANA at MASSACHUSETTS
Brian Bennett: Picking Indiana to beat anybody on the road is dicey at this stage. But the Minutemen might not be as good as Indiana State. The Hoosiers fall behind early but rally behind
Tre Roberson
and knock down a fourth-down pass at the goal line on the final play. ...
Indiana 21, UMass 20
Adam Rittenberg: I think Kevin Wilson is starting to trust his team more and should open up the offensive playbook more against the Minutemen. Although Indiana needs a cleaner performance on the road, it gets enough from Roberson, who tosses two touchdown passes, including one to
Kofi Hughes
in his return from suspension.
... Indiana 27, UMass 21
AIR FORCE at No. 19 MICHIGAN
Adam Rittenberg: Air Force is a team that gets your attention, and that's a good thing for Michigan after the disaster near Dallas. The Wolverines start slowly but block and tackle a lot better in the final three quarters.
Denard Robinson
plays a clean game with two touchdown passes and no picks, and
Fitz Toussaint
breaks off a long touchdown run in his return from suspension.
... Michigan 35, Air Force 20
Brian Bennett: Everybody is looking for the upset here, but I don't see it. Brady Hoke has experience coaching against the Falcons, and Michigan simply has too much talent. Robinson bounces back with 350 total yards.
... Michigan 38, Air Force 17
No. 11 MICHIGAN STATE at CENTRAL MICHIGAN
Brian Bennett: It's a good weekend for the Spartans to work on diversifying their offense. But it's the defense that once again carries the day.
William Gholston
has two sacks and
Darqueze Dennard
contributes a pick-six. ...
Michigan State 28, Central Michigan 7
Adam Rittenberg: In the long run, quarterback
Andrew Maxwell
's shaky first start will turn out to be beneficial because he made mistakes without costing his team a crucial win. Expect a much more polished Maxwell in Mount Pleasant, and the Spartans junior tosses a pair of touchdown passes and no interceptions.
Le'Veon Bell
eclipses 100 yards, but his workload is more manageable in an easy win.
... Michigan State 38, Central Michigan 10
IOWA STATE at IOWA
Adam Rittenberg: Similar to last week, I'm tempted to pick against the Hawkeyes, but the game isn't in Ames and although
Steele Jantz
's presence strikes fear in all who love the Black and Gold, Iowa will contain him enough in this game.
Micah Hyde
records a pick-six against Jantz and
James Vandenberg
rebounds with two touchdown passes. Iowa fills one of
those empty trophy cases
.
... Iowa 24, Iowa State 20
Brian Bennett: Another wild shootout, but this one goes the Hawkeyes' way. Vandenberg throws for 300 yards and
Damon Bullock
puts together another 100-yard game as Iowa hangs on for the Cy-Hawk Trophy.
... Iowa 35, Iowa State 31
No. 13 WISCONSIN at OREGON STATE
Brian Bennett:
Montee Ball
shook off some rust in the opener and is ready for a big game. He goes for 175 and three scores, and despite some defensive lapses late, the Badgers prevail in Beavers country.
... Wisconsin 35, Oregon State 23
Adam Rittenberg: Corvallis is a tough place to play, and Big Ten teams really struggle on the road against the Pac-12. But Oregon State isn't a very good team, and Wisconsin should learn some lessons from the opener and keep the pedal down.
Danny O'Brien
makes a few miscues, but the Badgers' ground game takes over in the second half as Wisconsin prevails.
... Wisconsin 30, Oregon State 20
No. 16 NEBRASKA at UCLA
Adam Rittenberg: UCLA looked good in its opener, but so did Nebraska, and the Huskers appear to be a more complete team in 2012. Despite
Rex Burkhead
's injury, Nebraska has more than enough firepower as
Taylor Martinez
returns to his home state and racks up four touchdowns (2 pass, 2 rush). The Bruins give the Blackshirts a few issues, but Nebraska prevails after a big fourth quarter.
... Nebraska 33, UCLA 28
Brian Bennett: The Bruins showed some better offensive weaponry in their opener against Rice and will make this game a high-scoring, Pac-12-like affair. But Nebraska has more options on both sides of the ball, even without Burkhead. It's a big day for
Ameer Abdullah
, who runs for 100 yards and scores on a kickoff return.
... Nebraska 42, UCLA 31
VANDERBILT at NORTHWESTERN
Brian Bennett: The Cardiac Cats are impossible to predict. Why not the same score as last week? The Wildcats' varied offense gives Vandy much more trouble than South Carolina did in Week 1. Looking forward to the postgame Quiz Bowl.
... Northwestern 42, Vanderbilt 41
Adam Rittenberg: Northwestern looks like the same team we've seen the past two seasons, and although a young defense should eventually get better, this is a tough matchup against an explosive Vanderbilt team. It'll be another shootout, but this time, the Wildcats fall short as
Jordan Rodgers
takes aim on a woeful secondary.
... Vanderbilt 35, Northwestern 31
ILLINOIS at ARIZONA STATE
Adam Rittenberg: As well as Illinois' defense played in Week 1, I just don't think the Illini have enough to win on the road, especially with top quarterback
Nathan Scheelhaase
hobbled. No one likes Todd Graham, but the man knows offense and his Sun Devils have enough to survive on their home field.
... Arizona State 21, Illinois 20
Brian Bennett: Assuming Graham hasn't left for another job before kickoff, the Sun Devils have a lot of advantages here, including home field in the desert and Scheelhaase's injury. Illinois' defense is game but wears down as the game stretches past midnight Central time, and the Illini offense can't keep up.
... Arizona State 23, Illinois 17
SEASON RECORDS
Bennett: 10-2 (.833)
Rittenberg: 10-2 (.833)
September, 13, 2011
9/13/11
9:30
AM ET
The Big Ten took a bit of a beating in Week 2, and so did the Big Ten bloggers.
Not surprisingly, Bennett continues to look like the smarter blogger, as his 9-3 record topped me at 8-4. It's not much of a win to savor.
First, a check of the standings:
WEEK 2
Adam Rittenberg:
8-4
Brian Bennett:
9-3
SEASON
Rittenberg:
17-7 (.708)
Bennett:
19-5 (.792)
Now let's look back at
those predictions
...
Iowa at Iowa State
Bennett's pick: Iowa 24, Iowa State 9
Rittenberg's pick: Iowa 27, Iowa State 13
Actual score: Iowa State 44, Iowa 41 (3 OT)
20-20 hindsight: We both had too much faith in Iowa's new-look defense and too little faith in Iowa State quarterback Steele Jantz, who boasts a great name and plenty of game, too. Marcus Coker fell one rushing touchdown short of my prediction and racked up 140 rush yards but lost another fumble.
Florida Atlantic at Michigan State
Bennett's pick: Michigan State 35, Florida Atlantic 7
Rittenberg's pick: Michigan State 33, Florida Atlantic 10
Actual score: Michigan State 44, Florida Atlantic 0
20-20 hindsight: We both predicted a strong performance from Michigan State on the ground, but neither of us forecast such a dominating defensive effort. The Spartans allowed no points, one first down and just 48 total yards against the Owls, who had the ball for just 17:34.
Toledo at Ohio State
Bennett's pick: Ohio State 28, Toledo 10
Rittenberg's pick: Ohio State 31, Toledo 13
Actual score: Ohio State 27, Toledo 22
20-20 hindsight: We both underestimated a solid Toledo squad, and perhaps the Buckeyes did, too. Ohio State's defense faced some hurdles against the Rockets, while Buckeyes running back Carlos Hyde made me look somewhat smart with two rushing touchdowns.
Oregon State at Wisconsin
Bennett's pick: Wisconsin 42, Oregon State 20
Rittenberg's pick: Wisconsin 35, Oregon State 13
Actual score: Wisconsin 35, Oregon State 0
20-20 hindsight: We both did well on the Wisconsin score, but we figured Oregon State would do more on offense. The Badgers' defense dominated play, while Montee Ball fulfilled Bennett's prediction with another solid performance (118 rush yards, 2 touchdowns).
South Dakota State at Illinois
Bennett's pick: Illinois 44, South Dakota State 7
Rittenberg's pick: Illinois 40, South Dakota State 12
Actual score: Illinois 56, South Dakota State 3
20-20 hindsight: We both envisioned another big day for the Illinois offense, although neither of us pegged running back Troy Pollard to be a key contributor. Illinois' defensive performance was a bit better than both of us expected.
Eastern Illinois at Northwestern
Bennett's pick: Northwestern 31, Eastern Illinois 13
Rittenberg's pick: Northwestern 38, Eastern Illinois 10
Actual score: Northwestern 42, Eastern Illinois 21
20-20 hindsight: Our score predictions would have looked a lot better had Northwestern kept EIU out of the end zone in the final minute. As I thought, Northwestern emphasized the run game again and finished with 320 yards and five touchdowns on the ground.
New Mexico State at Minnesota
Bennett's pick: Minnesota 35, New Mexico State 14
Rittenberg's pick: Minnesota 31, New Mexico State 13
Actual score: New Mexico State 28, Minnesota 21
20-20 hindsight: We both totally whiffed here. Although I cited a potential letdown from the USC game in my prediction, we both expected the Gophers to roll against what looked like a lousy New Mexico State team. Fail.
Alabama at Penn State
Bennett's pick: Alabama 24, Penn State 12
Rittenberg's pick: Alabama 19, Penn State 13
Actual score: Alabama 27, Penn State 11
20-20 hindsight: Finally, an impressive score prediction, courtesy of Mr. Bennett. My lack of faith in Penn State's quarterbacks revealed itself, and as I thought, Alabama running back Trent Richardson came on strong late in the game.
Purdue at Rice
Bennett's pick: Purdue 19, Rice 16
Rittenberg's pick: Purdue 26, Rice 18
Actual score: Rice 24, Purdue 22
20-20 hindsight: Neither of us were overly confident in the Boilers, and Bennett correctly put them on upset alert. We didn't give enough credence to the karma factor, as a Purdue team that escaped its opener against Middle Tennessee lost in heart-breaking fashion as Rice blocked a short field-goal attempt by standout kicker Carson Wiggs on the final play.
Virginia at Indiana
Bennett's pick: Virginia 34, Indiana 23
Rittenberg's pick: Virginia 27, Indiana 17
Actual score: Virginia 34, Indiana 31
20-20 hindsight: Bennett nailed Virginia's points total and I wasn't too far off, but neither of us envisioned Indiana squandering an 8-point lead in the final minutes. The Hoosiers did produce a better performance in the opener, as we thought, although their number of big plays on defense came as a surprise.
Fresno State at Nebraska
Bennett's pick: Nebraska 31, Fresno State 10
Rittenberg's pick: Nebraska 33, Fresno State 14
Actual score: Nebraska 42, Fresno State 29
20-20 hindsight: We both picked the Huskers, but neither of us thought Fresno State would gash the Blackshirts as much as it did. Rex Burkhead had two rushing touchdowns but not the big day I envisioned, while Fresno State surprisingly looked like a giant killer for a portion of the game.
Notre Dame at Michigan
Bennett's pick: Michigan 31, Notre Dame 30
Rittenberg's pick: Notre Dame 24, Michigan 21
Actual score: Michigan 35, Notre Dame 31
20-20 hindsight: Bennett looks like the genius here, as he predicted "crazy things happen in this game" and "Denard Robinson pulls off more heroics." I couldn't have written it better myself. I wish I had. Damn.
September, 10, 2011
9/10/11
4:13
PM ET
A wild one is all over in Ames, and it didn't end well for the
Iowa Hawkeyes
.


Iowa State 44, Iowa 41 (3OT):
Kirk Ferentz has made Iowa an upper-tier Big Ten program. He has guided the Hawkeyes to two BCS bowl games and elevated the program's profile. But two teams -- Iowa State and Northwestern -- continue to torment him. After three consecutive convincing wins against the Cyclones, the Hawkeyes dropped a heartbreaker at Jack Trice Stadium, their own personal house of horrors, squandering five leads in the process. Iowa's concerns on defense came to fruition as Iowa State's
Steele Jantz
had a huge day with 279 passing yards and four touchdowns. A new-look Hawkeyes defense surrendered 26 first downs and 476 total yards in the loss. It was a mixed bag for Iowa quarterback
James Vandenberg
and running back
Marcus Coker
, but the defense had numerous chances to close out the game. Iowa's expectations should be scaled back a bit after this one, although the Hawkeyes have bounced back from losses to Iowa State before.
September, 10, 2011
9/10/11
1:46
PM ET
We've reached the halfway point of the early games around the conference.
Let's check in.


Toledo-Ohio State:
The dominance Ohio State displayed in its opener hasn't been there today, although the Buckeyes rallied to take a 21-15 lead at halftime. Tim Beckman has his Toledo squad geared up against his former team, and the Rockets are attacking Ohio State decently through the air. Buckeyes quarterback
Joe Bauserman
hasn't been nearly as sharp today (10-for-19 passing), but the coaches clearly want to get him comfortable before next week's trip to Miami. Unless the score widens, don't expect to see much of
Braxton Miller
. Tight end
Jake Stoneburner
and running back
Carlos Hyde
continue to be bright spots for Ohio State's offense, while breakdowns in the kicking game are also continuing to surface.


Oregon State-Wisconsin:
Unlike the opener, where everything worked, Wisconsin has had to be creative to spark its offense today. That's where
Russell Wilson
comes in handy. Oregon State sold out against the run early on and had success stuffing the Badgers' backs. Wilson has responded by dissecting the Beavers' secondary. He has completed 12 of 14 passes for 124 yards and three touchdowns, including two to
Jacob Pedersen
. His accuracy continues to impress me, as I thought Wisconsin would have a drop-off after losing Scott Tolzien. The defense also has responded against a limited Oregon State team, which can't get anything going on the ground. Wisconsin appears to be in total control.


Iowa-Iowa State:
After a strong start, Iowa finds itself deadlocked at 10-10 in a place (Jack Trice Stadium) where it has struggled under coach Kirk Ferentz.
Marcus Coker
's fumbling issues continued following a good first-quarter surge, and his turnover set up Iowa State's only touchdown. Coker can be one of the Big Ten's better backs, but he has to hold onto the football. Iowa's new-look defense seems to be struggling a bit against quarterback
Steele Jantz
(great name) and running back
Shontrelle Johnson
, who averaged 8.4 yards a carry in the first half. Stay tuned as this one should be very interesting.


South Dakota State-Illinois:
Everything is clicking for the Illini, who look like they'll once again have one of the nation's top rushing attacks. Quarterback
Nathan Scheelhaase
has been a greater threat on the ground, and he's getting help from
Jason Ford
,
Troy Pollard
and dynamic freshman
Donovonn Young
. An experienced offensive line deserves credit, too, as Illinois already has 227 rushing yards. The defense has held South Dakota State to two first downs and only 54 total yards.


Florida Atlantic-Michigan State:
After a sloppy opener, the Spartans have cleaned up their act in a big way. What a half for Pat Narduzzi's defense, which held FAU to one first down and just 26 total yards. The defensive line has been stellar, and Michigan State is capitalizing on excellent field position and converting for touchdowns. It's already a big day for receivers
B.J. Cunningham
(5 catches, 73 yards) and
Keshawn Martin
(6 catches, 68 yards), and the run game has provided a spark. Up 27-0, Michigan State can get its reserves plenty of time in the second half.