August, 13, 2010
8/13/10
11:00
AM ET
As you might have noticed, we're all about quarterbacks today at ESPN.com, and it's time to rank the Big Ten signal callers.
This hasn't been a Big Ten strength in recent years, but things could change this fall. Quarterbacks like Ohio State's
Terrelle Pryor
, Iowa's
Ricky Stanzi
and Wisconsin's
Scott Tolzien
all have proven they can win at a high level, and
Ben Chappell
(Indiana) and
Kirk Cousins
(Michigan State) put up some strong numbers last fall.
The criteria are the same I used for the top 25 preseason rankings:
past performance and 2010 potential
. You can gripe all you want about the top four choices, but you shouldn't be surprised because all four quarterbacks were ranked in the
exact same order in June/July
. The Big Ten blogger is not a hypocrite. One final note: These are individual player rankings, but I consolidated the quarterback candidates at Michigan and Penn State to make it easier.
I fully expect this list to be different in early January, but here goes:
[+] Enlarge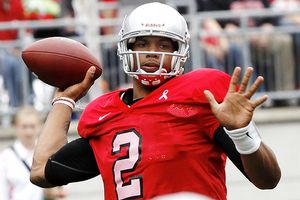 AP Photo/Terry GilliamTerrelle Pryor's performance in the Rose Bowl solidified his rank as the Big Ten's best quarterback.
1. Terrelle Pryor, Ohio State:
How can I rank Pryor at No. 1 based on one great performance? For starters, it took place in a huge game, the Rose Bowl, against a top 10 opponent in Oregon. Plus, I think Pryor will go forward rather than backward and become a more complete quarterback this fall. He has more natural ability than anyone else on this list, and while he'll never be a model passer, he only needs to improve a little to become a lot more dangerous.
2. Ricky Stanzi, Iowa:
It's very close between Stanzi and Tolzien, but Stanzi's 18-4 mark as Iowa's starting quarterback sets him apart. Yes, you can point to the mistakes, and there were a lot of them, but no quarterback in the country made more big plays in the fourth quarter than No. 12. I expect a smarter and more efficient Stanzi in 2010. Plus, he's a damn fine American.
3. Scott Tolzien, Wisconsin:
Simply stated, he's the perfect quarterback for Wisconsin. Tolzien is smart, extremely efficient and totally aware of his role in the offense. He executes the play-action well and can thread the needle when he needs to. Tolzien still needs to prove himself against the Big Ten's best defenses, but I expect a very strong senior season from him.
4. Kirk Cousins, Michigan State:
Take away a few late-game mistakes and a poor second half against Penn State, and Cousins turned in a very strong season as a first-year starter. His touchdown-to-interception ratio is strong (19-9), and he'll only get better with more experience. Plus, he has an excellent group of receivers and tight ends at his disposal this fall.
5. Ben Chappell, Indiana:
Chappell is the Big Ten's leading returning passer (2,941 yards in 2009), and he ranks second in completion percentage (62.6) among returning starters. He needs to cut down on his interceptions and make better throws in the red zone, but all that should come this fall. Chappell has some great receivers to work with, namely
Tandon Doss
, but would really benefit from a consistent run game.
6. Adam Weber, Minnesota:
Some Gophers fans have given up on Weber after a poor junior season, but I still have faith in No. 8, who happens to be a record holder at the U. It hasn't been easy with three offensive coordinators in as many seasons, and the system last year would have been tough for any quarterback to run. Weber still has a ton of talent, but he needs to regain the confidence we saw for most of 2008, when he earned second-team All-Big Ten honors. He also needs to prove himself without star receiver Eric Decker.
7. Robert Marve, Purdue:
Marve clearly doesn't grade high in past performance after struggling at Miami in 2008, but his potential this fall is very high. He'll benefit from working in Purdue's spread offense, and he'll have no shortage of targets in
Keith Smith
,
Justin Siller
,
Cortez Smith
and others. The ability always has been there with Marve, and we'll start to see results this fall.
8. Tate Forcier/Denard Robinson, Michigan:
No starter has been named, and while head coach Rich Rodriguez has a bit of evidence from 2009, he'll be selecting a No. 1 quarterback based on who he believes has greater potential in 2010. Both players can run, although Robinson is more explosive on the move. Forcier was far and away the better passer in 2009, but he struggled to make plays when he wasn't freelancing. Robinson should be a better passer this fall.
9. Dan Persa, Northwestern:
This isn't a knock against Persa, who has done everything right to prepare himself for this moment. I just need to see more from him in game situations, especially if Northwestern relies on him as much as it did Mike Kafka in 2009. Persa very well could be the most ideal fit for Northwestern's spread offense since Zak Kustok.
10. Kevin Newsome/Matt McGloin/Paul Jones/Robert Bolden, Penn State:
The
competition remains wide open
, and the group has virtually no game experience aside from Newsome. Talent shouldn't be a problem, as Newsome, Jones and Bolden all were highly-touted recruits, while McGloin, a former walk-on, has made significant strides in State College. Who can handle the pressure of quarterbacking in the Big Ten? We'll find out soon.
11. Nathan Scheelhaase, Illinois:
Again, not a knock against Scheelhaase, but his past performance is confined to practices and scrimmages. He's one of the
most mature redshirt freshmen
I've covered, but he's obviously got to prove himself in the game spotlight. Offensive coordinator Paul Petrino sees shades of Stefan LeFors in Scheelhaase. If that's the case, he'll soar up this list.
June, 2, 2010
6/02/10
1:00
PM ET
No one who spent time around the
Illinois Fighting Illini
this spring will be surprised by
today's announcement
that
Nathan Scheelhaase
will enter the season as the team's starting quarterback.
Scheelhaase clearly separated himself from teammates
Jacob Charest
and Chandler Whitmer during spring ball. Offensive coordinator Paul Petrino gushed about the redshirt freshman when we visited in late April. All that remained was an official announcement, which came a day after head coach Ron Zook returned from his USO tour to visit troops.
"Following spring ball, our coaching staff had some time to review the quarterback situation and felt Nathan proved himself as a leader both on and off the field," Zook said in a statement. "He showed the ability to run coach Petrino's offense at a high level, and we thought it was important to establish Nathan as a team leader entering summer workouts."
There was really no need for Illinois to wait any longer, especially as it enters a pivotal season where roles need to be defined as quickly as possible. Scheelhaase has no game experience and will endure some growing pains this fall, but he brings a leader's mentality and a good skill set to the table.
I have questions about his passing ability and durability -- Scheelhaase is listed at 6-foot-3 and 195 pounds, but that seems a bit generous -- but his attitude, athleticism and maturity are immediately recognizable and impressive. Not every quarterback who runs Petrino's offense needs to look like
Ryan Mallett
, and the folks at Illinois hope Scheelhaase can
eventually resemble former Louisville star Stefan LeFors
.
"He's a lot like Stefan," Petrino said. "Very similar players. He's faster than Stefan was, and he's a redshirt freshman. Stefan didn't play until his redshirt junior year. You just see things they do, the way [Scheelhaase] moves around on the play-action, a lot of the plays he does well were plays that Stefan does well, so a lot of that stuff really reminds you of him."
Again, don't expect mistake-free football from Scheelhaase, who threw two interceptions and took three sacks in Illinois' spring game. When you have a totally new offense and a quarterback with no game experience, there will be some bumps along the way. Illinois will need the guys around Scheelhaase, namely running back
Mikel LeShoure
, to step up their play.
Time is of the essence for an Illinois team and a coaching staff that must win in 2010, so there was no need to delay this decision any longer.
April, 27, 2010
4/27/10
11:00
AM ET
CHAMPAIGN, Ill. -- Illinois quarterback
Nathan Scheelhaase
first learned about Stefan LeFors in the same way most of us did.
When LeFors blew up as Louisville's quarterback and became a household name in 2004, Scheelhaase, then a middle schooler in Kansas City, followed his story.
"His senior year, ESPN did a special on him," Scheelhaase said. "He spoke sign language because his parents were deaf. I watched that and then I watched this guy and he's a little, 5-[foot-]10 nothing, 180, 185 pounds, and I think they were the No. 1 offense in the country that year."
Scheelhaase is once again watching LeFors, but for very different reasons. Illinois' offense is now under the direction of coordinator Paul Petrino, who served as Louisville's offensive coordinator during LeFors' record-setting run.
Petrino's offense can accommodate different types of quarterbacks --
Ryan Mallett
, an NFL style, rifle-armed, drop-back passer, excelled in the system last season at Arkansas -- but it's pretty easy to identify the paradigm for Scheelhaase, an elite athlete who, like LeFors, won't scare anyone with his size.
"He's a lot like Stefan," Petrino said. "Very similar players. He's faster than Stefan was, and he's a redshirt freshman. Stefan didn't play until his redshirt junior year. You just see things they do, the way [Scheelhaase] moves around on the play-action, a lot of the plays he does well were plays that Stefan does well, so a lot of that stuff really reminds you of him."
It's high praise for Scheelhaase, but Petrino has high expectations for the quarterback in 2010. Although Illinois hasn't formally named a starting quarterback -- Scheelhaase competed with
Jacob Charest
and Chandler Whitmer throughout spring practice -- it's fairly obvious that Scheelhaase is the man to beat entering the summer.
The 6-3, 195-pound redshirt freshman took most of the reps with the first-team offense this spring, and made several big plays with both his arm and his feet in four scrimmages.
"Nathan is a fiery guy; he's a really good leader," Petrino said. "He's just a great competitor, and he's going to do whatever it takes to win. He does a real good job running with the ball, making plays. He's worked hard to understand the passing game. He's got a nice, quick release, he knows where he's going with the ball and he's getting more accurate every day.
"If he can do that, we'll be in great shape."
Head coach Ron Zook saw the same fire from Scheelhaase (pronounced SHEEL-house) on the scout team last year, as the true freshman never backed down from the first-team defense. Senior wide receiver
Jarred Fayson
described Scheelhaase as "a bit before his time" in how he carries himself and his approach to the game.
"A competitive attitude is good to have every day, whether you're a fourth-year starter or you're just trying to get on the field for the first time," Scheelhaase said. "You want yourself to be perfect when you're doing things like that. You don't want to have a bad play, have a bad practice or anything because you want to compete with yourself, compete with others around you and on a bigger level, you want to be better than your opponents."
He admitted having "first-day jitters" at the start of spring ball, well aware of what was at stake following the graduation of
Juice Williams
, a four-year starter at quarterback. Scheelhaase knows he still must absorb more of Petrino's offense, but he built confidence throughout the spring and brings some versatility to the position.
And while he never shies away from competitive situations, he also doesn't get weighed down by Illinois' unsettled situation at quarterback.
"You're running with blinders on," he said.
And down the road, he hopes to catch up with LeFors.
"He's a fun guy to watch," Scheelhaase said. "He ran their offense well, ran it with confidence. If I can be in his ballpark, if anybody can be in his ballpark, it would be great because he was a great college quarterback."
April, 22, 2010
4/22/10
9:00
AM ET
CHAMPAIGN, Ill. -- When it comes to rebuilding projects, the
Illinois Fighting Illini
have a huge one in front of them.
But it's clear that the attitude has changed around here, thanks mainly to the new assistants that head coach Ron Zook hired during a tumultuous winter. I'll have more on this next week, but new coordinators Paul Petrino and Vic Koenning have increased the level of accountability for a team that has, quite frankly, been one of the nation's biggest underachievers the past two seasons.
I had a chance to speak with players and coaches and watch a portion of practice Wednesday afternoon -- a scrimmage session was closed to media -- and here are some quick thoughts.
Zook likely won't officially name a starting quarterback until fall camp, but it's very clear that Nathan Scheelhaase is the guy. Scheelhaase brings excellent athleticism to the position -- Petrino likens him to former Louisville star Stefan LeFors, a player he helped coach -- and is making strides as a passer. Jacob Charest also has done some good things, and while Chandler Whitmer is a bit behind the other two, Zook said the early enrollee has really benefited from going through this spring session.
Zook said Illinois' defensive leaders are linemen Clay Nurse and Corey Liuget, Martez Wilson and Ian Thomas at linebacker and cornerback Tavon Wilson, who has had a "superb spring," in the secondary. The head coach also recognized defensive linemen Akeem Spence, Glenn Foster and Daryle Ballew for their play this spring. Linebacker Aaron Gress also has come on strong the last week or so. "A lot of times, those junior college guys, it's that the second year that they turn it on," Zook said. Wilson and Nurse are being held out of contact following surgeries, but both have performed well.
The secondary has a few question marks, but Zook said sophomore cornerback Terry Hawthorne, nicknamed "black cat," continues to step up, along with corner Patrick Nixon-Youman. Cornerback Miami Thomas has started doing some individual work as he works his way back from a torn ACL in his left knee. Sophomore Joelil Thrash is seeing time at both safety and corner and has been impressive.
Petrino thinks the offensive line can be a strength this fall and recognized tackle Jeff Allen and sophomore Graham Pocic, who moved from guard to center, for their play this spring. "He gives us some size and some strength in there that helps us both in the running game and the passing game," Petrino said of Pocic. "That's been a pleasant surprise."
I'll touch on this more next week, but the defense is really getting back to the basics. "The fundamentals were so far out of whack," Koenning said. "Our tackling leaves a lot to be desired, and every day we have a normal practice, we're spending an exorbitant amount of time not on X's and O's. There's so many things we've got to cover, but if you can't tackle, it doesn't really matter."
February, 10, 2010
2/10/10
2:00
PM ET
When Vic Koenning sent his seventh-grade son off to a new school in Illinois, he talked about the importance of going in with a clean slate.
What happened in the past didn't matter, he said. This was a fresh start.
When Koenning meets with Illinois' players on the field in late March, he'll convey the same message. Every one of the Illini defenders will get a chance to prove himself.
Koenning finally got to focus on football this week after spending most of his time recruiting since he was hired as defensive coordinator in mid December. But he isn't poring over tape from the 2009 season. He doesn't want to enter spring practice with preconceived judgments.
"It's a clean slate for them," Koenning said. "Everyone will have opportunities."
Koenning also realizes Illinois has no time for growing pains.
"We've got to be a lot better than 91st," he said, referring to Illinois' national ranking for total defense in 2009.
Paul Petrino has taken a slightly different approach with Illinois' offense. The team's new coordinator has had video cutups made of every returning player, as he tries to figure who fits where in his system.
Petrino expects to be very multiple on offense, implementing the scheme that has worked successfully for his older brother Bobby at both Louisville and Arkansas.
[+] Enlarge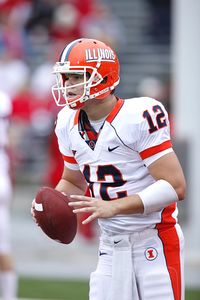 Joe Robbins/Getty ImagesJacob Charest threw for 382 yards and two touchdowns last season.
He's very pleased with Illinois' returning talent at running back with
Mikel LeShoure
and
Jason Ford
, who combined for 1,322 rushing yards and nine touchdowns last season. Petrino also remembers recruiting running back
Justin Green
while he was at Arkansas.
"I really like what we've got at running back," he said. "But it always comes down to the quarterback position, and we'll build things around what those guys do best."
The competition is wide open at quarterback entering the spring, as Illinois must replace four-year starter
Juice Williams
.
Jacob Charest
and
Eddie McGee
both have game experience, while
Nathan Scheelhaase
and early enrollee Chandler Whitmer also will be in the mix.
Petrino pointed out that his offense can adapt to the quarterback's strengths, whether it's a dual threat signal-caller like former Louisville star Stefan LeFors or a true drop-back passer like Arkansas standout
Ryan Mallett
. Quite possibly the biggest challenge for Petrino and his staff will be determining how much of the system can be installed, and how fast.
"We're going to install as much as they can handle," he said. "We'll install for seven straight days during the spring, and then we'll go back and let them review it. When we get to two-a-days in August, we'll do more install."
Both Koenning and Petrino understood the challenge they took on by accepting their new jobs. Illinois has endured consecutive losing seasons and support for head coach Ron Zook and the program is fading.
Koenning sees some similarities between Illinois and Clemson, where he worked from 2005-08.
"They were always after [head coach Tommy Bowden] every year down there," he said.
Last week, Zook referenced the negative recruiting tactics Illinois faced this year, and Koenning said he had never seen it so bad before.
"It was crazy," he said. "I'm a member of the American Football Coaches Association, and they talk about avoiding negative recruiting, but we saw plenty this year."
Koenning doesn't want to create a make-or-break attitude inside the program for 2010, but he knows his players will have a chip on their shoulders this fall. Petrino sees the same thing on the offensive side.
"You always have something that you want to prove," Petrino said. "The biggest thing I've talked to the offensive guys about is, 'Every time we take the field, let's believe we're going to go score.' It's always us against the world. I've never been one of those guys who's buddy-buddy with the people you play against anyway. So let's go get after it."
December, 16, 2009
12/16/09
4:00
PM ET
Two newsworthy items are now official in Champaign, as Illinois announced the departure of wide receiver
Arrelious Benn
to the NFL and the hiring of two offensive assistants.
As previously reported here at ESPN.com, Benn will
forgo his senior season and enter April's draft
. Benn said in a statement that the NFL is his "lifelong dream" and he still plans to complete his degree at Illinois. He told me he's about 20 hours short of his degree but fully plans to complete it.
Benn finalized his decision last week after receiving information from the NFL Draft Advisory Board.
"Wherever I fall in the draft, I have no say about it," Benn said. "It's not my decision. All I can do is be prepared up until that process. I received good feedback, and I just wanted to make that decision and make those things come true."
Head coach Ron Zook said in a statement: "I know this has always been a goal of his, to be in position to make this decision after three years. What is most impressive about him and his mother is their commitment to academics. Even though he will go on to have a great professional career, he is going to make sure to get a degree from Illinois. I love Rejus like my son, and he has always shown such great character and represented the university well."
Zook also has named Jeff Brohm and Greg Nord to his coaching staff. Brohm will coach quarterbacks, while Nord will work with the tight ends. Both men worked with new Illinois offensive coordinator Paul Petrino at Louisville from 2003 to 2006.
Brohm has mentored several standout quarterbacks, including Stefan LeFors and his younger brother, Brian. Nord, a longtime Louisville assistant, is the brother of Purdue offensive coordinator Gary Nord.
"I am very excited about these hires," Zook said in a statement. "Both Jeff and Greg are considered two of the best in the business for what they do. They are proven and have worked in this system with Paul [Petrino]. Their comfort level with the offense gives me great confidence as we move forward with improving this football team. They both are great family men who I know will be great for this community."
Illinois is expected to name Vic Koenning as its
new defensive coordinator in the coming days
.