March, 7, 2014
3/07/14
11:00
AM ET
Just three weeks into our ultimate Big Ten road trip, I've logged visits to Ireland, Oregon and Texas, while Adam has seen three potentially historic games. What does Week 4 hold?
For those just joining us, we're picking one game featuring a Big Ten team to attend throughout the 2014 season. There's no travel budget or nagging editors. We can go where we want to see who we want. Our choices are based on matchup quality, how often we've seen certain teams play, location and other factors.
Here are our options for Week 4:
Sept. 20
Texas State at Illinois
Indiana at Missouri
Iowa at Pitt
Maryland at Syracuse
Utah at Michigan
Eastern Michigan at Michigan State
San Jose State at Minnesota
Miami at Nebraska
Western Illinois at Northwestern
UMass at Penn State
Southern Illinois at Purdue
Rutgers at Navy
Bowling Green at Wisconsin
Open week:
Ohio State
Brian Bennett's pick:
Miami at Nebraska


Week 4 doesn't the most appetizing slate of games, so the choice here becomes a pretty easy one. While the stakes in this showdown between the Hurricanes and Cornhuskers aren't quite what they were in 1983 or 2001 (or '88, '91 or '94, for that matter), this could still be an important nonconference game for both teams.
Assuming Nebraska survives its trip to Fresno State, this looms as the biggest test before league play for Bo Pelini's team. That kind of challenge didn't end so well the last two years, as the Huskers lost to UCLA both on the road and at home. But while the Bruins were on the upswing, Miami still seems locked in a kind of purgatory, unable to escape mediocrity. Both programs are looking to recapture past glory, and win here wouldn't be a bad place to start on that climb.
The Canes, as always, will bring high-level athletes, so this should provide a nice early gauge of where Nebraska is. Pelini's defense has a chance to be really good, with a lot of players returning in the front seven, led by defensive end
Randy Gregory
. Will
Tommy Armstrong Jr
. have grasped control of the offense by this point, or will
Johnny Stanton
or someone else be at the controls? And in a big spot like this, you'd expect an all-out performance from
Ameer Abdullah
.
This matchup easily ranks as the most intriguing of Week 4, thanks to the brand names, the talent involved and, of course, the history. I'm sure Tom Osborne will be watching closely.
Adam Rittenberg's pick:
Miami at Nebraska


OK, Mr. World Traveler, looks like I'll be seeing you in Husker Country. The Big Ten slate is really bland in Week 4, and while I considered Iowa-Pitt, this is a fairly easy call. I haven't been to Lincoln since 2012, Nebraska is a fascinating team that should contend in the West Division, and looking at the Huskers' remaining home schedule -- Illinois, Rutgers, Purdue and Minnesota -- this is my best bet to visit one of the great settings in college football.
The game itself should be a lot of fun. Neither team carries the prestige it did in the 1990s, but both have talented players and high hopes for 2014. Pelini enters a pivotal season, and this is the type of game that could springboard his team before Big Ten play. Miami also is looking to take an important step under Al Golden and boasts some weapons, such as explosive running back
Duke Johnson
. The matchup between Johnson and Abdullah is a nice subplot.
Miami's offense could provide a good challenge for the Blackshirts, who will turn the corner if the linebackers hold up and several key parts are replaced in the secondary. The transition from
Stephen Morris
to a new quarterback, most likely
Ryan Williams
, could be good for the Canes. Nebraska should win this game, especially at home, but the Huskers have to play for four quarters, not a half, as they did against UCLA.
History has been my unofficial theme, and these two teams certainly have some, splitting 10 meetings. This marks their first regular-season contest since 1975 after matching up in four Orange Bowls and a Rose Bowl (national championship) between 1983 and 2001.
Bottom line:
It's been far too long since I've been to Lincoln. My arteries miss Misty's. Maybe I'll even get a Runza this time around. Meet you in the heartland, Bennett.
Road trip itinerary
Week 1:
Brian at Penn State-UCF (in Dublin, Ireland); Adam at Wisconsin-LSU (in Houston)
Week 2:
Adam at Michigan-Notre Dame; Brian at Michigan State-Oregon
Week 3:
Brian at Minnesota-TCU; Adam at Penn State-Rutgers
September, 14, 2011
9/14/11
9:00
AM ET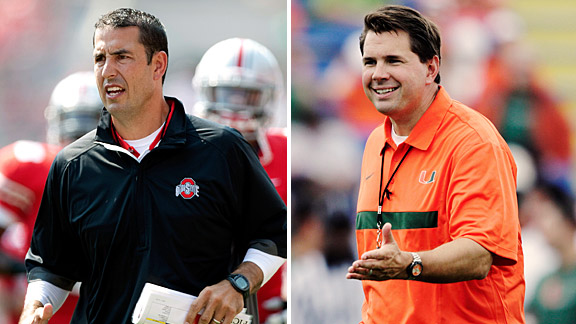 US Presswire, Icon SMIOhio State's Luke Fickell, left, and Miami's Al Golden have had challenging starts to their new jobs.
As college football suffered through an offseason of scandal, two programs found themselves squarely in the crosshairs.
Ohio State made headlines for the wrong reasons throughout much of the spring and summer, especially during an eight-day stretch when coach Jim Tressel resigned and starting quarterback Terrelle Pryor left the program. The notoriety then shifted to Miami after a Yahoo! Sports investigation revealed damaging allegations by former booster Nevin Shapiro.
It brings us to Saturday night, when the Buckeyes and Hurricanes will meet on the field.
Some folks are calling it the Ineligi-Bowl.
Both teams are short-handed -- Ohio State more than Miami -- and both are dealing with change and intense scrutiny. Both are facing potential NCAA penalties and uncertain futures, but first-year coaches Luke Fickell and Al Golden are trying to keep the focus on the field.
Bloggers Heather Dinich (ACC) and Adam Rittenberg (Big Ten) break down a unique matchup at Sun Life Stadium.
Adam Rittenberg:
HD, hope you had a better summer than the Canes or Buckeyes. Both programs have dealt with a lot of recent distractions. Miami dropped its opener to Maryland but regains the services of quarterback
Jacory Harris
and others from suspension. Ohio State still will be without three offensive starters and looked very shaky Saturday against Toledo. Before getting between the lines, let's look between the ears. How do you think these teams are approaching this game from a mental standpoint? Does one squad have an edge?
Heather Dinich:
The only edge I see, Ritt, is the fact that Miami had a bye week to move on from its loss to Maryland, while that scare from Toledo is pretty fresh in the Buckeyes' heads. Then again, it could have been just the wake-up call Ohio State needed. Plus, Miami has to be recharged a bit and excited about getting several of its players back from the opening-game suspension. Miami was without eight players against the Terps, and now five of those players return, including Harris. Most notably, the defense should get a boost up front from the return of linebacker Sean Spence, defensive end Adewale Ojomo, and defensive tackle Marcus Forston. The Canes were beat up front by Maryland, but the return of those guys should give them some more confidence heading into the Ohio State game. What about the Buckeyes? Two wins over teams they should beat. Are they ready for their first real test of the season?
AR:
Ohio State's first real test actually came Saturday against Toledo, although few thought the Rockets would challenge the Buckeyes. Toledo found gaps in Ohio State's secondary and held the Buckeyes to just six points in the second half. Ohio State will have to play better in all three phases against Miami, especially in the kicking game after the Canes recorded two returns for touchdowns last year in Columbus. The first road game always presents challenges, especially for an Ohio State team dealing with significant personnel losses on both sides of the ball. Line play is an area the Buckeyes must lean on Saturday night, as Ohio State has proven veterans on both sides like center Mike Brewster and defensive lineman John Simon. But with so many key players out, the Buckeyes will be challenged.
Speaking of getting key players back, what's your take on the short suspensions for Harris and the others? Ohio State fans are livid that the Tat-4 remains out while Shapiro's pals are back on the field this week.
HD:
Well, fortunately for the sport, there really is no precedent for this, so it seems like the only thing you can really compare in these two cases is the monetary value of their infractions. In Miami's cases, the harshest punishments (six games and four games), were reserved for violations that occurred when Olivier Vernon and Ray-Ray Armstrong were still recruits. Vernon has to repay more than $1,200, Armstrong (four games) and
Dyron Dye
(four games) were both less than $800. The one-game suspensions correlate to players whose violations all amounted to less than $500. Correct me if I'm wrong, but I think the Buckeyes are working on repaying between $1,000-$2,500. I think it's safe to say the Buckeyes' violations were more costly in more ways than one, as they should be.
All of that aside, though, there's only one thing that will matter on Saturday, and that's who wins. Miami hasn't started out 0-2 since 1978. Who, in your opinion, needs this win more?
AR:
Yeah, I think the folks in Columbus are more upset that three players who took money at a charity function -- running back
Jordan Hall
and defensive backs Travis Howard and Corey Brown -- are serving longer suspensions than those who took benefits from Shapiro. But whatever. Both teams really need this win, but I'll make the case for Ohio State. Unlike Golden, who shouldn't have to worry about his job security (whether he wants to stay at Miami is another question), Fickell and his staff have no guarantees beyond this season. While coaches need the players to perform well in the Big Ten no matter what, this is the type of game that can build confidence or reduce it. Any road win boosts a team's morale, but beating Miami without so many key pieces would increase the Buckeyes' belief that they can continue to achieve their top goals despite all the turmoil. I certainly see the urgency for Miami, too.
Let's talk about Jacory Harris. I'll be kind and say he was very bad last year at The Shoe. If not for his interceptions, Miami could have made things very interesting. How do you think Harris fares against an Ohio State defense with a bunch of new starters, particularly in the secondary?
HD:
Four turnovers was the reason Miami lost this game last year. I would be surprised if Jacory doesn't play better. I spent some time down at Miami this summer and could sense some genuine confidence in Harris from first-year offensive coordinator Jedd Fisch and from Golden. They backed that up when they named him the starter after the loss to Maryland. I know
Stephen Morris
is the fan favorite, but Jacory's experience alone will help alleviate some of the mistakes and confusion that came in the loss to the Terps. This is Jacory's last season to go out a winner and redeem himself. I believe he is truly a more confident player, but how that translates in his first start since a dreadful performance in the Sun Bowl last year remains to be seen. He still has a lot to prove. Of the four ACC teams lining up against ranked opponents this weekend, though, I give the Canes the best chance to win. I'll save the score for Thursday's picks, but I'm sticking with the ACC in this one. I'll give you the last word, though, since I know you'll need it to defend the Buckeyes.
AR:
Thank you, ma'am. Defending Ohio State after last week's performance isn't easy, but Toledo looks like a pretty solid team, and coach Tim Beckman definitely had the Rockets ready to play. Given the players missing on offense, Ohio State will have to win this game by playing TresselBall -- ironically without Tressel. It'll be all about defense, the run game, controlling field position on special teams and limiting mistakes. The Buckeyes need a much sharper defensive performance and I think they'll get one, especially against Harris, whom I don't trust at all to limit mistakes. The kick and punt coverage teams have to be sharper than they were last year and against Toledo. It will be tough for Fickell's crew, but there are enough leaders on that team who know how to win tough games. I'll also wait to reveal my score Thursday, but I'm going with the Scarlet and Gray.
September, 7, 2011
9/07/11
2:45
PM ET
No surprise here, but Miami quarterback
Jacory Harris
is
expected to return to the starting lineup Sept. 17
against No. 15 Ohio State after serving a one-game NCAA suspension.
Colleague Heather Dinich reports that Harris is No. 1 on Miami's depth chart for the Ohio State game. The Hurricanes are off this week after dropping their opener Monday night against Maryland. Sophomore
Stephen Morris
led the Miami offense against the Terrapins.
Harris was among the eight Miami players suspended by the NCAA for receiving benefits from former booster Nevin Shapiro. Five players are eligible to return for the Ohio State game, while three others -- DE Olivier Vernon, S Aravious Armstrong and TE
Dyron Dye
-- must serve longer suspensions.
Ohio State will still be without four offensive starters and a defensive reserve, suspended for the first five games for receiving cash and tattoos in exchange for memorabilia items.
Seeing Harris on the field might not be the worst thing for Ohio State. The Buckeyes picked off Harris four times in last year's 36-24 win in Columbus, with the takeaways leading to 16 points. Harris repeatedly hurt Miami, especially in Ohio State territory.
If an opportunistic Buckeyes defense capitalizes on Harris' habit of throwing interceptions, the Scarlet and Gray should be fine against the U.