July, 6, 2012
7/06/12
9:00
AM ET
This week, I asked you to select the Big Ten's
strongest position
and
weakest position
entering the 2012 season. The results are definitive and, quite frankly, not very surprising.
Strongest position:
Running back (53 percent)
Weakest position:
Wide receiver (59 percent)
Now it's time to explore position groups that could make the jump from good to great in 2012. Again, these aren't groups that are already playing at elite levels, but ones that could get there this coming season. Colleague Travis Haney provided the national view Thursday and included
Ohio State's defensive ends among his "high-ceiling" groups

.

I'd expand that to include Ohio State's entire defensive line. While All-America candidate
John Simon
anchors the group at end, and decorated incoming recruits Noah Spence and Adolphus Washington also play on the edge, the Buckeyes aren't too shabby on the inside, either. Junior tackle
Johnathan Hankins
, a potential first-round draft pick in 2013, is back in the fold alongside veteran
Garrett Goebel
and promising young players like
Michael Bennett
and
Joel Hale
. There's little doubt the Buckeyes' defensive line will take a big step in 2012.
Here are some other Big Ten groups that have high ceilings:

Illinois' defensive line:
The Illini lose All-American Whitney Mercilus, but
Michael Buchanan
is ready to step into the lead pass-rusher role after a big spring.
Akeem Spence
is an underrated defensive tackle with legitimate pro potential, and Illinois returns experienced players like
Justin Staples
and
Glenn Foster
. Tim Beckman made an excellent move in retaining line coach Keith Gilmore from the previous staff.

Michigan's secondary:
One of the nation's worst units a few seasons ago took a big step in 2011, and could take another one this fall. Michigan returns four players with starting experience, including safety
Jordan Kovacs
, the leader of the defense this fall.
J.T. Floyd
and
Blake Countess
form a very good cornerback tandem.
Thomas Gordon
gained valuable experience last year, and Michigan has recruited well to the secondary in recent years.

Northwestern's wide receivers:
This has been a position of strength for Northwestern in recent years, but the Wildcats haven't had a group as deep as this one.
Demetrius Fields
leads the group, although
Christian Jones
might have the highest ceiling. Speedster
Tony Jones
returns from injury, while classmate
Rashad Lawrence
should be much improved as a junior.
Cam Dickerson
stood out this spring, and if USC transfer
Kyle Prater
gets his NCAA waiver, look out.

Michigan State's linebackers:
The Spartans' front four once again figures to be among the Big Ten's top units, and the linebackers could get there, too.
Max Bullough
and
Denicos Allen
enter their junior seasons with a lot of game experience under their belts. Think Greg Jones-Eric Gordon, The Sequel.
Chris Norman
and
Steve Gardiner
add a veteran presence, and players like
Taiwan Jones
and
TyQuan Hammock
are in the mix as well.

Penn State's defensive line:
A good group in 2011 could be even better this season.
Jordan Hill
anchors the line at defensive tackle, and Penn State gets a major boost by getting
Pete Massaro
back in the fold. If Massaro can stay healthy, he has a chance to provide the pass-rushing threat Penn State has lacked. The Lions have experience with senior end
Sean Stanley
and junior tackle
DaQuan Jones
, and they should be very excited about redshirt freshman end
Deion Barnes
.

Nebraska's wide receivers/tight ends:
Brandon Kinnie is the only significant departure in the group, which should be a bigger part of the offense if quarterback
Taylor Martinez
continues to progress. Speedster
Kenny Bell
looks like a No. 1 wideout, and
Quincy Enunwa
should see his numbers increase.
Tim Marlowe
provides a veteran presence, and the Huskers have some talented young players in
Jamal Turner
and incoming freshman Jordan Westerkamp. Nebraska also brings back two senior tight ends (
Ben Cotton
and
Kyler Reed
).
April, 4, 2012
4/04/12
9:00
AM ET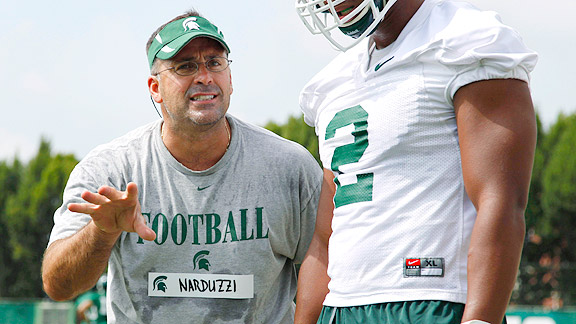 AP Photo/Al GoldisPat Narduzzi returns to Michigan State to head up the Spartans' highly-ranked defense.
Michigan State finished sixth nationally in total defense last season and returns nine starters. Just as importantly, the Spartans return defensive coordinator Pat Narduzzi, who was wooed by Texas A&M over the winter but chose to stay in East Lansing. Narduzzi's defense figures to once again be one of the very best in the country. I recently caught up with him to chat about the state of the defense this spring:
When you have so many starters back, how does that affect what you do in spring practice?
Pat Narduzzi:
One thing it does for us is it gives us the opportunity to know that hopefully there's a lot of carryover from last season. We don't try to install any more defenses. We try to keep it at the same pace. You know, kids forget. Coaches can sit in the office 24/7 and talk about it, but for them, as soon as that bowl game against Georgia is over, those guys go on with their lives, with their girlfriends and studying English. But it allows you to come in and not make as many mistakes as you would with a young defense.
Yet you have to be excited about the potential for this defense with the players you have back, right?
PN:
Yeah, it's exciting, but we still have to go out and make plays. We do have a lot of players back, so hopefully we can go out and be as productive as we were a year ago. But you can't get complacent, because what you did last year or the last game or even last week doesn't really matter. It's what you do right now. So every day we're building the 2012 defense.
You used the word complacent. How do you make sure the starters don't get too comfortable and that there's still a lot of competition?
PN:
There are certain positions you can look at and say, "There's no way he's getting beat out." And there's probably, of the 11 positions out there, you've got to say there's six or seven of them. But we're starting to do such a good job recruiting that there are some battles out there at different spots, particularly at the defensive tackle spot, the safety spot and even the linebacker spot. There's a lot of spots that are really wide open. If a guy makes a mistake with the 1's, you pull him down to the 2's and really keep him on edge, in a positive way. With the starters, you expect perfection. When you make mistakes, that's not helping you. Another guy can get in and make mistakes, too.
November, 12, 2011
11/12/11
11:40
AM ET
IOWA CITY, Iowa -- A few pregame notes before kickoff between No. 17 Michigan State and Iowa at Kinnick Stadium.
Michigan State linebacker Chris Norman (shoulder) worked with the first-team defense during warm-ups and didn't appear to be limited. Cornerback Darqueze Dennard (concussion) also warmed up without limitations. The only uncertainty for the Spartans is linebacker Steve Gardiner (neck).
Iowa defensive end Lebron Daniel returns to the starting lineup today in place of Dominic Alvis, who tore his ACL in last week's win against Michigan. There shouldn't be any other lineup changes for the Hawkeyes.
Iowa tight end Brad Herman has his hand wrapped. Not sure if it will limit him. Herman has moved to the second team in favor of C.J. Fiedorowicz.
The winds were kicking up when I shot my pregame video. It seems to be more of a swirling wind right now.
August, 30, 2011
8/30/11
11:45
AM ET
Depth chart fun continues today on the Big Ten blog as Michigan State released its
two-deep for Friday night's season-opener
against Youngstown State.
Although the Spartans name a clear starter at both quarterback (
Kirk Cousins
) and running back (
Edwin Baker
), they might get the nod for most "ORs" in the league.
Let's take a look:
There are eight offensive or defensive positions with co-starters, including left tackle (Jared McGaha or Dan France), center (Blake Treadwell or Travis Jackson) and tight end (Brian Linthicum or Garrett Celek). Both defensive end spots and both outside linebacker spots list two potential starters for Youngstown State.
Among the interesting position battles still to be decided are: sophomore William Gholston and junior Tyler Hoover at defensive end; Denicos Allen competing for both starting outside linebacker spots with Chris Norman and Steve Gardiner; McGaha and France at left tackle; and fifth-year seniors B.J. Cunningham and Keith Nichol at the "X" receiver spot.
Keshawn Martin, a starting wide receiver, is listed as Michigan State's top option on both punt and kickoff returns. Larry Caper joins Martin on kickoff returns.
Sophomore Max Bullough is the only clear-cut starting linebacker, as he'll be Michigan State's man in the middle. TyQuan Hammock serves as his backup.
Dynamic redshirt freshman Tony Lippett is listed as both a backup cornerback to Darqueze Dennard and a fourth-string wide receiver.
Not a huge surprise, but redshirt freshman Skyler Burkland has claimed the starting right tackle spot ahead of junior Fou Fonoti. Burkland is the only redshirt freshman projected to start, although classmate Marcus Rush is a possible starter at defensive end and Jackson could start at center.
Caper and Le'Veon Bell are listed as co-backups at running back, while Nick Hill appears as the fourth-stringer.
I'm a little surprised Dion Sims enters the year as the No. 3 tight end. Wouldn't be surprised if he ends up playing a big role in the passing game.
August, 25, 2011
8/25/11
12:00
PM ET
August, 24, 2011
8/24/11
12:00
PM ET
I am the one who knocks!
Will Dan Persa be ready for the opener? Pat Fitzgerald now says Kain Colter is all but pulled even with Persa at quarterback.
April, 14, 2011
4/14/11
6:30
PM ET
EAST LANSING, Mich. -- Mark Dantonio stepped into the lobby outside Michigan State's football offices and looked at the 2010 Big Ten championship banner unveiled Thursday at the Skandalaris Football Center.
"Now we've got to get another," Dantonio said with a smile.
Michigan State isn't satisfied with its first Big Ten title in 20 years. The Spartans know that to be truly considered an elite team in this league, they need an impressive follow-up act, especially after the poor performance against Alabama in the Capital One Bowl.
Dantonio thinks he has a better team than the 2010 version, but he's also mindful of a challenging schedule and an improving conference.
[+] Enlarge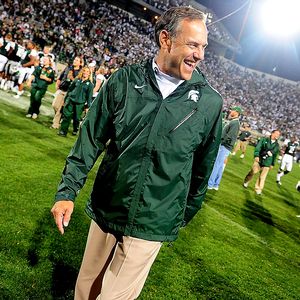 Andrew Weber/US PresswireMark Dantonio and Michigan State won a share of the Big Ten championship last seeason. "Now we've got to get another," Dantonio said with a smile.
"We've got to still measure up," Dantonio said. "This is a process. There is no beginning time, there is no end time. It just goes. We need to move the process forward."
It has been a very productive day here in Sparta, as I've visited with Dantonio, coordinators Dan Roushar (offense) and Pat Narduzzi (defense) and several players.
Here are some notes:
Linebacker was Michigan State's strength on defense throughout the Greg Jones/Eric Gordon Era, but the spotlight might be shifting to the defensive line this season. Narduzzi really likes the depth at both line spots. Jerel Worthy is a proven commodity, and the coaches really like what they've seen from junior Anthony Rashad White. The Spartans feel they're three-deep at end with Tyler Hoover, William Gholston and Denzel Drone, and Marcus Rush also is working on the edge. After blitzing Jones a ton the past few years, the Spartans need a true pass-rusher or two to emerge from this group.

The offensive line has more question marks. Michigan State is young up front but both Dantonio and Roushar noted the line will be more athletic in 2011. Part of that is moving defensive linemen like Dan France and Blake Treadwell over to the offensive side. Redshirt freshman tackle Skyler Schofner, at 6-7 and 305 pounds, has been impressive along with classmate Travis Jackson. Dantonio described many of his linemen as "very fluid." Michigan State really has only two senior linemen in guard Joel Foreman and tackle Jared McGaha, so this group has a long time to unite and come together. I'll have more on both lines next week, but these two units are vital to the Spartans becoming a consistent top-tier Big Ten program.

Dantonio called the running back situation "very competitive," but Edwin Baker hasn't taken a step back this spring after starting throughout 2011. Roushar noted that Baker has been spending a lot of time with former Spartans star back Javon Ringer, a frequent visitor throughout spring ball whom I caught up with today. "It's a whole other level of maturity," Roushar said of Baker. Le'Veon Bell and Larry Caper continue to work, and don't count out redshirt freshman Nick Hill, who adds a different dimension to the group. There's a lot to like about the depth Michigan State has at running back, receiver and tight end.

Although the defenses loses multiyear starters like Jones, Gordon and cornerback Chris L. Rucker, Narduzzi hasn't had to slow down the learning curve this spring. Just the opposite. "We're amazed at how well they've picked it up," he said. "We're a much smarter defense right now than we were a year ago. Those young kids have been paying attention. They may not have had those reps, but they understand what we're doing." As for the linebackers, junior Chris Norman has been limited this spring following elbow surgery. Sophomore Denicos Allen and junior Steve Gardiner have impressed the coaches, and sophomores Max Bullough and TyQuan Hammock are competing at middle linebacker. "Bullough might be a little bit ahead right now," Narduzzi said.

Roushar's transition to coordinator seems to be going smoothly. Cousins noted that in reviewing the film from 2010, Michigan State had several successful plays that it didn't run very often. "We're working on trying to get those plays involved more in our offense," Cousins said. "If we're so successful at them, why are we not doing them two or three times a game rather than once every two games?"
It's time to hit the road now, but I'll have more on the Spartans in the coming days and weeks before they wrap up spring practice April 30.
February, 18, 2011
2/18/11
10:00
AM ET
Our Big Ten spring preview continues with a look at the Legends Division.

IOWA
Start of spring practice:
March 23
Spring game:
April 16
What to watch:
Succession plan for Stanzi: Remember James Vandenberg? The plucky young quarterback who nearly led Iowa to a milestone win at Ohio State in 2009 returns to the spotlight as Iowa looks to replace three-year starter Ricky Stanzi. Vandenberg had only eight pass attempts in 2010, so it'll be interesting to see how he adjusts to a potential featured role. John Wienke and A.J. Derby also will be in the mix.
A new-look defensive front: Iowa loses three multiyear starters along the defensive line, all of whom likely will go onto the NFL. Mike Daniels and Broderick Binns return, but Iowa must begin building depth around them after not playing a large rotation of linemen in 2010. It'll be a big spring for reserve defensive linemen like Lebron Daniel and Steve Bigach.
Rhabdo fallout: Iowa expects the 13 players hospitalized last month with rhabdomyolysis to be ready for spring ball, but there are questions about how the group responds to the rigors of practice. Expect the staff to take every precaution to make sure the players are ready to go. Iowa's internal investigation into what happened could reach its conclusion during the spring practice session.
MICHIGAN

Start of spring practice:
March 19
Spring game:
April 16
What to watch:
Hoke springs eternal: All eyes will be on new coach Brady Hoke as he oversees his first 15 practice sessions as the leading man in Ann Arbor. Hoke and his staff introduce new offensive and defensive systems, and Hoke likely will spend much of his time with a defense that reached historic lows during former coach Rich Rodriguez's tenure. An adjustment period can be expected, but Hoke wants to get things rolling as soon as he can.
Denard Robinson: The 2010 Big Ten offensive player of the year thrived in Rodriguez's spread offense. How will he be used in coordinator Al Borges' system? Will Robinson's unique talents still be maximized? After making major strides last offseason, Robinson must continue to grow as he adjusts to a new offense. This is also a big spring for backup quarterback Devin Gardner.
The move to the 4-3: Michigan is going back to a 4-3 defensive alignment under coordinator Greg Mattison, and the transition begins this spring. The defensive front has to lead the way, and the personnel is there to get it done. The Wolverines are a little thinner at linebacker, but saw some encouraging signs from Kenny Demens this past fall. Others must emerge at the position this spring.
MICHIGAN STATE

Start of spring practice:
March 29
Spring game:
April 30
What to watch:
Familiar face, new leadership: Dan Roushar takes over as Spartans offensive coordinator, and while you shouldn't expect many dramatic changes, the veteran assistant will put his personal touch on the system. Roushar wants to fully re-establish the run game Michigan State displayed in the early part of the 2010 season. It'll also be interesting to see how he works with quarterback Kirk Cousins.
Reloading at linebacker: Michigan State loses two of the more productive linebackers in recent team history in Greg Jones and Eric Gordon. Returning starter Chris Norman will take on an enhanced role, and the spring will be big for younger linebackers like Max Bullough, Steve Gardiner and Denicos Allen.
Elevating the O-line play: You can bet Roushar will have an eye on his old position group, the offensive line, as it replaces starters at both tackle spots and at center. If Michigan State can get its offensive line play where competitors like Iowa and Wisconsin have it, the Spartans will be Big Ten title contenders for years to come. Michigan State has some nice pieces like veteran guard Joel Foreman, but it must build depth this spring.
MINNESOTA

Start of spring practice:
March 24
Spring game:
April 23
What to watch:
A time to Kill. Jerry Kill conducts his first 15 practices as Minnesota's coach and he has no shortage of challenges. He and his assistants must install new systems on both sides of the ball and, perhaps more importantly, get across their expectations for the players going forward. Kill wasn't overly thrilled with his first impression of the squad, so he has a lot of work to do.
Gray back at QB: After a season playing primarily wide receiver, MarQueis Gray is back at his preferred position of quarterback. Kill and his assistants made no secret of the fact that they see tremendous potential in Gray, a dual-threat signal-caller who could end up being a terrific fit for Kill's offense. It will be interesting to see how much Gray can absorb this spring as he prepares to lead the unit.
Kim Royston's return: Minnesota's defense got a huge boost when the NCAA somewhat surprisingly granted safety Kim Royston a sixth year of eligibility. Royston, who had a strong season in 2009 before breaking his leg last spring, is ready to go and should provide some much-needed leadership in the secondary. New defensive coordinator Tracy Claeys will be on the lookout for playmakers and leaders this spring, and he'll find one in Royston.
NEBRASKA

Start of spring practice:
March 12
Spring game:
April 16
What to watch:
New vision on offense: Nebraska likely will have a championship-level defense in 2011, but will the offense bounce back from a poor finish to last season? Tim Beck is the man pegged to get things back on track. Coach Bo Pelini promoted Beck to offensive coordinator, and Beck will begin to implement his vision for the unit this spring. Nebraska figures to stick with the spread, but what version Beck wants to use remains to be seen.
The quarterbacks: Taylor Martinez stiff-armed the transfer rumors, and in January said he looked forward "getting healthy and getting my strength and speed back." The big question: Will he also get his job back as Nebraska's starting quarterback? Martinez can help himself with a strong spring, but Cody Green also is in the mix and things could get very interesting if Bubba Starling decides to stick with football rather than pursue a pro baseball career.
New faces on staff: In addition to promoting Beck, Pelini hired three new assistants: Corey Raymond (secondary), Ross Els (linebackers) and Rich Fisher (receivers). Raymond takes over a talented group that must replace three standout players, including cornerback Prince Amukamara. It'll be interesting to watch Fisher, who most recently coached in high school and also served as a golf teacher, as he transitions back to big-time football.
NORTHWESTERN

Start of spring practice:
March 7
Spring game:
April 16
What to watch:
Rebuilding the defense: Northwestern figures to have one of the Big Ten's top offenses this fall, but there are major issues on the other side of the ball. The Wildcats' defense flat-lined in the final three games, surrendering 163 points and getting dominated at the line of scrimmage. It's a big spring for coordinator Mike Hankwitz, who must fill gaps at spots like linebacker, but more importantly must restore the aggressiveness seen in 2008 and part of 2009.
The backup QB race: Dan Persa is still rehabbing his surgically repaired Achilles' tendon and won't do much in spring ball. It provides an opportunity for Northwestern to hold an extensive competition to see who backs up Persa this coming season. Kain Colter provided a spark in the bowl game and could be the answer. Evan Watkins needs a bounce-back spring, and Trevor Siemian will be in the mix after redshirting this past fall.
Here's the kicker: Northwestern loses four-year starting specialist Stefan Demos and will look to identify a replacement this spring. Neither Jeff Budzien nor Steve Flaherty has attempted a field goal in a game -- they have combined for two PAT conversions -- so the race will be wide open. Special teams has cost Northwestern at inopportune times over the years, but it could be an area of strength in 2011 if the kicker situation is sorted out.
April, 27, 2010
4/27/10
4:00
PM ET
The recap series rolls on with Michigan State, which played the annual Green-White Game on Saturday at Spartan Stadium.
A year after quarterback candidates
Kirk Cousins
and
Keith Nichol
both passed for 357 yards in a spring game shootout, Michigan State saw a better defensive performance with continued progress from the offense.
Cousins is the Spartans' clear-cut starter and looked the part Saturday, completed 10 of 15 passes for 254 yards and a touchdown. He found
Mark Dell
for completions of 58, 44 and 27 yards, and Dell had a huge day (4 receptions, 138 yards). There's a lot to like about Michigan State's skill players, and the Spartans have arguably the most weapons of any Big Ten team. Among the standouts Saturday were Dell, wideout
Keshawn Martin
(6 receptions, 109 yards), tight ends
Charlie Gantt
(4 receptions, 68 yards) and
Dion Sims
(3 receptions, 53 yards) and wideout
Donald Spencer
(3 receptions, 54 yards).
There's a ton of firepower in East Lansing.
A Spartans defense that ranked 112th nationally against the pass last year allowed 534 pass yards in the spring game, which isn't good, but the unit performed decently against the run and emerged with a 17-10 victory in the scrimmage. Top running backs
Larry Caper
and
Edwin Baker
didn't do much, and while freshman Nick Hill had a big day with 51 rush yards and a touchdown, his longest run of 31 yards ended with a fumble, forced by safety Jairus Jones and recovered by cornerback Johnny Adams.
The defense saw solid performances from Adams (4 tackles, 2 sacks, fumble recovery), Jones (4 tackles, forced fumble),
Greg Jones
(4 tackles, 2.5 TFLs, 1.5 sacks), freshman safety/linebacker Denicos Allen (7 tackles, 2.5 TFLs, 2 sacks, 1 pass breakup), redshirt freshman linebacker Steve Gardiner (7 tackles, 1.5 TFLs, forced fumble, 1 sack) and true freshman linebacker Max Bullough (4 tackles, 1 pass breakup). Michigan State's added depth at linebacker should help as the team uses the 3-4 alignment more this fall.
Other Spartans nuggets:
Nichol played wide receiver Saturday, recording three receptions for 43 yards, but Michigan State seems to have decent insurance behind Cousins. Backup Andrew Maxwell completed 18 of 34 passes for 244 yards and a touchdown, while freshman Joe Boisture, an early enrollee, went 3-for-3 for 36 yards.
The secondary had an interesting day overall, as the cornerbacks and safeties made plenty of plays but also allowed plenty of passing yards yet again. Cornerbacks Adams and Chris L. Rucker combined for three sacks and four tackles for loss, and safety Trenton Robinson added five tackles. There's clearly some depth and ability in the back half for Michigan State, but after the unit significantly underachieved last fall, the jury's still out.
The competition at kicker will continue into the fall as Michigan State tries to replace standout Brett Swenson. Kevin Muma connected on his only attempt Saturday, a chip shot from 19 yards out, while Dan Conroy hit from 31 yards out but missed a 35-yard attempt.
Michigan State didn't generate much pass rush from its front four Saturday and still needs to identify an edge rusher or two before the season. The Spartans' top priorities right now look like defensive end, the right side of the offensive line and solidifying things in the secondary.
March, 15, 2010
3/15/10
4:30
PM ET
After a brief break, the spring superlatives series marches on with Michigan State, which opens spring practice next week. Obviously, a lot hinges on whether seven suspended players are reinstated, but I would expect most of them to be back before the season. Although four of the suspended players are wide receivers, most or all should return for 2010, making the position less of a concern.

Here's a look at the strongest position and weakest position for the Spartans, who return a lot at the skill spots but look thin on both lines.
Strongest position: Linebacker
Key returnees: Greg Jones (154 tackles, 14 tackles for loss, 9 sacks, 8 quarterback hurries, 1 forced fumble, 1 fumble recovery); Eric Gordon (92 tackles, 7.5 tackles for loss, 3.5 sacks, 1 forced fumble, 1 blocked kick); Chris Norman (11 tackles, 1 tackle for loss).
Key losses: Brandon Denson (68 tackles, 4 tackles for loss, 2.5 sacks, 1 interception); Adam Decker (14 tackles, 1 fumble recovery).
The skinny: Jones' return for 2010 provides a major jolt to a defense that must improve upon last year's performance. The Big Ten co-Defensive Player of the Year owns 359 career tackles, and he's constantly in the opposing backfield. Jones wants to become a bigger factor in pass coverage, which would help a suspect Spartans secondary. Gordon is one of the league's more experienced linebackers and should be ready for a big senior season. The Spartans must fill one starting spot, and Norman will compete with Steve Gardiner and several others for playing time there.
Weakest position: Offensive line
Key returnees: Guard Joel Foreman, guard Jared McGaha, right tackle D.J. Young, tackle/guard J'Michael Deane (suspended)
Key losses: Center Joel Nitchman, left tackle Rocco Cironi, guard Brendon Moss
The skinny: Some might point to the secondary, which significantly underachieved last fall, or spots like defensive end or kicker as greater concerns, but Michigan State must replace three fifth-year senior starters up front. I wasn't blown away by the Spartans' offensive line last year, but Nitchman stood out and Cironi's value showed after he went down with a fourth-quarter injury in the Alamo Bowl against Texas Tech. You never want to replace both your left tackle and your center in the same year, so Michigan State has a big challenge ahead this spring. Foreman, an honorable mention All-Big Ten selection in 2009, needs to lead the group this fall.