Big Ten:

Steven Funderburk
April, 11, 2013
4/11/13
5:00
PM ET
On Wednesday, the head coach and one player from each Big Ten Legends Division team participated in a
spring football teleconference
with the media. On Thursday, it was the Leaders Division's turn. Here are some notes and updates from the call:

Illinois
Head coach Tim Beckman said the junior college players he brought in helped with depth and age issues on his young team. "We have 40 football players that have never been in our spring football until this year," he said. Of the juco imports, Beckman said wide receiver Martize Barr has quick hands and good playmaking skills, both in the passing game and on kick returns; Eric Finney has earned a starting job at the Star linebacker position; Abe Cajuste is adding depth by playing both defensive tackle and defensive end; and Dallas Hinkhouse is making an impact at offensive tackle.
Beckman sung the praises of offensive lineman Corey Lewis, a sixth-year senior who has battled back from five knee surgeries and has become a team leader. "Corey Lewis comes to my office probably four or five times a week, just to talk," he said. "To me, he is what college football is all about." Beckman said that Lewis has "had a special spring" and hinted that he has earned a starting job.
Quarterbacks Nathan Scheelhaase and Reilly O'Toole will take most of the snaps in Friday's spring game so they can get more experience in the new offense. Beckman said Scheelhaase has "got a step in front" because of his experience, but the competition continues.
Scheelhaase on reasons for optimism in 2013: "Establishing an identity. That's something I don't know that we necessarily had last year, on offense or defense or as a team in general.

Indiana
Like many of you, head coach Kevin Wilson would like to know the new Big Ten division alignment. The reason? It's harder to recruit without being able to tell a prospect where he'll be playing his freshman season. Wilson added that if the league does indeed go to an East/West split, he'd like to see the Hoosiers placed in the East since they're located in the Eastern Time Zone.
Wilson said run defense and takeaways are two huge priorities for the Hoosiers' defense during the offseason. He noted that the Big Ten doesn't boast a large group of elite pass offenses, so IU must prepare better for run-driven attacks. Indiana finished last in the Big Ten in both run defense (231.3 ypg) and takeaways (13). Cornerback Greg Heban said the defense is working on takeaways every day in practice. "Every time the ball touches the ground, the defense is scooping it and scoring it," Heban said, "trying to give us a feel of what it's like."
Both Wilson and Heban praised the play of junior cornerback Tim Bennett this spring. Other spring standouts include linebacker T.J. Simmons, a freshman early enrollee, and Steven Funderburk, a junior-college transfer.
Heban called this "easily the best spring I've been around." He has seen more physical play and better effort on both sides of the ball, and the team also is having more fun than in past springs.

Ohio State
Head coach Urban Meyer said running back Rod Smith won't play in Saturday's spring game because he recently suffered a concussion. Before that, Meyer said Smith was one of the five most improved players on offense this spring. Meyer listed Carlos Hyde and Smith as the team's top two running backs, while Bri'onte Dunn and Warren Ball are even for the No. 3 spot.
Although the receivers have been better this spring -- especially Corey Brown and Chris Fields -- the depth is still nowhere near where it needs to be for Meyer's spread offense. "We're way behind on quality of depth at that position," Meyer said. "That's a major, major concern." Moving Jordan Hall to H-back should help, and Meyer noted that the Buckeyes boast two good tight ends in Jeff Heuerman and Nick Vannett.
Buckeyes offensive tackle Jack Mewhort paid close attention to the way John Simon and others led in 2012. He's ready to take on a greater load this season. "I welcome that," he said. "I see that as an honor, being compared to a guy like John Simon. I also see it as a challenge. I feel the pressure to step up and get guys going in the right direction." Mewhort also has seen quarterback Braxton Miller recognize his leadership responsibilities more this spring and get after teammates when he needs to.
Meyer said he puts more emphasis on spring practice and the spring game than most coaches. He has told his players that there will be a depth chart after spring ends, and while changes are possible in the summer, they're not likely. "In spring ball, you're trying to win a spot," he said. "During the fall, we're trying to win games."

Penn State

Purdue
Head coach Darrell Hazell said the Boilermakers have made major improvements in the last three and a half weeks. "Anytime you put in three different schemes, there's a little bit of a learning curve for the first couple weeks," he said. "You could see guys start to really get comfortable the last five or six practices."
Hazell said he has "three capable guys" right now at quarterback with Rob Henry, Danny Etling and Austin Appleby. He reiterated that he would keep the competition open until two weeks before the opener at Cincinnati. Of Etling, a freshman early enrollee, Hazell said: "For a young guy, a guy that should be at his prom, I think he's got tremendous poise. He's smart and really studies the game."
Hazell said backup tight end Justin Sinz and center Robert Kugler are two guys that have really caught his eye this spring. He called Kugler a "very much a leader on the offensive line."
Cornerback Ricardo Allen said Hazell has instilled an "all is one" mentality. "If one person does something, we all have to do it. We all wear black socks. We all wear the same uniform. We all tuck our shirts in. I feel like we're becoming closer as a team, and it's helping us build."

Wisconsin
Head coach Gary Andersen confirmed Curt Phillips and Joel Stave have separated themselves in the quarterback competition. It's a "mixed bag" of who takes snaps with the first-team offense, but both will continue to rotate through the rest of the spring and into fall camp. "The way they've separated themselves is simply production," Andersen said. "They know exactly where they sit and so does the rest of the team. … If they put all their friendships aside, their depth chart would look exactly like our depth chart."
Andersen praised the offensive line for tackling another transition, as the group works with its fourth position coach (T.J. Woods) since the 2012 Rose Bowl. The line has seen varying looks from the defense in practice and had players move around to different positions, in part because of injuries. Wisconsin had only seven healthy linemen a week ago, but Andersen is hopeful the number will rise to nine or 10 by next week's spring game. "Those kids have grinded through it every single day," Andersen said. "They're a tough-minded group."
Badgers senior linebacker Chris Borland said losing defensive end David Gilbert to recurring foot problems is a blow but the team has others to step in like Tyler Dippel, Brendan Kelly and Jesse Hayes, a redshirt sophomore who has stood out this spring.
Much like his old boss Urban Meyer, Andersen believes in constant competition and declares winners and losers in each practice. Andersen also mixes in some fun with a dance-off and throwing footballs into trash cans. "Some of them are a little bit quirky, but through the years establish some things we like," he said.
Borland said the strength program has brought the biggest changes in the transition to Andersen's staff. Cardiovascular work is stressed more, as is preventative care. Head strength and conditioning coach Evan Simon operates at a faster pace and uses more of an instructional approach than Ben Herbert, who stressed motivation.
February, 8, 2013
2/08/13
1:00
PM ET
Kevin Wilson
hopes his rebuilding project at Indiana just took its next step forward on signing day.
The Hoosiers brought in one of their
better classes in recent years
, according to the rankings services. It included ESPN 150 athlete
Rashard Fant
and ESPN 300 defensive tackle
Darius Latham
. I recently spoke with Wilson, whose team went from 1-11 in 2011 to 4-8 last year, about the class:
Looks like you loaded up on defense. Was that the plan going in?
Kevin Wilson:
You always want to get good players, but you also look at your needs. If you look at our offense, it isn't so bad. It's pretty average. We only lose one senior there. That being said, we need to make improvements on defense. We really only lost five seniors that played, and we only signed 22 kids but we have a lot of players coming back. You're not starting from scratch. We have 13 kids for sure on defense and then we have four of those tweener, hybrid kids who could be a running back or a linebacker or a safety or a receiver or a cornerback. There are three or four skill position guys where I could see them being on either side. So people look at it as 13 defensive players, but it could end being 14,15 or even 16 kids who are defensive players.
You signed three highly-rated kids from Indianapolis. How important was it to lock down the best kids in the state?
[+] Enlarge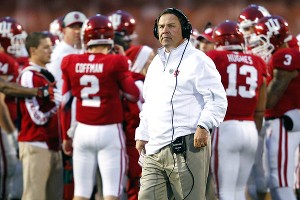 Michael Hickey/Getty ImagesIndiana coach Kevin Wilson has now had a full cycle to recruit players.
KW:
If you want to be the state school, to me, you've got to represent the state. But just because they're from your state doesn't mean you're going to get them, and just because they're from your state doesn't mean you have to like them. They've got to be good players, and sometimes you don't get them all. It was good to get quality players and highly-rated kids, guys we think can make decent impacts. We don't need them to just sign with us. We need them to become good players.
They all come from quality programs. We do want to always have a presence within our state. The other comment about that, in all honesty, is that, we show up two years ago in December and had January to recruit. Last year, we get a full year, but this to me was the first year, with the way recruiting goes, where we got a full cycle. We saw them as 10th graders. We had them at camps. We had them at basketball games, had them on campus and went and watched them as juniors. We were able to build some relationships. I think the combination of that and folks thinking we're getting better helped. That's why I think some of the Indiana kids came our way.
It's hard not to notice that you signed four kids out of Georgia. How did you get that pipeline going?
KW:
A couple of things. No. 1, we've got [defensive ends coach] Jon Fabris, who we hired from down there. He worked at the University of Georgia for nine years and knew his way around. He was able to go down there last spring and camp out there and go to spring practices and get us in there. It's a heck of a football state, with a big population. The next deal is, shooting down I-75, we're talking eight or nine hours to the metro Atlanta area. When you go outside of Indianapolis, our biggest alumni areas are Chicago, Atlanta and New York City because of the Kelley School of Business and all the alums we've got. So there's a little presence there. And I think the Big Ten Network helps when you go down south. When you go down to Florida, every home has the Big Ten Network, so that helps.
Rashard Fant is your top-rated prospect. Where do you see him fitting in?
KW:
We see him as a cornerback and we need some help over there. But you look at his tape, and he's a great athlete -- great in the return game, really good as a slot receiver and they played him at Wildcat quarterback. Like a lot of guys we got, he can run. He needs to get a little bigger, a little stronger to compete at the Big Ten level, but he's a very athletic kid. We'll use him on returns starting out and defensively. But he has flexibility. When you evaluate his tape, you see him making plays with the ball in his hands. He's pretty skilled there. Same goes for some of our defensive backs like
Antonio Allen
.
Chase Dutra
is a running back hybrid; he could be a safety.
Noel Padmore
, guys like that.
How much do you think you strengthened your defensive front seven with this class?
KW:
Again, we don't lose a lot. We only lose two D-tackles defensively. A lot of those guys are back and we need to make a bunch of strides there. We got two junior college D-tackles.
Jordan Heiderman
, he's already in school. Then you've got Chris Cormier. Our high school guys, Darius Latham and
Maurice Swain
, those are two 6-5, 6-6, 280-to-300 pound kids who can run.
Patrick Dougherty
is another inside guy. David Kenney is an edge guy.
Steven Funderburk
and
T.J. Simmons
are linebackers already in school and two really good athletes.
Clyde Newton
, he ran for the most yards of any running back we signed.
Marcus Oliver
was the conference player of the year in a big-time Ohio league.
So we've got four 'backers, six guys up front, and three of them are already in school. You'll see a lot of those guys in the two-deep mix right away. We signed a couple of fast guys. The big guys are a little bit more blessed athletically then we've recruited in years past. ... The really good teams, everybody has got a fast guy, whether it's a running back or a fast receiver or a defensive back. The best teams are fast with the big people. We didn't hit home runs or go off the charts like some people do. But for Indiana, the overall athleticism is pretty good.
You've thrown a lot of true freshmen into the fire the past couple of years. Are you to the point where you won't have to do that as much with these players, or do you expect plenty to play right away?
KW:
It's a great question. Are we mature enough to take the entitlement out of, "Just because I'm a returning starter, this my job" versus just keep getting better? We've got a bunch of guys coming back, but they are a bunch of guys who were 4-8. And that's not the standard that were trying to establish or the culture we want to build. Just because you started, that's cool, but we're still not at the level we need to play at.
These recruits coming in, their skill set may be better than the guys in front of them. Now the guys in front of them are older, we've been coaching them and developing them and they might be farther along. But the starting points of some of these recruits are higher maybe than previous years with guys that play. So I believe in competition. I believe in the more we can get that environment going where you're fighting to get on the field, and we like to play multiple guys on offense and defense with as fast as we play.
When you don't play games, it can be a negative. Man, these kids make such a big commitment, in any program. It's year-round training. So, yeah, a guy might be better five years down the road, but sometimes you lose kids and they don't develop right if you don't get them on the field. You get one more year if you redshirt them, but once they play in that game I think the winter workouts, the summer workouts are a lot more positive. We haven't promised any of these guys that they'll play, but I bet you''ll see a bunch of them out there in the fall.