April, 11, 2013
4/11/13
5:00
PM ET
On Wednesday, the head coach and one player from each Big Ten Legends Division team participated in a
spring football teleconference
with the media. On Thursday, it was the Leaders Division's turn. Here are some notes and updates from the call:

Illinois
Head coach Tim Beckman said the junior college players he brought in helped with depth and age issues on his young team. "We have 40 football players that have never been in our spring football until this year," he said. Of the juco imports, Beckman said wide receiver Martize Barr has quick hands and good playmaking skills, both in the passing game and on kick returns; Eric Finney has earned a starting job at the Star linebacker position; Abe Cajuste is adding depth by playing both defensive tackle and defensive end; and Dallas Hinkhouse is making an impact at offensive tackle.
Beckman sung the praises of offensive lineman Corey Lewis, a sixth-year senior who has battled back from five knee surgeries and has become a team leader. "Corey Lewis comes to my office probably four or five times a week, just to talk," he said. "To me, he is what college football is all about." Beckman said that Lewis has "had a special spring" and hinted that he has earned a starting job.
Quarterbacks Nathan Scheelhaase and Reilly O'Toole will take most of the snaps in Friday's spring game so they can get more experience in the new offense. Beckman said Scheelhaase has "got a step in front" because of his experience, but the competition continues.
Scheelhaase on reasons for optimism in 2013: "Establishing an identity. That's something I don't know that we necessarily had last year, on offense or defense or as a team in general.

Indiana
Like many of you, head coach Kevin Wilson would like to know the new Big Ten division alignment. The reason? It's harder to recruit without being able to tell a prospect where he'll be playing his freshman season. Wilson added that if the league does indeed go to an East/West split, he'd like to see the Hoosiers placed in the East since they're located in the Eastern Time Zone.
Wilson said run defense and takeaways are two huge priorities for the Hoosiers' defense during the offseason. He noted that the Big Ten doesn't boast a large group of elite pass offenses, so IU must prepare better for run-driven attacks. Indiana finished last in the Big Ten in both run defense (231.3 ypg) and takeaways (13). Cornerback Greg Heban said the defense is working on takeaways every day in practice. "Every time the ball touches the ground, the defense is scooping it and scoring it," Heban said, "trying to give us a feel of what it's like."
Both Wilson and Heban praised the play of junior cornerback Tim Bennett this spring. Other spring standouts include linebacker T.J. Simmons, a freshman early enrollee, and Steven Funderburk, a junior-college transfer.
Heban called this "easily the best spring I've been around." He has seen more physical play and better effort on both sides of the ball, and the team also is having more fun than in past springs.

Ohio State
Head coach Urban Meyer said running back Rod Smith won't play in Saturday's spring game because he recently suffered a concussion. Before that, Meyer said Smith was one of the five most improved players on offense this spring. Meyer listed Carlos Hyde and Smith as the team's top two running backs, while Bri'onte Dunn and Warren Ball are even for the No. 3 spot.
Although the receivers have been better this spring -- especially Corey Brown and Chris Fields -- the depth is still nowhere near where it needs to be for Meyer's spread offense. "We're way behind on quality of depth at that position," Meyer said. "That's a major, major concern." Moving Jordan Hall to H-back should help, and Meyer noted that the Buckeyes boast two good tight ends in Jeff Heuerman and Nick Vannett.
Buckeyes offensive tackle Jack Mewhort paid close attention to the way John Simon and others led in 2012. He's ready to take on a greater load this season. "I welcome that," he said. "I see that as an honor, being compared to a guy like John Simon. I also see it as a challenge. I feel the pressure to step up and get guys going in the right direction." Mewhort also has seen quarterback Braxton Miller recognize his leadership responsibilities more this spring and get after teammates when he needs to.
Meyer said he puts more emphasis on spring practice and the spring game than most coaches. He has told his players that there will be a depth chart after spring ends, and while changes are possible in the summer, they're not likely. "In spring ball, you're trying to win a spot," he said. "During the fall, we're trying to win games."

Penn State

Purdue
Head coach Darrell Hazell said the Boilermakers have made major improvements in the last three and a half weeks. "Anytime you put in three different schemes, there's a little bit of a learning curve for the first couple weeks," he said. "You could see guys start to really get comfortable the last five or six practices."
Hazell said he has "three capable guys" right now at quarterback with Rob Henry, Danny Etling and Austin Appleby. He reiterated that he would keep the competition open until two weeks before the opener at Cincinnati. Of Etling, a freshman early enrollee, Hazell said: "For a young guy, a guy that should be at his prom, I think he's got tremendous poise. He's smart and really studies the game."
Hazell said backup tight end Justin Sinz and center Robert Kugler are two guys that have really caught his eye this spring. He called Kugler a "very much a leader on the offensive line."
Cornerback Ricardo Allen said Hazell has instilled an "all is one" mentality. "If one person does something, we all have to do it. We all wear black socks. We all wear the same uniform. We all tuck our shirts in. I feel like we're becoming closer as a team, and it's helping us build."

Wisconsin
Head coach Gary Andersen confirmed Curt Phillips and Joel Stave have separated themselves in the quarterback competition. It's a "mixed bag" of who takes snaps with the first-team offense, but both will continue to rotate through the rest of the spring and into fall camp. "The way they've separated themselves is simply production," Andersen said. "They know exactly where they sit and so does the rest of the team. … If they put all their friendships aside, their depth chart would look exactly like our depth chart."
Andersen praised the offensive line for tackling another transition, as the group works with its fourth position coach (T.J. Woods) since the 2012 Rose Bowl. The line has seen varying looks from the defense in practice and had players move around to different positions, in part because of injuries. Wisconsin had only seven healthy linemen a week ago, but Andersen is hopeful the number will rise to nine or 10 by next week's spring game. "Those kids have grinded through it every single day," Andersen said. "They're a tough-minded group."
Badgers senior linebacker Chris Borland said losing defensive end David Gilbert to recurring foot problems is a blow but the team has others to step in like Tyler Dippel, Brendan Kelly and Jesse Hayes, a redshirt sophomore who has stood out this spring.
Much like his old boss Urban Meyer, Andersen believes in constant competition and declares winners and losers in each practice. Andersen also mixes in some fun with a dance-off and throwing footballs into trash cans. "Some of them are a little bit quirky, but through the years establish some things we like," he said.
Borland said the strength program has brought the biggest changes in the transition to Andersen's staff. Cardiovascular work is stressed more, as is preventative care. Head strength and conditioning coach Evan Simon operates at a faster pace and uses more of an instructional approach than Ben Herbert, who stressed motivation.
March, 22, 2013
3/22/13
9:00
AM ET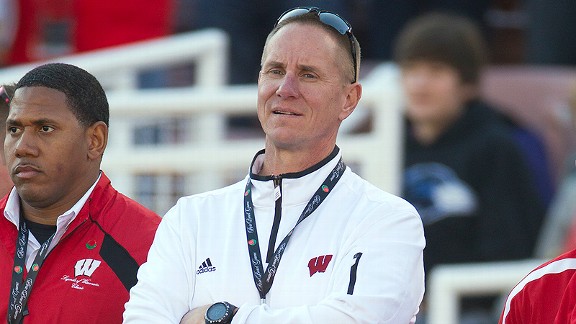 AP Photo/David StlukaGary Andersen has paid close attention to every detail in his transition as Wisconsin's new coach.
MADISON, Wis. -- When Gary Andersen arrived at Utah State in December 2008, he didn't spend much time looking back. Some would say he didn't want to strain his eyes.
At the time, Utah State barely seemed worthy of FBS citizenship. The Aggies had endured 11 consecutive losing seasons, 30 losses in the previous three seasons and eight consecutive seasons of four or fewer victories. Andersen faced a total rebuild, but at least he could wipe the slate clean and look only to the future.
It's not so simple at Wisconsin. Despite the construction going on just north of Camp Randall Stadium, Andersen isn't walking into a mess. Quite the contrary.
He takes over a Badgers team that has won three consecutive Big Ten championships, reached three consecutive Rose Bowls, won 40 games in the past four seasons and hasn't endured a losing campaign since 2001. Andersen's new program has produced 39 NFL draft picks and five consensus first-team All-Americans since 2002. The man who hired him, Wisconsin athletic director Barry Alvarez, won three conference titles and three Rose Bowls as Badgers coach, resuscitating a downtrodden program and building it into the closest thing we've seen to a third Big Ten power.
"You take a lot longer and harder look at what's made them successful and what's made the kids successful," Andersen told ESPN.com. "For me, there were so many familiarities. The types of young men in this program are what I'm used to at Utah State, the emphasis on in-state recruiting, the emphasis they've had in the walk-on program. All those things are staples to what I believe in.
"The transition, there's nothing difficult about it, but you're more open-minded to what's happened in the past."
Andersen and his assistants also are mindful of what Wisconsin players have been through. One of the nation's most successful and stable programs has endured drastic changes in each of the past two winters.
Six assistant coaches departed after the 2011 season, and head coach Bret Bielema made a surprise exit to Arkansas in December, just three days after watching his team upset Nebraska in the Big Ten title game. Andersen brings in seven new assistants, including T.J. Woods, the team's fourth offensive line coach since the 2012 Rose Bowl.
"We've been through a lot of changes," senior defensive tackle
Beau Allen
said. "Last season we had all these new facilities [being built] and we were in different locker rooms on different days. Sometimes we didn't really know where we were practicing. And then with all the coaching changes. I think we've rolled with it pretty well."
Allen could be right, but Andersen is taking no chances during the transition. He has gone to great lengths to connect with the players during his first three months on the job.
[+] Enlarge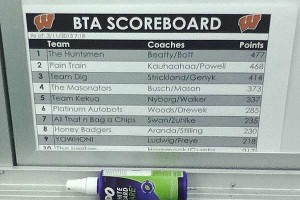 Adam Rittenberg/ESPN.comWisconsin coaches have incorporated team-building exercises into offseason training with a competition called the Badger Team Accountability Challenge.
It starts with the BTA Challenge (Badger Team Accountability), a competition that includes 10 teams of 10 players, each assigned to two coaches or support staffers. They compete in academics, community service events, weightlifting and even
dodgeball
. The challenge has carried over to the practice field this spring.
Andersen meets regularly with the 27-player leadership council. He brought the team together to watch the Super Bowl in the players lounge. During practices, he'll snap the ball to the quarterbacks (Andersen played center in college) or press receivers on the line. Players often receive calls from Andersen, just to check in.
"Guys appreciate that," linebacker
Chris Borland
said. "He's really in tune with the pulse of the team."
Andersen's player-focused approach is a big reason Alvarez hired him.
"A lot of coaches don't feel that's important," Alvarez said. "You're a dictator and you're going to do this and this. The good ones still get close to their kids. They're still demanding, yet they have an empathy.
"The bottom line in everything he talks about is the kids."
When Andersen accepted the Wisconsin job
18 days after announcing he'd stay at Utah State
, he
called all 106 Aggies
to inform them of his move, reaching the final player at 2:30 a.m. Andersen's new players took notice of the gesture. Badgers running back
James White
said he "knew it was a good fit right away."
Although Bielema was also popular with the players during his time at Wisconsin, Andersen has brought "a different energy" to practices, according to quarterback
Curt Phillips
. Practices are crisp and upbeat, and music blares throughout the workouts, a change from the past.
"It's getting there," Andersen said. "They get an idea of who we are, the way we practice. The speed, the pace, everything we do, we want it to be fast and quick. We want to make sure we're putting the kids first.
"I want them to know I care about them."
Andersen's assistants also are doing their part to ease the burden on players. Woods has kept about 60 percent of the terminology the Badger offensive linemen used last season under Bart Miller. It helps that Woods has a direct connection to Miller -- he coached him at New Mexico -- and an indirect one to former longtime Badgers line coach Bob Bostad. (Woods worked for Jason Lenzmeier, who had played under Bostad at New Mexico.)
"I'm the fourth guy in two years to walk through those doors in that meeting room," Woods said. "I've tried to strain myself more than them just because of the situation they've been in."
There's certainly an if-it-ain't-broke element of Andersen's challenge at Wisconsin.
The offense will remain rooted in the power run, while mixing in some play-action passes. Andersen inherits two backs -- White and sophomore
Melvin Gordon
-- who would start for almost any FBS team, veteran linemen like
Ryan Groy
and
Rob Havenstein
, and good depth at tight end. Although the quarterback competition is crowded, Wisconsin has three options with Big Ten starting experience: Phillips,
Joel Stave
and
Danny O'Brien
. He also has bionic-armed redshirt freshman
Bart Houston
and incoming junior-college transfer Tanner McEvoy.
"It's been easy for the players to adapt because we're doing stuff that they've done," offensive coordinator Andy Ludwig said. "There's a little different terminology, but again, we're trying to draw as much as we can from the past."
Andersen's influence will be seen more on defense, where his expertise lies. The Badgers will be the only Big Ten team operating out of a 3-4 set, although their flexibility with the outside linebackers, who previously played defensive end, allows them to show a 5-2 personnel package.
There will be much more variation in coverages and calls for a unit that has been statistically strong in recent years but a notch or two below elite status.
"We've been on the cusp of greatness, but I don't think we've achieved it yet," Borland said. "We've got a lot of seniors, a lot of guys who have experience. We haven't set any concrete goals, but I think we should be one of the best defenses there is."
Expectations are high despite the coaching change, and for good reason. Wisconsin returns 25 seniors and many key underclassmen who have only experienced winning in their careers.
Bielema often pointed to the 2013 Wisconsin team as potentially his best. Although many are already handing the Big Ten title to Ohio State, the Badgers are aiming for a fourth straight Rose Bowl appearance, which would tie the record held by Ohio State (1973-76) and USC (1967-70).
"There is a good core," Andersen said. "As with every program, there are definite questions that need to be answered. But to say we're not excited about next season would be the ultimate understatement."
January, 16, 2013
1/16/13
12:00
PM ET
Let me tell you a little story about acting. I was doing this Showtime movie, "Hot Ice" with Anne Archer, never once touched my per diem. I'd go to Craft Service, get some raw veggies, bacon, Cup-A-Soup ... baby, I got a stew going.
January, 7, 2013
1/07/13
4:00
PM ET
New Wisconsin coach Gary Andersen confirmed at his introductory news conference that one Badgers assistant, secondary coach Ben Strickland, would remain on staff after the transition.
Word leaked out shortly after that another assistant, running backs coach Thomas Hammock, would be retained. Six of the other seven Badgers assistants already had accepted jobs with other programs.
That left one assistant with an uncertain future: Bart Miller.

The former graduate assistant had been elevated to offensive line coach after the firing of Mike Markuson just two games into the season. Despite Miller's age (27) and lack of experience, then-Badgers coach Bret Bielema felt confident in his ability to get the offensive line, usually the strongest position group on the squad, back on track. Miller helped the group refocus, won the respect of the players and fostered some improvement as Big Ten play went on. But this wasn't a typical year for Wisconsin's offensive line. Rather than the sustained dominance we saw for years under previous line coach Bob Bostad, the unit fluctuated week to week.
Miller mentioned before the Rose Bowl Game presented by Vizo that he could be auditioning for his job. He evidently didn't make the cut.
When
Andersen announced most of his coaching staff
Thursday -- seven of nine assistants -- Miller's name was nowhere to be found. Included in the new hires is T.J. Woods, who coached offensive line for Andersen at Utah State and who will hold the same post for the Badgers.
The Wisconsin State Journal's Tom Mulhern reported Saturday that
Miller indeed wouldn't be retained on Andersen's staff
. Athletic director Barry Alvarez had recommended Miller to be the team's tight ends coach, but Andersen is expected to go elsewhere with the hire.
Is it a mistake? Only time will tell.
It's rare for new coaches with no direct ties to a program or its assistants to retain more than one or two assistants from the previous staff. Andersen has the right to make his own staff decisions and to appoint the people he trusts to certain positions. Woods by all accounts did an excellent job at Utah State, coaching four first-team All-WAC selections the past two seasons. Utah State is one of just four FBS programs -- Wisconsin is another -- to produce a 1,500-yard rusher in each of the past two seasons. Utah State ranked sixth and 25th nationally in rushing offense in Woods' two seasons.
On the flip side, Miller did a pretty solid job in a very tough situation at Wisconsin, and seems to have a bright future in coaching. If Bielema had remained Wisconsin's coach, Miller would have stayed on as line coach. The
Badgers offensive linemen love the guy
, and not surprisingly stumped for him to remain their coach.
"He came into that position of power," tackle Rob Havenstein told me last month. "It couldn't be borrowed any more. He came off and talked to some of the older guys, the guys who were going to play for him, and said, 'It's got to be Coach. It's going to change a little bit.' I was all for it. I was very happy to hear that he got the position because I respect the hell out of the man. Everyone in our room does. He coaches football the right way. I was very happy to play for him."
No position group values continuity more than the offensive line, not just with one another, but with their coach. Wisconsin had that for years with Bostad. It would have had continuity with Miller, too. Instead, the linemen must adjust to a new coach who will put his own spin on things.
Andersen had a tough call and went with familiarity. We'll soon find out if it was the right decision.
January, 4, 2013
1/04/13
3:26
PM ET
Wisconsin is saying goodbye to a standout junior center for the second consecutive season.
Badgers center
Travis Frederick
has decided to skip his senior season and enter April's NFL draft,
a source close to Frederick tells ESPN colleague Joe Schad
. As I posted earlier today, ESPN's Mel Kiper
projects Frederick as the nation's No. 1 junior center
. Kiper had Peter Konz in the same spot a year ago and Konz opted to skip his senior season with the Badgers. Konz was selected in the second round by the Atlanta Falcons.
The source tells Schad that Frederick has been told he'll likely go in the late first round or early second round. If that's the case, it's hard to blame him for making the jump, especially with a new coaching staff -- including another new line coach (T.J. Woods) -- coming to Madison. Frederick earned first-team All-Big Ten honors from the media and was an honorable mention selection from the coaches.
The 6-4, 338-pound Frederick started all 14 games at center this season after starting 11 at guard and two at center (in place of the injured Konz) last season. He made four starts as a true freshman in 2009 before redshirting the 2010 season because of injury.
Freshman
Dan Voltz
backed up Frederick at center this season.
Goodbye to
The Beard
and best of luck to Frederick at the next level.