December, 3, 2014
12/03/14
1:00
PM ET
Nebraska is not a broken football program. As the Huskers search for Bo Pelini's replacement, they have plenty that'll look attractive to candidates, from returning personnel on the field to resources away from it.
Here's a look at what the next coach figures to inherit:
[+] Enlarge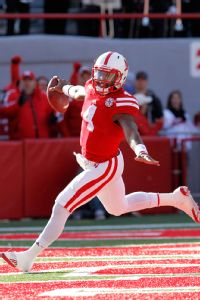 Bruce Thorson/USA TODAY SportsThe Cornhuskers are losing some big-time playmakers on offense, but they do bring back quarterback Tommy Armstrong Jr.
Offense:
Nebraska loses its most productive running back-receiver combo of the past 30 years in
Ameer Abdullah
and
Kenny Bell
, but quarterback
Tommy Armstrong Jr.
brings back experience and possesses strong leadership qualities. Emerging talent on the offensive line must jell in a way that did not happen this year. Line play, in fact, ranked as the Huskers' most glaring deficiency in 2014.
Imani Cross
,
Terrell Newby
and
Adam Taylor
, who has yet to play, are solid in the backfield but likely lack the star quality of Abdullah.
Jordan Westerkamp
must account for the loss of Bell with help from explosive wideouts
De'Mornay Pierson-El
,
Taariq Allen
and
Alonzo Moore
. The biggest question, of course, involves fitting these nice pieces into the style of play installed by the next staff. New leadership could provide an opportunity for former blue-chip QB
Johnny Stanton
, who has not made an impact in two seasons, to challenge Armstrong.
Defense:
Even without defensive end
Randy Gregory
, who is expected to leave early for the NFL, the Huskers' strength remains up front with the return of
Greg McMullen
,
Vincent Valentine
and star-in-the-making
Maliek Collins
. Nebraska is dangerously thin, though, at end, and linebackers
Zaire Anderson
and
Trevor Roach
are gone, leaving a lot of work for the next staff. They'll be tasked to find the right spots for once-promising
Josh Banderas
and
David Santos
. Youngsters
Marcus Newby
and
Courtney Love
look the part but did not contribute as expected. Linebacker Michael Rose and safety Leroy Alexander return and should offer a big boost. In the secondary, first-year coach Charlton Warren may have a chance to stay. He did great work with safety
Nate Gerry
this year, and this area features the team's best collection of young talent with the likes of
Kieron Williams
,
Josh Kalu
and
Chris Jones
.
Special teams:
Looks good all around, with the return of punter
Sam Foltz
, who developed into a weapon in his second season, and freshman place-kicker
Drew Brown
. Pierson-El amassed more punt-return yardage -- by a margin of 30 percent -- than any other team nationally, returning three kicks for touchdowns. His value to the next coach cannot be overstated.
Fan base:
Here's where it gets tricky. Husker Nation is again splintered after the firing of Pelini, whose backers will struggle to accept anything less than the Bo standard of nine or 10 wins. Even then, if the Huskers don't win a conference title in a short time, a faction of fans will loudly question the need for change. It has the potential to get toxic in a way similar to the dark days of the Bill Callahan era, when many fans and former players felt alienated. All of this magnifies the need for Nebraska to find a coach who embraces the school's tradition and can unite people. There are hurt feelings to soothe, and if Pelini's replacement doesn't understand that, he's facing a stacked deck from the start. Nebraska has sold out an NCAA-record 340 consecutive games. And since the expansion of the stadium to more than 90,000 in 2013, ticket demand has softened. As an institution, Nebraska can't afford empty seats in the stadium.
Administrative support:
It's strong. Athletic director Shawn Eichorst, asked why he fired Pelini after a 9-3 regular season when 8-4 was good enough to stay last year, pointed immediately to support from the administration. Pelini made requests, particularly to better fund recruiting, and Eichorst complied. Even the former coach mentioned several times that Eichorst provided all the resources that Nebraska needed to win. Was it a scheme from the boss, who planned to fire Pelini all along and wanted to remove every potential excuse? That's a theory for the most fierce of the Pelini loyalists. Regardless, the next coach will be Eichorst's guy, tied to him for the duration, so it stands to reason that Nebraska's administrative support, already outstanding, will only grow. The school has millions in its reserve fund, evidenced by the ease with which it is handling Pelini's $7.9 million buyout. And as long as the stadium remains full, the resources will expand after the Big Ten inks a new, rich TV contract in 2016.
Recruiting:
Nebraska had a small senior class in 2014 and expected to sign a group of less than 20 in this recruiting cycle, though normal attrition that accompanies a coaching change could increase the demand for reinforcements. If a coach is hired soon, he could likely salvage much of the 2015 class, headlined by Louisiana running back Kendall Bussey, who has re-opened his recruitment, and Coloradans Avery Anderson and
Eric Lee
. Anderson and Lee, defensive backs who signed early enrollment paperwork in August, can still renege. In the big picture, Nebraska could benefit from a coach with connections in talent-rich California, Texas or the South. And at a minimum, the next staff must feature the diversity and experience to recruit nationally. Nebraska faces challenges here that are unique among the elite programs, but the right group of recruiters can make it work well.
June, 11, 2014
6/11/14
11:00
AM ET
Summer is a time in college football where the only news is usually bad news. With that in mind, we're looking at the
most indispensable players on each Big Ten team
.
By indispensable, we don't necessarily mean best. We mean the players who would be hardest to replace between now and the start of the season if they got hurt/suspended/encounter
Sharknado
. That could be because of their value to the team or because of a lack of depth at their position.
We'll pick two players from each team, usually offense and defense, but not always. The series wraps up Wednesday with the
Nebraska Cornhuskers
.
[+] Enlarge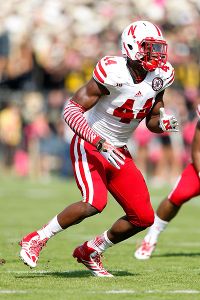 Joe Robbins/Getty ImagesRandy Gregory arrived in the Big Ten with a bang, leading the league in sacks.
Randy Gregory, DE, junior
This selection won't surprise Nebraska fans who fell in love with Gregory during his first season with Big Red. Few defenders have to be accounted for on every play, but Gregory does after leading the Big Ten in sacks (10.5) and tying for second in tackles for loss (17.5). Gregory recorded nine sacks in league games, including three in a road win against Michigan. He led the team with 18 quarterback hurries and recorded a pick-six, a fumble forced and a fumble recovered. Nebraska's defensive end depth isn't great as Avery Moss serves a year-long suspension, and while
Greg McMullen
looks promising, Gregory undoubtedly is the linchpin. Nebraska's defense needs No. 44 on the field to continue its progress from late last season.
Kenny Bell, WR, senior
Bell no longer has the Big Ten's
most indispensable 'fro
, but his value remains high for the Huskers. He's one of the nation's most experienced wide receivers with 134 career receptions for 1,901 yards and 15 touchdowns. Although his yards numbers went down from 2012 to 2013, his receptions total went up. Nebraska loses
Quincy Enunwa
and likely will rely more on Bell, who not only gives quarterback
Tommy Armstrong Jr.
a proven target but provides excellent perimeter blocking skills for
Ameer Abdullah
and the run game. Nebraska is still waiting for
Jamal Turner
to blossom.
Jordan Westerkamp
and
Alonzo Moore
are young and
Taariq Allen
hasn't been in a featured role. Bell contributes in so many ways and would be missed if he's not on the field this fall.
May, 16, 2014
5/16/14
4:00
PM ET
Happy weekend to you. Follow us
on Twitter
.
To the inbox ...
Jared from Nebraska writes:
As a big Husker fan, I was obviously excited to see
Ameer Abdullah
return for his senior season. My worry is though that he might not have as good of a year this year. If I was an opposing defensive coordinator, I would load the box and blitz to stop the run and make
Tommy Armstrong Jr
. pass knowing that he has had some interception troubles and NU has only one solid WR. Now if I thought of this I'm sure the coaches actually hired to this position have as well. Wouldn't this make it very hard for Abdullah to have the senior season he is looking for?
Adam Rittenberg:
Jared, Abdullah obviously needs Nebraska to pose a passing threat, and he would benefit from Armstrong's improvement in the program. But keep in mind that Abdullah rushed for 1,690 yards in 2013 with Armstrong as a new starting quarterback for most of the season. If Armstrong develops, Abdullah should have room to run. The key area to me is whether a somewhat new-look offensive line holds up. Although
Quincy Enunwa
is a big loss at receiver, I think the Huskers will be all right if players such as
Jordan Westerkamp
,
Jamal Turner
and
Taariq Allen
continue to take steps this offseason.
Could Abdullah's numbers go down? Sure. But I don't think the opposing strategy against him changes too much from 2013 to 2014.
---
Pete from Cincinnati writes:
I think the odds are good that the Big Ten will have a top-10 pick next year. If I had to pick one player based on what I saw last year, I'd pick Calhoun. Awesome talent. But the reason I think the odds are good is because there are several candidates who could make it, including Scherff and Gregory. Here's a sleeper pick: Iowa's
Carl Davis
. Like Gregory, if he continues to improve on pace with last year, he'll have a very big year .
Adam Rittenberg:
Really good point, Pete. I agree that having more candidates with the potential to make the top 10 improves the Big Ten's chances considerably. There's no doubt
Shilique Calhoun
,
Randy Gregory
and
Brandon Scherff
all are on the NFL radar, and all play positions where you see quite a few top-10 draft picks. Good call on Carl Davis from Iowa. He's a big body at defensive tackle and could become a dominant player this season. He would have to boost his sacks and tackles for loss numbers and become a truly disruptive player to rise that high.
---
Brett from Alliance, Ohio, writes:
What about
Noah Spence
? I saw a mock draft with him in the top 15. If he repeats his production from 2013 could he go first round?
Adam Rittenberg:
It's possible, Brett, although some would ask whether Spence is the best defensive end on his own team. After the way
Joey Bosa
ended his freshman season, he could be the one rocketing up draft boards, albeit for 2016, not 2015. It's certainly a good situation for Ohio State to have, as Spence and Bosa combined for 15.5 sacks last season. But you're right. If Spence has a big junior year, he could be in the first-round mix.
---
John from Phoenix writes:
Your
B1G Must Strike East-Midwest Balance
article was very enlightening. One quote grabbed my attention regarding the "New B1G." Barry Alvarez said, "Our fans have to accept it." I respond: You're wrong Mr. Alvarez, the fans don't have to accept it. They can walk. Ever heard of the NFL? I found the Alvarez statement arrogant and reveals how Jim Delany and the rest of the money-mongers running the B1G take fan loyalty for granted. In closing, Adam, do you believe the B1G is in danger of losing fans while chasing the money on the East Coast? I am a Husker alumnus, so I will always follow my team to some extent, but my interest in college ball is waning, and sacrificing product in favor of TV money may be the last straw.
Adam Rittenberg:
John, I think it's important the Big Ten doesn't take its fans for granted. The league must listen to its fans and not alienate them while going forward with its expansion and building the brand in a new region. Although I understand your frustration, you mentioned that you'll always follow Nebraska to a degree. Many Big Ten fans will do so with their teams. College football remains incredibly popular, and while there might not be league loyalty there still is school loyalty. The Big Ten is
cognizant of the declining game attendance
in college football and wants to upgrade the stadium experience for its fans. But this sport is driven by TV money, and that's why the Big Ten is making these moves.
---


Kenny from Cincy writes:
I read the
Michigan-Notre Dame article
about the series being dead. Can you give me some inside information on why? I know U-M made it seem like ND was "chickening out." But is U-M at fault too? Do you think both programs' recent struggles may factor into the equation (rather have an easy win than a maybe)? I feel like the main reason, money, is involved but I feel like they both stand to make lots more off of a rivalry.
Adam Rittenberg:
Michigan has made it pretty clear that it wanted to continue the Notre Dame series in some form. Michigan added series like
Arkansas
and
UCLA
, and games like
Florida
, after Notre Dame pulled out of the 2015-17 games. Several factors fueled Notre Dame's decision: the
schedule agreement with the ACC
; the desire to keep playing rivals USC, Navy and Stanford; and a desire to play more often outside the Midwest. But the ACC pact really was the driving force. You bring up the two programs' recent struggles. That's an interesting point because beating Michigan or beating Notre Dame doesn't mean what it used to. Plus, the ability to play more of a national schedule could help both teams as they target playoff spots.
February, 27, 2014
2/27/14
11:00
AM ET
We're taking snapshots of each position group with each Big Ten team entering the spring. The wide receivers and tight ends are up next.

Illinois:
The Illini are looking for more from this group after losing top target
Steve Hull
, who exploded late in the season to finish just shy of 1,000 receiving yards. While running back
Josh Ferguson
(50 catches in 2013) will continue to contribute, Illinois could use a boost from
Martize Barr
, who arrived with high expectations but only had 26 receptions last fall. Another junior-college transfer,
Geronimo Allison
, could make an impact beginning this spring, but there's some mystery at wideout. Illinois looks more solid at tight end with seniors
Jon Davis
and
Matt LaCosse
.

Indiana:
Despite the somewhat surprising early departure of All-Big Ten selection
Cody Latimer
, Indiana should be fine here.
Shane Wynn
is the veteran of the group after recording 633 receiving yards on 46 catches last season.
Kofi Hughes
and
Duwyce Wilson
also depart, so Indiana will be leaning more on
Nick Stoner
and
Isaiah Roundtree
. The Hoosiers have high hopes for early enrollee
Dominique Booth
, a decorated recruit who could fill Latimer's spot on the outside. Productive tight end
Ted Bolser
departs and several players will compete, including early enrollee
Jordan Fuchs
.

Iowa:
Almost all the wide receivers are back from a group in which none eclipsed more than 400 receiving yards in 2013. Balance is nice, but separation could be nicer for the Hawkeyes this spring.
Kevonte Martin-Manley
is the most experienced wideout and has 122 career receptions.
Tevaun Smith
also returns, and Iowa fans are excited about big-play threat
Damond Powell
, who averaged 24.2 yards on only 12 receptions last season. Iowa loses its top red-zone target in tight end
C.J. Fiedorowicz
and will need
Jake Duzey
to deliver more Ohio State-like performances.

Maryland:
When the Terrapins get healthy, they might have the Big Ten's best wide receiving corps.
Stefon Diggs
and
Deon Long
, both of whom sustained broken legs against Wake Forest last season, have the ability to stretch the field as both averaged more than 15 yards per reception before the injuries struck. Leading receiver
Levern Jacobs
also returns, alongside junior
Nigel King
and sophomore
Amba Etta-Tawo
, who averaged more than 16 yards per catch in 2013.
Marcus Leak
, who started seven games in 2012, rejoins the team after a year away. The Terps are unproven at tight end after losing
Dave Stinebaugh
.

Michigan:
There's a reason why some Michigan fans want
Devin Gardner
to return to wide receiver for his final season. The Wolverines are thin on the perimeter after losing
Jeremy Gallon
and
Drew Dileo
. Redshirt sophomores
Jehu Chesson
and
Amara Darboh
are both candidates to start, and
Dennis Norfleet
could be the answer in the slot. But there's plenty of opportunity for younger players like
Drake Harris
, an early enrollee. Michigan's best pass-catching option,
Devin Funchess
, is listed as a tight end but plays more like a receiver. The Wolverines will be without their second-string tight end,
Jake Butt
, who suffered an ACL tear in winter conditioning.

Michigan State:
Remember all the justified angst about this group a year ago? It has pretty much gone away as the Spartans wideouts rebounded nicely in 2013.
Bennie Fowler
departs, but MSU brings back its top two receivers in
Tony Lippett
and
Macgarrett Kings
, who showed explosiveness down the stretch last fall.
Aaron Burbridge
had a bit of a sophomore slump but provides another option alongside veteran
Keith Mumphery
, who averaged 16.6 yards per catch in 2013.
Josiah Price
leads the tight end group after a solid freshman season.

Minnesota:
Here's a group to watch during spring practice, particularly the wide receivers. Minnesota has proven it can run the ball and defend under Jerry Kill, but the passing game was putrid in 2013, ranking last in the Big Ten and 115th nationally. Youth is partly to blame, and while the Gophers still lack experience, they can expect more from promising players like
Drew Wolitarsky
and
Donovahn Jones
. Senior
Isaac Fruechte
provides a veteran presence. Minnesota looks solid at tight end with sophomore
Maxx Williams
, the team's receiving yards leader (417) in 2013.

Nebraska:
The Huskers lose a significant piece in
Quincy Enunwa
, who led the team in receiving yards (753) and had three times as many receiving touchdowns (12) as anyone else in 2013.
Kenny Bell
is set to recapture the No. 1 receiver role, which he had in 2012, and comes off of a 52-catch season as a junior. Nebraska must build around Bell this spring with players like the mustachioed
Jordan Westerkamp
, who had 20 catches as a freshman, including a rather memorable one to beat Northwestern. Will
Jamal Turner
turn the corner this offseason? Juniors
Sam Burtch
and
Taariq Allen
also return.
Cethan Carter
started six games at tight end last fall and should take over the top spot there as
Jake Long
departs.

Northwestern:
The passing game fell short of expectations in 2013, but there's reason for optimism as Northwestern returns its top three pass-catchers in
Tony Jones
,
Christian Jones
and
Dan Vitale
. The two Joneses (no relation), who combined for 109 catches in 2013, lead the receiving corps along with junior
Cameron Dickerson
. Speedy Rutgers transfer
Miles Shuler
provides a playmaking spark, possibly at slot receiver. Vitale, who had a somewhat disappointing sophomore season, has All-Big Ten potential at the superback (tight end) spot. Although Northwestern rarely plays true freshmen, superback
Garrett Dickerson
, Cameron's brother, could see the field right away.

Ohio State:
A group that drew heavy criticism from coach Urban Meyer two springs ago is stockpiling talent.
Devin Smith
is the familiar name, a big-play senior who has started each of the past two seasons and boasts 18 career touchdowns. Ohio State must replace top wideout
Corey Brown
and will look for more from
Evan Spencer
.
Michael Thomas
has stood out in practices but must translate his performance to games. This could be a breakout year for H-back
Dontre Wilson
, who averaged nine yards per touch as a freshman. Buckeyes fans are eager to see redshirt freshmen
Jalin Marshall
and
James Clark
, and incoming players like
Johnnie Dixon
could make a splash right away. Ohio State returns an elite tight end in
Jeff Heuerman
.

Penn State:
The Lions have very different depth situations at receiver and tight end. They're looking for contributors on the perimeter after losing
Allen Robinson
, the Big Ten's top wide receiver the past two seasons, who accounted for 46 percent of the team's receiving production in 2013.
Brandon Felder
also departs, leaving
Geno Lewis
as the likeliest candidate to move into a featured role.
Richy Anderson
also returns, but there will be plenty of competition/opportunity at receiver, a position new coach James Franklin targeted in recruiting with players like
Chris Godwin
and
Saeed Blacknall
. Things are much more stable at tight end as the Lions return three talented players in
Jesse James
,
Kyle Carter
and
Adam Breneman
.

Purdue:
If you're looking for hope at Purdue, these spots aren't bad places to start. There are several promising young players like receiver
DeAngelo Yancey
, who recorded a team-leading 546 receiving yards as a freshman.
Cameron Posey
also had a decent freshman year (26 catches, 297 yards), and
Danny Anthrop
averaged 18.4 yards as a sophomore. A full offseason with quarterbacks
Danny Etling
and
Austin Appleby
should help the group. Tight end also should be a strength as
Justin Sinz
, who led Purdue with 41 catches last season, is back along with
Gabe Holmes
, who returns after missing most of 2013 with a wrist injury.

Rutgers:
The good news is tight end
Tyler Kroft
returns after leading Rutgers in both receptions (43) and receiving yards (573) last season. Kroft will immediately contend for All-Big Ten honors. Things are murkier at wide receiver, where top contributors
Brandon Coleman
and
Quron Pratt
both depart.
Leonte Carroo
took a nice step as a sophomore, averaging 17.1 yards per catch and enters the spring as the frontrunner to become the team's No. 1 wideout.
Ruhann Peele
is another promising young receiver for the Scarlet Knights, who boast size with
Carlton Agudosi
(6-foot-6) and
Andre Patton
(6-4).

Wisconsin:
The quarterback competition will gain more attention this spring, but Wisconsin's receiver/tight end situation could be more critical. The Badgers lose
Jared Abbrederis
, their only major threat at receiver the past two seasons, as well as top tight end
Jacob Pedersen
. Players like
Jordan Fredrick
and
Kenzel Doe
must translate their experience into greater production, and Wisconsin will look for more from young receivers like
Alex Erickson
and
Robert Wheelwright
. Help is on the way as Wisconsin signed five receivers in the 2014 class, but wideout definitely is a position of concern right now.
Sam Arneson
is the logical candidate to step in for Pedersen, but there should be competition as the Badgers lose a lot at the position.
February, 28, 2013
2/28/13
12:00
PM ET
We're previewing spring football in the Big Ten today and Friday. Be sure to check it out.
Link time ...