August, 24, 2011
8/24/11
4:30
PM ET
We had a chat today. If you missed it, I feel sorry for you.
Here's a
full wrap-up
of what we discussed, along with a few highlights.
Blake (Phoenix): Hi Adam - lifelong UM fan here, roasting in Phoenix but not missing the cold winters at all...what are your thoughts on the UM/ND game under the lights game? Both teams seem to have a lot to prove - who has more to win in this game?
Adam Rittenberg (12:06 PM): Great question, Blake. Both teams have a lot at stake, but I actually think Notre Dame has a greater urgency to win. The Irish have lost two straight to Michigan despite having arguably better teams. This year, Notre Dame enters the season with a higher national ranking than Michigan. There's all this tired talk about the Irish being back. But if they lose to Michigan again -- a Wolverines team going through a lot of transition, mind you -- there will be some backlash. Now it's also extremely important for Michigan as well b/c the Wolverines have a schedule set up to rack up some early wins.
Tony (Talent Rock, CO): How cool would it be to have a B1G/SEC challenge like the B1G/ACC challenge in basketball? Would the conferences ever be interested?
Adam Rittenberg (12:34 PM): Tony, it would be cool, but it would never happen. Too many schools are hesitant to give up home games and the money they generate. Jim Delany has told me when you have two leagues filled with massive stadiums, there's a greater reluctance to schedule games against one another. Only one Big Ten-SEC matchup this year (Alabama-Penn State).
Brad (Valdosta ): Hey Adam, I watched the rerun of last years Rose Bowl yesterday and saw what looked to me that TCU's speed was the deciding factor in that game. Do you think that could be the same factor in the NED WIS game?
Adam Rittenberg (12:44 PM): Brad, I've thought about that a lot in relation to the Wisconsin-Nebraska game. Can Lavonte David be Tank Carder? If he is, the Badgers could be in a lot of trouble. Nebraska also has some defensive backs similar to TCU's. Wisconsin will need to run the ball effectively, and it will need to commit to the run more than it did in Pasadena.
Let's do it again next week, as our final preseason chat takes place Wednesday at noon ET.
January, 1, 2011
1/01/11
10:45
PM ET
PASADENA, Calif. -- Wisconsin finally got it rolling midway through the fourth quarter.
Trailing TCU 21-13 in the Rose Bowl Game presented by VIZIO, the Badger battering ram kicked into high gear.
John Clay
ran for 14 yards. Then he ran for 30 more. After a nifty throw from
Scott Tolzien
to
Lance Kendricks
picked up 10 yards on third-and-6, the Badgers got back to their bread and butter.
[+] Enlarge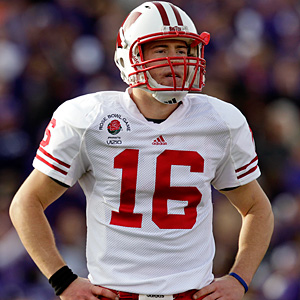 AP Photo/Jae C. HongQuarterback Scott Tolzien and Wisconsin could not get going offensively against TCU.
Run. Run. Run. Run. Run.
Touchdown.
Had Wisconsin finally rediscovered who it is and why it got here?
"I'd like to think so," senior guard John Moffitt said. "But it wasn't who we were today. And that's all that matters."
Wisconsin's run-heavy, clock-eating drive at the end of Saturday's game was the exception rather than the rule. Too often the Badgers strayed from what had made them Big Ten champions, and it cost them in a
21-19 loss to TCU
.
"We were doing some uncharacteristic things," said running back
Montee Ball
, who rushed for 132 yards and a touchdown. "Twenty yards going in, we score seven points. We don't get penalties, and we did today. We wasted our timeouts because we had the wrong information in there.
"We were most definitely not playing Wisconsin football, and that's how you lose football games."
There were moments and even stretches where Wisconsin appeared to establish its identity Saturday. But it never lasted.
Ball began the game with a major statement, dashing 40 yards through a huge hole on the right side of the line. But the drive stalled in the red zone on a dropped pass by
Nick Toon
, and Wisconsin had to settle for a field goal.
Toward the end of the first half, Wisconsin converted a fourth down on a fake punt and twice moved the chains on third-and-long to reach TCU territory. But again, they had to settle for a field goal.
And then there was the game's defining play, which followed Wisconsin's defining drive. Rather than stick with the run on the potential tying 2-point conversion attempt, the Badgers went to the air. Tight end
Jacob Pedersen
found space in the end zone, but TCU's Tank Carder swatted away Tolzien's pass.
"That was something we saw on film, and obviously the guy was open," Wisconsin coach Bret Bielema said. "But you've got to get the defender's hands down in that situation. Hindsight is 20/20. I felt confident with the call, [offensive coordinator Paul Chryst] felt confident, and we went with it."
Not surprisingly, Tolzien concurred and saw what he needed to see.
"It looked like a zero blitz, they were bringing everyone and just playing man," Tolzien said. "I wouldn't change a thing. We had a guy open, and their guy tipped it, plain and simple."
TCU linebacker Tanner Brock was surprised to see Tolzien line up in the shotgun after the previous drive, which featured runs on nine of 10 plays.
"A little bit [surprised]," Brock said, "because that's not really Wisconsin."
Wisconsin reached the Rose Bowl primarily because of its offense, a unit that averaged a team-record 45.2 points in Big Ten play. The Badgers racked up 201 points in their final three regular-season games and scored 31 points or more in their final seven games. Saturday, they became the first team in FBS history to produce three 1,000-yard running backs in a season.
This offense ran the ball at will, executed in the play-action pass game and reached the end zone 63 times. Most important, Wisconsin didn't beat itself, leading the nation in fewest turnovers (9) and fewest penalties per game (2.92).
Although the Badgers didn't cough up the ball, they committed a season-high six penalties. They also allowed two sacks and seven tackles for loss, above their season averages.
"There's three things we did really well this year: assignment sound, low penalties and low turnovers," left tackle Gabe Carimi said. "Those first two, we didn't do as well as we have been in the past."
Wisconsin reached TCU territory on each of its first five possessions but had only 13 points to show for it. Field position certainly played a role, and Wisconsin struggled to make big plays outside of its first and last drives.
Although the Badgers ran the ball more than twice as many times (46) as they passed it (21), they went to the air at some curious times, like on first-and-10 from their own 3-yard line late in the third quarter. Wisconsin had benefited from shaking things up at times this season; it ran four consecutive pass plays against Ohio State during a fourth-quarter scoring drive in a 31-18 win.
But TCU never consistently stopped Ball, Clay and
James White
between the tackles.
What the Horned Frogs did was keep Wisconsin out of the end zone.
"You realize that you only have so many opportunities," Moffitt said. "And every drive that doesn't end in the score is a missed opportunity. We missed a lot of opportunities today."
It's what made the loss so tough to take.
"The shame of it is we left opportunities on the field," Tolzien said. "You don't want to live games and you don't want to live life with regrets. We had some of those today."
January, 1, 2011
1/01/11
8:14
PM ET
PASADENA, Calif. -- Quick thoughts from the Rose Bowl Game presented by VIZIO, where TCU held on to beat Wisconsin
21-19
.


How the game was won:
Wisconsin's offense missed too many opportunities and got away from its roots in the power run. Even after recommitting to the run on a fourth-quarter scoring drive, the Badgers went to the pass on the potential tying 2-point try. Paul Chryst's decision certainly will be questioned, but Wisconsin had many more opportunities to put up more points. TCU did just enough on offense and won the field-position battle in the second half.
Player of the game:
TCU linebacker Tank Carder. As good as
Andy Dalton
was in the first half, Carder was even better as the Frogs held Wisconsin's offense in check. Carder had two sacks and broke up the 2-point conversion attempt as he led the Frogs to the biggest win in team history.
Unsung hero of the game:
Wisconsin running back
Montee Ball
was outstanding, rushing for 132 yards and a touchdown on 22 carries against the nation's top-ranked defense. Ball looked like a totally different player from the middle of the season until Saturday.
Stat of the game:
Wisconsin was held to its lowest point total of the season. The Badgers had 20 in a Sept. 18 win against Arizona State and had put up 201 points in their final three regular-season games.
Second guessing:
The 2-point try stands out, but Wisconsin seemed to go away from the run at inopportune times. TCU never consistently stopped the Badgers' backs, but Wisconsin wasn't as committed as it needed to be. Also,
Scott Tolzien
burning two timeouts in the second half stands out.
What it means:
Wisconsin had a tremendous season and played well for stretches Saturday, but the Badgers got away from the things that made them 11-1. They didn't run the ball enough, committed too many penalties and allowed too many third-and-long conversions. Still, Wisconsin is a program on the rise in what looks like a very manageable Big Ten conference. The Badgers lose an outstanding senior class and possibly several others to the NFL draft, but they'll have a solid squad coming back in 2011.
January, 1, 2011
1/01/11
7:25
PM ET
PASADENA, Calif. -- Wisconsin has reached TCU's territory on all but one of its six possessions.
And only scored 13 points.
That's not good enough against TCU star quarterback
Andy Dalton
and his many weapons, who are making it tough for Wisconsin's defense in the second half.
It's hard to put a finger on the Badgers' inability to finish drives. Linebacker Tank Carder and the Frogs certainly are putting more pressure on
Scott Tolzien
, and Wisconsin hasn't hit on a big play in quite some time. Still, Wisconsin seems to be running the ball well, but are the Badgers committed enough to their ground game?
It sounds crazy to suggest that, but Wisconsin's decision to pass on first down from its end zone surprised me. The Badgers are getting into too many obvious passing situations, which allows TCU's front seven to pin their ears back.
Wisconsin needs a big fourth quarter to turn this around.
December, 6, 2010
12/06/10
1:12
AM ET
Wisconsin Badgers (11-1) vs. TCU Horned Frogs (12-0)
Jan. 1, 5 p.m. ET (ESPN)

Wisconsin take by Big Ten blogger Adam Rittenberg:
Wisconsin evolved into one of the nation's most dominating teams down the stretch, and the Badgers were rewarded with their first trip to Pasadena in 11 seasons as they face TCU in the Rose Bowl Game presented by VIZIO.
Bret Bielema's team won its final seven regular-season games and destroyed everything in its path, averaging 48.3 points during the streak and combining for 201 points in its final three games. A veteran and talented offensive line led the way, creating room for backs
James White
,
Montee Ball
and
John Clay
and buying time for quarterback
Scott Tolzien
to attack downfield with the play-action game. Arguably the only downside for red-hot Wisconsin is the five-week layoff between the end of the regular season and the Rose Bowl.
The Badgers' offense likely faces its toughest test of the season in a TCU defense that leads the nation in fewest points allowed and ranks third against the run. If TCU can contain Wisconsin on first and second downs and force Tolzien into some obvious passing situations, the Badgers could be in trouble. As good as Tolzien has been, he hasn't faced the type of pressure TCU might provide on Jan. 1.
Wisconsin's defense isn't dominant like TCU's, but the Badgers are opportunistic, recording 23 takeaways. TCU hasn't faced a defensive end as disruptive as Wisconsin's J.J. Watt, who made more impact plays than any Big Ten defender and needs to heat up Horned Frogs star quarterback
Andy Dalton
.
---

TCU take by nation blogger Andrea Adelson:
Well, the Horned Frogs really, really wanted to be that first non-AQ to get into a BCS national championship game, but hey, playing in the Rose Bowl is not exactly settling. They are making their second straight BCS appearance after a second straight undefeated regular season, a tremendous accomplishment under coach Gary Patterson. A big reason TCU is back on the big stage: experience. TCU returned a majority of their starters, including Andy Dalton, selected Mountain West Offensive Player of the Year. But if TCU has any shot to win, he is going to have to have a better game than the one he had last year against Boise State in the Fiesta Bowl. Dalton threw three interceptions in that game, including one that was returned for a touchdown, and the offense could manage little in the way of production.
They are better at running back this season with the tandem of
Ed Wesley
and
Matthew Tucker
, and
Jeremy Kerley
is one of the best all-purpose players in the country. TCU has the No. 1 ranked defense in the country for the third straight season, and that is impressive considering the Horned Frogs lost their two best players in Jerry Hughes and Daryl Washington. The heart of the defense is with linebackers Tank Carder and Tanner Brock, but the leader is safety Tejay Johnson. Runners beware against this defensive front.