September, 14, 2013
Sep 14
7:00
AM ET
Are you ready for Week 3 in the Big Ten? You had better be, as it's easily the best slate of nonconference games this season.
To get you ready for the big day -- and long night -- let's go through the vitals ...
Noon ET


Bowling Green at Indiana (ESPNU):
After a disappointing loss to Navy, Indiana's challenge only gets tougher against Bowling Green, which has dominated its first two opponents. The Hoosiers' defense must tighten up against a more conventional offense led by running back
Travis Greene
. It will be interesting to see if Indiana coach
Kevin Wilson
actually uses
Tre Roberson
more at quarterback or sticks mainly with
Nate Sudfeld
.


Akron at No. 11 Michigan (Big Ten Network):
Quarterback
Devin Gardner
tries to build on his five-touchdown performance against Notre Dame as the Wolverines face an Akron team that hasn't beaten an FBS opponent since 2010. Coach Brady Hoke wants to see a cleaner performance from his defense against the seemingly overmatched Zips.


Western Illinois at Minnesota (BTN):
Yawn. The Gophers continue their march of cupcakes and should have little trouble improving to 3-0. Their main objective is sparking a passing attack that has produced just 226 yards in two games. Minnesota wide receiver
Jamel Harbison
returns from suspension.


No. 16 UCLA at No. 23 Nebraska (ABC):
It's the biggest matchup on the Big Ten slate and one of the better quarterback pairings in the nation as UCLA's
Brett Hundley
leads his team against
Taylor Martinez
and the Huskers. Hundley torched Nebraska last year as UCLA piled up 653 yards in a 36-30 win. He doesn't have running back Johnathan Franklin by his side, however, and Huskers defensive end
Randy Gregory
looks to apply pressure. Martinez needs more signature wins to go along with his record-setting numbers, and this would be a big one. Both teams will
wear helmet decals
honoring
Nick Pasquale
, the UCLA wide receiver killed in an accident last weekend.
2 p.m. ET


Youngstown State at Michigan State (BTN):
The Spartans' quarterback quandary continues, and it could be freshman
Damion Terry
's turn to try and get a troubled offense on track.
Connor Cook
will start under center, but fan favorite Terry might make his collegiate debut.
Shilique Calhoun
and Michigan State's lockdown defense faces a Youngstown State team averaging 47.5 points and 579 yards per game.
6 p.m. ET


Iowa at Iowa State (FOX Sports 1):
It's only Sept. 14, but Iowa faces a virtual must-win against Iowa State, which has won the teams' past two meetings and owns a 5-2 record against Kirk Ferentz's Hawkeyes at Jack Trice Stadium. If the Hawkeyes fall Saturday, it's hard to see them reaching a bowl with a tough Big Ten schedule ahead. Iowa's best bet is to get
Mark Weisman
and the run game going against a Cyclones defense that allowed 228 yards on the ground in its season-opening loss to FCS Northern Iowa.


UCF at Penn State (BTN):
Lions second-year coach Bill O'Brien faces off against his former boss and mentor George O'Leary in a sneaky good matchup in Happy Valley. Penn State's defense will be tested by UCF quarterback
Blake Bortles
, whom O'Brien expects to play in the NFL. Penn State freshman quarterback
Christian Hackenberg
must limit mistakes against a dangerous Knights defense.


Washington vs. Illinois (BTN):
A surprising start for Illinois could turn into much more if it knocks off an experienced and talented Washington squad in its "Chicago Homecoming" game. Washington star tight end
Austin Seferian-Jenkins
returns from suspension and will be a load for
Mason Monheim
and the Illini defense. Illinois hopes to crank up its big-play offense early and often after recording 17 plays of 20 yards or more in the first two games, fifth most in the country.
7 p.m. ET


No. 4 Ohio State at California (FOX):
Junior quarterback
Braxton Miller
(sprained knee) traveled to Berkeley but will be a game-time decision. If Miller can't go, backup
Kenny Guiton
will lead the offense against a leaky Cal defense that has surrendered 1,061 yards in its first two games. Golden Bears freshman quarterback
Jared Goff
, the nation's passing leader at 467.5 yards per game, will challenge cornerback
Bradley Roby
and the Ohio State secondary.
8 p.m. ET


No. 21 Notre Dame at Purdue (ABC):
The Fighting Irish try to rebound from a frustrating loss to Michigan, while Purdue hopes to jump start the Darrell Hazell era after a poor start. A mismatch on paper, Purdue's spotty offensive line must contain Notre Dame star front men
Louis Nix III
and
Stephon Tuitt
. The Irish have captured the teams' past five meetings.
9 p.m. ET


Western Michigan at No. 17 Northwestern (BTN):
Despite the continued absence of star running back
Venric Mark
, Northwestern's offense marches on after an impressive showing last week against Syracuse. Quarterbacks
Kain Colter
and
Trevor Siemian
combined to complete 22 of 24 passes in the first half of last week's game and face a Western Michigan team that fell last week to Nicholls State. Northwestern needs to tighten up defensively before Ohio State comes to town Oct. 5. Tonight would be a good time to start.
10:30 p.m. ET


No. 20 Wisconsin at Arizona State (ESPN):
The last game of the day could be among the best, as two teams that have looked dominant against poor competition square off. Wisconsin's defense hasn't allowed a point but should be pushed by Arizona State's potent offense led by quarterback
Taylor Kelly
, who has 13 touchdown passes and no interceptions in his last four games. Wisconsin running backs
James White
,
Melvin Gordon
and
Corey Clement
all have at least 250 rush yards and will try to control the clock and the tempo against a Sun Devils team that is 8-0 against the Big Ten at home.
WEATHER
Bloomington, Ind: Sunny, 64-70 degrees, winds at 4-5 mph
Ann Arbor, Mich.: Mostly sunny, 61-66 degrees, winds at 4-6 mph
Minneapolis: Mostly cloudy, showers possible late in game, 64-70 degrees, winds at 10-12 mph
Lincoln, Neb.: Partly cloudy with a 30 percent chance of rain, 67-75 degrees, winds at 16-19 mph
East Lansing, Mich.: Mostly sunny, 62-66 degrees, winds at 6-7 mph
Ames, Iowa: Partly to mostly cloudy, 66-72 degrees, winds at 13-16 mph
Chicago: Mostly sunny, 61-69 degrees, winds at 8-9 mph
Berkeley, Calif.: Mostly sunny, 61-68 degrees, winds at 12-15 mph
West Lafayette, Ind.: Mostly clear, 52-63 degrees, winds at 3-4 mph
Evanston, Ill.: Partly cloudy, 61-68 degrees, winds at 8 mph
Tempe, Ariz.: Clear skies, 91-97 degrees, winds at 4 mph
And, finally, check out some of our top posts from this week ...
September, 13, 2013
Sep 13
4:30
PM ET
Wishing you a good weekend of football. Don't forget to follow us
on Twitter
.
To the mail ...
Wisc QB from Wisconsin writes:
Why is it that even though Wisconsin is returning more starters and has played more games than ASU, everybody is acting like ASU is a proven commodity while Wisconsin is still an unknown. Why is nobody mentioning that this is the first real test for both of these teams? And I'm pretty surprised that I haven't seen a single pick in favor of the Badgers.
Adam Rittenberg:
These are fair points, QB, and it's a little odd to see a ranked team getting so little love against an unranked foe. You're right that neither team has been tested, so we really don't know that much right now. The concern is that Arizona State's strength (a dynamic passing game) is matching up with Wisconsin's potential weakness (secondary/pass defense). A quarterback like
Taylor Kelly
could pick apart a Badgers back four featuring three new starters if he doesn't face pressure. That's why I'm so interested to see what Dave Aranda and Gary Andersen dial up for this one. You also can't overlook the fact that Big Ten teams really struggle in Pac-12 venues (just six wins in the past 26 appearances) and have never beaten Arizona State in Tempe. Sure, this year is different and the teams are different, but on paper, this looks like a tough matchup for Andersen's Badgers.
---
Todd from Atlantic Highlands, N.J., writes:
I'm surprised you haven't mentioned the unfortunate death of the UCLA football player and the impact it might have on the Nebraska-UCLA game. If managed correctly, I think it could provide the edge to UCLA. If not managed well, it could cause UCLA to be blown out. What are your thoughts?
Adam Rittenberg:
Todd, we mentioned the tragedy on a few videos, but not enough in the blog. That's a fair point, and it could be a significant factor Saturday. It's a terrible thing for a team to deal with, especially in the middle of a season. Teams can use a tragedy as a rallying point but they also can get overwhelmed by it, especially when things start to go badly on the field. It's why I'm so interested in how UCLA starts the game Saturday. The Bruins are playing at 9 a.m. Pacific time, which is already an adjustment, and continue to deal with
Nick Pasquale
's tragic passing. I think there's an opportunity for Nebraska to strike quickly and shock UCLA a bit. Then again, Bruins coach Jim Mora is an excellent motivator, and he should have his team as ready as he possibly can for kickoff.
---
Joel from Minneapolis writes:
Adam, you've made it clear how annoyed you (and Brian) are about Minnesota playing the likes of FCS and bottom-dweller FBS teams, and I am in the same boat. I would love to see more noteworthy opponents than Western Illinois on the Gophers' schedule as well. My question is what is your take on Kill's rationale for scheduling these types of teams (building confidence)? I would like to think that maybe Kill is on to something, that once Minnesota can turn that corner of putting away these types of teams the way perhaps Wisconsin has done up until now, maybe it would be a worthwhile investment.
Adam Rittenberg:
It's important to string together some bowl appearances, Joel, and Kill's scheduling approach gives Minnesota a better chance to do so. Kill comes from the Bill Snyder school of scheduling, and Snyder helped build Kansas State's profile by living in cupcake city outside of league play. So there's some precedent. The problem is Minnesota fans saw a similar scheduling approach under Glen Mason, which led to a bunch of mid-tier bowl appearances but not enough success in the Big Ten. Kill needs to have his team ready for the Big Ten, and I don't know if these schedules will do the job. Minnesota's
recent schedule addition of TCU
for 2014 and 2015 is a good one, and I hope we see more of those games (and, somewhat sadly, fewer games on Aggie Vision).
---
Marc from New York writes:
With Notre Dame gone, who do you think Michigan will play in their night games now, specifically in the next two seasons? I'm not quite sure if the future OOC schedules warrant a Under the Lights III/IV, unless Dave Brandon is willing to play at night later in the season against B1G teams.
Adam Rittenberg:
Marc, I hear you, but why does every Michigan night game have to be a huge deal? It speaks to a larger issue I have with the Big Ten and its reluctance to shake up the scheduling approach. Night games are cool almost regardless of the opponent. Michigan should play a Big Ten game at night. I wish it would be Michigan State, but Brandon has his reservations about playing a rival under the lights. It happens all the time in the SEC and Big 12 -- just sayin'. I think Oregon State or BYU could work well in 2015, and I'd expect some exciting additions to the nonleague schedule with Notre Dame moving up. But my larger point is Michigan shouldn't have strict standards for night games. Play Penn State at night, or Wisconsin, or Northwestern, or Nebraska. Night games should be a bigger part of the Big Ten's identity. They are everywhere else.
---
Buckeye from Columbus writes:
Adam, would it be better, in regard to the league's national perception, that Notre Dame blows out Purdue this weekend? I know losing nonconference games aren't good, but wouldn't the league be better off that Michigan beat a good ND than Michigan beat a mediocre ND who barely won/lost to a, so far, terrible Purdue? I know this isn't fair to Purdue fans, but public opinion rarely is.
Adam Rittenberg:
I don't know if a Purdue blowout helps the Big Ten, but a Notre Dame win, maybe by 10-14 points, probably does, as Michigan would benefit from the Irish having a strong overall season. The Big Ten wants the profiles of its top teams -- Ohio State, Michigan, Northwestern, Wisconsin, Nebraska -- too look as good as possible come early December. Notre Dame is Michigan's only impact nonleague game, so when we're judging the Wolverines, we want to attach value to their win against the Irish. So yes, beating Purdue is important, but if Notre Dame wins against better teams such as Oklahoma, Arizona State, BYU and, most important, Stanford, that will mean more for Michigan and the Big Ten.
---
KMan from BMore writes:
After the emergence of freshman phenom
Christian Hackenberg
, do you feel there is a possibility that
Tyler Ferguson
might transfer? I know the free-transfer period has ended, but (barring injury) I am having a hard time believing he will see meaningful snaps over the last three years of his eligibility. Best-case scenario (from an outside observer) would be Hackenberg starts through his junior year (2015), heads to the NFL, and Michael O'Connor steps in with three years of eligibility remaining, which would take PSU to the end of the sanctions with two top-flight pro-style quarterbacks at the helm. Do you concur?
Adam Rittenberg:
KMan, I'm not in Ferguson's head, and he probably wants to see how things play out in the next few weeks, as Hackenberg could struggle when Big Ten play rolls around. But there's a decent chance the scenario you presents ends up being true. If that's the case, you couldn't blame Ferguson for wanting to play elsewhere and get a real chance. He took a leap of faith in
picking Penn State without ever setting foot on campus
. Maybe that loyalty keeps him in State College, but he's a California kid who left the team this summer to be with his ailing mother and has some strong ties to his local area. Penn State certainly needs Ferguson to stay this season as the quarterback depth is so poor, but it seems pretty clear that Hackenberg is the future for the Lions offense.
---
Bill from Genoa, Ohio, writes:
Adam, I continue to see MSU fans' concerns about their offense and not scoring points. I want to remind them that their school hired Jim Bollman as their offensive coordinator this past offseason. Being an Ohio State fan, and having watched and complained about his and Jim Tressel's play calling for years, I want to tell MSU fans what you are seeing is what you are going to get. Even with a dynamic QB who can make plays 1,000 different ways, Bollman's approach is more conservative than most members of the GOP. He is not innovative and will run the ball to death, even when the run isn't working. I have sympathy for the MSU fans out there, because I think they are better than how their offense has been playing, and I really thought they'd play in the B1G championship this year. So MSU fans, as long as Bollman is in charge of your offense, no matter how good that offense is or could be, get used to averaging points in the mid to high-twenties and don't expect any creative plays to happen, because there is no imagination in the offense right now.
Adam Rittenberg:
Bill, I understand your criticism for Bollman, and I admit his hiring didn't inspire much confidence among those who know his background with Tressel at Ohio State. But he's not the primary offensive play-caller. Co-offensive coordinator Dave Warner is, and Warner has been on the Spartans' staff for a while. And while Michigan State's play-calling leans conservative, the problems with the offense go deeper. Quarterbacks haven't improved, receivers continue to drop passes and the offensive line can't take the next step to become an elite Big Ten unit. I'll admit that the decision to flip Warner's and Brad Salem's responsibilities -- Warner now coaches running backs and Salem coaches quarterbacks -- left me scratching my head as almost every offensive coordinator also coaches the QBs. Bollman might be part of the problem in East Lansing, but he's not the biggest issue the Spartans have right now.
---
Eric from Iowa City, Iowa, writes:
I am wondering why the blog is now being written by a lot of other writers besides Bennett and you?
Adam Rittenberg:
Good question, Eric. We've expanded our blog staff to include Chantel Jennings, Mitch Sherman, Austin Ward and Josh Moyer. While they'll write a decent amount about specific teams for the
Michigan
,
Nebraska
,
Ohio State
and
Penn State
team pages, they'll also contribute in the Big Ten space. The idea is to provide a better overall product with more viewpoints and in-depth coverage. The additions also free Brian and I up to work on longer blog features and other projects, both in the Big Ten space and elsewhere. We didn't have this luxury in the previous model because of all the posting demands. The changes should improve the blog and the overall college football coverage we provide. We're excited about it.
September, 13, 2013
Sep 13
9:00
AM ET
Penn State defensive coordinator John Butler is so competitive and intense that a childhood friend wonders half-jokingly if a demon lives inside him.
Wisconsin defensive coordinator Dave Aranda, meanwhile, is California cool, an admittedly cerebral coach directing a scheme built on aggression.
[+] Enlarge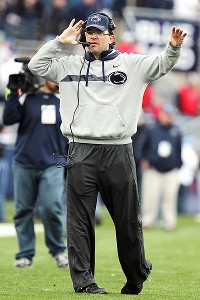 Matthew O'Haren/USA TODAY SportsPenn State's John Butler is emotional, animated, competitive and his players feed off that.
Butler can't be missed on the Penn State sideline, a ball of energy whose animated style makes players feel like he's one of them. Aranda is more Zen-like, bringing a teacher's approach that connects with bright Badger defenders as he conveys messages without veins bulging from his neck.
Butler and his boss, Bill O'Brien, are near replicas, fiery Irishmen from hardboiled Eastern cities who share a relentless drive to succeed. Aranda and his boss, Gary Andersen, first met in Maui of all places. They both have backgrounds in defense but are, as Andersen puts it, "polar opposites."
The obvious differences between Butler and Aranda shouldn't overshadow the fact that both first-year Big Ten defensive coordinators are rising stars, rocketing up the coaching ladder. They're highly respected among their peers and viewed as likely future head coaches.
Both men also will be put to the test this week, as they lead defenses against two strong opponents -- No. 20 Wisconsin visits Arizona State and Penn State hosts UCF -- led by standout quarterbacks (ASU's
Taylor Kelly
, UCF's
Blake Bortles
).
"This is why you do it, man," Butler told ESPN.com. "As a competitor, when the competition improves, you better improve your game or you're going to get embarrassed."
Butler and Keith Conlin rarely were embarrassed as young athletes growing up just outside Philadelphia. In fact, they rarely lost at anything. Conlin and Butler met in first grade and played together on every team and in every sport.
They won titles in everything, thanks to Conlin, a self-described "mutant athlete" who went on to be an All-Big Ten offensive lineman at Penn State, and Butler, who eventually played football and basketball at Division III Catholic University. But they didn't win every game.
"Imagine the kid who would sulk and cry after games when you lose, but during the game was going to do whatever it took to win," Conlin said of Butler. "He wasn't the crybaby who lost and [said], 'I'm going to take my ball and go home.' He was literally mad because we lost. Losing is probably the worst thing he could possibly have in his world.
"It's almost like a demon he has, his drive and competitiveness."
It's also an asset that helped Butler rise from modest coaching origins -- Midwestern State, Texas State and Harvard -- to the Big Ten (Minnesota) in 2007, to the SEC (South Carolina) in 2011 and back to the Big Ten last year as Penn State's secondary coach and special teams coordinator. When defensive coordinator Ted Roof left for Georgia Tech in January,
O'Brien immediately promoted Butler
, who vaulted veteran Lions assistants Larry Johnson (defensive line) and Ron Vanderlinden (linebackers) for the role.
O'Brien's rationale: "He's just a coordinator, that's what he is. ... I knew if the coordinator job ever opened up, he would be the guy."
The transition was quick. Minutes after Roof informed the staff of his move, O'Brien walked into Butler's office.
"Billy said, 'This is the move I want to make,'" Butler recalled. "I told him, 'That's great. Let's move on.' I've prepared myself for this for a long time."
[+] Enlarge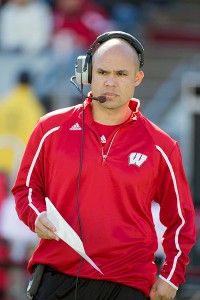 AP Photo/David StlukaWisconsin's Dave Aranda is driven to learn everything he can about defenses and isn't shy about visiting other programs and talking with other coaches.
Preparation is at the core of Aranda's approach. He has his principles -- multiple fronts, varied blitzes, a focus on takeaways -- but constantly keeps his ears open.
If there's a new approach, Aranda, 37, wants to learn it, even if he never employs it in a practice or a game.
"Professional development for him is very important," Andersen said. "He's a great researcher, very detailed. He's always out there looking for new things. He's much better at that than I was as a coordinator. I probably got a little set in my ways.
"If he's in a city where there's a football program, it doesn't matter if it's NFL, Division I or Division II, he's going to see if he can learn something from somebody."
This summer, Aranda dropped in on the Green Bay Packers, Atlanta Falcons and Jacksonville Jaguars, in addition to college teams like Ohio and Eastern Michigan.
"Outside of my family, about the only other people I talk to are other defensive coaches," Aranda said. "You try to get as many questions answered prior to having to answer them in games."
Andersen and Aranda first met at a high school camp in Maui. They both embraced what Andersen calls "the aggressive side of defense" -- capitalizing on blitz opportunities and gearing a scheme toward forcing turnovers. Aranda, like Butler, worked his way through the lower ranks (California Lutheran, Delta State, Southern Utah) before getting his big break at Hawaii.
Andersen watched Aranda's first coordinator stint -- Hawaii led the nation in takeaways in 2010 and finished 15th nationally in sacks the following year -- and
in 2012 brought him to Utah State
, essentially to replace himself as the defensive play-caller. Since Andersen made no other changes, Aranda took over a defensive staff as the only newcomer.
"There's no pretense," Aranda said. "I've always thought that it's not whose ideas that matter; it's just that it works."
After coordinating a Utah State defense that last season finished in the top 15 in points allowed, sacks, rushing yards allowed, pass efficiency and total yards allowed, Aranda received offers from two major-conference schools -- reportedly Cal and Texas Tech – but he chose to stay at Utah State. But that was before Andersen landed the Wisconsin job.
"A lot of people would say it was kind of crazy," Andersen said, "but he said no because he felt like that was where he needed to be. I respected that, so when we had the opportunity to come here, [bringing Aranda] was a slam dunk."
O'Brien and Butler didn't know each other well before O'Brien landed the Penn State job, but they had a mutual connection in strength coach Craig Fitzgerald, who had met O'Brien at Maryland and had attended high school with Butler and Conlin. O'Brien brought both Fitzgerald and Butler in from South Carolina.
After meeting O'Brien, Conlin wondered how Butler would mesh with his new boss.
"How [O'Brien] was emotionally so driven in everything he does, I was like, 'Man, they're either going to be best friends or the most hated enemies of all time,'" Conlin said.
It turned out to be the former. Both men are in their early forties. O'Brien grew up north of Boston in Andover, Mass. Butler lived in Boston while working at Harvard and said the city's energy reminds him of Philly.
"He's a quick-minded guy, a hardworking guy," O'Brien said. "We believe in the same things football-wise."
Added Butler: "It ended up being an excellent match."
Butler's style clicked with Penn State's players, whose competitive spirit carried them through a summer of sanctions and a season with no bowl or championship possibilities. The Lions won eight of their final 10 games last fall and the secondary, labeled as the defense's weak link, held its own.
"He's pumped up, just like all of us," defensive tackle
DaQuan Jones
said. "He's just out there, all loud and running around. I love it."
Butler hasn't pumped the brakes on his approach, despite his increased responsibilities. Competitiveness is non-negotiable for his players, although he has learned over time that it takes on different forms.
"Whether you're overtly competitive, which maybe I am, as opposed to internally competitive, which a lot of other people are, that spirit shows through in all of our guys," he said.
Butler, 40, oversees two of the nation's most accomplished assistants in Johnson and Vanderlinden, the only two holdovers from Joe Paterno's staff. Despite the experience gap, the transition "came natural," Butler said, and Penn State has surrendered only 24 points, 22 first downs and 132 rush yards in its first two games.
Conlin, who has seen Butler's evolution and maturation firsthand, has no doubt his friend will eventually lead a program.
"I don't know when, I don't know where," Conlin said, "but I wouldn't want to be playing against him. There's going to be 11 guys out there who will cut your heart out to win that game."
Andersen also sees Aranda as a future head coach, but hopes to keep him for "a while." Like Butler, Aranda has had early success, as the Badgers have yet to allow a point in two games.
And like Butler, Aranda will be challenged Saturday. Arizona State ranked 14th nationally in scoring last season and put up 55 in its opener. Aranda faced the same Todd Graham offense in the 2010 Hawaii Bowl, when Graham's Tulsa team put up 62 points against Hawaii.
"I think about that a lot," he said. "So it's exciting for me to get back in it and give it a go. It's a challenge, the stuff as a coach you look forward to."
Maybe Aranda and Butler aren't so different after all.
September, 12, 2013
Sep 12
9:00
AM ET
After two relatively easy weeks of picking games, the challenge gets much tougher with a delicious slate of Week 3 games. Last week, our picks mirrored one another. There will be some disagreements this time around.

Let's dive in ...
BOWLING GREEN at INDIANA
Brian Bennett:
Bowling Green has looked terrific in its first two games, while Indiana's defense was all but absent last week versus Navy. Different styles, but I think the Falcons seize on the Hoosiers' weaknesses. They kick a field goal late for my not-very-special upset special. ...
Bowling Green 37, Indiana 34
Adam Rittenberg:
I had Indiana beating Navy and losing this game entering the season, so naturally, I'm picking the Hoosiers to win after falling to Navy. The defense bounces back a little against a more conventional offense, and
Nate Sudfeld
consistently attacks downfield to
Kofi Hughes
and
Shane Wynn
. Sudfeld rallies IU in the fourth quarter and finds
Ted Bolser
for the game-winning touchdown. ...
Indiana 38, Bowling Green 35
WESTERN ILLINOIS at MINNESOTA
Rittenberg:
Can you wake me when Minnesota finally starts playing someone? Quarterback
Philip Nelson
adds two more rushing scores as the Gophers pull away early in the third quarter following a
Ra'Shede Hageman
forced fumble. Then we can look ahead to San Jose State. ...
Minnesota 37, Western Illinois 17
Bennett:
There's not much interesting about this game, except that we get to throw around the word "Leathernecks." It's a good week to get
Mitch Leidner
some experience. ...
Minnesota 35, Western Illinois 13

UCLA at NEBRASKA
Bennett:
I've gone back and forth on this all week, but in the end I worry that Nebraska's home-field advantage won't be enough to overcome its youth on defense.
Brett Hundley
amasses five total touchdowns, and the Huskers come up just short on their final drive. ...
UCLA 38, Nebraska 34
Rittenberg:
Nebraska's defense remains a big concern, especially against Hundley, but with no Johnathan Franklin, the early kickoff and a long trip, I expect UCLA to be a big sluggish. Martinez delivers a turnover-free performance in a big game and finds
Quincy Enunwa
for the game-winning touchdown pass in the final minute. ...
Nebraska 35, UCLA 34
AKRON at MICHIGAN
Rittenberg:
UCF's
Blake Bortles
abused Akron for big plays in Week 1.
Devin Gardner
, eat your heart out. The Gardner-Gallon connection cranks up again as
Jeremy Gallon
hauls in two more touchdowns.
Fitzgerald Toussaint
goes for 120 rush yards and a score as Michigan rolls. ...
Michigan 45, Akron 17
Brian Bennett:
Akron has won four games since the end of the 2009 season. Notre Dame hangover? Maybe, but it won't matter one bit. ...
Michigan 48, Akron 10

YOUNGSTOWN STATE at MICHIGAN STATE
Bennett:
Is Jim Tressel back coaching Youngstown State? Maybe then the Penguins would have a chance. The Spartans play
Connor Cook
and
Damion Terry
and get only two touchdown drives out of both of them. But the defense scores again. ...
Michigan State 27, Youngstown State 3
Rittenberg:
I'm tempted to go with the Penguins since Michigan State's offense is ice cold (be sure to tip your waitress). This will be close for three quarters, but Michigan State's Terry steps up late with a touchdown pass and a touchdown run (yes, two offensive touchdowns). Sadly, no touchdown for Bane this week. ...
Michigan State 24, Youngstown State 10
IOWA at IOWA STATE
Rittenberg:
Do I have to pick a winner here? Iowa took a step back last week in many ways, although the power run stepped up when the team needed a lift. This will be a sloppy game on both sides, but
Mark Weisman
and
Damon Bullock
, along with the offensive line, prove to be the difference in the fourth quarter.
... Iowa 19, Iowa State 17
Bennett:
Kirk Ferentz really needs this game. Then again, so does Paul Rhoads after losing to Northern Iowa in the opener. I don't expect many fireworks, either, but the Cyclones are just a little more desperate and have the momentum in this series. They win it on an overtime field goal.
... Iowa State 16, Iowa 13
UCF at PENN STATE
Bennett:
UCF is a trendy sleeper pick and has an experienced quarterback. But Penn State's defense is a major step up from Conference USA/American Athletic competition. It's close for a half, but
Christian Hackenberg
gets going in the third quarter with a pair of touchdown tosses to
Allen Robinson
, and Bill O'Brien tops George O'Leary.
... Penn State 27, UCF 17

Rittenberg:
Tricky game for Bill O'Brien's crew, but I expect Penn State's defense to do enough against
Blake Bortles
and a talented UCF offense. UCF jumps out to an early lead, but
Zach Zwinak
and
Akeel Lynch
spark Penn State's rushing attack in the second half, each scoring a touchdown as the Lions prevail.
... Penn State 34, UCF 27
WASHINGTON vs. ILLINOIS (at Chicago)
Rittenberg:
Washington is the more talented and experienced team, and a lot needs to go right for the Illini to pull off the upset. I see another fast start for Illinois against a Huskies team that struggles on the road and might be a little sleepy following a bye week.
Nathan Scheelhaase
throws two more touchdown passes, but Washington tight end
Austin Seferian-Jenkins
proves to be the difference with 120 receiving yards and a score.
... Washington 31, Illinois 21
Bennett:
I'd like to pick the Illini here because it would be a great story. They certainly proved me wrong last week in a big way. I still think Washington is just a little too talented, though.
Keith Price
throws four touchdown passes, making him the best quarterback Soldier Field has seen in a while. (That one's for you, Adam.)
... Washington 37, Illinois 23

OHIO STATE at CALIFORNIA
Bennett:
Cal played Northwestern pretty tough and then ... almost lost to Portland State? Inconsistency should be expected, I guess, with a freshman QB and a new coach. There are going to be a whole lot of big plays in this one, and I suspect
Kenny Guiton
will see the majority of the action. Big coming-out party for
Dontre Wilson
here.
... Ohio State 49, Cal 28

Rittenberg:
Cal provides a nice test for Ohio State's young defense, but the presence of cornerback
Bradley Roby
should help hold one of the Bears' standout wide receivers (
Chris Harper
and
Bryce Treggs
) in check. Ohio State has too much at the line of scrimmage and will use its ground game of
Jordan Hall
,
Rod Smith
and Wilson to outlast the Bears.
... Ohio State 38, Cal 27
NOTRE DAME at PURDUE
Rittenberg:
The Boilers have shown me nothing to suggest they can knock off a team like Notre Dame, which is pretty darn good despite last week's loss in Ann Arbor, Mich. Purdue starts strong but can't finish two early drives. The Irish then take over with their rushing attack, led by
Amir Carlisle
, and force two second-half takeaways.
... Notre Dame 38, Purdue 17
Bennett:
Circle the wagons, Purdue. It's going to be a long couple months.
... Notre Dame 35, Purdue 7

WESTERN MICHIGAN at NORTHWESTERN
Bennett:
Western Michigan just lost to Nicholls State. OK, then. Northwestern might not be quite as sharp after two big games, but it won't need to be.
Kain Colter
rushes for 100 yards and a pair of scores, and he and
Trevor Siemian
both get an early rest.
... Northwestern 38, Western Michigan 10

Rittenberg:
Previous Northwestern teams might be ripe for a letdown, but not the 2013 squad. Kain Colter and Trevor Siemian deliver another strong performance, combining for five touchdowns (three pass, two rush), including two scoring passes to
Christian Jones
. The defense forces two more turnovers as the Wildcats cruse.
... Northwestern 41, Western Michigan 17
WISCONSIN at ARIZONA STATE
Rittenberg:
I just don't like the matchup for the Badgers, even though they've been so impressive early on. Arizona State's strength (pass game) goes up against Wisconsin's weakness (secondary), and although the Badgers control the clock with their run game, the Sun Devils hit in too many big plays. Too much
Taylor Kelly
in this one.
... Arizona State 35, Wisconsin 28
Bennett:
I think big
Will Sutton
will be a shock to the system to Wisconsin offensive linemen used to dealing with the UMass and Tennessee Tech lines of the world. The secondary also gets burned a few too many times.
Joel Stave
throws two interceptions to thwart a comeback attempt, and Big Ten teams stay thirsty in the desert.
... Arizona State 28, Wisconsin 20.

Wait, we're not done yet. It's time for our guest picker of the week. Oh, you haven't heard? Throughout the season, we'll choose one fan/loyal blog reader each week to try his or her hand at outsmarting us. There's nothing but pride and some extremely limited fame at stake. If you're interested in participating, contact us
here
and
here
. Include your full name (real names, please) and hometown and a
brief
description why you should be that week's guest picker. Please also include "GUEST PICKS" in all caps somewhere in your email so we can find it easily.
We found this week's picker in the desert:
Adam Fraser from Gilbert, Ariz.
The floor is yours:
I'm a lifelong Husker fan living in Arizona. I'm a season-ticket holder and couldn't make it back for the UCLA game. I just started a new career at Prudential and my boss played football for UCLA. I've followed your blog for years and constantly smash your predictions. Let me put it on record at least one week, the Huskers biggest week of the year!! Thanks Adam (do it for your fellow Adam).
Other Adam's picks ...
Bowling Green 42, Indiana 40
Minnesota 30, Western Illinois 20
Nebraska 41, UCLA 37
Michigan 45, Akron 6
Michigan State 20, Youngstown State 13
Iowa 20, Iowa State 16
Penn State 24, UCF 13
Washington 31, Illinois 30
Ohio State 30, California 28
Notre Dame 38, Purdue 14
Northwestern 48, Western Michigan 10
Arizona State 34, Wisconsin 20
SEASON RECORDS


Brian Bennett: 22-2
Adam Rittenberg: 21-3
Guest pickers: 18-6


September, 11, 2013
Sep 11
9:00
AM ET
When asked before the season how to repair the Big Ten's ragged reputation, the league's coaches, to their credit, didn't sidestep the topic.
How the Big Ten got to this spot is complicated -- recruiting/population trends, coaching turnover and resource distribution all play a role -- but the solution is pretty simple. It's the same thing a post-comatose
Adrian tells Rocky
in "Rocky II."
Win. Win.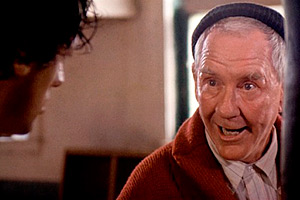 United ArtistsWhat would Mickey say to the Big Ten heading into its Week 3 showdowns with the Pac-12? "What are you waiting for?!"
You can almost hear Jim Delany, doing his best Mickey Goldmill voice, shouting, "What are we waiting for?!"
A Saturday like this one.
We talk about conference perception and compare different leagues year round, but we rarely get a comprehensive assessment on the field, especially not in the regular season. There's no ACC/Big Ten Challenge in football, and although schedule upgrades are on the way, both in the Big Ten and elsewhere, there still aren't enough exciting, meaningful, image-shaping games.
That's why Week 3 in the Big Ten is so refreshing and important. After two weeks of mostly unappealing games, the Big Ten has four --
four! --
matchups against Pac-12 programs, kicking off with No. 23 Nebraska hosting No. 16 UCLA at noon ET and ending with No. 20 Wisconsin visiting Arizona State, a contest that will spill into Sunday in Big Ten country.
There are two in-state rivalries on the docket -- Purdue hosting No. 21 Notre Dame and Iowa visiting Iowa State -- as well as some sneaky-good games like UCF-Penn State and Bowling Green-Indiana. Sure, there are your standard non-league sleepers (Western Illinois-Minnesota), but they're finally in the minority.
"There's certain weekends of the year that you can change the perception," Northwestern coach Pat Fitzgerald said. "As you look at the schedule, this is one of those weekends."
Fitzgerald's team did its part by defeating two major-conference teams (Cal and Syracuse) in the first two weeks. With a late kickoff Saturday against Western Michigan, the Wildcats will watch from their hotel as teams like Nebraska carry the Big Ten banner.
[+] Enlarge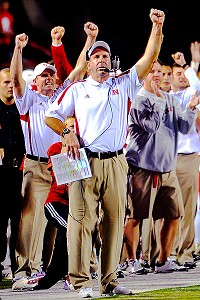 AP Photo/Dave WeaverAfter losing to UCLA last season, Bo Pelini and Nebraska hope to turn the tables when the Bruins and Huskers meet again on Saturday.
Program relevance is a
bit of a sensitive topic in Husker Country
these days, as Nebraska has come up short in statement games the past few seasons. UCLA outlasted Nebraska in a shootout last September, and the Bruins could provide the only real test for Bo Pelini's crew until a November grind against the Legends division.
"We want to win all the out-of-conference games," Pelini said. "Our conference, I think it's very good, it's deep, and that's going to show itself as the year goes on. We have a lot of respect for the Pac-12 and their conference.
"It's going to be a challenge. It always is."
Traveling West always presents a huge challenge for Big Ten teams, which had gone 5-20 in the previous 25 true road games against Pac-12 schools until Northwestern beat Cal. Wisconsin coach Gary Andersen noted Tuesday that no Big Ten team has beaten Arizona State at Sun Devil Stadium in eight tries. He'll take his team to the desert on Thursday to provide extra prep time.
The Badgers have yet to allow a point and ran all over Massachusetts and Tennessee Tech. But Arizona State can light up the scoreboard with quarterback
Taylor Kelly
, who has thrown 13 touchdowns and no interceptions in his last four games and faces a Wisconsin secondary using three new starters.
UCLA poses a similar problem for Nebraska with standout quarterback
Brett Hundley
, who
ranks fourth in QBR
and shredded the Huskers for 305 pass yards, 53 rush yards and four touchdowns last season.
While no one confuses UCLA and Arizona State with Stanford and Oregon, wins against two upward-trending Pac-12 programs would boost the profiles for Nebraska and Wisconsin, not to mention the Big Ten. The SEC is the measuring stick for every conference, but the Big Ten recently has had more chances to gauge itself against the Pac-12, both in the regular season and in the Rose Bowl.
[+] Enlarge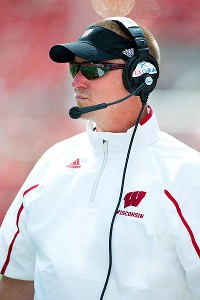 AP Photo/David StlukaWisconsin's Gary Andersen might be new to the Big Ten, but he knows just what this weekend means for the conference.
"It's important for the Big Ten for a lot of reasons," Andersen said. "It's a huge opportunity for us and for the other schools and the conference to hop out of conference play before we get into it here in a week or so, and show what we can do against another quality conference like the Pac-12."
Ohio State has more to lose than to gain against a young Cal team, but the Buckeyes look for a complete performance on the road. Illinois, meanwhile, can further validate a surprisingly strong start by upsetting Washington in its
Chicago homecoming game at Soldier Field
.
"We understand that these types of games are very important for building a program," Illini coach Tim Beckman said.
Purdue's Darrell Hazell could echo Beckman, as his tenure is off to a shaky start following a blowout loss to Cincinnati and a narrow win against Indiana State. Few expect much from the Boilers against the heavily favored Irish, but they have a big opportunity at home against a rival on national TV.
Arguably no Big Ten team needs a Week 3 boost more than Iowa, which, like Purdue, is an unimpressive 1-1. Iowa has dropped its last two against Iowa State, and a loss Saturday in Ames could cripple the Hawkeyes' hopes of a turnaround, especially with a taxing Big Ten schedule ahead.
"Everybody wants our conference to do well," Iowa coach Kirk Ferentz said. "We're all united on that front. Our jobs are to really worry about our teams and how we perform. We've got enough on our plate right now."
Last season, the Big Ten's horrendous Week 2 showing -- a 6-6 record, including an 0-3 mark against the Pac-12 -- cast a negative light on the league, one from which it never escaped. The stakes are similar Saturday. It's the league's first and only chance before the bowls to show the nation that things will be different this year.
Will the Big Ten emerge with arms raised or suffer another early knockout? Tune in Saturday to find out.
July, 29, 2013
Jul 29
1:30
PM ET
Iowa's season opener against Northern Illinois could be just a blip on the Week 1 national radar, but the game's impact for the Hawkeyes can't be minimized.
Kirk Ferentz's crew comes off of its first losing regular season since 2000 and enters the fall with several glaring question marks, including quarterback. A win against a Northern Illinois program that reached the Orange Bowl last season, has won 23 games the past two seasons and is led by fringe Heisman Trophy candidate
Jordan Lynch
would boost confidence in Iowa, both inside and outside the program. A loss to the Huskies -- especially in blowout fashion -- could set the course for another lost season.
As
The (Cedar Rapids) Gazette's Mike Hlas
writes, the Northern Illinois opener is a perception-maker for Iowa.
For the Hawkeyes to restore some luster to their national image, beating Northern Illinois on Aug. 31 would be a good first step. A loss, though, would bring out a lot of sharp verbal and written pitchforks.
NIU is undoubtedly the perception-making game for Iowa this season. What about the other Big Ten teams? I took a look at potential perception-makers around the conference.
I'm a firm believer that perception is shaped early on, so for the purpose of this post, I only considered games in
the first six weeks of the season
(weekend of Aug. 31-weekend of Oct. 5).
Here are the perception-makers around the Big Ten …
ILLINOIS:
Sept. 7 vs. Cincinnati

Tim Beckman's Illini have to show obvious improvement early on to avoid a here-we-go-again mentality in Champaign. Although Illinois must be careful with FCS Southern Illinois in the opener, it has a great opportunity to show things will be different as it hosts Cincinnati, a 10-win squad last season, in Week 2. Poor performances against Cincinnati and the following week against Washington in Chicago would brand Illinois a lost cause once again.
INDIANA:
Sept. 21 vs. Missouri

It's a close call between the Missouri game and a Week 3 home contest against Bowling Green, which was a better team than the Tigers last season. But beating Bowling Green likely won't boost Indiana's perception, especially if the Hoosiers fall short the following week against an SEC foe. If Indiana completes non-league play at 4-0, ending with a victory against Missouri, it will be viewed as a potential surprise team entering Big Ten play.
IOWA:
Aug. 31 vs. Northern Illinois

See above.
MICHIGAN:
Sept. 7 vs. Notre Dame

The Wolverines have beaten Notre Dame in recent years without getting much of a perception boost, but the Irish are coming off of a perfect regular season and a national runner-up finish. This is a big moment for Wolverines quarterback
Devin Gardner
, who looks for a signature win early in his first full season as a starter. Michigan remains a talented but young team that will need to grow up in a hurry to contend for big things in 2013. The Notre Dame game provides a great chance to do so.
MICHIGAN STATE:
Sept. 21 at Notre Dame

The Spartans look for a bounce-back season and need a validating win early on to boost their perception after falling short of expectations in 2012. Notre Dame provides by far the biggest challenge for Michigan State in non-league play, and Mark Dantonio's team tries to end a two-game slide against the Irish after winning three of the previous four under Dantonio. It's a huge opportunity for quarterback [fill in the blank] and a Spartans offense that managed only three points and 237 yards against Notre Dame last season.
MINNESOTA:
Sept. 21 vs. San Jose State

The Gophers' non-league schedule is mostly uninspiring, but keep an eye on this Week 4 showdown with San Jose State. The Spartans won 11 games last season under Mike MacIntyre, now Colorado's coach, and boast one of the nation's top quarterbacks in
David Fales
, who finished third in the FBS in passing efficiency (170.8 rating). Although an Oct. 5 win at Michigan would transform Minnesota's perception, the Gophers must first get past San Jose State.
NEBRASKA:
Sept. 14 vs. UCLA

This is one of the easiest picks on the list. Not only is UCLA by far Nebraska's biggest non-league test, but the Bruins appear to be the Huskers' most formidable challenge in the first two months of the season. A Nebraska win would help validate the impressive record the Huskers likely will have when the calendar flips to November. Another loss to the Bruins, who edged Nebraska last September at the Rose Bowl, would raise doubts about the Huskers' legitimacy even if they go on to pile up wins.
NORTHWESTERN:
Oct. 5 vs. Ohio State

The Wildcats play two major-conference foes (Cal, Syracuse) in non-league play, but neither game has real perception-making potential. Besides, Northwestern has handled itself well in non-league play in recent years. The Ohio State game likely will be the most-anticipated home game for Northwestern in the Pat Fitzgerald era. Northwestern can transform its perception with a win, while a loss would reinforce the Wildcats as a good program that can't really beat the Big Ten's elite.
OHIO STATE:
Sept. 28 vs. Wisconsin

The Buckeyes' non-league slate is pretty uninspiring, and while San Diego State (Week 2, home) or Cal (Week 3, road) could provide a few clues about Urban Meyer's squad, Ohio State will be heavy favorites in both contests. If Ohio State meets its preseason perception, it will handle Wisconsin at home fairly easily in Week 5. A shaky showing or a loss certainly would change the way people feel about the Buckeyes' chances to get to Pasadena, both for the Rose Bowl and for the BCS title game.
PENN STATE:
Aug. 31 vs. Syracuse (at East Rutherford, N.J.)

It's a little dangerous to pick the opener for Penn State, which changed its perception during the course of last season after stumbling in its debut against Ohio. But there are new questions about Bill O'Brien's team, particularly at the quarterback spot as Christian Hackenberg or
Tyler Ferguson
takes control. Penn State faces another transitioning team in Syracuse at a neutral site. A strong performance could propel Penn State to a 5-0 start before Michigan visits Happy Valley on Oct. 12.
PURDUE:
Aug. 31 at Cincinnati

The Boilers are one of the Big Ten's mystery teams as a new staff takes control. Purdue faces one of the nation's tougher non-league slates, going up against two BCS bowl teams from 2012 (Notre Dame, Northern Illinois) and another that won 10 games (Cincinnati). A victory at Nippert Stadium in Darrell Hazell's Boiler debut would give Purdue a nice confidence boost and force folks to take notice of the Boilers heading into their Week 3 home showdown against the rival Irish.
WISCONSIN:
Sept. 14 at Arizona State

We'll learn a lot about Gary Andersen's Badgers in the first month of the season as they play two extremely challenging road games against Arizona State and Ohio State. Big Ten teams struggle mightily in Pac-12 venues, and Wisconsin's shaky secondary will be tested by quarterback
Taylor Kelly
and the high-powered Sun Devils offense. A win would give Wisconsin some confidence as it faces untested Ohio State in Week 5, while a loss could signal trouble ahead.
March, 13, 2013
Mar 13
3:30
PM ET
Some day soon, we're sure we'll convince our bosses to give us an unlimited travel budget and our pick of games to attend each week. But in the meantime, we'll simply imagine how we would travel each week during the 2013 season if that were the case.
We're limiting ourselves to one game per week and trying to diversify between the bloggers when it makes sense. And note again that this is almost assuredly not our actual travel itinerary for the season.
We've already made our picks for
Week 1
and
Week 2
. Here's where we'd like to go for the week of Sept. 14.
The slate:
Illinois vs. Washington (at Soldier Field in Chicago)
Bowling Green at Indiana
Iowa at Iowa State
Akron at Michigan
Youngstown State at Michigan State
Western Illinois at Minnesota
UCLA at Nebraska
Western Michigan at Northwestern
Ohio State at California
Central Florida at Penn State
Notre Dame at Purdue
Wisconsin at Arizona State


Brian Bennett's pick: UCLA at Nebraska
These two teams combined for over 1,000 yards last year at the Rose Bowl as UCLA won 36-30. Both offenses should still be explosive, even as the Bruins lost star tailback Johnathan Franklin. They've still got quarterback
Brett Hundley
, and Jim Mora should have things clicking in Year 2. Mark Schlabach ranked UCLA No. 21 in his latest preseason Top 25, so this is unquestionably Nebraska's biggest nonconference test.
The good news for the Cornhuskers is they usually play much better at home. The expanded Memorial Stadium should be rocking for this one.
Taylor Martinez
,
Kenny Bell
and
Ameer Abdullah
should give UCLA all it can handle. The question, again, will be whether Bo Pelini's defense will be up to the task. Nebraska looked a step slow last year in Pasadena but is hopeful some younger, more athletic defenders will make a difference this time around. And you just know that Martinez, a California guy who grew up rooting for the Bruins but was only recruited there as a safety, wants to beat UCLA before his career is up. Get me to the land of the red balloons for this one.


Adam Rittenberg's pick: Wisconsin at Arizona State
Great call on UCLA-Nebraska, but I can't keep following you around the league, Bennett. I'm getting in touch with my West Coast roots this season, and for the second time in three weeks, I'm grabbing the sunscreen, hopping on a plane and flying West to Pac-12 country. Wisconsin faces its first major test under new coach Gary Andersen as the Badgers head to Tempe to face Todd Graham's high-octane
Arizona State Sun Devils
team. These trips out West haven't exactly been good for the Badgers, who have lost the past three Rose Bowls and nearly were shut out last season against Oregon State in a 10-7 loss. Big Ten teams have really, really struggled in true road games against the Pac-12.
Wisconsin's quarterback competition will garner most of the attention during the offseason, but Andersen is a defense-oriented coach tasked to take a typically solid defense from good to great. Arizona State provides an excellent test for star linebacker
Chris Borland
and the Badgers, who have had their ups and downs against the spread offense. The Sun Devils return talented quarterback
Taylor Kelly
and dynamic weapons like
Marion Grice
and
D.J. Foster
. They finished 14th nationally in scoring and 25th in total offense in Graham's first season, and figure to only get better. We'll learn a lot about Wisconsin on both sides of the ball in this one. Colleague
Ted Miller
already had invited me to his palatial desert estate for dinner. Afterward, I'll park myself on
Mill Avenue
and check out all the beautiful, um, cacti.