September, 26, 2014
Sep 26
11:00
AM ET
Indiana safety
Mark Murphy
is sometimes told to close his eyes at practice, visualize success and picture interceptions and stops in the backfield. The exercise is no different from last season.
But, when he closes his eyes this season, he senses something different. This entire defense does.

"It's funny," Murphy told ESPN.com. "You can talk about the scheme and the 3-4, 4-3 and all that. But I think the biggest thing for us is actually the attitude and the effort."
That change wasn't born from the Hoosiers' upset win over then-No. 18 Missouri, where they limited the Tigers to 27 points and finished with 11 tackles-for-loss. It's taken months for Indiana's first-year defensive coordinator, Brian Knorr, to build. And it's taken an offseason for these Hoosiers to start buying into it all.
Knorr could see from last season's film and his players' eyes in the spring that this defense was worn down. Losses, weak performances and criticism tend to build -- and, for the past three seasons, Indiana hasn't once cracked the Top 100 in total defense or scoring defense. Heck, in the past 15 years, the Hoosiers never cracked the top 65 in either category.
Knorr's initial focus centered on forgetting that past and rebuilding this unit's confidence. Whether it was showing a motivating film right before kickoff (one filled with Missouri miscues and IU sacks) or challenging the younger players to motivate the seniors, players told ESPN.com that this squad's mind-set is totally different from seasons past.
"Our confidence has gotten way higher," defensive lineman
Bobby Richardson
said. "We're a completely different team. The mentality of this whole defense is different; we have a whole new attitude this year."
There's excitement around this defense now, but there's no singular cause for that transformation. Knorr switched to a 3-4 scheme, tried to play up to different players' strengths and emphasized a more aggressive mindset. In some ways, that was the easy part.
But it was also all the little things: reinforcing the importance of visualization, improving communication, reiterating continued focus and challenging the underclassmen in practice. Each difference impacted other areas of Indiana's defense.
"The good thing about young kids -- freshmen and sophomores -- is they don't know any better," Knorr said. "Our seniors have seen them, and they've been challenged a little bit by them. I don't want to say our younger guys led, but I guess they motivated some of our older guys."
Richardson agreed. When the scout team breaks out of their practice blocks as if a game's on the line, the upperclassmen no longer have time to relax. If they don't play with that same intensity, they're asking to look foolish. That's clearly paid off for both groups; it's no coincidence that freshman linebacker
Tegray Scales
was recently named Big Ten co-Freshman of the Week.
Of course, that's not to say this Indiana defense has already matured into a great one. It hasn't. It might even be fair to say it's still working on being average. But Knorr is the first to admit this defense has a long way to go. Regardless, it's clear something has changed.
Richardson answered most questions about 2013 by talking passionately about 2014. Murphy deflected every question about past seasons -- except when asked why he didn't want to answer them.
"You really don't want to talk about it because it's just so, so -- different," he said. "It's just not comparable.
"The biggest thing for this year compared to last year is that we put it upon ourselves to go make that change, to make the difference. Because, ultimately, we were sick and tired of hearing about offense, offense, offense. We knew we had the talent and the players."
February, 5, 2014
Feb 5
3:00
PM ET
Indiana signed a class of 26 players on Wednesday, including six who enrolled early. I caught up with head coach Kevin Wilson to talk about the Hoosiers' class in this Q&A:
What were your priorities going into this class?
[+] Enlarge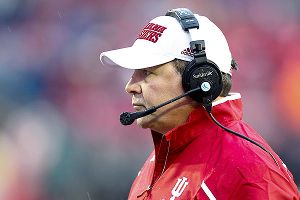 AP Photo/Andy ManisIndiana coach Kevin Wilson is hoping this recruiting cycle pays off in 2014 and beyond.
Kevin Wilson:
We've got a lot of guys back. On paper, I think we're going to be one of the more veteran teams in the country with starters back. But we were able -- with the seniors we had and the way we used some walk-on scholarships -- to sign a large number. Going back to last year, we really took a lot on defense because the offense was young and we really lost no one. This year, we signed four offensive linemen, with three of them coming in midyear. And even though we got the O-line back [from 2013], it's a pretty good deal because we didn't sign an O-lineman last year. We didn't take a quarterback last year, and so
Alexander Diamont
came in here midyear. Even though we know we need help on defense, I think in the future, them being here will really help with our offensive continuity.
Receiver is where we take a hit this year with
Kofi Hughes
,
Duwyce Wilson
and
Cody Latimer
[all leaving]. I think we'll have enough depth there with a [6-foot-4] guy like
Simmie Cobbs
.
Dominique Booth
is a big guy, and a little slot guy like
J-Shun Harris
, I think, is a perfect fit for us.
Coray Keel
, who's 6-2 and out of Georgia, to me, is underrated. He's pretty good.
Tevin Coleman
is a good runner, but we lost
Stephen Houston
and now we throw
Tommy Mister
in there and
Devine Redding
, I think those are quality players.
Now, defensively, we took a lot last year, and I think we backed it up with another decent crowd. At linebacker, I think we really helped ourselves there with
Tegray Scales
,
Greg Gooch
,
Robert McCray
-- two of those guys are 250-pounders. Guys like
Chris Covington
and
Zeke Walker
are 6-3, 205-pound, long kids who can be safeties or outside linebackers. And I was very impressed with what we got here in the end with
Tony Fields
,
Will Dawkins
and
Kiante Walton
. They're 200-pound safeties and corners. So again, we addressed our offensive needs of the future, and I think, hopefully, continued to upgrade the depth, competition, length and athleticism of our defense.

You added a lot of skill players. Does the success of your offense help your recruiting efforts?
KW:
It's not just what we've done here. At Northwestern, we were the total offense leader. Just look at how we've always done it with our quarterback play and style of offense. We've got four coaches on offense because I'm still very much involved in the game-planning. You know we lost a coordinator [Seth Littrell], but you're kind of still talking to the guy who runs it. … Tevin got hurt and didn't play the last couple of games. And I'm still kicking myself in the butt that we don't have a 1,000-yard back yet, because we've always had those guys, too.
So, I just think our style of offense, kids want to play it. We've kind of proved it year after year, and not just here, that we have a chance to play good offense.
It's kind of funny. Years ago, when offenses were taking off, a lot of teams were talking about pro-style offense, pro-style offense. Now look at the pro game -- it's now the college game. This style of offense is the way college football is going, and fortunately we're one of the teams that has a good feel for what we're doing.
You changed defensive coordinators in January, hiring Brian Knorr a few weeks before signing day. With that change, plus the talk of moving to more of a 3-4, how did that affect recruiting on the defensive side?
KW:
I've always said you need to be multiple if you can. To me, the worst recruiter in the world is someone who's on a schedule, and the worst coach is someone who has a playbook. You've got to be able to adjust to your kids. So I think you have to be multiple, and how much of it is four-man, three-man principles, the coverage is not going to change significantly. So I don't think we're going to come in and significantly be different schematically. We'll probably make some adjustments and see how it goes and how it takes off. The real deal is just trying to change our mindset, change our culture and continue to grow there.
We were lucky that when we did make the change, Coach Knorr came in when we had a weekend with 15 guys on campus, and 14 of them were defensive recruits. We didn't have a lot of defensive recruits committed early, and it was a fight and struggle until the end. But from the time he was on board until that Tuesday, he saw every kid we were after and wanted, and then we were able to get on some guys late. So in a two-week period both, he and Larry McDaniel, our new D-line coach along with [cornerbacks coach] Brandon Shelby ran the defensive recruiting. They did a heck of a job. They got on some great kids late. Even though we made some changes, I don't think it had a negative impact on our defensive recruiting. Hopefully, in some ways it solidified some things and helped us a little bit.
You haven't been hesitant in playing true freshmen right away. But with so many starters back, do you see this class as one that's adding depth and competition, or will there be many who play immediately again?
KW:
I think we've got to keep increasing our depth and competition, especially defensively. I have not one time promised a recruit that he's going to start here. He's got to earn it. I'm excited to see this team grow in the offseason, and we'll really be excited with so many guys coming back. And then you complement that with, on paper, one of best classes this school has had. I'm hopeful that we'll have depth, yes, to overcome an injury, but also to increase the competition to build a winning program. I wouldn't be surprised if you see some kids playing. Will it be a small number or a large one? I don't have a number in mind, but I can see a lot of these guys out there on the field as we crank it up this fall.
January, 22, 2014
Jan 22
2:00
PM ET
There have been commitments and decommitments across the board in the Big Ten, which means there has been movement among the
class rankings
.

As signing day approaches, teams will be looking to fill the final spots in their class. Here is a look at trends and a few items to watch within the conference:
Trending up:
No Big Ten teams moved up in the class rankings for this week, but that doesn't mean schools aren't improving.
Penn State has been on a tear recently with
James Franklin
and his staff on board. Despite losing ESPN 300 defensive tackle
Thomas Holley
(Brooklyn, N.Y./Lincoln) to Florida and defensive back
Troy Vincent Jr
. (Baltimore/Gilman) to NC State, the Nittany Lions have added some big pieces as well.
The most recent was three-star athlete
Trace McSorley
(Ashburn, Va./Briar Woods), who flipped his commitment from Vanderbilt to Penn State. McSorley was originally recruited as a defensive back by Franklin at Vanderbilt, but then the offer was switched to quarterback while he was committed to the Commodores.
McSorley will add some depth and competition at the quarterback spot for Penn State, as
Christian Hackenberg
and early enrollee
Michael O'Connor
are the only other quarterbacks on the roster.
Indiana has also been on a nice run, picking up five commitments in the past week, from linebacker
Tegray Scales
(Cincinnati/Colerain), running back
Tommy Mister
(Chicago/St. Rita), athlete
Waynedriko Smith
(Orlando, Fla./Orangewood Christian) and defensive backs
Zeke Walker
(Cayce, S.C./Brookland-Cayce) and
Tony Fields
(Tallahassee, Fla./Godby).
Trending down:
Michigan hasn't lost any commitments in the 2014 class, but the Wolverines lost ESPN Junior 300 running back
Damien Harris
(Berea, Ky./Madison Southern) over the weekend.
Harris is the No. 1-ranked running back and No. 17 overall in the 2015 class. Losing Harris and fellow ESPN Junior 300 member
George Campbell
(Tarpon Springs, Fla./East Lake) is a big blow to the 2015 class.
Add in the fact that Michigan's main remaining target for the 2014 class,
Malik McDowell
(Southfield, Mich./Southfield) could end up not picking Michigan and could end up at rival Michigan State or Ohio State, that's more bad news for Michigan.
The Wolverines haven't landed a commitment since August and steadily have been moving down the class rankings. If the coaches miss on McDowell, that would mean they missed on three major targets: McDowell, five-star defensive end
Da'Shawn Hand
(Woodbridge, Va./Woodbridge) to Alabama and in-state defensive end
Jhonathon Williams
(Berrien Springs, Mich./Berrien Springs) to Notre Dame.
January, 20, 2014
Jan 20
8:00
AM ET
As usual there is a ton of action happening around signing day. The Big Ten has had commitments, decommitments, offers and everything in between.
Here is a look at what took place within the conference on the recruiting trail this past week:
To continue reading this article you must be an Insider
October, 8, 2013
10/08/13
8:00
AM ET
There are still a ton of prospects on the board for Big Ten teams, so conference recruiting reporters Tom VanHaaren and Brad Bournival take a look at the best and worst case scenarios remaining for each team.

Illinois
Best-case scenario:
Illinois picked up an offensive line commit on Monday with
Peter Cvijanovic
(Great Barrington, Mass./East Coast Prep), which gives the Illini two offensive line commits. Despite having four wide receiver commits on board, it looks like the staff would take another receiver in this class.
To continue reading this article you must be an Insider