Big Ten:

Terrence Robinson
August, 7, 2011
8/07/11
8:08
PM ET
Talented wide receiver Darryl Stonum will have a chance to suit up for Michigan again.
Just not this year.

Wolverines coach Brady Hoke announced Sunday that
Stonum will redshirt the 2011 season
as part of his discipline for a drunken driving arrest in May, Stonum's second such offense during his college career. Stonum, who has been indefinitely suspended following his May 6 arrest, pleaded guilty in June to operating while visibly impaired as part of an agreement.
The team's No. 2 receiver in 2010 will have one season of eligibility remaining in 2012.
Hoke never ruled out Stonum's return to the team, but a significant playing-time suspension seemed likely because of Stonum's previous legal problems (another DUI arrest early in his career, probation violations leading to a three-day jail term). Still, it's never easy for a coach to sit a key player for the entire season. Hoke made a good call here, but it probably wasn't an easy decision.
"While it would be great to have Darryl on the field this season, we feel it is in his best interest and the best interest of our program for him to redshirt," Hoke said in a prepared statement. "Darryl will continue to be an important part of our team and family. He has done everything we have asked him to do, but our number one priority is to help Darryl grow as a person."
Hoke also announced Sunday that punter Will Hagerup is suspended for the first four games and wide receiver
Terrence Robinson
is suspended for a game for an unspecified violation of team rules.
Stonum's size and athleticism will be missed, although Michigan has decent depth at receiver with
Roy Roundtree
,
Junior Hemingway
and others. Hagerup's absence could really sting because Michigan has no other punters on the roster. Incoming freshman Matt Wile, a strong candidate to take over the place-kicking duties, also most likely will punt for the first four games. Wile could be a huge factor for Michigan as it tries to clean up its shoddy kicking game.
Michigan opens preseason practice Monday.
September, 9, 2010
9/09/10
1:00
PM ET
Two of college football's storied programs meet Saturday at Notre Dame Stadium, but the only thing historic about these teams are their helmets. Two spread offenses and two coaches known for their offensive creativity match wits. Both Michigan and Notre Dame recorded critical wins in their season openers, and bloggers Brian Bennett and Adam Rittenberg take a closer look at this week's matchup.
Adam Rittenberg:
So, Bennett, we meet again. Good starts for both the Irish and the Wolverines on Saturday, and it should be a great one in South Bend. Let's talk offense. What do you think Knute Rockne and Fielding Yost would say about these two systems matching up?
[+] Enlarge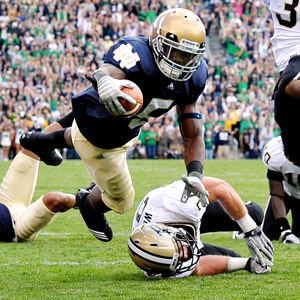 Matt Cashore/US PresswireArmando Allen gained 93 yards on 18 carries and scored a TD against Purdue.
Brian Bennett:
I think both coaches would have spit in a leather helmet in disgust. What's the over/under on total number of snaps under center on Saturday? Five?
Yet, for all the talk of the spread offense, Notre Dame stuck to an old staple to beat Purdue: the running game. Running backs
Armando Allen
and
Cierre Wood
together averaged better than six yards per carry, and the Irish were happy to hand off and stick to the short passing game as the Boilermakers defense played Cover 2 and protected against the deep ball. I don't think Michigan will attack Notre Dame the same way, and the bubble wrap will have to come off quarterback
Dayne Crist
in Week 2.
As for the Wolverines,
Denard Robinson
was incredible. But I didn't see a whole lot out of the backs and receivers, and now it looks like
Roy Roundtree
won't play. Is Michigan a one-man offense, and can it win on Saturday that way?
AR:
Good point about the Irish run game, and I think the matchup between Michigan's defensive line and Notre Dame's offensive front could decide the game. Despite the loss of Brandon Graham, Michigan boasts good experience and talent up front with Mike Martin, Greg Banks, Ryan Van Bergan and dynamic sophomore Craig Roh. They'll try to take advantage of a young Notre Dame line that, despite all the talk about weight room progress, remains unproven in my eyes.
Robinson was ridiculous against Connecticut, and you can't expect him to duplicate the performance in South Bend. Then again, the guy only needs about a foot of daylight to break through the line, and then, good luck trying to bring him down.
Vincent Smith
and
Michael Shaw
both scored touchdowns in the opener, but they'll need to be more effective out of the backfield against the Irish. Roundtree would be a big loss, but wideouts
Darryl Stonum
and
Kelvin Grady
, and tight end
Kevin Koger
all are good targets for Robinson, who also hooked up with
Terrence Robinson
for a 43-yard gain.
In many ways, Michigan won the UConn game at the line of scrimmage. How do you see the two groups matching up on Saturday?
BB:
The Irish played well in the trenches against Purdue, but Michigan presents a tougher challenge. With the way Brian Kelly runs the spread, the ball is out of the quarterback's hand quickly, so that neutralizes the pass rush to some degree. The key in my mind is whether the Notre Dame line can open running lanes when the Wolverines drop men into coverage.
Defensively, the front three for Notre Dame proved stout against Purdue, and surprisingly the backups gave them a solid rotation. Ian Williams looks like a perfect fit as nose tackle in a 3-4, and Kapron Lewis-Moore and Ethan Johnson can make plays off the edge. I think the pressure is on the Irish linebackers to make plays in this game. Manti Te'o should be a stud and the perfect antidote to Robinson, but he missed a lot of tackles in Week 1. Darius Fleming is their hybrid guy, and he was stuck on the sidelines with cramps for most of the Purdue game. Once Robinson gets through the first line of defense, can the Irish contain him in the open field?
How about the Michigan pass defense? Connecticut missed some opportunities there, but the Huskies don't have guys like
Michael Floyd
and
Kyle Rudolph
at their disposal.
AR:
Totally agree about Connecticut missing some major opportunities to attack downfield, especially in the first two and a half quarters. Michigan is extremely young in the secondary and likely will be down another starter, as linebacker-safety Carvin Johnson sprained his knee in the opener. Michael Floyd absolutely shredded this defense a year ago, so you can bet Notre Dame will try to get him the ball a lot on Saturday. We'll likely see a lot of Floyd vs. Floyd, as Michigan's J.T. Floyd as emerged as the team's top cornerback and forced a big fumble against UConn. Cue the Pink Floyd music.
I'm interested to see how Michigan approaches Rudolph, a matchup problem for pretty much any team he faces. Linebackers Jonas Mouton and Obi Ezeh played well in the opener, but they'll certainly be tested by No. 9. Roh brought a ton of heat against UConn, but he might have to drop back more in this game.
OK, Bennett, you're on the spot. Your Michigan-UConn pick didn't work out so great, and some of my new friends in Ann Arbor were calling you nasty names Friday night. Who wins Saturday and what's the biggest key to the game?
BB:
Well, I'm happy to play the villain in Ann Arbor as long as they still let me in the bars there. I have little doubt this will be a close game, possibly as exciting as last year's shootout. Notre Dame will have its hands full with Robinson, but I think the Irish have a more well-rounded offensive attack. And they will take advantage of that young secondary while making just enough plays of their own defensively. A special-teams play might be the difference. Brian Kelly gets his first big win as the Irish squeak by.
Now tell me why I'm wrong.
AR:
You're always welcome in Ann Arbor. Just tell them you know me.
It'll definitely be a close game, and like last year, we should have a dramatic finish. Michigan's young secondary concerns me, and Crist will make plays downfield to both Floyd and Rudolph. But I also have my doubts about Notre Dame's line play and the overall toughness of that team. Robinson is certainly the X-factor here, and while Michigan can't run him 29 times again, he'll make some big plays. If special teams makes the difference, Michigan could be in trouble. Notre Dame jumps ahead, but D-Rob leads the Wolverines back in the fourth quarter for a narrow win and continues to grow his legend in Ann Arbor.
September, 4, 2010
9/04/10
9:23
PM ET
ANN ARBOR, Mich. -- Michigan defenders J.T. Floyd and Craig Roh can empathize with their counterparts from Connecticut.
"He's a crazy animal to tame," Floyd said.
"What you saw happening out there," added Roh, "is what was happening all of practice to us."
After having
Denard Robinson
make them look bad for the past seven months, Floyd and Roh got to sit back and watch another defense get humiliated. Needless to say, they enjoyed the view.
[+] Enlarge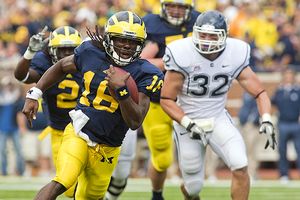 AP Photo/Tony DingDenard Robinson rushed 29 times for 197 yards and a touchdown and completed 19 of 22 passes for 186 yards and a score against Connecticut.
So did a record crowd of 113,090 at the rededicated Michigan Stadium, as Robinson delivered a historic performance in his first career start, lifting Michigan to a
30-10 victory
against UConn. Robinson shattered Michigan's single-game quarterback rushing record with 197 yards and a touchdown, surpassing Steve Smith's mark midway through the third quarter.
More surprising is what Robinson did with his arm, considered useless by some after he completed only 45.2 percent of his passes as a true freshman in 2009. He completed his first eight pass attempts and finished the game 19-for-22 for 186 yards and a touchdown.
Robinson completed 14 passes all of last season.
"I knew I always could throw the ball, it was never a question," Robinson said. "It was just getting the offense down pat."
He appeared to master coach Rich Rodriguez's spread system on Saturday.
How tough was it to stop Robinson? Connecticut defenders tried just about everything, even stealing his cleats.
"They were like, 'Take his shoe, take his shoe,'" said Robinson, nicknamed "Shoelace" for famously leaving his footwear untied at all times.
"They took them off on one of the plays," he added.
It didn't matter. Robinson could wreak havoc barefoot if he wanted to.
Rodriguez waited until Friday night to gather his three quarterbacks and inform Robinson that he'd start the opener. Rodriguez let Robinson, freshman
Devin Gardner
and last year's starter,
Tate Forcier
, take reps with the first-team offense throughout camp.
But it would have been a surprise to many, including center David Molk, if anyone but Robinson had taken the first snap on Saturday.
"Most of the guys knew," Rodriguez said. "I don't think it was a big secret. Denard was taking a lot of reps with the [starters]. ... Denard certainly had asserted himself in camp more than anyone else."
Robinson always has had the big-play skills. His first career touch as a college player resulted in an electrifying 43-yard touchdown run, on a broken play, no less.
But until Saturday, he hadn't shown the ability to consistently move an offense. Consider four of the five scoring drives he engineered against Connecticut.
14 plays, 96 yards, six runs by Robinson

7 plays, 77 yards, three runs by Robinson (capped by 32-yard touchdown)

19 plays, 74 yards, six runs by Robinson

11 plays, 89 yards, three runs by Robinson
Robinson finished the game with 29 carries and absorbed several big hits, including a helmet to his left hip that left him sprawled on the field. Running back
Vincent Smith
wasn't worried.
"He always gets up," Smith said. "Very tough."
Robinson missed a total of two plays.
As Robinson's carries total rose, Michigan quarterbacks coach
Rod Smith
turned to offensive coordinator Calvin Magee.
"We were like, 'We've got to be careful here,'" Smith said. "But Denard, he didn't back down. He said, 'Coach, give it to me.'"
Rodriguez didn't realize Robinson had 29 carries until looking at the postgame stat sheet. Was it too much?
"If he can carry it 29 times for 200 yards, he'll carry it 29 times for 200 yards," Rodriguez said. "I don't know if he can do that each and every game."
In the past, Michigan might not have had a choice, as Robinson was a totally one-dimensional player as a freshman. Not only did he struggle with his accuracy, but he threw four interceptions in only 31 attempts.
Third-and-long used to mean punt or turnover. On Saturday, it meant opportunity.
After Connecticut had reclaimed momentum just before halftime, Robinson converted five third downs on a 19-play drive that set up a field goal.
Two plays after returning from the hip injury, Robinson pump-faked and then hit a wide-open
Terrence Robinson
in stride for a 42-yard gain, setting up another touchdown.
Asked to describe the play, Denard Robinson, for the first time all day, looked confused.
"It was, uh, I can't tell you," he said.
After leaving the podium, Robinson greeted Rodriguez, telling him, "They were trying to take one of our plays, coach."
The way Robinson looked Saturday, Rodriguez could have handed Connecticut coach Randy Edsall the playbook.
"There were probably more times he should have went down the field," Rodriguez said. "But we were able to control the game from a running standpoint."
Things get tougher next week, as Robinson hits the road to face a Notre Dame team that contained
Robert Marve
and Purdue on Saturday.
"He did what he had to do," Rod Smith said. "We gave him the reins, he took it and ran with it. Basically, now it's going to be his to run with for a while."
Robinson didn't sound so sure after the game.
"We probably don't know who's going to start next week," he said. "We'll see."
Riiight.
Informed of Robinson's comment, Rodriguez smiled.
"Stay tuned."
September, 4, 2010
9/04/10
6:17
PM ET
ANN ARBOR, Mich. --
Denard Robinson
completed 45.2 percent of his passes last season.
The stat is worth repeating after what Robinson has done to Connecticut's secondary today. He entered the game with major questions about his passing ability, and has answered them emphatically. Robinson is 17 of 19 passing for 172 yards as Michigan leads UConn
30-10 with 11 minutes to go
.
Sure, you'll see Robinson's running ability on the highlights later today and Sunday. But his passing skills, especially in the second half, have proven to be the difference in a likely Michigan win.
Robinson led another long touchdown drive -- 11 plays, 89 yards -- and completed several big throws, including a 38-yarder to
Terrence Robinson
after an excellent pump fake. On third-and-6 from the Connecticut 11, Rich Rodriguez made a perfect call on a Huskies blitz and Robinson flipped the ball to
Vincent Smith
for an easy touchdown. Robinson doesn't resemble the passer we saw last season, both with his accuracy and his decision-making.
Michigan's defense still has some issues with tackling and spacing, but the J.T. Floyd forced fumble near the goal line is looming large.
April, 7, 2010
4/07/10
12:00
PM ET
East Lansing on Tuesday, Ann Arbor today. Maybe I'll just move to Michigan.
BIG TEN SCOREBOARD
Wednesday, 12/24
Saturday, 12/20
Monday, 12/22
Tuesday, 12/23
Friday, 12/26
Saturday, 12/27
Monday, 12/29
Tuesday, 12/30
Wednesday, 12/31
Thursday, 1/1
Friday, 1/2
Saturday, 1/3
Sunday, 1/4
Monday, 1/12
Tweets from https://twitter.com/ESPNCFB/lists/b1g